Santorini Airport Destinations
So you're planning to jet off from Santorini sometime soon?
What a wonderful place it is. Cuisine, culture, ethereal whitewashed buildings spilling down volcanic hillsides to the sea – it's surprising that you want to leave at all!
However, whether you live in Santorini permanently or are based there temporarily, you'll occasionally yearn for an escape – whether that's to meet friends, reconnect with family or hook up with business connections. And if it's your first time flying from Santorini Airport (JTR) for a while, you'll be wondering about the latest info on destinations.
You're in exactly the right place, because we won't only provide a list of the most popular destinations, we'll also make a few recommendations on those that cater for diverse tastes – because sometimes all you know is that you're desperate to get away somewhere.
Whatever the purpose of your travel, let's crack on with those destinations from Sunny Santorini!
Santorini airport destinations list
As eager to get at those Santorini Airport destinations as a hungry dog chasing a butcher's bike?
Feast on them below!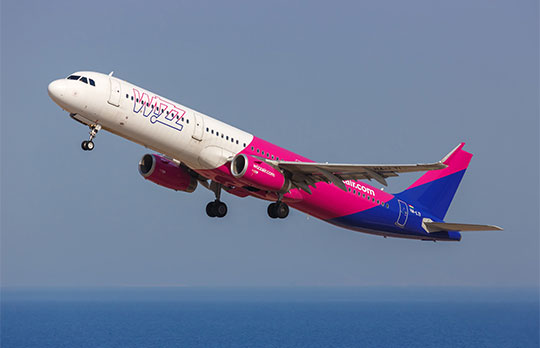 Santorini airport UK and Ireland destinations
Got to get back to Blighty or the Emerald Isle to see the family? No probs – you can fly from JTR to UK destinations like Edinburgh, Newcastle, Leeds, Manchester, East Midlands, Birmingham, Bristol and London (all airports). And your gateway from Santorini Airport to the Republic of Ireland is Dublin – which is grand.
Santorini airport European destinations
Want to jet off from Santorini Airport to Greece and the rest of Europe? Your wish is our command.
Current continental destinations from Santorini include Larnaca (Cyprus), as well as other Greek destinations like Heraklion, Mykonos, Athens, and Corfu. Then elsewhere in Europe, there's Sofia, Belgrade, Bucharest, Iasi and Timisoara. Budapest, Ljubljana, Rome, Naples, Bologna and Florence are also connected via direct flights, as are Prague, Warsaw, Krakow, Vienna, Zurich and Geneva. You're also covered for Hamburg, Dusseldorf, Cologne and Frankfurt, Paris (CDG and ORY), Nantes, Bordeaux, Lyon, Toulouse, Montpellier and Marseille. Spanish destinations include Madrid and Barcelona, and if you're after a spot of Scandi style and scenery, catch a flight to Oslo, Bergen, Stockholm, Gothenburg, or Helsinki.
Santorini airport rest of the world destinations
Need to go a bit further afield? You can also fly from Santorini to Tel Aviv in Israel, Saudi Arabia, Bahrain and the United Arab Emirates.
Santorini Airport indirect destinations
Heading to a destination that's even more exotic? We're jealous! And the good news is that you can fly indirect from Santorini to practically anywhere if you plan properly – whether you want to swim with Great White sharks in Cape Town or head up into the clouds to see Peru's Machu Picchu.
Where are the best places to fly from Santorini airport?
Desperate to get away somewhere but you're just not sure where yet? Check out some terrific recommendations for Santorini destinations:
Choose Bristol to experience a lively multicultural city with stunning scenery and an amazing arts scene. Some of the cracking things to do here are visiting the Clifton Suspension Bridge (miracle of Victorian engineering), strolling in the wide open spaces of Clifton Downs, catching some sublime graffiti (this is the home of Banksy) and enjoying a caffeine hit at one of the city's numerous trendy coffee shops. There's also a lovely retro lido where you can splash around and relax by the pool, and Gloucester Road – Europe's biggest collection of independent shops. Don't leave without taking a ferry tour – it's a wonderful way to see Bristol from another angle.
Choose London for the legendary vibes in one of the world's great cities. There's so much to do in the UK capital that it would take a lifetime to exhaust your options, but you can get a taste of its essence in a week or long weekend. Wonderful things to do in London include seeing world-famous tourist sites like Buckingham Palace, Big Ben and the Tower of London, enjoying the scents and colours in Columbia Road Flower Market and (if your timing's right) watching tennis at Wimbledon. Meanwhile, Notting Hill Carnival is an explosion of multicultural music, dancing and food and you can experience a Shakespeare play in the same way as audiences from his era in the iconic Globe Theatre. To relax like a local, pack a picnic and grab a grassy spot at scenic Primrose Hill, spot wildfowl and birds of prey at Walthamstow Wetlands and enjoy masterpieces from Matisse and Warhol gratis at Tate Modern.
Choose Cyprus for epic ancient history, exquisite beaches and a welcome that's as warm as the Mediterranean sun. Paphos is characterised by expansive esplanades, the awesome Alykes Beach, and the imposing archways of the medieval Saranta Kolones castle. Alternatively, you can visit Pissouri for some authentic culture and hop between its charming whitewashed tavernas. Akamas Peninsula National Park is an isolated wilderness with a vast network of hiking trails complemented by unusual fauna and flora. And are you into archaeology? There's lots to choose from, but the UNESCO-listed Tombs of the Kings dates back to the 4th century BC and it's awe-inspiring. Don't leave without visiting Limassol – it has a Byzantine castle, gorgeous green spaces and a lovely Old Town.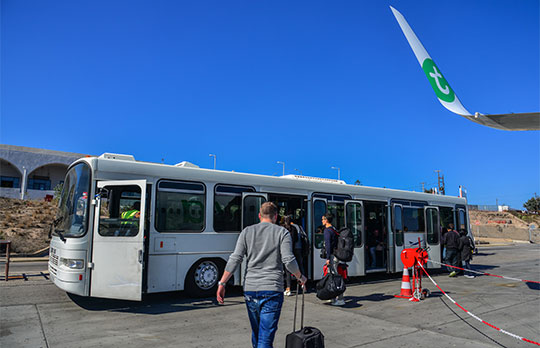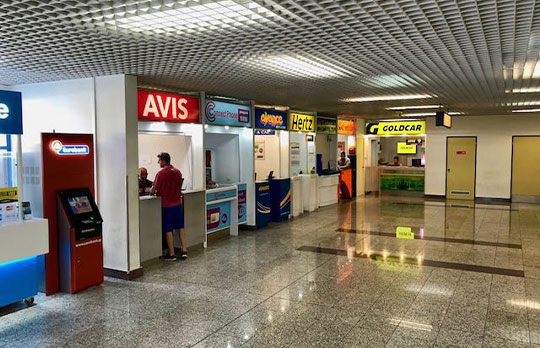 From Santorini Airport to the world
Ready for adventures beyond the UK and Greece? Take a look at these cracking suggestions:
Choose Sofia to experience the storied history and unique culture of Bulgaria's capital. With mosques that metamorphosised to churches and brutalist Soviet-era architecture beside 19th century revivalist elegance, this is a metropolis where you're surrounded by a sense of flux. Hotspots include the gargantuan St. Alexander Nevski cathedral (capacity 10,000), striking red St George Rotunda (dating from the 4th century AD), and swish Vitosha Boulevard (home to high end boutiques and mind-blowing views of Vitosha Mountain). Speaking of which, visit in winter and you can get your skis on to explore Aleko, the snowsports resort that takes full advantage of conditions around Vitosha's 2200m peak. Meanwhile, arty types can see Shakespeare plays in the ornate Viennese-style Ivan Vazov National Theatre and Borisova gradina is a sedate park for picnics and open-air midsummer concerts.
Choose Hamburg to soak up the buzzing atmosphere of a lively city with an independent spirit that has attracted everyone from enterprising seafarers to The Beatles over the years. Some of the most exciting things to do here include exploring the Gothic Revival style Speicherstadt warehouse district, marvelling at the modern Elbphilharmonie building (more than 100m tall), and browsing the fascinating exhibits at the International Maritime Museum. For something a little edgier and more creative, seek out the St Pauli district, home to the infamous Reeperbahn where the Fab Four plied their trade in their first incarnation, and take a harbour boat tour to see the city from the waterside. And when you need a family excursion? check out the 510 animal species on display in the zoo – there are leopards, orangutans, zebras, lions, alapcas and more.
Choose Saudi Arabia to sample inspirational Middle Eastern culture and eye-popping scenery. Unusual things to see here include the Qasr al-Farid tomb, which is carved into a giant boulder, the 2000 year old Al'Ula ghost town made of mud and stone, and the hilltop Thee Ain village perched dramatically on a marble outcrop. And there's more – Mount Horeb is the site where Moses received the Ten Commandments, Eve's Tomb is (according to legend) the burial site of the 'mother of humanity' and the Tuwaiq Palace Heart Tent is a stunning contemporary structure resembling a stained glass kaleidoscope. You could also visit the idyllic Farasan Islands with their white powder beaches, shop til you drop in Riyad's Deira Souq, and discover the charming old centre of Jeddah. If you want to splash out, stay in the lap of luxury for a few nights at the Ritz-Carlton Riyadh or Waldorf Astoria Jeddah.
Which airlines fly from Santorini airport?
A wide range of airlines fly from Santorini airport. Carriers include Aegean, Alitalia, Austrian Airlines, Blu-express, British Airways, Brussels Airlines, Condor, easyJet, Eurowings, Lufthansa, Norwegian, Ryanair, Scandinavian Airlines and Wings of Lebanon.
How can I hire a car at Santorini airport?
Hiring a car at Santorini Airport (or at practically any major destination worldwide) is child's play with Enjoy Travel – pop your dates and details in our search engine and choose a tailored deal from a trusted car rental partner. You'll easily find a model that suits at a reasonable price.