The 50 Best Spots For BBQ In Europe
The European BBQ scene has really been taking off over the last decade, so we thought it was about time we picked the best from across the continent. Sure, it may have its roots in America, but there's some super impressive spots across Europe that are giving many of the State's top restaurants a run for their money.
From the small, casual local joints to the high-end restaurants; the low and slow American style BBQ to South American meats and everything in between, there is something on this list for everybody.
Be prepared: as soon as you start flicking through these photos you are going to instantly start drooling. This is a carnivore's dream food bucket list…
The Best European BBQ Spots, How do these rankings work?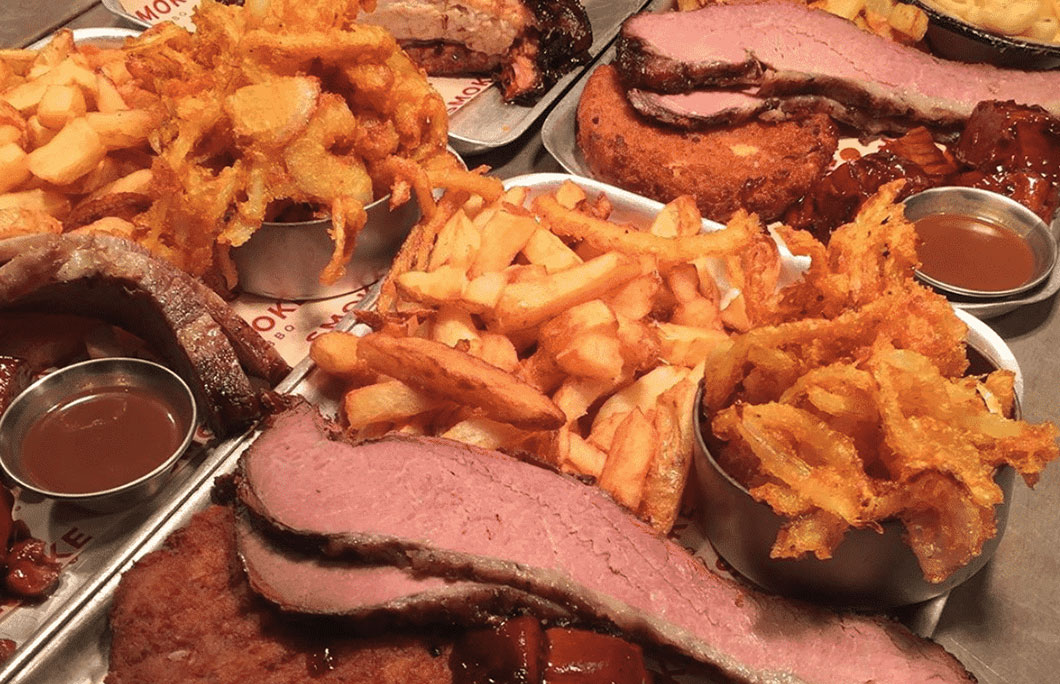 50th. Smoke – Sheffield, England
The food is served up in huge portions on casual metal trays in a room that is absolutely buzzing with atmosphere.
What really sets them apart (apart from the great flavours), are the huge portion sizes. The perfect place to come with a group of friends to fuel up ahead of a big night out.
---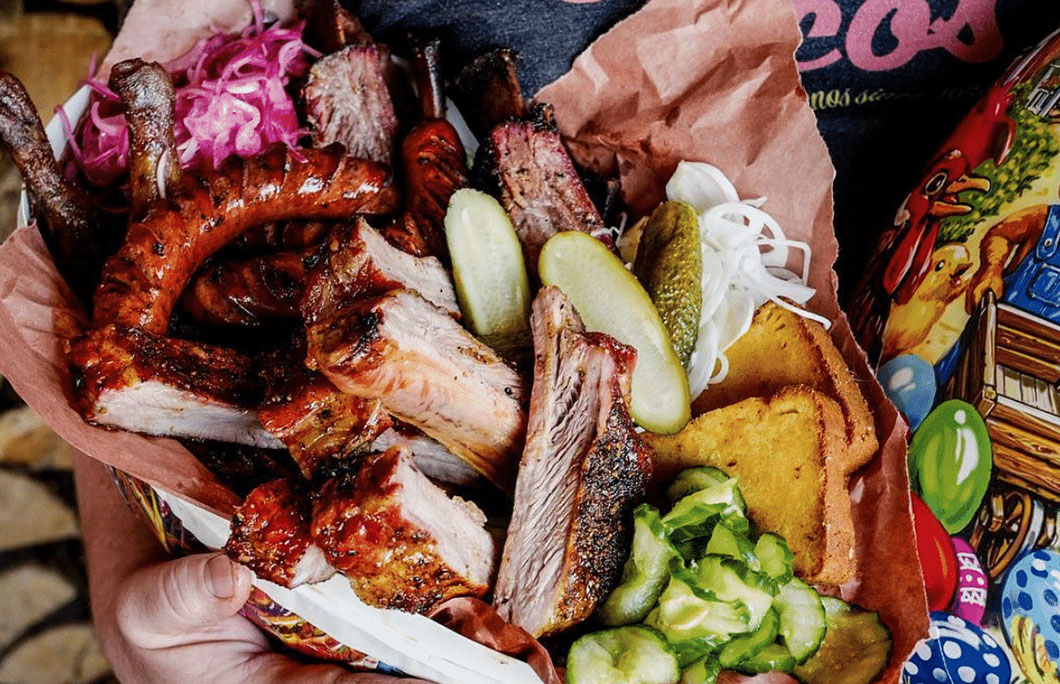 49th. Holy Smoke BBQ – Nyhamnsläge, Sweden
If you closed your eyes and took in the flavours of these amazing platters then you could just as easily be sitting in Texas rather than rural Sweden.
Their flavours are authentic and what really sets them apart are the local Southern little touches like the pickles and cabbage. This is one place that you are going to be leaving with a huge smile on your face.
---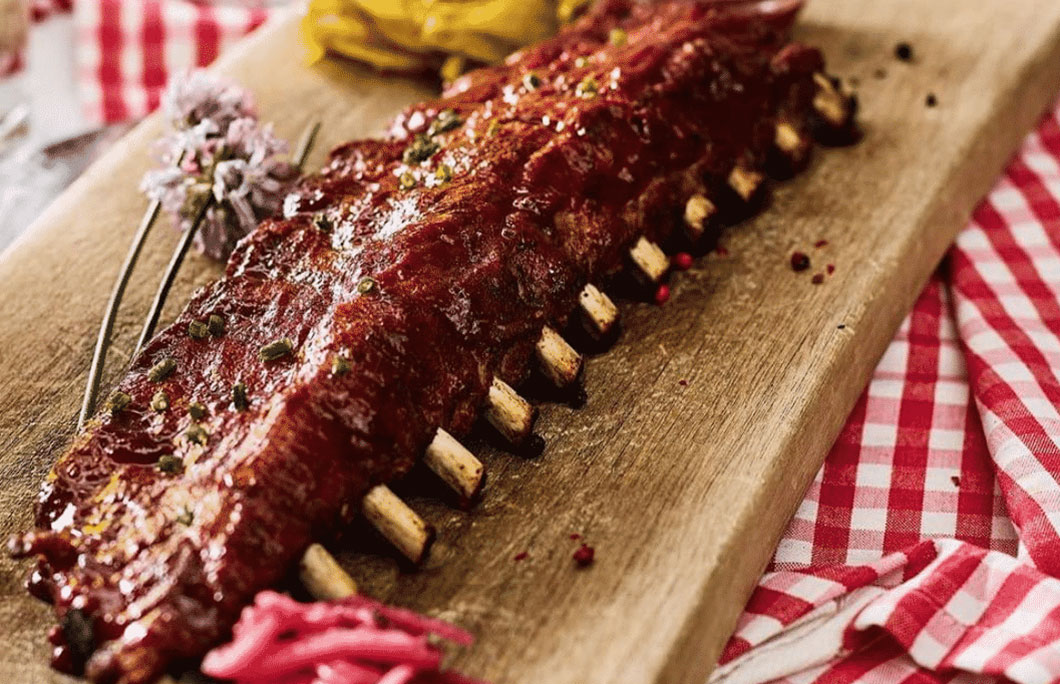 48th. Kralj Žara Restaurant – Ljubljana, Slovenia
If you want to eat the very best meat in the city then this is the place you'll want to come to. The menu here is overflowing with juicy and tender meat dishes that will have you returning.
Their steaks are legendary and flame-grilled to perfection, but other classics like the ribs and their slow roast pork will take you to heaven.
---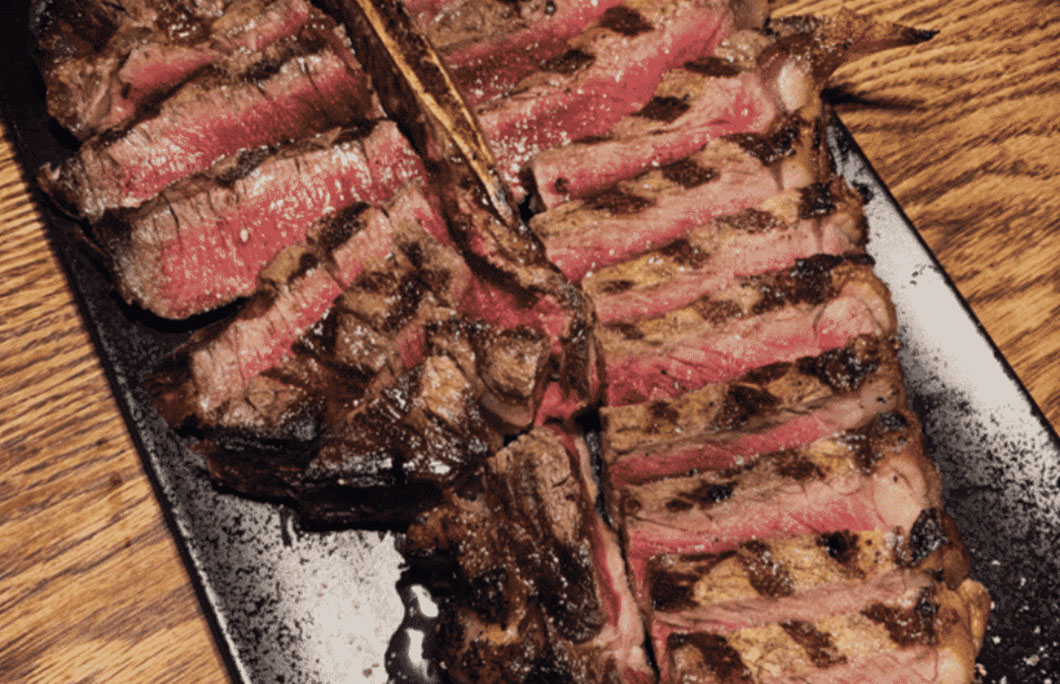 47th. Pimiento Argentino Restaurant – Kraków, Poland
The Argentinians know a thing or two about barbecuing, so this Argentine spot is one of the very best restaurants in Poland to experience such amazing quality.
You'd be foolish to look past the T-Bone steak, which is flame-grilled to perfection and comes with classic sauces and sides. Add in a glass of red from their fine wine list and you will be in heaven.
---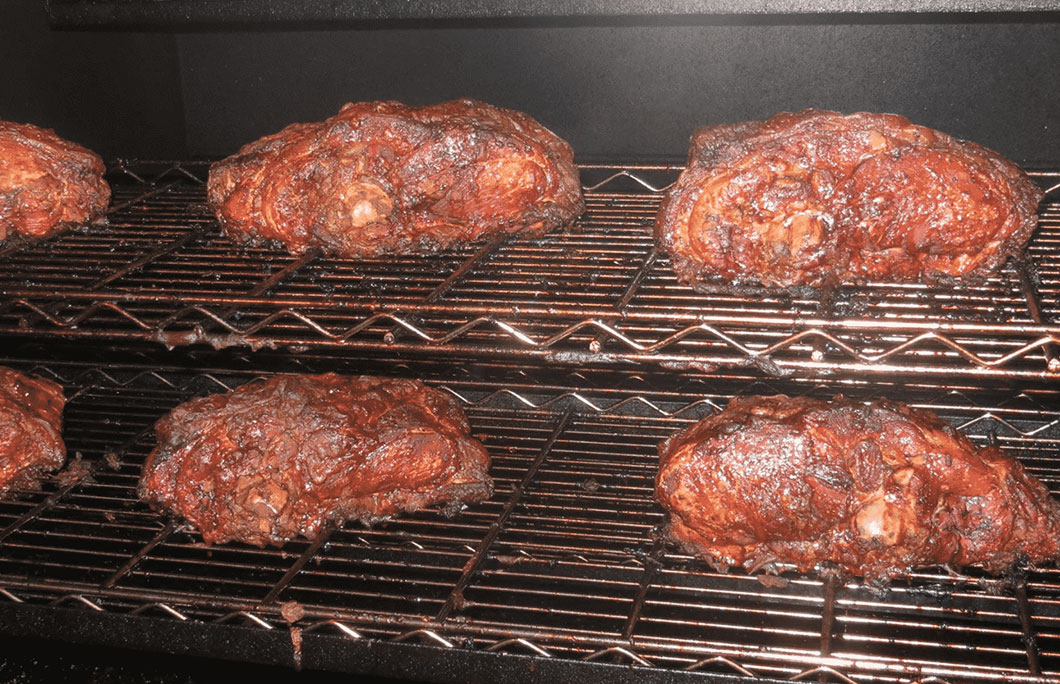 46th. Boogie's Smokehouse – Nuremberg, Germany
Boogie's Smokehouse cooks up Memphis-style BBQ and places a huge emphasis on sourcing only the very best of raw ingredients.
You'll find all the classics on the menu, including smoked meat, ribs, tasty side dishes and they make all their own sauces from scratch. What more you could you ask for?
---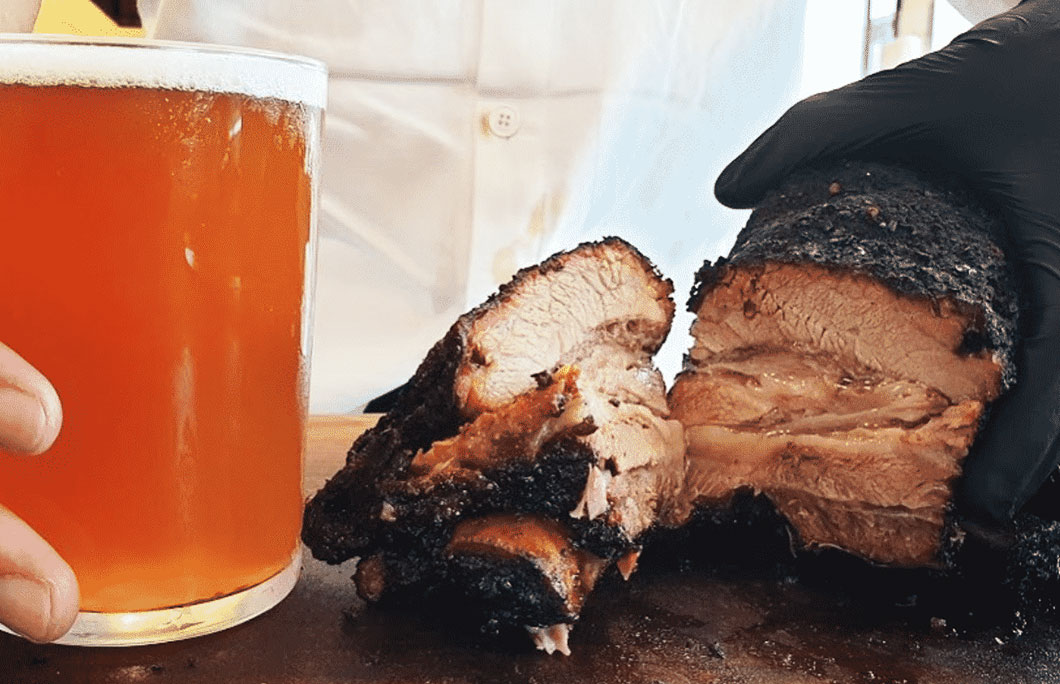 45th. Warpigs Brewpub –  Copenhagen, Denmark
An American and Danish brewery joined forces to launch this super hip spot that serves up authentic Texas style BBQ dishes.
The flavour profiles and combinations of the beers and meats make this and experience you simply cannot miss in Copenhagen. To top it all off, you can sit on their spectacular terrace in the warmer months eating and sipping in the sunshine.
---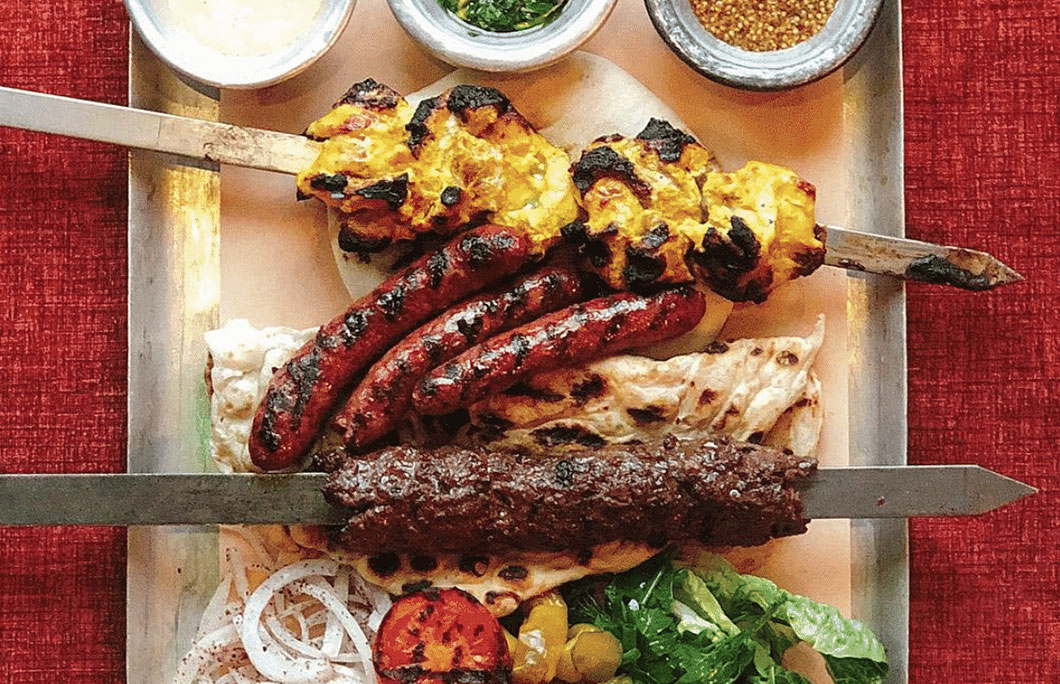 44th. Berber & Q – Grill House – London, England
Berber & Q Shawarma Bar opened in Exmouth Market in July 2016 using a converted camper van to create a rotating kebab spit.
Their flavours lean towards the Middle East with their wonderfully juicy meat being complemented by some great sides and sauces. One of the most imaginative BBQ joints in Europe you will ever visit.
---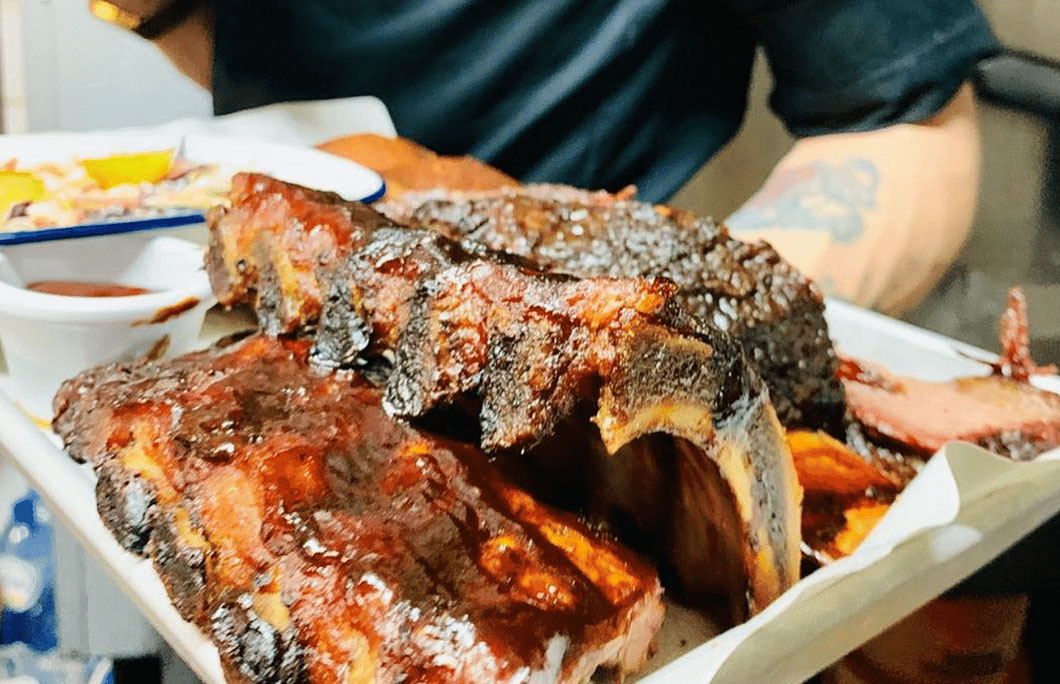 43rd. Carnivore Smoke BBQ-Bar – Amsterdam, The Netherlands
This is a small, cosy spot where the emphasis is on serving up great meat and equally impressive cocktails. In short, it is the sort of place you come to if you want to spoil yourself and indulge in the good things in life.
Their slow cooked ribs are the top pick of what is an incredible menu.
---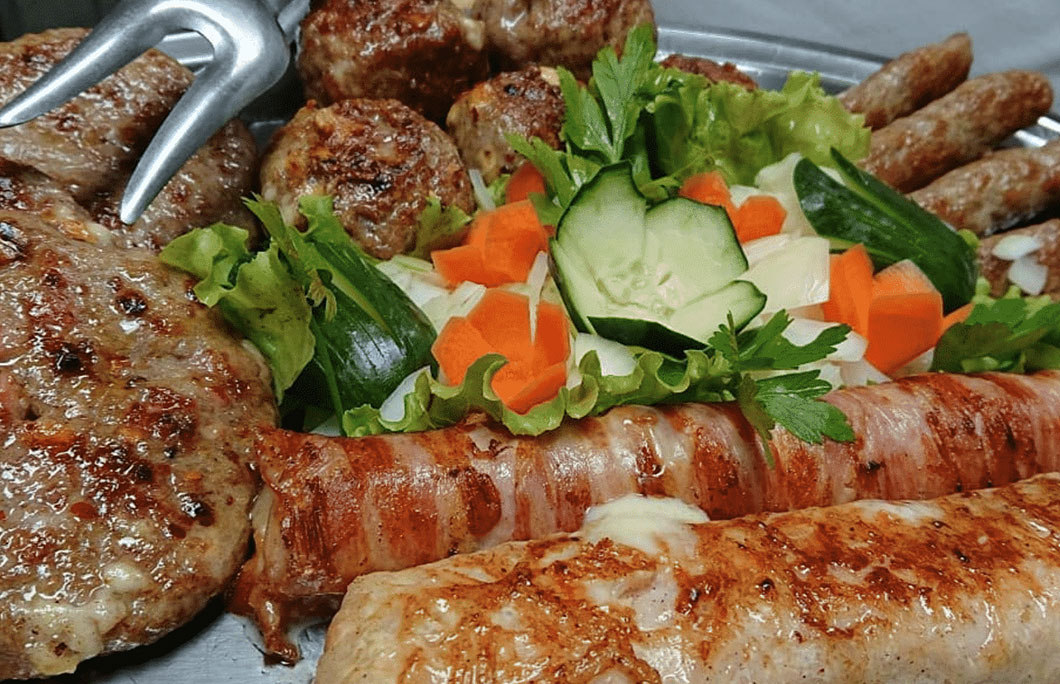 42nd. Tvornica Pljeskavica Kosta – Zagreb, Croatia
To say that this is a haven for meat lovers would be one of the greatest understatements of the year.
They serve huge platters of sausages, meatballs, stuffed fillets and steaks that all melt in the mouth. How they fit so much meat onto their BBQ and turn it out so perfectly every single time is the big question.
---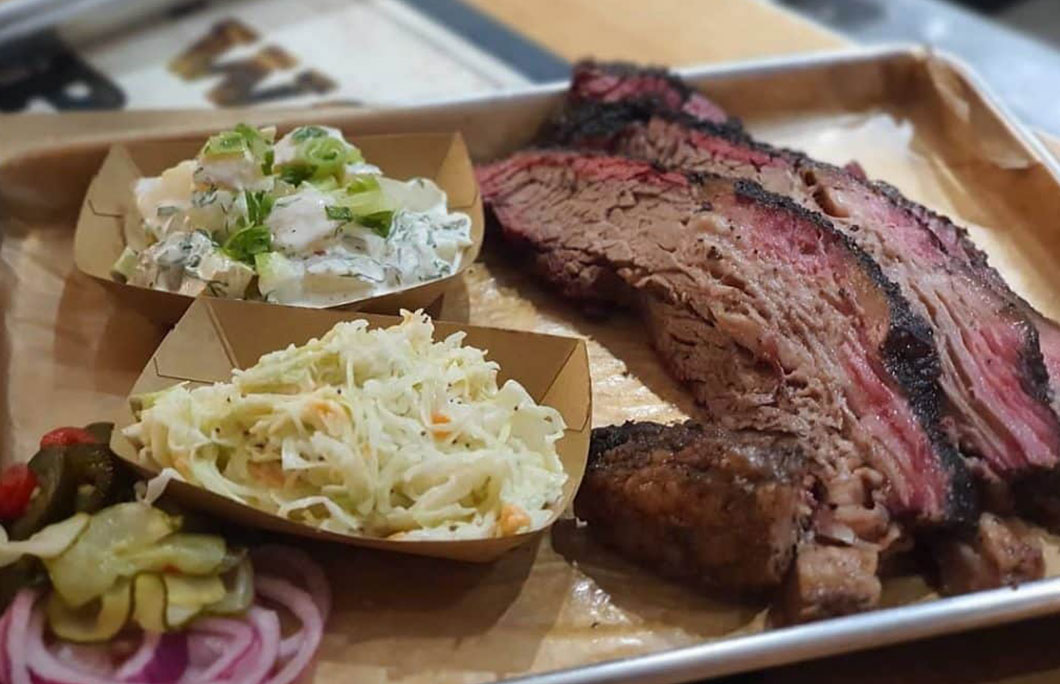 41st. JJ's BBQ – Salo, Finland
A simple stripped back room where the focus is very much on the food that they serve. You'll find everything from smoked beef brisket to juicy chicken legs on a menu that offers something for everybody.
The pick you want to go for though is the five meat platter which offers up a little something for everybody. Eat on the terrace for a view of their 2-tonne smoker – the biggest in Finland!
---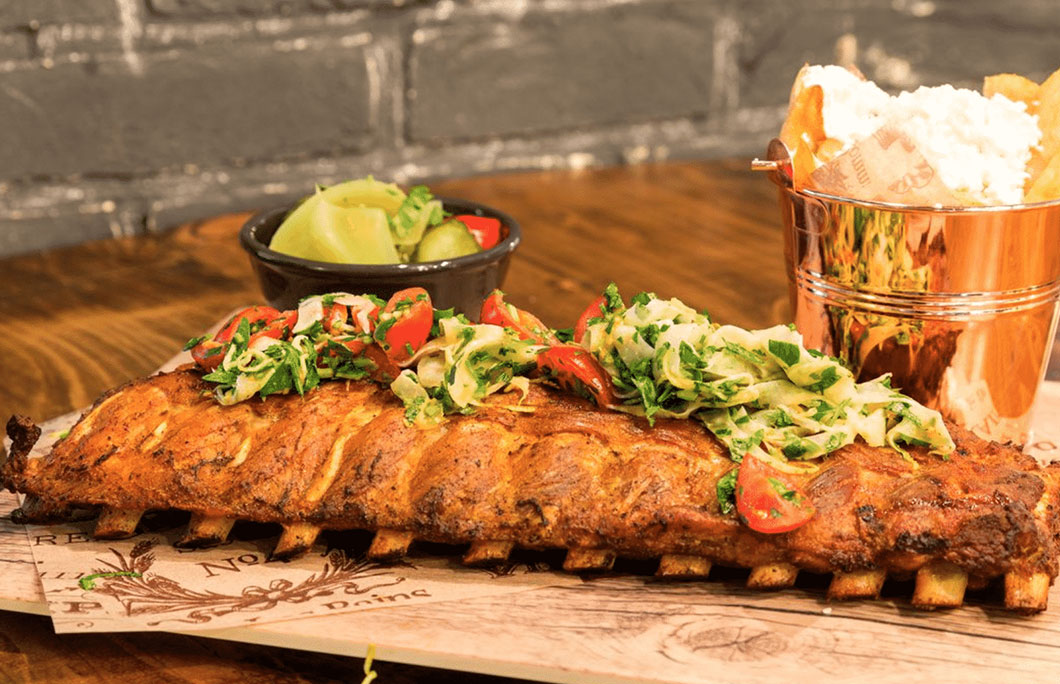 40th. Romanian Insane BBQ and Sauces – Bucharest, Romania
Never has a restaurant name summed up what they do so well so succinctly. Insane?Insanely good! Their portions are absolutely massive; the rack of ribs is the real stand out dish.
Throw in some great beers and a buzzing room and this is the perfect place for a great meal out with friends before continuing long into the night.
---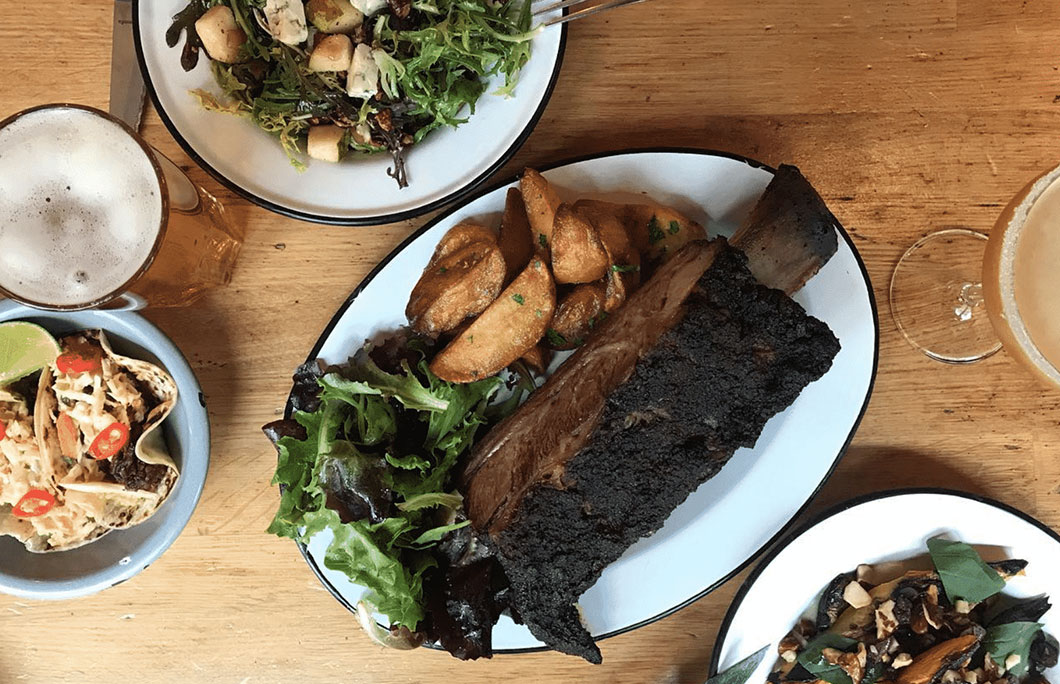 39th. Flesh – Paris, France
As you would expect in what is perhaps the culinary capital of the world, they take BBQ to a whole new level here at Flesh.
Their menus are inventive and the cooking has a certain level of finesse while still keeping that rugged BBQ texture and taste there. There's plenty of great burgers, ribs and steaks to choose from as well as a huge selection of super tasty side dishes.
---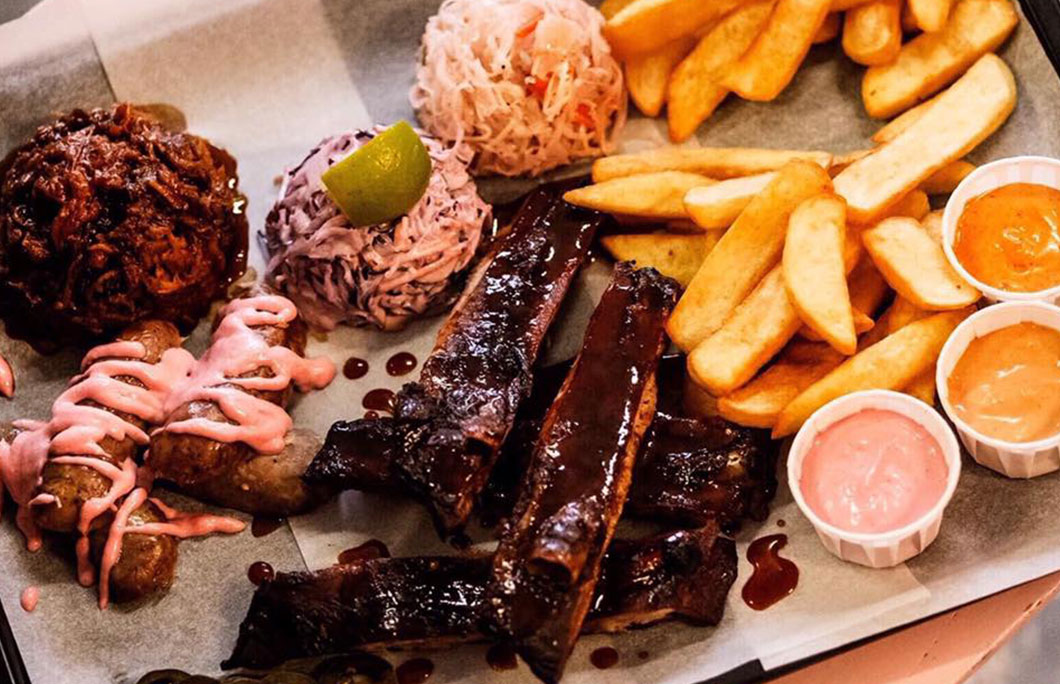 38th. Keulė Rūkė – Vilnius, Lithuania
Keulė Rukė is packed full of funky attitude and delicious smoked meats and has become one of the must-eat restaurants in the city. There's tender pulled pork, juicy sticky ribs and buffalo wings.
Our tip? They serve up their grilled meats until it's all sold out, so make sure you get down here before it does.
---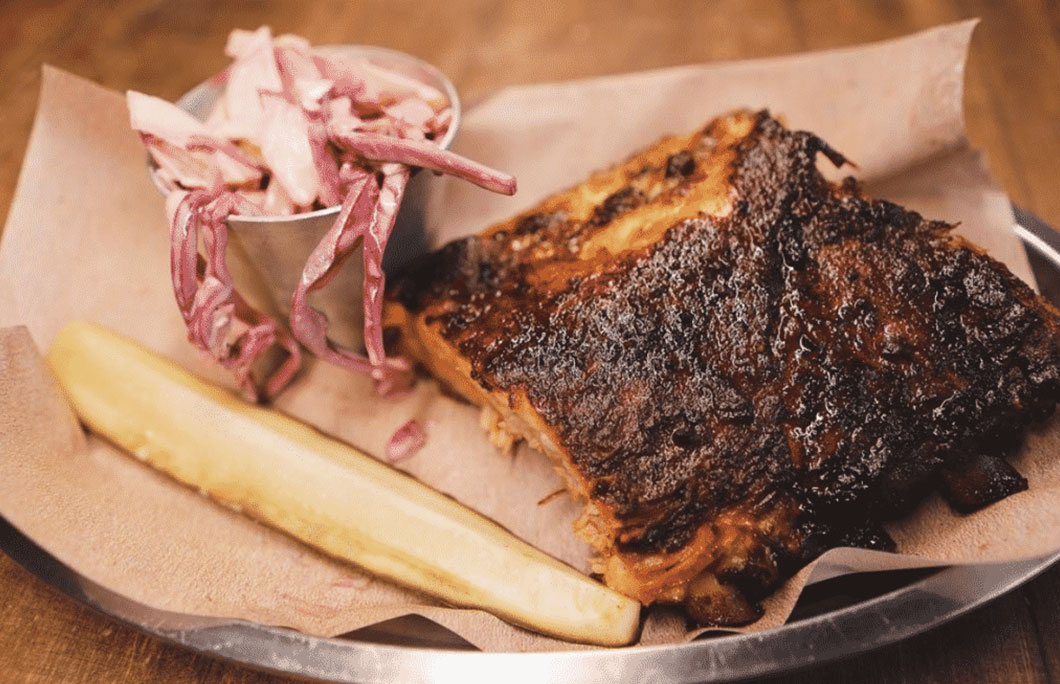 37th. Fat Barbies – Barcelona, Spain
They take their European BBQ very seriously here, with only the best ingredients and with nearly everything made in house.
All the American classics are on the menu, along with a few subtle nods to the local Spanish cuisine. The real skill they have though, is in keeping things super simple and creating dishes without fuss that are utterly delicious.
---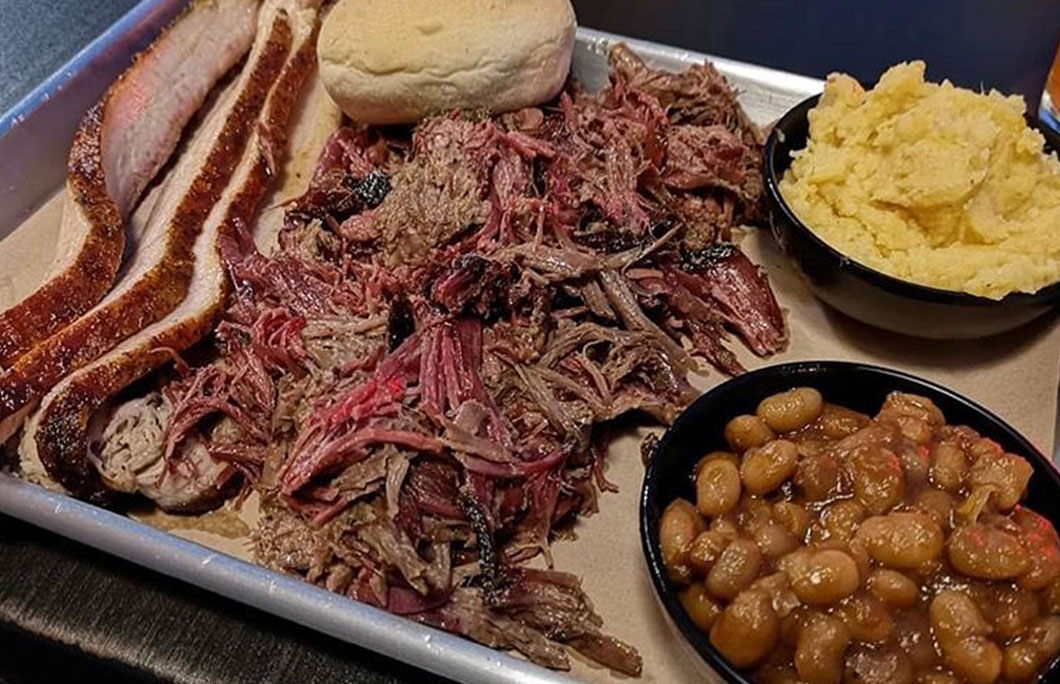 36th. Barbacoa BBQ – Limassol, Cyprus
Their meats are all cooked low and slow and they combine them with a huge range of artisanal sides that are to die for.
The beauty here is that the menu is so extensive that there is something for everybody. Our take on this is that you could come back every week and never have the same thing twice! Absolutely superb cooking.
---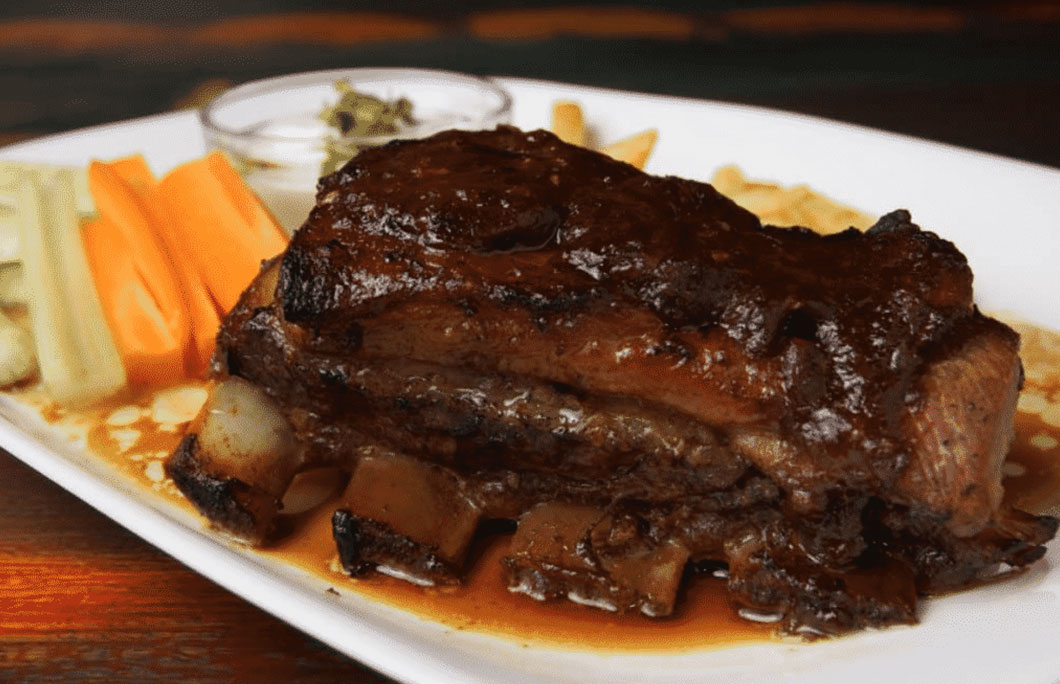 35th. Diego Pivni Bar – Prague, Czech Republic 
This is no-nonsense comfort food with a menu that is constantly changing and which has some wonderful specials.
The slow cooked ribs which come in their own succulent sticky and sweet sauce are one of the great dishes in this city. Throw in crispy fries and a local craft beer and your perfect meal is complete.
---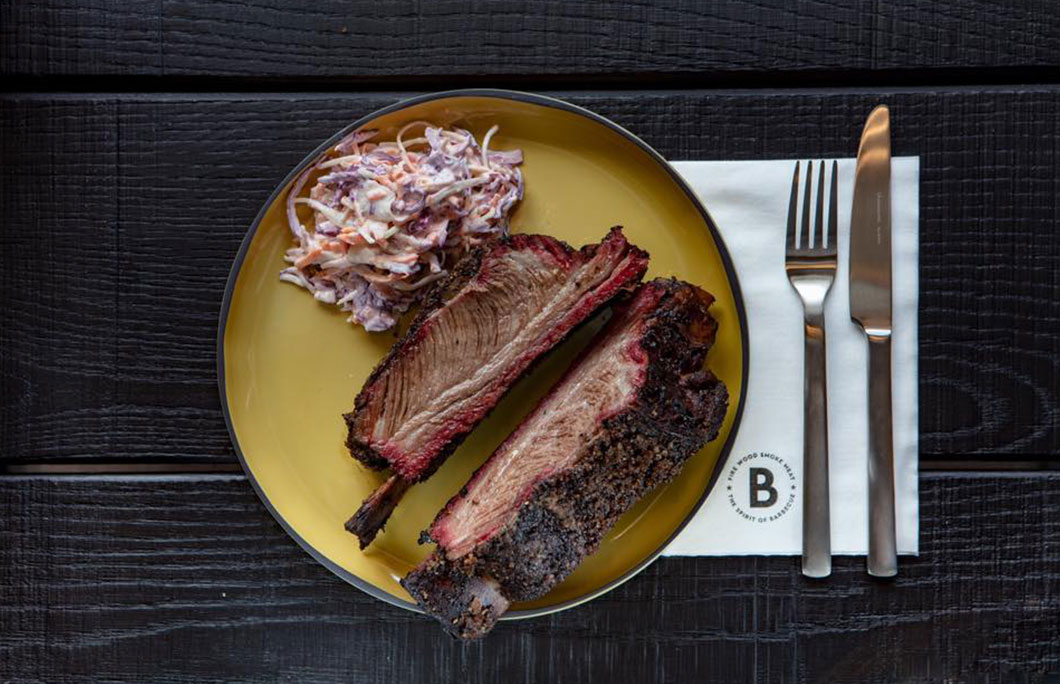 34th. Blacket – Como, Italy
Their slogan here is "The Spirit of Barbecue" and it's seriously dedicated to the cause. Inspired by Texas BBQ joints, this is European BBQ on a new level. Feast on their famous brisket (beef brisket), pulled pork (frayed pork shoulder), ribs (pork or beef ribs), all strictly smoked for several hours according to the traditional "low & slow" method.
---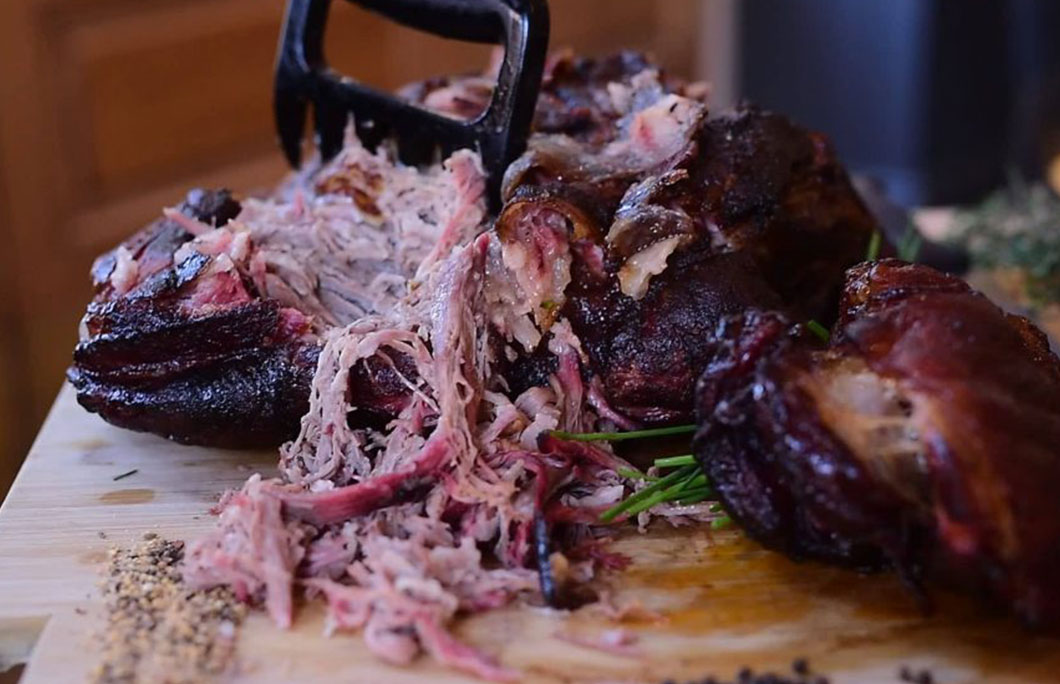 33rd. Budapest Barbecue Company – Budapest, Hungary
If you're in the mood for traditional American barbecue in Budapest then this is a stellar spot to go to. Budapest Barbecue Company smoke all their meats from 3-14 hours on apple tree wood for a rich flavour. Order a platter for a full feast with BBQ pork knuckle with crispy pigskin, smoked Andalusian beef sausage and smoked bacon wrapped chicken with jalapeno and cheddar.
---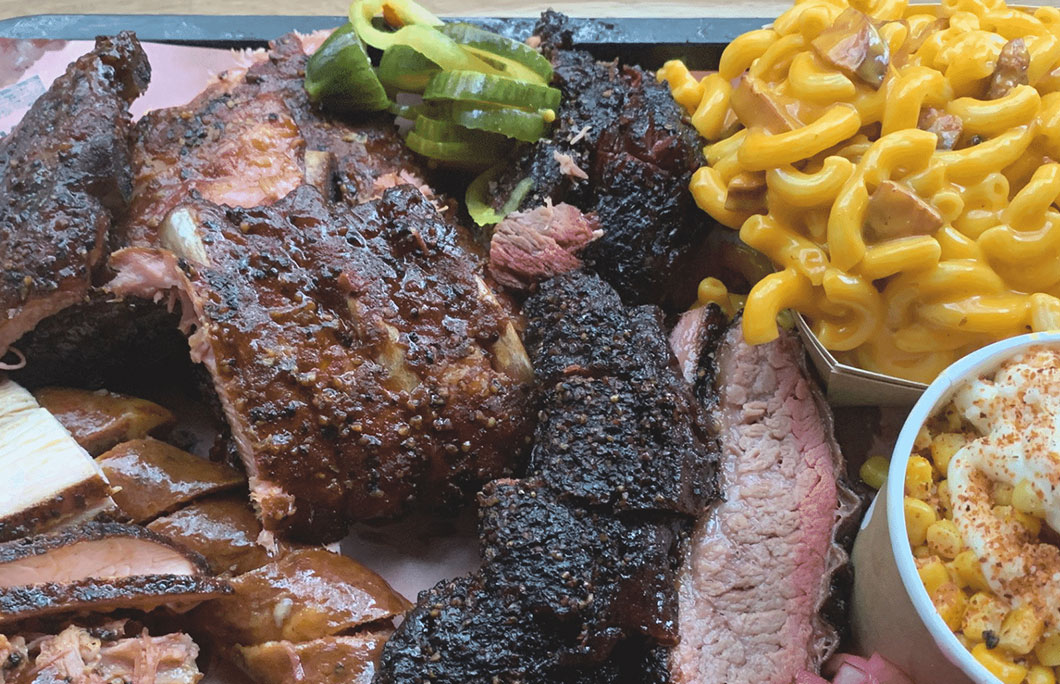 32nd. The Bird Barbecue – Berlin, Germany
Traditional Texas style BBQ that could not be more authentic if it tried. The meat sharing platters are enough to feed you for about a week, especially when you add in the delicious side orders.
Some of the prettiest (for real, how good this this look?!) and tastiest European BBQ you will find anywhere.
---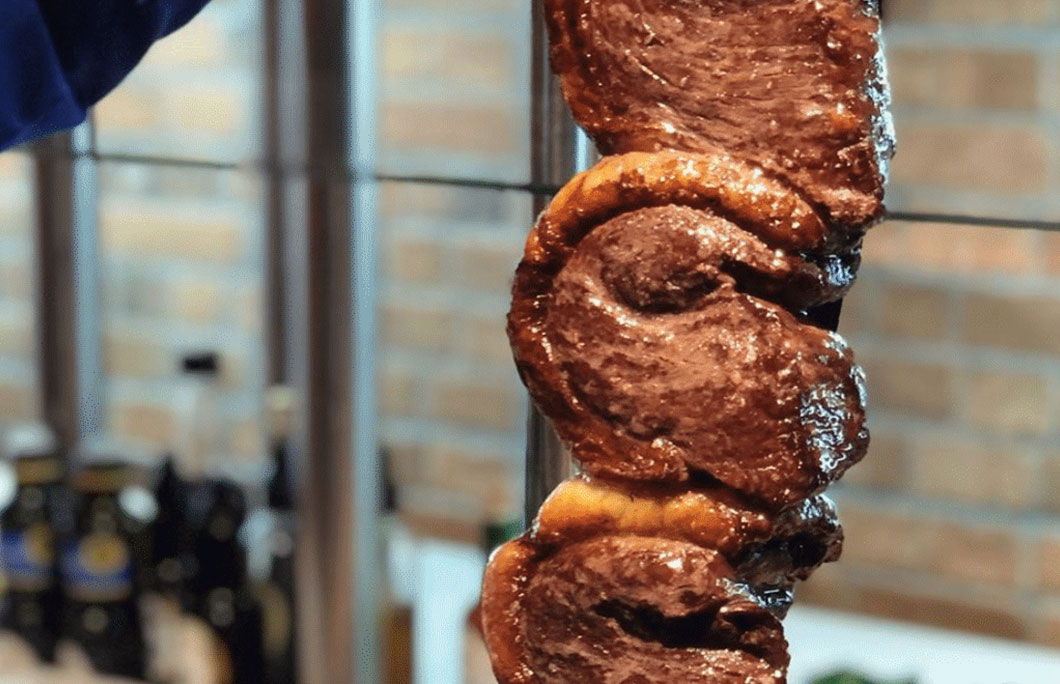 31st. Fogo de Chão – Lisbon, Portugal
Fogo de Chao has a long history of cooking up amazing, traditional cuts of grilled meat in Portugal and have been a nation fave for over 20 years. Meats are beautifully juicy and come served on skewers, dripping with flavour. For an authentic European BBQ joint this place hits the spot. 
---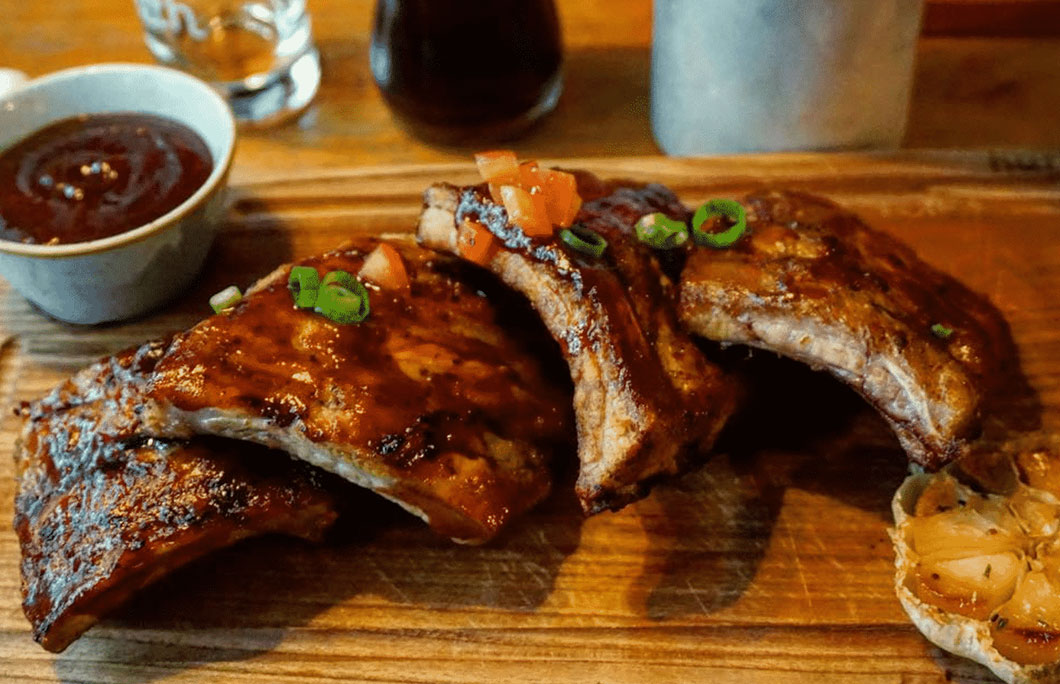 30th. Huth Grillhouse Da Max – Vienna, Austria
The meat here gets its incredible taste from their charcoal Josper grill, which adds a unique smoky taste to the meat. This comes from a very special type of charcoal which heats up to 350 degrees celsius. Choose from pork ribs marinated in their BBQ rub or grilled salmon and prawns.
---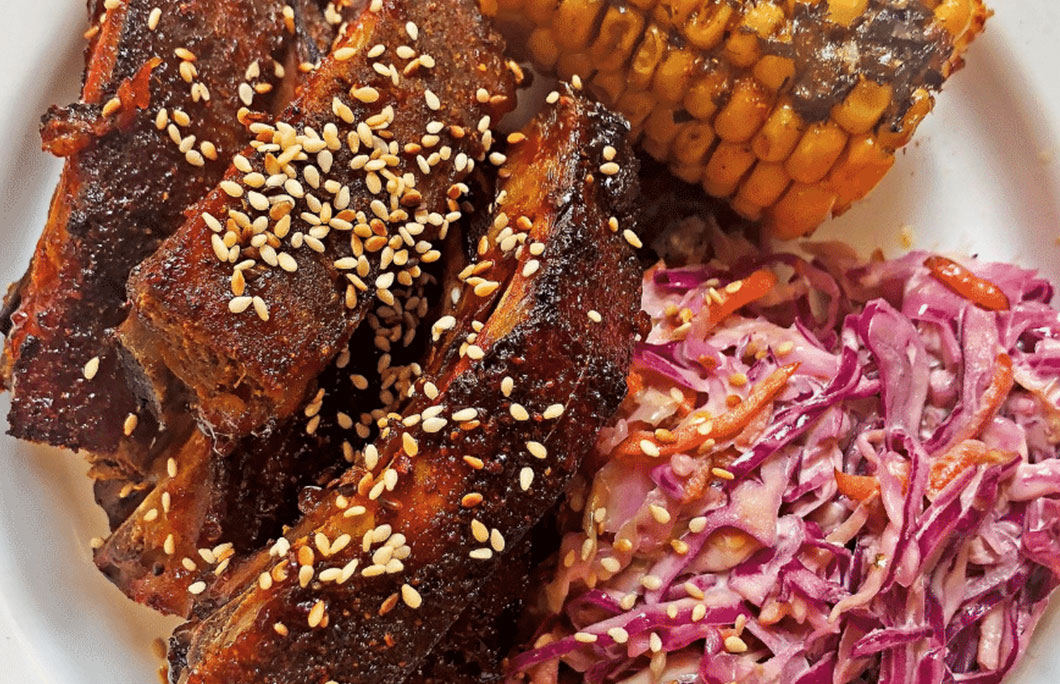 29th. Ribs Brothers – Sofia, Bulgaria
Ribs Brothers keep their menu small and specialised in smoking and cooking ribs and pulled pork, but also experiment with different styles and cuts of meats on the reg. It's a creative take on classic barbecue. There's pork ribs glazed with hoisin sauce and marinated with ginger, ribs with plum sauce or a smoked pineapple sauce.
---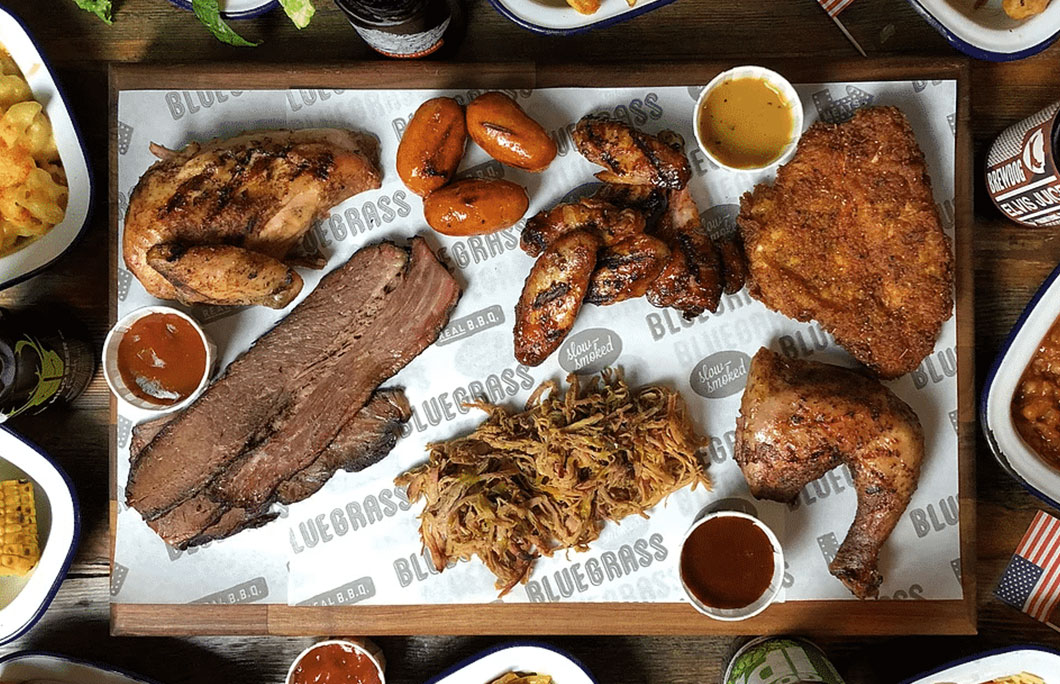 28th. Bluegrass BBQ – Reading, England
Bluegrass BBQ is pretty special as you can eat barbecue for breakfast lunch and dinner here. The meats are smoked low 'n' slow on site daily in their imported hardwood burning smokers for a true Texas taste at this top European BBQ spot.
Start your day off with an 18-hour smoked pulled pork and bacon bun and finish it with a brisket and burnt ends platter.
---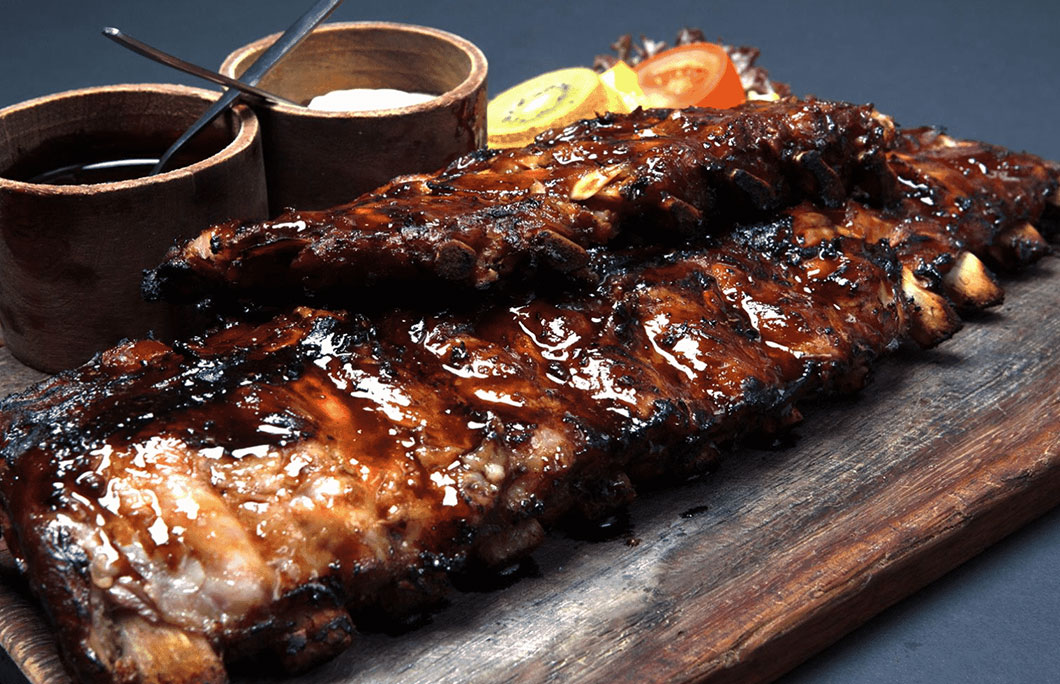 27th. Castell: BAR-beque – Amsterdam, The Netherlands
Castell has been a household name in Amsterdam for over 20 years and is known for its delicious meats. As well as high-quality steaks, Castell offers a homely no-frills atmosphere, with all their focus on amazing food. It's all cooked to perfection on a josper charcoal grill.
---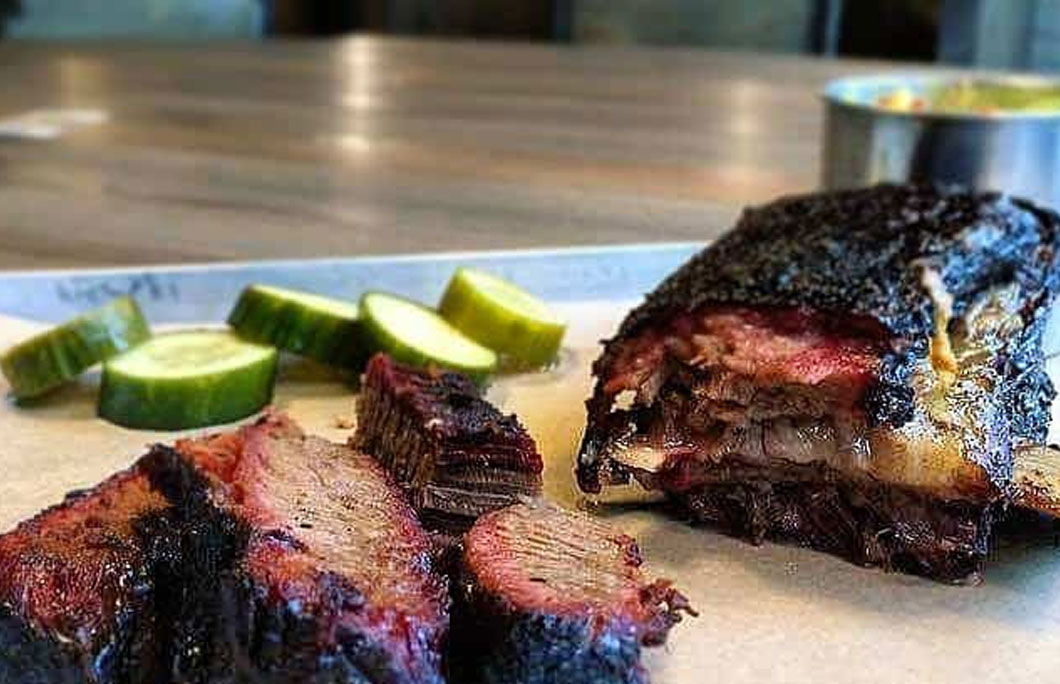 26th. Meat Shack BBQ – Gdansk, Poland
Meat Shack BBQ serves up amazing European BBQ with an authentic American taste. They bring an intense char and flavour to their meats by roasting at low temperatures and smoking over beech wood. Meats come priced by the 100g, so stock up on a platter that has a little bit of everything, from brisket to pork buns.
---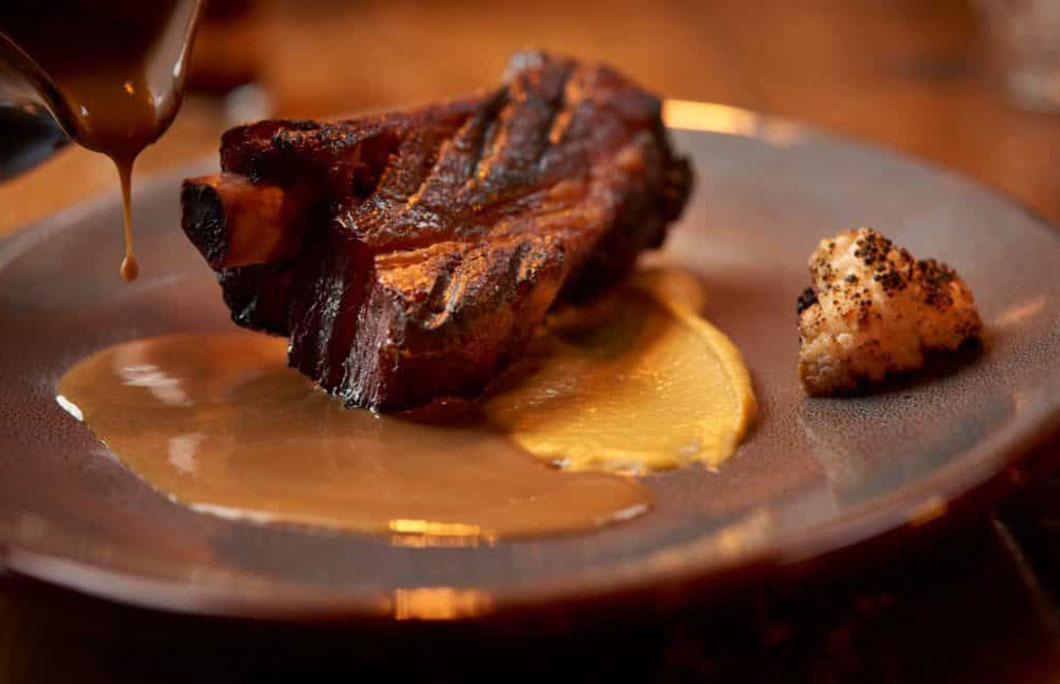 25th. Black Smoke – Antwerp, Belgium
One of the best barbecue restaurants in Europe, Black Smoke are masters at both American-style 'low and slow' BBQ dishes on wood burning smokers, and 'hot and fast' grill classics on a unique Argentinian parrilla grill.
The founders visited 40 BBQ joints in the States to perfect their menu, which has creative dishes such as smoked and grilled marrow with Jack Daniel's Tennessee Whiskey lacquer.
---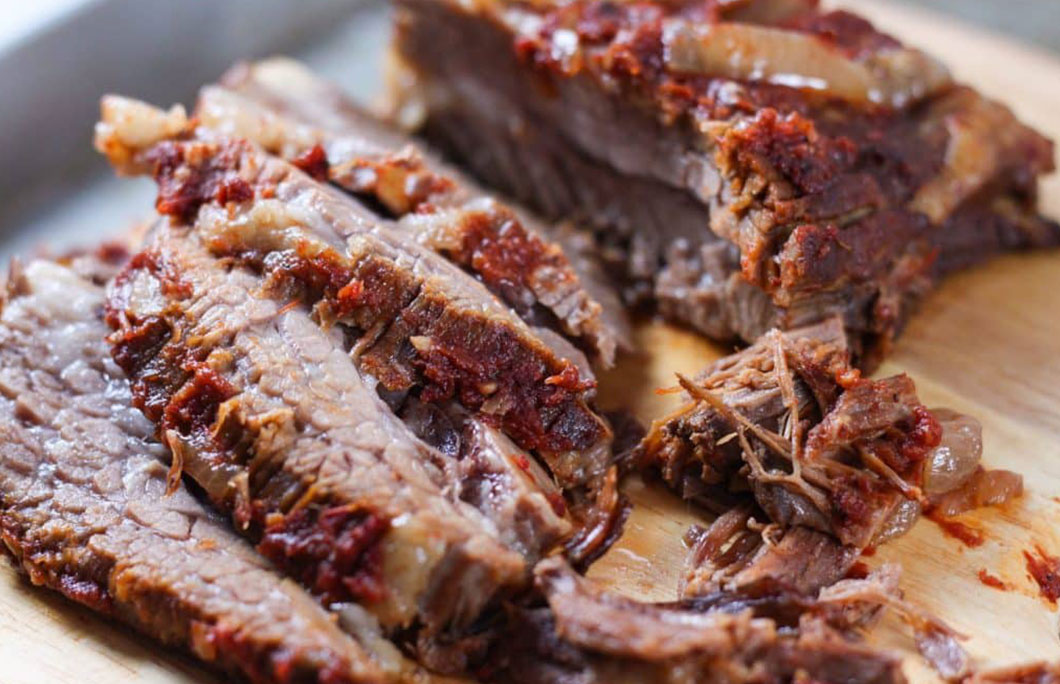 24th. The Cut – Bratislava, Slovakia
The Cut is a top spot for droolworthy meats that come served with fresh veggies and some great sides. It's not all traditional US-style barbecue but it's a unique European BBQ mix of different styles. Think Brazilian pork ribs marinated in citrus, New York pastrami and pulled pork.
---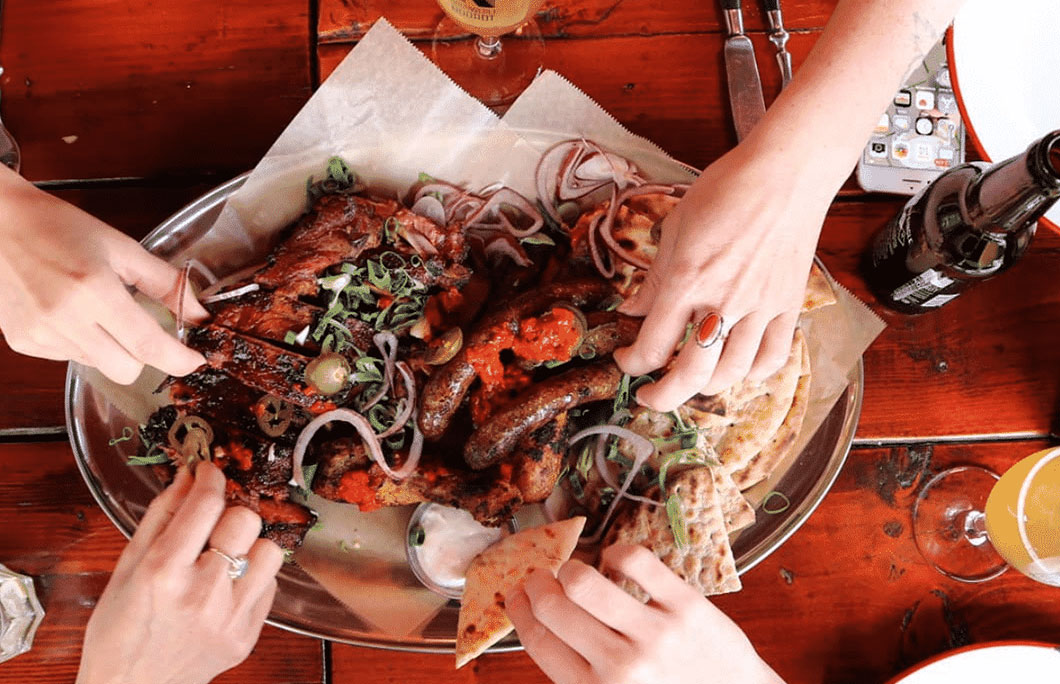 23rd. Holy Smoke – Rotterdam, The Netherlands
You'll find Holy Smoke in one of the coolest neighbourhoods of Rotterdam, nearby the Central Station. There's pork belly, BBQ honey ribs and brisket. Can't decide what to order? Get the 'The Holy Grill' which is a hefty platter with ribs, chicken, brisket & sides such as corn on the cob.
---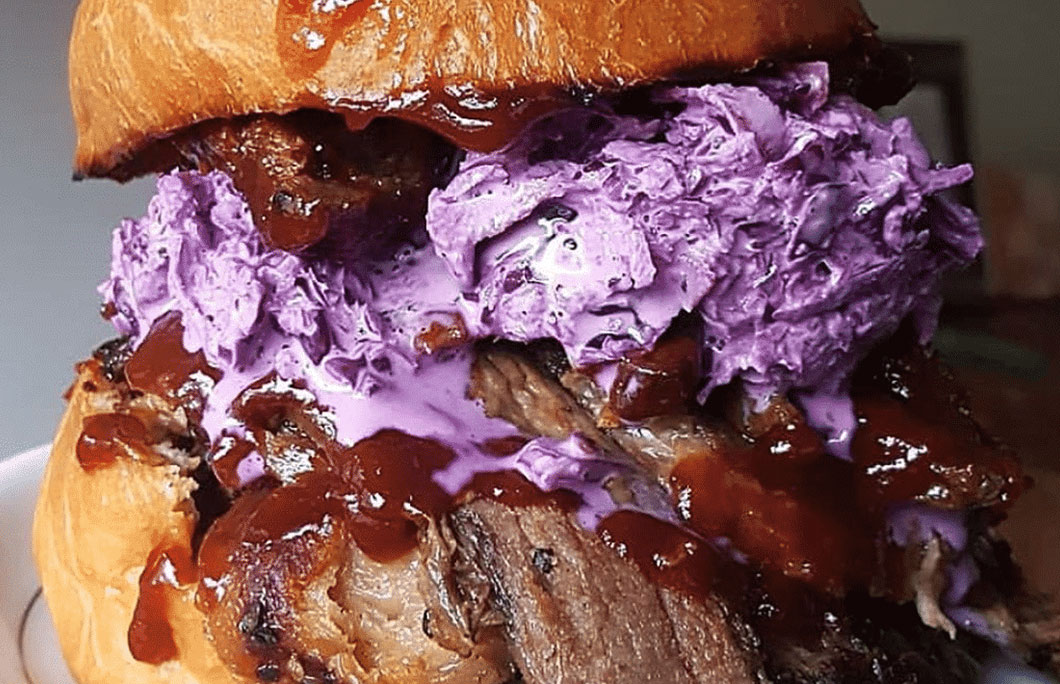 22nd. Dennistoun Bar-B-Que – Glasgow, Scotland
Their meats are locally sourced and smoked in-house using imported Texas oak, burgers are handmade and their artisan bread is made in small batches – you'll only get the good stuff here. Top picks from the tempting menu include pit beef brisket with a side of campfire chilli.
---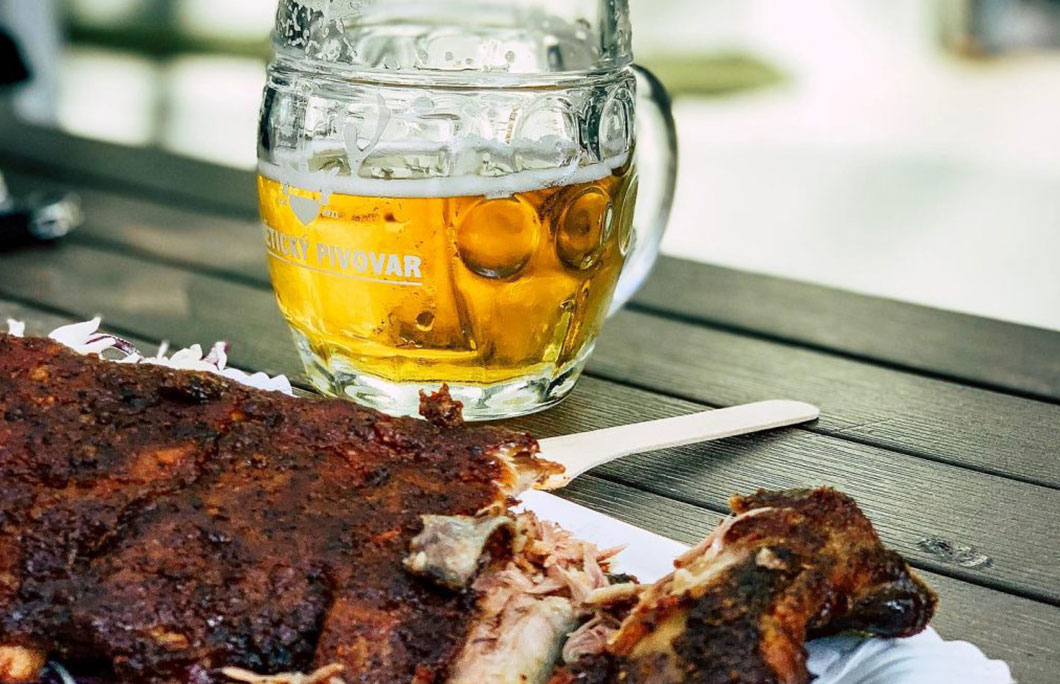 21st. Bad Jeff's Barbecue – Prague, Czech Republic
Bad Jeff's Barbecue is all about American-style BBQ with a European BBQ twist. The twist is that this place has really elevated barbecue cooking to another level, with fine dining elements. Pork chops come marinated in cherry cola and roasted garlic and there's smoked turkey breast.
A cult favourite here Bad Jeff's beef jerky, the flavour-filled meat treat that became a local must-eat.
---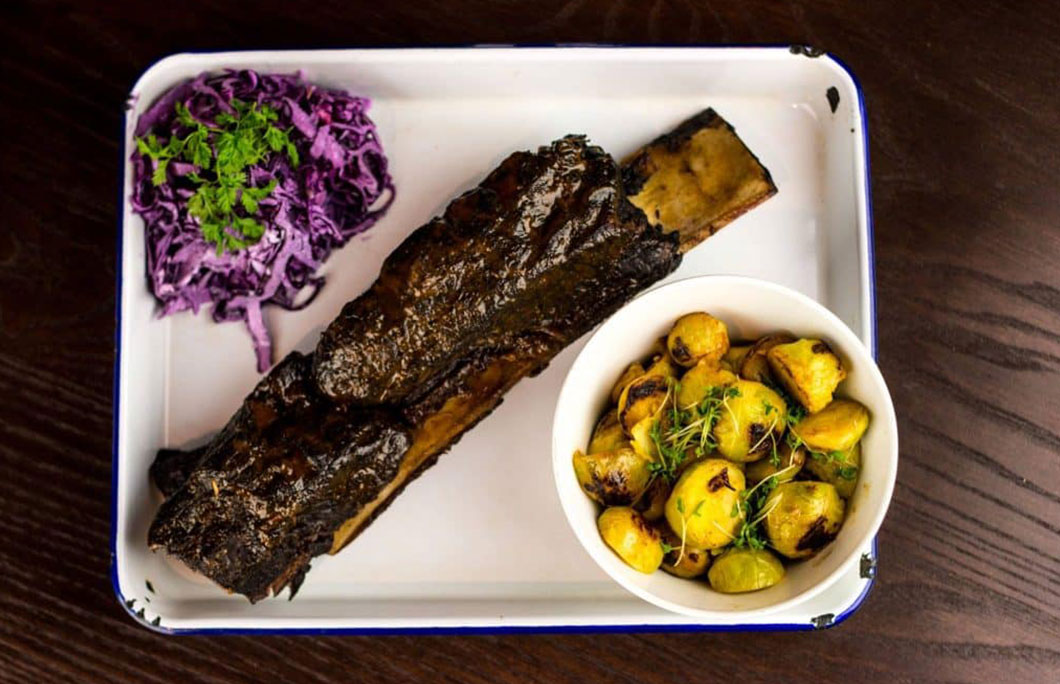 20th. The Brickmakers Pub & Kitchen – Vienna, Austria
This traditional barbecue and craft beer joint cooks up all your favourites: wonderfully tender brisket, caramelised burnt ends, home smoked baby back ribs or pulled pork. The sides are also a real highlight here with some creative choices. Think: bone marrow mash potato or flamed lettuce with anchovies.
---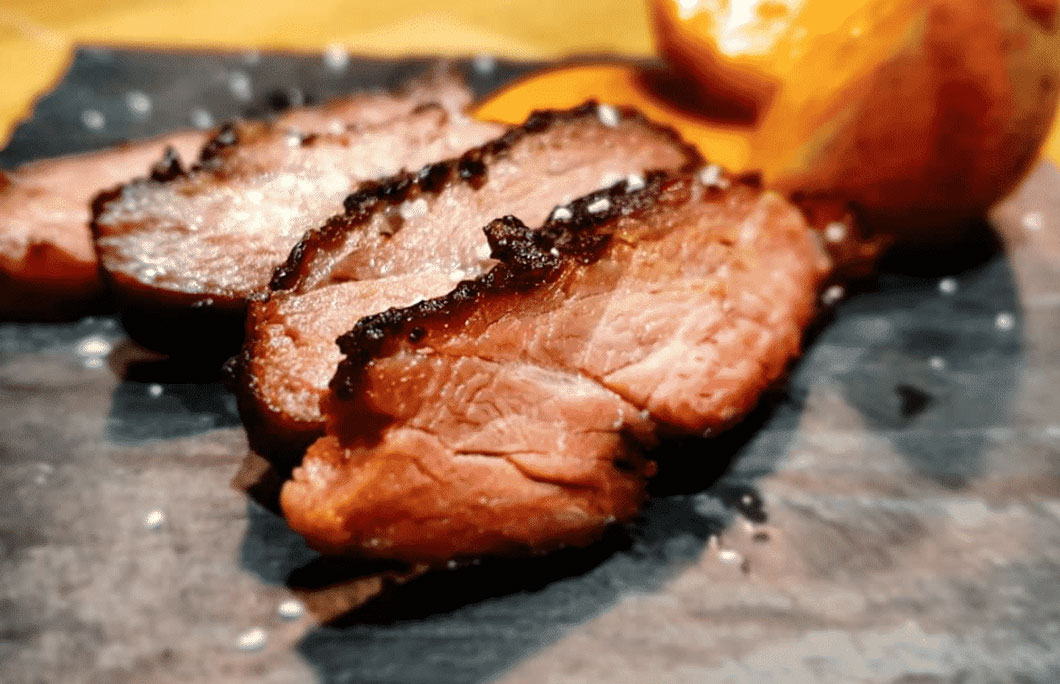 19th. Juancho's BBQ – Madrid, Spain
Juancho's BBQ is a true European BBQ joint with traditional techniques of charcoal grilling for a flash sear and full flavour. Try the best cuts of Iberian pork, gourmet hamburgers, certified Iberian Wagyu and, their star, Tomahawk. The meat is bursting with flavour and is absolutely delicious.
---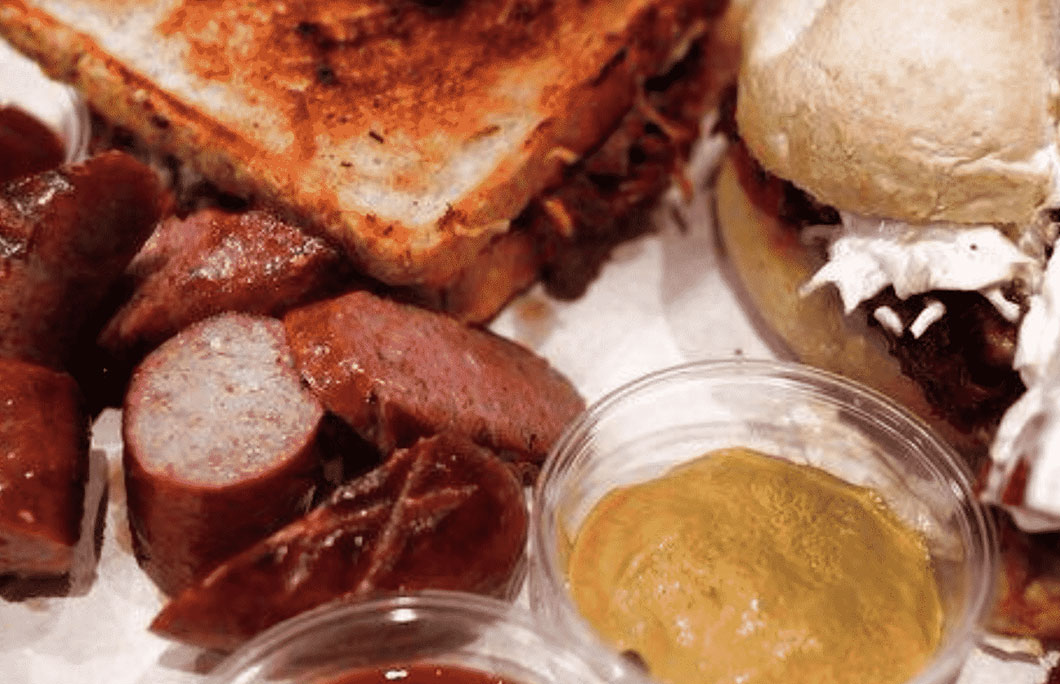 18th. Bp BARbq – Budapest, Hungary
Super starving? This is where you need to come. Settle down with an order of the Tipsy Texasn: a feast of BBQ brisket, BBQ sausage, green mayo, coleslaw and pickles in a huge homemade bun. Their brisket undergoes a 14-16 hour slow-smoking treatment for a rich black crust and meat that falls apart instantly.
---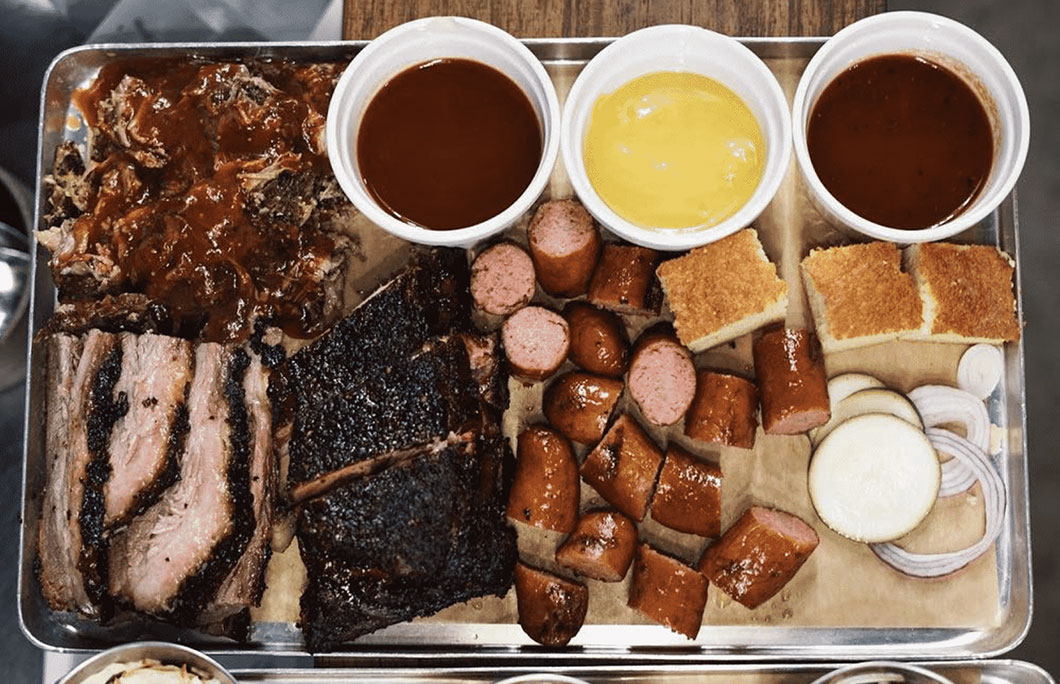 17th. Holy Smoke – Brussels, Belgium
Get a huge platter loaded with brisket, pork ribs, beef ribs, pulled pork, bone marrow, and sausages to try all of their amazing meats at once. All meats come with homemade cornbread, coleslaw, pickles and homemade sauces, with bbq sauce and honey mustard on the side.
An essential European BBQ restaurant for any serious meat lover.
---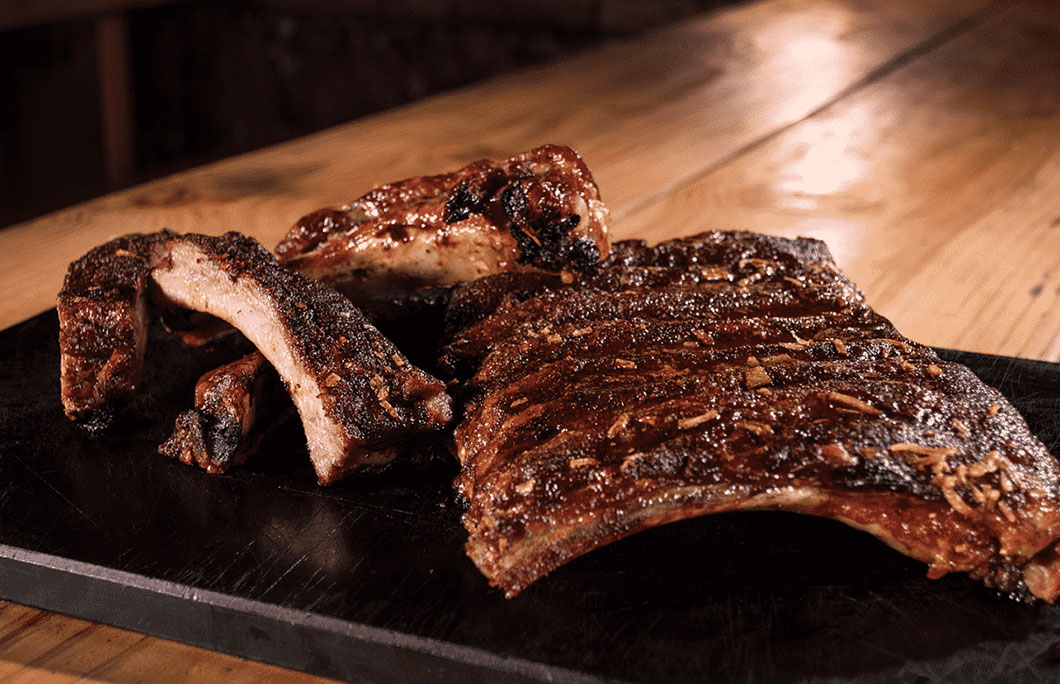 16th. Smoke Ring – Rome, Italy
Smoke Ring are passionate about getting their barbecue right, and they succeed time and time and again. Their meat smokers come all the way from the States and they smoke the meat over mesquite and hickory wood.  You make up your own platter by weight, with pork ribs, beef ribs, sausage and brisket all on the menu.
---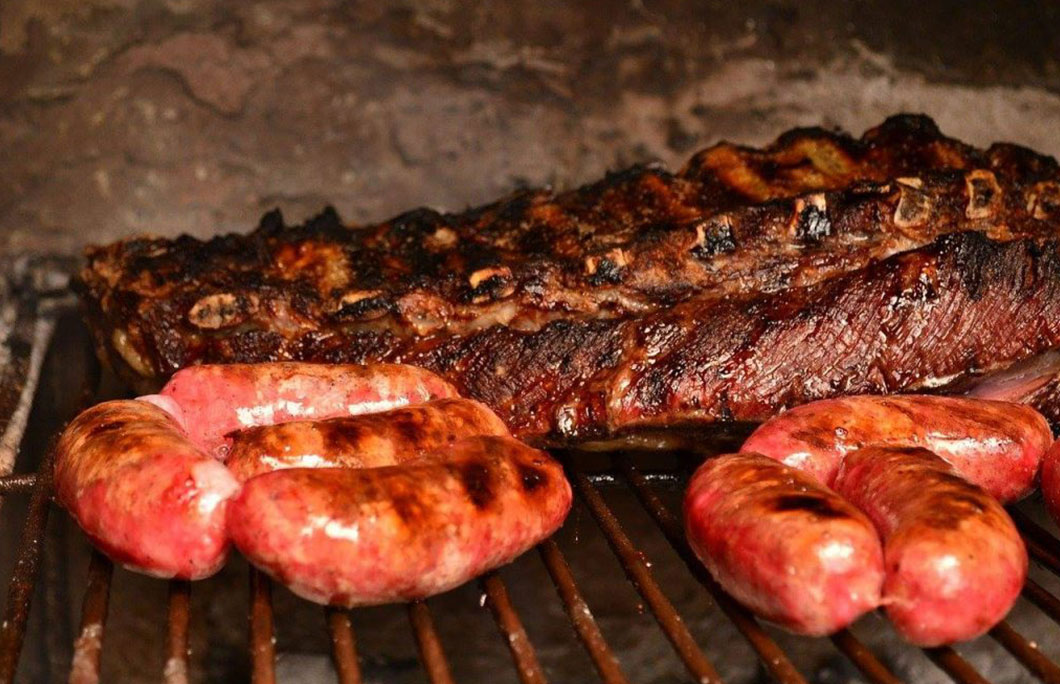 15th. Little Argentina – Sliema, Malta
As the name suggests, Little Argentina is an Argentinian-style grill house where you can dig into an "asado" of grilled Argentinian meat. The beef short ribs are a real stand out of the menu, as is the juicy steak and grilled homemade sausages.
If you're on the hunt for some essential European BBQ grub then you can't go wrong with this South American take on it.
---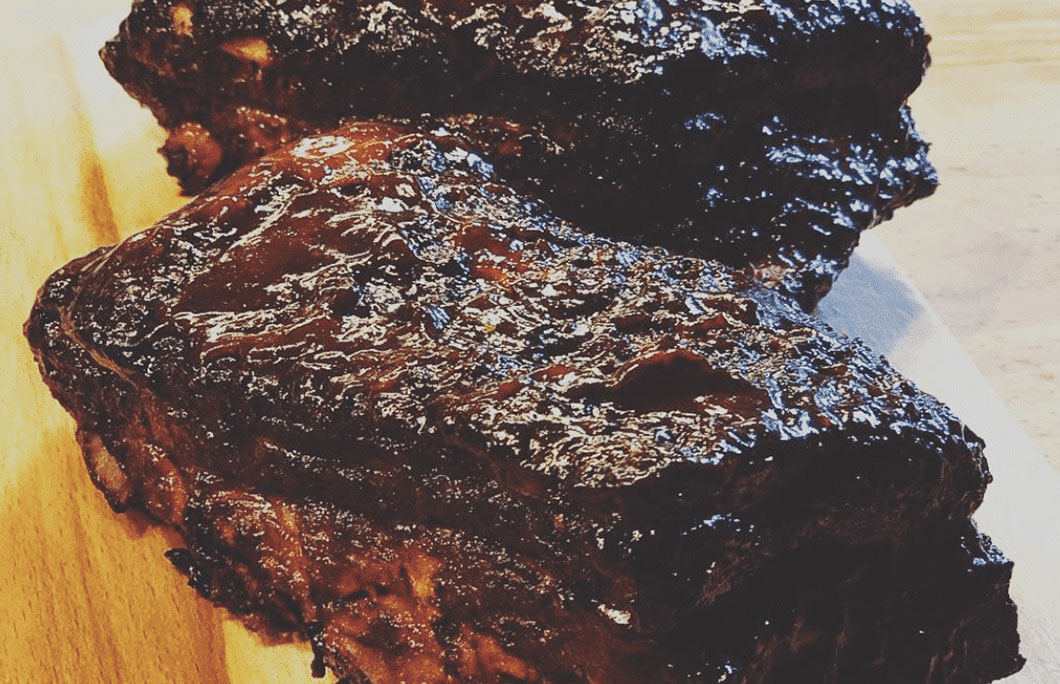 14th. Munch – Riga, Latvia
You wouldn't expect if from first appearances but Munch is home to some of the best barbecue food in Europe. What it lacks in size it more than makes up for in flavour, with all the favourites on the menu. St. Louis-style ribs, smoked pork and dirty fries piled high with meat and bacon will have you drooling on the spot.
---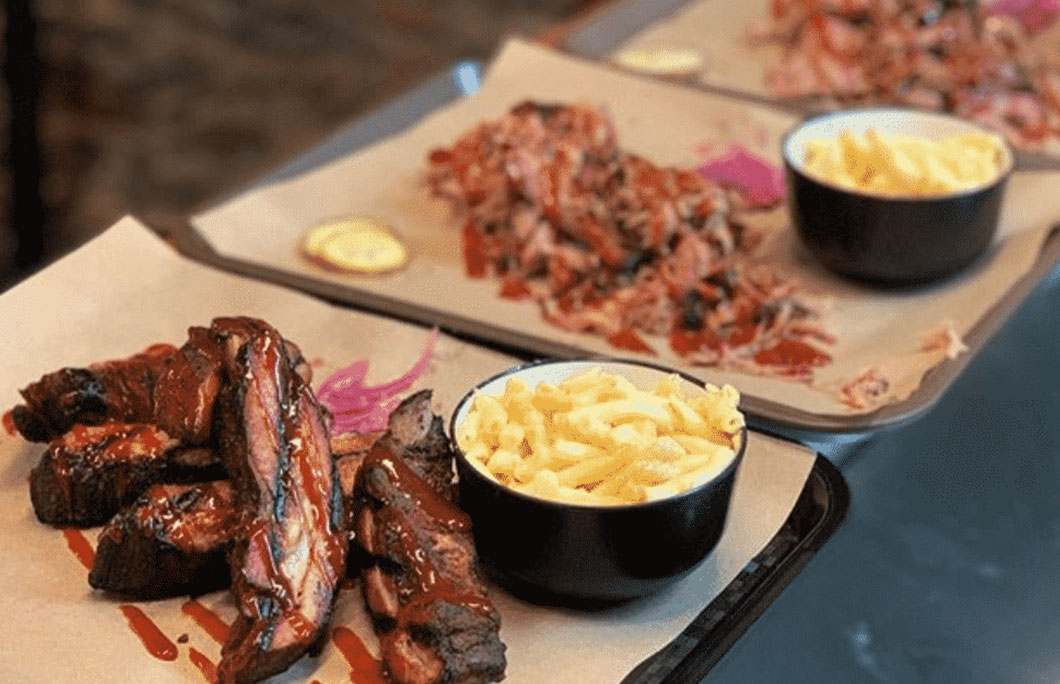 13th. The New World Smoke – Lyon, France
The New World Smoke specialises in premium meats ranging from Black Angus beef to tasty pulled pork. As you would expect in the French culinary capital, the quality here is next level. They stick to traditional smoking techniques to really bring out the full flavour and tenderness of the meats. World-class.
---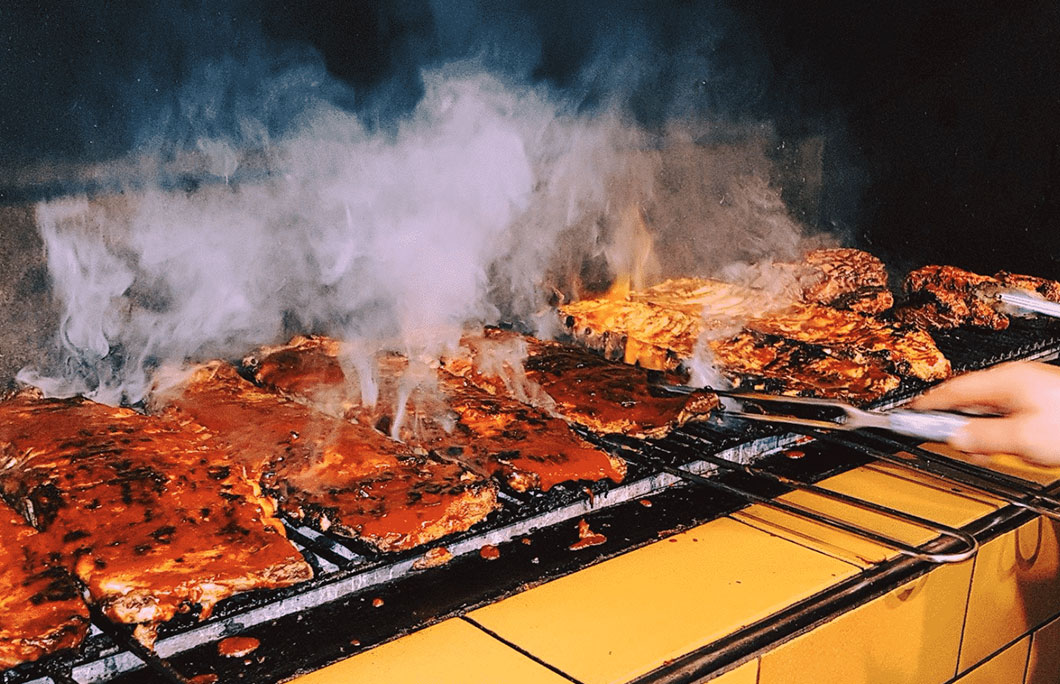 12th. Rusticana – Munich, Germany
Rusticana has been a long-running steak and grillhouse since 1970 and is still a top spot for all things meat. High quality Black Angus beef from Argentina features on the menu, as do spareribs from Bavaria. The meat is smoked over an open charcoal grill so you can drool in anticipation as you wait for your feast.
---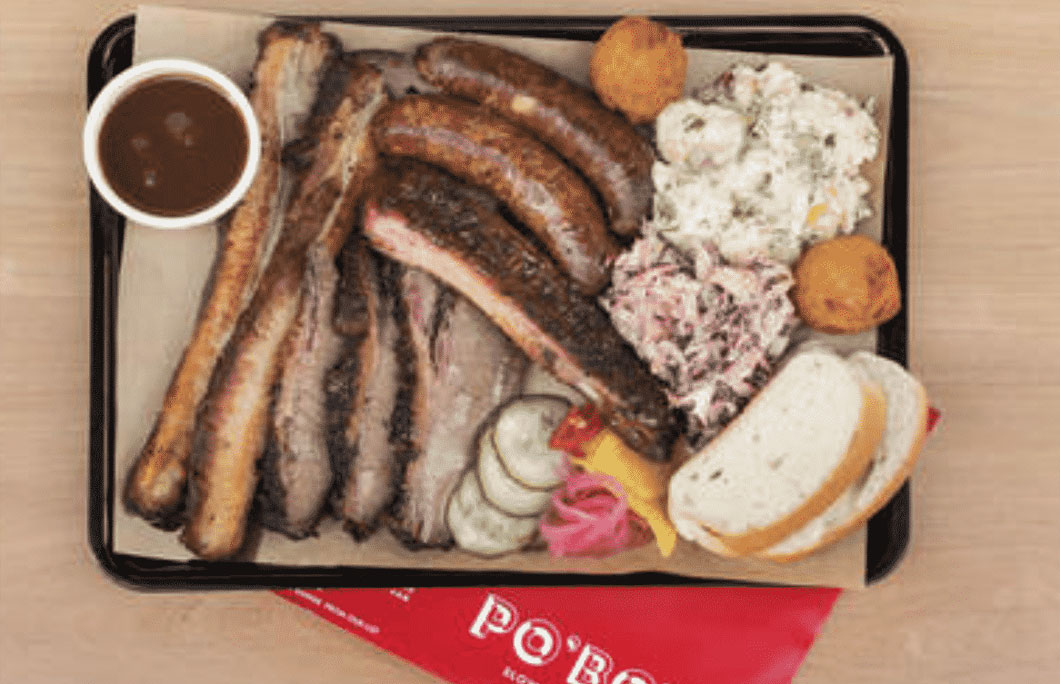 11th. PO'BOYS BBQ – Athens, Greece
Once a food truck, this trendy BBQ joint quickly grew so popular that it needed its own permanent home. The authentic slow smoked BBQ here is the real deal: Brisket, Short Ribs, Spare Ribs, Crispy Pork Belly and Pulled Pork in burgers or platters. There's also Southern staples such as Gumbo and Beignets, with a unique traditional handmade Andouille sausage.
---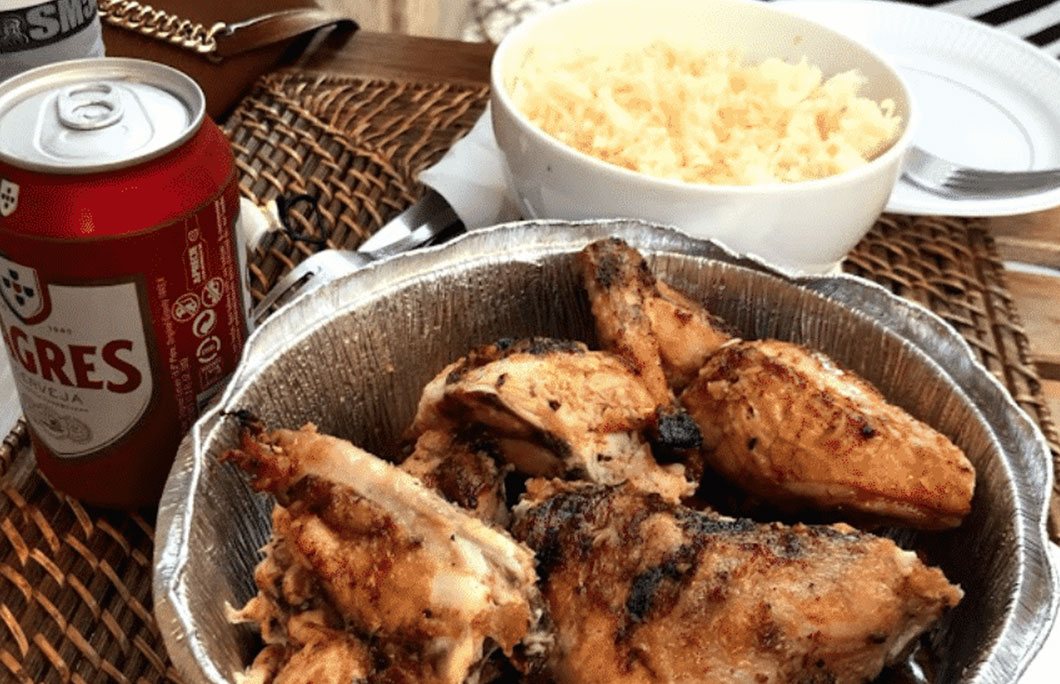 10th. Frangasqueira Nacional – Lisbon, Portugal
This tiny grill joint is a local favourite and has loyal fans who swear by the succulent, grilled meats here. You'll soon be one of them once you take your first bite of their chicken – it's the best seller for good reason. There's ribs, crioula sausage and turkey kebabs with some great homemade potato crisps to order on the side.
---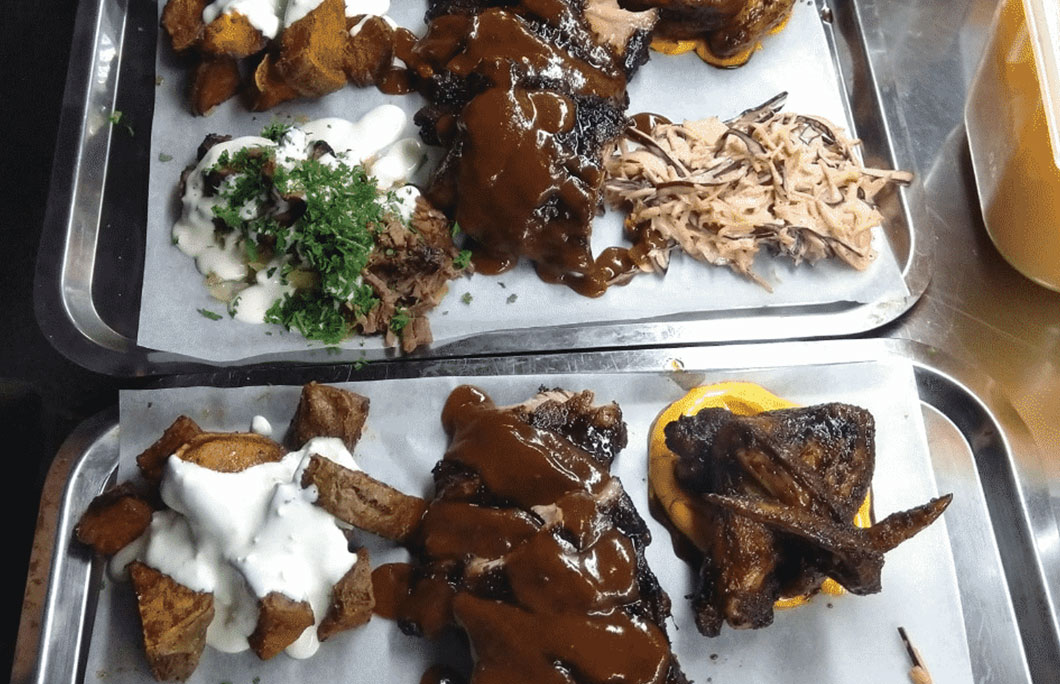 9th. B-Smokery – Helsinki, Finland
B-Smokery is a small but mighty barbecue restaurant in the heart of one of Helsinki's hidden industrial gems, Teurastamo. The lunch menu changes daily depending on what's fresh out of the smoker, but there's always serve their addictive baby ribs. Not a meat eater? Don't worry. There's even veggie and vegan options that are just as good.
---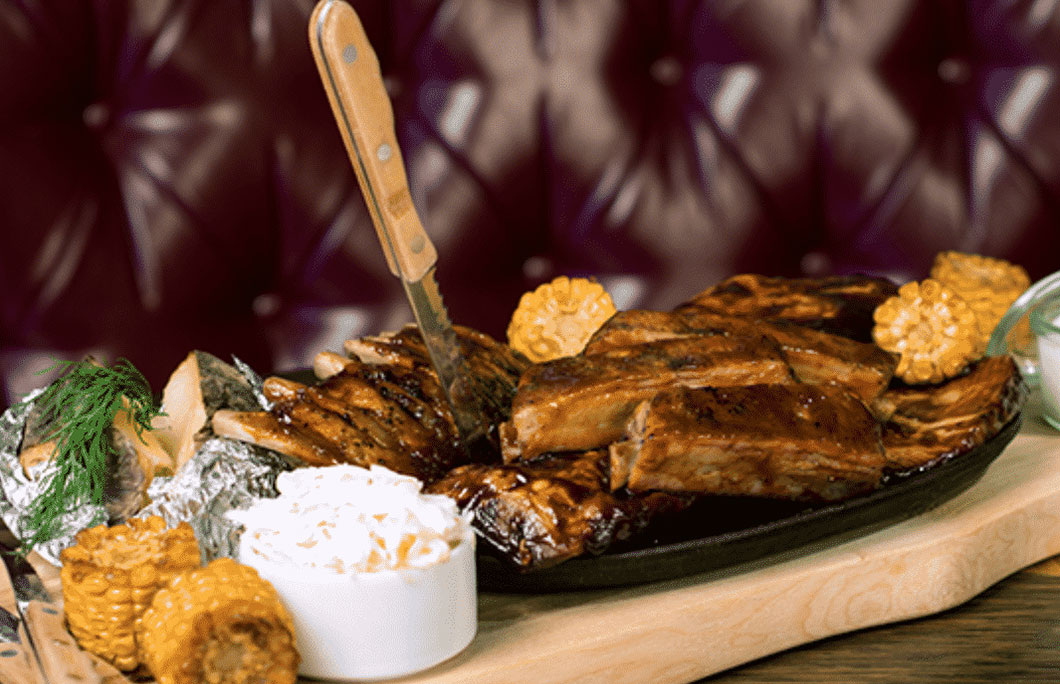 8th. Mack Bar-B-Que – Tallinn, Estonia
If you love BBQ food (and obviously you do, or you wouldn't be reading this!) then Mack Bar-B-Que is a must-try. It's a traditional American smokehouse with huge portions of juicy meats and sides. Order the platter for a taste of everything or try the smoked catfish for something a little different.
---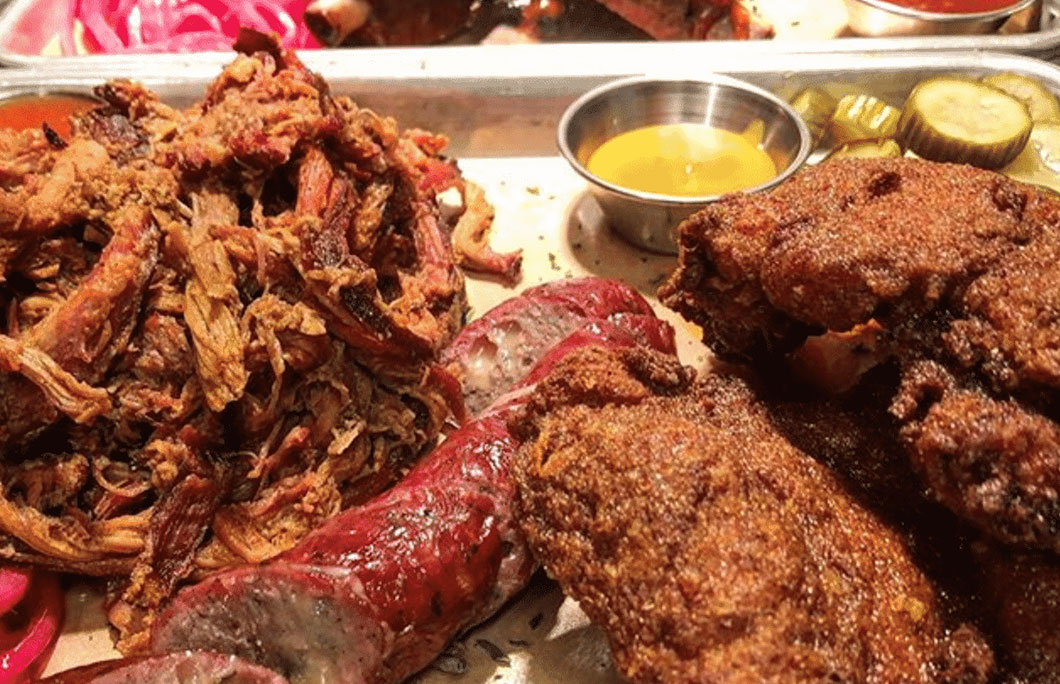 7th. Low & Slow Smokehouse – Stockholm, Sweden
The trick to the amazing barbecue grub at Low & Slow Smokehouse is their impressive 'Big Red' smoker, which was custom built in Texas. Co-owner Ben grew up in Kansas City, so you can be sure he's cooking up authentic dishes.
The meats are smoked over oak and really take you on a journey of American BBQ. From Kansas City-style beef brisket to Lexington-style pulled pork.
---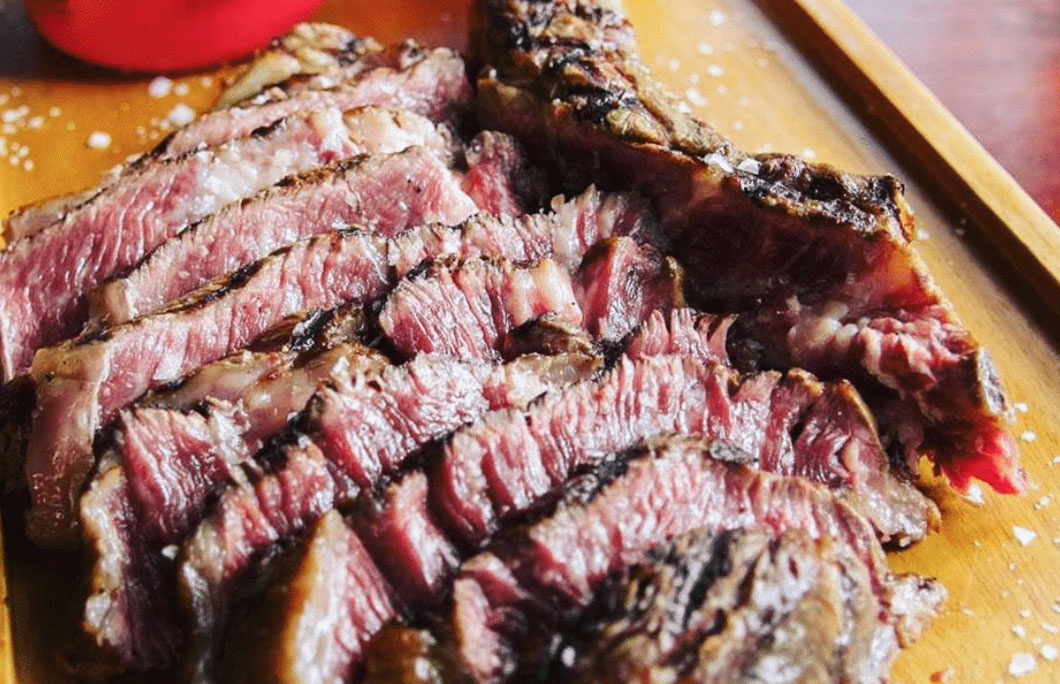 6th. El Gaucho – Bratislava, Slovakia
El Gaucho is a premium steakhouse chain that's all about incredible meat. High-quality, natural Prime Black Angus US grain fed steak makes for an unforgettable meal. It's an upscale spot that has some great versions of BBQ classics. Their pork ribs with smoked BBQ sauce are delicious, as is the side of green beans with bacon.
---
5th. Pendergast – Amsterdam, The Netherlands
Pendergast is a modern neighbourhood smokehouse that combines oldschool Kansas barbecue with Dutch ingredients. Meats here are slow-smoked over Dutch fruit wood and come with comforting side dishes and a seasonal rotation of fresh vegetables.
There's Black Angus brisket, hot smoked salmon fillet and even a smokey seitan for the vegans.
---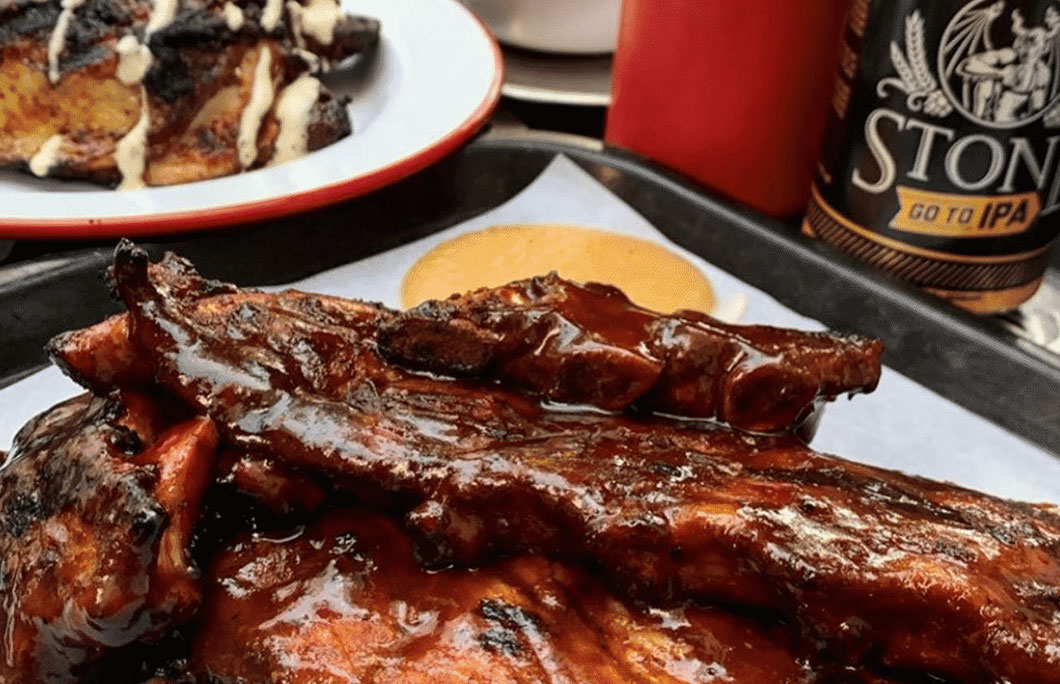 4th. Chicago Williams BBQ – Berlin, Germany
Here, American home-style cooking is served and paired with beers from selected German breweries. It's the best of local bratwurst with bbq classics such as tender beef brisket, baby back ribs and pulled pork.
The ribs are perfectly smoked, falling off the bone with a droolworthy sticky glaze.
---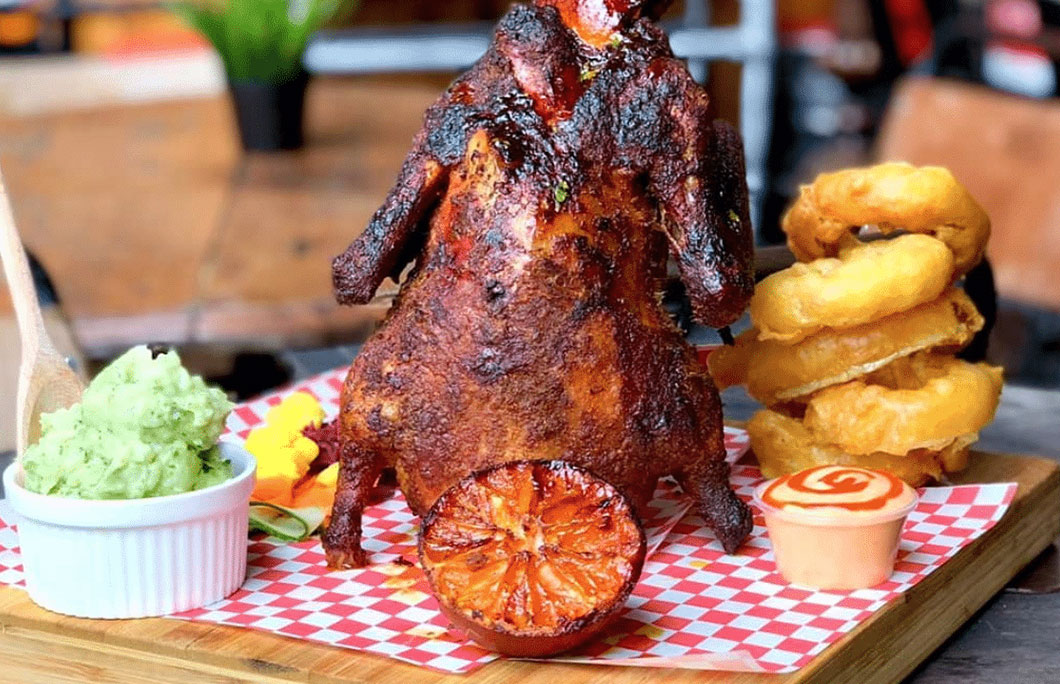 3rd. My Meat Wagon – Dublin, Ireland
My Meat Wagon is pretty much a Dublin institution at this stage amongst meat lovers looking for a serious feast. The concept here is simple: three animals (cow, pig and chicken) served in three ways (in a box, in bread or on a board).
The cooking ethos is Texas-style with an Irish twist. Expect tender dishes such as their special smoked orange & chilli duck, cooked with a tangy can of Blue Moon beer.
---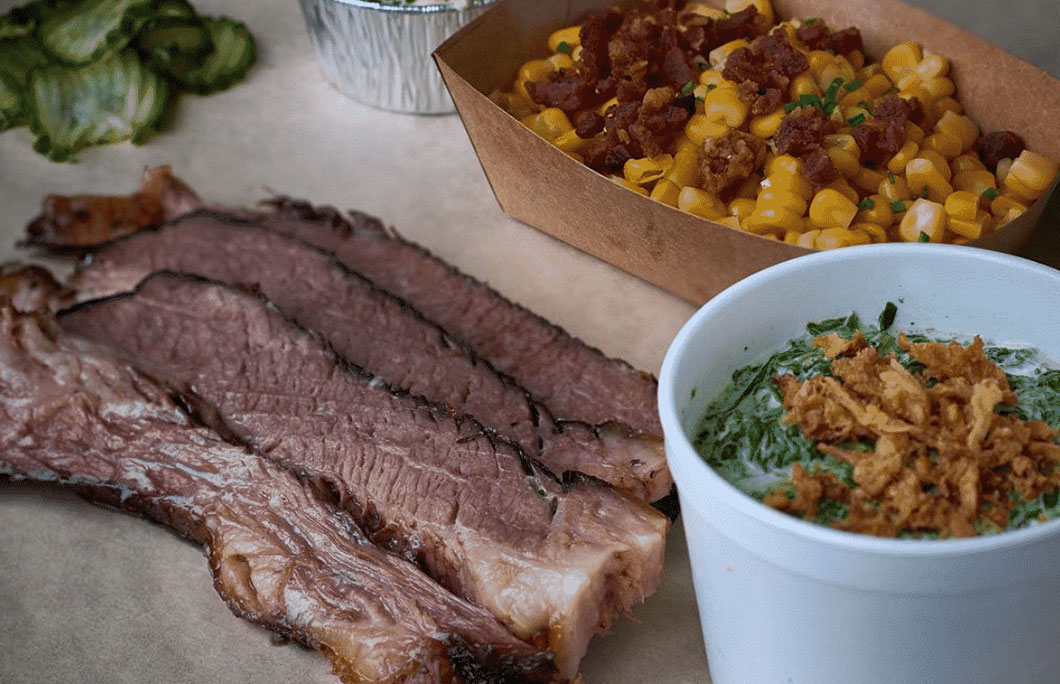 2nd. Memphis Roadhouse – Aarhus, Denmark
You might not expect Southern style barbecue in Aarhus, but Memphis Roadhouse is killing it with their smoked meats. It's owned by true American pitmasters who bring their experience of Kansas City, North Carolina, Texas and, of course, Memphis, Tennessee bbq.
Pork is slow smoked for 13 hours and there's classic southern sides like baked beans, collared greens and freshly-made cornbread.
---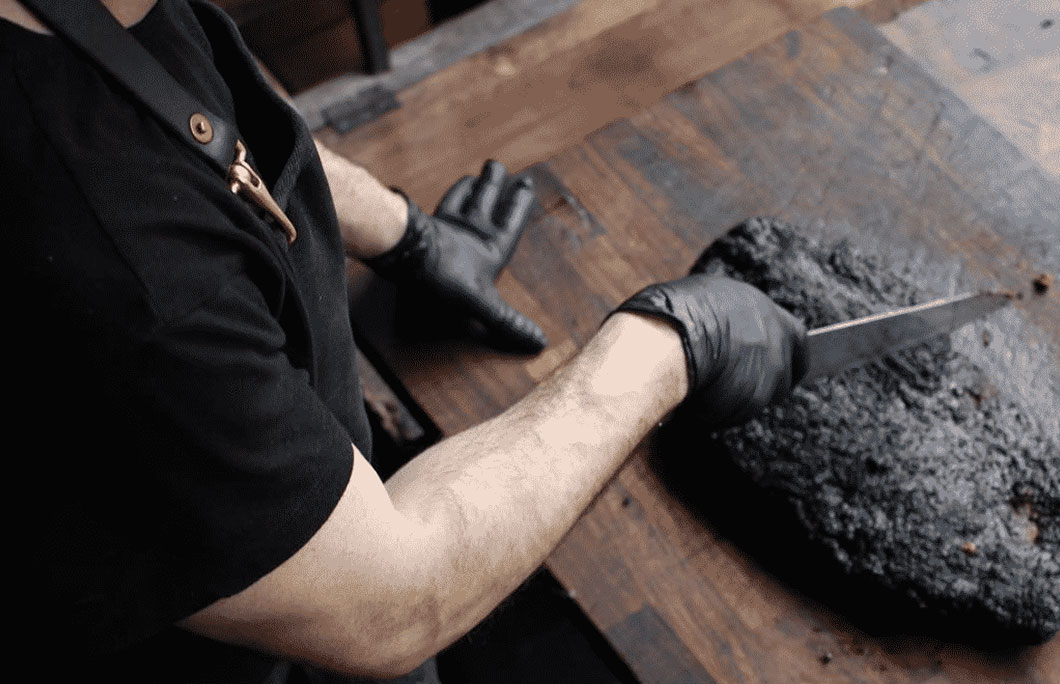 1st. SMOKESTAK – London, England
When it comes to the absolute best BBQ in Europe, you can never go wrong with a feast at Smokestak. From their famous brisket burger to the pork belly rib, each and every dish here is a masterclass of smoking. Their charred jacket potato with mustard rarebit is a must-order on the side. 
This is the home of barbecue and boy is it good. 
---