Best Weekend Breaks from Birmingham
Alton Towers
The Cotswolds
Liverpool
Warwick
Cardiff
London
Malvern Hills
Scarborough
Stoke-on-Trent
Glasgow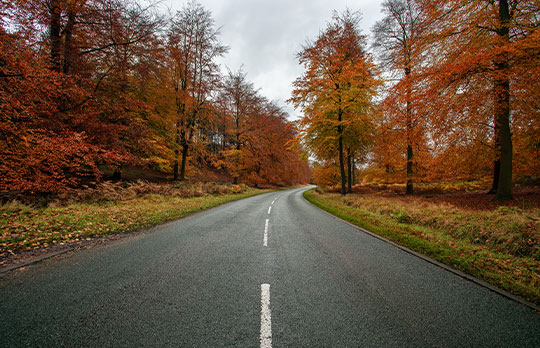 Top weekend getaways from Birmingham
Britain's second-biggest city doesn't have London's glam reputation, but Birmingham has a distinctive character, friendly locals from a melting pot of cultures, superb shopping and brilliant entertainment. The past few years have seen big changes in the middle of 'Brum', with a huge urban regeneration plan that's included a spanking new shopping centre crowning New St Station that complements the edgy Mailbox and Bullring malls, the alien-like Selfridge building with its bubbly façade, and loving restorations to its gorgeous but previously neglected traditional buildings. Work is ongoing, but it has given locals a spring in their step, boosted civic pride and aligns the centre of town with its amazing canals, galleries and museums, trendy bars and craft breweries. Furthermore, as host of the 2022 Commonwealth Games, its reputation as a metropolis on the rise has global reach and its Midlands position means that many of Britain's best weekend getaways are within easy reach.
Exciting things to do in Birmingham include learning about (and eating) chocolate at Cadbury's World, visiting an authentic workshop at the Jewellery Quarter Museum (and wining and dining in swish St Paul's Square nearby), and visiting Aston Hall, a stunning 400-year-old Jacobean mansion seemingly sitting in a time warp in one of Birmingham's most famous inner-city suburbs. You can also catch a movie in first-class style in The Electric, Britain's oldest working cinema (dating from 1909) and fill your boots with mouth‐watering curries in The Balti Triangle. Meanwhile, green spaces include the lush Cannon Hill Park and The Secret Garden on the 7th floor of the Library of Birmingham (shh, keep it to yourself).
So that's Birmingham ‐ an amazing place to stay and visit and a legendary launchpad for some of the UK's best weekend getaways.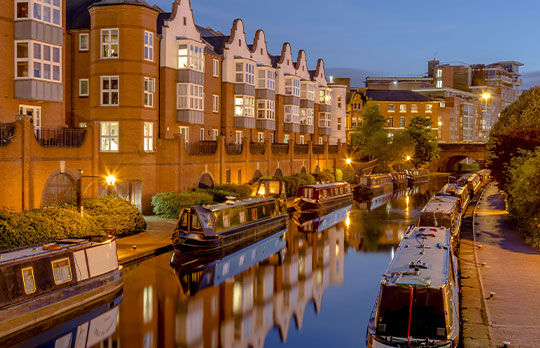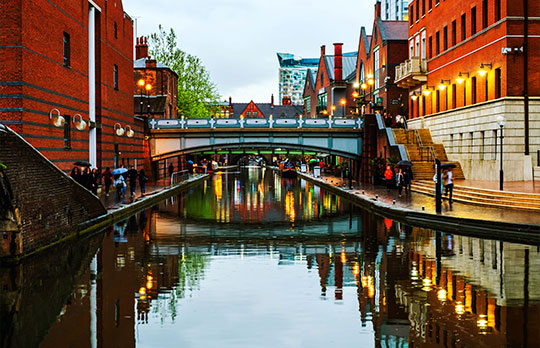 Birmingham driving tips
Your Birmingham weekend breaks will be here in a jiffy, but let's catch up with some quick driving tips first.
You'll (hopefully) know this if you're a local, but always drive on the left in Birmingham (and across the entire UK) and be aware that there are more cyclists on the road than ever ‐ particularly during morning and evening rush hours.
The residential speed limit in some parts of Birmingham is 20mph, in built-up areas with street lamps, it's 30mph, it's 60mph on open single carriageway roads, and 70mph on dual carriageways and motorways.
Once you get out onto rural roads, traffic will usually be less hectic, just watch out for the usual hazards like combine harvesters and livestock crossing.
Now let's get moving with those wonderful weekend breaks from Brum!
Alton Towers
One hour and 20 minutes north of Birmingham via the B5103, Alton Towers theme park is billed as 'Britain's Greatest Escape' and once you see the mind-boggling range of gravity-defying rollercoasters on offer, as well as attractions for younger kids like CBeebies Land, you'll know why. You can sleep over to make the most of it too ‐ with a range of options including the Alton Towers Hotel, CBeebies Land Hotel, Stargazing Pods and even Luxury Treehouses. For a family getaway from Brum, this takes some beating.
The Cotswolds
The Cotswolds Area of Outstanding Natural Beauty (AONB) is one hour and 26 minutes from Birmingham via the M5 and it's regarded by many as one of England's most picture-perfect spots. Highlights in the area include having a flutter at Cheltenham Racecourse, visiting the impressive Chedworth Roman Villa, going wild in Cotswold Wildlife Park & Gardens at Burford and enjoying panoramic views from Broadway Tower. Stay in the 17th century Culls Cottage in Southrop, Badgers Hall in Chipping Campden or The Lygon Arms in Broadway.
Liverpool
Around two hours from Birmingham by car, Liverpool is another legendary British city that's ideal for a lively weekender. There's so much to do here that you're spoiled for choice ‐ if your timing is right, you might be lucky enough to catch Liverpool or Everton football clubs playing at home and fans of music can pay homage at pop mecca The Cavern, where a certain group called The Beatles first made their name. There's lots of lovely architecture in this proud port town and the locals make visitors from all over the world welcome ‐ what more could you ask for?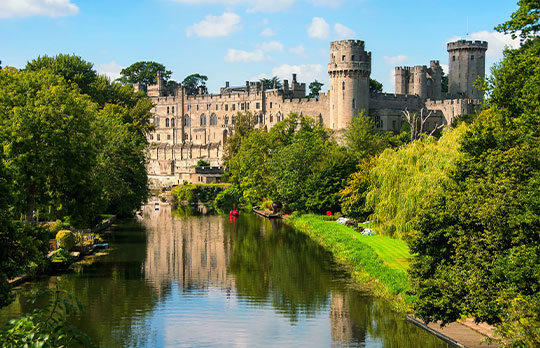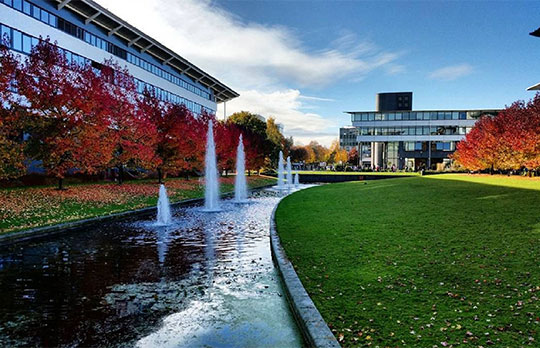 Warwick
Just 50 minutes south via the M6, Warwick is a wonderful place for a weekend getaway from Birmingham. Set on the scenic River Avon, the main attraction is the formidable 900-year-old Warwick Castle, but there's lots more to see and do besides, including browsing for bargains in the market stalls in Jury Street and Old Square and exploring the charming timber-framed houses of the Old Town. There are plenty of highly-rated accommodation options, but the Warwick Arms Hotel and Innkeeper's Lodge are good picks.
Cardiff
2 hours and 25 minutes from Birmingham via the M5, Welsh capital Cardiff is a cracking Birmingham weekend break. If you get the chance to watch a game of rugby at the 74,500 seater Principality Stadium, the sound of the Welsh crowd singing will set your pulse racing, or for something a little more sedate (but still interesting) how about visiting the Welsh Parliament (Senedd)? Meanwhile, 11th century Cardiff Castle is right in the city centre and multicultural Tiger Bay (birthplace of Shirley Bassey) is always worth visiting for a taste of the real city. Hilton Cardiff and The Riverhouse are good accommodation options in the city.
London
The bright lights of London are two hours and 40 minutes away from Birmingham via the M6 and M1, so it's always a popular weekend break. If it's your first time (or first time for a while), hop on a tour bus to take in iconic attractions like Buckingham Palace and Tower Bridge. Alternatively, try some hidden gems like Brown Hart Gardens near Oxford Street (an elevated garden where you can chill out and grab a coffee) or Stephen Wright's House of Dreams in East Dulwich ‐ a unique collection of found art. Splash out on a stay at the Waldorf Hilton or enjoy an equally nice (but much more affordable) stay at Holmes Hotel London.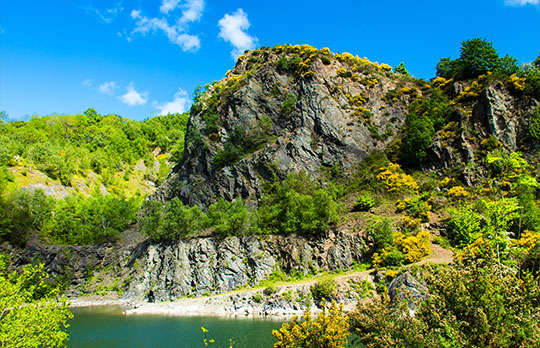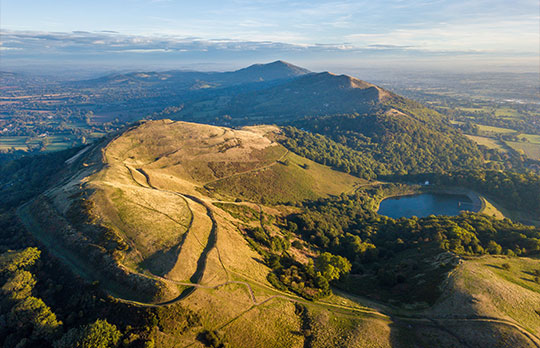 Malvern Hills
Great Malvern is one hour and 20 minutes from Birmingham via the M5 and it's a marvellous weekend break destination for exploring the scenic Malvern Hills and the historic attractions in the town itself. Theatre fans can catch a show at the famous Malvern Theatre, while if you're more of a motoring fan, you'll love a guided tour of the Morgan Motor Company. Eastnor Castle is another popular attraction nestled in the rolling hills and The Old Bush and Grounds Farm are great places to stay.
Scarborough
Three hours and 15 minutes from Birmingham via the M1, Scarborough is a classic Great British seaside location on the Yorkshire coast ‐ ideal for a fun getaway from Brum. Brilliant things to do include riding the North Bay Railway, enjoying the seafront amusement arcades, enjoying international acts at the Open Air Theatre and splashing around at Alpamare Waterpark. Super accommodation choices here include the Bike and Boat, The Palm Court Hotel and the Crown Spa Hotel. For fresh air, fish and chips and bucketloads of fun, Scarborough fits the bill.
Stoke-on-Trent
Fancy a trip just over an hour north from Birmingham to a weekend break destination that offer much more than first meet the eye? Stoke-on-Trent offers unusual attractions like Trentham Monkey Forest, the relaxing Westport Lake, the retro steam train experience at Foxfield Railway, and Stoke Ski Centre. It's also a fab place for foodies ‐ you can enjoy a traditional afternoon tea at World of Wedgewood Tea Room, spicy fare at Mantra Indian Restaurant and fine Chinese dining at Yu-Ma-Mi. Comfy hotel choices include The Hilton Garden Inn and Best Western in the city centre.
Glasgow
Glasgow is 5 hours from Birmingham via the M6, so you'll want to extend your trip to Scotland's biggest city into a long weekend, but it's worth the effort. Famous sights here include the Finnieston Crane and River Clyde, outstanding shopping on Buchanan Street and Sauchiehall Street, fever-pitch football with Celtic and Rangers at Parkhead and Ibrox, and delicious craft beers at Drygate Brewery. But the best thing about Glasgow is the Glaswegians themselves ‐ you won't meet a friendlier, funnier bunch of down to earth locals anywhere else in the world.