7 Of The Best Cities For Nightlife In The UK
Sometimes, you just want to go on a good night out. A few drinks, a bit of dancing, and a lot of laughs have the innate ability to shed away any thoughts and worries of the daily grind. The UK is known to have eclectic nightlife, whether it's a cool jazz bar, a smoky speakeasy, a booming club, quiet drinks in a cocktail bar, or chuckles at a comedy club, you can find it here. And will pretty much every city, even every town, will have some sort of nightlife scene. The question is, where's the best? Whether you're in search of a boozy weekender or you're visiting the UK for the first time and curious about where the party places are, here are seven of the best cities for nightlife in the UK.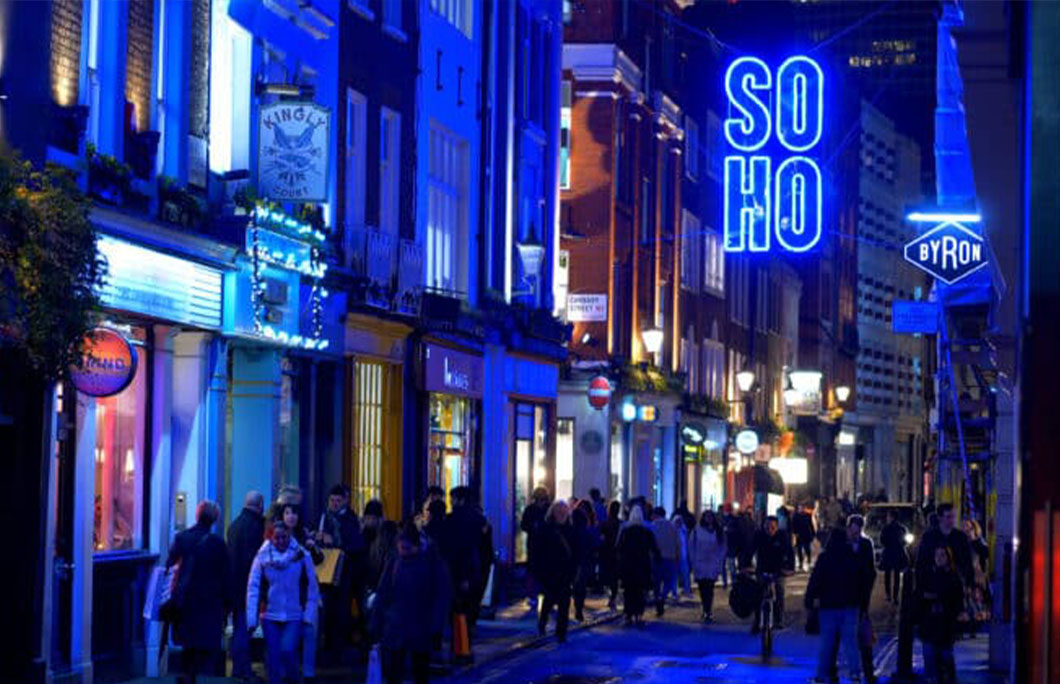 1. London
Not only is London one of the best cities for nightlife in the UK, but also in the world. It's more pricey than other places on this list, but the wide range of night-out possibilities is colossal. Head to Soho for its ridiculously fun cabaret clubs – there are several spots to catch an old-school cabaret and burlesque show, including Late Night at the Midnight Lounge. Camden is home to grungy bars and iconic music venues, while Mayfair is the polar opposite, where it's more of a cocktail and sushi vibe. Brixton and Shoreditch are two of the city's trendiest spots, with plenty of cool outdoor marketplaces where you can grab street food and a beer, as well as funky cocktail spots and clubs. Dalston's crept up in popularity recently with its super fun nightlife – it's also where you can find some of London's most iconic and influential gay bars. There's so much choice, we could write a whole separate blog on nightlife in London!
---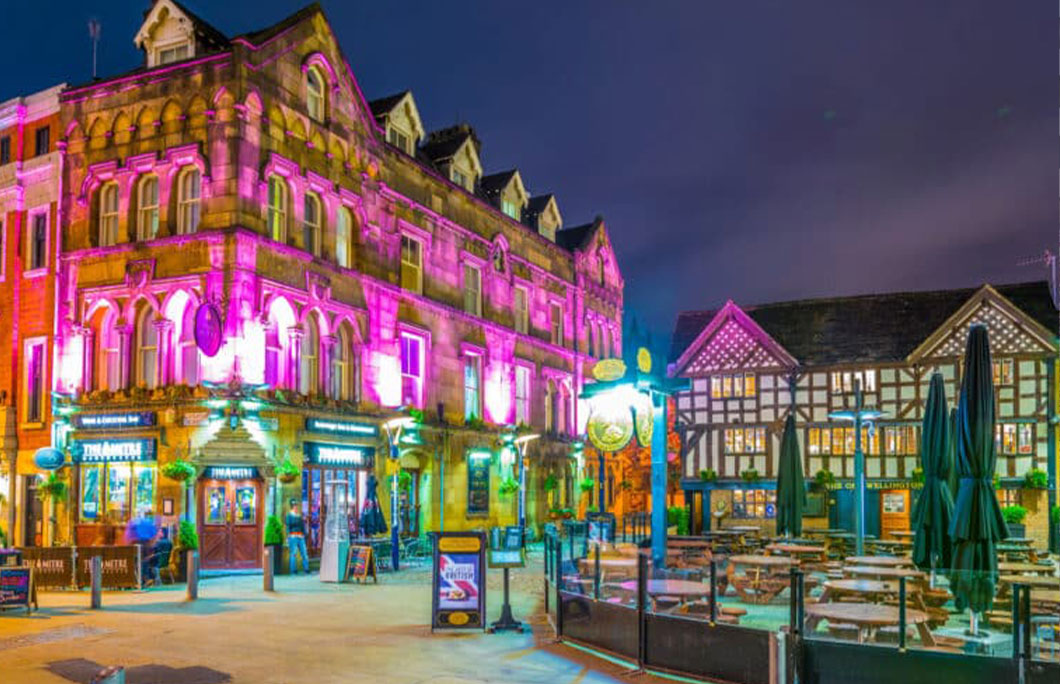 2. Manchester
Home to some of the UK's most-loved musical legends, Manchester has a reputation for being a great night out. There are so many great live music venues, including Band on the Wall, Gorilla, YES, Night & Day, and more. And to embrace the old-school, underground Hacienda vibe, you have Depot Mayfield, SOUP, the White Hotel, and many more. But there's so many more to Manchester than live music or DJs – stick around Northern Quarter if you like funky bars, Cutting Room Square in Ancoats is the place to be in the summer, and Deansgate has all your classic chain bars like Revolution de Cuba, Be at One, and Slug & Lettuce. If you're after something a bit fancier, head to Spinningfields for beautiful, lavish bars and restaurants. And really, no night out in Manchester is complete without a late-night trip to the Gay Village.
---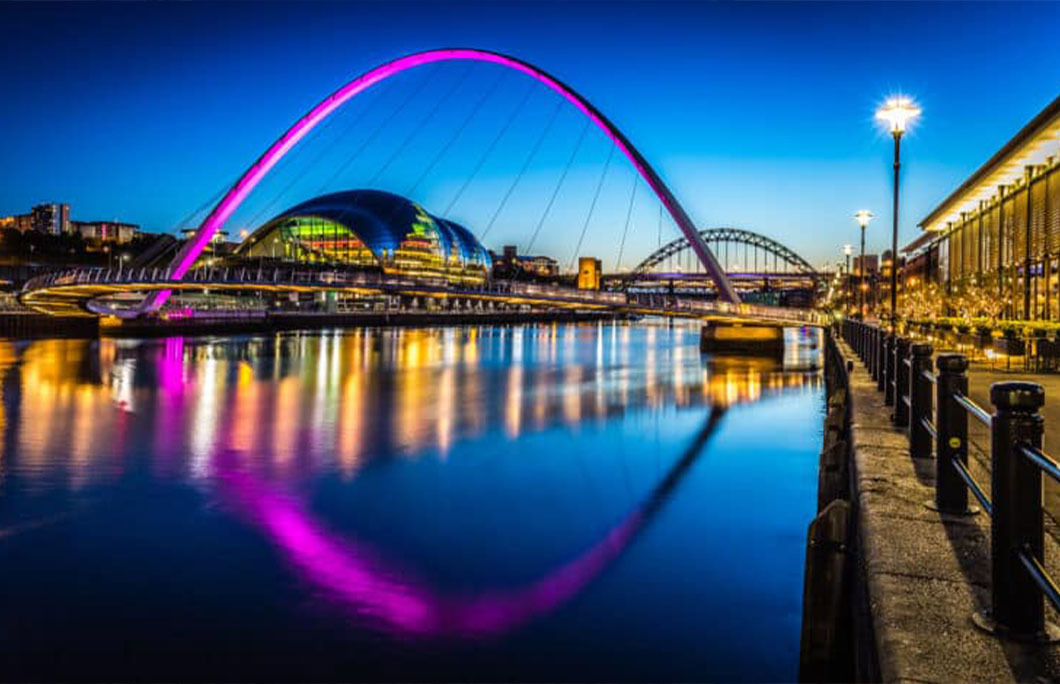 3. Newcastle
Newcastle is consistently ranked one of the best places in the UK for nightlife. It's particularly popular with students, with multiple student nights every day of the week. Even when it isn't a student night, Newcastle is pretty cheap and cheerful. It might have a reputation for being a rowdy night out, and while it certainly can be, you can also go to Quayside for a string of bars, restaurants, and clubs, all overlooking the water. They range from fancy bars to Wetherspoons, so there's something for everyone here. The nightlife scene is absolutely huge, sprawling all across the city, and it's one of the only places in the UK where you'll find a 'strip', like you might find in Ibiza. Diamond Strip is a huge area, where you'll find swanky bars and glamorous clubs.
Click here to compare car hire in Newcastle
---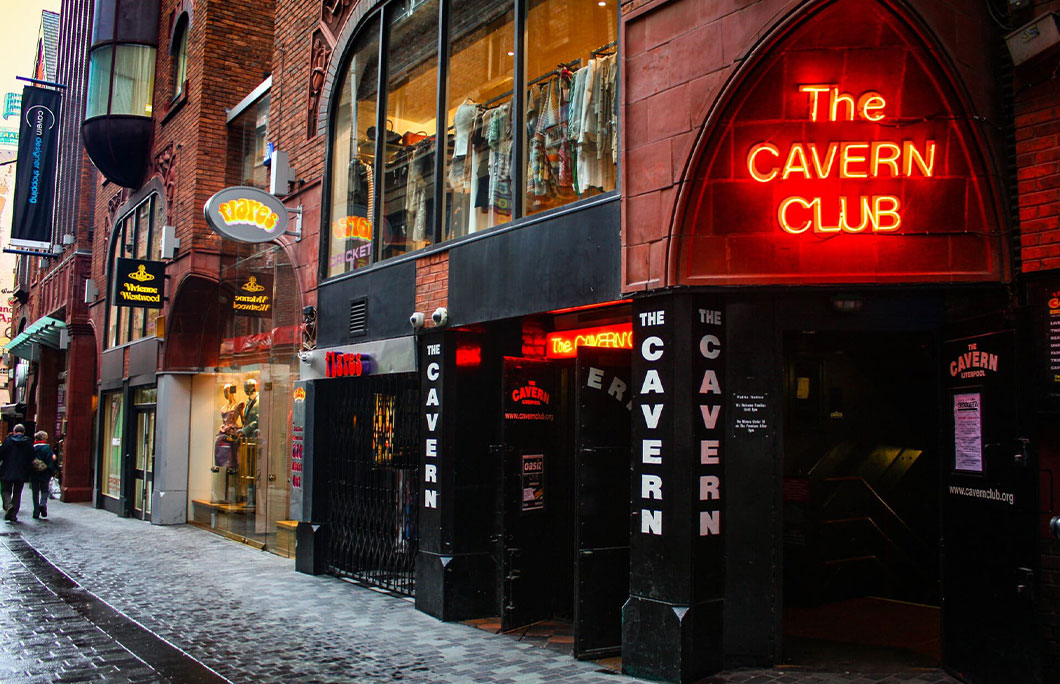 4. Liverpool
Liverpool is one of the UK's top nightlife destinations and for good reason. There's so much variety, all packed conveniently into the town centre. Unlike other cities – we're looking at you, Manchester – Liverpool's nightlife scene is all within walking distance of each other. But with it all in one area, you might think that there isn't much distinction between them, but there is. Concert Square is a great day-to-night place, you can have drinks in the sun in the large outdoor area by day, then head to one of the dancey bars and clubs by night. The nearby Seel Street is just as fun at Concert Square, with a slightly older clientele. Music fans will love Mathew Street – home to the iconic Cavern Club, where the Beatles played hundreds of times. And if you want super-cool, trendy bars, head to Baltic Triangle, where you'll also find underground clubs to dance the night away.
Click here to compare car hire in Liverpool
---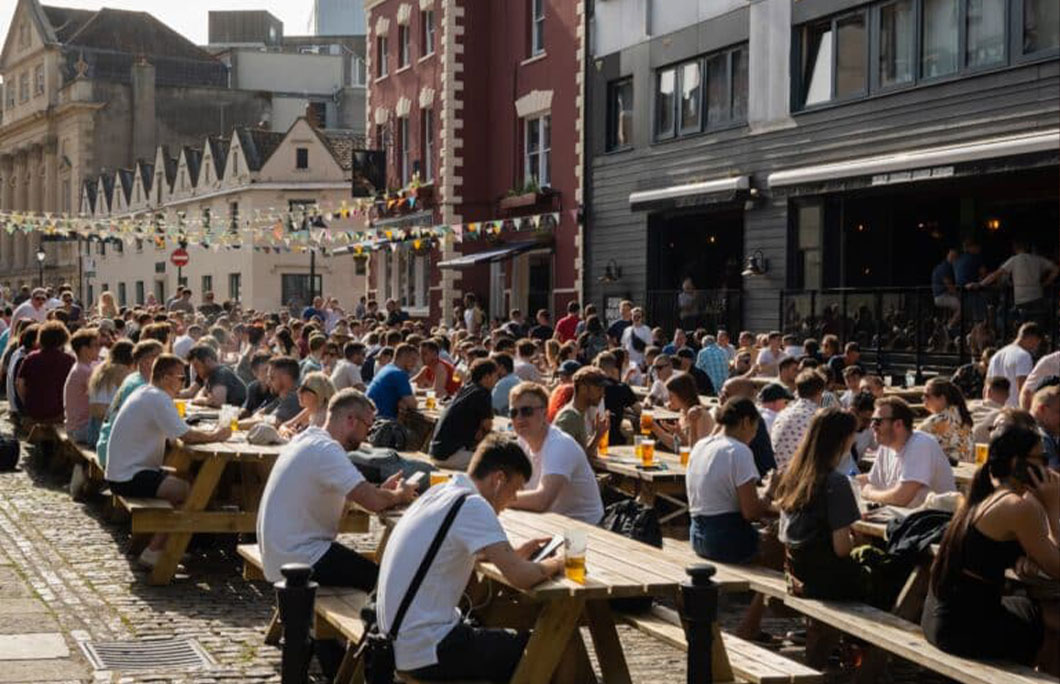 5. Bristol
Bristol has a reputation for being cool and alternative, and while you'll certainly find plenty of trendy bars and DnB events, there's much more to this vibrant city. Stokes Croft is Bristol's artsy area, with great bars, pubs, and live music spots. The Crofters Rights is one of the best pubs here, serving craft beers on tap and pub grub. If you like live music, head to the Canteen, which is right next to a famous Banksy mural. And if underground dance music is more your scene, Lakota is a must. Bristol also has a beautiful Old City, where you'll find traditional speakeasies, bars, and jazz clubs. If you want to party until the wee hours, make your way to Park Street, bursting with bars and clubs – a lot of students do come here, but it isn't a cheesy place, you'll have a great time whether you're a student or not.
---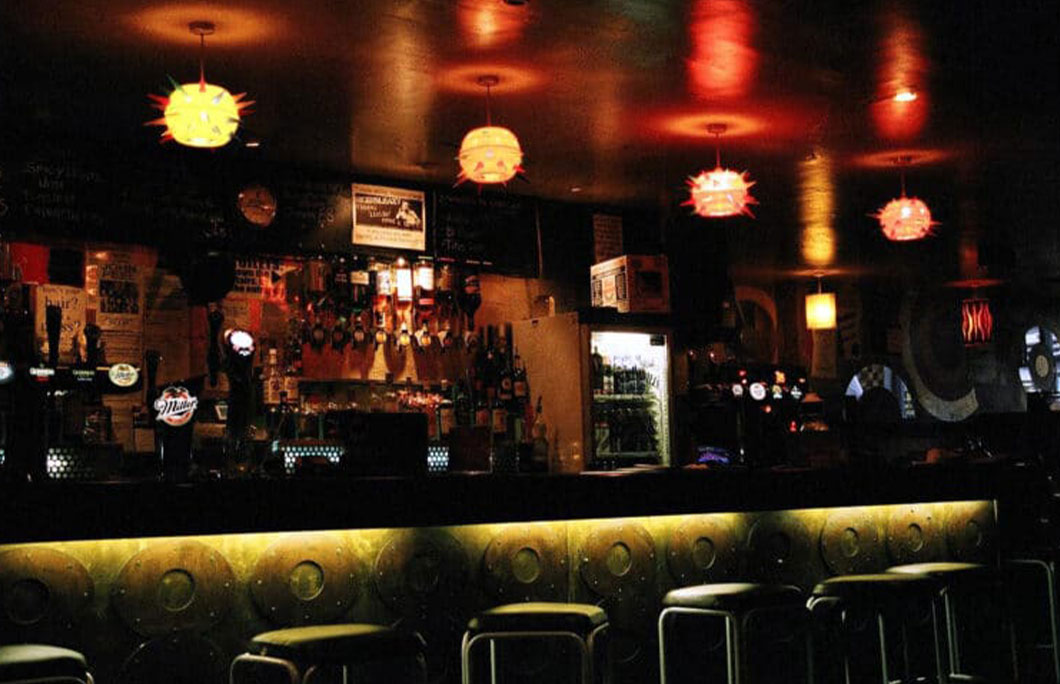 6. Glasgow
Although it's not nearly as big as Edinburgh, we think Glasgow is the Scotland's prime partying location. It's fun, vibrant, and fairly affordable. It's the place to be if you love pubs, there are countless traditional pubs, serving up craft beers and ale. Sauchiehall Street is full of bars, clubs, and live music venues – it's the place to be if you want to stay all night in one place and not have to move around. West Regent Street is the place to go if you want to dance the night away in a club, it's a thoroughfare of nightclubs blasting out top 40s. Another top spot is Union Street, which again, is just teeming with places to suit if you want a nice pint in a pub or a shot of tequila in a club.
---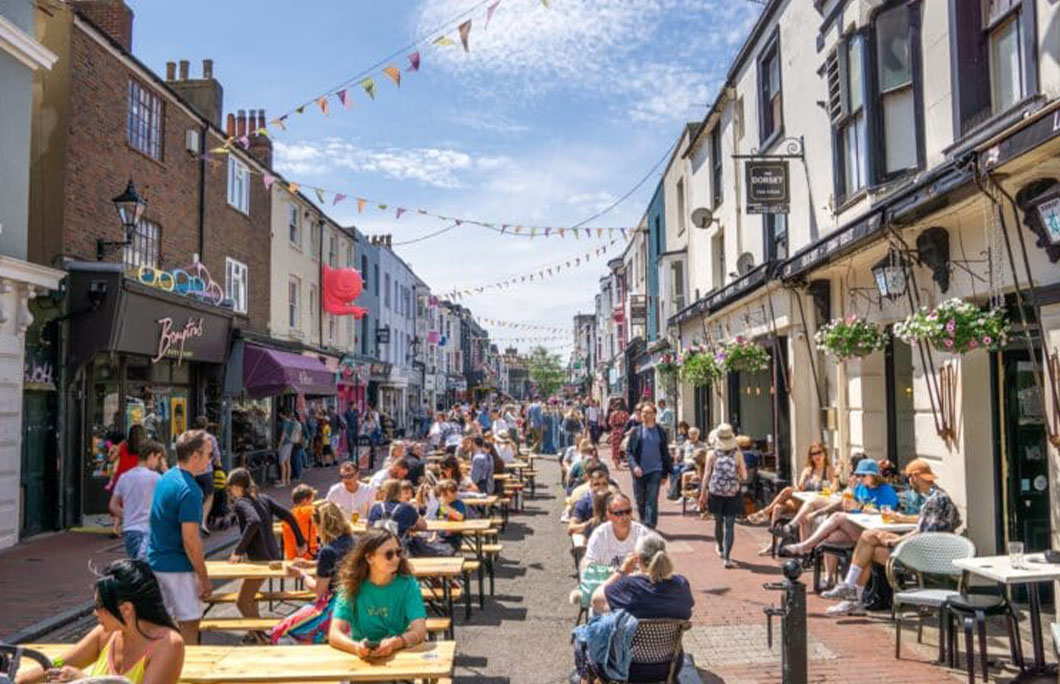 7. Brighton
Brighton is one of the best places to go for nightlife in the UK with a bar, pub, or club on every corner. It rivals Manchester and London with its diversity, from cabaret clubs to a quirky Alcotraz-inspired bar. Brighton is the gay capital of the UK, so Kemp Town, the Gay Village, is absolutely bursting with gay clubs and bars. It's a super fun and relaxed environment, where everyone is welcome to party the night away. And of course, no trip to Brighton is complete without a stop off in the Lanes. It's absolutely packed with restaurants and traditional cosy pubs, perfect for enjoying a pint beside a cracking fire or for tucking into tapas alfresco in the sun.
---