Meet the gods in Greece
Whether it is through our school history lessons, books such as the Percy Jackson series, or films such as Clash of the Titans; most of us have encountered the Greek Myths at some point in our lives. These ancient stories have inspired and influenced literature for centuries and continue to do so today. The gods and heroes who make up the cast list of this extraordinary mythology are ever popular and fascinate scholars, writers and tourists.
Greek myths and folklore
One of the most exciting things about the Greek Myths is that they are not confined to books, we can still enter into and have first-hand experiences of many of the locations mentioned in the texts. From visiting the home of the gods on Mount Olympus to coming face to face with an entrance to the Underworld realm of Hades, there are opportunities left, right and centre to discover the places of the Greek Myths. Here are our recommendations for the best mythological sites in Greece.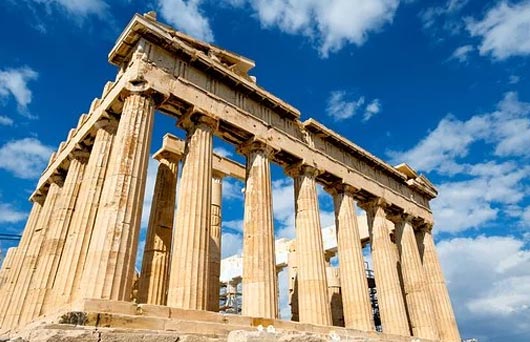 Mount Olympus
Fifty miles southwest of Thessaloniki you will find Olympus, Greece's highest mountain. In Ancient Greek Mythology this mountain is home of the twelve gods of Olympia, including Zeus, Apollo and Athena. The Greek Myths tell us the Olympians won a decade long war with an earlier generation of gods, the Titans, to become the supreme Greek pantheon.
Visitors today will not only walk the footsteps of the ancient gods, but also marvel at the extraordinary tree and plant life the mountain supports. The highest peak of Olympus is called Mytikas and takes a couple of days to hike to, but there is plenty to see and experience on the lower sections of the mountain for those with less time or necessary fitness levels.
Mount Olympus can be a challenging mountain and it's important you know your limits, we recommend booking a hike with an experienced guide. Tours vary from 1 day upwards and usually start from Litochoro, approximately a one hour drive from Thessaloniki.
Oracle of the Dead/Gateway to Hades
Hades can be a confusing name because it refers both to the Greek god of the underworld (brother of Zeus and Poseidon) and to the realm he rules. The Nekromanteion (Oracle of the Dead) of Acheron is dedicated to the god Hades and his wife Persephone. It is also argued to be a gateway into the realm of Hades. In fact, many devotees suggest it is here the dead would begin their decent into the underworld via the river Acheron (River of Woe).
The temple remains is open daily throughout the summer months and admission is around €8. The site has parking facilities can be reached on a 40 minute drive from Preveza, 4 and a half hours from Athens and 3 hours 40 from Thessaloniki. If making a longer trip to visit be sure to call or email ahead to confirm opening times which are subject to change:
Telephone: +30 26840 41206
Email: [email protected]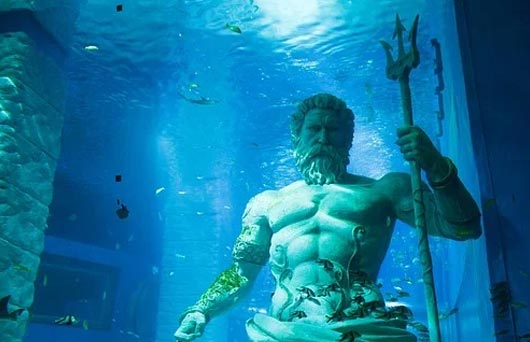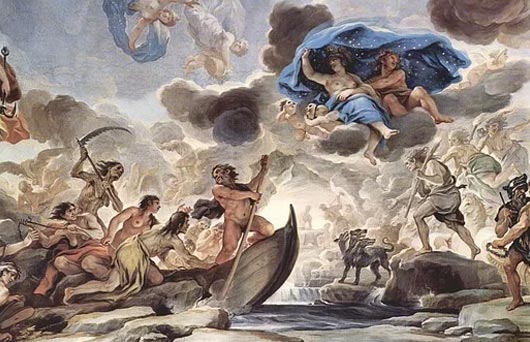 Delphi
For the Ancient Greeks Delphi was the centre of the world. Today it is one of the most famous mythological sites on the Greek mainland. Known throughout the ancient world for Pythia, the oracle who was consulted by the great names of classical history before they made major decisions on war, peace and a whole range of other issues. Not all visitors to Delphi were well behaved; it is said Alexander the Great was so displeased with the Oracle's request he come back later that he pulled her by the hair until she gave him the words he wanted to hear 'you are invincible my son.'
Delphi is a UNESCO World Heritage Site and a must-see location for anyone interested in Greek myth and the ancient world. From Athens the drive is around 2 and a half hours. Delphi is relatively small, and it is possible to see the archaeological sites and museum in one day but we highly recommend an overnight stay to make the very most of your visit. One of the best things about visiting by car and staying over is that most of the tourists travel back to Athens in the late afternoon, meaning you can enjoy an evening of peace, tranquillity and perhaps even prophecy away from the rush of the crowds.
Knossos
Away from the Greek mainland there is a wealth of mythological adventure to be had. Nowhere more so than on the island of Crete. No trip to Crete would be complete without a visit to Knossos, possibly Europe's oldest city. The most famous myth connected with this site is also one of the most known of all Greek myths, is that of the Minotaur. King Minos reneged on a deal with the god Poseidon who punished Minos by having his wife fall in love with a bull. This romance led to the birth of the minotaur, part man, part bull. King Minos had a labyrinth built to contain the beast. The minotaur was famously killed by the hero Theseus but has continued to inspire the imagination ever since.
Today you can explore many of the archaeological sites of this ancient city, including the palace for around €15. Tie in your exploration here with a visit to the splendid Archaeology Museum of Heraklion to truly step into the mythology and history of Minoan and Cretan culture.
The site of the Palace and other open-air archaeology is located only a 15-minute drive from Heraklion airport but has varying opening hours throughout the year, so it's worth getting in touch before you travel to confirm:
Telephone: +30 2810 231940
Email: [email protected]
FAQs
How old do you have to be to drive in Greece?
To drive a car in Greece you must be 18. Check out more information about the rules of driving in Greece here.
Which are the must-see mythological sites in Greece?
Both the mainland and islands of Greece are literally littered with amazing mythological and archaeological sites. You could spend a lifetime exploring them all but if you're looking for some key sites for your holiday, we recommend Delphi and Mount Olympus. Both are driveable distances from Athens and Thessaloniki and Enjoy has a huge range of local partners for all of your car hire needs.
Is it safe to drive in Greece?
Many tourists hire vehicles to reach exciting locations such as Delphi, avoiding the restrictions of coach tours. Like any country in which you're not used to driving it is important to take extra care when driving in Greece. So long as you do your research and book your hire car in advance you should be well prepared to take to the Greek road.
Who are the main Greek gods?
When a civilization is as old as Greece it usually has a list of deities longer than a round trip to the moon but here is a brief guide to help you with some of the main figures of Greek Mythology.
Zeus, Poseidon, Hades, Hera, Hestia and Demeter were born of the Titans Cronus and Rhea. Zeus went on to be father of the next generation of gods, known as the Olympians, including Athena (goddess of wisdom and war), Apollo (god of music, poetry and oracles) and Dionysus (god of wine and fertility).
Where was the Minotaur imprisoned?
The Minotaur, a fierce man-bull mutation, is one of the most famous figures in all of Greek mythology. He was imprisoned by King Minos in a purpose-built labyrinth in Knossos. It is still possible to visit Knossos today, on the island of Crete where many archaeological remains can be explored. Remember to book your Crete car hire in advance with Enjoy to ensure the best availability and price.
What cars can I hire in Greece?
Enjoy is partnered with a wide range of international and local car hire companies providing a wealth of choice for your personal needs. Price vary throughout the year and depending on an exact location but a small car such as a Peugeot 107 would cost around £7 per day in May, when booked in advance for collection at Thessaloniki. Something slightly larger such as a Ford Focus would be around £13 per day at the same time of year.
Can I hire a car in Thessaloniki and hand it back in Athens?
Yes. When using our search tool be sure to enter different collection and drop off locations. Most companies will charge an additional one-way fee but this is factored into the price you pay when booking in advance through Enjoy.
Looking for your own mythological adventure? Hire a car in Greece today!
Popular Greece car hire links