Best Weekend Breaks from London
The Peak District
Margate
Cliveden House
Abergavenny
Canterbury
The Gower Peninsula
Bristol
St Albans
Rye
Edinburgh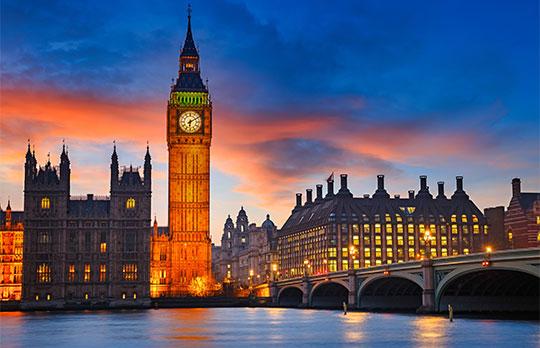 Top weekend getaways from London
London ‐ what a place! The capital of England (and the entire UK) has a heady mix of history and culture reflected in its grand architecture and the distinctive, multicultural charms of each of its brilliant boroughs. Icons like Big Ben and the Houses of Parliament, Westminster Abbey, Tower Bridge and the London Eye are famous the world over, and they're complemented by contemporary structures like the sky-scraping stiletto of The Shard and the glittering, helter-skelter rocket ship St Mary Axe. One in three Londoners was born elsewhere, and its population is a rich melting pot of over 250 nationalities ‐ as well as hearing a variety of languages in its streets, you'll enjoy sampling exotic dishes in its restaurants and dancing to worldwide rhythms in its clubs.
In central London, you'll find famous museums and galleries like the Victoria & Albert Museum, the British Museum, and the Tate Modern, while Borough Market, Covent Garden, Knightsbridge and Westfield are wonderful for food and shopping. And don't forget to venture into areas like Brixton to enjoy authentic Caribbean food, fashion and music, or trendy areas like Shoreditch for craft beer bars and creative happenings. London also has its fair share of gorgeous green spaces where you can relax – Hampstead Heath and the Queen Elizabeth Olympic Park are prefect for chilled-out strolls and people-watching, while Hampton Court Palace and Kew Gardens are a little further afield but ideal for taking in some fresh air and a more sedate ambience.
You could spend a lifetime in the capital and never get bored. But sometimes it's good to take a brief respite from the hustle and bustle nonetheless and luckily, there are many cracking weekend break destinations in easy reach ‐ hire a car in London from Enjoy Travel, hop behind the wheel and head off for 48 hours of pure pleasure!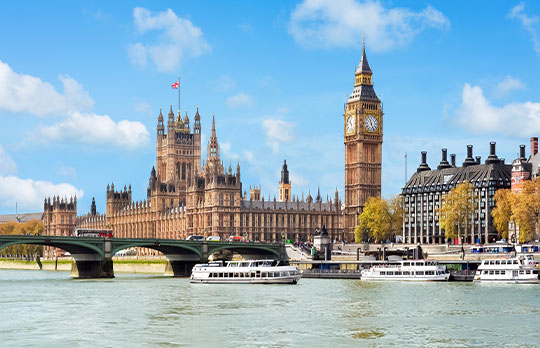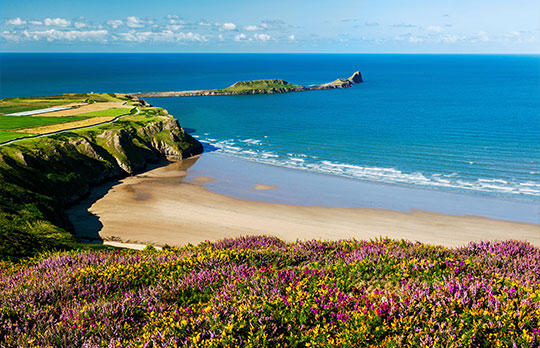 London driving tips
Your London road trips are coming up in two ticks, but let's take a quick look at some London driving tips first.
If you have to drive in and around the city centre, it's important to get to grips with the various charges to avoid getting a fine. The congestion charge applies Monday to Friday from 7am until 6pm in the area from Marylebone to Shoreditch and all the way down to Elephant and Castle and Victoria. The Ultra-Low Emission Zone (ULEZ) also applies all day, every day in many areas and you should check online beforehand to see if your vehicle falls under the restrictions or if it's exempt (for instance, if it's an electric vehicle).
Yellow box junctions are common in the city so please avoid stopping in them and only move across them if the way is clear, and there are a lot of bus lanes to look out for ‐ operational hours vary so read the signs carefully and don't get caught out.
Finding parking can be tricky ‐ there are some pay and display areas, but they can be expensive. If possible, it's best to park your car up and use public transport when you need to get into the centre of town.
Things get less hectic as you leave London for your weekend getaway destinations and the road network is reasonably easy to navigate but drive cautiously on country roads where you might encounter livestock, wildlife and slow-moving agricultural vehicles.
Now let's get stuck into those London getaways!
The Peak District
Around three hours from London via the M1, the Peak District is pretty much perfect for a weekend getaway from London. There's plenty to see and do, including swanning around stately homes like Chatsworth (home of the Duke and Duchess of Devonshire), mountain biking at the Peak District National Park or tasting iconic tarts at Bakewell. There are lots of places to stay in this scenic part of England ‐ Losehill House Hotel & Spa and the Palace Hotel Buxton are just two terrific examples.
Margate
Margate is located one hour and 40 minutes from London along the A2 and M2, and it has long been a favourite seaside retreat for Londoners. There are plenty of pickings for culture vultures here, including modern art at Turner Contemporary, the unique Shell Grotto (with mosaic walls crafted from 4.5 million shells) and Margate Caves, a former chalk mine turned community social space. Foodies love the fresh seafood at Buoy and Oyster and brunch at The Bus Café, while retro theme park Dreamland is a riotous blast from the past!
Cliveden House
Just 50 minutes from London via the M4, Cliveden House is the ideal place for a romantic weekend break from London. With an aristocratic heritage that stretches back to the 17th century, this ornate pile has hosted lords, ladies, princes and princesses ‐ and now you can stay over and treat yourself to the same kind of high-class luxury. The rooms are delightful and there are lots of cathartic spa and beauty treatments to choose from.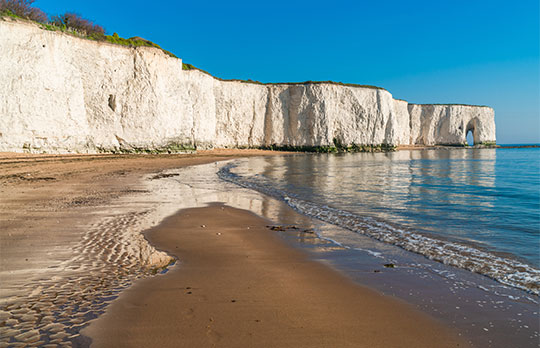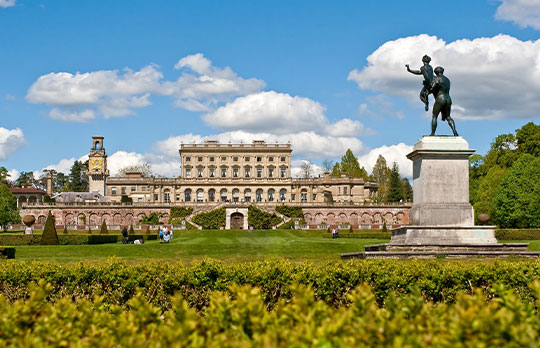 Abergavenny
Fancy a weekend break in wondrous Welsh countryside? Abergavenny is just under three hours from London via the M4 and makes for a refreshing break from the old routine. If you're a fan of hiking, it's a great base for exploring the Brecon Beacons National Park, Abergavenny Castle is amazing, and you can even fish for salmon on the River Usk. Meanwhile, the weekly market is a hotspot for sampling delicious local food and wine and Celyn Farm Bed & Breakfast comes highly recommended.
Canterbury
One hour and 20 minutes from London via the M2 and A2, Canterbury in Kent is a classic London weekend holiday destination. The huge Canterbury Cathedral is the main draw in terms of famous buildings ‐ it has been here for a thousand years, and its gothic towers still look stunning. But don't miss the unusual, sloping St John Boys House and the serene Westgate Gardens, while the Skinny Kitchen serves colourful, ultra-healthy fare and House of Agnes is the place to stay.
The Gower Peninsula
Another popular Welsh weekend trip from London, the Gower Peninsula is a longer drive, at around three hours and 45 minutes, but it's well worth it. Close to Swansea, the Gower was made the UK's first Area of Outstanding Natural Beauty way back in 1956 and it's still jaw-droppingly beautiful. The terrain spans golden beaches, wild, windy moors and sheer limestone sea cliffs and you can surf, swim hike or explore charming towns like Mumbles, a favourite haunt of poet Dylan Thomas. Oxwich Bay Hotel and Parc le Breos are top choices for accommodation in this neck of the woods.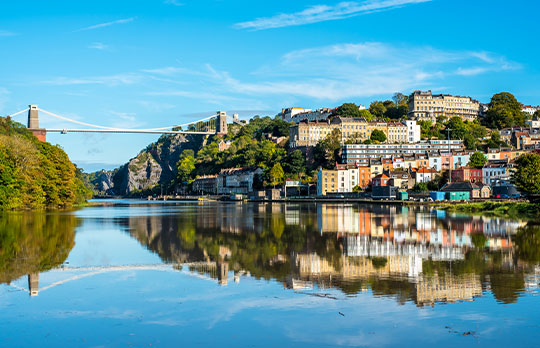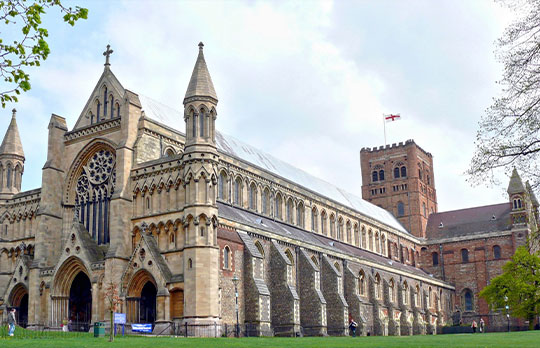 Bristol
Two hours west of London via the M4, boho Bristol is a cool, creative city that's an easy weekend trip when you're based in London. Attractions here include heritage sites like the lord Mayor's Chapel and Bristol Cathedral, mind-blowing street art (this is the home of Banksy) and Aerospace Bristol, where you can see Concorde. It's fab for families too ‐ little ones love Bristol Aquarium and Bristol Zoo Gardens. For fantastic food, book a table for tapas at Bravas or settle in for steak and cocktails at The Ox.
St Albans
51 minutes north of London via the M1, stunning St Albans is so close to London that it's a sin not to book a weekend break here. Popular attractions include St Albans Cathedral (built in 1077 AD), climbing the Medieval Clock Tower in the Old Town and visiting the Roman ruins at Verulamium Park (the Roman Theatre is unique). Eat at Lussmanns Sustainable Kitchen and stay at The White Hart or Ardmore house. Job done.
Rye
Rye is located just under two hours from London via the M20 and this East Sussex town definitely deserves its place on your list. Go wild in the woods, saltmarsh and grassland of Rye Nature Reserve, grab sea-fresh mussels and prawns at Globe Inn Marsh and drive out to Camber Sands to stroll along the beach and spot seals and marsh harriers ‐ magical! There are lots of great hotels in Rye too ‐ standout lodgings include The Gallivant, The Mermaid Inn and The George in Rye (an authentic 16th century inn).
Edinburgh
Edinburgh is around 7 and a half hours from London via the M1 and A1(M) so you're best to make the most of it with a long weekend, but you'll be richly rewarded for your marathon drive. Scotland's capital is one of Europe's most elegant cities and its well-ordered new town contrasts charmingly with the more ramshackle old town streets and alleys, with the dramatic castle rock serving as the scenic crown jewel. For culture pubs, clubs and romance, look no further.