Top 10 Denmark Road Trips:
Kronborg & Frederiksborg Castles
The Marguerite Route
Funen road trip
West & South Jutland
Oresund Bridge & Malmo
Marielyst & Falster
Gudhjem road trip
Roskilde
Cliffs of Mon
Skagen & the north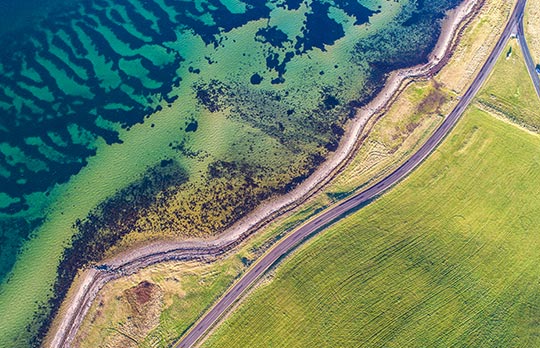 10 best scenic drives in Denmark
So you're planning a Danish staycation? Lucky you! This heartland of Scandi-style is frequently touted as the world's happiest nation and it's no slouch when it comes to producing bacon and world-class footballer either. And this unique nation (comprised of a peninsula perched on the top of Germany and accompanied by no less than 444 islands) is special when it comes to scenery too. What Denmark lacks in mountains is more than made up for by romantic forests, white sand beaches, dramatic cliffs, azure lakes and no less than seven UNESCO World Heritage Sites. Throw in sophisticated and charming towns and cities for a heady mix that's simply made for exploration by car.
Pretty capital Copenhagen is famed for its cleanliness and bicycle-friendly culture, Odense on the island of Fyn is the birthplace of Hans Christian Andersen, Aalborg has awesome street art and an amazing Viking legacy, and Aarhus has a buzzing culture as well as woodlands, beaches and parks. Meanwhile, foodies should head for the island of Bornholm, a Baltic Sea culinary hotspot where artisan chefs have created their own cuisine with locally-sourced ingredients – highlights include smoked fish, liquorice and freshly baked rye bread (albeit not usually mixed together!).
Denmark is a haven for culture vultures and thrill-seekers too, thanks to attractions like ARoS Arhus Museum with its immaculate collection of Danish art from the 18th Century and beyond, Copenhagen's iconic Tivoli amusement park, and the former royal castle of Koldinghus in Jutland. This is the home of hygge (roughly translated as the art of cosiness) so you'll definitely find a warm welcome anywhere you roam and there's simply so much to pack into any staycation here that you'll wish you had a month to spare to explore every nook and cranny.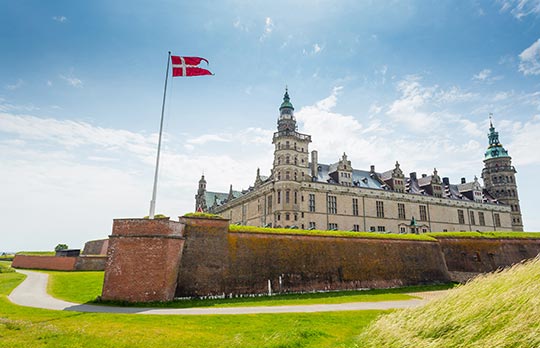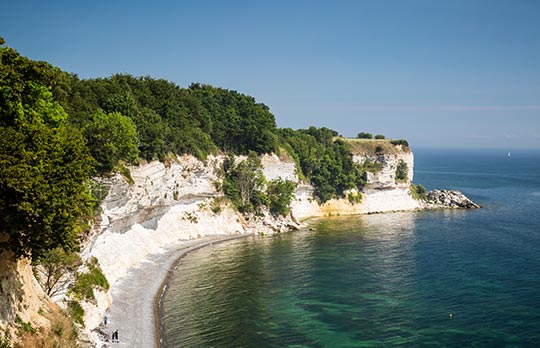 Top tips for driving in Denmark
Your top 10 road trips in Denmark are up next. Skip down the page a little if you can't wait, otherwise stick around here for some useful Danish driving tips.
Firstly, if you live in Denmark, you should know this (hopefully), but always drive on the right side of the road here.
The driver and all passengers should always wear seatbelts, drink driving is not tolerated (there's a limit of 0.05% in the bloodstream), and you're not allowed to use your mobile phone while you're behind the wheel.
Even during the day, you should keep your headlines on and dipped, and in general, give way to traffic approaching from the right. The speed limit in cities in Denmark is 50km/h (but please note that it's 40km/h in Copenhagen city centre), it's 80-90km/h outside city limits, and110-130km/h on highways.
Now that our Danish driving tips are done and dusted, let's get moving with your recommended road trips!
Kronborg & Frederiksborg Castles
If you're a history fan, head to Zealand to take in the twin splendours of Kronborg and Frederiksborg castles. UNESCO World Heritage Site Kronborg rose like a phoenix from the flames in 1640 after a devastating 1628 fire. Standing at the Oresund Sound in Helsingor, it was the inspiration for Elsinore in Shakespeare's Hamlet. Meanwhile, Frederiksborg is 56km away and this beautiful Dutch-Renaissance style pile is set in fabulous Baroque formal gardens, complete with a lake.
The Marguerite Route
If you've got a few weeks to spare, The Marguerite Route covers a whopping 2500 miles and 200 iconic Danish sites. If not, taking on a section of this famous route can still be rewarding. Circling the whole of the country, from Jutland to Lolland Falster, it features national attractions like Stevns Klint, Thy Nationalpark, Wadden Sea National Park, Mols Bjerge National Park and more. For islands, bridges, pretty village and a taste of the true Denmark, this is hard to beat.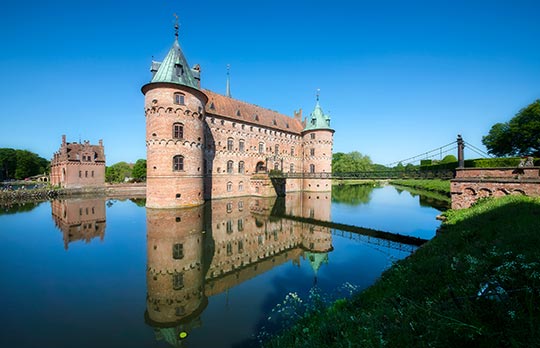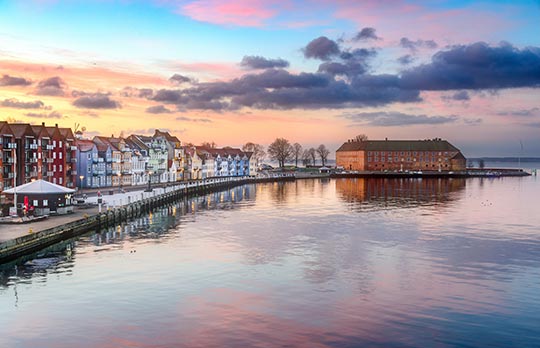 Funen road trip
Covering 220km, this road trip in the fantastic Funen region takes you to several superb tourist sites - the driving time is around 4 hours, but you'll probably want to book one or two overnight stays to make the most of it. The remarkably well-preserved Egeskov Castle, with its collection of vintage cars, is your first stop, followed by Valdemar Castle and then the lovely town of Faaborg, with its brilliant, brightly-coloured timber frame buildings.
West & South Jutland
You can explore the rugged coastlines and captivating scenery of West and South Jutland in around 7 hours in a route covering 350km. But once you see how beautiful it is, we bet you'll want to spread your journey out over a couple of days. Rolling Out from the west coast's Hvide Sande (White Sands), you'll roll down to Blavand, with its famous lighthouse. But your next stop, Ribe, is the jewel in the crown here – it's a bijou harbour town that's the oldest in Scandinavia and there's a cathedral, Viking museum and more delicious cafes than you can shake a pastry at.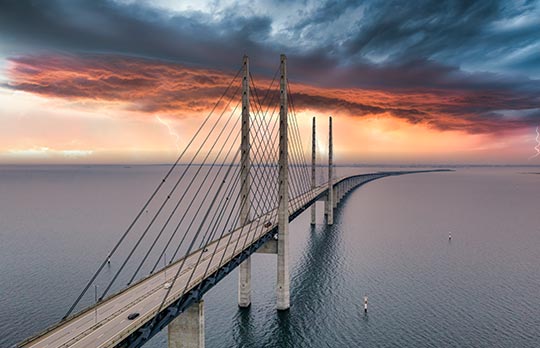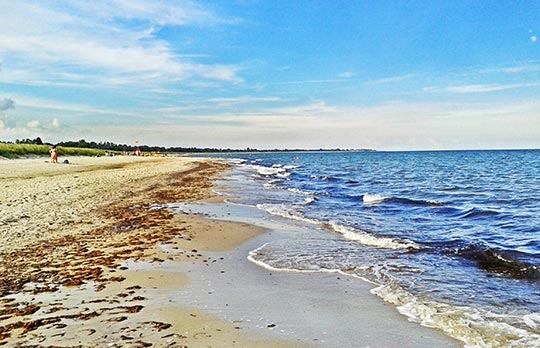 Oresund Bridge & Malmo
If you're staying in Copenhagen, (subject to the latest travel rules) you can easily scoot across the Oresund Bridge into Sweden's Malmo and experience a new nation in the space of a day. While you're there, enjoy some retail therapy at Lilla Torget or take a canal cruise and soak up the city's history from the water. Meanwhile, the magnificent Malmohus Castle is Sweden's oldest Renaissance castle and at Malmo Museum you can step inside a submarine. Leave early enough and you'll fit everything in and be back in Copenhagen in time for supper!
Marielyst & Falster
Yearning for a relaxing road trip? The area around Marielyst on the island of Falster combines sea and forest in an activity-packed fusion and its vast sandy beach is peppered with over 6,000 holiday homes. It has been voted 'Denmark's Best Beach' several times and when you sink your toes into the soft silvery sand and hear the waves caressing the shore, you'll know why. At nearby Nykobing Falster there's a lively open-air market and a fascinating Medieval Centre.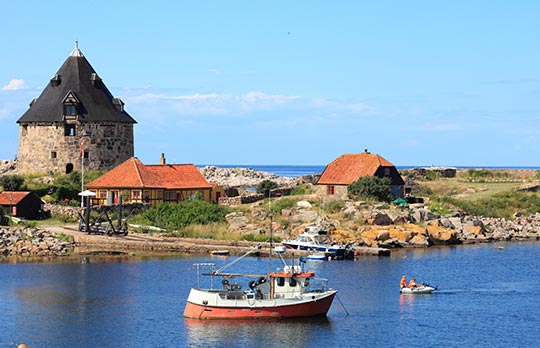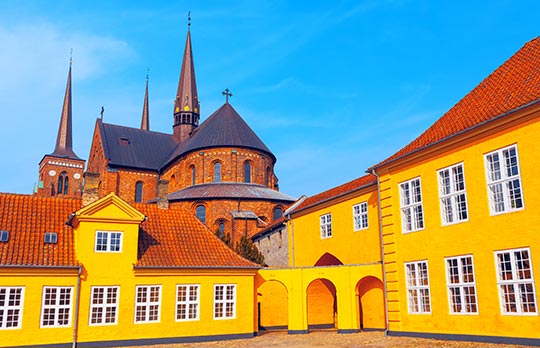 Gudhjem road trip
A small fishing port on the north coast of Bornholm island in the Baltic, Gudhjem is known as 'Denmark's only mountain town' and its steep winding streets make it a real tourist magnet. But there are also superb forests like Dondalen nearby, where you can hike into the interior and discover unusual rocky outcrops and magical waterfalls. There's also a unique naval fortress at the Christianso archipelago – a swift ferry ride away. Bornholm is located close to Sweden and 105 miles from Copenhagen.
Roskilde
Located just 19 miles west of Copenhagen, the city of Roskilde is a prime road trip destination with plenty to offer any visitor. An ancient market town with a rich history that stretches back to the Viking era, there are historic buildings aplenty here, but the main attraction is probably the UNESCO-rated Roskilde Cathedral, which is the official burial ground of Danish monarchs. Other attractions include the Viking Ship Museum and bracing sailing trips on the Fjord.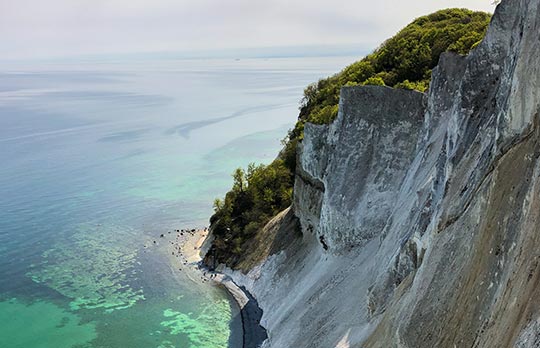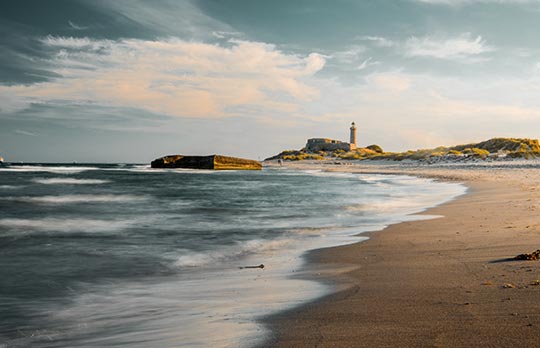 Cliffs of Mon
Located in southeast Denmark, the island of Mon was a municipality until 2007 but now forms part of the Vordingborg municipality. The undulating terrain here is complemented by the arresting Mons Klimt white chalk cliffs, which you can learn all about at the GeoCentre. Klintholm Harbour is a haven for foodie fans of surf, turf and everything else, so make sure that you fill your boots before the return journey. As well as the cliffs, the island includes woodlands and wetlands, so there's plenty of variety.
Skagen & the North
Denmark's northernmost area, Skagen ticks all the right boxes for fans of seafood, history and jaw-dropping scenery. At Grenen, the Skagerrak and Kattegat seas meet at the longest headland on the planet, there's the surreal sight of a church that's been buried in sand since Medieval times and the houses are painted a superb, sunny shade of yellow. The natural phenomenon of Rabjerg Mile is also found here (the nation's longest migrating sand dune) and all in all, it's a region where mother nature has gone all-out to impress!
Rent a car in Copenhagen or any other Danish hub and strike out on a pleasure trip you'll never forget.