Belfast International Airport Destinations
What a brilliant place Belfast is. From world-class attractions like Titanic Belfast to swish cocktails and dining in the Linen Quarter, and the beautiful Belfast Cathedral to the city's pioneering Gin and Spirits school, there's so much to see and do in Northern Ireland's capital.
And it's also a great launchpad for exploring the rest of Northern Ireland's stunning scenery – from the iconic Giant's Causeway to Game of Thrones filming locations like Cushendun Caves, Ballintoy Harbour, Larrybane and Castle Ward.
But a break from Belfast helps you appreciate the city even more when you return. And if you haven't travelled for a while, chances are you're wondering exactly which destinations you can fly to from Belfast International Airport.
Whether you're planning a wild stag or hen weekend, a fun family holiday or a busy business trip, we've gathered together all the facts you need to plan perfectly.
Belfast International Airport Destinations List
Find all the latest information on Belfast International Airport destinations below: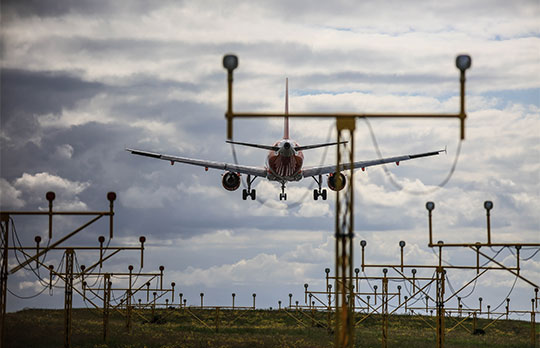 Belfast International Airport UK & Ireland destinations
Catching up with family in the rest of the UK or heading across the border to see friends in the Republic of Ireland? Belfast International Airport is connected to a host of destinations in Britain and Ireland. For instance, there are regular flights from BFS to Birmingham, Bristol, Edinburgh, Glasgow, Jersey, Liverpool, Gatwick, Stansted, Manchester, Newcastle and Inverness.
Belfast International Airport Europe destinations
Belfast International Airport is also in striking distance of lots of dynamic destinations in Europe. Whether you're planning a long weekend with pals or a continental business trip, you'll find flights to destinations including Salzburg, Dubrovnik, Paphos, Prague, Bordeaux, Lyon, Nice, Paris, Verona, Vilnius, Amsterdam, Faro, Alicante, Malaga, Tenerife, Ibiza, Geneva and Antalya.
Belfast International Airport onward destinations
Need to fly somewhere in the rest of the world? You can grab connecting flights from BFS to exciting locations like New York (via Edinburgh), Rio De Janeiro (via Amsterdam, Tokyo (via Paris and Bangkok), and Accra (via Glasgow and Amsterdam).
What are the best places to fly from Belfast International Airport?
Need a change of scenery from Belfast but you're just not sure where you'd like to fly? No problem – here are some interesting suggestions for different types of travellers:
Choose Manchester if you want to hang out in one of Britain's music and sports capitals. Chill out in the hip Northern Quarter if you want to dig deep in the crates in independent record shops (and unearth some rare vinyl treats), dine in trendy cafes and restaurants, enjoy craft ales in boho bars and listen to live music. Speaking of which, visitors of a certain vintage should definitely take in a Manchester music tour, covering key hotspots around Greater Manchester which were influential for legendary bands like The Stone Roses, The Smiths, Oasis, and New Order. If you appreciate classic visual art meanwhile, definitely take time to explore Manchester Art Gallery, which has famous paintings by artists like Pissarro, Turner and Gainsborough, while the Museum of Science and Industry showcases the city's key role in innovations including everything from steam trains to virtual reality. Lastly, footy fans shouldn't miss live games or stadium tours at Manchester United and Manchester City – this is one of the world's foremost football cities.
Choose Inverness when you're yearning for warm Scottish hospitality and stunning scenery. First off, you'll definitely want to drive 30 minutes out to iconic Loch Ness so you can try to spot the famous monster (photos or it didn't happen!) and while you're there, enjoy panoramic views from the tumbledown ruins of Urquhart Castle. History buffs also appreciate a trip to Culloden Battlefield – this is the site of the last ever battle in mainland Britain (1746) and the final culmination of the Jacobite Rising led by Bonnie Prince Charlie. And if you like your history even more ancient, explore the Bronze Age Clava Cairns – sacred burial sites that date back 4000 years. Meanwhile, Inverness Botanic Gardens is a gorgeous green space where you can wander around trees, a tropical house, cactus house and wildflower meadow, while Leakey's Bookshop is a brilliant place to browse at your leisure, then sit by the roaring log fire for a while as you escape into the pages of a good novel. At night, head to Eden Court Theatre and Cinema to catch a movie or a live opera, comedy or drama performance.
Choose Newcastle for some of Britain's friendliest folk and liveliest nights out. Get your bearings with a lovely stroll along the quayside where you'll feel the energy of the River Tyne and see iconic landmarks like the Tyne Bridge. 12th-century Newcastle Castle is also worth exploring – this Norman Fortress was built as a base for expansion into Scotland and offers panoramic cityscape views from the top. Anthony Gormley's Angel of the North statue at Gateshead is another iconic North East sight, and you can't fail to be impressed as you stand close to this tribute to the region's proud working-class past and positive civic spirit. You can also relax and unwind at the opulent Turkish baths on Northumberland Road and treat yourself to a massage or spa treatment. The BALTIC Centre for Contemporary Art is always interesting and Newcastle's legendary pubs and clubs allow you to party in good company til the wee small hours – you might even spot a few stars from TV's Geordie Shore.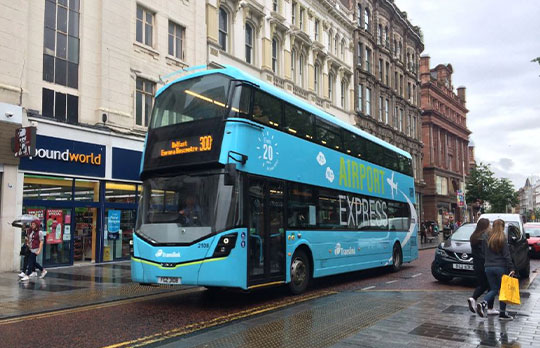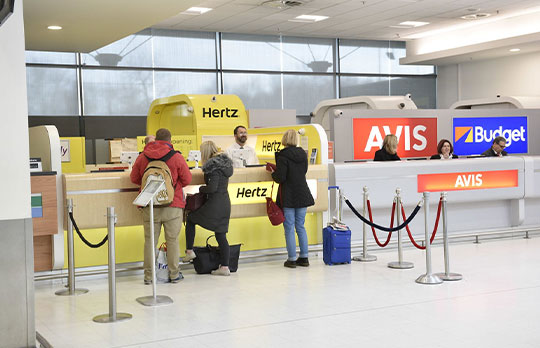 From Belfast to the world
Fancy jetting off to mainland Europe? Here are a few tips on exciting destinations on the continent:
Pick Prague for jaw-dropping architecture and the best beer in the world. From the lavish Charles Bridge to the expansive, elegant castle complex, a trip to Prague is a Bohemian rhapsody for anyone who appreciates amazing architecture. Because Prague didn't suffer the same bombs damage as other major European cities during WWII, the infrastructure is well-preserved, and you'll see a wealth of styles stretching back thousands of years. The Czech Republic is also the home of pilsner beer and you can enjoy brilliant brands like Pilsner Urquell, Staropramen, and Budvar – or even go one step further and indulge in a beer spa, where you relax in a giant vat of ale while cooling off with a few tankards of your favourite drop.
Choose Ibiza if you love to party all night, meet happy people and relax in sublime scenery. From the ancient Phoenicians to contemporary pleasure-seekers, the White Isle has entranced visitors for 3000 years and once you arrive, you'll know why. The island's lush countryside is peppered with olive groves, you can pick up unusual gifts at the hippy markets and the arty ambience attracts celebrities like Rafael Nadal and Jade Jagger. The cuisine scene features freshly-baked bread, cured meats and fine wine, while watching the sun sink into the horizon from one of Ibiza's many beautiful beaches is just wonderful. If you're here to party, the choices are endless, but the classic Pacha club is always a good pick – its heritage stretches from the flower power era to the techno age and it's still one of the world's best nights out.
Choose Paris for iconic tourist sites and romantic ambience. Strict planning regulations mean that the centre of Paris feels less cramped and more manageable than many of its rival capitals and legendary structures like the Eiffel Tower, Arc de Triomphe and Sacre Coeur aren't dwarfed by sky scraping glass and steel edifices. Art lovers should definitely make a beeline for the Louvre to catch a glimpse of the Mona Lisa and lots of other world-class works, while Centre Pompidou showcases amazing pieces by Warhol, Pollock, Picasso and Magritte. Ground Control food hall is a cracking place to try international street food and the arthouse cinemas in the Latin Quarter are stunning.
Which airlines fly out of Belfast Airport?
Lots of carriers fly from BFS, including easyJet, Jet2.com and Virgin Atlantic.
Food and drinks options include Starbucks, Burger King, the Northern Quarter Bar and Sip & Stone.
Facilities are good, with well-signposted toilets and baby changing areas.
How can I hire a car at Belfast Airport?
Hiring a car at BFS is easy with Enjoy Travel. Our partners include major players like Avis, Hertz, and Europcar and you'll grab great prices on reliable and stylish vehicles of you book ahead of time. Enter your dates in our search engine, click the button and we'll do the rest.