Here's the 25 Best Christmas Markets in the United Kingdom for 2023
When the weather starts to chill, there's one thing on our minds – Christmas. There's nothing like the frosty mornings, warm country pubs, and thick-knitted jumpers that characterise the cosy, wintry Christmastime. The best way to celebrate the season is by visiting bustling Christmas markets. They originated in Germany in the Middle Ages, and have spread across Europe and some parts of the world. Christmas markets are everything we love about the festive season: quality time with loved ones, a warm atmosphere, even warmer mulled wines, lots of good food, jolly live music, buying gifts for friends and family, and so much more. If you're not in the spirit yet, a visit to any of these UK Christmas markets will change that. Here are the best Christmas markets in the UK in 2023.
Best Christmas Markets in the UK
25. Llandudno Christmas Extravaganza
Dates: 16th - 19th November
Best for: Early Christmas shopping organization and getting in the festive spirit
This short but sweet affair will get anyone in the Christmas spirit. Even those who are passionate that Christmas doesn't officially start until December will be full of festive cheer after the Llandudno Christmas Extravaganza. There's entertainment aplenty with fairground rides, cheerful live music, local choirs, dance performances, magic shows, Santa's Grotto, and more. Saturday 18th November is the German Extravaganza party, where Oktoberfest meets Christmas with plenty of steins, a thumping atmosphere, live music, folk dancing, and delicious food galore. And you can finish off your Christmas shopping early with stalls selling unique handcraft gifts.
---
24. Worcester Victorian Christmas Fayre
Dates: 30th November - 3rd December
Best for: Historic family entertainment
Step into the past with a visit to Worcester's Victorian Christmas Fayre. Embrace the festive atmosphere and enjoy the wonderful entertainment programme, full of Victorian characters, musicians, and towering entertainers on stilts. Along with joyful entertainment, the Christmas Fayre puts on over 200 stalls selling international products, handmade crafts, festive gifts, unique jewellery, and more. It's a charming setting, festooned with twinkling fairy lights and warmly lit chalets.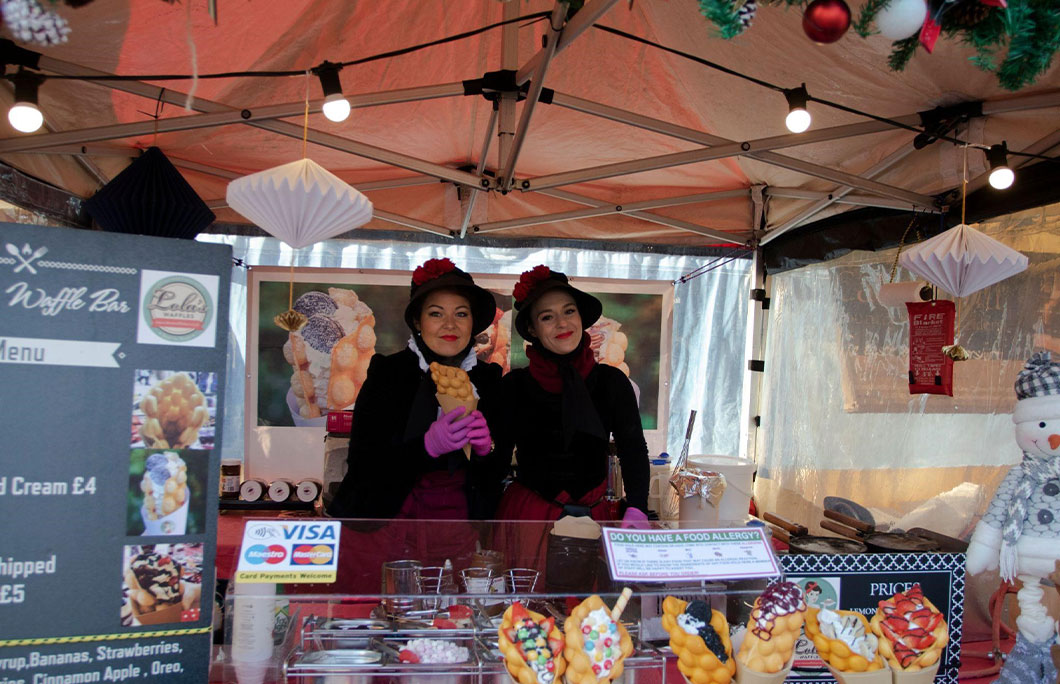 ---
23. Rochester Christmas Market
Dates: 25th November - 10th December
Best for: Young children
It doesn't get much more magical than a castle, and Rochester's Christmas Market takes over the beautiful 11th-century Rochester Castle gardens. The market is held across three weekends between 25th November and 10th December, and every weekend is popular. You can expect alpine stalls selling everything from homemade chutney for your Christmas day cheeseboard, to real Christmas trees standing between 3 and 5 feet. This year, Rochester has introduced the Children's Christmas Village. While the market is free, the Christmas Village charges a fee of £10 per child – adults go free. The fee includes making Christmas decorations in the Elves' workshop, decorating a festive sweet treat, and listening to Christmas stories in Mrs Claus' snug.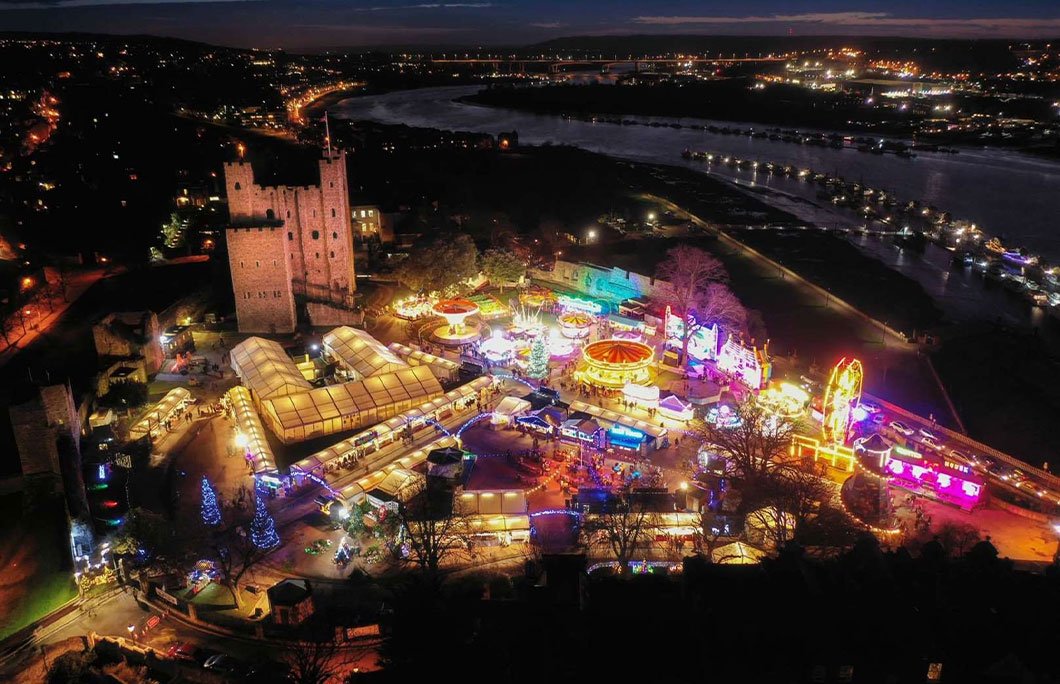 ---
22. Leeds Christmas Market
Dates: 24th November - 17th December
Best for: Family fun
Leeds might have scrapped their long-running German Christkindlmarkt, but this year they've got an even bigger, better market up their sleeves. Last year was a relatively quiet Christmassy affair in Leeds, although it appeared locals were craving the Yuletide spirit of pre-pandemic times. The Ice Cube skating rink in Millenium Square was a huge hit, as were the few stalls that encircled it. This year, they're keeping the Ice Cube, and adding more stalls, food stands, and makeshift bars – bringing festive spirit to the friendly city.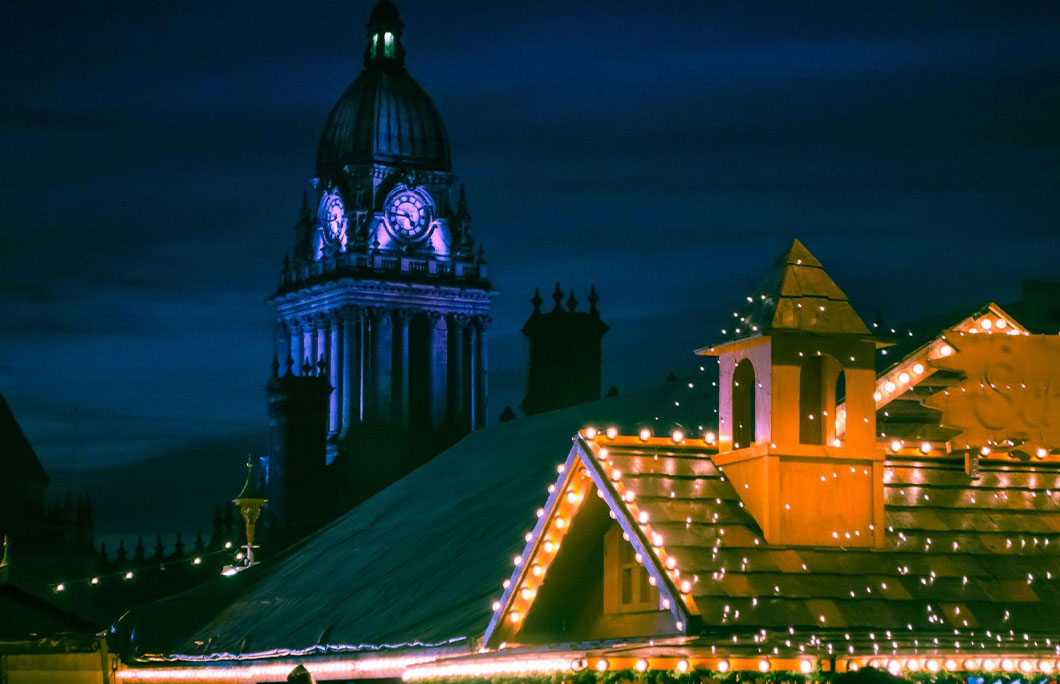 ---
21. Dundee Ethical Christmas Fair
Dates: 3rd - 18th December
Best for: Sustainable shopping
Unfortunately, Christmastime produces a lot of waste. If you're looking to cut back on single-use materials this Christmas, head to the Dundee Ethical Christmas Fair. As Scotland's first Fair Trade City, Dundee promotes Fair Trade and sustainable products all year round, particularly during Christmas. Find sustainable local products, as well as unique items from Peru, South Africa, Zambia, Morocco, India, and more. It's a wonderful place to shop, knowing your money is doing some good – all profits made by international traders go towards projects in their communities. But the artistic and ethical market is still a source of Yuletide joy, with mulled wines, steins, and bratwursts aplenty.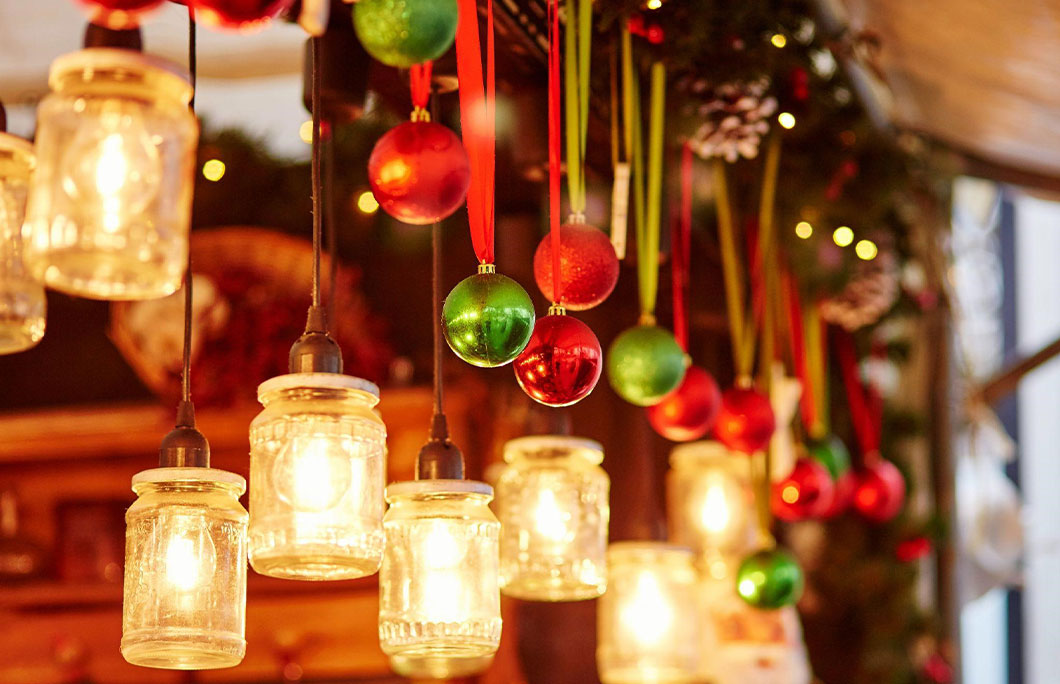 ---
20. Stratford-upon-Avon Victorian Christmas Market Festival
Dates: 7th - 10th December
Best for: History mixed with festivities
This might be a short event, but it's a famously fantastic one. The historic streets of Stratford-upon-Avon come alive with Victorian characters, street performers, and a whopping 300+ stalls. Take a journey through time as you're immersed into the Victorian atmosphere, with vendors dressed in Victorian attire and live performances on Henley Street Stage. You'll be glad to know that the Victorian theme ends with the food and drink, which is a mix of local, international, and characteristic German Christmas market fare.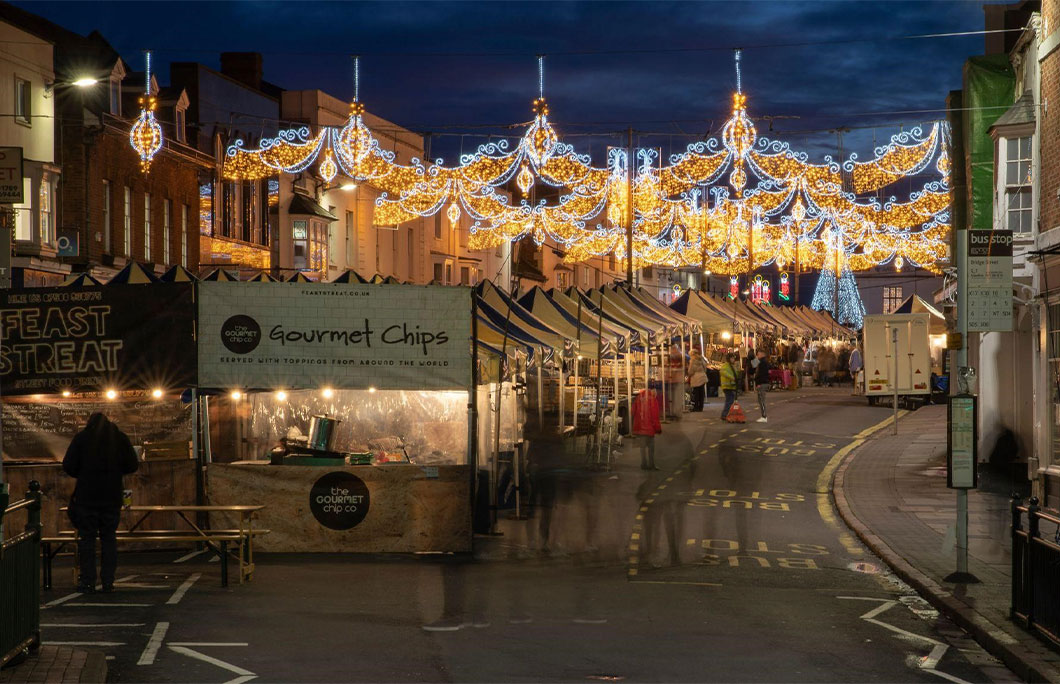 ---
19. Bristol Christmas Market
Dates: 3rd November - 23rd December
Best for: Family day out
Take the family to Bristol Christmas Market for a festive-filled day out. Enjoy visits from Santa and his elves, as well as family-friendly entertainment. The market is spread across the High Street and it isn't as big as other Christmas markets across the UK, so it's a great choice for groups with young children. There are 35 unique stalls selling all your favourite Christmas market fare, including speciality cheese, syrupy waffles, bratwursts, hog roast, Yorkshire pudding wraps, and more. Fancy a break from the high street? Soak up the Christmas atmosphere from an igloo or gondola – a wonderfully cosy place to enjoy a mulled wine.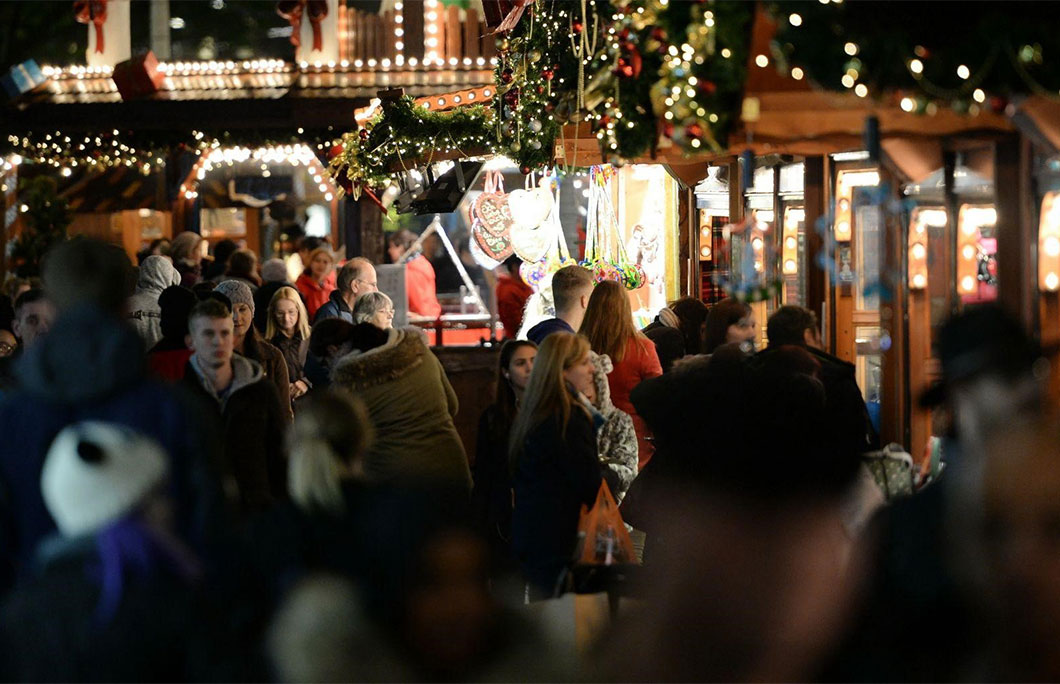 ---
18. Belfast Christmas Market
Dates: 18th November - 22nd December
Best for: International food and gifts
Find the best of both worlds at Belfast's beloved Christmas market. While there are plenty of bratwursts and mince pies to tuck into, there are also dozens of traders from around the world serving international food and selling trinkets. Many vendors also come from nearby St. George's Market, offering a selection of locally sourced and produced food and gifts. The blend of local, German, and wider global influences makes the Belfast Christmas Market exciting and unique. From trendy artisanal treats to hearty Irish comforting classics, it's a haven for foodies.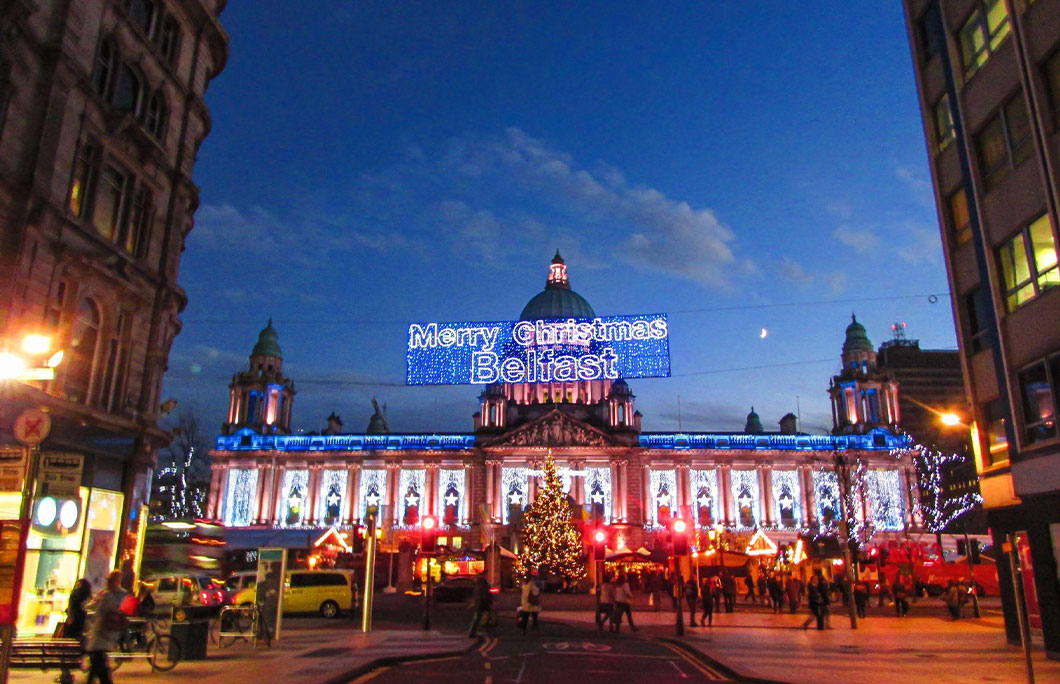 ---
17. York St Nicholas Fair
Dates: 16th November - 22nd December
Best for: Soaking up the festive atmosphere with the family
York is the picture of wintry magic, with the Shambles, York Minster, and Clifford's Tower setting the tone. Twinkling alpine chalets run from Parliament Street to St. Sampson's Square, providing the very best of the cosy Christmas spirit. Take the kids to Santa's Grotto, get your skates on for the ice rink, and warm yourself up with a mulled wine. If you fancy taking a stroll around the beautiful city, head to King Square for the stunning vintage carousel.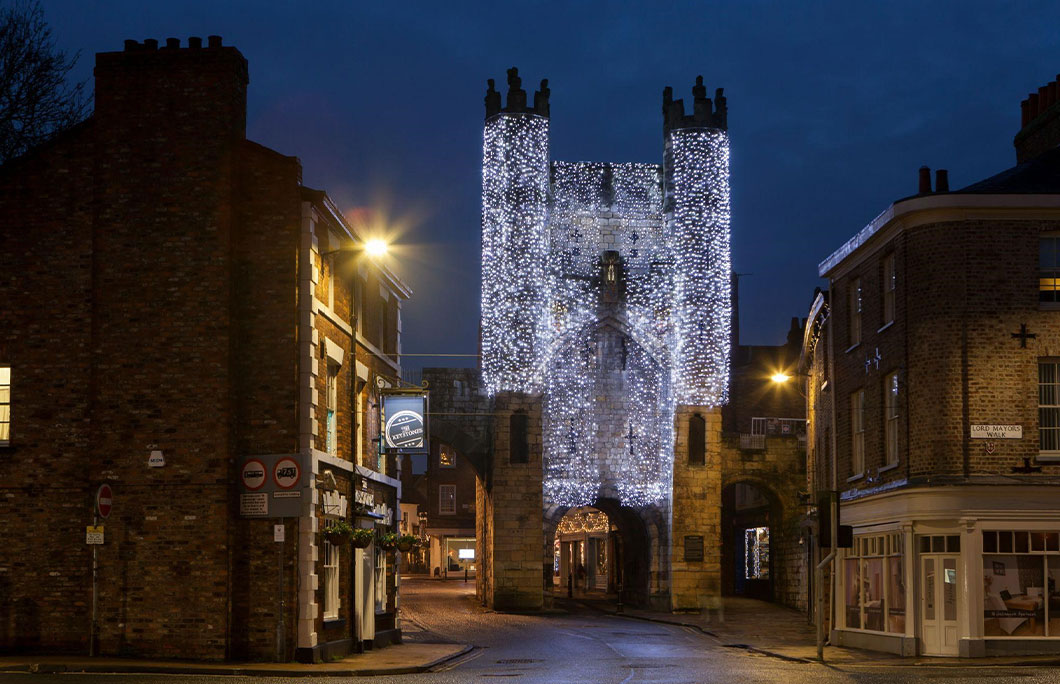 ---
16. Chester Christmas Market
Dates: 17th November - 21st December
Best for: An elegant Christmas market
As one of the prettiest cities in the UK, Chester puts on a glorious Christmas market. Set in the Town Hall Square and in front of Chester Cathedral, the setting alone makes this market a must-visit. There are over 70 stalls this year, selling locally made produce and handmade crafts. Warm yourself up with a mulled wine or Bailey's hot chocolate, or try a mulled gin – unique to Chester. And be sure to try Roberts Country Frye's famous pies for a true Chester experience.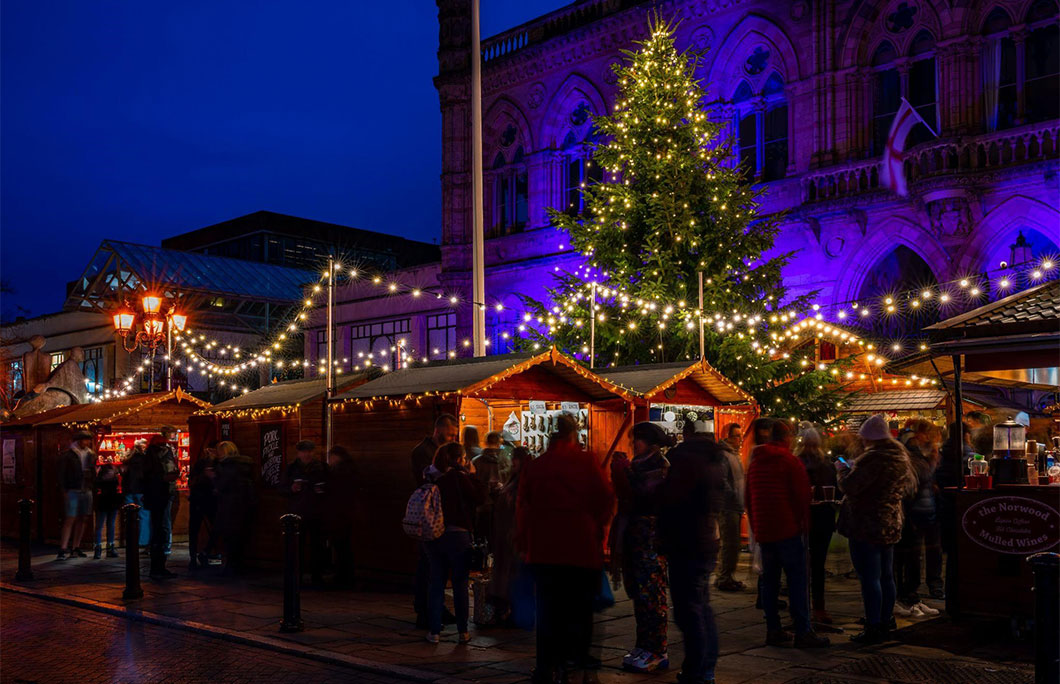 ---
15. Durham Christmas Festival
Dates: 1st - 3rd December
Best for: Handcrafted Christmas gifts
Durham is a wintry wonderland, plucked straight out of a Harry Potter film. The city's famous Christmas Festival might be just across one weekend, but it'll fill your boots with festive cheer to last all December. It's spread across three days and three locations; the Craft & Producers' Marquee at Palace Green, the Festive Outdoor Market at Durham Market Place, and Durham Market Hall. There's a wide range of unique gifts to pick up from local vendors, as well as carol singers, Santa's Grotto, falconry displays, and other special events.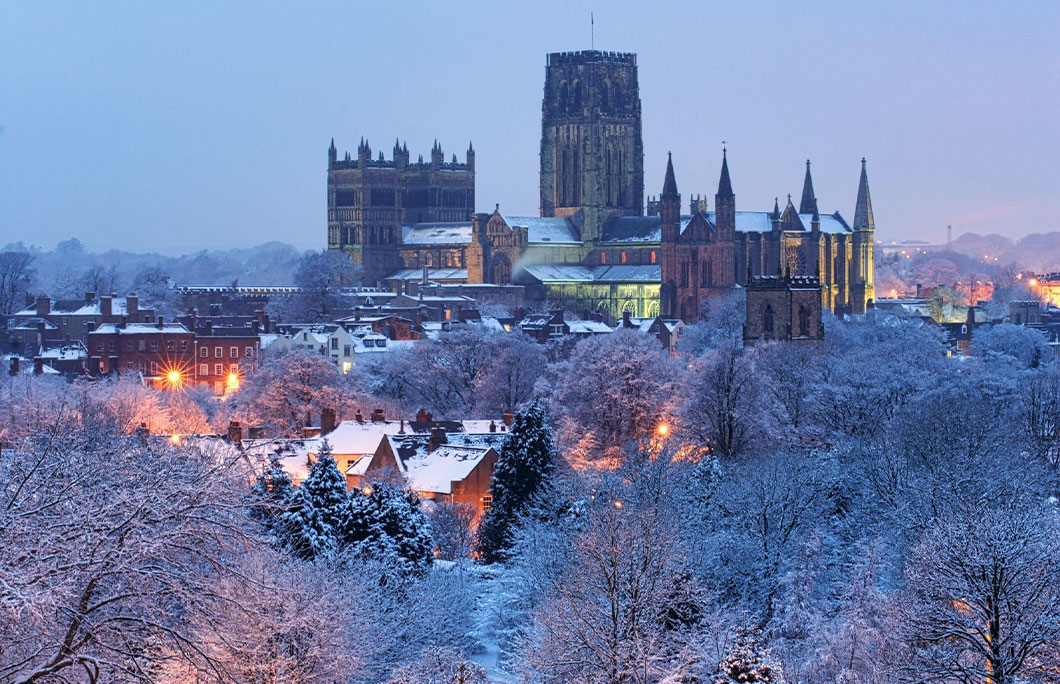 ---
14. Cardiff Christmas Market
Dates: 9th November - 23rd December
Best for: High-quality Christmas shopping
Let's face it – Christmas trinkets can be a bit tacky. While it's all in good spirit, and a bit of tackiness never hurt anyone, they don't always make for long-lasting, good-quality gifts. Cardiff Christmas Market puts on a fantastic display of beautifully crafted local goods and high-quality items. Find handmade products from Welsh glassmakers, jewellery designers, leather designers, artisanal cheesemongers, ceramic artists, woodworkers, and more. And of course, there's plenty of hot, warming food to get stuck into – as well as all the usual Christmas market trimmings, there are stalls by local favourite restaurants. Most of the action will be opposite Cardiff Castle walls.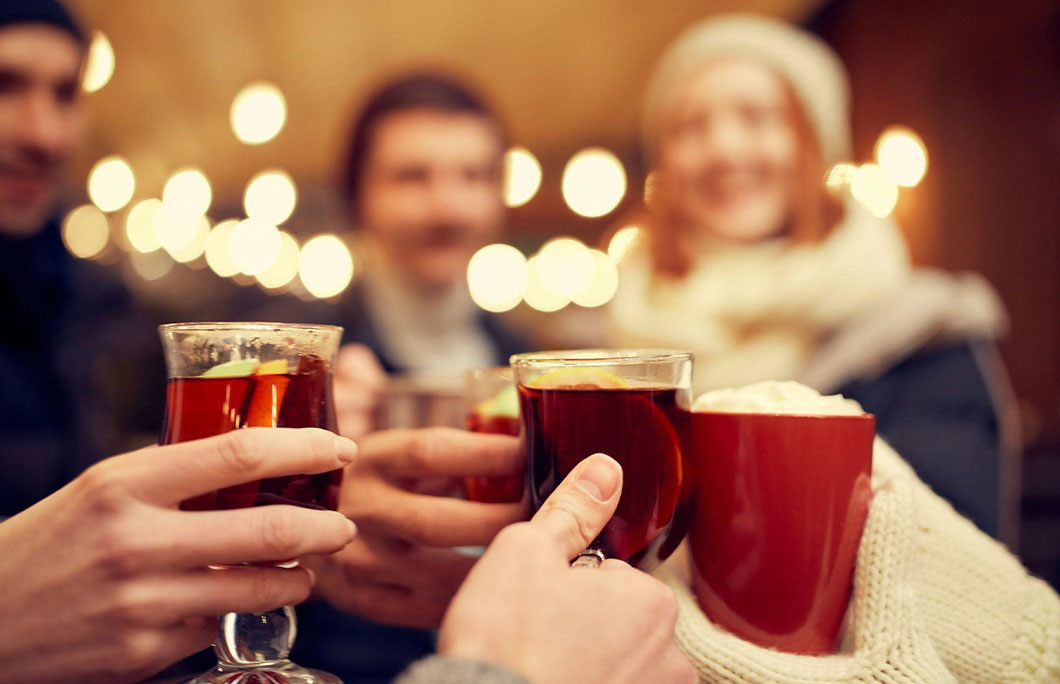 ---
13. Liverpool Christmas Market
Dates: 18th November - 24th December
Best for: Karaoke and Christmas drinks
Find all your favourite Christmas market trimmings at Liverpool Christmas Market. The sprawling event takes over multiple locations in the city centre, mainly in front of St George's Hall. While there is a wide range of Bavarian-style stalls selling unique jewellery, warming foods, handcrafted products, and more, Liverpool holds onto its party reputation with good-time bars. The Windmill, Ski, and Alpine bars are three of the most popular spots for a Christmassy drink. The ski lifts will also be back this year, where you can enjoy merry karaoke.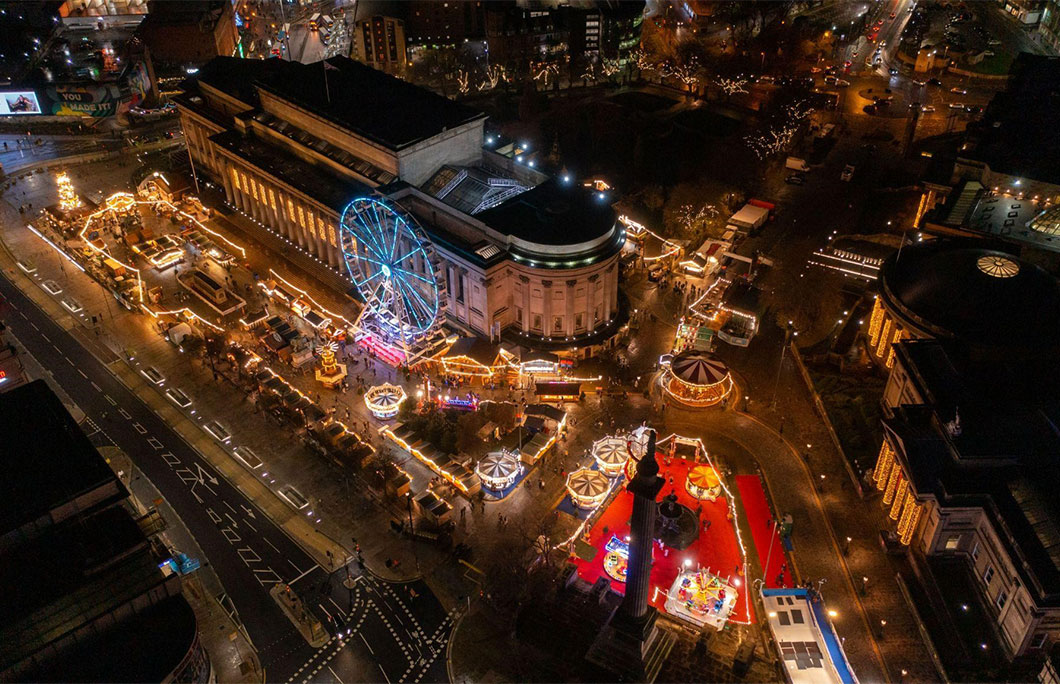 ---
12. Winchester Cathedral Christmas Market
Dates: 17th November - 21st December
Best for: Locally produced gifts and decorations
Winchester turns into a winter wonderland during Christmastime, with over 100 chalet market stalls twinkling against the spectacular cathedral backdrop. As one of the best Christmas markets in the UK, it has everything you could want. You'll find all the favourites of a Christmas market and then some. Come expecting to be fully immersed in the holiday spirit and bustling atmosphere, and leave with bellies full of caramelised chestnuts, bags full of handpicked high-quality produce, and warm cheeks from the mulled wine.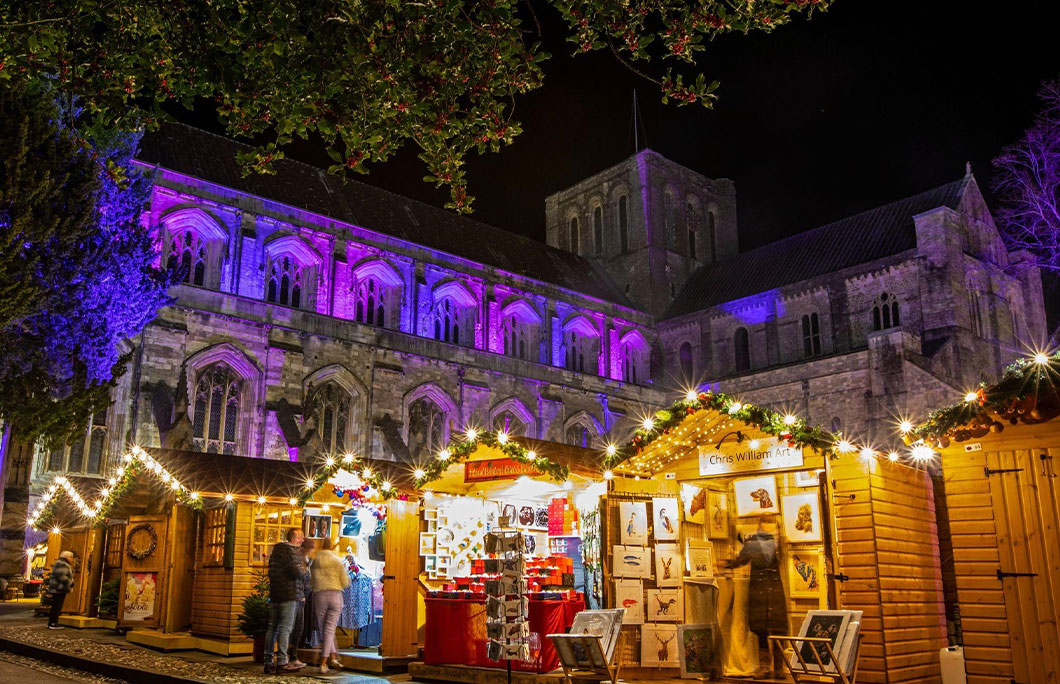 ---
11. Aberdeen Christmas Village
Dates: 16th November - 23rd December
Best for: Family fairground rides
As one of Scotland's most beloved Christmas markets, Aberdeen Christmas Village is well worth the visit. The festive event boasts neon-lit fairground rides, carol concerts, Nativity plays, Bavarian-style bars serving mulled wine and cider, and plenty more entertainment. Perhaps the most famous fixture of the Aberdeen Christmas Village is the Curated in the Quad Christmas Market. Every weekend between 16th November and 23rd December, Aberdeen's famous market is taking over Aberdeen City Centre. Showcasing local food products, arts and crafts, craft bakers, homeware, jewellery, clothing, and more, it's the best place to pick up unique gifts – make sure to get yourself something, too.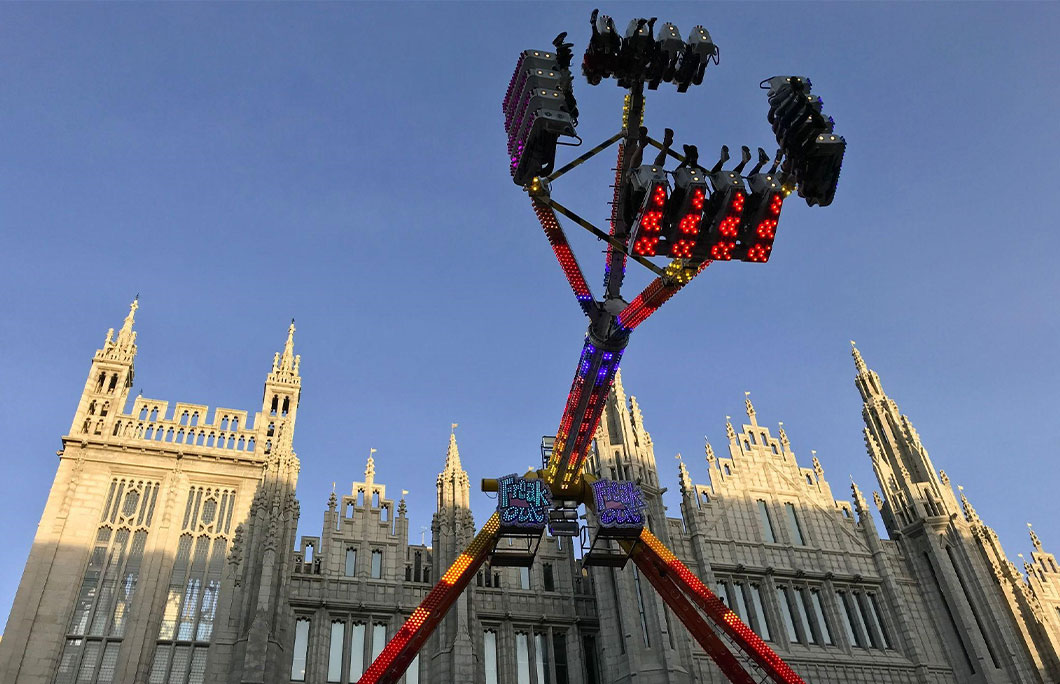 ---
10. Exeter Cathedral Christmas Market
Dates: 17th November - 17th December
Best for: Unique foodie gifts
Set against the backdrop of Exeter Cathedral, Exeter's Christmas Market is arguably the most beautiful on this list. While the setting is enchanting, the Bavarian-style stalls are the main draw here. Exeter is known for its excellent local produce, and that's showcased at the Christmas market – find stalls selling locally sourced ingredients, quality local produce, and unique food treats. It's a must-visit market for foodies seeking unique Christmas presents, or to whip up canapes to impress the family on Christmas Day. There's also plenty of family-friendly entertainment, including carol singing and live music performances, as well as Christmas market foodie favourites.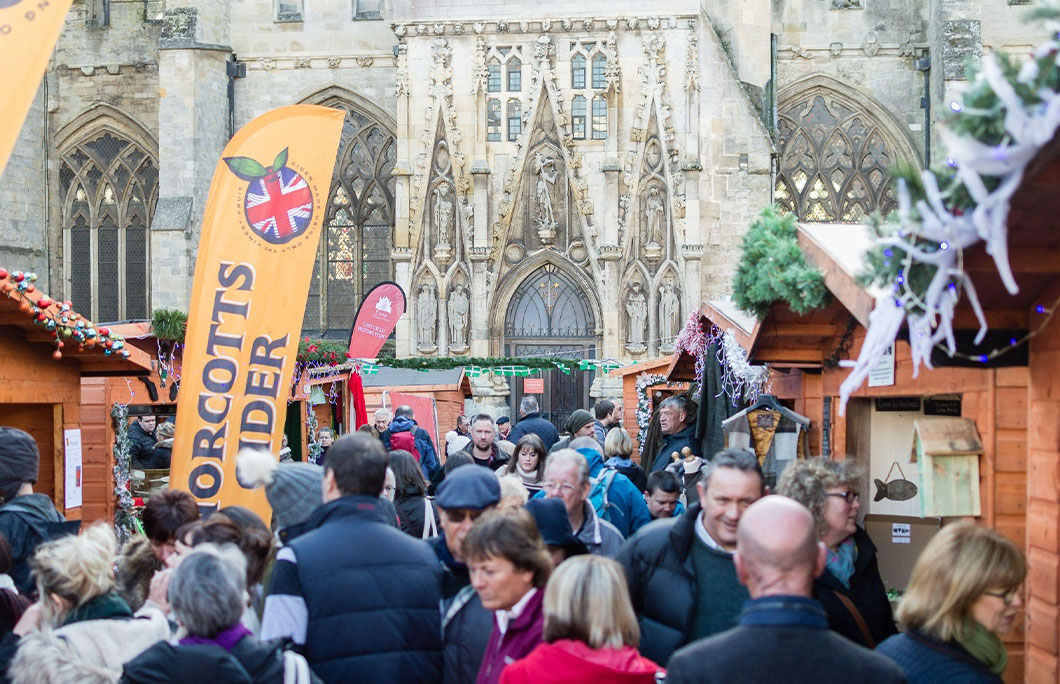 ---
9. Nottingham Winter Wonderland
Dates: 7th November - 31st December
Best for: Day out with friends
Embrace this magical time of year with a trip to Nottingham Winter Wonderland. The wintry setting takes over the Old Market Square, promising festive fun for all ages. The Christmas market is the perfect place to pick up a special gift, from homemade chutneys to specialist scents. But there's so much more to Nottingham Winter Wonderland than the market stalls – there's a huge observation wheel, toboggan slide, and ice rink. You can also book a spot in the ice bar. It's a great choice for big groups – they cater to groups in the glass ski chalet, which offers beautiful panoramic views across the city.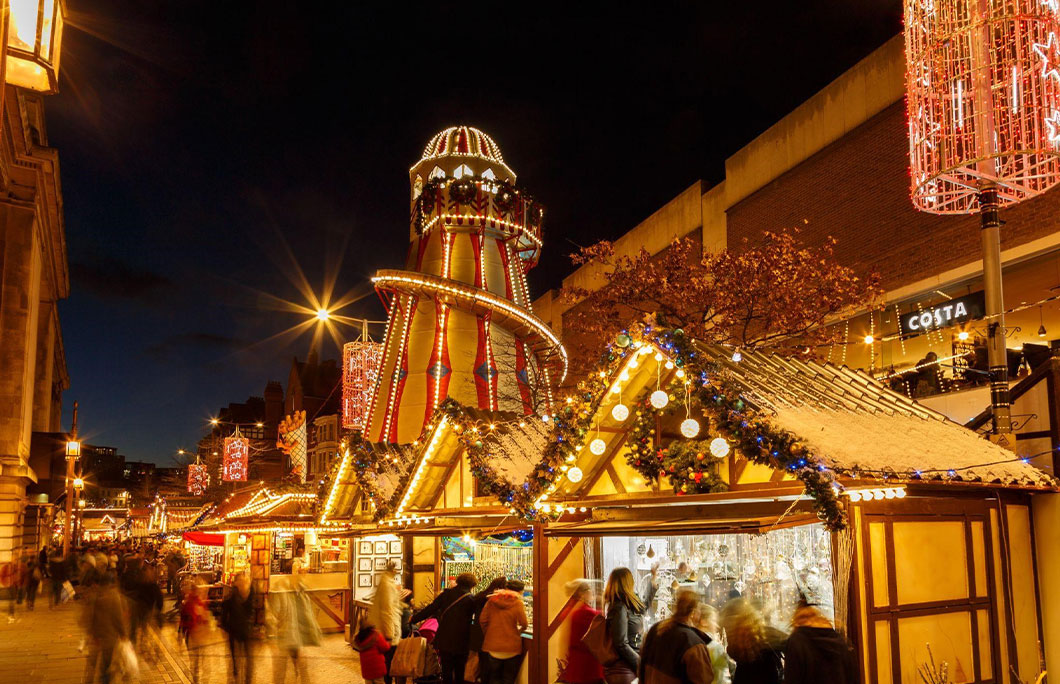 ---
8. Bath Christmas Market
Dates: 23rd November - 10th December
Best for: Sightseeing while Christmas shopping
Bath makes for a beautiful winter city break, and the fantastic Christmas market is the cherry on top. The space between the famous Roman Bath and Bath Abbey comes alive with buzzing market stalls, food vendors, and bars. There are over 170 alpine stalls offering excellent handcraft goods, from artisanal luxury bath products to artistic ceramics. Bath Gin is a firm favourite among shoppers, too. And don't miss artisan plum pudding – a Bath Christmas Market speciality. As well as excellent shopping and food, there are street performers, Christmas carollers, and charity events.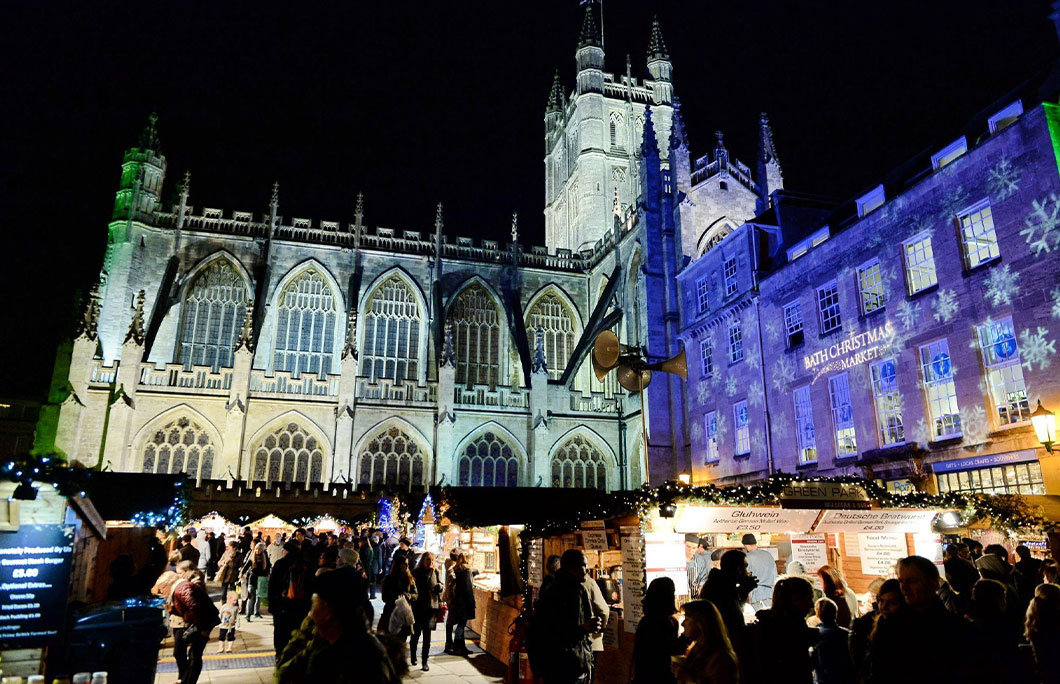 ---
7. Winter Wonderland – Hyde Park, London
Dates: 17th November - 1st January
Best for: A special day out with the family
Take a trip to Winter Wonderland this year for a Christmas market that's hard to beat. Calling Winter Wonderland a 'market' doesn't quite do it justice – it's a twinkling spectacle of live music, fairground rides, a Giant Observation Wheel, immersive VR experiences, and so much more. Be sure to catch the enchanting acrobatic circus show, and don't miss the Magical Ice Kingdom, where 500 tonnes of ice has been sculpted into a fairytale wonderland. There's so much to do, see, and experience at Winter Wonderland, but skating around to live music along the UK's largest outdoor ice rink tops them all.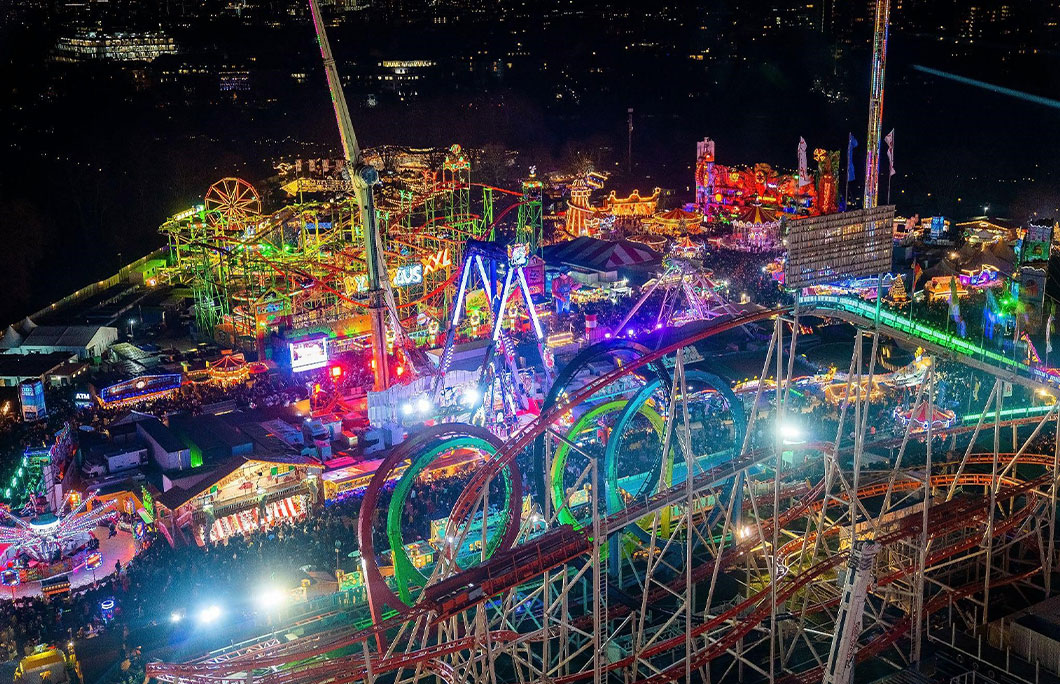 ---
6. Southampton Christmas Festival
Dates: 16th November - 2nd January
Best for: All-round Christmas festivities
Southampton Christmas Festival really has something for everyone. Foodies will love the wide range of local and global street food vendors, serving Dutch pancakes, Yorkshire pudding wraps, locally-made fudge, bratwursts, and plenty more. You can also pick up handmade Christmas gifts, with everything from candles to handcrafted jewellery on offer. Venture over to Westquay Esplanade for Alpine bars and warming mulled wine, as well as a magical ice rink. The cherry on top is the enchanting light projection show that lights up the Bargate monument – it's on every half an hour between 5pm and 9.30pm from 17th November until 24th December.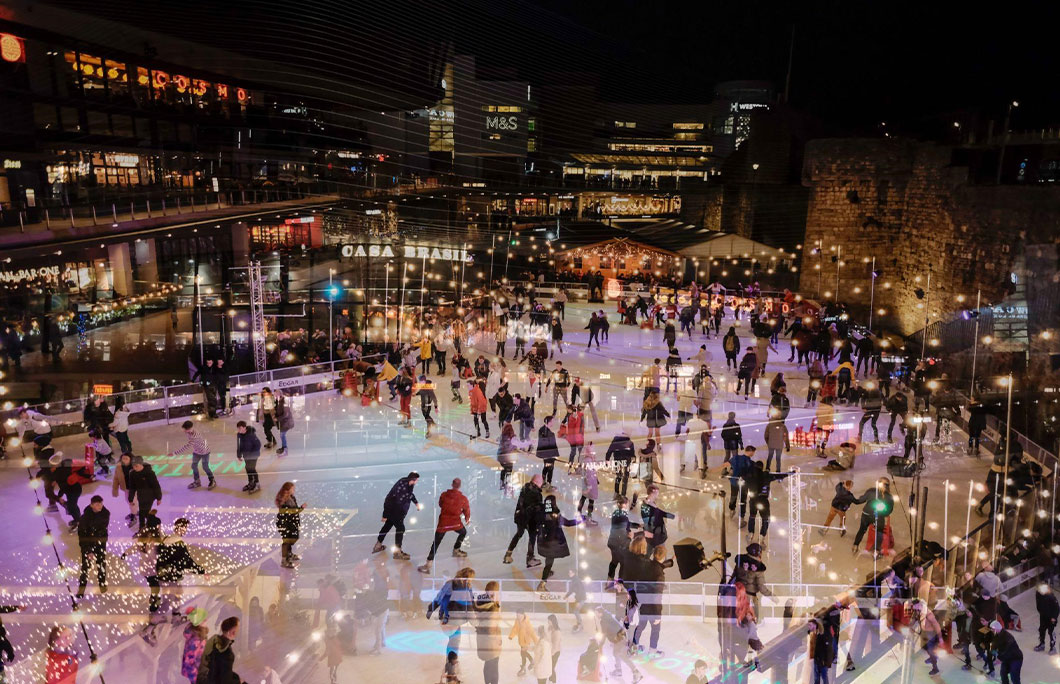 ---
5. Manchester Christmas Market
Dates: 10th November - 21st December
Best for: Shopping and Yuletide drinks
With over 200 stalls across nine sites, Manchester hosts one of the biggest and best Christmas markets in the UK. It's certainly one of the best. While the main festivities are held in Piccadilly Gardens, you can find the ski chalet market stalls throughout the city centre's streets and squares. Expect Christmas market staples, including bratwursts (vegetarian and vegan options available), steins, hot chocolate (with or without Bailey's), and mulled wine. It's also a great place to pick up gifts, with crafty stalls selling handmade leather watches, handmade dried flowery jewellery, wooden games, sculptures made from recycled metal, and more. Don't miss the ice rink in Cathedral Gardens too – that's up and running until 31st December.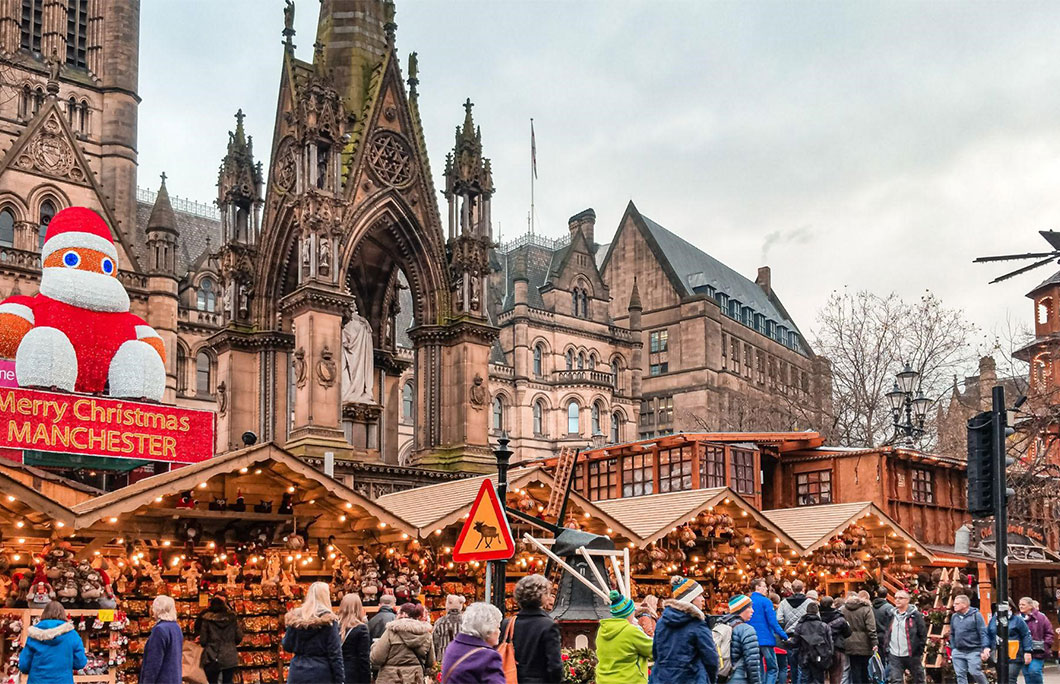 ---
4. Blenheim Palace Christmas Market, Oxfordshire
Dates: 17th November - 17th December
Best for: Unique day out (great for families with small children)
City centre Christmas markets have a distinct charm, but sometimes you want to peruse the stalls without the hustle and bustle. The Christmas market at Blenheim Palace is an excellent alternative. It's spread out nicely in the Great Court – ideal for families with small children who might find busy Christmas markets overwhelming. The palace welcomes shoppers and foodies to explore the wooden chalets at their own pace, before walking through the enchanting Christmas light trail. The little ones will love the sneak peek of Santa along the way. You can also admire the festive decorations in the palace, which is transformed every Christmas to retell the fairytale of Sleeping Beauty.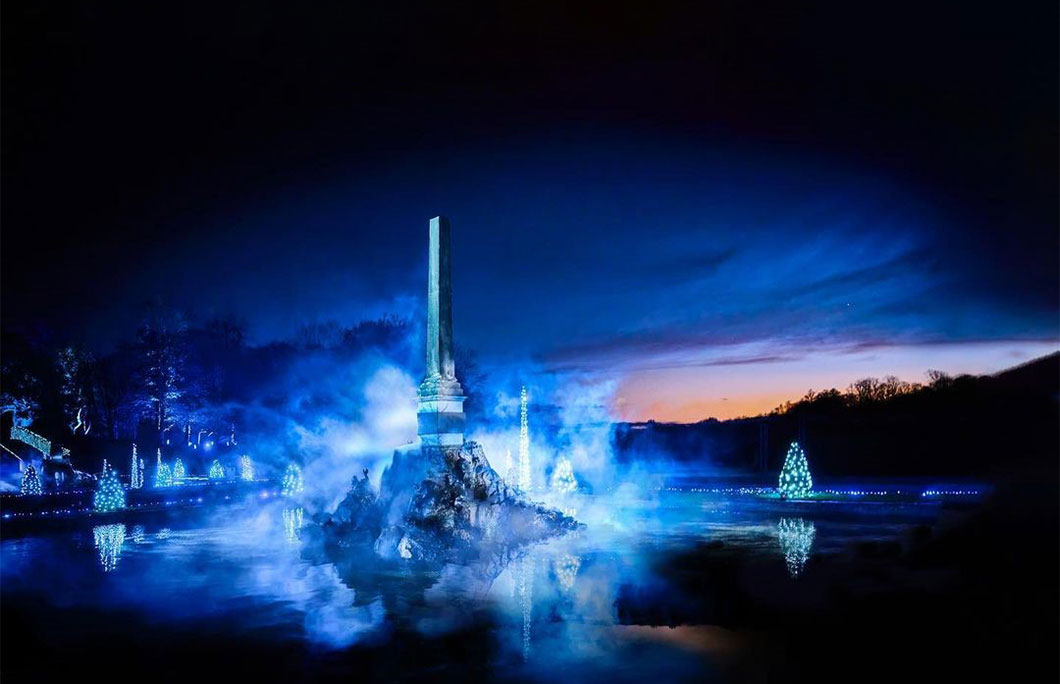 ---
3. Birmingham Frankfurt Christmas Market
Dates: 2nd November - 23rd December
Best for: Joyful entertainment (with a touch of Christmas shopping)
Make your way to the Midlands for one of the UK's best Christmas markets. It's touted as the biggest authentic German Christmas market outside Germany and Austria, with close ties to the Frankfurt Christmas Market. It's as popular with those meeting up for a mulled wine after work as it is with tourists getting their Christmas shopping done – there is a wide range of handicraft stalls for one-of-a-kind gifts. Twinkling ski chalets line New Street and overtake Victoria Square – the heart of the Christmas markets in Birmingham. There's an ice rink, a Big Wheel, and plenty of delicious food, but the joy of Birmingham Christmas Market comes from its dedication to entertainment. Keep involved in the spirit and sing along to Christmas classics with a Stein in hand.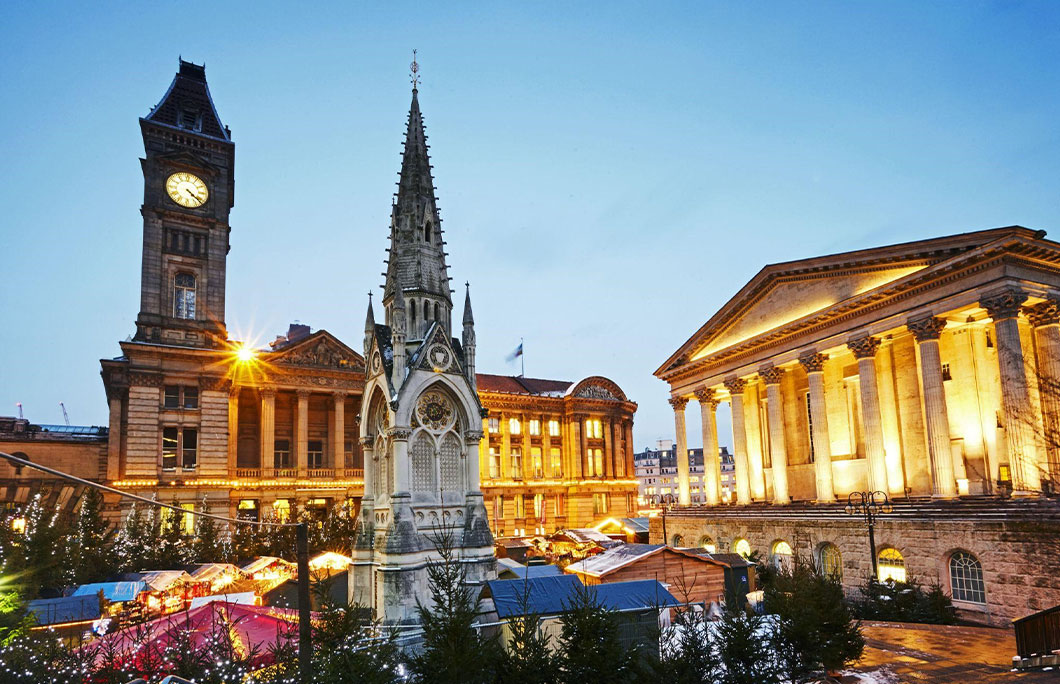 ---
2. Glasgow George Square Winterfest
Dates: 25th November - 4th January
Best for: Festive cheer and community spirit
Scotland's second-largest Christmas market is simply a jolly good time. There's an ice rink, a big wheel, a carousel, a helter-skelter, and plenty of other fun attractions to delight the kids. The grown-ups can get into the festive cheer at the toasty Bavarian bar, where you'll find all your favourite warming drinks. And both the kids and grown-ups will love the silent disco. This year, visitors can also catch local talent at the Community Hub, showcasing Glasgow's artists, dancers, singers, and musicians. There are also plenty of stalls selling locally produced products and food items.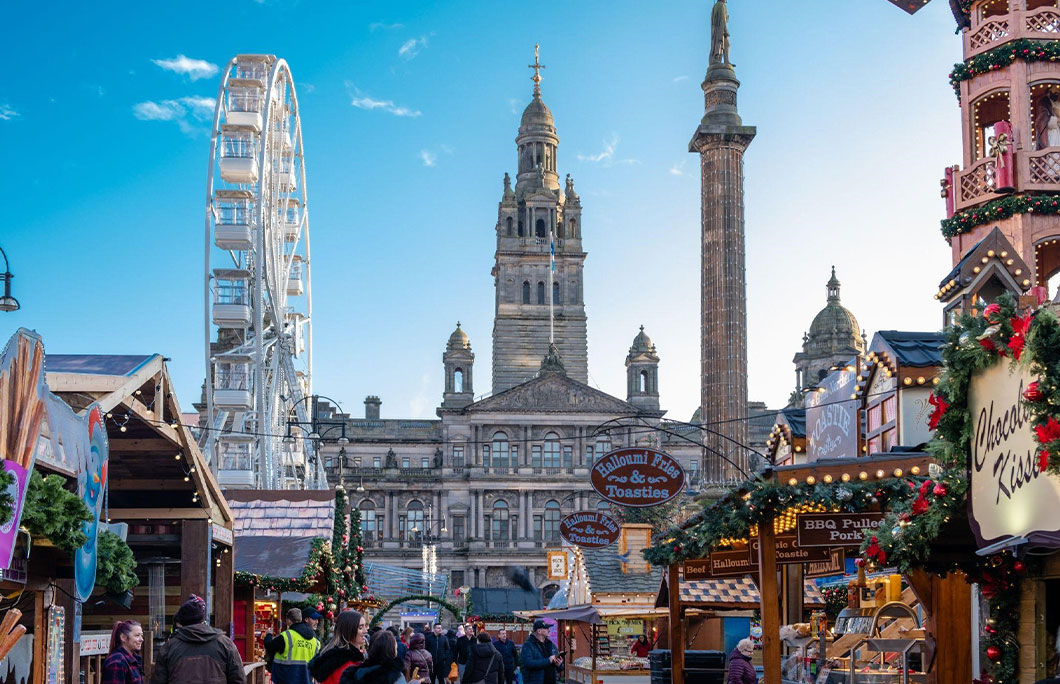 ---
1. Edinburgh Christmas Market
Dates: 17th November - 6th January
Best for: Shopping and street food
The market celebrations in Edinburgh merge Christmas and the beloved Hogmanay – Scottish New Year. The Scots take both very seriously, carrying the festive fun from November to January. The markets are spread across the city centre and in bustling squares – you're never far from the festivities in Edinburgh. Go ice-skating across St Andrews Square, take a ride on the Big Wheel, and grab one-of-a-kind gifts along the George Street markets. After the Christmas festivities have died down, the attention turns to Hogmanay – from 30th December, the streets are full of Scots celebrating the new year.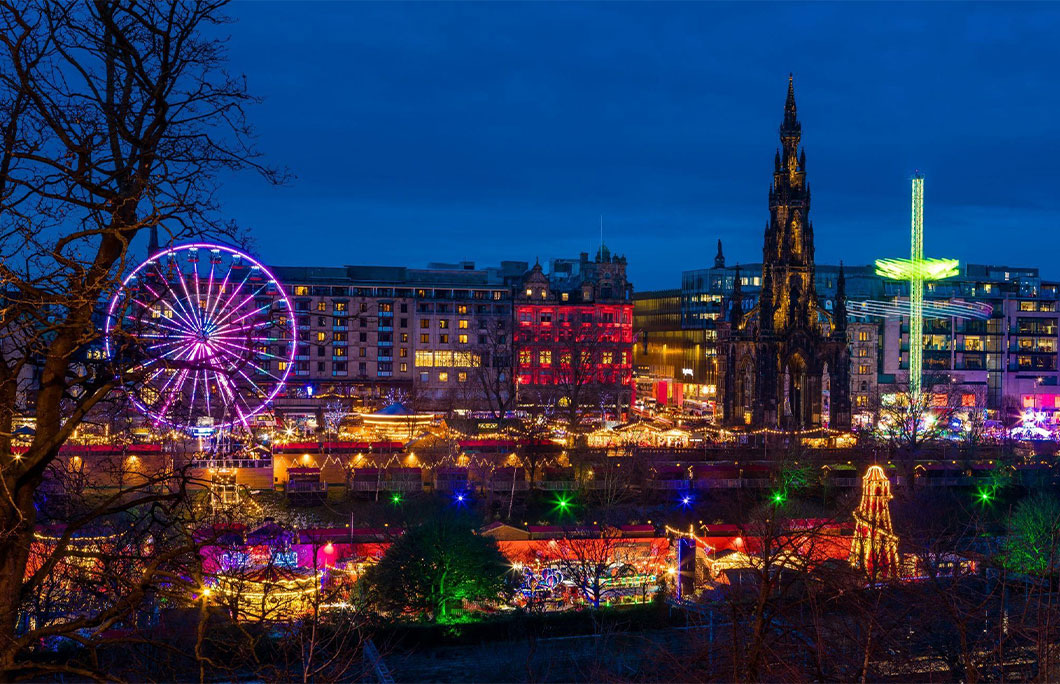 ---