15 Best Beer Gardens in Scotland
Warmer days are nigh and beer gardens are calling. Sunny afternoons spent nursing a cold pint or crisp glass of wine are the things we dream of when the weather is dreary and the days are short, so let's make the most of it. The country is full of utterly gorgeous lochs, seaside towns, mountainous regions, and cultural cities that make for incredible backdrops when enjoying a frosty alfresco drink. Scotland might not always have sunshine, but the bonnie beer gardens are where you'll want to be when it does. Soak up the scintillating summer atmosphere that you've been anticipating all winter – here's our annual list of the best beer gardens in Scotland.
Here are the 15 Best Beer Gardens in Scotland - according to our ranking system.
How do these rankings work? - Click here to find out about Big 7 Travel's ranking system.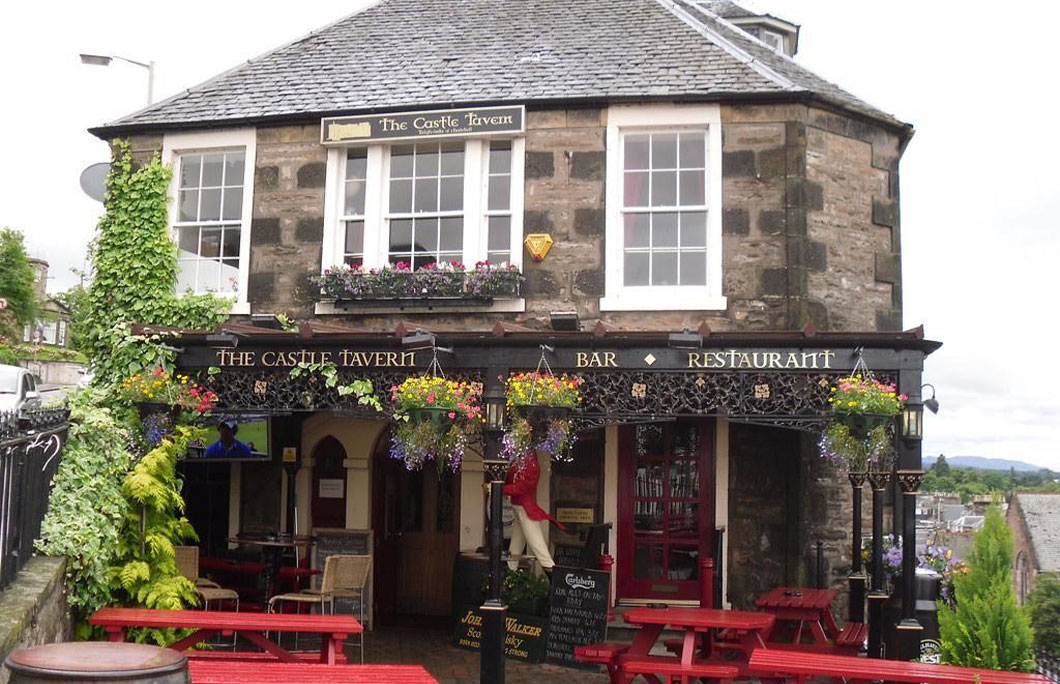 15. The Castle Tavern – Inverness
The Castle Tavern is a proper traditional boozer, serving real ale and pub grub classics. The tavern is full of old-school Scottish charm, with a history spanning back to the 1700s. And with views of Inverness Castle and the River Ness, the Castle Tavern has one of the best beer gardens in Scotland. It's a wonderful place to savour a well-deserved drink after a day in the Highlands – those finishing the Great Glen Way trail often end up here. This beloved pub even has an outdoor screen for big sporting events.
---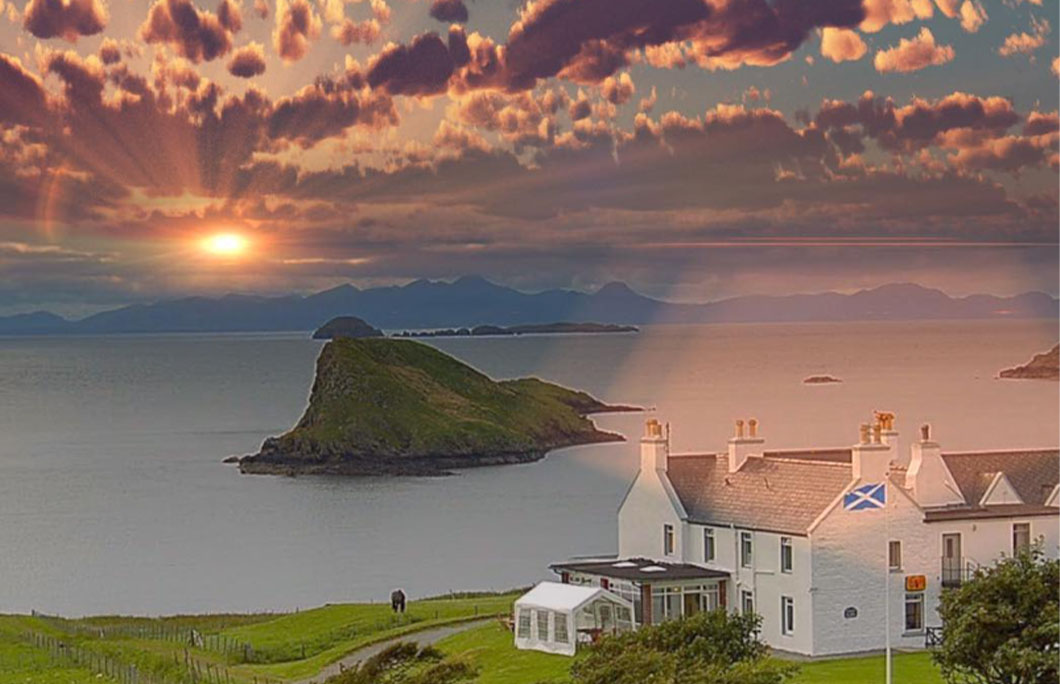 14. The Old Inn – Isle of Skye
The Isle of Skye is a magical place, full of folklore, dramatic landscapes, and enchanting energy – there's no better place to soak all of that up than from one of the best beer gardens in Scotland. The waterfront patio, dotted with white picnic tables, overlooks the idyllic Loch Harport. Nothing beats a drink with a view, especially after a long walk along one of Skye's many routes. It's popular with both locals and tourists, and you can expect live music in the evenings – traditional bands play regularly. Food-wise, you'll find pub classics and daily specials made with fresh local fish, meat, and produce.
---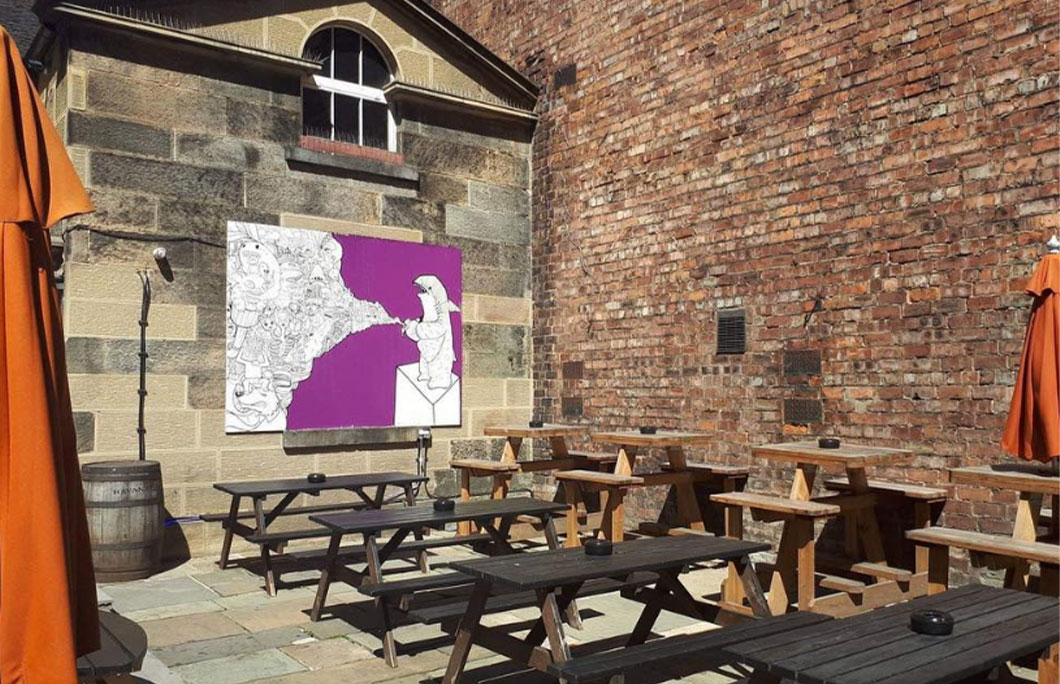 13. The Outhouse – Edinburgh
Upon first look, this no-frills spot might not seem like one of the best beer gardens in Scotland, but the suntrap beer garden is the perfect place to spend a sunny day. It's on popular Broughton Street in Edinburgh's city centre, with an eclectic crowd attracted to its relaxed vibe and prime location. Come for the excellent garden but stay for the craft beers and spirit selection. They don't serve food, but they're more than happy for you to order food in and keep the good times going. There are regular live music sessions and DJ events for optimum fun in the sun, too.
---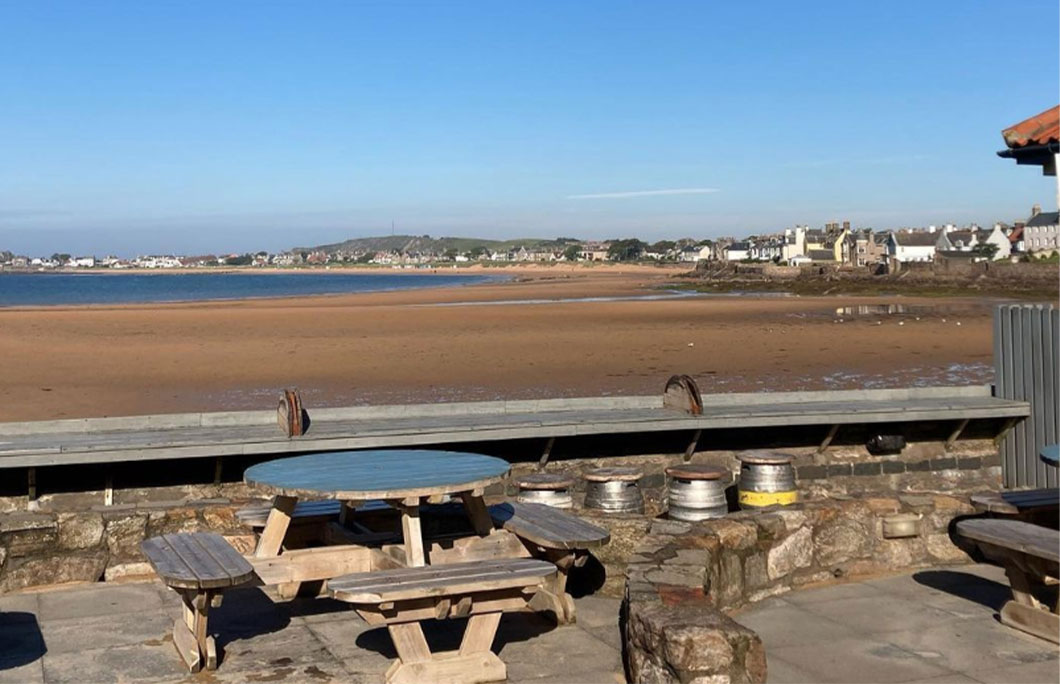 12. The Ship Inn – Fife
This laidback boozer has a long-withstanding reputation for its beer garden which overlooks Elie Beach. While away sunny afternoons watching cricketers practise on the sands and stay until dusk to soak in the beautiful sunset. The panoramic scenery is reason enough to visit this popular pub in the serene East Neuk of Fife, but their crisp pints and a menu of fine Scottish produce make the Ship Inn a must-visit. Think the crispiest fish and chips you could imagine, gourmet Scotch eggs, and fresh club sandwiches. When the sun sets and the sea air starts to chill, relax in the fire-warmed pub with a classic board game – snakes and ladders, anyone?
---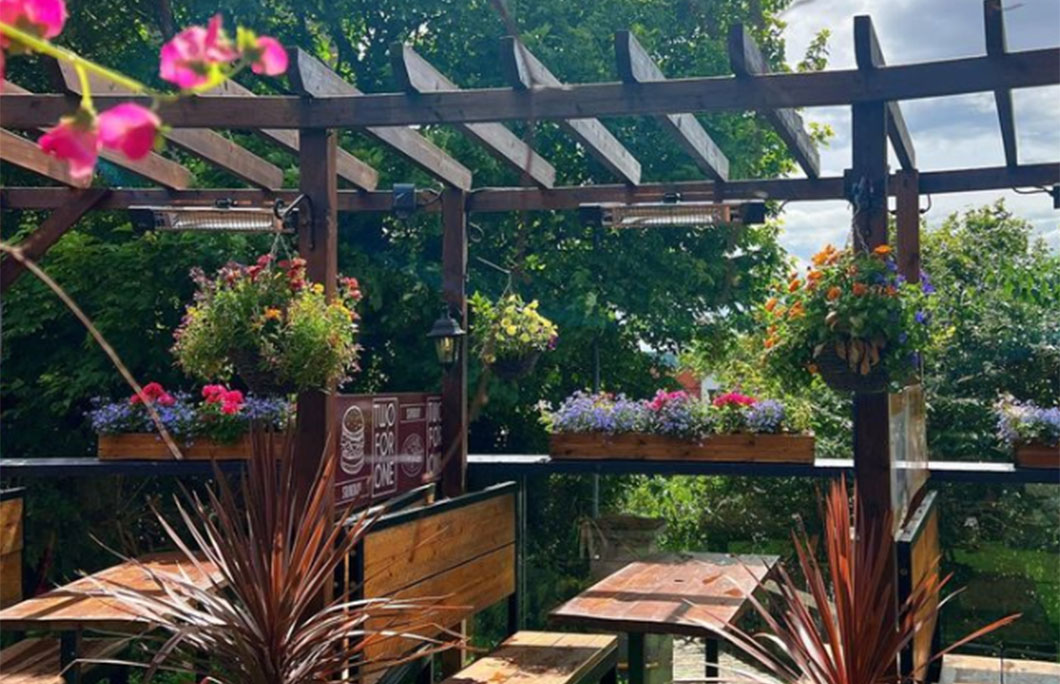 11. Giddy Goose – Dundee
The Giddy Goose beer garden might be small, but it packs a punch. The cheerful space is filled with colourful hanging plants, relaxed picnic benches, and stringed fairy lights. It's an oasis in Scotland's fourth-largest city, reminiscent of a countryside pub garden. Be sure to try their famous Neapolitan pizzas, and we have it on good authority that the cheeseburgers are glorious and messy in all the best ways. The cocktails are also delicious – a frozen daiquiri on a hot day is bliss. They have regular live music nights, DJ sets, and pub quizzes – it's the kind of place where sunny afternoon drinks can seamlessly turn into a late night fuelled by their own Giddy Goose Pilsner.
---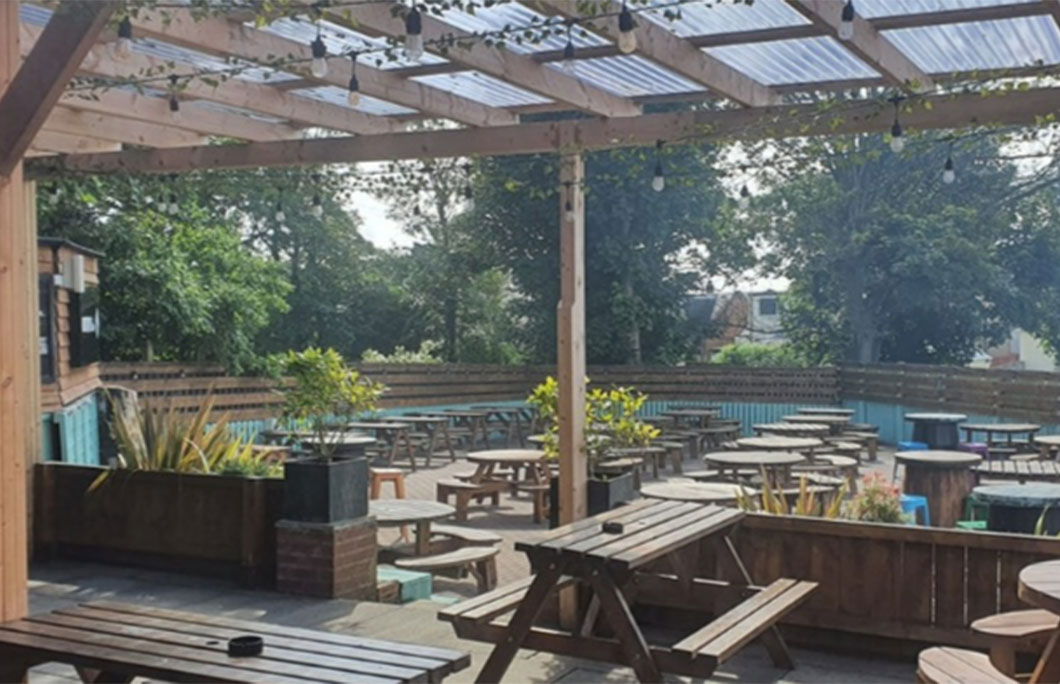 10. The Buf – Prestwick, Ayrshire
If you find yourself in the seaside town of Prestwick, you'll soon be on the hunt for the best beer garden in the area. The Buf is mainly a sports bar, but its suntrap garden is the perfect place to savour a crisp pint. It's known for its delicious, shareable menu – from tempura dirty fries to share boards of beef sliders. As well as excellent food, drinks, and a great beer garden to enjoy it all in, the Buf also puts on regular events. It's a fun spot, where sunny afternoon drinks can easily morph into late nights dancing to the live DJ set. They have regular live music nights and quizzes, too.
---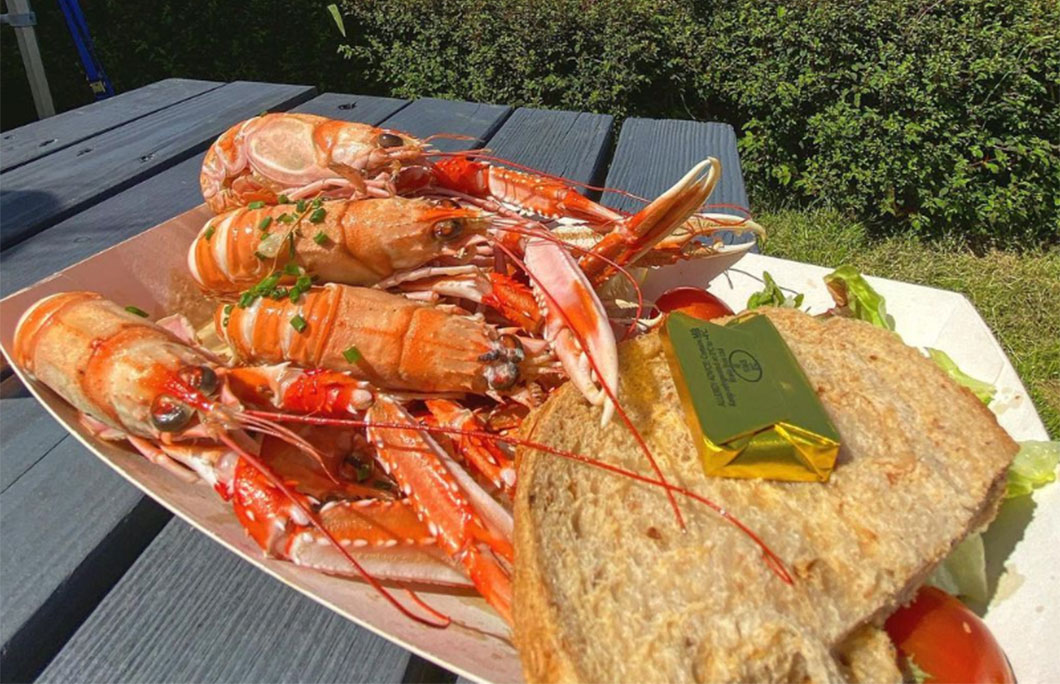 9. Applecross Inn – Applecross Village
Get a Highland welcome when you step into the Applecross Inn – a remote pub in a green corner of the Applecross Peninsula. Soak in some of the most breathtaking scenery in Scotland from the beer garden, facing the waters of the Inner Sound. You can even see the Isles of Skye and Raasay on a clear day. The bar is stocked with proudly Scottish drinks – there are around 50 Scottish malt whiskies, 12 Scottish gins and vodkas, and a range of locally brewed Scottish beers. Sample one (or two) of the ales from Applecross Brewer for the full experience. Heading on the popular (and utterly stunning) NC500 road trip? This is a great stop along the way.
---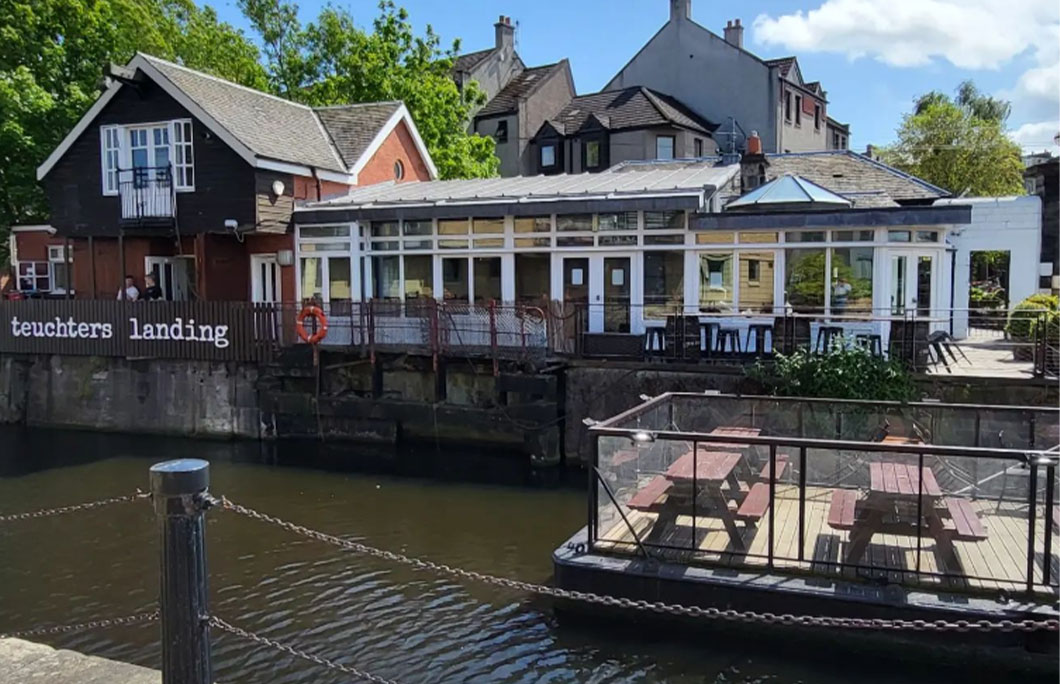 8. Teuchters Landing – Leith
We love a pub with a good story, and Teuchters Landing has just that. Its iconic floating beer garden was once the waiting area for the steamboat ferry from Leith to Aberdeen. Today, it's a suntrap garden with a panoramic view of the water and dockside, which is overflowing with patrons enjoying the sun in the warmer months. Hop on board and sample one (or two) of their 90 malt whiskies, and tuck into the traditional pub grub fare. Think fish and chips, pies, and in true Scottish style, haggis stovies. And if the sun doesn't warm you up, the hospitality of the friendly, welcoming staff surely will.
---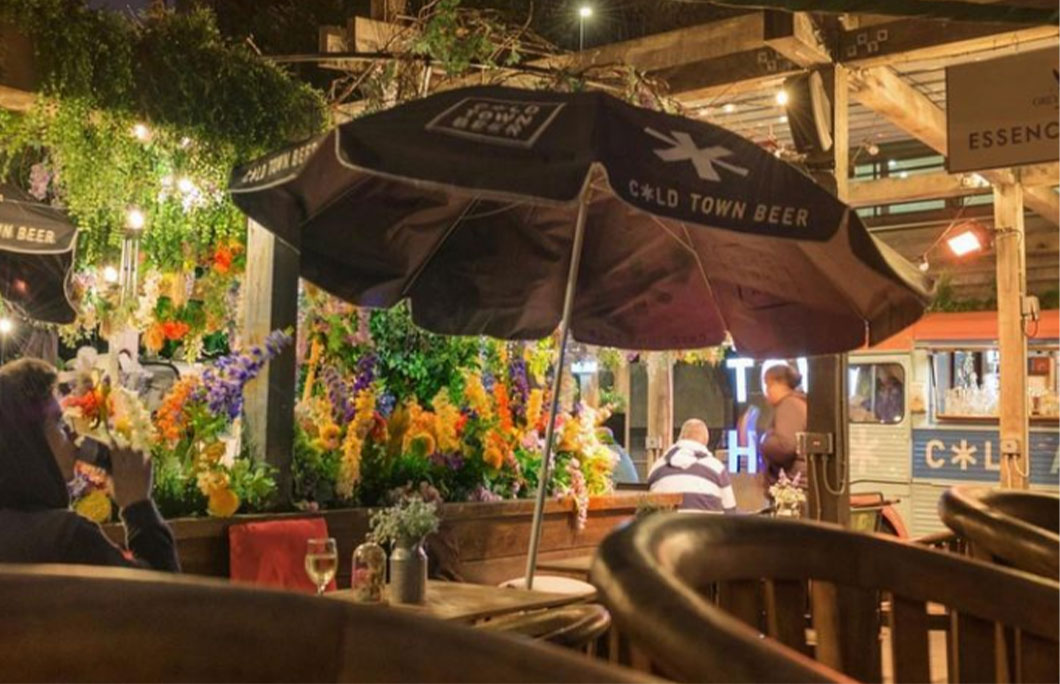 7. Cold Town House – Edinburgh
This renovated church on the Grassmarket is one of Scotland's most loved beer gardens. It's popular for good reason – the spectacular view of Edinburgh Castle being one of them. The rooftop space is colourful and playful, with hanging plants, a retro campervan for a bar, and cosy gondolas for Edinburgh's unpredictable rain showers. You can even hop on a ski lift and dine in the sky. We love their extensive drinks menu, from frozen cocktails to pints straight from the on-site brewery – they do towers of sweet nectar, too. Line the stomach with their famously delicious pizzas.
---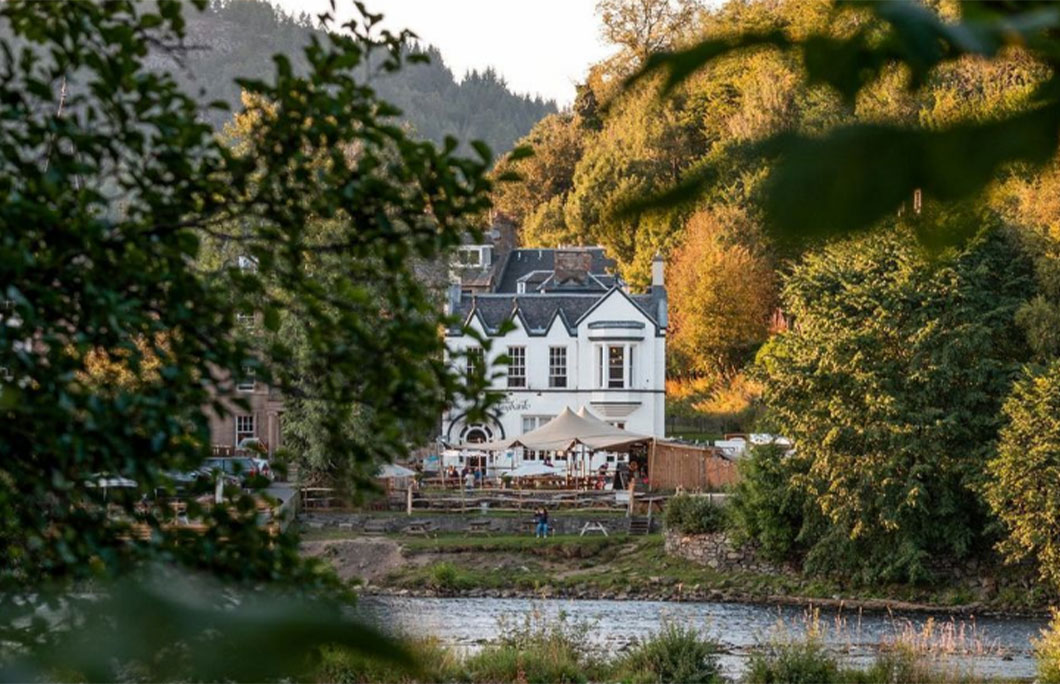 6. The Taybank – Dunkeld
Sitting on the banks of the River Tay, the bright white hotel-come-pub is hard to miss against the backdrop of lush green forest. Sitting in the heart of Dunkeld, this beer garden is a must-visit in Perthshire. With picnic tables dotted around the courtyard and grassy verge, large marquees, fire pits, and strings of fairy lights, it's a firm favourite setting among both locals and tourists. Keep an eye out for their regular events, too – they often put on craft markets, live music sessions, open-air cinema screenings, small festivals, and more. There are also some beautiful walks on the doorstep of the Taybank, including Fiddler's Path and the route to Lover's Leap. Work up an appetite for their menu of wood-fired pizzas, flatbreads, seafood, and more.
---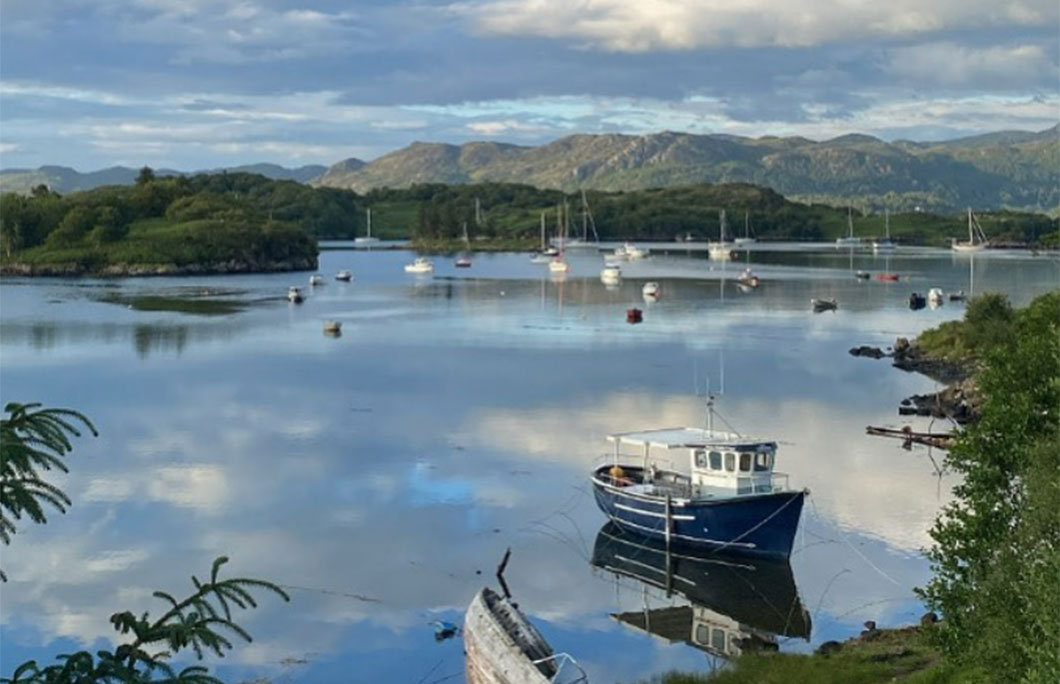 5. Badachro Inn – Gairloch
Beer garden views don't get much better than Badachro Bay, a quiet nook of Loch Gairloch. The shining blue water is backed by vibrant green hills, it's the perfect place to soak in the scenery and watch sailing boats bob along the loch while nursing an ale. Take advantage of the super fresh seafood and tuck into their menu of langoustines, mussels, sole, and more – local fishermen deliver their catches straight to them from the pier. The cherry on top is the warm Highlands hospitality at Badachro Inn – a friendly face is exactly what you want after a day of hiking, sailing, or fishing.
---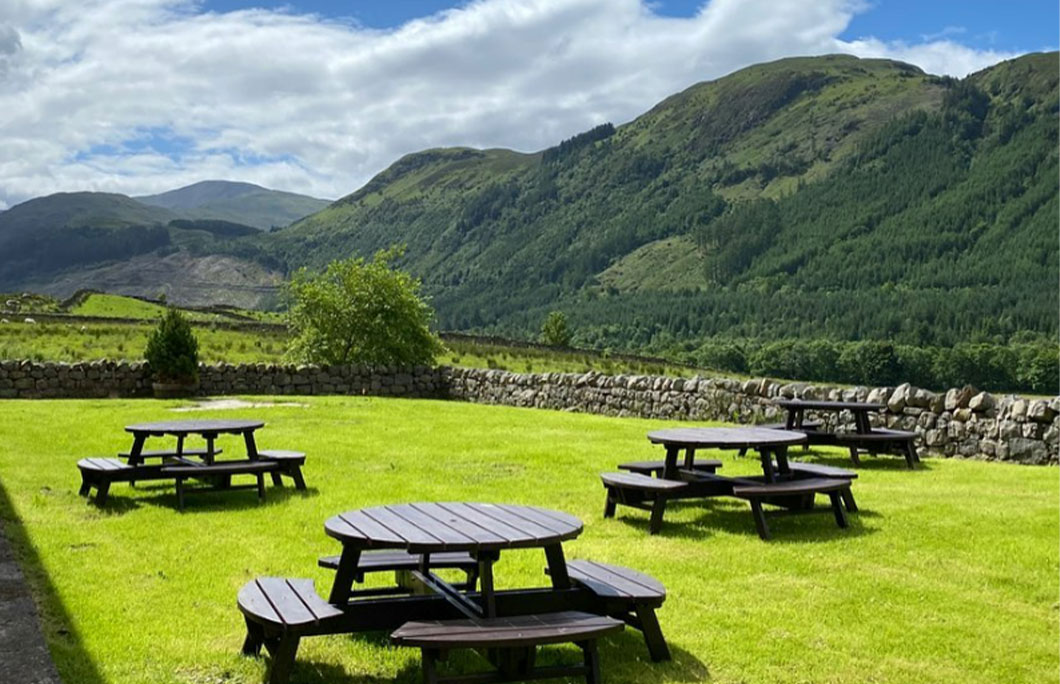 4. Ben Nevis Inn – Fort William
Sitting at the foothills of Ben Nevis with glorious views of Glen Nevis, this traditional pub is the perfect spot for a well-deserved post-hike pint. A crisp drink always tastes better when you've worked for it, especially with scenery like this. If you've worked up an appetite, the 200-year-old converted barn also serves up wholesome meals. Get involved in the traditional Scottish cheer and stick around for the live music performed by friendly locals and regulars – it's on Tuesdays from the beginning of April and Thursdays from the beginning of November.
---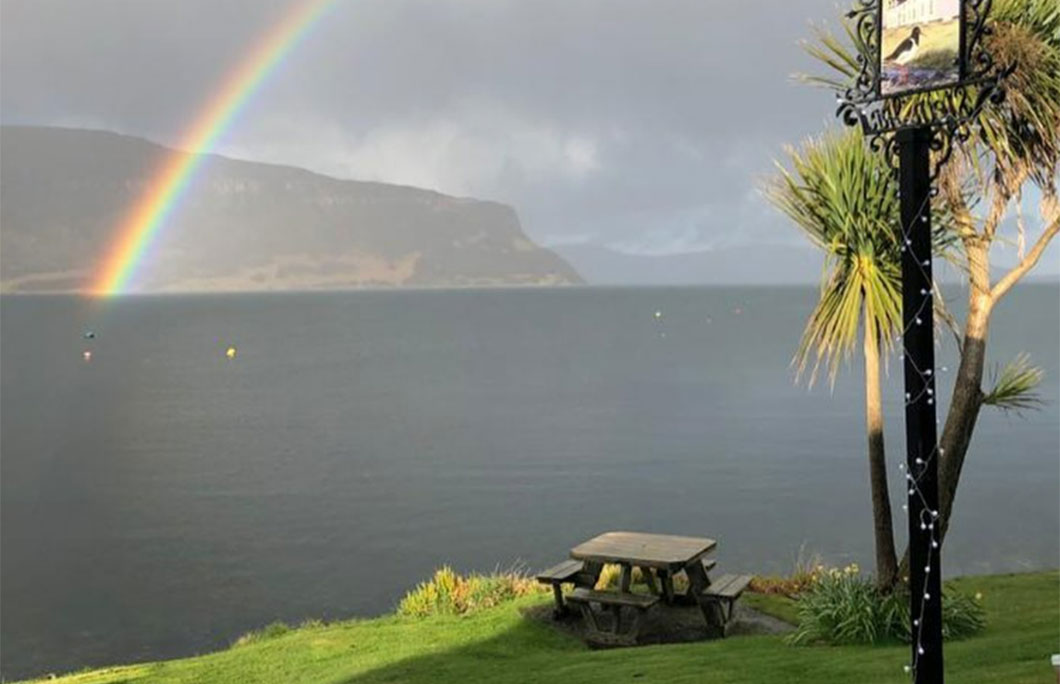 3. The Stein Inn – Isle of Skye
As the oldest pub in Skye, the Stein Inn has seen many summers – and it's perfected th art of pints in the sun. The beer garden is a relaxed grassy verge dotted with picnic benches, and in the warmer months, it's crowded with patrons enjoying the Skye sun on the grass. The lake views are spectacular – bring your swimming cozzie, taking a dip is encouraged. Or you can sit back and watch the kayaking and paddleboarding while tucking into the menu of fine Scottish pub fare. Be sure to stick around for sunset and soak up the magic that is the Isle of Skye. When the fresh lake air starts to chill, you can warm yourself up by sampling the 99 malt whiskies behind the bar.
---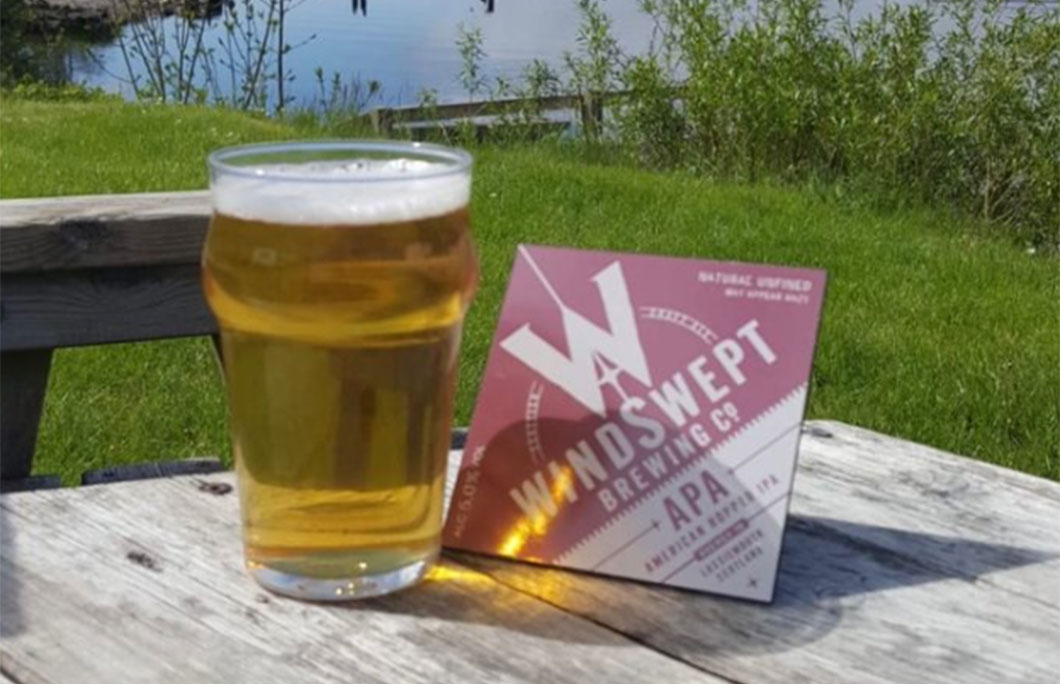 2. Dores Inn – Inverness
There are some magically scenic beer gardens in Scotland, but Dores Inn undoubtedly has the best view of one of the country's most famous attractions – Loch Ness. Keep an eye out for the infamous Nessie while sipping on ale in the (hopefully) glorious sunshine from the shore. If you fancy taking a stroll, a dip, or a kayak, the pub has access to Dores Beach too – it's easy to see how patrons often spend the whole day here, soaking in the idyllic scenery. Round off the day by tucking into the hearty country pub fare. Don't miss their famous scones, either.
---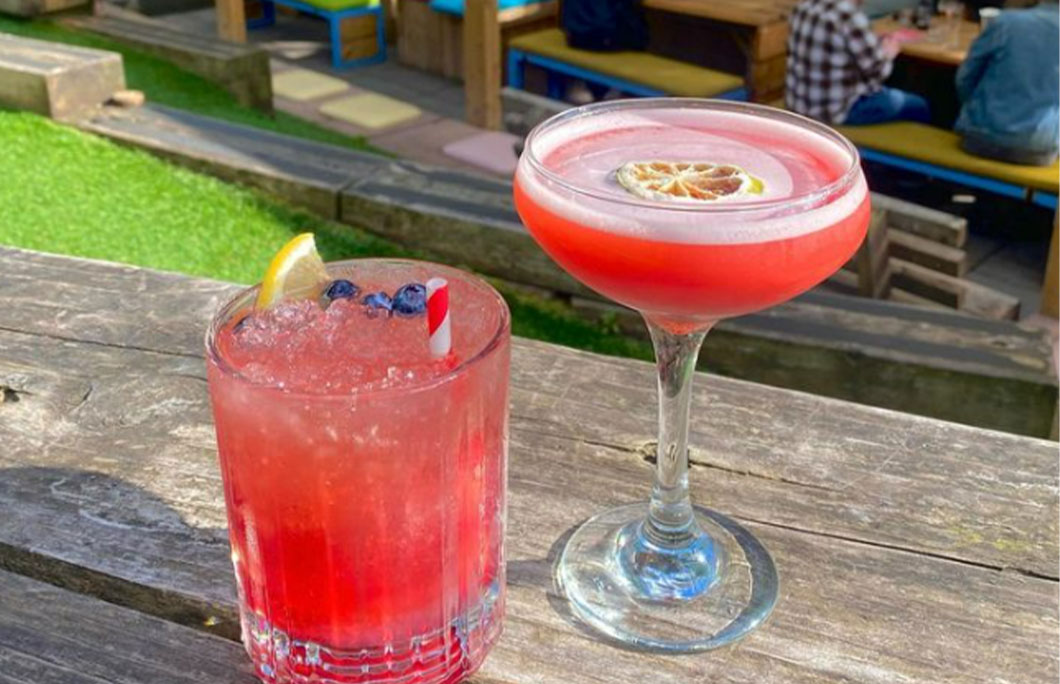 1. Brel – Glasgow
Scotland is full of fantastic beer gardens, so selecting the number one spot came with great consideration. But with its dazzling food menu, year-round appeal, wide selection of beers (strawberry beer, anyone?), and smashing cocktails, Brel is the best beer garden in Scotland. A trip to Glasgow is worth it alone for its saucy mussels and soda bread, perfectly complemented by a glass of fizz. It's pretty special when the sun shines down on the tiered grassy garden of colourful cushions, relaxed benches, and happy customers, but sunshine isn't a given in Glasgow. Spend cosy, cooler evenings around the fire pit, roasting marshmallows beneath the twinkling fairy lights. The stuff beer garden dreams are made of.