Top 10 Road Trips from Marseille
Arles
Avignon
Aix-en-Provence
Nimes
Calanques
Nice
Cassis
Sault
Saint-Tropez
Hyeres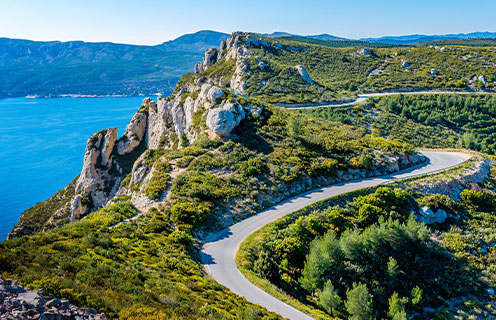 10 best scenic Marseille road trips
A tough but terrific port town in southern France, Marseille is a multicultural metropolis with a proud history that stretches back to antiquity, and it's seen by some as second only to Paris in terms of national significance. A brilliant place to visit, it's also a great base for road trips along the coast and into the interior. The heart of the action here is the Vieux Port with its bobbing yachts, but the ancient Le Panier sector up the hill is always worth a visit, while the chic boutiques and elegant buildings of the Republique quarter also draw tourists and locals alike.
Marseille's slightly rough and ready reputation historically set it apart from more glamorous South of France destinations along the Riviera, but after taking its place as European City of Culture in 2013, it's still riding the wave of a mini cultural renaissance and reclaiming its place as one of Europe's most fascinating and diverse cities. Founded by the Greeks over two thousand years ago, the city's tumultuous history has seen it fought over by French kings and foreign invaders and royalists and republicans. The march of revolutionaries from the city all the way to Paris in 1792 gave France its stirring national anthem La Marseillaise.
Hitting the road here is a pleasure thanks to the city's prime position. Beautiful Provencal countryside, majestic Alps and the glittering French Riviera are all within striking distance and hiring a car in Marseille is easy at Enjoy Travel. You can choose a fab deal from highly-rated partners, book in a couple of clicks and pick up your vehicle where it's most convenient.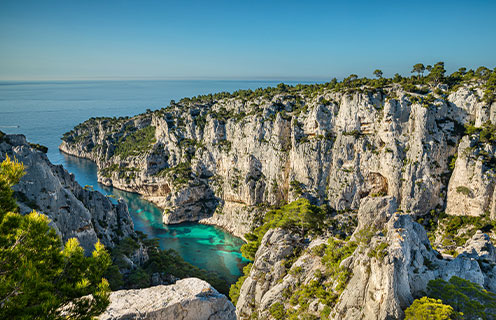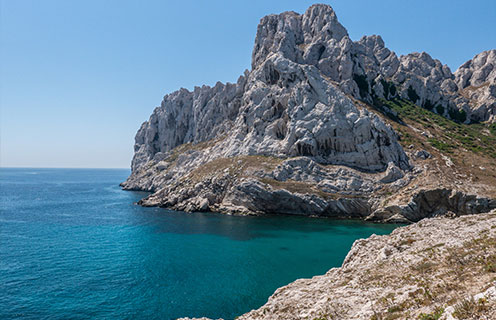 Top tips on driving in Marseille
We'll get on to your Marseille road trips in a jiffy but some quick driving tips for the area should be right up your rue.
Always drive on the right in Marseille and if you want a less hectic driving experience, remember that most large lorries and HGVs are banned from French roads between 10pm on Saturdays and 10 PM on Sundays – which makes navigating those cliff-hugging bends around Provencal hillside villages a lot less challenging.
Remember that cycling is more religion than sport in many parts of France, so you'll likely encounter plenty of keen cyclists on the road here too – remember to give them plenty of room and the same respect as you would other cars.
Driving during high Mistral winds can be dangerous and in June to August, temperatures can easily top 30 degrees – remember to carry plenty of drinking water so that you can stay hydrated and healthy.
Now let's get into gear for your road trips!
Arles
Just over one hour from Marseille, Arles is a traditional, sun-kissed Provencal town with chilled-out kerbside cafes, tree-lined boulevards and cool public squares. Place du Forum's ambient café culture was immortalised on canvas in Vincent Van Gogh's Terrasse du Café le Soir, and you'll find other sites that inspired the iconic artist on the Van Gogh Trail. Meanwhile, if Roman history is more your thing, there's a rambling 1st century AD amphitheatre and a 1st century BC theatre which is still intact enough to host summer plays.
Getting there: Arles in one hour and five minutes from Marseille via a55, N568.
Avignon
An easy road trip destination northwest of Marseille, Avignon is famous as the site of Pont Saint Benezet (which inspired the song 'Sur le Pont Avignon') and its Papal Palace, which is one of the world's biggest buildings. Set on the banks of the River Rhone, Avignon provided sanctuary for the papacy during most of the 14th century and it has a rich history that predates this fascinating period. It was declared European City of Culture in 2000 and there are art galleries theatres and cinemas aplenty.
Getting there: Avignon is one hour and 15 minutes form Marseille via the A7.
Aix-en-Provence
A manageable day trip from Marseille, light, airy Aix (as it's known to locals) represents a revitalising contrast from Marseille's hustle and bustle. A hotbed of Provencal architecture and culture, its striking water fountains are a source of civic pride and, as you would expect from the birthplace of Cezanne, there are plenty of superb art galleries to explore. When you want to relax in cultured surroundings, a drive out to Aix is the very dab.
Getting there: Aix is 40 minutes north of Marseille via A7/A51.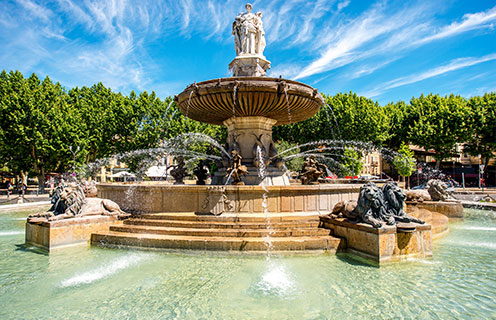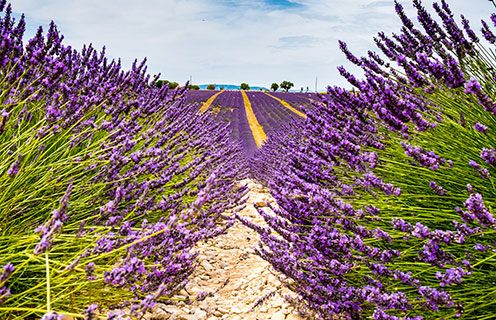 Nimes
Located in the Languedoc region and within easy driving distance of Marseille, Nimes is always worth a visit. This sunny southern city is also a cultural wellspring which boasts the ancient Arenes Roman amphitheatre, and the jaw-dropping Maison Carree – one of the few remaining examples of a totally intact Roman temple. Nimes' busy tree-lined squares and café scene are typical of many towns in the region but its close links with Catalonia mean that it has a unique cultural blend which you can experience in fetes and festivals held throughout the summer.
Getting there: Nimes is one hour and 30 minutes from Marseille via the A54.
Calanques
Parque Nacional des Calanques sits along the coast between Marseille and Cassis – it's home to some of France's most distinctive scenery and comprises stunning limestone coastal cliffs and the unique, narrow 'calanque' inlets that lend their name to the entire area. Port-Miou, En-Vau, and Port-Pin are the largest calanques and their shimmering turquoise water and steep sides are home to fauna and flora you'll find nowhere else. Park up your car to enjoy hiking, scuba diving, rock climbing and kayaking./p>
Getting there: Calanques is 35 minutes form Marseille via Chem. De Morgiou.
Nice
The French Riviera's gateway to international air travellers, Nice's year-round sunshine and prime coastal location have attracted visitors for generations. The famous Promenade des Anglais skirts the beach along the front of the city and it's also home to the iconic Hotel Negresco with its world-famous art collection. The official Chagall and Matisse art museums are here too, as well as the charming Old Town with cobbled streets, cool cafes and sumptuous restaurants. If you want a Riviera city with a definite Anglophile ambience, look no further.
p>
Getting there:
Nice is two hours 20 minutes east of Marseille via the A8.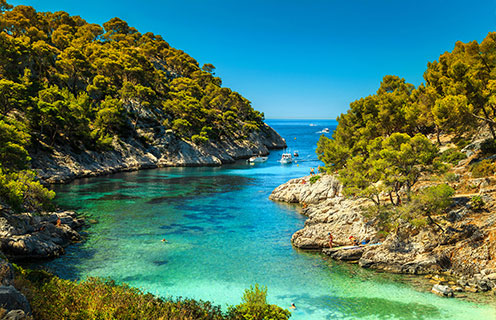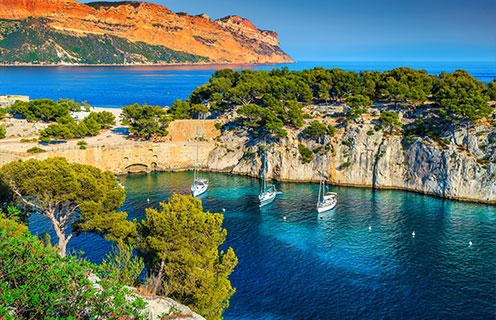 Cassis
A top day trip for Marseille locals, Cassis is a picture postcard seaside resort with a waterfront lined with pastel-coloured townhouses and brightly painted boats. Plage de la Grande Mer is a beautiful beach where you can sunbathe and splash at the shore, while Cap Canaille is popular with hikers because of its rugged terrain and superb sea views. Treat yourself to some ocean-fresh seafood from one of the many immaculate restaurants before heading home.
Getting there: Cassis is 40 minutes from Marseille via the A50.
Sault
If you're a fan of the soporific scent of lavender, you'll love the striking purple fields at Sault in the heart of Provence's main growing area. As you can imagine, shops and boutiques here are packed with lavender potions, packages and trinkets, but the town is also close to scenic Mont Ventoux, where a network of hiking tracks and horse trails offers panoramic views across the area. For a quiet (and superb-smelling) day trip, Sault is a great pick.
Getting there: Sault is two hours north of Marseille via the A7.
Saint-Tropez
The Cote d'Azur's chic home of rock n roll excess, Saint-Tropez is always worth a visit and a lack of public transport connections mean that unless you're arriving by glam speedboat, your car is the only way to get there. Stay at hotel Byblos if you want to walk in the footsteps of famous residents like Bridget Bardot and Mick Jagger, hang out with the beautiful people on Plage de Pampelonne and Plage de Tahiti, or simply stroll around celeb-spotting from behind your Ray Bans.
Getting there: St Tropez is two hours from Marseille via the A8.
Hyeres
First marketed as a winter tourist destination, Hyeres was actually the Cote d'Azur's first resort and although it's perhaps not as well known internationally these days as the likes of Cannes and Cap d'Antibes, its pleasant climate and sweeping sandy beaches mean it's a perfect road trip destination all year round. The cobbled streets and brightly coloured buildings of its old town are a pleasure to get lost in, while historical attractions include the ruined 12th century Tour Saint-Blaze (once a Knights Templar stronghold) and the elegant Eglise Saint-Catherine.
Getting there: Hyeres is one hour and 15 minutes from Marseille via the A50.