Santorini Car Hire
Find the best deals in Santorini
With a massive choice from the biggest brands, Enjoy the best way to find the best prices for car hire in Santorini.
Huge choice of cars to suit every budget
Save up to 70% compared to buying on the day
10 years experience in car hire
Compare Car Hire in Santorini
Santorini is part of the archipelago of the same name in the Aegean Sea, located approximately 200 km (120 mi) southeast of the Greek mainland and the most southerly member of the Cyclades island group. Two islands in the archipelago (Santorini and Therasia—are inhabited, another four (Christiana, Aspronisi, Palaia Kameni and Nea Kameni) are not. Known as 'Thera' in Ancient Greece, it's historically famed as the site of the Minoan Eruption of 3,600 years ago which forever changed the islands' topography (and may have caused the end of the Minoan culture in nearby Crete, by tsunami), Santorini and surrounding islands actually form a large volcano caldera, part of an active volcanic centre. The island's whitewashed walls and cerulean roofs are instantly recognisable on gravity-defying dwellings perched perilously on its volcanic cliff edges.
This terrific topography makes it an exciting island to explore by car and you'll find fantastic deals for your Santorini car hire with Enjoy Travel, plus pre-booking online is completely convenient and hassle-free. For example, a Fiat Panda or other economy-size car starts at €6.30 (£5.80) a day in off-peak season, a mini-size Hyundai i10 starts from €6.40 (£5.90) a day, while a spacious, standard-size Ford Focus Wagon (which is an estate-style vehicle with plenty of room for throwing day trip gear in the back) starts from just €29.67 (£27.30) a day off peak! Pre-book your hire car online with Enjoy, so you can enjoy Santorini by air-conditioned, independent transport coupled with affordability and peace of mind.
Guide to Santorini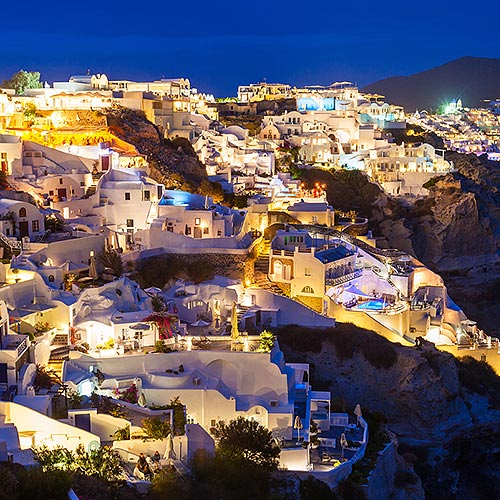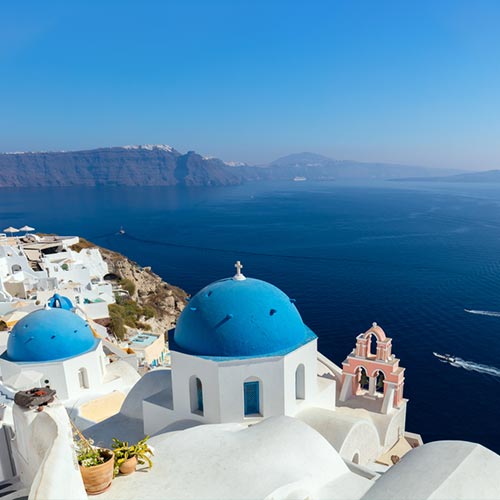 Volcanic treasure
As stated, Santorini was the site of one of recorded history's biggest eruptions and much of the islands are actually solidified volcanic deposits hundreds of metres deep. Today, the population of just 15,000 lives in beautiful white buildings with deep blue roofs which cling to this dark, volcanic landscape. Thera/Santorini has even been suggested as the site of Atlantis, the semi-mythical idyll first described by Plato which disappeared in mysterious circumstances. Today Santorini is less touristy than Crete or some other Greek islands (but a little more expensive in summer than these) and is the perfect size for exploring by car. The island welcomes an estimated 2 million visitors each year and tourism is its main industry. It's so picture-postcard perfect that it has been voted the world's top island by travel sites and magazines many times, and it's also known for wine-making and for local produce which have unique flavours thanks to the volcanic soil.
History and culture
Santorini is a circular volcanic archipelago which comprises six islands in a circular shape. The Akrotiri excavations uncovered the largest Minoan civilization outside Crete ̶ between 3000 and 2000 B.C. the Minoans thrived here until the eruption. The archaeological evidence proves that the towns were sophisticated and well-appointed urban settlements - the 3-storey houses even had running hot (probably geothermic) and cold water. Ceramics, pottery and fresco art indicate that Therans (native of Santorini) were wealthy, refined and educated people. Phoenicians and Dorians, Romans and Byzantine (among others) have contributed further to Santorini's history and culture, which are as complex, fascinating, layered and rich as its volcanic strata.
Watersports and then some
As you'd expect from an island, watersports and cruises are a big part of the leisure scene on Santorini. From paddle-boarding to paragliding, a huge variety of watersports options are available and splashing around in the azure seas in this stunning part of the world is sublime. Some boat cruises also include a smattering of sightseeing, with a walk around the volcano crater followed by a soak in a hot spring and sunset with cocktail on deck, while other options include fishing tours (also available at sunset), kayak tours, jet ski tours into the volcano, or a trip to Ammoudi Bay to leap from the rocks into the Aegean, throwing caution to the wind!
Things to do in Santorini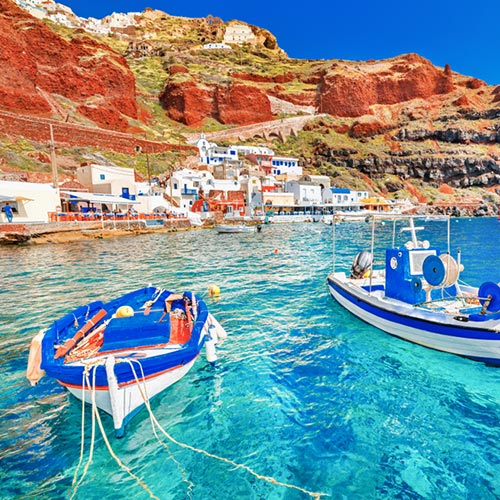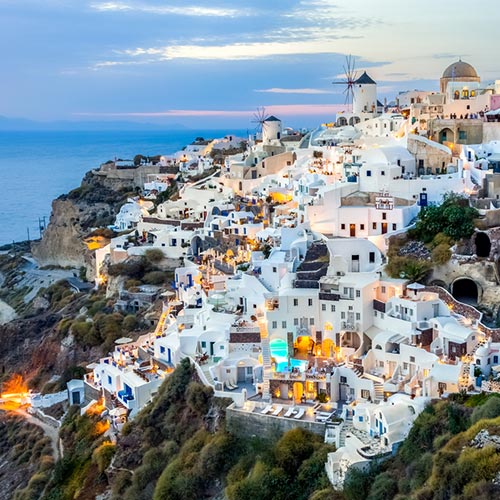 Santorini is a luxury holiday destination with much more to offer than just its famed ancient mystery, volcanic history, or postcard-perfect cliff cottages ̶ you can also immerse yourself in its contemporary culture, delicious cuisine and eclectic evening entertainment. Remember though that services of all kinds are reduced in the winter months, Spring and Autumn/Fall are the best seasons to visit, although summer is pleasant if you don't mind the heat, which is quite arid.
Tours and more tours
Santorini, as you've no doubt seen online, is a photographer's paradise and then some. A popular way of finding your bearings without needless detours are guided tours ̶ there are tours for photography, where locals will take you to all the best spots, and tours of the volcano (wet and dry), walking/hiking tours, even tours of the quaint stairways, alleys and hidden paths of Oia (or just about anywhere else on the island). If you've got the wherewithal, it's worth splashing out on a private tour, because you'll get the full and uninterrupted attention of your expert guide and pick up every fascinating fact they reveal. Oia is a great place to watch the sunset from the Lioyerma public pool or pop the cork on a bottle of wine and dangle your feet off the Oia cliffs while the sun sets – divine.
Coloured beaches and seafood
The archipelago has a Red Beach (not great for swimming as it's so rocky), two black beaches (at Kamari and Perissa), and pristine beaches on nearby islands that are only accessible by boat, like Ios. It's possible to go to Ios for a day trip, but other islands are best explored over several days rather than overnight. Santorini itself has more than enough to see and do to entertain even repeat visitors (if you're interested in trips to the other islands it's worth getting advice from a local travel agent, as the ferry schedules can change on a whim). Ammoudi Bay has divine seafood eateries, some of which will even order your taxi back up the hill after a sumptuous, unbelievably fresh meal.
Party time!
Santorini is well versed in partying, as you'd expect from a popular destination in Greece. There's nightlife a-plenty in Fira, which is walking distance from Koutsannopoulos Wine Museum, Skaros Rock and Imerovigli (which has excellent restaurants and arguably the best sunset views on the island). Hassapiko (a.k.a. Marykay's), Tropical, Mamounia Club and 2 Brothers constitute some of the finest bars on the island, so don't miss out on letting your hair down and socialising with locals and visitors alike in this paradisical sun-kissed playground.
Shopping & Eating
Santorini has unique soil and matching horticulture and viticulture, yielding tastes which can only be found here. Here are a few of Santorini's best eateries, which draw on the gustatory history and coveted volcanic earth of this mythical destination.
The perfect Gyro?
The iconic dish of the Greek street food scene is the hearty gyro (pronounced 'yee-row'), a kebab-based wrap stuffed with meat and salad, usually pork or chicken. Similar to souvlaki, the difference is that gyro meat is cooked rotisserie-style like kebab meat, while the souvlaki meat is cooked on the skewer. Many of the shops aimed at tourists have passable gyros, but Lucky's on Fira main street, or Pito Gyros in Oia are the real deal. Special mention also goes to Yogi and to Elias Grill. If you're missing your after-hours drunken kebab, grab a Greek version and enter another taste dimension!
As we noted earlier, tours are very popular on Santorini, and wine-tasting/foodie tours are a great way to try a variety of dishes without breaking the bank. A 4-hour food tasting tour takes you along the edge of the caldera, stopping for tastes at various tavernas en route, while a sunset wine-tasting tour will take you to the finest wineries on the island, with pick up and drop off right on your hotel doorstep.
Best restaurants in Santorini
If you ask a local for the best restaurant on Satorini most will answer 'Metaxi Mas'. It's a bit away from the usual caldera spots (which is a nice change, actually) and overlooks Kamari Beach and the airport. The two brother-chefs in charge here have been delighting all comers for 20 years with their twists on traditional Greek fare, and so reservations are essential. It's also close to the Kamari outdoor cinema if you want to round off the evening.
Argo is named after the ship of Jason and the Argonauts legend and is located on the main footpath in Fira. It has a semi-casual but trendy air, with nautical decor in line with its mythical namesake. Argo serves traditional Greek and Santorinian dishes with a modern twist using fresh local ingredients, including the freshest of fresh fish, obviously. Meat, seafood, pasta, and vegetarian options are also available, but make sure you try Argo's specialty dish, shrimp saganaki with graviera cheese from Naxos, or how about fava purée—a Santorini specialty—topped with grilled octopus and a spicy sauce?
Award-winning
We can't wax lyrical about dining in Santorini without special mention of Selene Restaurant, which has been flavouring the archipelago for 30 years with its modern twists on traditional Greek dining. Some of the combinations of (locally sourced) produce are unbelievably inventive, producing dishes to remember and which are beautifully presented. Selene has won the Greek Cuisine Award seven times, among many other accolades.
Santorini Transport
Airports
Santorini (Thira) International Airport (JTR) is some 6 km (4 mi) southeast of Thera, one of the few airports in the Cyclades islands. Airlines flying here include Aegean Airlines, Ryanair and Olympic Air, and although it's a small airport there are big expansion plans in the works.
Buses
There are plenty of reasonably priced buses in Santorini in summer, but fewer in winter. They run along several main routes taking in the major villages, and all end up at the bus station at Fira. There are no trains in Santorini.
Driving Tips
Drive on the right-hand side of the road in Santorini, and with great care. The speed limits are 130 km/h (80 mph) on the motorway, 90/110 km/h (55/70 mph) on normal roads and 50 km/h (30 mph) in built-up areas.
When driving in Greece the following documents should be carried ̶ a full, valid driving licence, proof of insurance, proof of ID (passport) and proof of vehicle ownership (V5C certificate). Furthermore, while driving in Greece you are required by law to carry the following items (hefty on-the-spot fines can be issued for failing to carry them): headlamp beam deflectors (depending on your car, you will either need deflector stickers or have to adjust the beam manually), a warning triangle, fire extinguisher and first aid kit.
Be aware of the possibility of rock falls and other road hazards like single-track roads. Many of the roads in Santorini are cobbled, very narrow and unmarked by conventional road signs. Furthermore, the locals drive quite erratically (as attested by the number of scratches/dents on local cars). Also, even map apps on your phone can often only give an approximate location (many streets also lack street names).
However, the island is small and so you'll always figure out how to get home and there's little chance of getting lost. Always drive at or below the speed limit (if you're holding up speeding locals behind, pull over to let them past), and never drink and drive – this is strictly enforced.
If possible, avoid driving west in the late afternoon, as a glare of the setting sun can be disturbing and potentially blinding ̶ wear sunglasses to shield your eyes from the bright Aegean sky.
Santorini isn't a big island and you can drive from one side to another (Oia to Akrotiri) in less than an hour. With the above safety tips in mind here's a couple of scenic drives:
Get in your hire car and drive to Ancient Thera in just 25 minutes, which is located on the ridge of the Mesa Vouno mountain on the east side of the island. You can enjoy the exhilarating drive on the winding road from Kamari and park near the entrance or leave your car in Perissa and climb the steep path up to the mountain top. This archaeological site contains the ruins of an ancient city and it's a great place to visit even if you aren't usually a history buff – the views of the island from the top are stunning.
The south of Santorini has a different feel from the busy north – it's quiet and secluded but there are a few must-see spots. Akrotiri is a sleepy village on the south-west part of the island that is well known for its Bronze Age prehistoric settlement. After a volcanic eruption, this Minoan town was covered by ash and that's why the site is still very well preserved – it's often called the 'Greek Pompeii'. While you're in the area consider Akrotiri Lighthouse for your sunset viewing ̶ this 19th Century lighthouse is one of the oldest in Greece and is much less crowded than Oia as a viewing spot (get there early, before the coachloads of cruise ship tourists arrive).
Top Tips when hiring a car in Santorini
● There are several car hire companies in the Santorini airport. Their car hire desks are easily found and accessible.
● Most travelers got better car hire deals when picking up the car at the Santorini Airport.
● If you book your Santorini car hire at least 1 day in advance before your trip, you are likely to get a below-average price. For the best car hire deals in Santorini make sure to book several days in advance. This also ensure you'll have a wider variety of car models to pick from.
● Most car hire companies not found in Santorini airport are on average more expensive.
● Mini hire cars in Santorini are overall cheaper than other vehicle types. Compare deals in advance to make the best pick.
Got a Question? Chat with our UK support team
Online chat help is open 08:30am to 17:00 weekdays. Email: [email protected]
FAQs about car hire in Santorini
Most frequently asked questions about hiring a car in Santorini
A Fiat Panda or other economy-size car starts at only €6.30 (£5.80) a day off-peak.
You can hire a mini-size Hyundai i10 for €6.40 (£5.90) a day off-peak when you pre-book online with Enjoy.
The minimum age to hire a car in Greece is 21 and drivers under 25 may also be liable for a €15 surcharge.
No – excess-free packages come as standard with most car hire companies, as do road-side assistance, theft protection, and collision damage waiver.
Yes – it's normal to add extra drivers, as long as they have a valid license and an additional daily fee is paid if required.
As you probably won't need to drive much in town, consider something a bit rugged (but not too big, since roads are narrow) so you have the option of going off the beaten track.
Contact your rental provider. Also, in the unlikely event you have a serious accident in Santorini, call 112 immediately for emergency services. You can call this number from anywhere in Europe and an operator will redirect to the emergency services of that country.
Santorini is considered the most expensive island in Greece. Spending a night in Santorini can average £70 for mid-range hotels. The five-star hotels and luxurious resorts near Thira and Oia are way more costly.
It depends on where you'll be staying. For example Thira is very central but if you're staying in any other beautiful town of the island and plan to explore then a car is indispensable.
Santorini is a very small island with an interesting transport infrastructure, so you can visit all the most interesting tourist spots without any problem. It will be very simple to travel the island from one end to the other by car or bus/taxi.
No – excess-free packages come as standard with most car hire companies, as do road-side assistance, theft protection, and collision damage waiver.
Car hire in Santorini on average costs £32 per day. During peak season these prices and availability can fluctuate.
Short-term visitors and holiday-goers can indeed drive with a UK driving license in Greece. This will continue to apply for at least until 31 December 2020.
The best way to start your trip in Santorini is to begin at Thira and by car or by cruise go around the island exploring its shore and picturesque islands such as Oia and Kamari.
The best time to visit Santorini for sightseeing, tours, wineries, and food are the months of late March, April, May, October and November.
Explore popular places in Greece