7 of the Best Rooftop Bars in Florence
Florence is one of the most beautiful cities in the world, so you'll be searching for ways to get a full scope of its beauty and magic from above. There are several viewpoints, but the best (and most relaxing) way to see the city in all its glory is from a rooftop bar. Especially after a day of sightseeing, nothing beats an Aperol Spritz on a sunny terrace, letting the hours melt away while dusk turns the sky golden and the buildings into a shade of soft pink. But searching the city for that perfect spot might not be what you want to do after a long day of walking, so we've collated them into a handy list. From swanky hotel bars to relaxed Tuscan spots, here are the best rooftop bars in Florence.
Best Rooftop Bars in Florence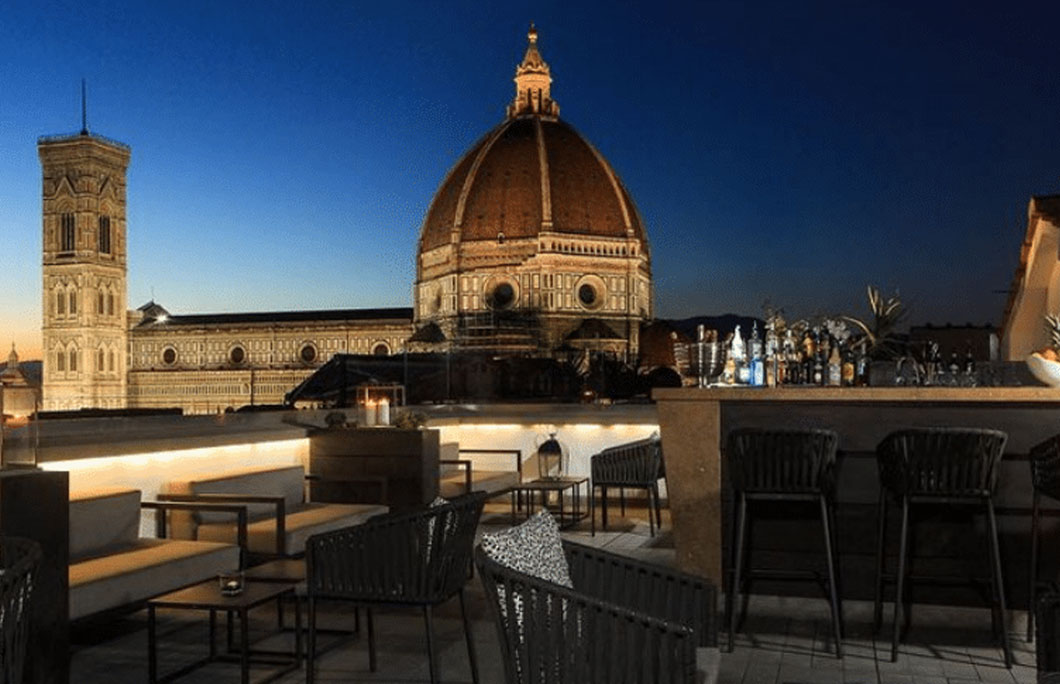 1. Divina Terrazza at Grand Hotel Cavour
Does it get much better than a view of the iconic Florence Duomo? Take in the cathedral that dominates the Florence skyline up close from this sleek and contemporary rooftop terrace, where you can admire the intricate detailing and artwork of the majestic structure. Engage in everyone's favourite past-time (people watching) with views across the Palazzo Vecchio while sipping on tangy Aperol Spritz and nibbling on the nuts that come with your drinks. This is an American-owned bar, so you'll certainly find an array of classic cocktails if you've had your fill of Aperol Spritz in Florence.
---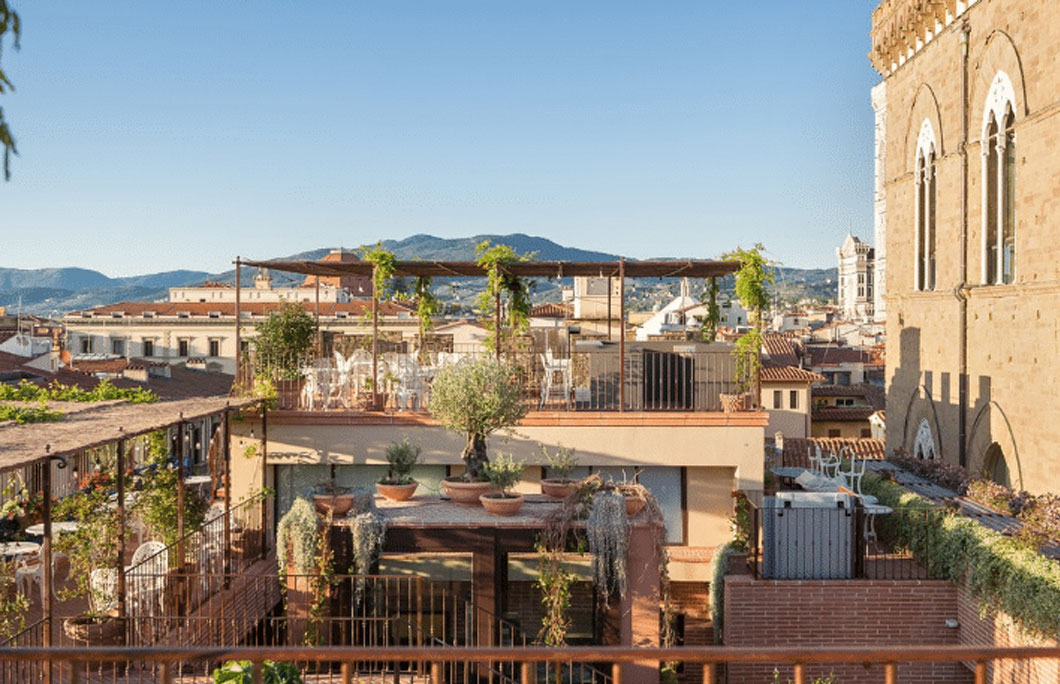 2. Angel Rooftop at Hotel Calimala
Find this multi-level, fairy-tale garden of a rooftop bar in the heart of Florence. This oasis of terracotta touches, hanging plants, and wrought iron railings are straight out of a postcard, with views spanning across the city and stretching out to the romantic Tuscan hills. Not only are the panoramic views breathtaking, but the food is more than impressive. Be sure to book in advance to indulge in a menu of local dishes washed down with a crisp bottle of wine. It's the perfect date night location, exuding romance from every corner.
---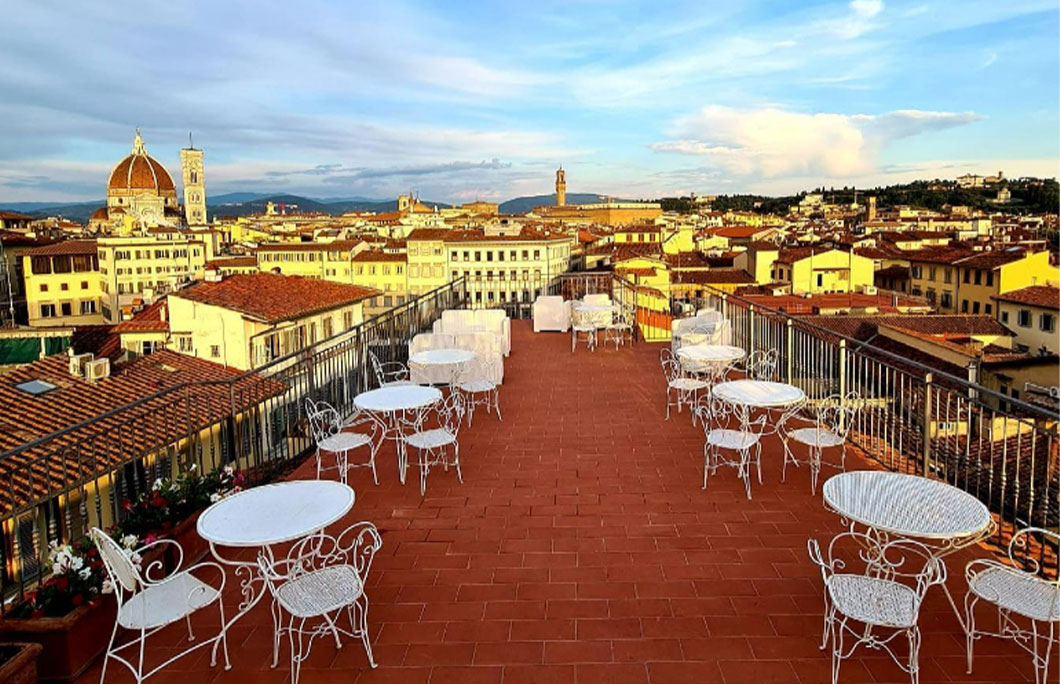 3. Hotel Croce di Malta
We love the stripped-back vibe of this cosy rooftop bar. With terracotta tiles and white patio furniture, there's an element of relaxation that feels more like a family garden than a swish bar. It's the perfect spot if you're searching for that traditional Tuscan experience, with views of the Duomo serving as a gorgeous reminder of where you are. Soak in the panoramic scenery while sipping on a refreshing aperitivo or two with a loved one, looking out to the golden sky.
---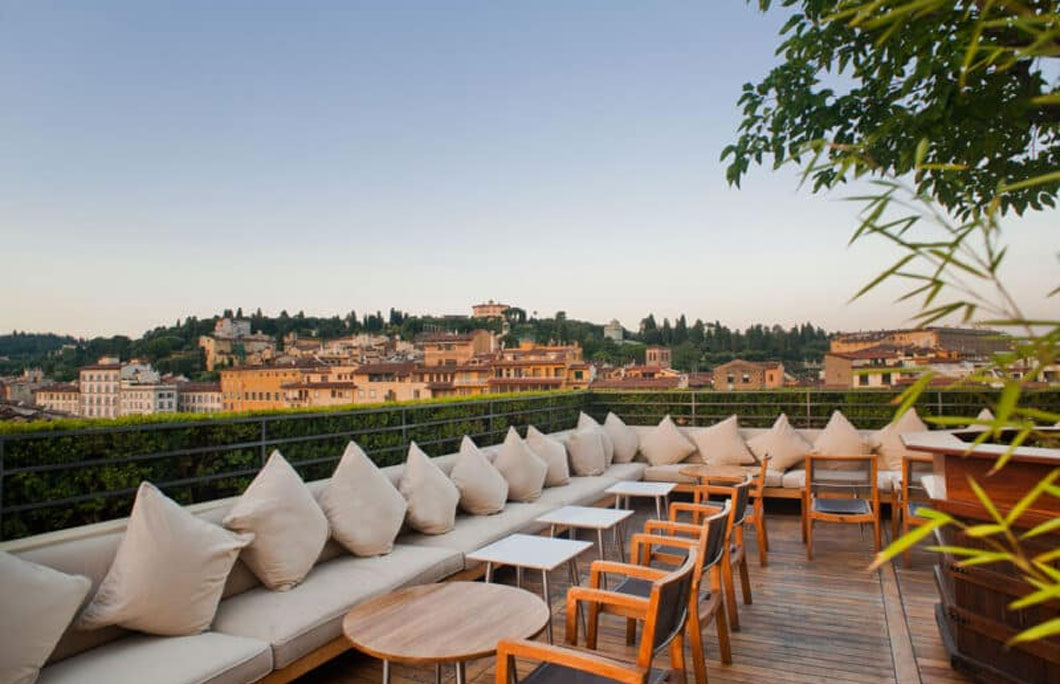 4. La Terrazza at Hotel Continentale
There's a lot to love about this gorgeous rooftop bar. It sits pretty on the terrace of the medieval Consorti Tower of Hotel Continentale, steps away from the famous Ponto Vecchio bridge. This means patrons are treated to spellbinding views across the Arno River, stretching out to the city and the hills. Watching the sun go down over one of the world's most beautiful cities from this spot is hard to beat, especially when paired with an excellent menu of Italian wines and signature cocktails. The drinks don't come cheap, but the unique blend of a cool, contemporary bar with a medieval building and excellent views justify the hefty price tag.
---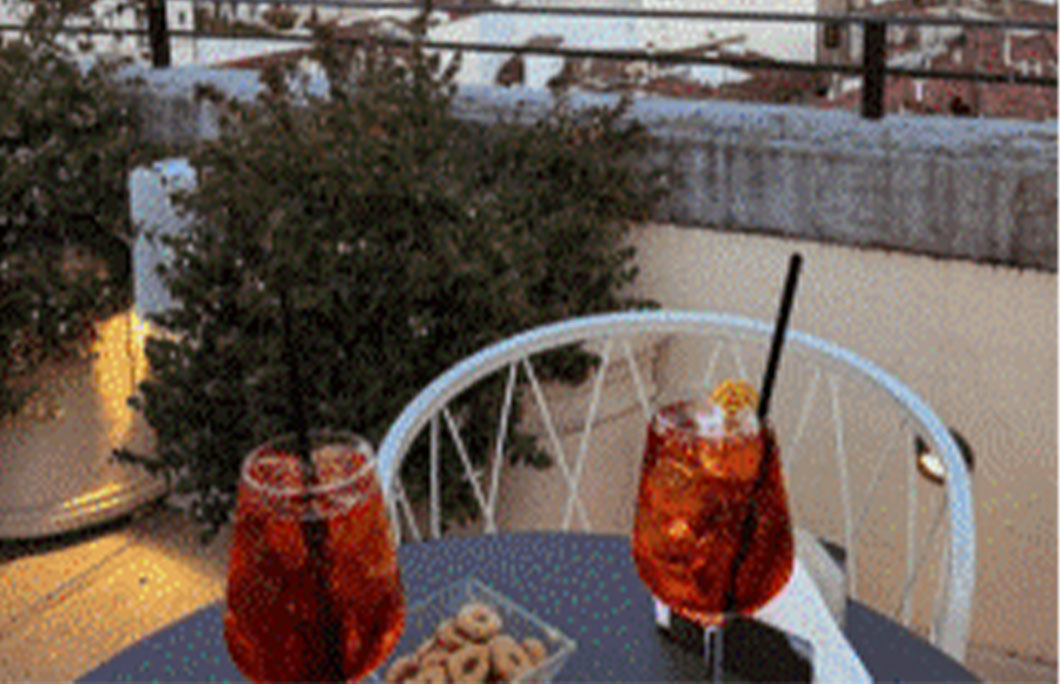 5. Fishing the Roof
Take in marvellous views of the Florence Duomo and Palazzo Vecchio from this beautiful spot. This bar sits on the top floor of the NH Collection Palazzo Gaddi Hotel, serving up excellent fish (as the name suggests), views, and a friendly atmosphere. If you do visit Fishing the Roof for dinner, bear in mind that the menu is predominantly fish-based – perfect for seafood lovers! You'll also find the popular spot of B Roof just next door, which is another fantastic rooftop bar, but if it's scenery you're after, Fishing the Roof is the place to be with a clearer view of the Duomo.
---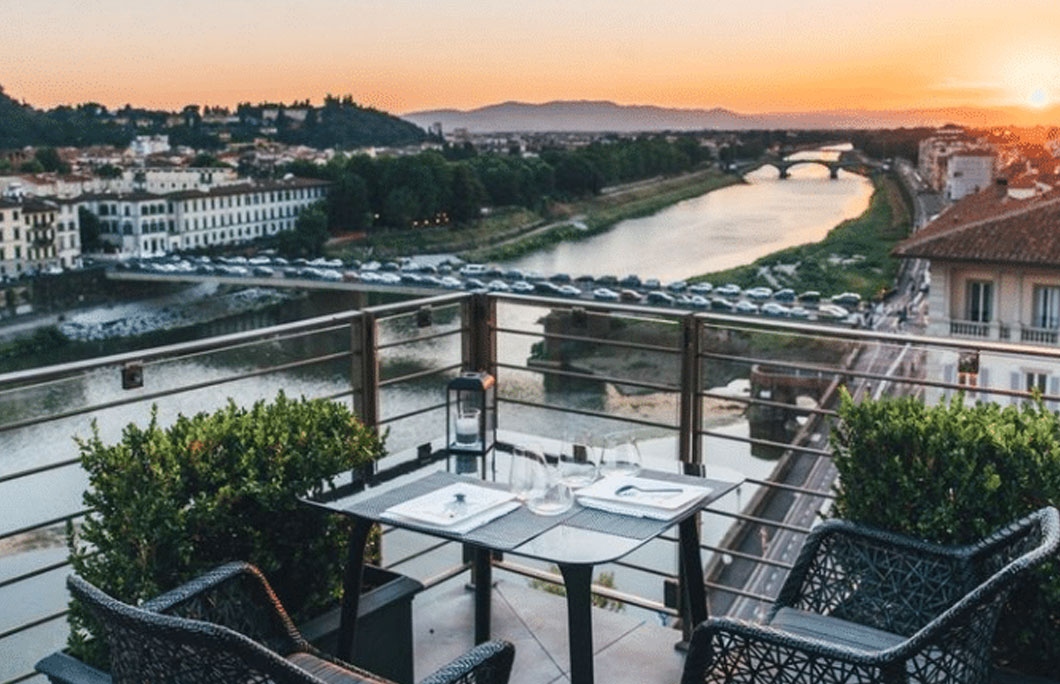 6. SE-STO on Arno
SE-STO on Arno is one of the most popular rooftop bars in Florence, and for good reason. The views across the Arno River and beyond are exquisite – it's one of the best places to watch the sun set over this gorgeous, rose-hued city. The décor and furniture are simple yet elegant, exuding easy-going sophistication that perfectly encapsulates the feel of Florence. Sip on a crisp aperitivo while soaking in the scenery, and be sure to order off their excellent menu of Tuscan dishes.
---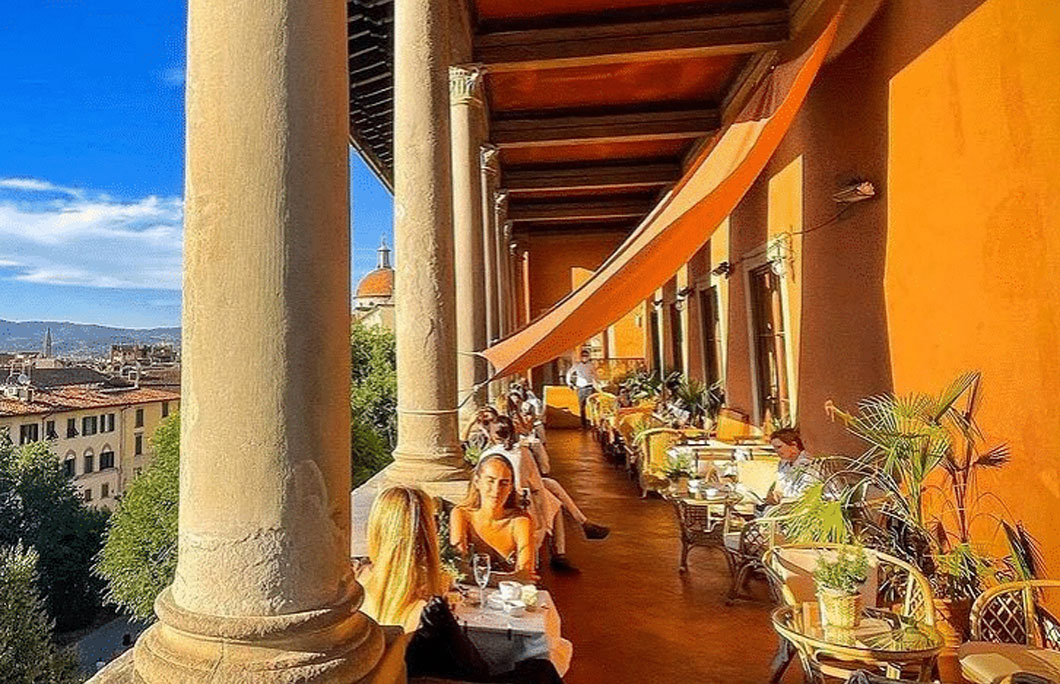 7. Loggia Roof Bar
For a relaxed and charming atmosphere, hotfoot to Loggia Roof Bar. Undoubtedly one of the best rooftop bars in Florence for its people-watching opportunities and views of the historical buildings of Florence, it's one of our must-visits. It's more on the traditional end, rather than ultra contemporary and swish, with terracotta tiles and wicker woven chairs. Overlook the Piazza Santo Spirito and its bustling daily markets, fairs, and food stalls from your sunny rooftop spot.
---