25 Best Hotels In The World For A Winter Getaway
As the thermostat drops and Christmas looms, the prospect of a winter getaway is becoming evermore more appealing. But while swaying palm trees and sandy stretches still hold a certain allure, it's those postcard-perfect alpine towns and snowcapped peaks that really have our hearts thumping – and a mulled wine-swigging, slipper-footed, roaring fire kind of trip at that. From fairytale castles to sustainable treehouses, we've cherry-picked 25 of the best hotels in the world for a winter getaway.
The 25 Best Hotels in the World for a Winter Getaway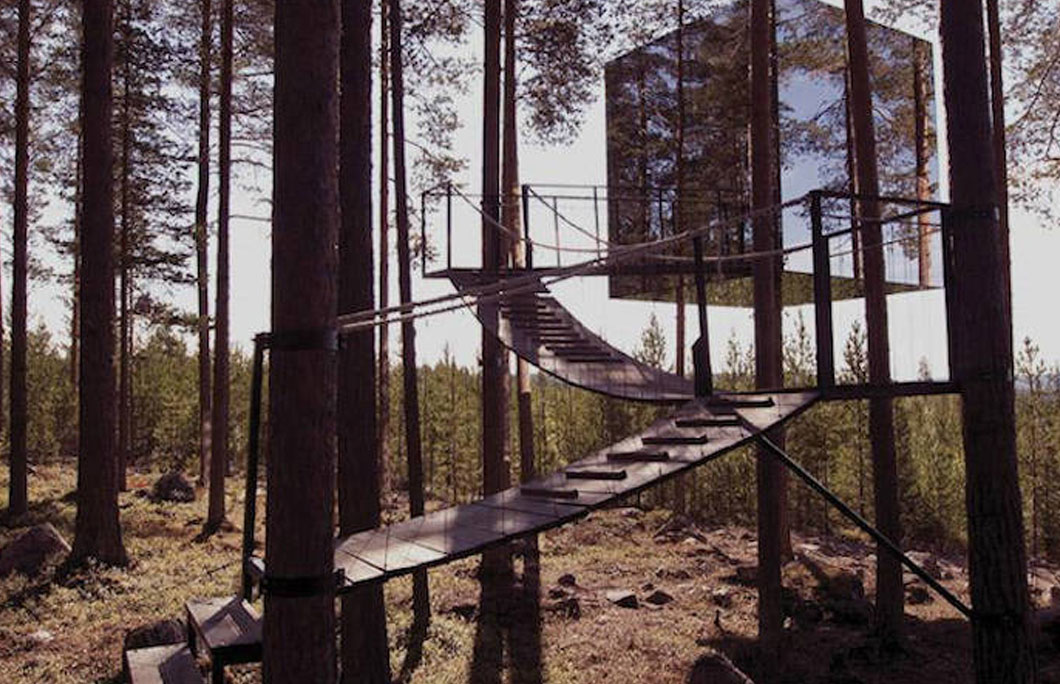 1. Treehotel (Sweden)
Why not channel the squirrels this winter and hibernate high in the trees? Located roughly 100 km from Luleå airport in the north of Sweden, each room at TreeHotel floats 4-6 metres above ground with sparkling views over the Lule River Valley, lush pine trees and – if you're lucky – the Northern Lights. There are seven treehouses to choose from and each is entirely unique, from a 64 metre-squared reflective glass cube to a 17 metre-squared birds nest.
---
---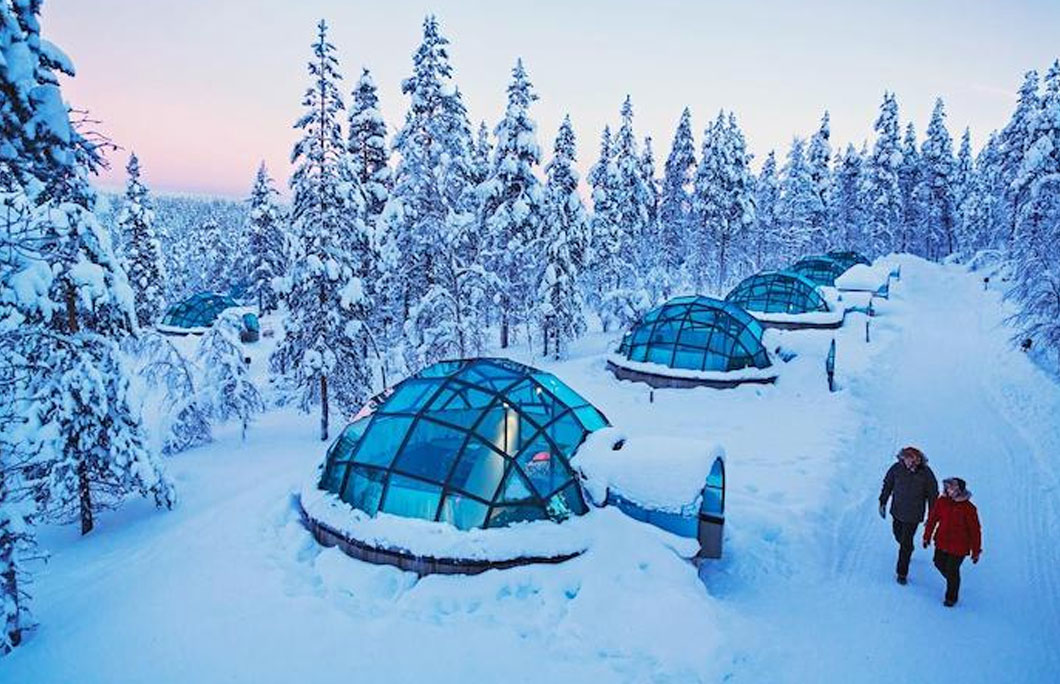 2. Kakslauttanen Arctic Resort (Finland)
Also known as 'Igloo Village', Kakslauttanen Arctic Resort is set right in the heart of wintery North Lapland. As if that isn't magical enough, guests can also choose from a range of glass igloo accommodations built from thermal glass to ensure temperatures stay toasty inside. There's an onsite restaurant, as well as a chapel for the perfect winter wedding. Best of all, you can watch the Northern Lights skirt across the sky from the comfort of a cosy bed.
---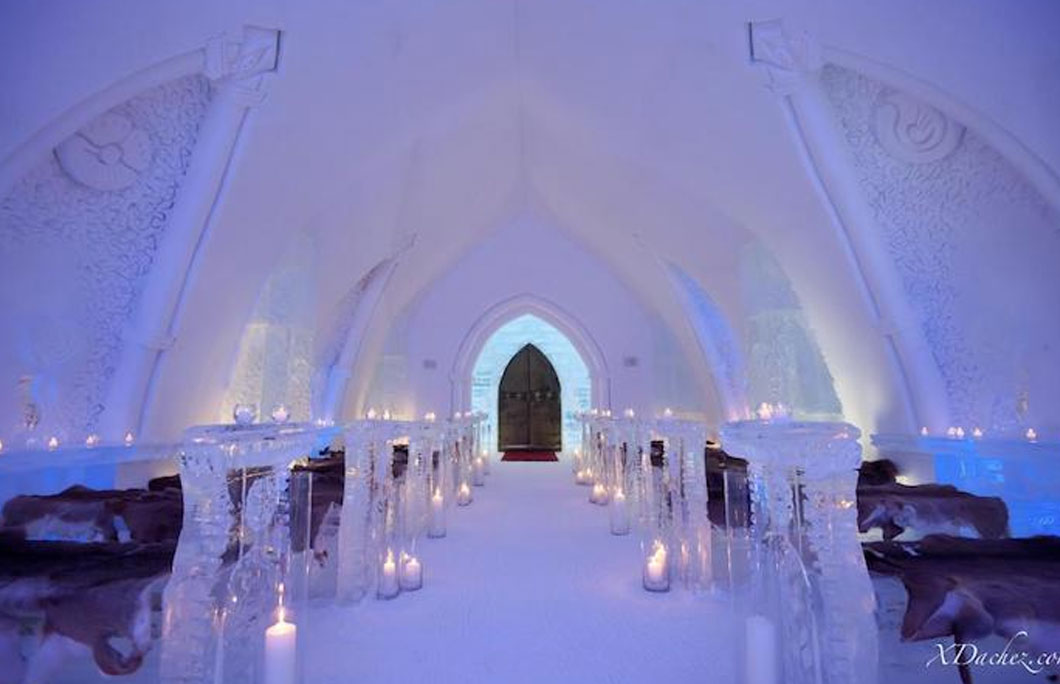 3. Hotel de Glace, Quebec City (Canada)
Located just 4 km outside Quebec City, this architectural marvel is made entirely of ice. There are 44 guest rooms to choose from, but you'll never get to stay in the same room twice since the hotel is completely redesigned and rebuilt every year. Think it sounds chilly? Fear not, the hotel offers hot tubs, a sauna and an ice bar serving up warming tipples. It's the only ice hotel in North America, open yearly between December and March.
---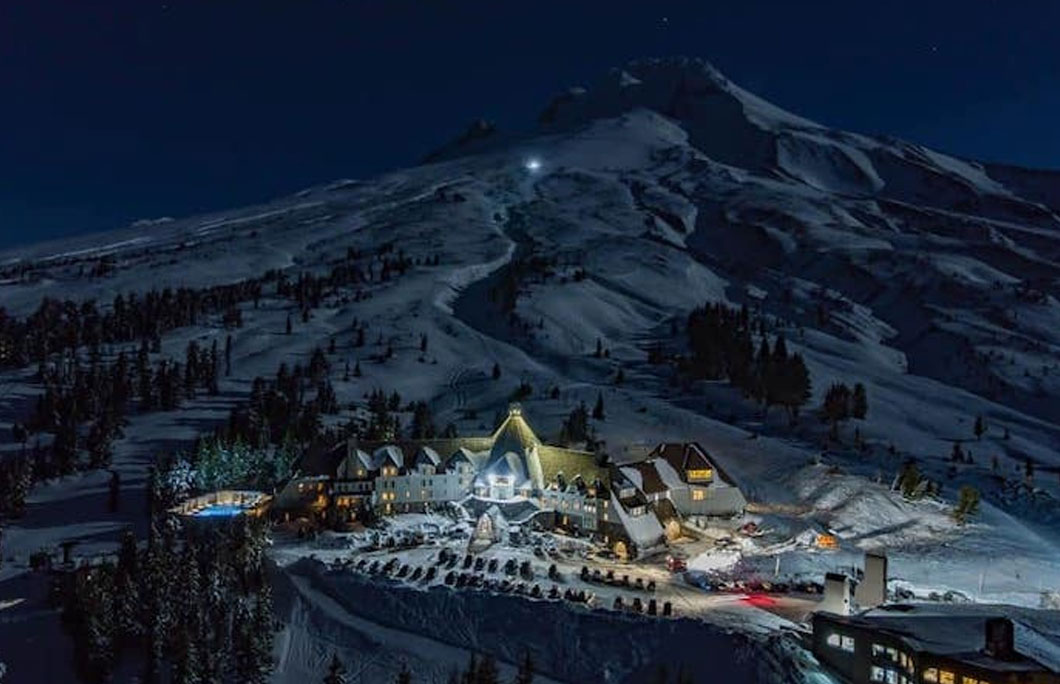 4. Timberline Lodge, Oregon (United States)
Set in the shadows of one of the most iconic mountains in the Pacific Northwest, Timberline Lodge comes complete with a bubbling hot tub, hot sauna and heated pool. Kick back at Ram's Head Bar with a steaming hot toddy served with sweeping views of Mount Hood or slope off to the Cascade Dining Room for something heartier. Days are best spent on the slopes or hiking through the surrounding woodlands.
---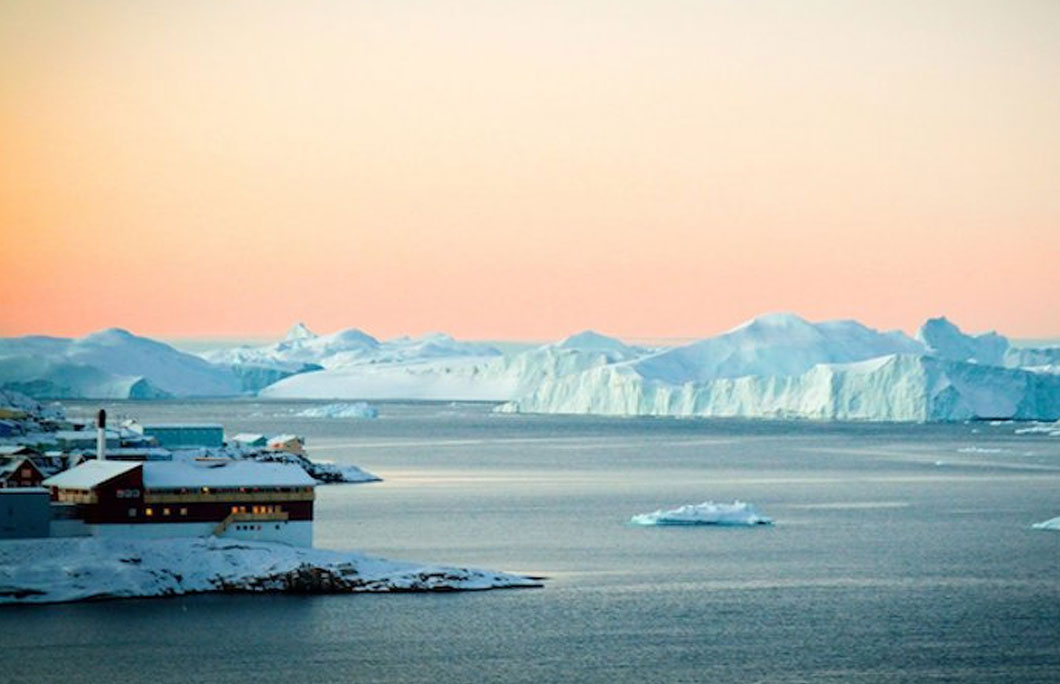 5. Hotel Arctic (Greenland)
Hotel Arctic is the world's most northerly four-star hotel, located right on the edge of the UNESCO World Heritage-listed Ilulissat Ice Fjord – one of the fastest moving active glaciers in the world. Each of its five igloos boasts a front row seat to a steady stream of icebergs, as well as a cosy double bed, flat-screen TV and a steaming hot shower.
---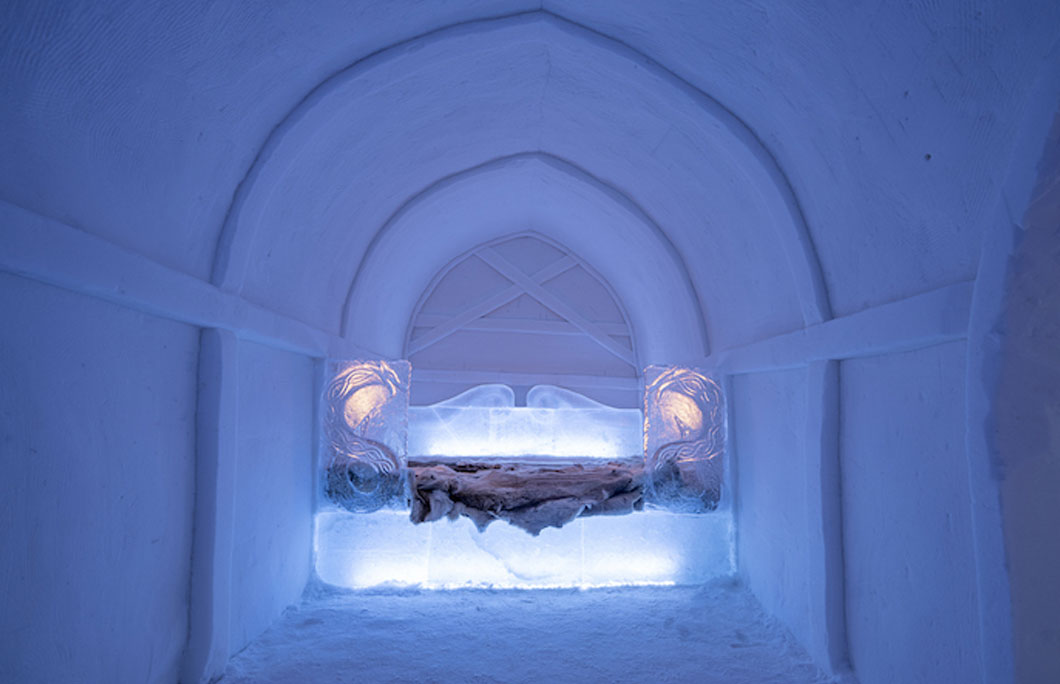 6. Sorrisniva Ice Hotel, Alta (Norway)
For a truly arctic experience, Norway's Sorrisniva is unbeatable. Located on the banks of the Alta River, the Sorrisniva Igloo Hotel was the first-ever hotel built entirely from ice and snow in Norway. There are now 26 bedrooms and four suites to choose from, each featuring an extra-large bed crafted from ice blocks and topped with an insulated mattress and reindeer furs. There's an ice chapel and ice bar too. Alternatively, guests can opt to sleep under the stars in the all-new wilderness lodge.
---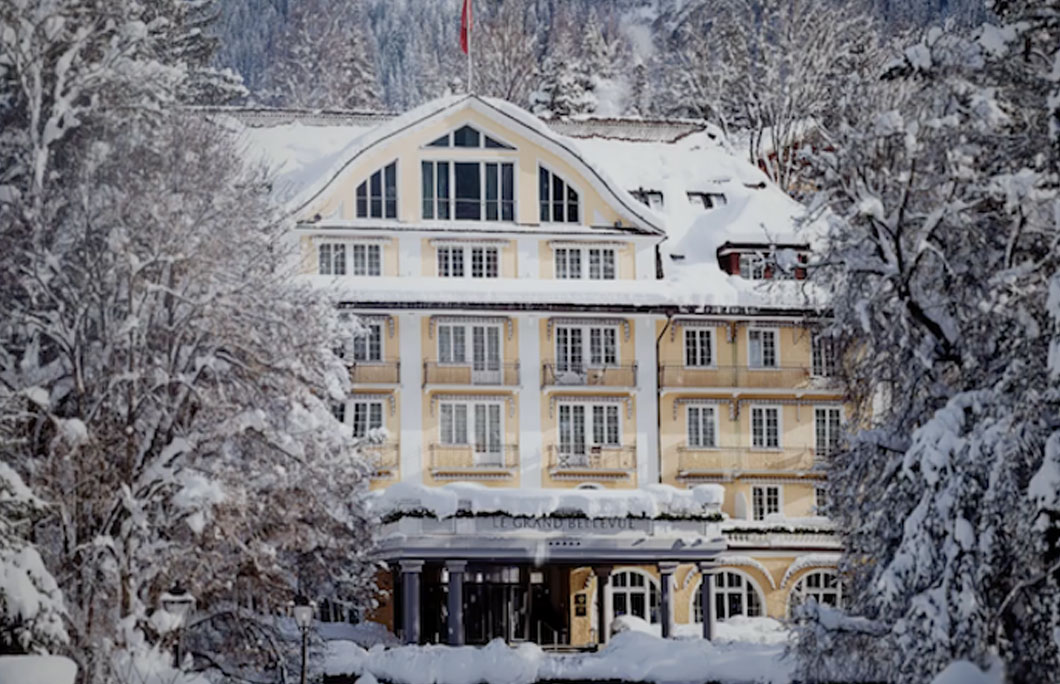 7. Le Grand Bellevue, Gstaad (Switzerland)
Nestled in acres of private parkland, this swish swiss chalet is Gstaad's most luxurious hotel. It was built in 1912 but there's nothing remotely dated about it – think House of Hackney wallpaper, dazzling art installations and state-of-the-art guest rooms. As well as skiing, the hotel offers mountain bike hire, car tours in Roger Moore's old 1963 Bentley and a 3,000 metre-squared subterranean spa. Le Petit Chalet, a charming log cabin, can cater for all of your raclette and fondue needs in the evenings too.
---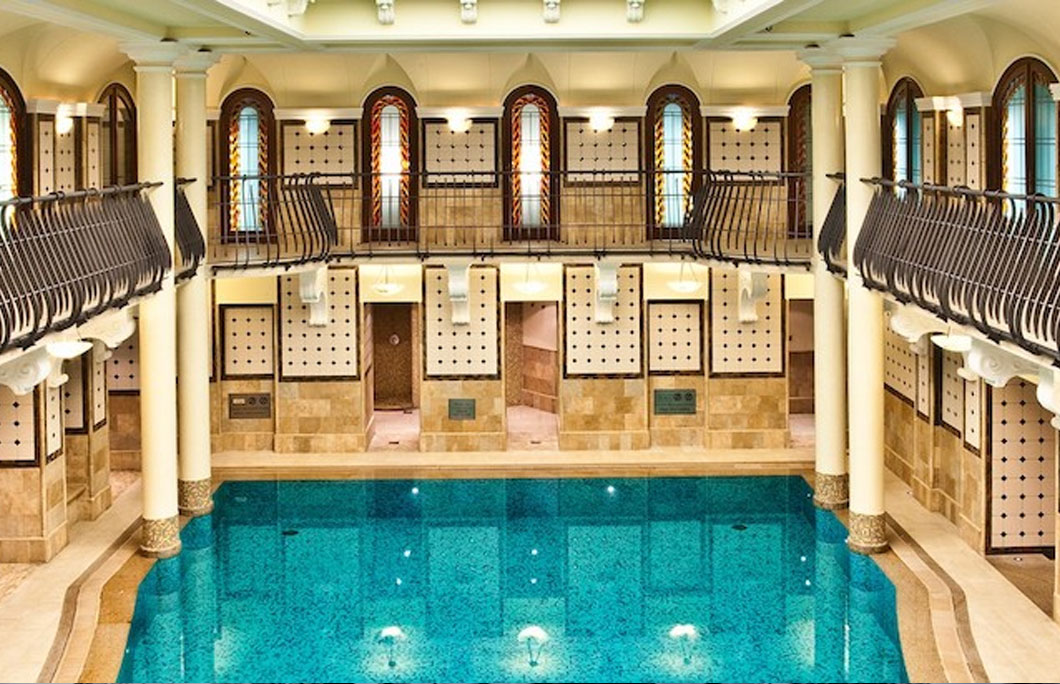 8. Corinthia Hotel, Budapest (Hungary)
The Hungarian capital city really comes alive at Christmas, and nowhere more so than at the Corinthia Hotel. Come Christmas, the iconic neo-classical facade is festooned with Christmas lights and the dreamy marble hallway and vast ballroom are reconfigured to accommodate towering Christmas trees. And after a long day pounding the pavements, the warming thermal waters of Corinthia Budapest's Royal Spa are calling.
---
9. Ashford Castle, Cong (Ireland)
This 800-year old castle was the former home of the Guinness family, but now it's a luxury hotel that promises to fulfil all of your Downtown dreams. If you make the trip at Christmas, you'll get to enjoy Christmas Eve dinner in the George V Dining Room, a Christmas morning cruise on Lough Corrib with traditional music and hot whiskey, wine tasting in the cellar, whiskey tasting in the billiards room and activities such as archery and falconry across the estate. La-di-da!
---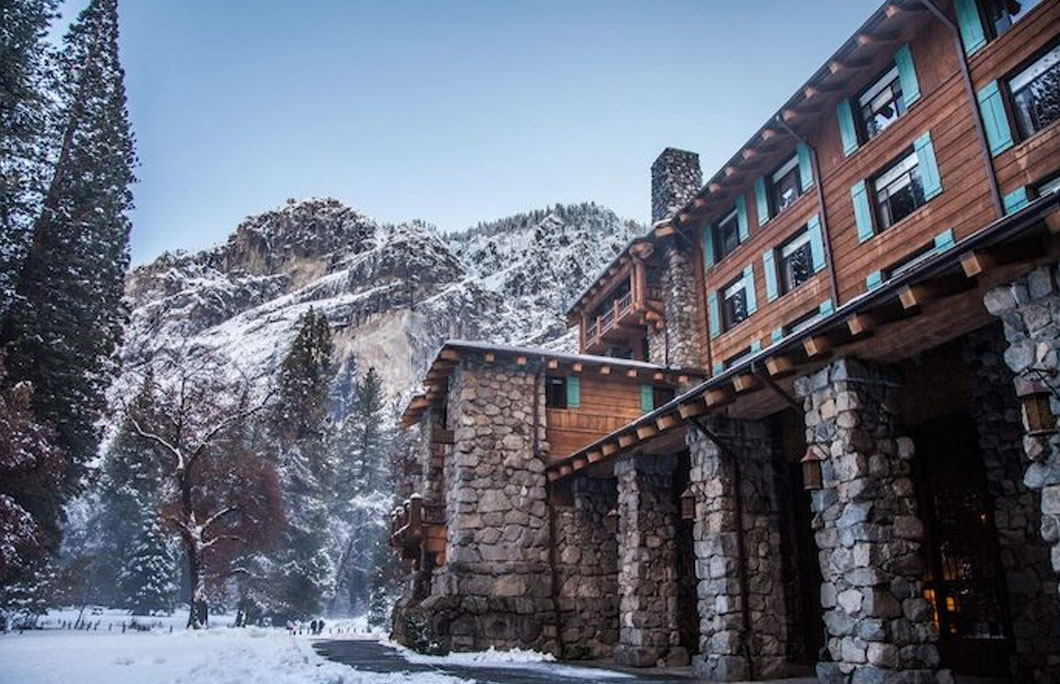 10. The Ahwahnee, California (United States)
The United State's most iconic park boasts spectacular views all year round, but there's never a more magical time to visit Yosemite than in winter. The Ahwahnee is the crown jewel of the national park lodges – literally – even Queen Elizabeth II has spent a night here. For an extra special stay, bump up to the Mary Curry Tresidder Suite or rent out one of the lodges, which feature roaring fire and plush furnishings. Days are filled with skiing, wildlife watching and kicking back in the heated pool.
---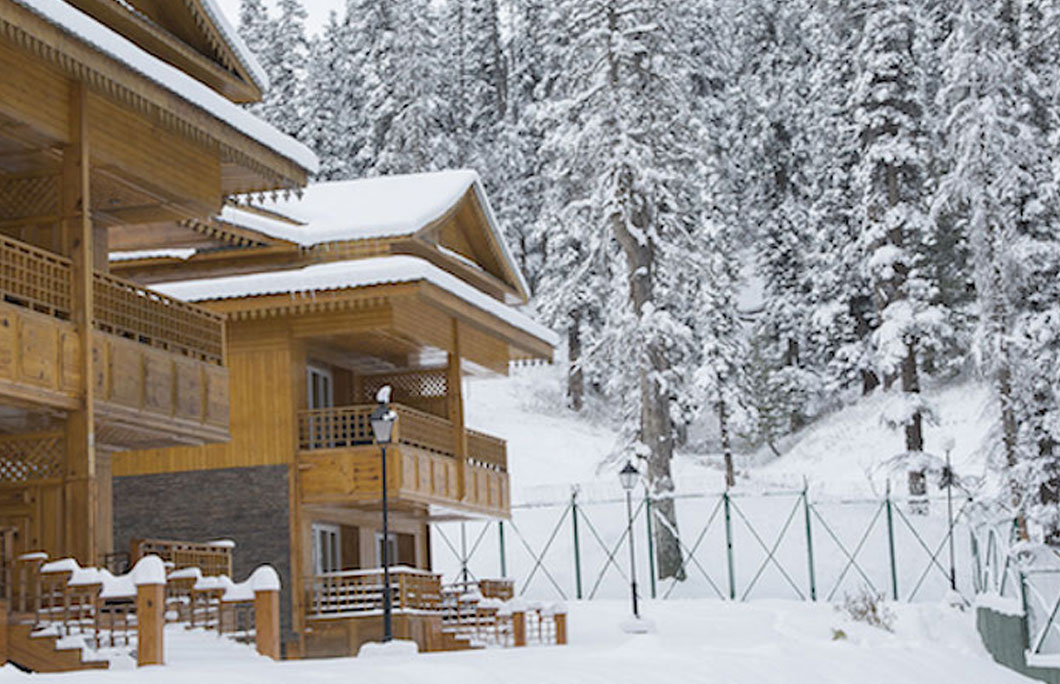 11. The Khyber Himalayan Resort and Spa, Gulmarg (India)
The Khyber Himalayan Resort and Spa is located in one of the most scenic snow destinations in the world, overlooking the Pir Pinjal mountains and the Affarwat Peaks. The 85-room resort boasts plush interiors, fine dining and restorative treatments at the spa. Moments from the entrance, you can hop on the Gulmarg Gondola, the world's second-highest cable car, to the powder white slopes of Gulmarg Ski Resort too.
---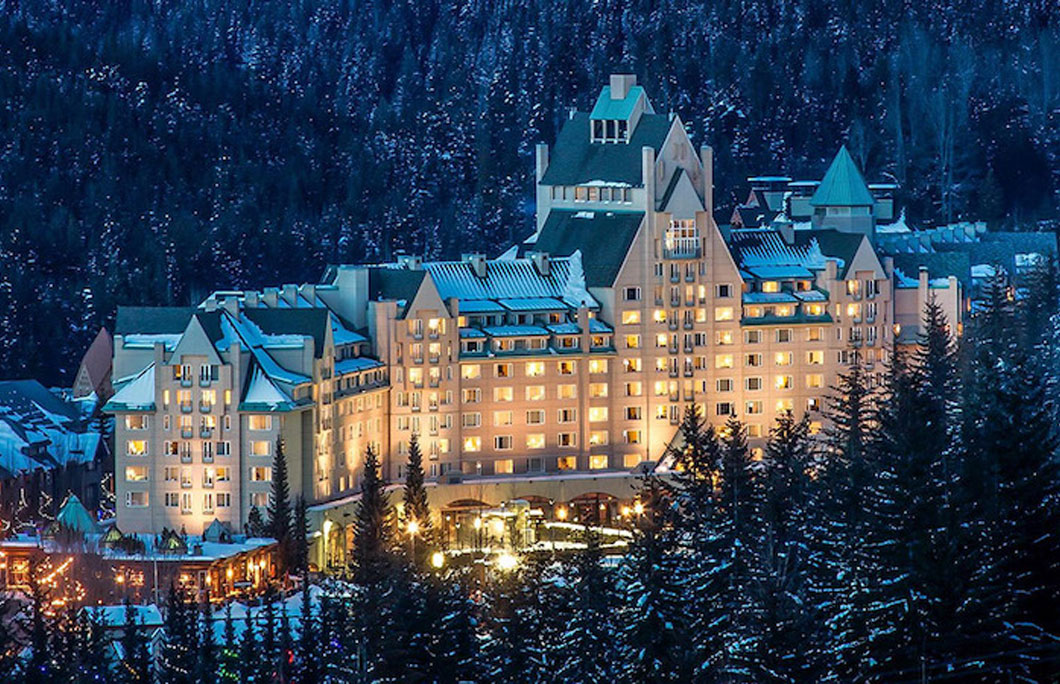 12. Fairmont Chateau, Whistler (Canada)
This luxurious 519-room ski-in ski-out hotel offers pure Alpine fairytale in the heart of Canada's beloved ski resort. The location couldn't be better for winter sports enthusiasts, set right next to the base of Whistler Blackcomb Mountain's gondola. Outdoorsy types also have the Lost Lake trails and hikes at their fingertips. There are several pools, spas and hot tubs, a tennis court and an 18-hole golf course too.
---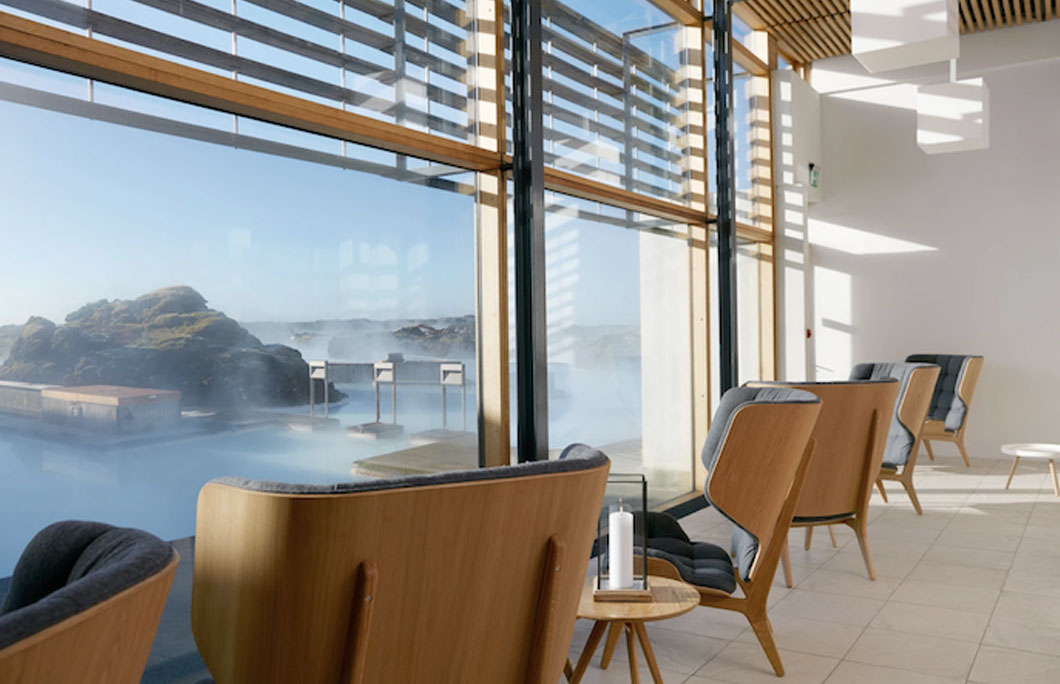 13. Silicia Hotel, Blue Lagoon (Iceland)
If twinkling fairy lights and tinsel aren't really your thing, you'll love the sleek minimalism of Silicia Hotel. Designed by Basalt Architects, it's all clean lines, natural woods and zen artwork. But it's the blockbuster location that really stands out. Set in the heart of a rocky, lava-filled landscape Silicia Hotel is just ten minutes from the famous Blue Lagoon. In between, there are bubbling lagoons, ancient mountains and moss-covered lava fields to explore too. Keen golfers can tee up in an 18-hole golf course five miles away. Did we mention that the hotel also offers its own private bathing lagoon?
---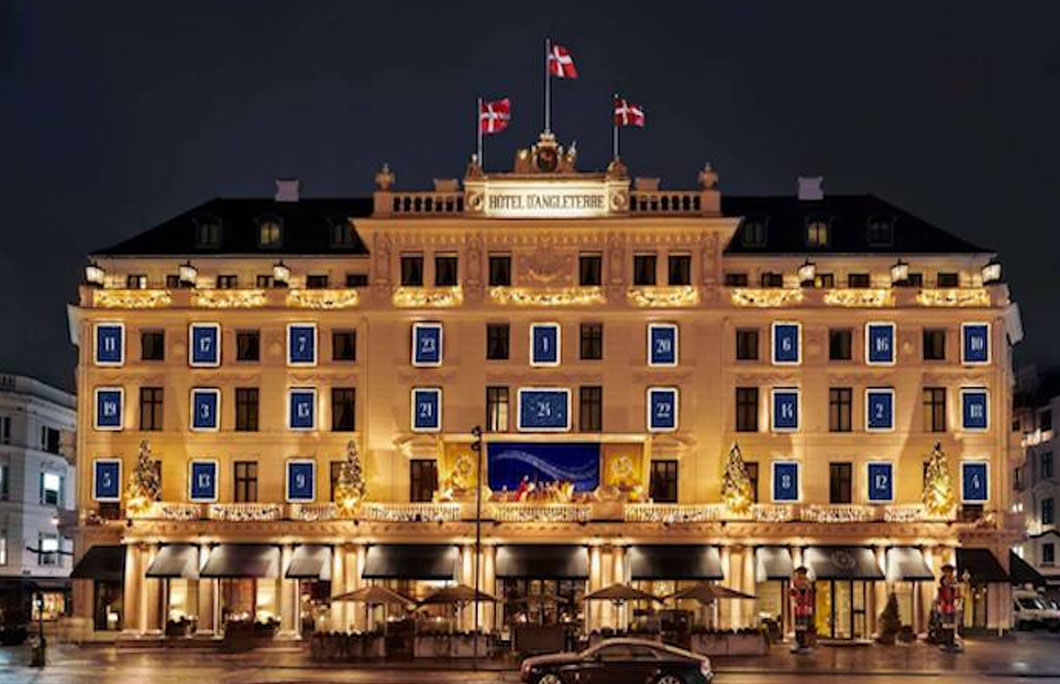 14. Hotel d'Angleterre, Copenhagen (Denmark)
Denmark's ritziest hotel boasts the best location too, right in the heart of Kongens Nytorv. At Christmastime the whole square transforms into a winter wonderland, illuminated by twinkling lights and some of the world's best Christmas decorations. Inside the Hotel d'Angleterre, it's equally as festive, with Christmas trees, carols and their famous 'gløgg'.
---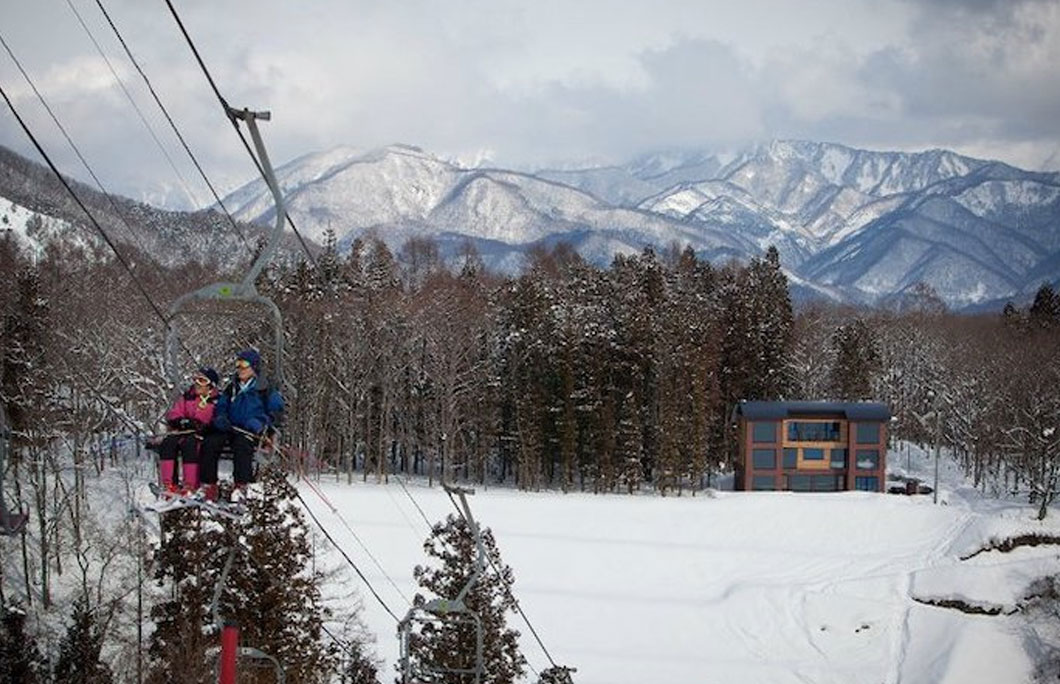 15. One Happo , Hakuba (Japan)
Possibly Asia's most impressive chalets, One Happo is located in Hakuba, the internationally renowned ski resort town in the northern Japanese Alps. The Bond-esque building features a state-of-the-art gymnasium, black marble cocktail bar, eight-person onsen and retractable flat-screen TVs. Guests can also make use of the BMW X5.
---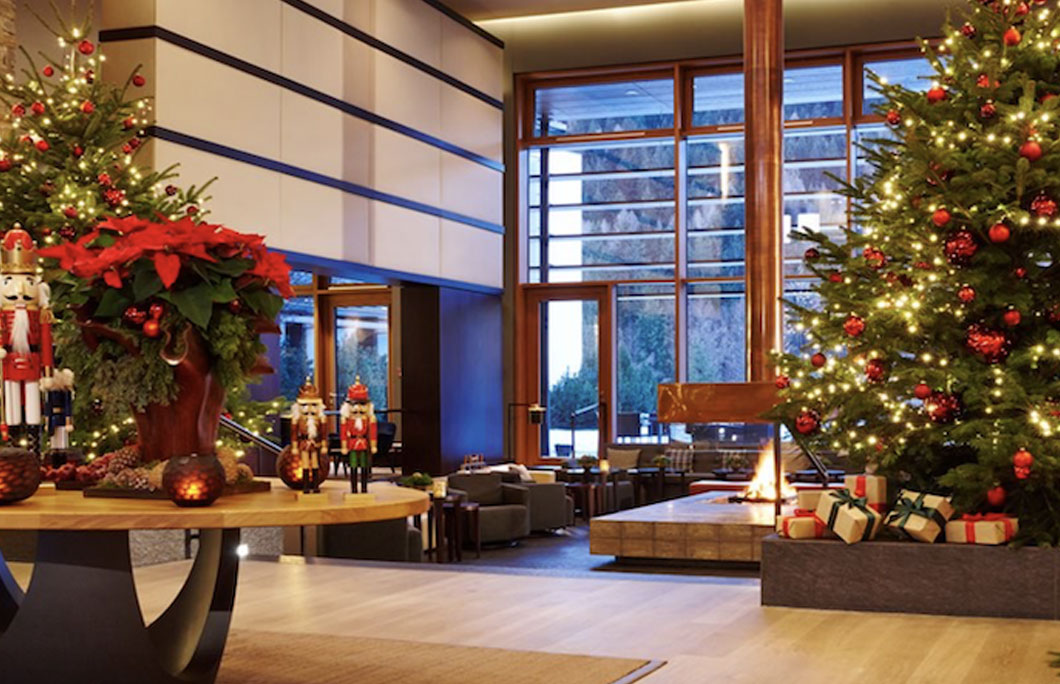 16. Kempinski Hotel, Berchtesgaden (Germany)
Set 1,000 metres above sea level in the Bavarian Alps, each of the Kempinski Hotel's 138 rooms offer views of the snow-capped peaks throughout winter. When you're not sat by a roaring fire enjoying the sparkling views, there are countless wintertime activities on offer, as well as a 1,400 metre-squared indoor pool, steam baths, saunas and tailored treatments. If you're visiting during December, you'll get to enjoy mulled wine and hot stollen too.
---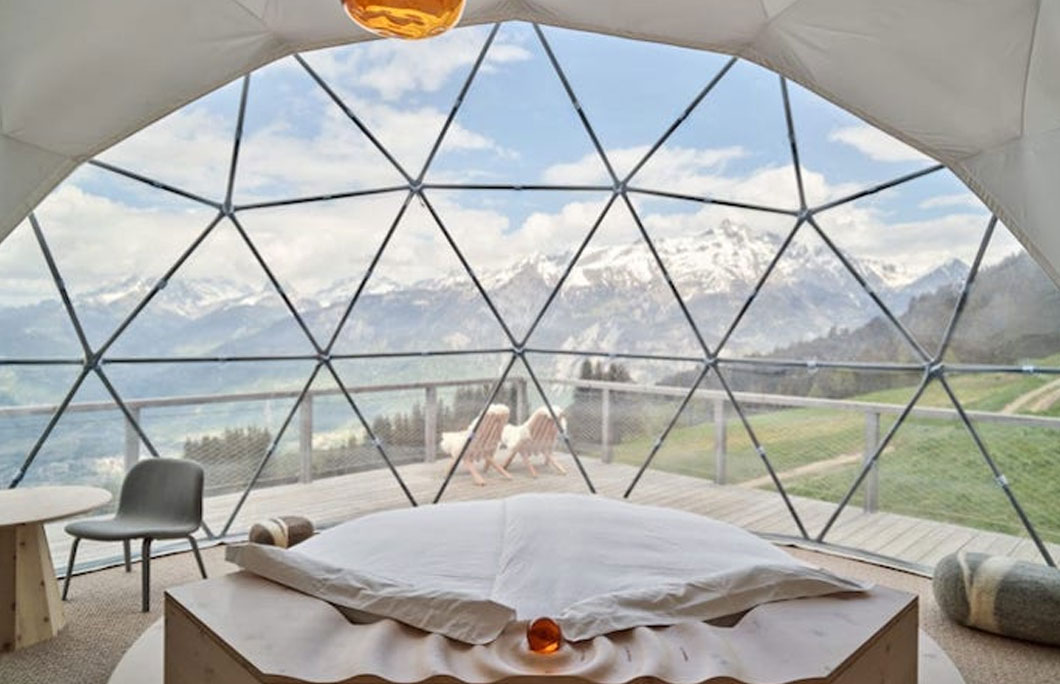 17. Whitepod Eco-Luxury Hotel (Switzerland)
Nestled into the foothills of the Dents-du-Midi mountain range, the Whitepod Eco-Luxury Hotel offers themed pods 18 luxurious pods and nine Swiss cabins. Each small cocoon combines ecology and luxury, with floor-to-ceiling windows, so that you can enjoy the breathtaking landscape without the frosty breeze. You'll find all the wintertime activities you could wish for on your doorstep too, including snowshoe treks and sleigh rides.
---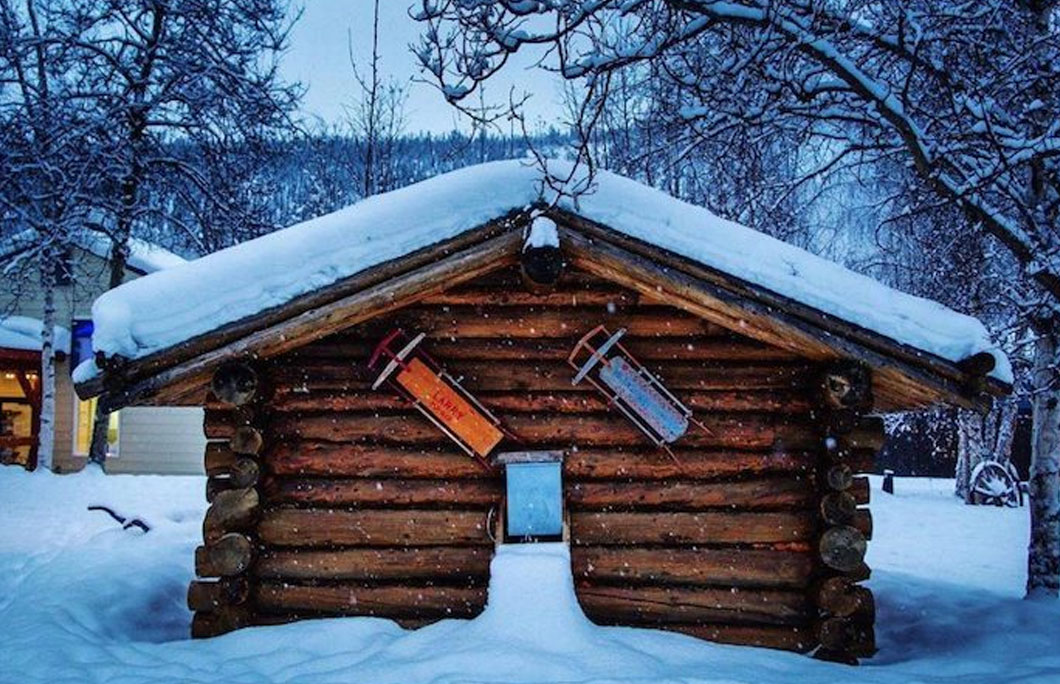 18. Chena Hot Springs Resort, Alaska (United States)
Oozing getaway glamour, Chen Hot Springs is renowned for its natural hot springs. As well as making the most of those piping hot waters in the pool house, there's a whole host of wintertime activities to enjoy, including dog sledge tours, ice fishing and the Aurora Ice Museum. It's also one of the best places in the country to catch the Northern Light dancing away.
---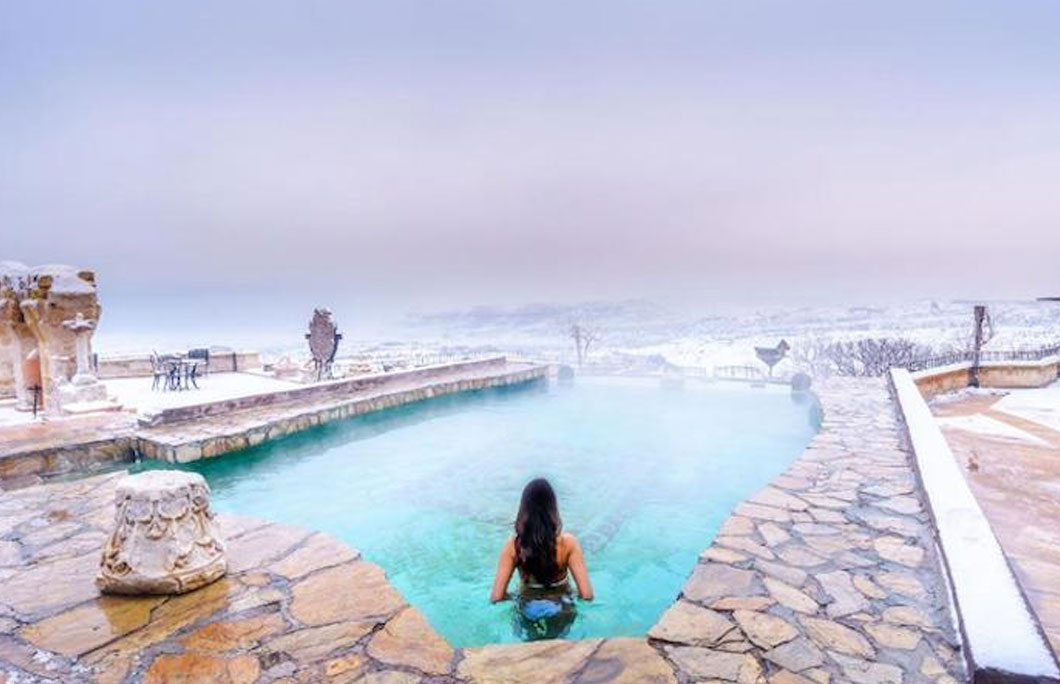 19. Museum Hotel, Cappadocia (Turkey)
Most people hotfoot to Turkey in the summer, but Cappadocia is the perfect wintertime retreat when a thick blanket of snow covers the whole city. The Museum Hotel is steeped in thousands of years of history. Carved into a cave, the property boasts 34 unique rooms and suites filled with antique furniture and sumptuous fabrics. There's also a heated rooftop pool open all year round, offering sweeping views of the hot air balloon sprinkled skyline.
---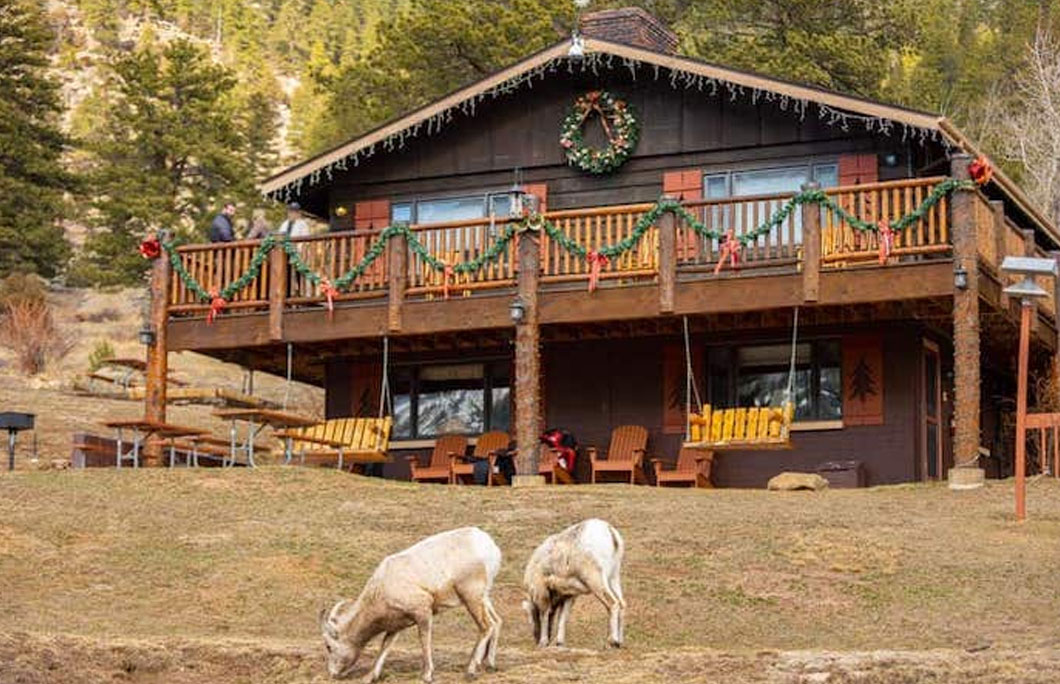 20. McGregor Mountain Lodge, Colorado (United States)
Bursting with rustic, romantic charm, McGregor Mountain Lodge sits on the slopes of the Estes Mountains. Days here are best spent watching for local elk or working up a sweat on one of the many hiking trails scattered around the Rockies. Cottages also boast jetted bathtubs and wood-burning fires.
---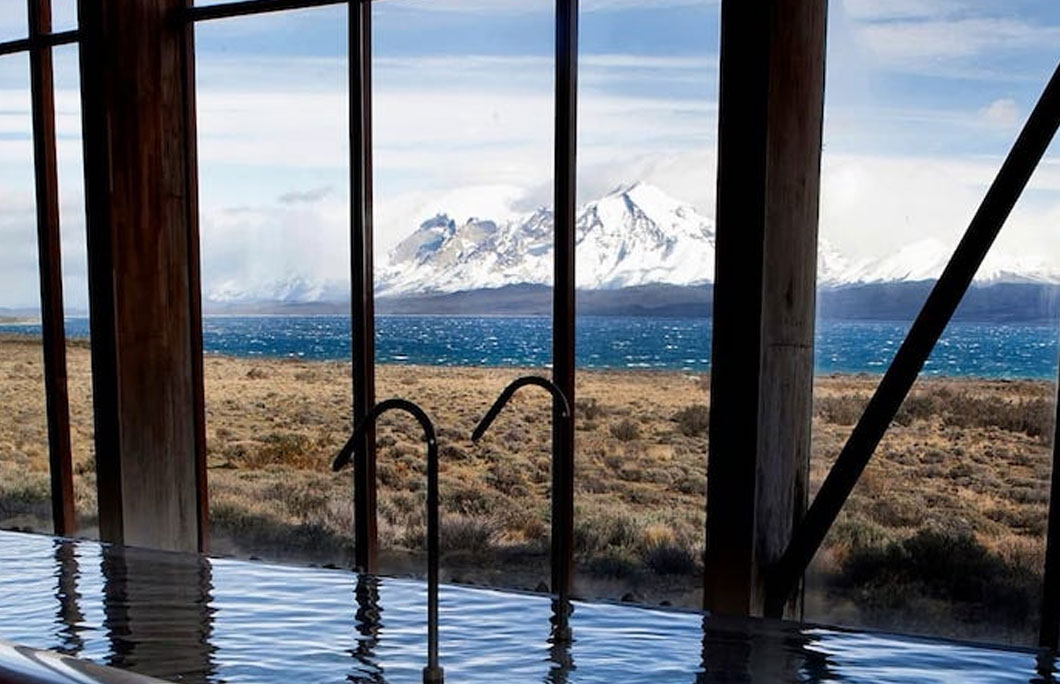 21. Tierra, Torres del Paine National Park (Chile)
Between its turquoise lakes and sprawling glaciers, Torres del Paine is one of the most dazzling sites in the Southern Hemisphere. Tierra, a striking hotel nestled into the shores of Lake Sarmiento, offers uninterrupted views of Patagonia's wind-whipped landscape from each of its rooms. After a long day exploring, sit down and watch the mountains change colour with the changing light.
---
---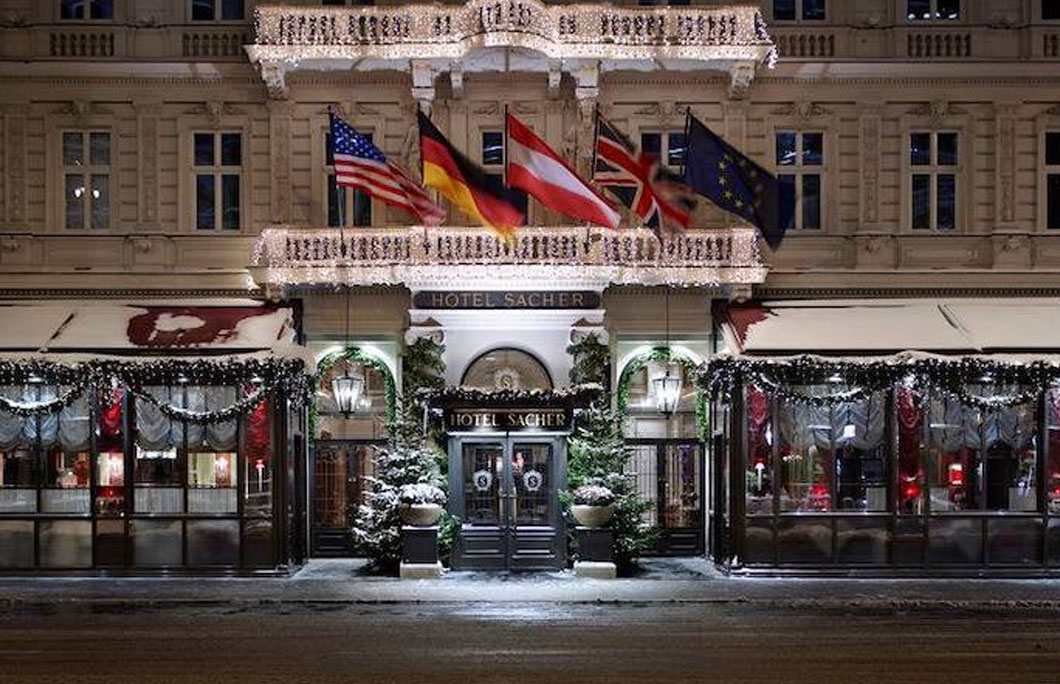 22. Hotel Sacher, Vienna (Austria)
Hotel Sacher– home of the famous torte – all out at Christmas decorations. Inside, it's all red and gold velvet ribbons, soaring Christmas trees, baubles, nutcrackers and garlands galore. As with everything the Hotel Sacher commits to, it's all tasteful too. Established in 1876, this family-run luxury hotel is also within spitting distance of the city's best Christmas markets and classical concerts.
---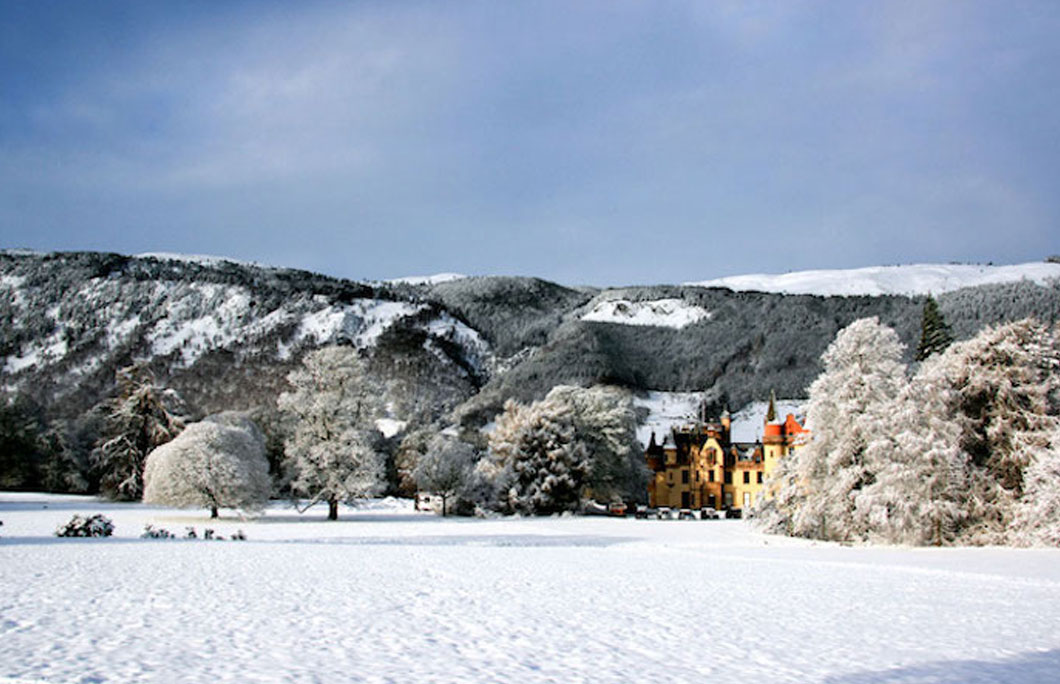 23. Aldourie Castle, Scotland (United Kingdom)
Set deep in the Scottish Highlands not too far from Loch Ness, Aldourie Castle is an opulent castle available for exclusive hire. Seriously, all 500 acres could be yours for a night – or even a week! Each of the 13 tapestry-adorned bedrooms features four-poster beds draped in velvets and brocades. Then there's the Main Hall, Drawing Room and Dining Room, replete with framed portraits of Scottish history's most notable fellas. If your funds won't quite stretch to the full castle, you can also opt for a luxury lodge.
---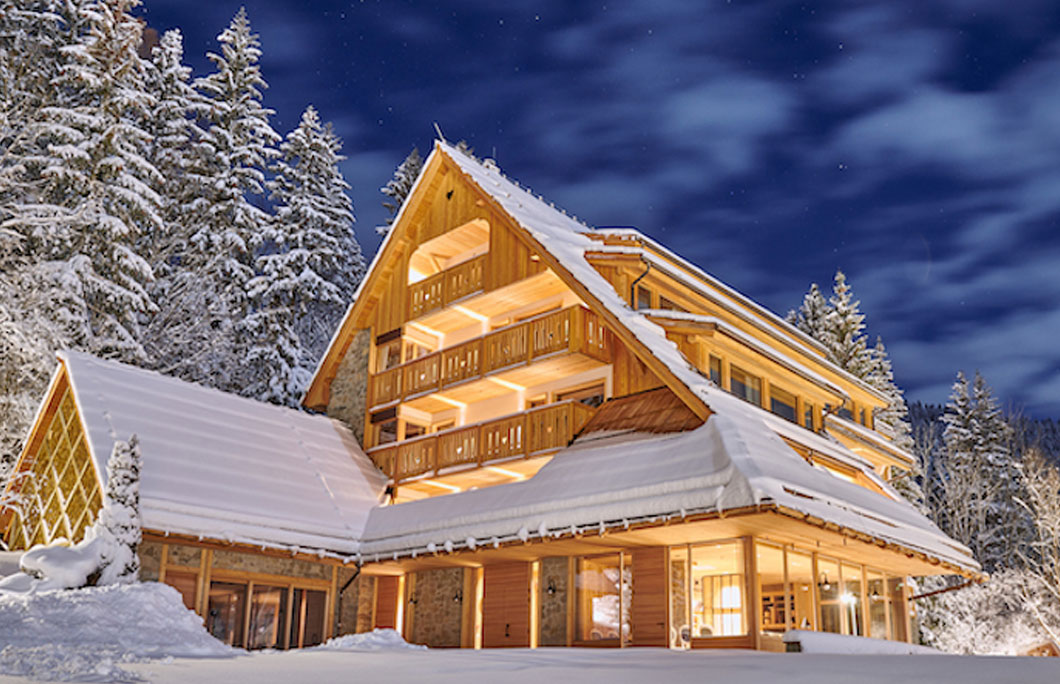 24. Vila Planinka, Zgornje Jezersko (Slovenia)
This deeply romantic hotel is set in a remote mountain valley in northern Slovenia. Interiors blend seamlessly with the outdoors, finished with local woods and luxurious furs. There are 23 bedrooms, ranging from stylish doubles to luxurious suites. There's also a spa with floor-to-ceiling views of the forest too.
---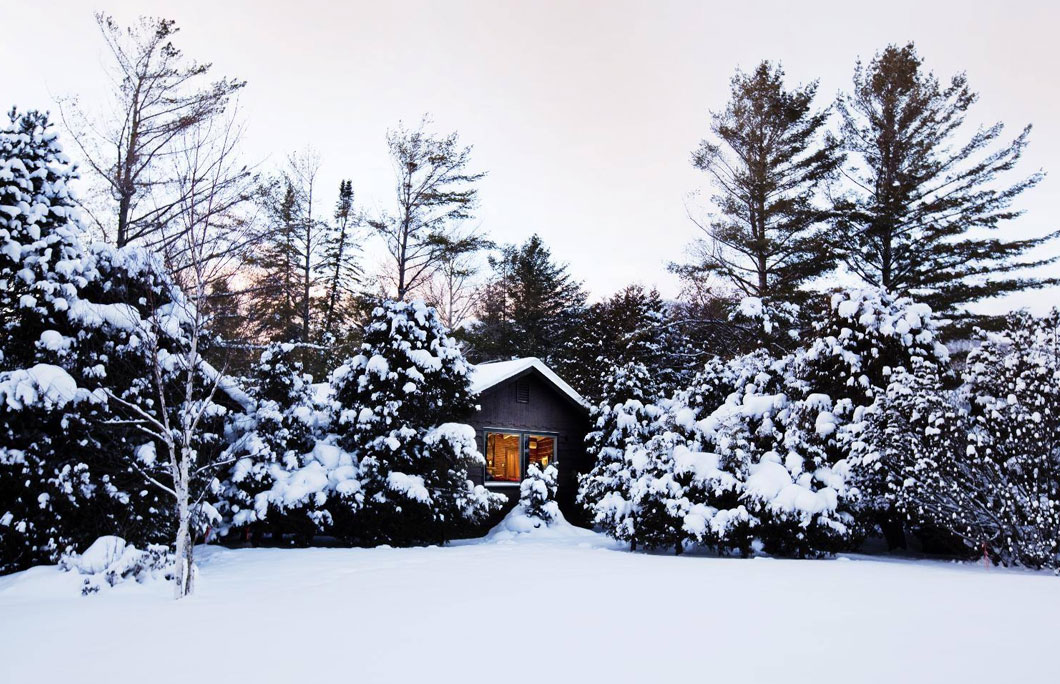 25. Lake Placid Lodge, Lake Placid (New York)
Lake Placid's only waterfront hotel is also one of its most prestigious. Fans of HBO's The Succession will recognise it too. You can choose to stay in the Main Lodge, private cabins or the luxurious lakeside building. Interiors feautre antler-adorned walls and rolltop bathtubs, as well as sparkling frozen lake views. The lodge lights a night bonfire by the lake too, complete with hot chocolate, s'mores and stronger tipples.
---