Top 10 Things To Do in Ljubljana
Stroll around Preseren Square
Tour beautiful bridges
Feast at the Slovenian Food Market
Discover Ljubljana Castle
Tree bathe in Tivoli Park
Go wild in Ljubljana Zoo
Relax in riverside cafes
Watch a show at Krizanke
Gaze at Ljubljana Cathedral
Soak up the street art in Metelkova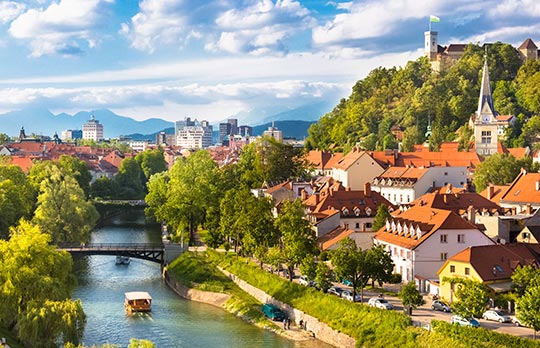 Ljubljana – one city, lots to see and do!
Scratching your travel itch with a trip to Ljubljana? Great choice – Slovenia's capital city is one of Europe's most eco-friendly cities and a first-class place to visit and live. One of the lushest capitals on the continent, it's peppered with green parks and graced by the gorgeous Ljubljanica River, which winds its way through the heart of the city. This provides a pleasant backdrop for cafes, picnics and get-togethers.
Cascading down from the hill which hosts its famous castle, Ljubljana effortlessly blends ancient and modern elements, unique history and vibrant culture. But first and foremost, it's an extremely friendly city where locals will go out of their way to welcome you.
A lively city with a bustling student population which supports the night-time economy, there are plenty of bars and clubs where you can let your hair down and it also boasts awesome architecture – with many bridges, buildings and ornamental edifices designed by the masterful Joze Plecnik.
There's so much to see in this jewel box of a city that your only problem might be packing it all in – so we've done the hard work for you and carefully collated Ljubljana's top 10 things to do!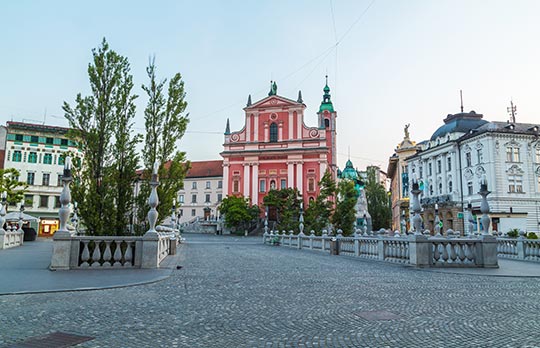 1. Stroll around Preseren Square
The beating heart of Ljubljana, Preseren Square sits right by the Ljubljanica River. This is the hotspot where the city meets to celebrate special occasions or to soak up the laid-back ambience any other day of the year. Named after poet France Preseren (who penned Slovenia's national anthem), it's the point where many of the city's main thoroughfares meet and features landmarks like the 18th Century Franciscan Church of the Annunciation as well as a fine statue to Preseren next to the Central Pharmacy.
2. Tour beautiful bridges
If bridges float your boat, you're spoiled for choice in Ljubljana. Don't miss the spectacular Dragon Bridge with its magnificent mythical gargoyles, Cobbler's Bridge, where citizens used to dunk dodgy bakers, and Butcher's Bridge (also known as 'the love bridge'), where you can leave your own miniature monument to true love in the form of a personalised padlock.
3. Feast at the Slovenian Food Market
You'll find the city's main food market located at the love bridge and if you're a foodie, this is definitely a spot you'll fall for! Absolutely packed with locally-grown produce, it's where locals shop for their culinary essentials – if you want pocket-pleasing deals on fresh fruit, vegetables and flowers, look no further.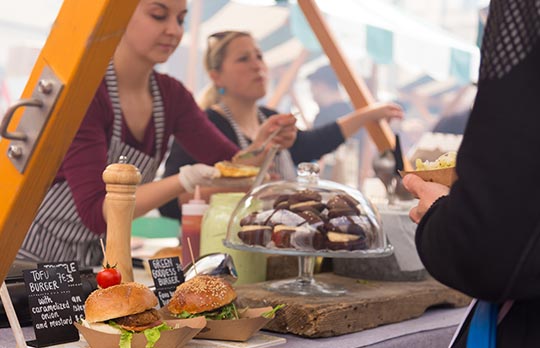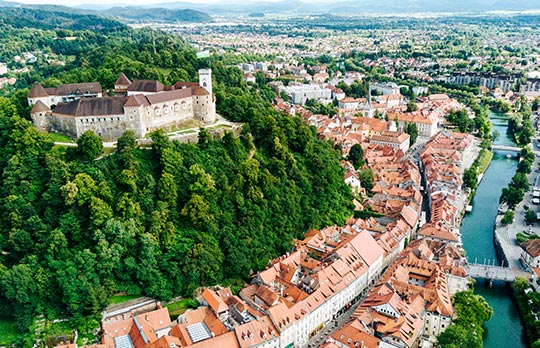 4. Discover Ljubljana Castle
Perched in a commanding hilltop position overlooking the city, Ljubljana Castle dominates the skyline and the easiest way to reach it is via the scenic funicular. First built a mind-blowing 900 years ago as a stone and wood fortress, it was rebuilt as an imposing arsenal in the 16th century to defend against Ottoman invasion and today houses a café and nightclub as well as the military buildings. You'll pay a small fee to climb the watchtower, but the panoramic view means it's a sound investment.
5. Tree bathe in Tivoli Park
Ljubljana's largest green space, Tivoli Park is easily accessible from the city centre, but a short stroll there instantly transports you to a more sedate vibe, complete with fabulous formal floral displays, manicured lawns, romantic fountains and winding walks lined with chestnut trees. If you're feeling energetic, the park extends to Roznik hill, where there are several lovely walking trails.
6. Go wild in Ljubljana Zoo
Ljubljana Zoo is nestled in a forest on the outskirts of the city and it's home to 119 species and over 500 animals. It's a popular family attraction and children can participate in feeding time, meet superstar animals and become a volunteer zookeeper for the day. Kids aged 8-12 can even camp overnight at the zoo and wake up to a dawn chorus of creatures from around the world.
7. Relax in riverside cafes
If people watching perks your interest, one of the most charming activities in Ljubljana is simply sitting with a coffee or glass of bubbly in a riverside café of your choice and watching the world go by. There are plenty to choose from and this is the ideal way to chill out after a busy day shopping or sightseeing.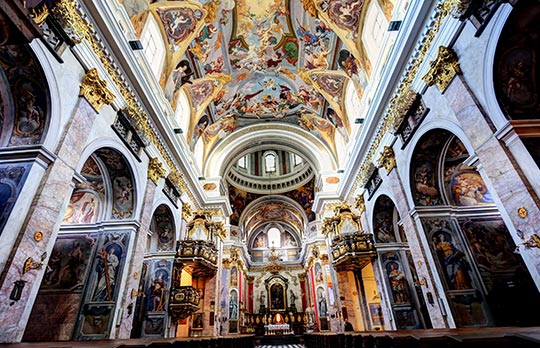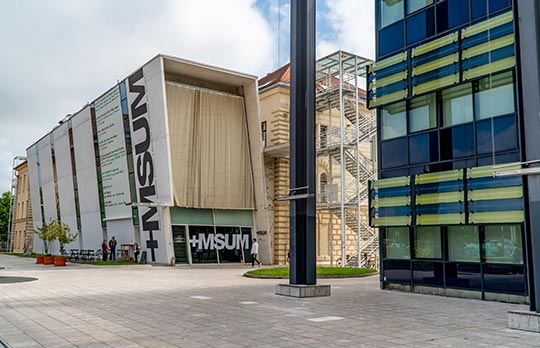 8. Watch a show at Krizanke
Converting this 13th Century Teutonic monastery into an open-air theatre complex was one of Joze Plecnik's last major projects and it's testament to his aesthetic vision and unique imagination. In summer months, the 1400-seat auditorium hosts concerts and plays and the complex is also home to a gorgeous 18th century church designed by Venetian master Domenico Rossi.
9. Gaze at Ljubljana Cathedral
Reappearing in various incarnations since it was first built in the 13th century, Ljubljana Cathedral has witnessed wars, fires and various other ravages of time and tide. Its current domed baroque design dates from the 18th and 19th centuries and ornate interior decorations were added by masters like Francesco Robba and Angelo Putti.
10. Soak up street art in Metelkova
Architecture in the city's Metelkova area wouldn't win the hearts of design purists, but its boho history as a hub for spectacular street art mean it's a magnet for aesthetes nonetheless. The many colourful murals here are striking and heart-warming, and you can even stay overnight in a 'cell' in the former military prison, now a trendy hostel.
We hope you enjoyed this list of 10 legendary things to do in Ljubljana – try them for yourself soon!