Best Algrave Beaches
Dona Ana beach, Lagos (Praia da Dona Ana)
Odeceixe beach, Aljezur (Praia de Odeceixe)
Carvalho beach (Praia do Carvalho)
Praia dos Três Irmãos beach, Portimão
Praia do Camilo beach, Lagos
Praia da Marinha (Navy beach), Lagoa
Praia de Benagil beach, Lagoa
Falésia Beach, Vilamoura (Praia da Falesia)
Aveiros Beach, Albufeira (Praia dos Aveiros)
Praia da Oura beach, Albufeira
Portugal's Algarve is blessed by vertiginous cliffs, verdant valleys, charming coves, beautiful bays, and awesome Atlantic waters skirted by beautiful beaches ̶ it's a magnet for millions of tourists from around the world.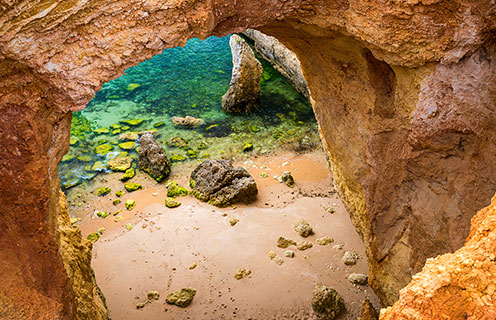 The Algarve stands for sun, sea and sand in beautiful southern Portugal
Resorts like Albufeira, Vilamoura and Lagos have hard-earned reputations for high-grade hospitality and delightful distractions here range from bustling bars and bouncing clubs to the serene lush lagoons and idyllic islands of Parque Natural da Ria Formosa and an undulating interior sprinkled with cork trees, citrus orchards, whitewashed villages and castellated ancient towns.
But if your main focus is sun, sea and sand, it's the Algarve's plethora of picturesque beaches that will stimulate your senses and set your pulse racing.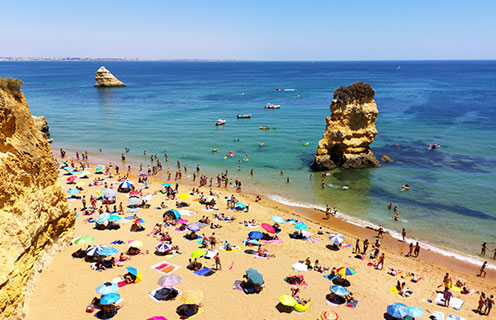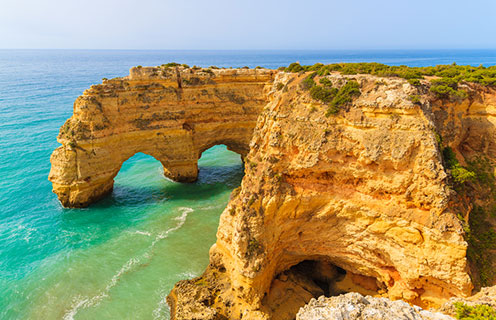 Images left to right: Praia da Dona Ana and Praia da Marinha
Let's hit the road and get to it, here's our guide to the region's top 10 beaches!
1. Praia da Dona Ana
The legendary Praia da Dona Ana beach is carved into the Ponta da Peidade headland and it has all the eye-popping ingredients you could wish for ̶ soft golden sands, tempting turquoise waters and rugged limestone cliffs creating a dramatic backdrop.
Facilities are fab and include showers and loos, chic cafes and lip-smacking restaurants. The calm waters, clean conditions, lifeguard supervision during the summer and a lack of jet skis and speed boats also mean it's a suitable sweet spot for families. A brisk walk takes you from the centre of Lagos to this beach in around 20 minutes but if you have kids in tow it's less hassle to throw a few essentials in the boot and head there in your car.
2. Praia de Odeceixe
A curvaceous crescent in the Costa Vicentina natural park, Aljezur municipality, Praia de Odeceixe is bordered by the Ribeira de Seixe river, therefore its unusual topography mean it boast both a languid lagoon for families and wild waves for surfers.
The beach itself comprises 330m of unspoiled golden sands with steep cliffs on the north side and a huge rock to the left which looks like a shark's dorsal fin. This is excellent hiking terrain and there are ample trails nearby, but if you want to try surfing, the Surf Seixe Academy and Odeceixe Surf school have classes for all abilities and if you already know how to hang ten you can simply hire a board and other equipment from these friendly establishments.
3. Praia do Carvalho
This lovely beach near Lagoa and Carvoeiro is a reasonably compact wedge of fabulous flaxen sands surrounded by cliffs that give it a cloistered, cosy feel, the waters are an amazing aquamarine hue and there's a distinctive sea stack jutting out of them front and centre.
The water is crystal-clear, so it's a superb spot for snorkelling, but the sea becomes very deep close to the shore and currents can be strong, so please bear this in mind for children and adult swimmers alike. You get to Praia do Carvalho through a tunnel through the rocks which has some fairly uneven steps and although this means a little more effort is required to get there, it also adds to the magical ambience.
4. Praia dos Três Irmãos
Três Irmãos means 'three brothers' and this refers to the three iconic, imperious rocks on this brilliant beach in the Portimão area. It's well-known for its many unusual honeycomb rock formations and caves, as well as its silky-soft light brown sands which feel heavenly between your toes.
The seawater here is a striking blue and so clear that you can see fish frolicking in the water, but some areas can be rocky and the waves are occasionally rough, so children should be careful. Praia Três Irmãos actually comprises four adjacent coves which you can stroll between during low tide, each has distinctive rock arches that are perfect backdrops for selfies and the two most easterly coves have restaurants.
5. Praia do Camilo
Located near Lagos, Praia do Camilo is a picture-postcard beach which is preternaturally beautiful and much-admired by travel journalists, tourists and locals alike.
To get to the beach you've got a thigh-burning 200-step wooden staircase to contend with, but the views as you descend are delightful and when you reach this secluded sandy haven you're instantly rewarded for your efforts. The coastal rock formations of Ponta da Piedade shelter the sea here, so it's very calm and the water is also shallow and warm, making it ideal for swimmers of all ages. For something a little more adventurous hire a kayak ̶ seeing the spectacular rock formations from sea level is thrilling!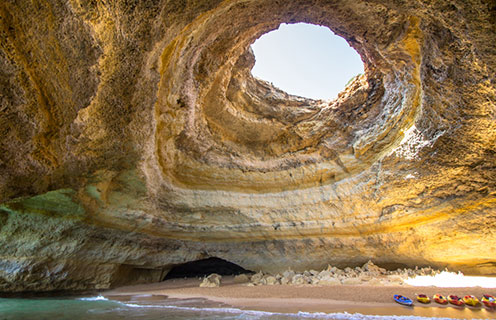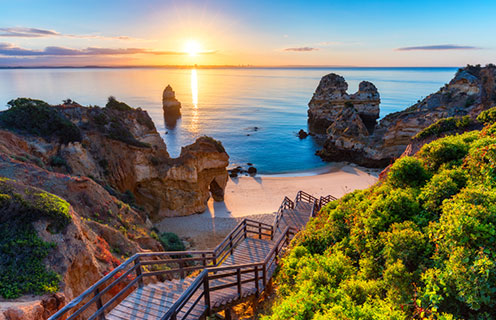 Images left to right: Praia de Benagil and Praia do Camilo
6. Praia da Marinha
This lovely beach near Carvoeiro is regularly rated as one of the best in Europe by travel gurus like Michelin and Lonely Planet ̶ Praia da Marinha might feel familiar even if you've never been before because it's often used in promotional photos showcasing the Algarve's scenic beauty.
Surrounded by towering cliffs and blessed by a sweeping stretch of sand studded with rock stacks, caves and arches, this beach combines the best features of all its competitors to dramatic effect. The M Rock on the right-hand side of the beach is its trademark and when viewed from the cliffs above it forms a heart shape ̶ an apt symbol for a beach every visitor falls in love with.
7. Praia de Benagil
The jewel in the crown of this marvellous beach near Lagoa is the jaw dropping Algar de Benagil cave. You can stretch out on the cool sands here and gaze at the blue sky through a large hole in the roof and out towards the sea through the arches to the front ̶ it really is a unique experience to treasure. If you're a strong swimmer you can reach Algar de Benagil under your own paddling power but getting there via boat or kayak is safer.
The beach itself is quite compact and backed by striking cliffs that look like an oversized slice of puff candy. The seawater here is very clean but feels a little cold at first, however there are no stones and this is an advantage it has over many rival Algarve beaches.
8. Praia da Falesia
This one-of-a-kind beach stretches for more than six kilometres from Vilamoura westwards to Olhos de Água near Albufeira ̶ accompanied around half of the way on the Albufeira side by steep ravishing red cliffs peppered with pine trees and pretty flowers.
The west side near Albufeira is home to several luxury hotels which capitalise on the dramatic cliffside views and this section is known as Açoteias, while the east side nearer Vilamoura is referred to as Alfamar and here the cliffs are much lower, the beach is wider and the water is shallower, making it more suitable for kids ̶ you can dive and surf, while beachside restaurants offer sumptuous seafood and sundowner cocktails.
9. Praia dos Aveiros
This Blue Flag beach of Praia dos Aveiros is located in the Areias de São João area close to the centre of Albufeira and it's a dazzling diminutive gem that's small in size but big in terms of natural beauty.
This compact cove is complemented by the type of signature rock formations common to the Algarve, the sand is a gorgeous golden hue and the calm crystalline water is wonderful for swimming and snorkelling. Despite being close to Albufeira, Praia dos Aveiros isn't usually busy, so it's a serene spot where you can while away a few hours in exclusive privacy and if you visit at low tide there are hidden coves and awesome rock arches to the east ripe for exploration.
10. Praia da Oura
If you're based in Albufeira and are looking for a beach that's significantly livelier than Praia dos Aveiros, neighbouring Praia da Oura is a prime pick ̶ it's a perpetually popular evening excursion amongst young tourists because of its close proximity to Albufeira's bustling bars and restaurants, but also suitable for families who want to have fun here during the day.
A wide sweeping beach with gold sand and rock formations in awe-inspiring autumnal colours, Praia da Oura is monitored by lifeguards during the summer, the water is reasonably warm and pleasant and there are caves and coves to explore, although please be careful as the currents can be strong in these areas. If you want a lively beach that's close to the hip strip, this is it.
And voila! Your countdown of the Top 10 beaches in the Algarve is complete ̶ all you need to do next is find a fab package deal, book your hire car with Enjoy and get ready to have the time of your life in one of the most prepossessing places on the