Driving in Austria – 15 Things You Need to Know
Driving license laws
What to do in an emergency
Speed limits in Austria
Correct side of the road & parking
Drink driving regulations
Confirm cross-border travel
Watch those Vienna trams
Yield to the right
Austria motorway driving & vignettes
What to pack in the car
Overtaking and warning of approach
Seatbelts & child restraints
Winter driving
Roadworks
Bogus police
Austria – a gorgeous place to hit the road
Awesome Austria – what a place it is. From the imperial splendour of Vienna to vertiginous Alpine peaks, this famous European nation is a land that blends extremes with characteristic elegance. A country whose culture is still infused with the outrageous wealth of the Hapsburg Dynasty – evident in everything from museums creaking with masterpieces by Klimt and Rubens to concert halls reverberating with sublime notes from Mozart and Schubert.
The scenery is nothing short of spectacular. From mountain valleys to wildflower meadows and glaciers to rushing rivers, it stimulates the senses like few places on Earth. And this natural terrain is the perfect playground for campers, skiers, snowboarders, hikers and mountain-bikers, as well as anyone who prefers gentler pursuits like camping and stargazing. You'll also find enough fairy tale castles to fill a whole library, and fresh organic cuisine prepared to Michelin-starred standards. As you can imagine, this is a magnificent place to explore on four wheels – rent a car in Austria here at Enjoy Travel and embrace this bountiful destination to the maximum!
Now, let's get rolling with those Austrian driving tips.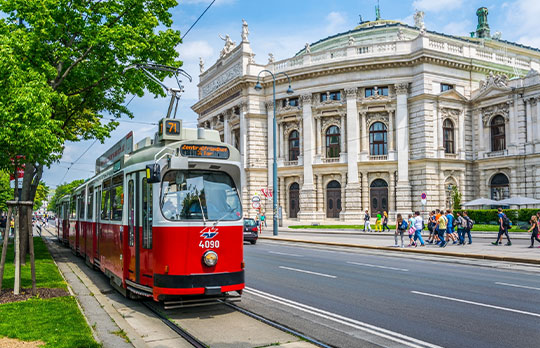 15 things you need to know about driving in Austria
Driving license laws
You'll most definitely need to carry your valid license to drive in Austria and you should have held it for at least one year. Depending on the type of car, you must be at least 19 to rent a vehicle and some rental companies apply a young driver's surcharge if you're under 25. Please check the terms and conditions with your hire company before booking.
What to do in an emergency
Motorways in Austria have emergency lanes on both sides called rettungsgasse. You should safely move as far left or right as possible into these lanes as soon as you're aware of an emergency vehicle close by. In the unlikely event you find yourself in an emergency situation in Austria (or anywhere else in Europe), dial 112 right away and speak to an operator in their own language, English or French.
Speed limits in Austria
Always stick to the speed limit in Austria. It's 30km/h-50km/h in built-up areas, 100km/h on main roads outwith built-up areas and 130km/h on motorways. Observe the signage carefully and keep a keen eye on your speedometer.
Correct side of the road & parking
Always drive on the right in Austria and overtake on the left. Interestingly though, for around 20 years between the late 1920s and early 1930s, different states had different rules. For instance, Vorarlberg switched to right-hand driving in 1921, but Vienna stuck with left-hand driving until 1938 – when Germany invaded and insisted everyone drove on the right. As far as parking goes, it's only allowed on the right side of the street. And not permitted in front of red or yellow lines, within a 3m distance from any fire hydrant, and on white lines at bus stops. Parking regulations are enforced rigorously and cars that don't comply are regularly towed away.
Drink driving regulations
As you know, the best policy with alcohol and driving is not to touch a drop if you plan on getting behind the wheel anytime soon – even the day after. But for clarity, the drink driving limit in Austria is 0.5mg of alcohol per ml of blood. Please also note that in certain circumstances (one of which is the license owner being under 20 years of age), the legal limit drops to 0.1mg of alcohol per ml of blood.
Confirm cross-border travel
Fancy hiring a car in Austria and then driving into Eastern Europe. Practically speaking, this is perfectly achievable from a base in say, Vienna. But be careful, because not all car rental firms and contracts permit this type of cross-border travel. It's vital that you have permission beforehand from your rental partner – don't just hop behind the wheel and take off on an international tour.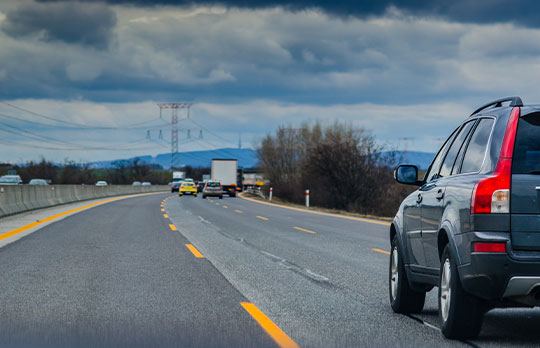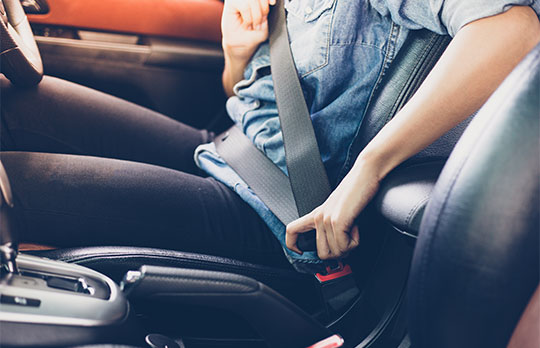 Watch those Vienna trams
Driving in Vienna? You can't miss the city's distinctive red trams (known as 'Bims'). But you must drive carefully around them – you don't have to stop your car or pull over to the roadside the minute you see one in the distance, but otherwise it's best to assume they have priority at all times.
Yield to the right
As is the case in most of the European continent, vehicles coming from the right have priority. Practically speaking, this means that if you're making your way along a road and approach a turn off to the right, cars entering your road from that turn off have priority (although this doesn't apply when they have a 'give way' sign). In main cities, junctions are controlled via traffic lights, so there's less confusion – but please bear in mind the 'yield to the right' rule in residential areas and on more minor roads.
Austria motorway driving & vignettes
This is a nation with a very efficient motorway system. But every vehicle weighing up to 3.5 t must have a vignette to use it (this includes cars). A toll sticker has been mandatory for driving on motorways in Austria since 1997 and nowadays you can also buy a digital vignette online. Check the official site and in a click you can purchase a vignette that lasts 10 days, 2 months or a year.
What to pack in the car
Apart from your driving license and vignette, other items to carry in your car in Austria include your insurance certificate, vehicle registration documents, a reflective vest or jacket, first aid kit, headlamp adjuster and warning triangle. If you're planning a road trip, you should also probably pack travel money, a travel plug, warm clothing, games and activities for children, a road atlas and back up for your Satnav.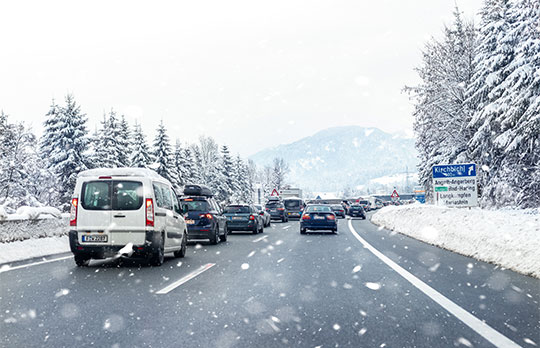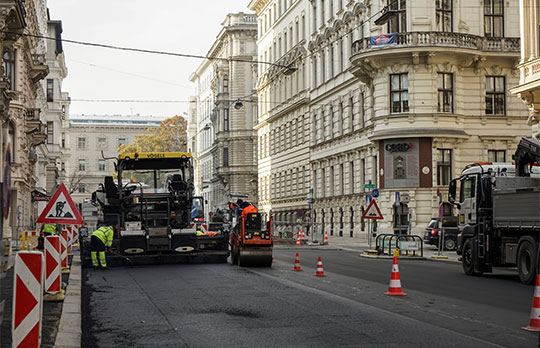 Overtaking and warning of approach
In basic terms, you drive on the right and overtake on the left in Austria. You're not allowed to overtake on and on the approach to pedestrian crossings and when making the manoeuvre would involve crossing an unbroken white line. A bit more about those trams – you are only permitted to overtake a tram provided no passengers are impeded or put in danger and if there is at least 1.5m space to do so.
Seatbelts & child restraints
The driver and all passengers in the vehicle must wear seatbelts or the appropriate restraints in Austria. If you're driving, you're responsible for the safe transport of children under the age of 14. Children under 14 and under 135cm tall should be secured using an appropriate restraint (like a baby seat, child seat or booster seat), while those taller than 135cm should fasten their seatbelts. Child seats can be used in the front passenger seat, but if the airbag is activated, the child seat must be secured facing forwards. It is only permissible to use a rear-facing child seat if the airbag is deactivated.
Winter driving
Driving in Austria during winter can be challenging. But apart from taking even more care and attention than usual, between 1st November and 15th April, you can only drive in conditions when roads are covered in snow, slush and ice if you have winter tyres on your car. If you're caught without them, you'll be levied a 35 Euro fine. And if you don't have winter tyres and authorities decide that this has endangered other road users, the fine can rise to as much as 5000 Euros. All in all, the best plan by far is to comply.
Roadworks
You'll often encounter roadworks in Austria as authorities are constantly maintaining the system – particularly in the motorway and major road infrastructure. Use a Satnav to find the most direct route possible but also listen to the English language radio channel FM4 (91-105 FM) for the latest roadworks and traffic news.
Bogus police
Last but not least, a bit of an unusual note of caution – beware of bogus policemen. If you're driving on the motorway in lower Austria, authorities warn tourists about fake policemen wearing plain clothes but police caps, travelling in cars with electronic signs in the back windows requesting you follow them or stop your vehicle. Remember that all Austrian traffic police wear a uniform and in the unlikely event you encounter a plain clothes officer, they will automatically present ID for you to look over. If you find yourself pulled over and something doesn't feel right, call the dedicated Police emergency number 133 and ask for assistance.