Top 10 Barcelona Road Trips
Montserrat
Penedes Wine Region
Collserola
Sitges
Girona
Tarragona
Figueres
Cadaques
Montblanc
Tossa de Mar
A sparkling jewel in Europe's cultural crown and one of the world's most distinctive and iconic cities, Barcelona is a spellbinding metropolis by the sea which is packed full of otherworldly architecture and blessed by an awesome arts scene and amazing cafes, bars, restaurants and nightclubs. If it's your first time visiting, it's almost certain that you'll want to return as soon as possible – while if you haven't been for a while, you'll instantly remember why it's so magical.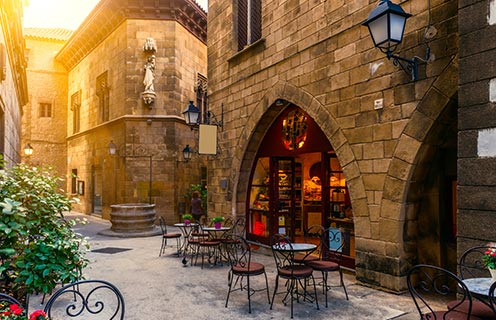 Considering a Spanish break?
The architectural attractions here include excellent examples from across 2000 years of history, such as well-preserved Roman remains, ancient temple columns, fortified city walls and a gorgeous Gothic quarter which features expansive leafy plazas and immaculate 14th-century cathedrals. This is also the home of Gaudi's surreal Sagrada Familia and major museums celebrating the artistic visions of Joan Miro and Pablo Picasso.
The architectural attractions here include excellent examples from across 2000 years of history, such as well-preserved Roman remains, ancient temple columns, fortified city walls and a gorgeous Gothic quarter which features expansive leafy plazas and immaculate 14th-century cathedrals. This is also the home of Gaudi's surreal Sagrada Familia and major museums celebrating the artistic visions of Joan Miro and Pablo Picasso.
Stepping away from the (considerable) cultural attractions for a while, Barcelona is also blessed by beautiful beaches lapped by the crystalline Mediterranean and your fun in the sun can comprise anything from a gentle dip followed by leisurely sunbathing to people-watching along the promenade and activities like kayaking, paddleboarding and hiking. If you're active and sporty or simply a self-avowed sun-worshipper, you'll absolutely love it here.
As night falls over the captivating Catalonian capital, there's entertainment aplenty every evening, with sundowner cocktails on scenic terraces followed by dancing the night away to everything from flamenco beats to jazz and hip-hop in any number of trendy venues. There's something to suit every taste and you can party well into the next morning if the mood takes you!
Outwith the city proper, Barcelona is a superb springboard for exploring the rest of the semi-autonomous region of Catalonia and beyond – and while public transport is available, nothing beats the peace of mind provided by independent car travel in the exclusive company of your own family or social group. Hiring a car in Barcelona with Enjoy Travel is child's play and you can choose anything from a cool convertible to a roomy saloon or even a rugged SUV – whatever best suits your style and needs.
Tips on driving in Barcelona
Your top 10 Barcelona road trips are ready and waiting for you – skip right ahead if you like but it might be worthwhile hanging around for a few handy Barcelona driving tips.
You drive on the right in Spain and cars pass and overtake each other from the left, while cars approaching you from the right have priority.
Mobile phone use is not permitted, and fines are steep – up to 300 Euros. Seatbelts are obligatory and kids under 10 years of age aren't allowed to travel in the front of the vehicle. Meanwhile, speed limits are 50 km/hr in cities, 90 km/h on rural roads and 120 km/h on motorways.
There are many roundabouts in Barcelona. Avoid them if possible but otherwise the best advice is to take the middle lane until you can locate your exit and proceed with caution.
With your Barcelona driving refresher tips under your belt, it's time to hit the track for your scenic road trips!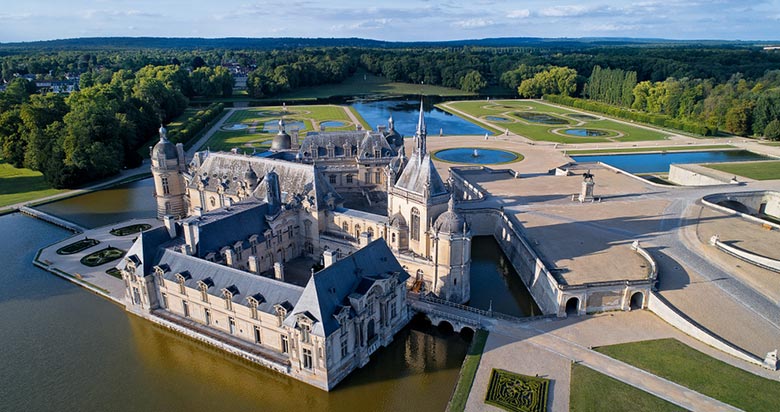 1. Montserrat
Home to a magnificent monastery which is Catalonia's most sacred site, Montserrat mountain offers awe-inspiring views of the surrounding countryside (especially from the Sant Jeroni peak) and if you're lucky you might even catch a choral performance in the beautiful basilica. Take the funicular 20 minutes down from the monastery and you'll also see Santa Cova – a 17th century chapel built where shepherds had visions of the Virgin Mary.
Getting there: Montserrat is 60 km from Barcelona via the B-10 from Via Laietana, A-2 to Carretera Manresa and finally, C-55 to BP-1121.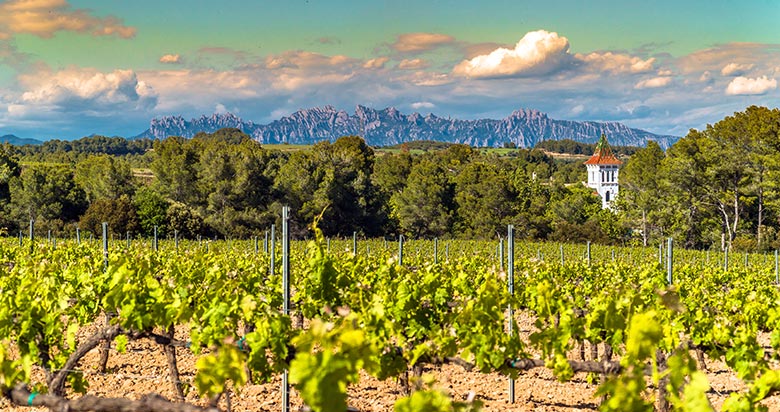 2. Penedes Wine Region
The lush Penedes Wine Region lies just south of Barcelona and it's one of Spain's most important as it's the heartland for the production of cava and also boasts some highly-rated reds and whites. The rolling scenery is sublime but if you're a vino obsessive you'll need a designated driver in order to take full advantage of a winery tasting session followed by a delicious Catalan lunch – this is a rare treat for diehard foodies.
Getting there: Penedes Wine Region is just 45 minutes from Barcelona via the AP-7 motorway.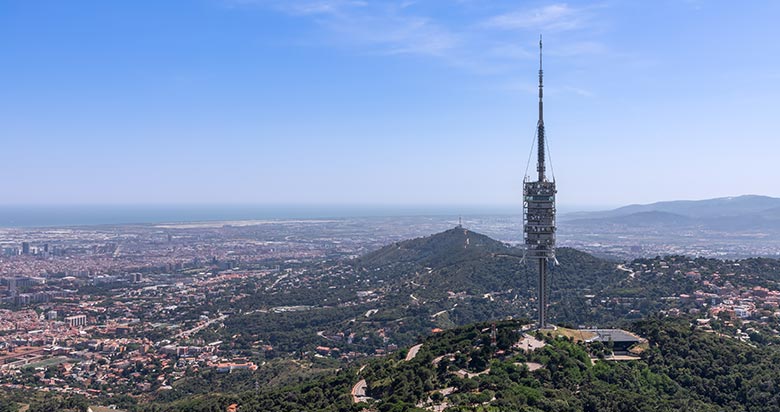 3. Collserola
Set in the hills above Barcelona, Parc de Collserola is a favourite hangout spot for Barcelona locals who want a break from the hustle and bustle of city life. This lush park is criss-crossed by wonderful walking and cycling trails and there are plenty of rustic restaurants where you can enjoy authentic food and refreshments.
Getting there: Collserola is only 25 minutes northwest of Barcelona via Av. de l'Estatut de Catalunya.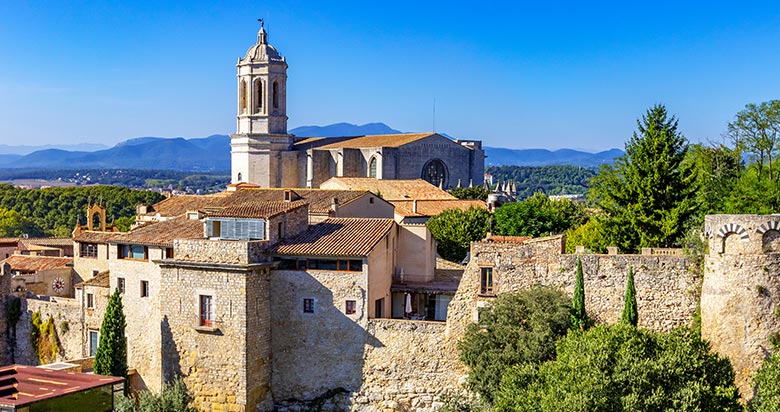 4. Sitges
One of the Costa Brava's most beautiful beach towns, Sitges is within striking distance of Barcelona and certainly worthy of the pleasant drive to get there. There are no less than 17 beaches to suit all tastes here, lots of cool whitewashed buildings, serene streets to wander around and a legendary party scene which kicks in every evening – this is the home of the world's first Pacha nightclub.
Getting there: Sitges is 45 minutes westwards from Barcelona via the C-32.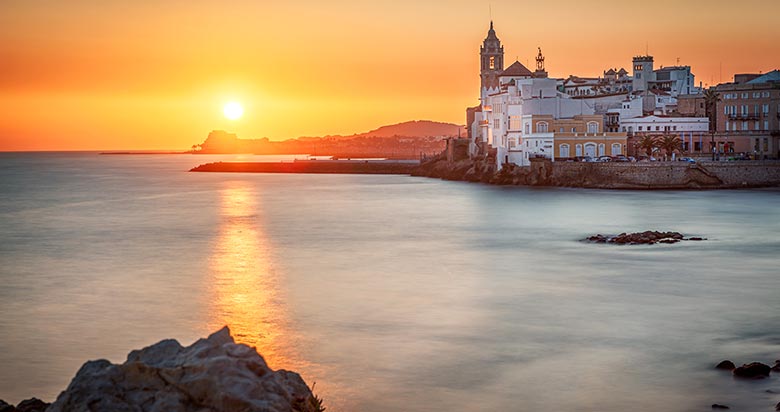 5. Girona
A historic town of old multi-level houses decorated in kaleidoscopic colours and tight coloured streets, Girona is full of fascinating things to see and do. There's an interesting museum dedicated to the town's Jewish history and its ornate Arab baths were a filming location for Game of Thrones. There are some pleasant walks by the banks of the River Onyar and the newer part of town is home to some excellent restaurants.
Getting there: Girona is around one hour and 20 minutes from Barcelona along the AP-7.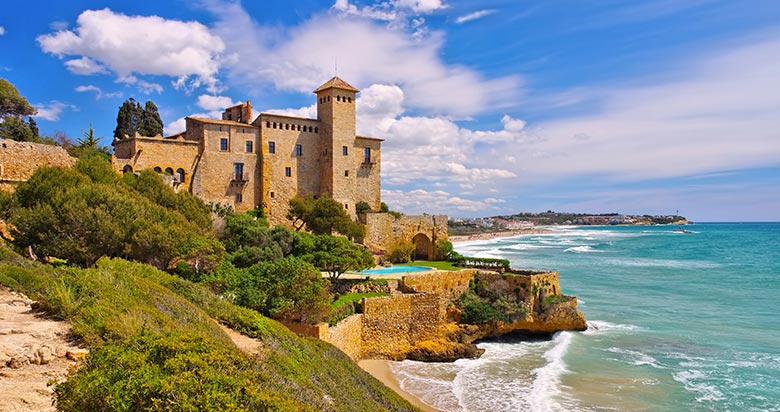 6. Tarragona
If you're a history buff, a visit to Tarragona is a must. This town is replete with relics from several civilisations, including an amazingly well-preserved Roman amphitheatre and aqueduct, a Gothic cathedral and an atmospheric old town with a range of architectural styles from across the ages. This is a fulfilling road trip for anyone who appreciates ancient cultures.
Getting there: Tarragona is one hour and 15 minutes along the coast from Barcelona via the C-32 and AP-7.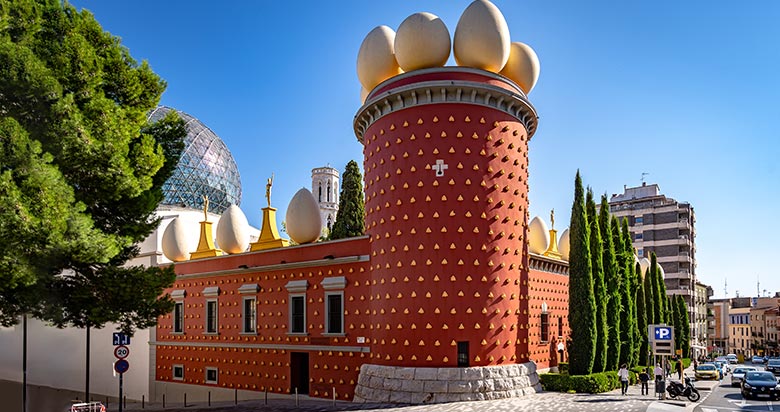 7. Figueres
You'll find some interesting modernist architecture in Figueres, as well as the impressive 18th century Castell de Sant Ferran. However, many visitors make a beeline for the Teatre-Museo Dali – a truly mind-blowing temple to surrealism designed by the master Salvador himself, complete with bright red walls peppered with giant eggs and strange statues. The interior is a treasure trove of original paintings and outrageous optical illusions that are truly mesmerising – an unforgettable experience!
Getting there: Figueres is one hour and 40 minutes north of Barcelona via the AP-7.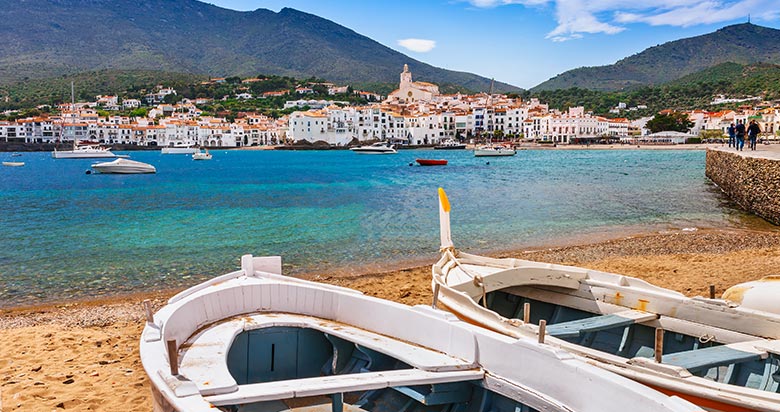 8. Cadaques
A picture postcard fishing village on the Costa Brava, Cadaques is peppered with whitewashed, terracotta tiled buildings gathered around a serene bay with a backdrop of lush green hills. Walking around the sublime beaches and romantic hidden coves of the Cap de Creus, you can see why this amazing landscape influenced both Pablo Picasso and Salvador Dali.
Getting there: Cadaques is two hours and 20 minutes from Barcelona via the AP-7.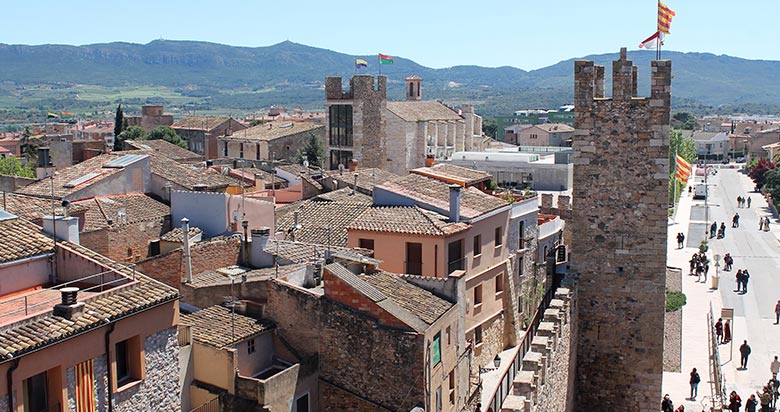 9. Montblanc
A fine example of a castellated Medieval town, Montblanc is a worthy road trip destination in its own right. But it's also an excellent base camp for conquering the Cistercian Route, which takes in three beautiful monasteries in close proximity to each other – Poblet, Vallbona de les Monges and Satbes Creues. For a trip into the spiritual past of the region, Montblanc is hard to beat.
Getting there: Montblanc is 125km west of Barcelona via the C-31.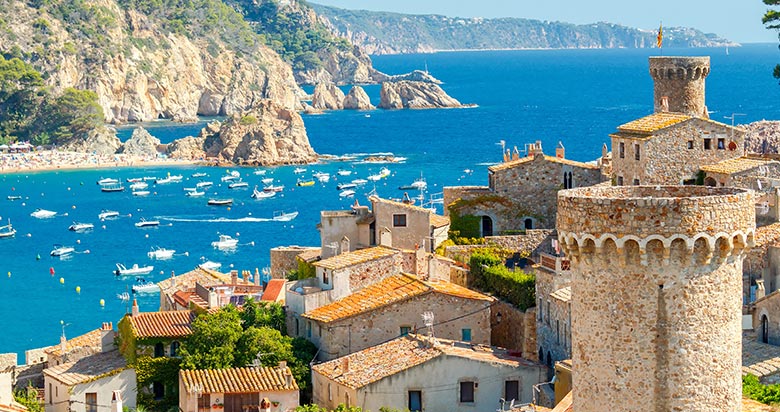 10. Tossa de Mar
A terrific coastal resort with a fortified old town, Tossa de Mar is a dynamic day trip destination where you can see well preserved turrets and a lighthouse, as well as a number of super beaches ideal for sunbathing and water sports. One of the most beautiful and secluded beaches is Cala Pola, which is several kilometres out of town through a thick forest trail. For a day beside the seaside with a difference, Tossa is a top-notch choice.
Getting there: Tossa is one and a half hours from Barcelona along the C-32.
These top ten road trips from Barcelona showcase the best of Catalonia and beyond – hire a car from Enjoy Travel and set off for adventure!