The 10 Best Road Trips From Tallinn
ahemaa National Park
Paldiski
Otepaa
Soomaa National Park
Haapsalu
Prangli Island
Jagala Waterfall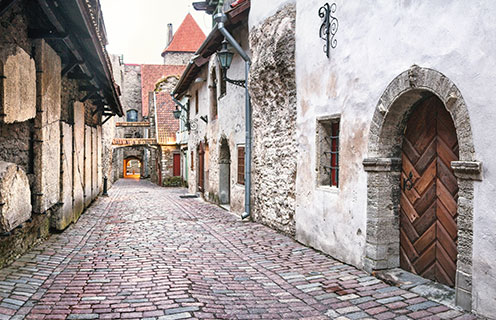 10 scenic drives from Tallinn
Taking a trip to Tallinn? You're in for a real treat – Estonia's capital city is one of the best-preserved medieval cities in Europe and rivals any city in the world in terms of sheer beauty. Its hypnotic skyline features sleek church spires, terracotta tiled towers and ornate onion dome rooftops and it's home to first-rate hotels, fine restaurants and fashionable boutiques. The historic Old Town is still the place to be, with its ancient Raekoja Plats marketplace overlooked by the medieval hilltop stronghold Toompea, with the sylvan island of Aegna and serene Kadriorg Park also within easy reach.
History and architecture buffs in your travel party will appreciate the 19th century St Nicolas's Church, which has an extensive collection of religious art, and the romantic spired Church of the Holy Ghost, which dates from the 17th century and features a fabulous carved wooden interior. And if you're interested in military history in this part of the world, don't miss the Air Harbour – a giant hangar originally built by the Russians to store WWI sea planes, which now houses mind-blowing exhibits like the legendary Lembit submarine, naval guns, a WWI biplane and the ice-breaker Suur Toll ship.
There are pubs and clubs aplenty in Tallinn and if you're getting in the groove, most play a mix of contemporary chart hits and pop tunes from across the decades, but club nights for niche genres are also held regularly. Meanwhile, if you really want to relax, how about a traditional sauna? Towels are optional even in mixed saunas here and don't be offended if someone swats you with a birch branch – this supposedly gets your blood circulating and increases the detoxifying effect! Facilities will either have revitalising cold showers or plunge pools which you can hop into to cool down afterwards and the entire experience is thoroughly refreshing.
Hire a car in Tallinn from Enjoy Travel and some spectacular road trips are available too – there are a number of amazing national parks within easy reach, as well as towns and cities which each have their signature charms.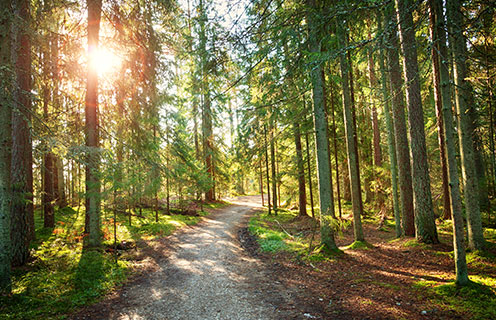 Top tips on driving in Tallinn
We'll get cracking with your top 10 Tallinn road trips soon, but let's take a look at a few tips for driving in Tallinn and Estonia first.
You'll need to bring your full, valid UK driving license with you and you must be 18 to drive (although many car rental companies have a minimum age of 21). You should use winter tyres if you're hitting the road here between December 1st and March 1st, the driver and all passengers must wear seatbelts (or appropriate restraints) at all times, and you should keep your headlights on while driving at night and during the day.
You drive on the right and overtake on the left in Estonia – at junctions, vehicles arriving from the right have priority and you're not allowed to overtake a tram that has stopped to let passengers on or off. The main service stations are Neste, Statoil and Lukoil and most accept major credit cards. There are no motorways here but the speed limit on expressways is 90km/h (sometimes increased to 110km/h during warm summers when road conditions are better). In built-up areas, the speed limit is typically 50km/h but please refer to local signage to keep yourself right.
Now we've reviewed the Estonian rode code, let's get started with those jaw-dropping road trips!
Lahemaa National Park
One of the loveliest national parks in the whole of Estonia, Laheema is just a short drive from Tallinn and features soft sand beaches, dense forests and impressive wildlife like brown bears – so be careful where you put that picnic basket. You can sunbathe, hike and even try bog swimming when the weather's nice – it's much more enjoyable than it sounds!
Getting there: Lahemaa National Park is 40 minutes from Tallinn via Narva/E20.
Helsinki, Finland
Fancy driving to a completely different country from Tallinn? The ferry from the Estonian capital to Helsinki, Finland takes just two hours and it's a great opportunity to experience a new culture. You'll enjoy the fine restaurants, Neoclassical architecture and stylish Punavuori design sector. If you don't want to rush, why not stay the night? For a manageable road trip to a different nation, this Tallinn to Helsinki adventure is hard to beat.
Getting there: the total journey time from Tallinn to Helsinki is 3 hours 10 minutes, via the E67 and ferry.
Paldiski
If Cold War history floats your boat, you'll love a day trip to the abandoned Soviet missile bases at Paldiski. You'll pass dramatic sea cliffs dropping into crystalline waters on the way, and at Paldiski proper, as well as the former military installations, there are striking waterfalls, monastery ruins and Murru Prison quarry – which not only affords panoramic views from its watchtower, but also has semi-submerged buildings that are popular diving exploration sites.
Getting there: Paldiski is 50 minutes from Tallinn via Route 8.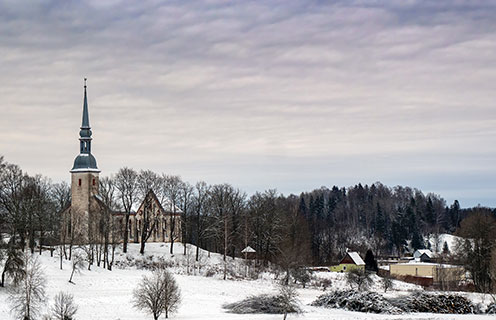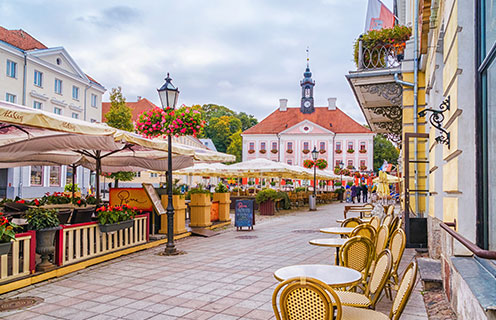 Otepaa
A small town nestled in the undulating countryside of south Estonia, Otepaa is renowned as the nation's winter capital and offers excellent seasonal conditions for skiers and snowboarders. Cross-country skiing is available as well as downhill and you can even skate on the Puhajarv lake when it freezes over. In summer, you can sunbathe on the sandy lake shore and hike the well-ordered trails of the surrounding nature reserve.
Getting there: Otepaa is two hours 20 minutes from Tallinn via Tallinn-Tartu-Voru-Luhamaa/Route 2.
Tartu
Estonia's second city, Tartu is a bustling university town with a charming cobbled main square surrounded by elegant buildings, plus there's wonderful wooden architecture in the Soup Town district. As you might expect from a student area, the cultural scene is diverse and dynamic – there's some superb street art and the nightlife includes jazz clubs, cool independent cinemas and hip clubs.
Getting there: Tartu is two hours from Tallinn via Route 2.
Soomaa National Park
A shapeshifting ecosystem in southern Estonia, Soomaa National Park features peat bogs, woodlands, rivers and coastal sand dunes – all of which you can explore via a network of raised wooden walkways. But what makes it even more magic is that when it floods in April/May, it stays open so you can explore it in kayaks and even stay overnight on one of the temporary islands that appear at this time of year.
Getting there: Soomaa is one hour and 50 minutes from Tallinn via Tallinn-Parnu-Ikla/Route 4.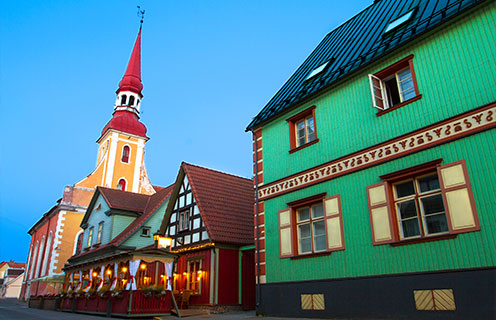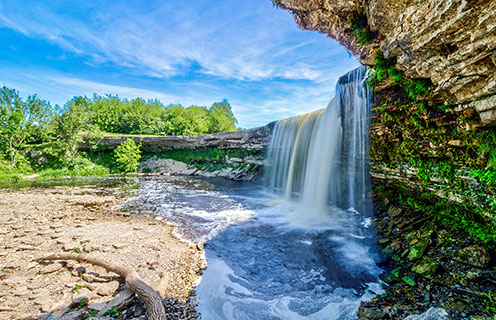 Haapsalu
Located a reasonably short drive away from Tallinn, Haapsalu is a classic Estonian seaside resort with silver sand beaches, a picturesque promenade and distinctive 19th century wooden villas. This spa town is famous for mud that's said to have health-giving properties, so it's worth a whirl if you like alternative therapies. There's a lovely early 20th century train station and once you park up your car you can catch the mini tourist train that takes you around town on wheels.
Getting there: Haapsalu is one hour and 20 minutes away via Aasmae-Haapsalu-Rohukula/Route 9.
Parnu
Beloved by Estonians as the nation's summer capital, Parnu is a large city by area that isn't densely populated, so it never feels hectic. Temperatures here are as pleasant as you'll find anywhere in the Baltics and the long sandy beaches are perfect for laid-back summer days. When you want a seaside break where you can chill out or try a variety of watersports, this day trip hits the nail on the head.
Getting there: Parnu is one hour and 35 minutes from Tallinn via Route 15/Route 4.
Prangli Island
The only island located off the north coast of Estonia, Prangli is a doable day trip from Tallinn and well worth the effort. This tiny island is home to around 100 inhabitants and covers only 6.5 square miles, but its unspoilt scenery is awe-inspiring and welcoming locals speak their own distinctive dialect. Accessible via ferry from the mainland, landmarks here include a lovely wooden church, striking boulders and an authentic pub and restaurant.
Getting there: Prangli Island is one and a half hours from Tallinn, via the ferry that leaves from Leppneeme Port, 30 minutes' drive from the city.
Jagala Waterfall
A short run from Tallinn in your hire car, Jagala Waterfall in Harju County is the widest in Estonia, spanning 50 metres. It looks amazing at any time of year but it's particularly mesmerising in winter when it's semi-frozen and covered in overhanging icicles. Other nearby attractions include the Saula Viking Village and the Bronze Age graves at Rebala Museum. This trip combines scenery and history – divine!
Getting there: Jagala Waterfall is just 30 minutes from Tallinn via Narva/E20.
Take these top 10 road trips from Tallinn and experience the full force of Estonia's beauty.