Cannot decide whether to choose Brussels Vs Amsterdam?
Brussels and Amsterdam are two popular European city break destinations that are reachable by Eurostar. Both capital cities have tonnes to do for tourists. Brussels is famous for Tintin, luxury chocolate, brilliant beer and the European Union. Amsterdam on the other hand is famous for its beautiful houses, coffee shops, canals and nightlife. Each city has a unique character and charm but give two different experiences. If you are having trouble deciding between a trip to Brussels or Amsterdam, our helpful guide to each city should help you make up your mind.
Brussels Vs Amsterdam: How to Choose Between the Two
Overview – is Brussels or Amsterdam better?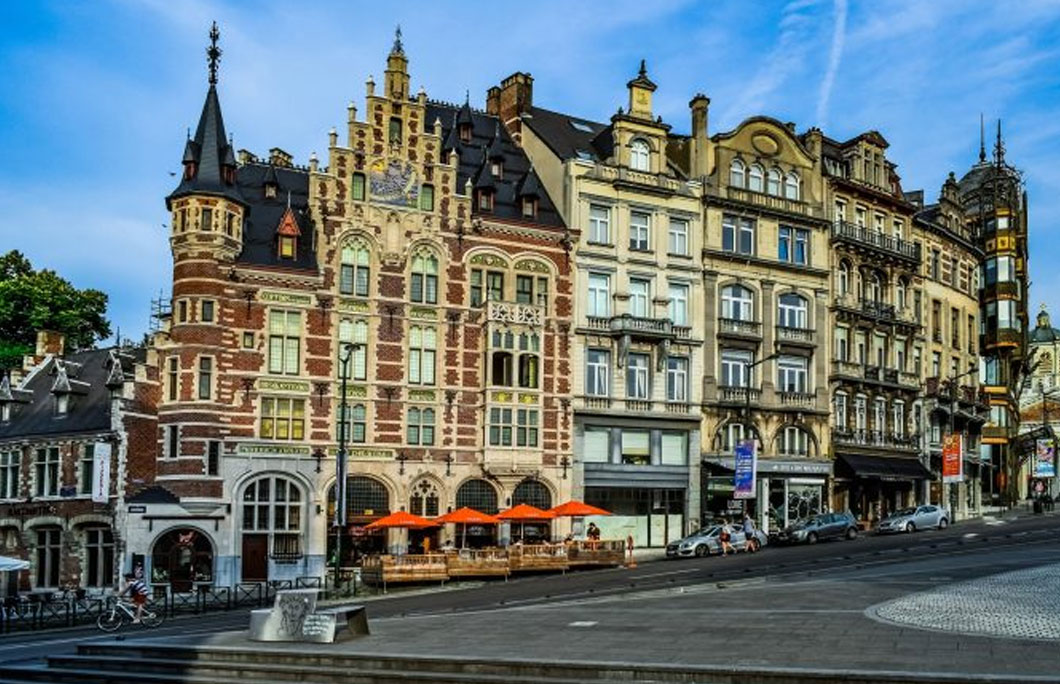 Brussels is the seat of the EU and as a result, is known as the Capital of Europe. With so many international workers, Brussels is a true global city. It is wonderful hearing so many different languages being spoken as you travel around. The city is small and compact, making it ideal to explore on foot and soak up the atmosphere of the narrow cobbled streets of the medieval old city. The French-style boulevards never feel crowded and lots of lively bars and restaurants line the pretty squares. During the week the city pulsates to the beat of people rushing to and from work but on the weekend and holidays the city seems to empty out and there is a calm and chilled vibe to the centre.
Amsterdam is famous for its canals and when you see them, you'll know why it is nicknamed Venice of the North. In fact, Amsterdam has 165 UNESCO protected waterways, with its Canal Ring dating back to the 17th-century. It truly is one of the most unique cities in Europe. Apart from the canals, the city also attracts tourists with its impressive art collections, pretty parks, insightful museums and, of course, its lively nightlife, Red Light District and cannabis coffeeshops. The vibe is laid back and liberal, but the streets can feel rather busy at times especially at night with lots of partygoing tourists.
---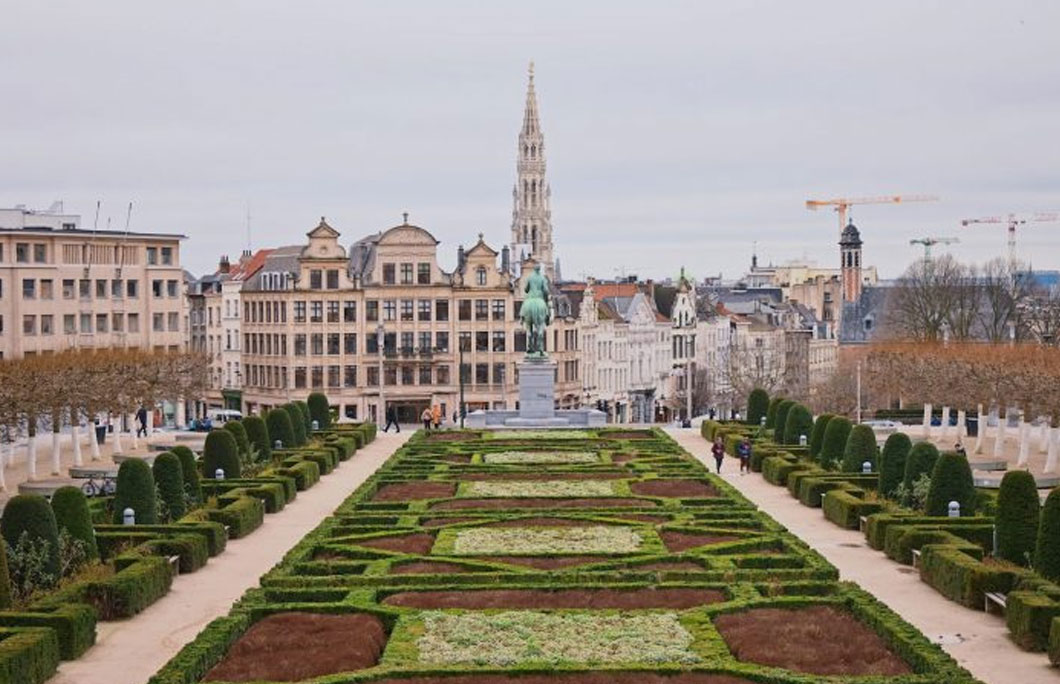 Brussels
Brussels is a quirky city with a lot of unique attractions. It's actually a great family destination too with museums dedicated to comics, classic cars and chocolate. It is also a top destination for those who enjoy cultural institutes as there are over 70 museums and art galleries. Perhaps the most iconic landmark of the city is the Grand Palace. This square in the heart of the city is considered by many to be one of the most beautiful squares in Europe. It is flanked by opulent Baroque buildings, the splendid Town Hall and the neo-Gothic King's House, which now homes the Brussels City Museum. The square is a UNESCO World Heritage Site and there is usually some sort of performance or festival taking place in these grand surrounds. One of the most spectacular is the carpet of flowers which is laid each August.
For art lovers, there are two great museums at the Muses Royaux des Beaux-Arts de Belgique (Belgian Royal Museums of Fine Art). The Muse d'Art Ancien is where you'll see pieces by Rubens, Memling and Bouts. At the Muse d'Art Moderne, you'll see works by Picasso, Francis Bacon, Henry Moore, Chagall and Rene Magritte. A rather quirky and fun museum is the Belgian Centre for Comic Strips.
Brussels is a great short break destination because of its compact size and walkability. Walking really is the best way to get around Brussels as you can stumble across elegant squares and parks and monuments and architecturally interesting buildings.
Top Tip: Save some money and buy a Brussels Card. You'll get free admission to many tourist attractions and unlimited transportation use. There are also discounts on dining.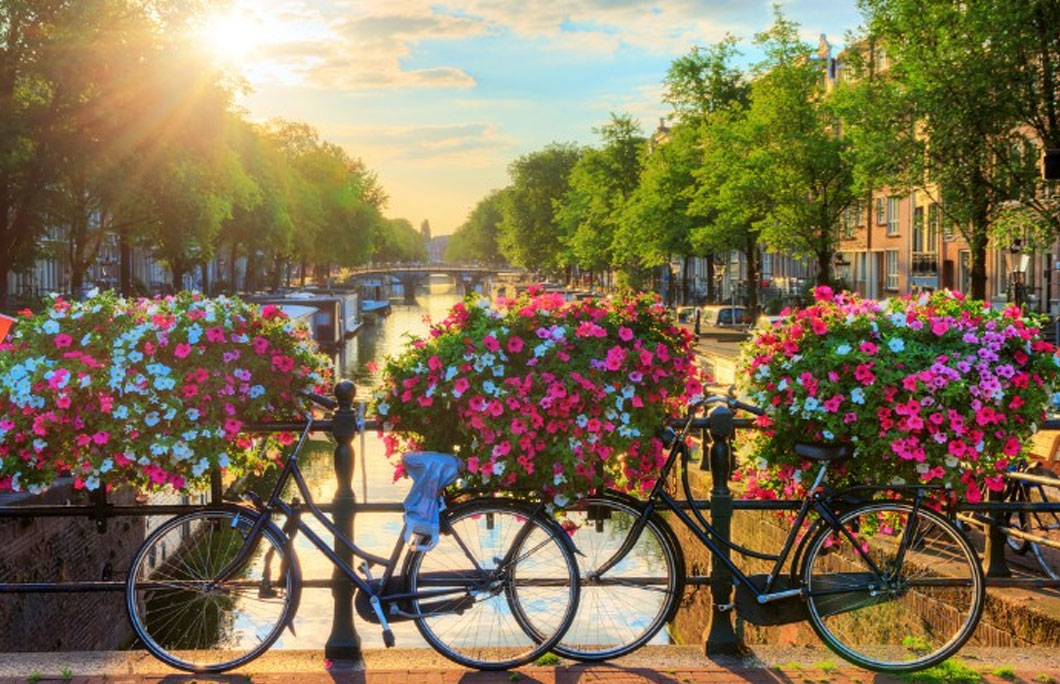 Amsterdam
Amsterdam's canal system is one of the most iconic landmarks in the world. So there is no better way to get to know the city than a stroll or a cycle along the canal banks. The 165 canals cover 100km and feature over 1,500 monuments and sites of importance. When your feet get tired, hop on a boat and cruise down the canals. It is a wonderful way to explore these iconic waterways.
Amsterdam has a thriving arts scene with a mighty amount of museums, galleries and other cultural institutions, for example, theatres and operas houses. Some of the most popular art galleries in Amsterdam include Galerie De Appel, Galerie Delaive, Herman Brood Gallery and Galerie Paul Andriesse. However, the big player is the Van Gogh Museum. Here you'll find almost a quarter of the famous Dutch painter's works as well as the works of Claude Monet, Paul Gauguin and Maurice Denis, to name but a few.
The Rijksmuseum, next to the Van Gogh Museum, attracts around a million tourists each year who come to view the works of the Dutch masters. These include Jan Steen, Vermeer and Rembrandt.
Amsterdam is also home to Anne Frank Huis. This biographical museum is where Anne and her family lived before going into hiding.
For some respite from the city, head to Vondelpark and laze on the grass or admire the flowers and enjoy the people watching and free concerts.
---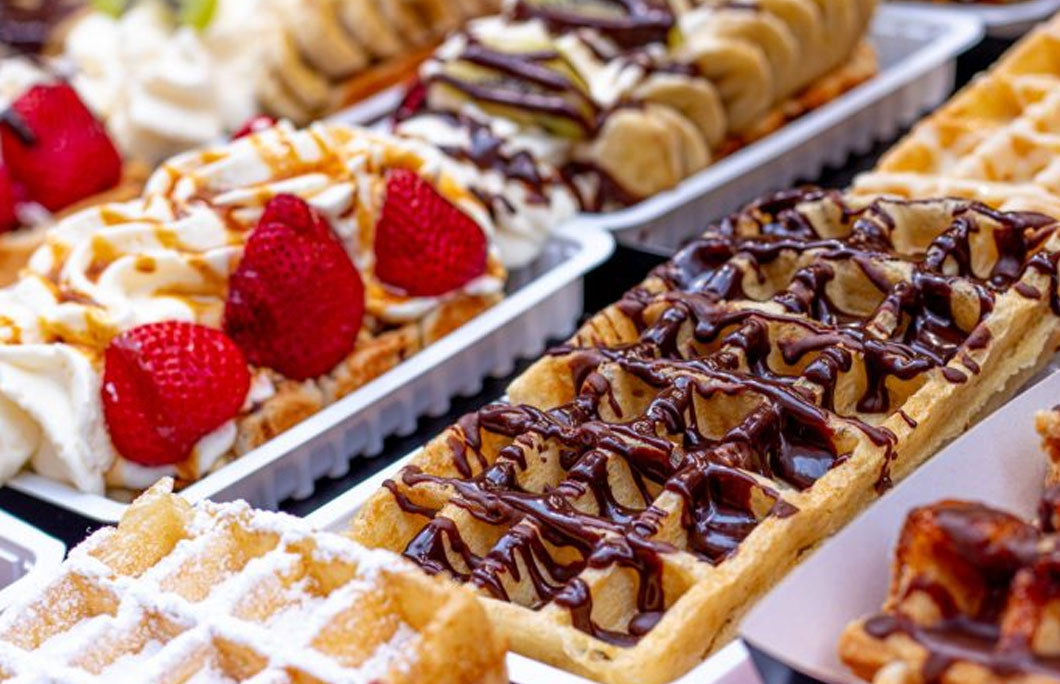 Hot gaufre (waffles) covered in syrup and cones of frites (fries) covered in mayonnaise are just some of the culinary delights you can enjoy in Brussels. Adults, you can wash these down with some refreshing Belgian beers too. Being such a multicultural city, this is reflected in the diverse restaurant scene. You can eat all kinds of international dishes. However, if you want to keep it local, make sure you try moules frites (mussels and fries), praline chocolates and Boulets à la Liégeoise (meatballs). Brussels has a great selection of local craft brewers so be sure to seek out some of these beers in one of the many pubs.
Amsterdam is a fab food city, especially for those with a sweet tooth. Pancakes, stroopwafel and Dutch apple pie are a speciality. There is a great variety of restaurants stretching from dive bars to Michelin stars. To sample the local cuisine, order up some bitterballen (deep-fried crispy meatballs) and patat (thick-cut loaded fries). For adventurous types, try the raw herring ordered from the haringhandels (herring carts) on the street. Speaking of street food, Foodhallen is a great gastro destination with over 30 stalls laden with all manner of foods. Like Brussels, local craft brewers are plentiful and you can try the regional beers all across the city.
---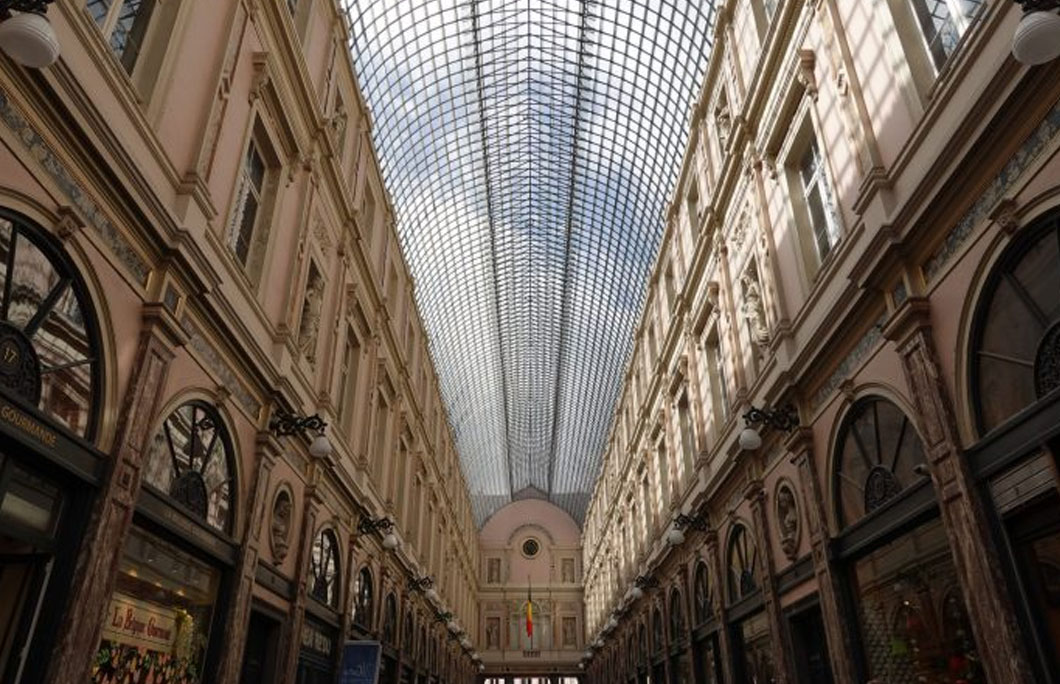 Shopping in Brussels is wonderful and you'll find some beautiful arcades like the Royal Saint-Hubert Galleries. In the city, there are plenty of independent fashion designers and beautiful boutiques. A popular shopping area is Rue Neuve and for clothes shopping, make your way to Avenue Louise. For local crafts and gifts, pick up some chocolate, beer and lace. For luxury brands and designer boutiques, browse the stores on Boulevard de Waterloo and Rue Antoine Dansaert.
Amsterdam is a great city for shopping as it has a mix of high-street, designer, art, antique and quirky independent shops. The best street for shopping for brands is Kalverstraat but Jordaan is best for independent galleries, antique stores and boutiques. Make like the locals and shop in De Negen Straatjes neighbourhood for vintage finds and speciality boutiques. For bargain hunters, Europe's largest flea market, IJ-Hallen takes place once a month at NDSM Wharf.
---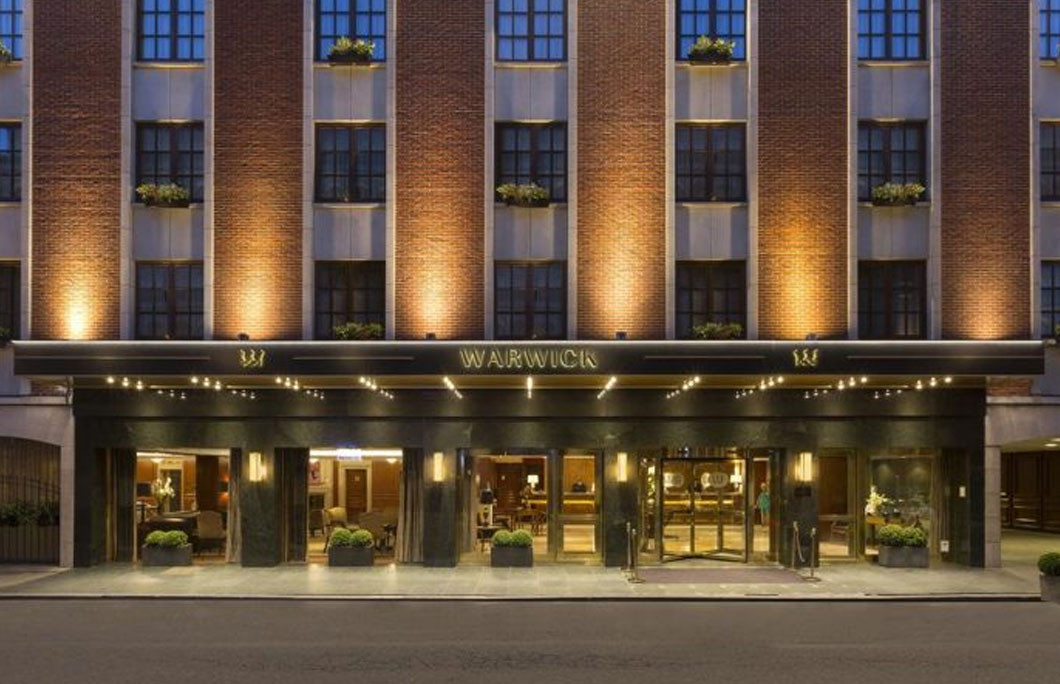 When it comes to accommodation, Brussels is cheaper than Amsterdam. So this is something to bear in mind when you are planning your trip.
For first-timers to Brussels, if you want to be close to all the main sights, look for accommodation in the heart of the city near to the Grand Palace. You'll pay a premium but it will be worth it to be surrounded by such grandeur. The Sablon (or Zavel) neighbourhood is lively and upscale with chic cafes, bars and restaurants. Here you'll find a decent variety of accommodation for those with a more mid-range budget. For those looking for a bargain bed, book a place to stay in the Saint Gilles neighbourhood.
Being so compact, wherever you decided to stay in Amsterdam, you'll be close to the sights and attractions. It's best to pick a district that suits your style and look for hotels there within your budget. For instance, for old-world elegance, Jordaan and Oud-West are two great areas where you'll find townhouses and apartments to rent, as well as hotels. If you are looking for more budget options, but still want somewhere stylish and comfortable, look at accommodation in the Oost district. You'll pay a premium for a room with a canal view, but it really is a beautiful sight to wake up to and fall asleep to each night.
---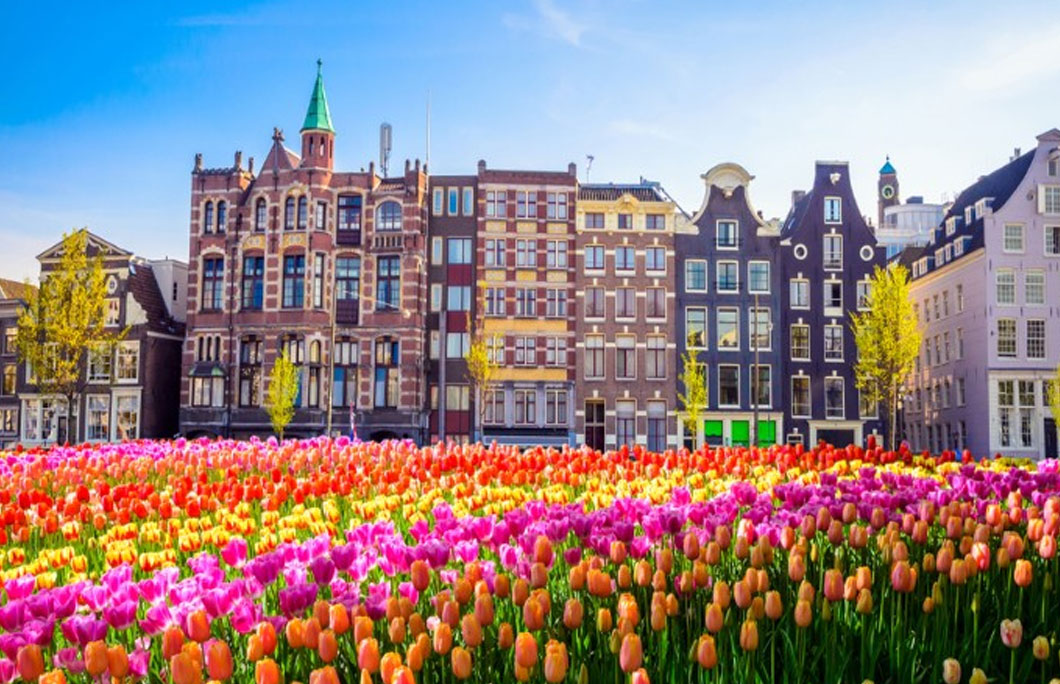 Brussels has a temperate climate. Unlike many European cities, Brussels doesn't get uncomfortably hot in the summer. In fact, summer is one of the best times to visit Brussels as there are so many festivals and events happening. Spring and autumn are also good weather-wise but it can get chilly. Brussels is quite a rainy city, so pack an umbrella. Winter is cool and damp but not unbearable. Winter is a good time to visit if you like Christmas markets and all the seasonal festivities.
Like Brussels, Amsterdam also has a temperate climate. This means moderate winters and mild summers. Springtime is the best time to visit to see the blooming, colourful tulip fields, the weather is rather pleasant too. Summer isn't too hot but the crowds can be rather bothersome. Late summer and autumn are better for avoiding the crowds. Winter is chilly, however, this is when the Amsterdam Light Festival takes place. This is a stunning display of light sculptures all along the water. If you don't mind the cold, this is a great time to visit Amsterdam.
---