Top 10 Road Trips From Nicosia
Farmakas
Kalopanayiotis
Ancient Kourion
Pano Panagia
Kyrenia
Famagusta
Machairas
Kato Drys
Pera Orinis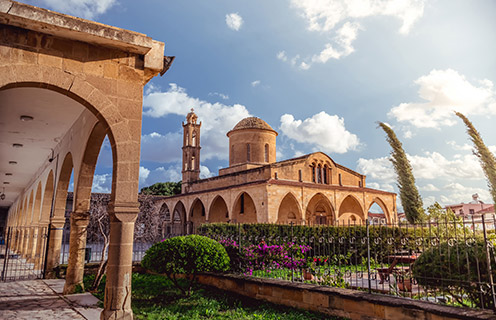 10 scenic road trips from Nicosia
So you're off to Nicosia soon? We're jealous! Also known as Lefkosia, the oft-overlooked capital of Cyprus is the beating heart of the island's culture and a historically fascinating city with a vibrant street-life which is a rewarding place to spend your time. The Old Town is still where the action is – within its noble Venetian walls you can wander through winding lanes as mosques, churches and colonial buildings materialise at every turn, then cool off at one of its many welcoming cafes and bars. This is also the world's last divided capital, and you'll see the famous Green Line (UN Buffer Zone) which designates the division of the northern Turkish part of the city (and island) and the southern Republic.
Situated on the Mesaoria plain on the banks of the Pedieos river, Nicosia has been a human settlement for 4500 years and is named after Lefkosia, the siren daughter of Acheloos and Melpomene. A financial and commercial hub for the Middle East as well as the Mediterranean, Nikosia isn't known as a tourist hub but has much to recommend it to visitors. Historical hotspots in the Old Town include the Leventis City Museum, Cyprus Museum and Shacolas Tower, while at the Cyprus Handicrafts Centre you can pick up unique gifts crafted lovingly by local artisans. The city's eastern side is also worth exploring. Here you'll find the ornate Ottoman-era Omeriye Mosque and impressive Hadjigeaorgakis Kornesios House, the Archobishop's Palace, and the Agios Ioannis Cathedral, whose simple exterior contrasts with a richly adorned interior complete with several intricate frescoes, a carved, gold leaf iconostasis and the throne where all Archbishops are officially crowned.
With beautiful beaches, mountains and villages beyond the city, it's also an excellent launchpad for road trips to the rest of Cyprus and hiring a car in Nicosia is easy with Enjoy Travel
– with aeons of history and some of Europe's best scenery to discover, the only danger is you might not want to go back home!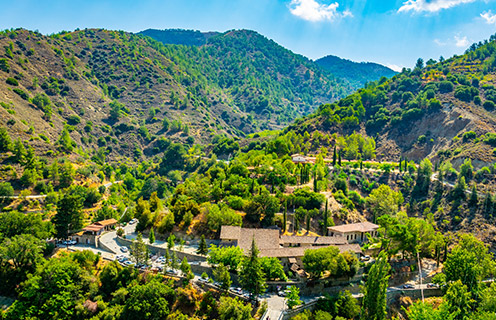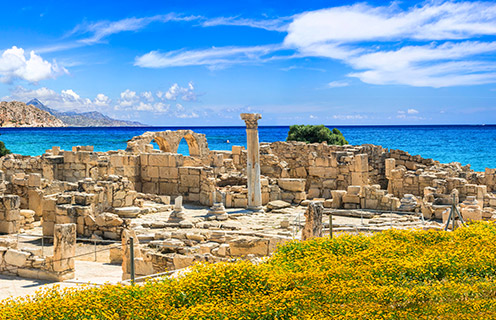 Top tips on driving in Nicosia
In Cyprus, you drive on the left-hand side of the road and overtake on the right – which is great news for British drivers. It's mandatory to wear seatbelts in front and rear, children under five can't travel in the front and children aged five to 10 have to use an age- and size-appropriate restraint system.
You're not allowed to eat or drink whilst driving in Cyprus, and drink driving isn't tolerated – you'll be subjected to a blood test if suspected of driving under the influence (0.05% alcohol/blood level). It's mandatory to use your vehicle lights in the time period between half an hour after sunset and half an hour before sunrise, smoking in a car with a passenger aged under 16 is illegal and you can't use your mobile phone while driving. The speed limit is urban areas is 50/65km/h, it's 80km/h on open roads and 100km/h on motorways/highways.
Now let's roll out for those 10 scenic Cyprus road trips!
Farmakas
A popular road trip destination for Nicosia weekenders, Farmakas is a picturesque village that dates back to Byzantine times, and it has a lovely setting in the mountainous Troodos region. The village's main church is dedicated to St Irene, designed in a stone-built basilica style and always worth looking around. You can refresh yourself with freshly brewed coffee and home-baked treats in the nearby coffee shop and various shops sell the fresh produce the village is famous for – including excellent wine and award-winning spoon sweets by Eleni Vasiliou.
Getting there: Farmakas is one hour from Nicosia via E903.
Kalopanayiotis
Another picture-postcard village that you'll instantly fall in love with, Kalopanayiotis is located in the mountainous Marathassa Valley and thanks to the sterling efforts of savvy locals, it blends traditional and contemporary attractions beautifully. You can indulge in retail therapy at Pramatouthkia Little Treasures, unwind your body and mind at Myrianthousa Spa and discover UNESCO-rated heritage at the medieval Lampadistis Monastery. Don't leave without taking the panoramic glass lift up to the village centre- the views are ace!
Getting there: Kalopanayiotis is one hour and 20 minutes from Nicosia via B9.
Ancient Kourion
This road trip is a must for history buffs. The awe-inspiring archaeological ruins of Ancient Kourion are the most magnificent in all of Cyprus and bring the history of the ancient city-kingdom to life. Intimately associated with the Greek legend of Argos of Peloponnese, Kourion flourished thanks to its control of the fertile Kouris river valley area until it was destroyed by earthquake on 365AD. The centrepiece is the stunning Greco-Roman theatre, and you can also see salubrious private villas with intricate mosaic floors still intact!
Getting there: Ancient Kourion is one hour 15 minutes from Nicosia via A1.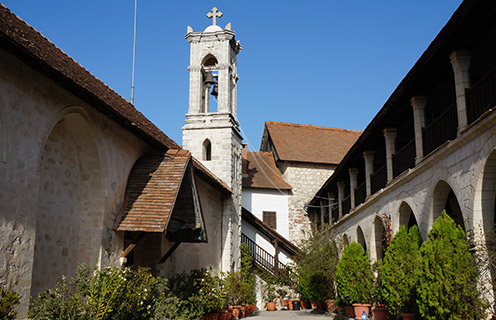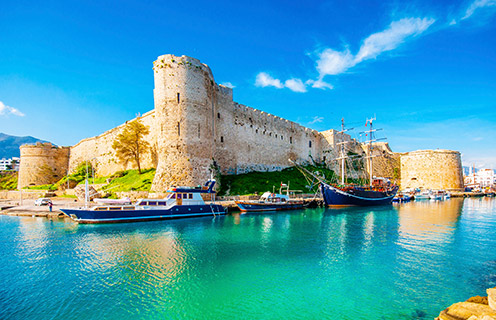 Pano Panagia
One of the most visually arresting areas in Latvia, Gauja National Park is a diverse terrain featuring scented pine forests, dramatic cliffs, rolling rivers (including the iconic Gauja River) and endless species of birds and mammals. It's teeming with biodiversity and includes cities like Celsis as well as traditional homes, castles and windmills dotted around the countryside. Whether you want to bike, kayak or relax with a riverbank picnic, Gauja National Park is endless fun.
Getting there: Pano Panagia is two hours from Nicosia via A1 and A6.
Kyrenia
Regarded as the jewel in the crown of Northern Cyprus, Kyrenia is a tranquil, visually-arresting harbour town where the laid-back atmosphere soothes your soul as you stroll along the seafront. Historical attractions include the castle and remains of the Lusignan walls, there's an excellent choice of restaurants and the lovely Bellapais Village is a short drive away – it's the inspirational setting of Lawrence Durrell's Bitter Lemons of Cyprus.
Getting there: Kyrenia is just 55 minutes from Nicosia via K25
Limassol
A hidden gem, Limassol is a seriously underrated city which is a dynamic Nicosia day trip destination. A network of streets and lanes spreads from the ancient castle and here you'll find everything from chic boutiques to sumptuous restaurants and bustling bars and cafes. There's a glam marina which is a hotspot for people-watching and a superb choice of beaches including Vouppa, Armonia, Onisilos and Loures. For sunbathing, shopping and chilling out, Limassol is an up and coming city you shouldn't miss.
Getting there: Limassol is one hour from Nicosia via A1.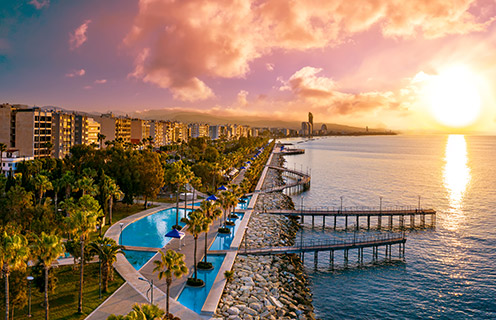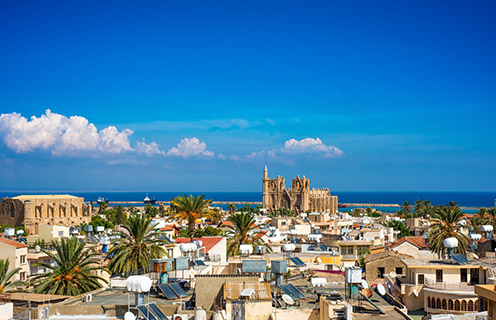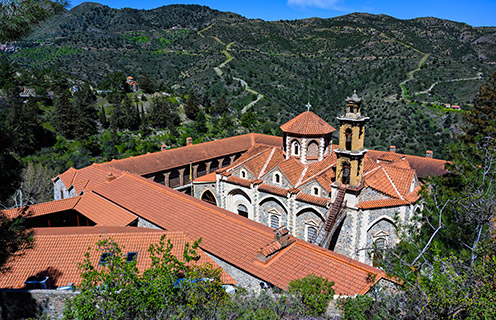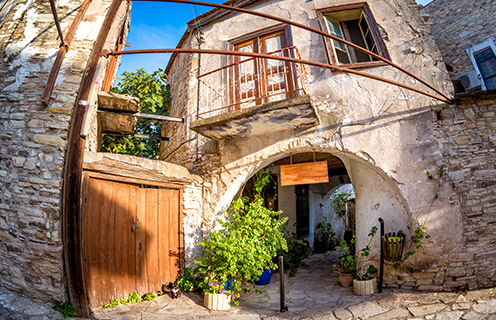 Famagusta
Another area of interest in Northern Cyprus, Famagusta is located east of Nicosia and is home to the island's deepest harbour. Its rich history is evident in historical sites like the Ancient City of Salamis and Lala Mustafa Pasha Mosque, but it attracts scholars of modern history because of its eerie ghost town vibes – it was bombed heavily following the Turkish invasion and strolling along the beach you can still see the remains of plush resort hotels left as if time has stood still.
Getting there: Famagusta is one hour 15 minutes from Nicosia via A3.
Machairas
The amazing Machairas Monastery is perched on the slopes of Kionia in the valley of the Machairas mountains and it houses the famous icon of Panagia (the Virgin Mary). An impressive complex which is homes to some of the most devout monks in the world, the monastery houses a vast collection of books, manuscripts and religious icons and you can visit for free all year round to see how it operates and learn more about its history.
Getting there: Machairas is one hour 10 minutes from Nicosia via E903.
Kato Drys
Translating as 'lower oak' in Greek, the bijous mountain village of Kato Drys is truly idyllic and has existed since the Byzantine period – it's the birthplace of the legendary Agios Neofytos the Recluse. Another stop on the island's 7th Wine Route, Kato Drys is famous for fresh produce like olive oil and carobs, and has lovely churches, museums and craft boutiques.
Getting there: Kato Drys is 50 minutes from Nicosia via A1.
Pera Orinis
A short skip from Nicosia, Pera Orinis village is located in the Tamassos area of Nicosia District and is worth visiting for scenic walks along the Pedhieos river and Tamassos Dam. It has also become a hub for agrotourism – you can stay for a few night in a comfy B&B here while learning skills like halloumi cheese making and chilling out with birdwatching and tree bathing in the mountains. Sounds divine!
Getting there: Pera Oris is 35 minutes from Nicosia via E903.
These top 10 road trips from Nicosia prove how diverse and enchanting the island of Cyprus really is – bon voyage!