10 Epic Road Trips from Annecy
Sixt-Fer-a-Cheval
Gorges du Fier
Geneva
Chambery
Cret de Chatillon
Lac de Roselend
Menthon Saint-Bernard
Chamonix
Jura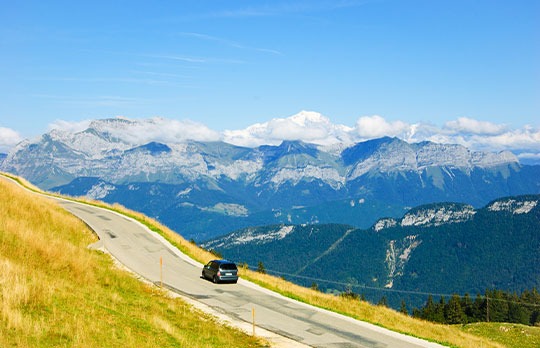 Top 10 scenic road trips from Annecy
So you're cooling off in Annecy for a while? Good for you! The largest city in the Haute-Savoie region of the French Alps is easy on the eye and a tonic for the soul. Truly one of the most preternaturally beautiful medieval settlements in the nation, it caresses the shore of one of the world's most pristine lakes and is guarded all around by majestic snow-capped mountains. All of which you'll know if you've been here for a while – you might even have strained your neck looking at so much natural loveliness each and every day!
Lake Annecy is definitely the main attraction and its two Blue Flag beaches (Plage la Brune and Plage Municipal) feature family-friendly playgrounds and sumptuous restaurants as well as jaw-dropping scenery and cool waters. And the old town is rather special too – wander around its crevices, corners and arcades and you'll soon understand why it was awarded the prestigious official Ville d'Art designation. Other attractions include the serene and elegant Jardins del'Europe, the romantic Pont Des Amours bridge (the legend goes that if you kiss your better half here, you stay together forever) and squat, imposing Palais de l'ile, which looks like it's floating magically on the water. And last but not least, Annecy is a great base for road trips to some spectacular scenery in France and beyond – which is great news when you fancy a change of scenery and varied vibes.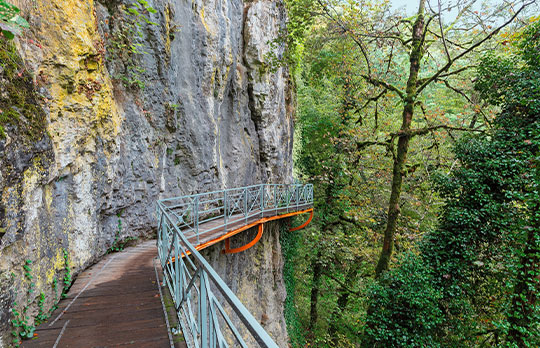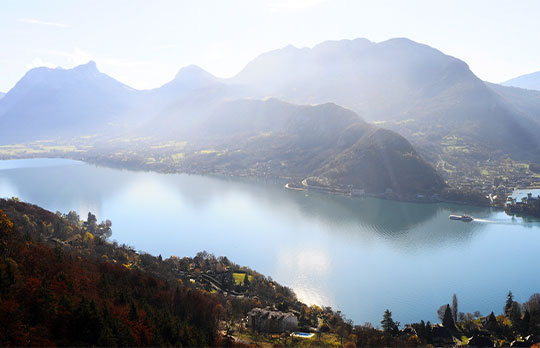 Top tips on driving in Annecy
Your road trips from Annecy will be here in two slinky swishes of a snowboard. But let's pause for some super-quick tips on driving here and in the rest of France.
First thing's first – don't even go near your car if you've been indulging in a spot of apres-ski. The alcohol limit for drivers who have less than 3 years' experience on the road is 0.2g per litre and it's 0.5g per litre for those with more than 3 years' experience.
Don't use your mobile when driving and don't wear headsets or headphones either – whatever your purpose for wearing them is, they're not permitted.
Watch your speed too – the limit has been lowered to 50mph on lots of A and B roads recently as part of a big road safety campaign. And dial 112 to connect with English-speaking operators if you need emergency services – they'll get you the help you need fast.
Let's get rolling with your road trips – tout suite!
Sixt-Fer-a-Cheval
One hour and 20 minutes from Annecy via A410, Sixt-Fer-a-Cheval is an ideal road trip destination for anyone whose idea of epic is rolling through mountains, around lakes and past waterfalls – with lots of wildlife on the way! There are outdoorsy activities like hiking and kayaking aplenty when you get there and if you visit in winter it's an ace area for skiing and snowboarding (as one of the Grand Massif ski resorts). You won't go hungry either – local establishments like Bar Le Tortillard and Chalet de Fer-a-Cheval are outstanding.
Gorges du Fier
Just 20 minutes from Annecy via Rte des Creuses/D16, a road trip to Gorges du Fier is deeply rewarding for anyone interested in natural scenery and spectacular geographical features. This super-narrow canyon is 25 metres deep but only 5 metres wide and it's packed with otherworldly rock formations. There's a footbridge over the River Le Fier that affords spectacular views (not for the faint-hearted) and as the sunlight hits the canyon at different times of day, it produces a chameleonic colour display that's really something special!
Geneva
Fancy a cracking road trip over the border into Switzerland? Geneva is only 45 minutes north of Annecy via the A41 and offers lots of lovely things to see and do. As it hosts the headquarters of the UN, WHO and WTO, there's always an international buzz about the place, the old town has dreamy cobbled lanes and Lake Geneva boasts the brilliant Jet d'Eau fountain. Culture vultures love the various museums and galleries and if you're feeling flush, why not treat yourself to a snazzy Swiss timepiece – you deserve it!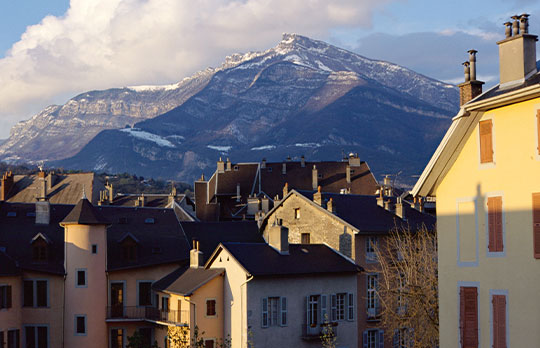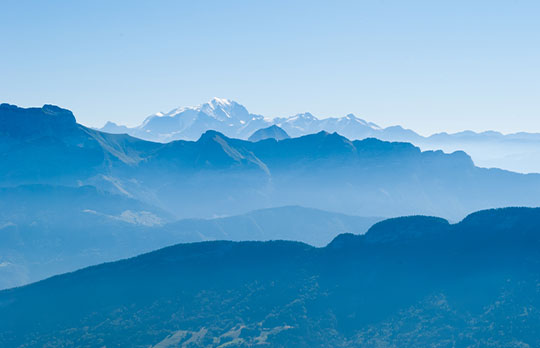 Chambery
45 minutes south of Annecy via some stunning scenery close to Maison du Parc Naturel regional du Massif, Chambery is a departmental capital too – but of Savoie rather than Haute-Savoie. Lac du Bourget is the jewel in the scenic crown here and as France's biggest Alpine lake, it offers plenty of water sports activities as well as attractive scenery. Other highlights include the Cathedrale de Chambery, Chateau des Ducs de Savoie and the romantic 12th century Haute Combe Abbaye.
Cret de Chatillon
At 30 minutes from Annecy via D41, the road trip to Cret de Chatillon is short, but it's also spectacular – control your speed and keep your eyes on the road as you skirt mountain bends that open out into amazing vistas. The Semnoz mountain in the Bauges range reaches a lofty 1699m high and much of it is thickly forested. But Cret de Chatillon marks a clear area that affords a bird's eye view over snowy mountains, Annecy town and its lake. Pack a picnic, park up your car and relax for a while – bliss.
Lyon
Longing for a road trip to a bigger city? Lyon is one hour and 40 minutes from Annecy via A41 and A43 and definitely fits the bill. Known as the food capital of France (no mean feat), the city's top-notch restaurants and Les Halles de Lyon Paul Bocuse food market make it a haven for gourmets, and it also has a remarkable Roman amphitheatre and charming old city. Located at the confluence of the Rhone and Saone rivers, Lyon is a meeting place for anyone who appreciates fine dining and trademark French hospitality. You might like it so much that you want to stay for a couple of days.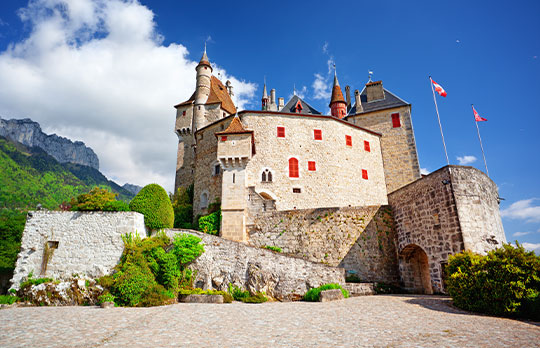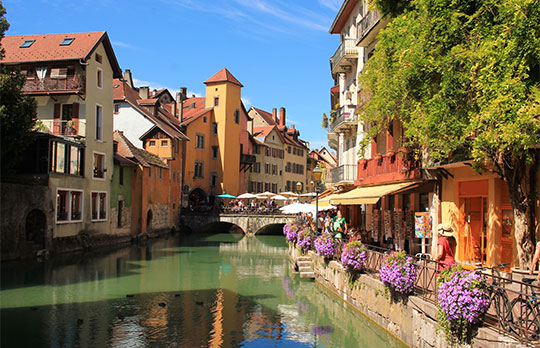 Lac de Roselend
Another legendary road trip destination from Annecy, Lac de Roselend is one hour and 30 minutes north east via D1508 and D925 – a doable day trip and a delightful one at that. Created when the Roselend Dam (France's 4th highest, quiz fans!) was built in 1960, its steep green shores are peppered with trees and wildflower pastures. Apart from relaxing and splashing around in the lake, popular activities include hiking to the Rocher du Vent summit and the Roche Parstire.
Menthon Saint-Bernard
Just 20 minutes' drive round the other side of the lake from Annecy (via D909), Menthon Saint Bernard is a quirky village famous for its iconic castle. Perched precariously on a 200 metre high rock, the enigmatic castle has overlooked Annecy for 1000 years, with its towers and ramparts lending it an unmistakably romantic air. One of Savoie's most expansive castles, Menthon Saint-Bernard boasts a library with 12,000 books and 105 rooms in total!
Chamonix
One hour and 10 minutes from Annecy via the A40, Chamonix is home to Mt Blanc, the highest mountain in Western Europe, which straddles the border between France and Italy. As you can imagine, it's not short on visitors who love the great outdoors, but if climbing, skiing or snowboarding hiking aren't for you, try taking a cable car ride up the striking Aiguille du Midi, strolling in the pretty town centre or exploring the Mer de Glace, France's biggest glacier. Looking for somewhere to stay? Try the Les Houches area for families, Cham Sud for money-saving deals and Les Bois for loved-up couples. For a mix of outdoor activities and lively apres-ski culture, Chamonix ticks every box.
Jura
At two hours and 25 minutes north via the A40, Jura is our farthest road trip destination from Annecy – but it's definitely worth the effort and captivating scenery is a tonic along the way. Famous for its lakes and waterfalls, the department of Jura is always delightful to explore and lots of terrific towns sit amidst the natural scenery. Hotspots include the viewpoint from Lac de Coiselet, the magnificent seven waterfalls at Cascades du Herisson, Horse Tail waterfall and the city of Saint-Claude. Highly-rated places to eat include Auberge du Grapiot and Le Bouchon des Radeliers, while the ancient coaching inn Chateau Chalon is a wonderful place to stay.