Top 10 Braga Road Trips
Peneda-Geres National Park
Arcos de Valdevez
Ponte de Lima
Guimaraes
Viera do Minho
Coimbra
Geres
Arouca Geopark
Amarante
Viana do Castelo
So you're taking a trip to Braga for a holiday, or a nice day out?
Great choice – the third-largest city in Portugal is a gorgeous metropolis criss-crossed with narrow lanes that open out into elegant plazas and blessed by beautiful Baroque churches whose gentle bell chimes complement the rhythm of life and herald the commencement of regular festivals.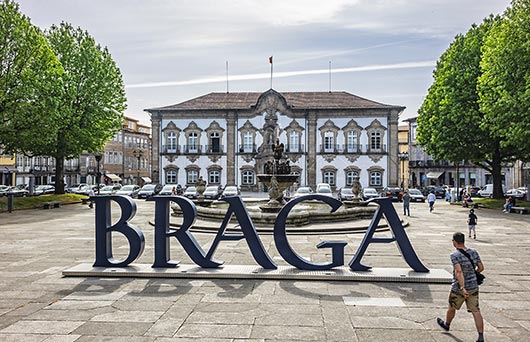 10 of the best scenic drives from Braga
Modern meets ancient in Braga's Old Town too, with chic cafes, bijou boutiques, sumptuous restaurants and lively bars buzzing with throngs of visitors, locals and resident university students. Set on a hilltop east of the city, Bom Jesus do Monte is the city's foremost tourist attraction – a religious pilgrimage site since the 14th century, crowned by an impressive 19th century neoclassical church. Meanwhile, Braga Cathedral is another awesome architectural attraction, and it combines Renaissance, Gothic and Manueline features, amongst others. If you fancy a relaxing stroll in a lovely green space, the Garden of Santa Barbara is next to the Episcopal Palace and features immaculately manicured lawns and a plethora of colourful plant and bird life.
Stepping away from the history and architecture for a while, if you're a sports fan visiting at the right time of year, you might want to watch the mighty S.C Braga play football at the stunning Estadio Municipal, where they regularly take on top-flight domestic and European opponents.
As you can see, there are bountiful attractions in Braga, but it's also a terrific launchpad for several road trips that showcase Portugal at its best – where you can cruise along captivating coastlines, wind along magnificent mountain passes, breeze through undulating valleys and stop off at fairy-tale castles, charming villages and panoramic viewpoints. Hire a car in Braga and the northwest of Portugal and beyond are yours to explore – let's get rolling!
Top Tips on driving in Braga
Your brilliant Braga road trips are coming up soon, but it's worth taking a quick pitstop for some driving tips for Braga and Portugal in general.
The minimum driving age in Portugal is 18 but some car hire firms apply a minimum age of 21 and a surcharge for drivers under 25 – check with the one you choose beforehand.
Electronic toll roads have been widespread in Portugal since 2012 and they're easy to use – you can simply grab a machine ticket as you enter the road and pay at the toll when you leave, use the Via Verde system which works with a device fitted in your car, use a pre-paid TOLLcard or the EASYtoll system, whereby you enter your registration number at a machine at the start and then the charges are automatically debited from your account.
Always drive on the right hand side of the road, don't use a mobile unless it's hands-free, and ensure that the driver and all passengers wear seatbelts. The general speed limits in Portugal are 50km/h in built-up areas, 90km/h on rural roads, and 120km/h on motorways. No parking zones in cities and towns are indicated by a white and blue sign with a red line across it.
Now let's hit the road for your top 10 road trips from Braga!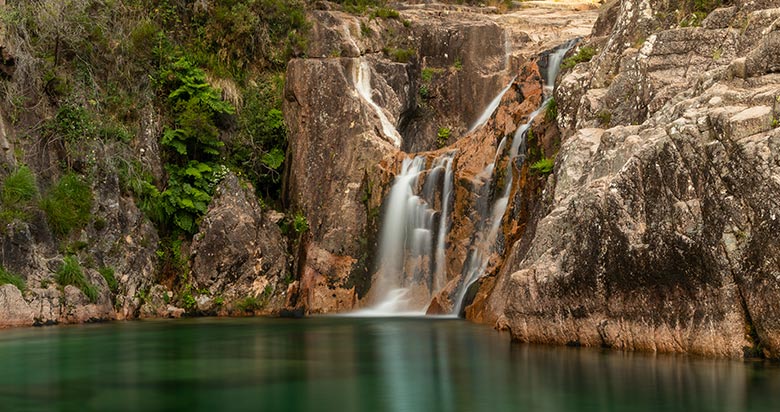 1. Peneda-Geres National Park
Located just 40 minutes northeast of Braga, Peneda-Geres National Park is one of the most renowned beauty spots in a country with an abundance of natural wonders. Ranging over 720 square kilometres of rugged mountains, ravines, lakes and valleys, you'll also find the remain of a Roman road, multiple medieval castles and monasteries and wildlife including deer, wolves and wild ponies.
Getting there: Penedes-Geres is 40 minutes from Braga via the N103.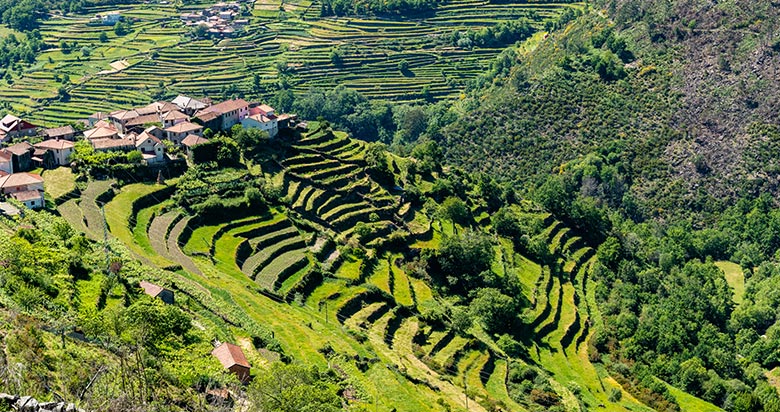 2. Arcos de Valdevez
Another easy road trip north from Braga, Arcos de Valdevez is a handsome market town north of the Ponte de Barca and it's a lovely, laid-back day trip destination. It sits on the banks of the River Vez and the main attraction is the Nossa Senhora da Lapa church, built in the Baroque style in 1767 and which has an outstanding octagonal interior. The town's iconic bridge is another hotspot and there's magnificent Manueline architecture in the town centre.
Getting there: Arcos de Valdevez is 40 minutes from Braga via the A3.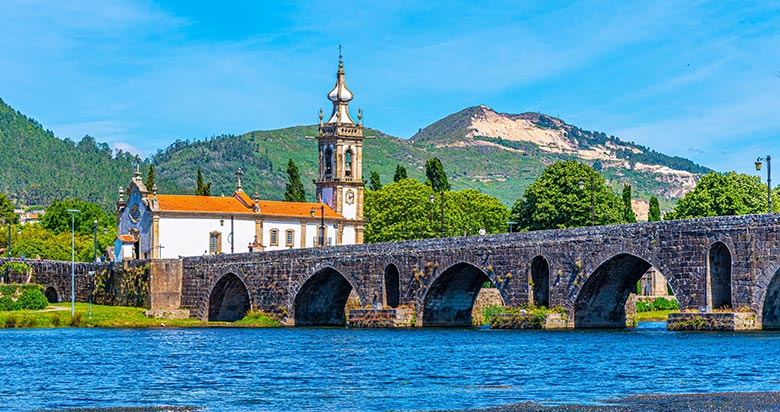 3. Ponte de Lima
A breath-taking bridge around half an hour north of Braga, Ponte de Lima is a popular day trip destination, with lots to recommend it. One end of the bridge is overlooked by the Santo Antonio church, an 11th century edifice with a distinctive tapered belltower and a collection of religious art. The town centre is peppered with pretty 16th century houses and there's a bustling market held on the riverside.
Getting there: Ponte de Lima is 40 minutes from Braga via the A3.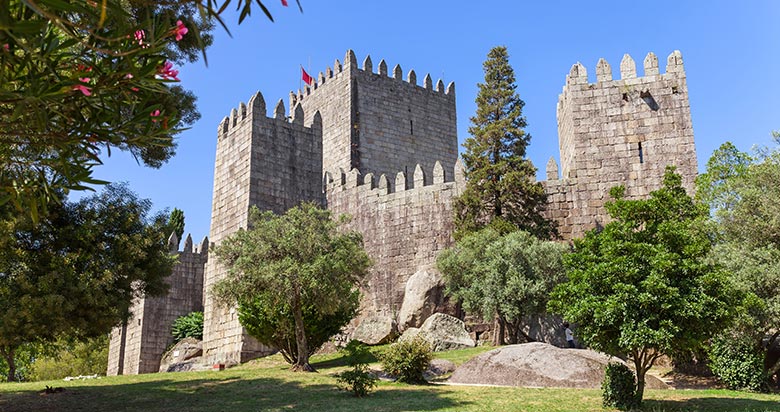 4. Guimaraes
A short drive from Braga, Guimaraes is a World Heritage Site where you'll never be bored. Its labyrinth of old streets and squares is a joy to explore, and you can also hop on the cable car to Monte da Penha for panoramic views of the area. This is home to the Palace of the Dukes of Braganza, and in the 12th century, Guimares Castle was the birthplace of Portugal's first king, Afonso Henriques.
Getting there: Guimares is 25 minutes southeast of Braga via the A11.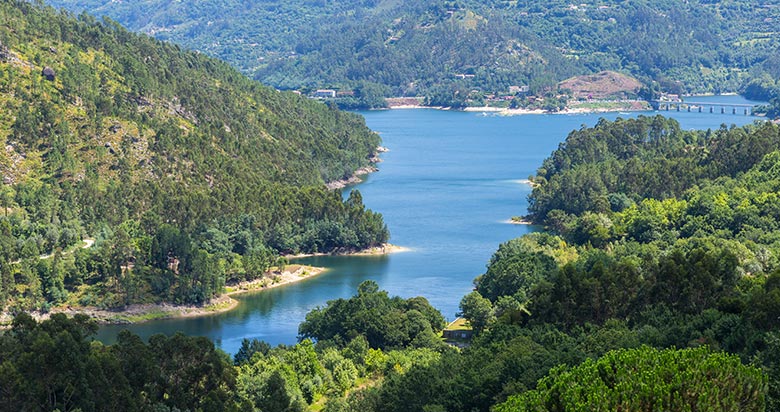 5. Viera do Minho
A short but scenic drive northeast from Braga, Viera do Minho is a great place to escape for a day's road trip. Nestled in a mountainous are covered in thick forest, you'll see lovely lakes formed by the Canicada dams and lots of laid-back rural villages where you can step back in time. The Feira da Ladra is a festival held every October and there's a thriving market where you can buy everything from copperware to basketwork.
Getting there: Viera do Minho is 40 minutes from Braga via the N103.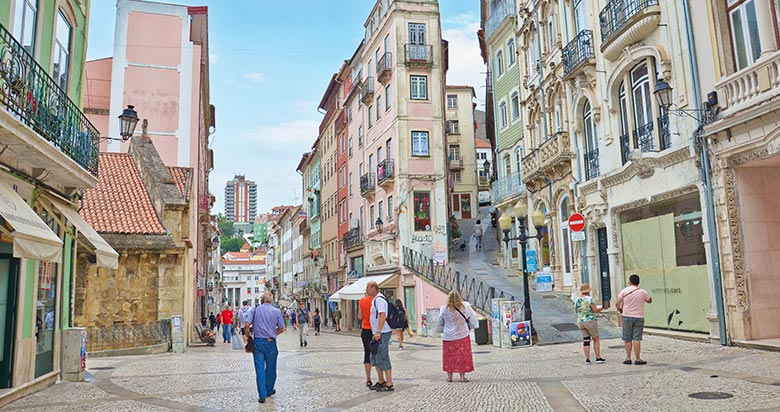 6. Coimbra
A couple of hours south of Braga snaking along the coast, Coimbra is located on the banks of the Mondego river, and it boasts the oldest university in Portugal. This ancient seat of learning is a major tourist hotspot, with a 16th century tower which offers panoramic views (if you're up for a 180-step climb). Another highlight is the Baroque Biblioteca Joanina library, while the Pedro e Ines Bridge is a cool contemporary attraction – built in 2007, it's joined by two cantilevered walkways which form a viewing platform and decorated by kaleidoscopic pink, blue and green glass panels.
Getting there: Coimbra is two hours south of Braga via the A1.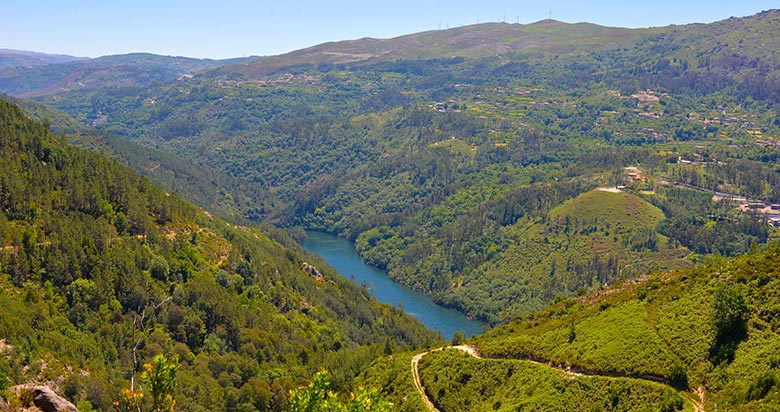 7. Geres
Just under an hour inland from Braga, Geres is a hidden gem which you'll want to return to again and again. A national park with tumultuous waterfalls, picturesque viewpoints, high-class hiking trails and romantic river beaches, it really is beautiful. If you appreciate sublime views, the vistas from the top of Miradouro de Tibo over Serra de Peneda are world-class, but the Pedra Bela viewpoint is more vertiginous and showcases the scope of rivers, mountains and valleys in this awesome area.
Getting there: Geres is 50 minutes from Braga via the N103.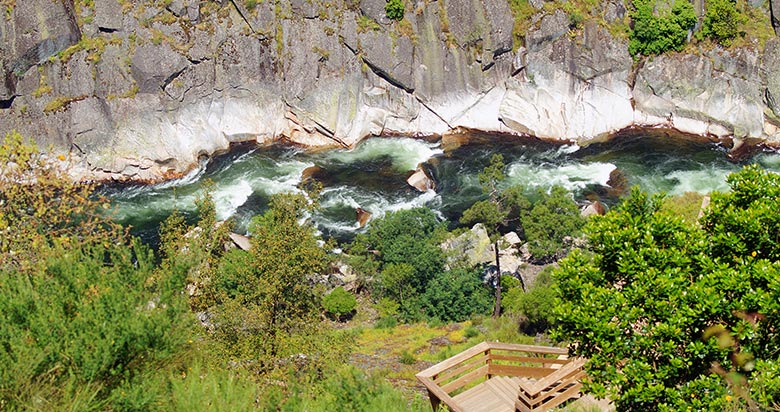 8. Arouca Geopark
A unique daytrip destination south of Braga, Arouca Geopark is a natural wonder that you'll never forget. A UNESCO-recognised site that's home to rare nodular granite, giant trilobites and ichonofossils, you can also try scenic hiking, rafting and kayaking here and tantalise your tastebuds with delicious Arouquesa beef.
Getting there: Arouca Geopark is one hour and 30 minutes south of Braga via the A3.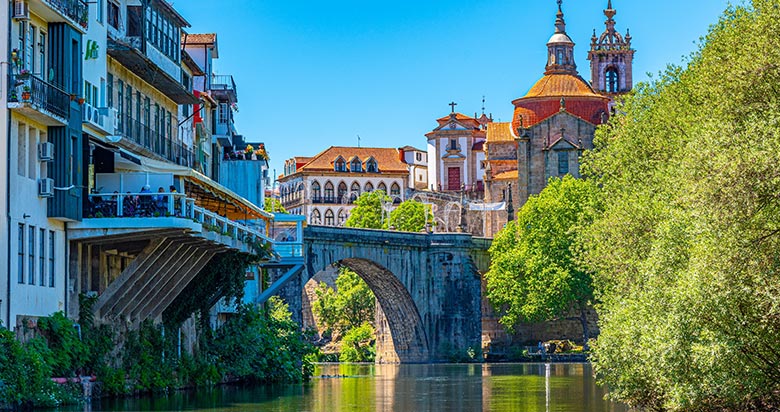 9. Amarante
Another easy road trip under an hour inland from Braga, Amarante is well worth rolling out to for its elegant Ponte de Sao Goncalo bridge and accompanying Igreja de Sao Goncalo church with its 16th century Renaissance architecture, as well as its excellent modern art museum. If you fancy some cathartic tree bathing meanwhile, take a relaxing stroll in the Parque Florestal de Amarante.
Getting there: Amarante is 50 minutes from Braga via the A11.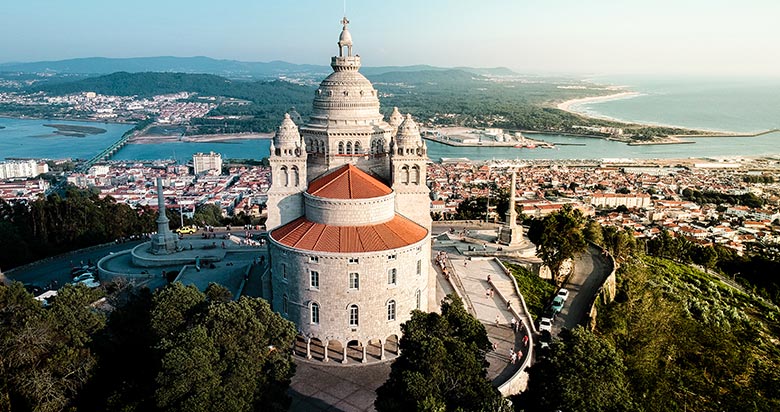 10. Viana do Castelo
The longest of our Braga road trips, you'll need to take a day or two to make the most of an epic drive south to Via do Castelo, but it's definitely worth the effort. Located where the Atlantic ocean meets the Limia River, this stunning city is packed with 16th century Manueline and Renaissance architecture and some of the best views in Europe are on offer from the top of the Monte de Santa Luiza – via Portugal's longest funicular railway. If you prefer beaches, don't miss Praia de Cabedelo, where golden sands are lapped by wild white horses.
Getting there: Via do Castelo is 5 hours from Braga via the A1 and A2.
These top 10 road trips from Braga exemplify Portugal's picture-postcard beauty – have fun when you get there!