Top 10 Road Trips from Madrid
El Escorial monastery & palace
Patones de Arriba
Avila
Aranjuez
Cuenca
Chinchon
Siguenza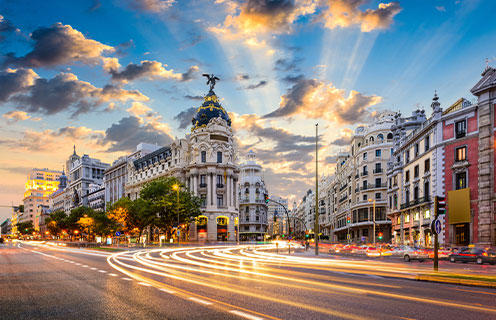 10 best scenic road trips from Madrid
A historic city that's pulsating with all the passions of life, Spanish capital Madrid is always a pleasure to visit. Its architecture might not be quite as iconic as that of Barcelona, but it's a beautiful city nonetheless, peppered with pretty palaces, grand mansions, simple yet stunning Baroque styles and ornate belle epoque creations. And if you're a culture vulture, there's more than enough world-class art here to ruffle your feathers the right way. Thanks to a legacy of generous royal patronage, galleries here are adorned by masterpieces from the likes of Goya, Velasquez, Picasso, Dali and Miro, with standout collections including Centro de Arte Reina Sofia and Museo del Prado.
By night, Madrid becomes even more electric, with buzzing bars, cafes and clubs entertaining locals and visitors alike ‐ in fact, there are allegedly more bars here than any other city on Earth! Wherever you choose to eat, drink and dance, you're assured a warm welcome from the Madrilenos, and the party continues into the next morning.
In recent years, the city centre and surrounding barrios have benefitted from extensive urban renewal programmes paid for by the national and European governments, with excellent improvements made to the transport infrastructure, and the waterfront area at the River Manzanares transforming into a hub for entertainment and leisure.
Hire a car in Madrid from Enjoy Travel and you can explore neighbouring towns and natural scenery in your own social bubble, to suit your ideal itinerary. With lots of great deals to choose from all year round, you can sort out your car rental in a couple of clicks.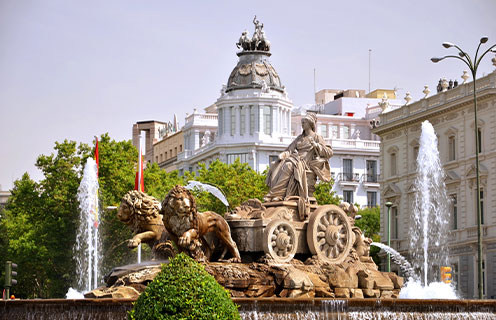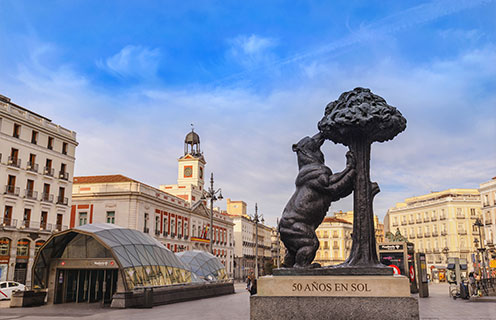 Top tips on driving in Madrid
Let's look at a few quick but useful Madrid driving tips before we get rolling with your top 10 road trips.
Always drive on the right in Madrid and all across Spain. Secondly, plan your route before you leave your accommodation ‐ using a SatNav, you can navigate the inevitable closed roads, restricted areas and one-way streets with a calm, cool head.
If possible, avoid driving during the morning rush hour (7am-9am), and the evening rush from 3pm onwards on a Friday and 6pm onwards most other days. Like many cities, Madrid also has anti-pollution protocols which mean that vehicle access is restricted at set times in certain areas ‐ research your route beforehand to take this into account and always pay close attention to the signage.
Drive defensively to anticipate hazards from other motorists, as well as pedestrians and cyclists. Strap on your seatbelts, don't drink and drive and observe the speed limits, which are 50km/h in built-up areas, 100km/h on dual carriageways and 120km/h on motorways.
Let's get revved up for those scenic road trips!
El Escorial monastery & palace
Set in the southern foothills of the Sierra de Guadarrama (just a short hop form Madrid), the Royal Monastery and Palace of El Escorial is a UNESCO-listed feat for the eyes. Built in the 16th century by Felipe II as a monument to St Lawrence after Spain beat France in the Battle of St Quentin, it was one a hub for the Spanish Empire and the vast complex now hosts a priceless art collection. The architecture is a heady mix of Italian classic and Spanish baroque and there are 15 courtyards, 86 staircases and 1600 paintings – whew!
Getting there: El Escorial is 55 minutes from Madrid via A-6.
Patones de Arriba
You can reach this romantic, rambling village in under an hour from Madrid but it really does feel like another world. Its narrow lanes and distinctive slate rock, vine-entwined buildings are a pleasure to stroll around, and history buffs can also explore caves that date from the 3rd century BC – one of the most renowned caverns boasts 9km of subterranean galleries across three floors, complete with fascinating artefacts. It's nicknamed 'Kingdom of Patones' after the period when Charles III chose a local pastor to rule the village with absolute power.
Getting there: Patones is 55 minutes from Madrid via A-1.
Avila
An awesome Madrid road trip destination, Avila is protected by 2.5km of impressive (and nearly intact) 12th century city walls, complete with 88 watchtowers and 2500 turrets. Best of all, you can climb nearly 1km of this impressive feat of medieval engineering and enjoy the panoramic views. Other attractions include the serene Convento de Santa Teresa and beautiful Catedral del Salvador. A must for fans of eye-popping architecture, Avila is a road trip to remember.
Getting there: Avila is one hour and 15 minutes from Madrid via A-6 and AP-6.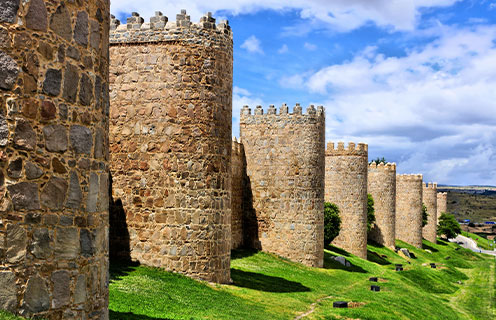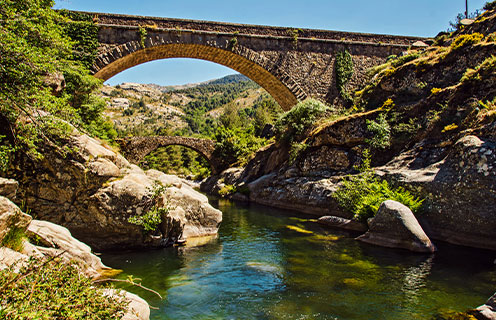 Toledo
Another of Spain's UNESCO World Heritage sites (and one of its most popular), Toledo is nicknamed 'City of Three Cultures' because of its long heritage of Christian, Muslim and Jewish communities coexisting peacefully. As you might expect, the city has lots of stunning religious buildings dedicated to all of these great faiths and its setting on top of a gorge overlooking Rio Tajo is spectacular. With so many natural and spiritual blessings, its no wonder that Toledo was also a magnet for legendary artists like El Greco – take time to investigate its riches and you're sure to be inspired too!
Getting there: Toledo is one hour from Madrid via A-42.
Aranjuez
Another manageable (but magnificent) Madrid road trip destination, Aranjuez is most famous for its elegant royal palace, which became the favoured summer residence of the Spanish monarchy and was expanded in the 18th and 19th century by a succession of monarchs, including Philip V and Charles IV. Beyond the palace and its 100 acres of verdant gardens, the town centre is a model of 18th century symmetry, with perfectly proportioned avenues, squares and green spaces.
Getting there: Aranjuez is 45 minutes from Madrid via A-4.
Cuenca
Ready for yet another World Heritage Site? Located a couple of hours east of Madrid, Cuenca boasts amazing medieval buildings, many of which are perched dramatically on cliffsides and have been lovingly restored and painted in captivating colours. There's a lovely network of lanes to explore here and it's peppered with charming cafes, craft shops and modern art galleries.
Getting there: Cuenca is one hour and 45 minutes from Madrid via A-3 and A-40.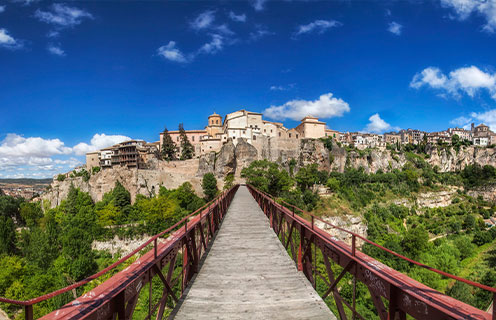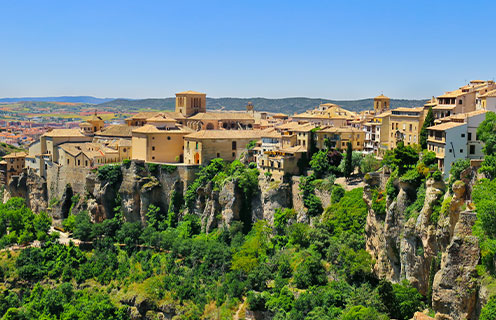 Chinchon
A short skip from Madrid's city limits, Chinchon is regarded by many as the most beautiful village in the constellation of small settlements that surrounds the capital. Plaza Mayor is its rambling and romantic town square and the heart of the action – visit during festival time and the decorated wooden buildings with creaking balconies lend it a fairy tale ambience. For a taste of rustic Spain, look no further.
Getting there: Chinchon is 50 minutes from Madrid via A-3.
Salamanca
If you're a fan of ancient and contemporary architecture, you can fill your boots at Salamanca, another Madrid road trip destination that's (you guessed it) a UNESCO World Heritage Site. Wonderful buildings include the unique 16th century Casa de las Conchas ('the house of shells'), and the New Cathedral, which boasts a carving of an astronaut and another of a gargoyle eating an ice cream cone. This is one of many unusual carvings you can spot in the city, including a frog on the main university building's façade – see how many you notice as you wander the sunny streets.
Getting there: Salamanca is two hours 15 minutes from Salamanca via A-50.
Siguenza
This ancient city in the Guadalajara region makes for an interesting excursion from Madrid and there are plenty of rich historical and arty rewards when you get there. Ruled at various points by the Romans and Moors, the main attraction is probably the imposing 12th century castle (now a 4-star hotel), but the renaissance market square is also superb, and you can find out all about the town's interesting history in the Diocesan Museum.
Getting there: Siguenza is one hour and 35 minutes from Madrid via the A-2.
Cordoba
Spain's largest old town is a four hour drive from Madrid, so to make the most of your trip, you should book an overnight stay. A year-round sunny climate and packed festival calendar make it perpetually popular with locals and visitors and highlights include the 13th century Mosque-Cathedral, stunning Roman bridge, people watching at the Plaza de Corredera and cathartic bathing at the Hammam.
Getting there: Cordoba is four hours from Madrid via the A-4.