Top 10 Road Trips from Murcia
Abanilla
Elle Valle Y Carrascoy Regional Park
Cabo Roig
Caravaca de la Cruz
Lorca
Balneario de Archena
Mazarron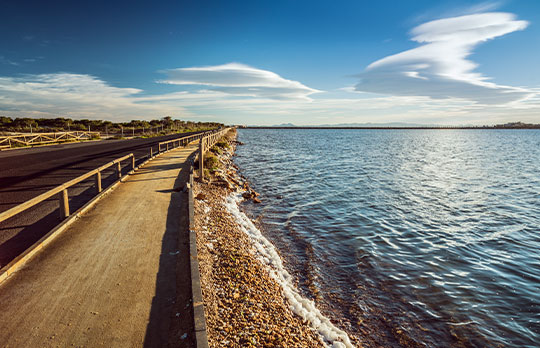 Top 10 scenic trips from Murcia
Ah, Murcia. Spain's 7th-largest city and capital of the region of the same name looks and feels as lovely as it sounds. Located on the Segura River in the country's south east, its mild winters and hot summers complement its cultural, architectural and historical riches. And its fresh, farm-to-table tapas cuisine is fuelled by well-established huerta – a constellation of market gardens that has encircled the city since it was controlled by the Moors.
But there's plenty to see and do in Murcia besides eating and drinking (as pleasant as that is). First off, you can dress up to the nines for a glam evening in the Real Casino de Murcia – first opened back in 1847, this regal building has been restored to its former pomp and boasts a 20,000 book library and a romantic ballroom laced with crystal chandeliers. There's also a 14th century cathedral restyled in Baroque fashion in 1848, and the dreamy Jardin Floridablanca with its otherworldly banyan trees.
And since it's so well-connected to the whole of the south east and the rest of Spain, hiring a car in Murcia really broadens your horizons (get yourself sorted right here in a jiffy).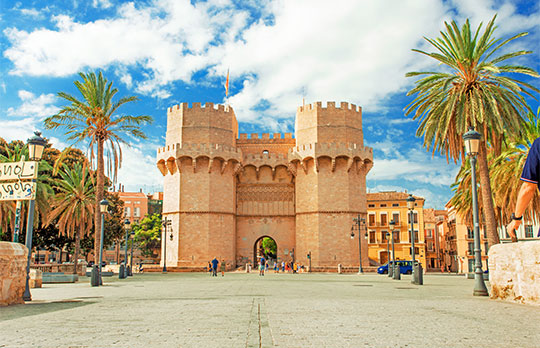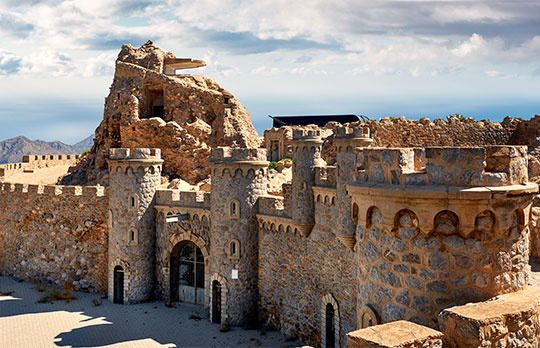 Top tips on driving in Murcia
We'll get moving with your top 10 road trips from Murcia in no time. But let's take in some quick driving tips first.
As you might expect, drink-drive regulations are stringent here. 0.05% is the regular blood alcohol limit and this reduces to 0.01% for drivers who have less than three years' experience on the road.
The Spanish road network includes lots of toll roads, but fuel is much cheaper than in the UK, so your expenses balance themselves out. Spanish speed limits are 20km/h in residential districts, 50km/h in built-up areas, 90-100km/h outside built-up areas and 120km/h on motorways.
Now let's start those road trips – arriba!
Valencia
Two hours and 25 minutes from Murcia via the A-7, Valencia makes a magnificent weekend road trip destination and it's always an exciting city to visit. Cool things to see and do here include exploring the City of the Arts and Sciences complex – a collection of striking contemporary buildings that host everything from an IMAX cinema to a planetarium and the state of the art Oceanografic aquarium. You can also dial the clock back a few centuries at the stunning 15th century La Lonja de la Seda ('silk market'), a prime example of Valencian Gothic architecture, and hang out in the bars and cafes of the hip Barrio del Carmen district on the northeast side of the old town.
Cartagena
Just 35 minutes' drive south of Murcia via A-30, Cartagena is a historical hotspot you don't want to miss. The former stronghold of the Carthaginians before it was conquered by Rome, monuments to its glorious past include the 2,000 year old Roman Theatre, and Casa de la Fortuna, the former residence of a wealthy Roman family, which boasts a hallway, bedrooms, dining room, office, mosaics and wall paintings that are amazingly well-preserved. It's not all ancient history though – stroll down Calle Mayor to soak up the atmosphere of modern Cartagena and stop to people-watch over a coffee, beer or tapas.
Abanilla
Fancy taking in a unique road trip destination just 30 minutes from Murcia via A-7 and RM-414? Known as 'the Murcian Palestine' because of its palm trees, desert terrain and Muslim heritage, Abanilla is close by but feels like another world. Stroll the narrow medieval streets to soak up the Moorish architecture and ambience, or hike further afield in the lunar landscapes of the Parra de Mahoya and Los Banos rock formations. It's also famous for fruta de masa pastries – don't leave town without trying one or three!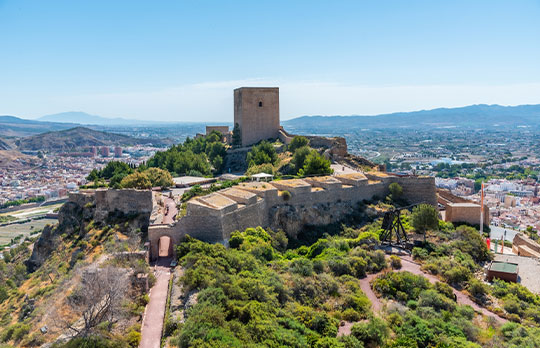 Elle Valle Y Carrascoy Regional Park
How does a super-short trip to some sublime scenery sound? Elle Valle Y Carrascoy Regional Park is 35 minutes from Murcia via A-30 and it's a real treat. Known as the 'green lung of Murcia', this amazing landscape is brimming with biodiversity and rugged terrain – across a vast 17,000 hectares, it has over 600 species of plants a sprawling network of caves and endless forest glades to explore. And if animals are your thing, you can spot snakes, toads, birds, lizards and even golden eagles – take a walk on the wild side!
Cabo Roig
Next up, a road trip to a terrific Orihuela Costa resort. Cabo Roig is 44 minutes from Murcia via A-30 and RM-19 – close to Torrevieja, as well as attracting tourists, it's home to a burgeoning number of British immigrants. Popular spots here include the pristine Blue Flag Playa Cala Capitan and Playa Cala Caleta beaches, as well as the swish marina. If you're staying overnight, the Cabo Roig strip is packed with lively pubs and clubs, and the town also has a well-appointed tennis club as well as horse riding facilities. As you can see, there's plenty to satisfy visitors of all tastes.
Caravaca de la Cruz
A major pilgrimage site, Caravaca de la Cruz is just 50 minutes west of Murcia via RM-15. To get your bearings once you park, climb up to the castle on the steep hill overlooking the town – the views are spectacular. Other attractions include the Basilica Sanctuario de la Vera Cruz (a beautiful church built into the rockface) and Fuentes del Marques, a gorgeous green space with woods, a serene stream and interesting caves. For a day trip that combines nature and spirituality, this ticks every box – visit Caravaca de la Cruz and you'll feel revitalised.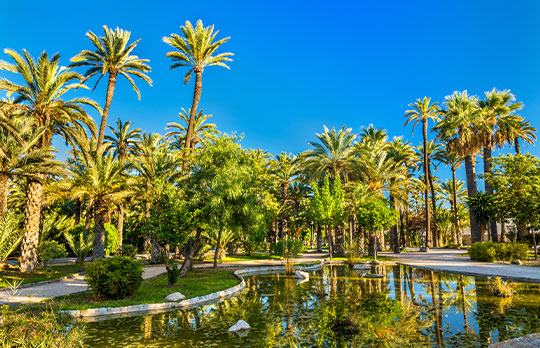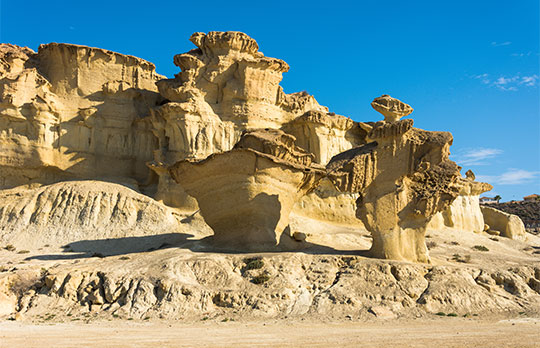 Lorca
45 minutes south west of Murcia, Lorca is a scenic spot set on the southerly slopes of the Sierra del Cano mountain. Fought over by the Moors, Visigoths and more, it has been dubbed the 'City of 100 Coats of Arms' with impressive baroque and medieval monuments serving as reminders of its turbulent history. The main draw here is the impressive Castle of the Sun, the Collegiate Church (unusually, dedicated to St Patrick), and the atmospheric Parador hotel located in the Alfonsi Tower. There are also a number of wild and windswept beaches here which are a joy to visit.
Elche
40 minutes' drive northeast of Murcia via the A-7, Elche is famous for the Palmera of Elche (a huge palm grove), Vila Murada Old Town and lovely baroque Basilica of Santa Maria. The capital of Bajo Vinalopo, Elche also has a packed cultural calendar all your round, including an iconic Palm Sunday procession and the City of Elche Guitar Festival, usually held annually at the end of July. Elche CF also play in LaLiga Santander, so soak up the atmosphere at one of their home games if you get the chance!
Balneario de Archena
For a really cathartic road trip location that's just 28km outside Murcia city centre, Balneario de Archena hits the spot. Located on the banks of Segura river and surrounded by verdant farmlands, Archena has an esparto grass museum (this local organic material has been used to make everything from baskets to shoes over the generations), lots of beautiful churches and several fiestas year round. But the Balneario de Archena thermal spa medicinal and beauty resort is the jewel in the crown – when you really want to unwind and recharge your batteries, the therapeutic treatments and relaxing pools here are the stuff of legend. Go on – you've got to be good to yourself.
Mazarron
Last but definitely not least, Mazarron is 45 minutes from Murcia via the trusty A-7. A buzzing resort and port on Costa Calida, humans have been hanging around Mazarron since the days of the Carthaginians and its sheltered location in the Sierra de la Almenera foothills and virtual year-round sunshine have made it popular to this day. With a 35km stretch of coastline peppered with soft sand beaches and charming coves, it's a haven for sunseekers and has several excellent restaurants, including Solsticio and La Bretanita. The majority population here are Spanish, but there's a large international community in Camposol which includes French, German, Dutch and Italian immigrants. This is a doable day trip but you'll probably love it so much you'll want to stay for a couple of nights.