Top 10 Road Trips from Cologne
Augustusburg & Falkenlust Palaces
Schloss Drachenburg
Linz am Rhein
Cochem
Monschau
Aachen
Koblenz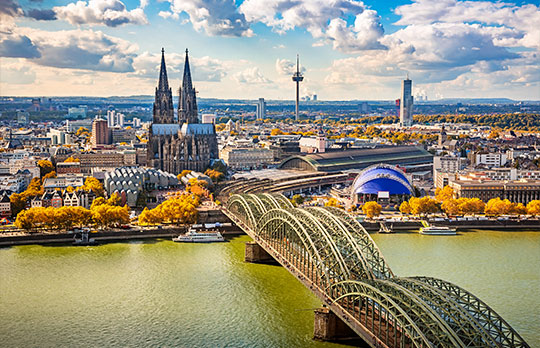 Top 10 scenic trips from Cologne
Ah, Cologne. A city that's as sultry and sophisticated as it sounds. The biggest city in the North Rhine-Westphalia region and Germany's fourth-largest metropolis, Koln (as locals call it) has a plethora of pleasurable attractions. Its stunning skyline is pierced by the twin spires of its iconic cathedral and there are more museums than you can shake a bratwurst at ‐ showcasing Roman history, sports and chocolate, as well as outstanding collections of art. If architecture floats your boat, there are eye-popping examples from different eras ‐ including medieval churches, Roman walls, and weird and wonderful contemporary structures. But never mind the sights ‐ the locals are the best thing about this famous city. Warm, welcoming and always ready to socialise over a beer. If only every city was as effortlessly friendly!
Another bonus is Cologne is that it's impossible to be bored. Cologne Cathedral (Kolner Dom) is the main attraction for many visitors and apart from its sky-scraping spires, this UNESCO World Heritage Site has an opulent interior, and the south tower affords panoramic city views if you've got the stamina to walk the 500 steps that take you past the bells. The Altstadt is a joy to explore ‐ as well as churches, there are bijou boutiques, restaurants and riverside paths along the Rhine. Speaking of which, a Rhine River cruise is an excellent way to see the city from a different angle, and it looks particularly romantic in the evening. Meanwhile, culture vultures shouldn't miss the Wallraf-Richartz & Ludwig Museums ‐ between these two behemoths you can see everything from modern masterpieces to world-famous works by Manet, Rembrandt and Renoir.
After you've packed in as much city sightseeing as possible, hiring a car in Cologne allows you to discover just how beautiful its surrounding rural and urban attractions are.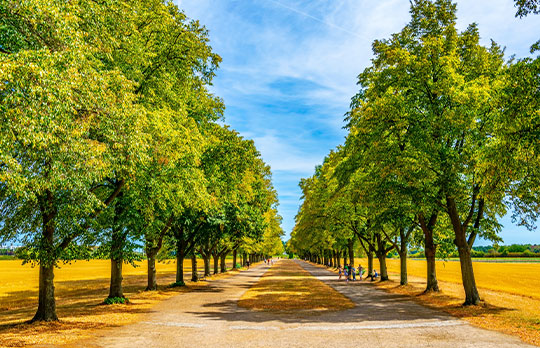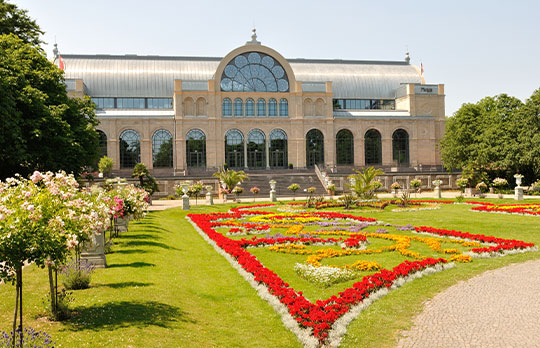 Top tips on driving in Cologne
Your top 10 road trips from Cologne are just down the autobahn, but let's take a super-quick detour for some driving tips.
Always drive on the right in Cologne (and throughout Germany). Please take your time driving through downtown as there are many narrow one-way streets. If you get lost, use the Rhine river as a marker ‐ it splits the city centre from north to south. Parking is tricky to find in the city centre, so it's often easier to use the park & ride service and leave your car on the outskirts.
It's time for those road trips ‐ let's get moving!
Augustusburg & Falkenlust Palaces
Just 30 minutes south of Cologne via B51 and A555, Augustusburg and Falkenlust Palaces are a double-whammy of UNESCO World Heritage-rated magic. Located in Bruhl, these plush 18th-century residences are some of Europe's finest examples of Rococo elegance and were originally built as the prince-elect of Cologne's residence and hunting lodge. Their exquisite exteriors are complemented by opulent interior murals and marble pillars, as well as lush surrounding parks and gardens. Spend a day seeing how the other half lived!
Schloss Drachenburg
How does a short trip to a dramatic castle sound? Schloss Drachenburg is 45 minutes from Cologne via the A59 and it's seriously impressive. Perched on Drachenfels ‐ one of the 7 hills of Siebengebirge ‐ its name translates as 'Dragon's Rock' and it dates from 1882. Offering panoramic Rhine views from 1053 feet, there's a funicular that takes you all the way up ‐ whew! This is a spectacular way to spend a morning or afternoon if you don't have time for a longer outing.
Bonn
Bonn is only 40 minutes from Cologne via the A555. And it's a brilliant day trip destination. The capital of West Germany until reunification in 1990, Bonn enjoys all the trappings of a nations main metropolis, with Museum Mile attractions like the offbeat Bundeskunsthalle and comprehensive Haus der Geschichte highlighting its cultural offering. You can also visit Beethoven's birthplace at Bonngasse 20 (packed with personal artefacts and musical mementoes) see the spires of the 11th-century Bonn Minster and perambulate around the perimeters of Poppelsdorf Palace.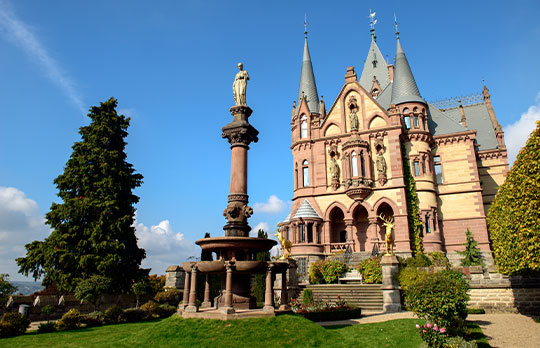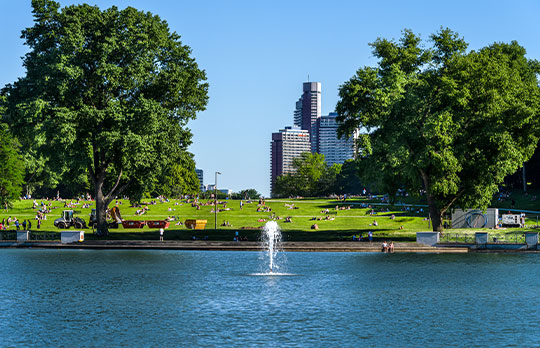 Linz am Rhein
Fancy another short drive to a delightful destination? Linz am Rhein is only 54 minutes away from Cologne via the A3 and has lots to recommend it. You can wander through its charming cobbled streets, gaze at terrific half-timbered houses, and soak up the romantic atmosphere. Many buildings here date from the early 16th century and in the Buttermarkt there's a superb statue honouring the market women who travelled from miles around to sell their wares here. Meanwhile, Linz Castle dates from 1365 and has a gruesome 'fear hole' ‐ a dungeon complete with torture chamber!
Cochem
One hour and 40 minutes from Cologne via the A61, Cochem takes a little longer to reach than our previous entries, but it's worth the effort. The highlight here is the striking Reichsburg Cochem castle, designed in 19th-century fairytale fashion, with a distinctive octagonal tower. The lovely old town is blessed by beautiful gabled houses, and you can still see three of the four original 14th century city wall gates. If eye-popping views float your boat (and you're here between March and November), catch the Cochemer Sesselbahn from the Endert Valley lower station to the spectacular Pinnerkreuz lookout point.
Monschau
A small town in the Eifel region, Monschau is a cultural hotspot one hour and 30 minutes from Cologne via the A4. With rambling lanes and medieval walls, it's surrounded by stunning countryside. Highlights include the Rotes Haus (Red House) museum and Senfmuhle Monschau, where the town's traditional mustard (as well as delicious jam and chutney) is made. Don't leave without taking a scenic electric boat cruise on the Rursee ‐ the views across the mountains in the Eifel National Park are magical.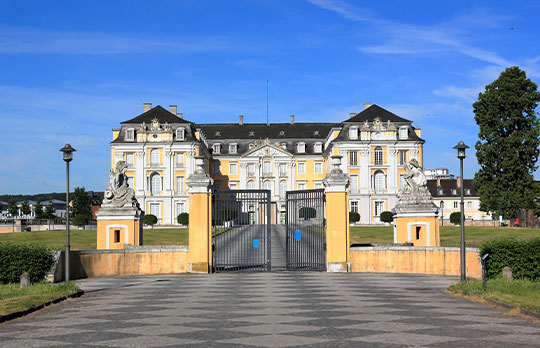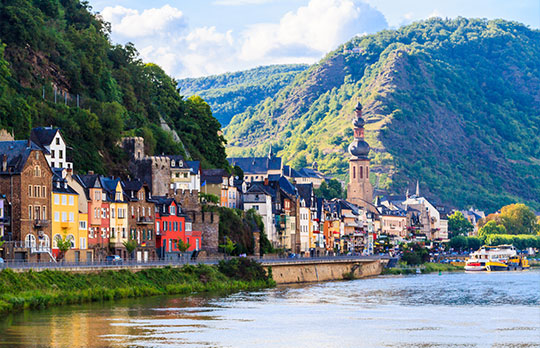 Frankfurt
The road trip from Cologne to Frankfurt takes two hours and 30 minutes via the A3 ‐ so you might want to stay overnight to make the most of this captivating city. Culture vultures have rich pickings in the Museumsufer ‐ a collection of 12 museums showcasing everything from art to ethnography, while the Stadel Museum houses masterpieces from Rembrandt, Botticelli and Vermeer. For something a little different, take the lift to the public viewing platform of the Main Tower for a breath taking view across the Main and Altstadt.
Aachen
One hour and 10 minutes from Cologne via the A4, Aachen offers lots to see and do. Its cathedral is particularly impressive ‐ built by Charlemagne in 796 AD, it was restored to its stunning original state after extensive bombing in WWII and houses Charlemagne's imperial throne and the beautiful Barbarossa chandelier. If you want to chill out like a Roman meanwhile, treat yourself to a session at the Carolus Thermen spa, with attractions like brine steam baths and a beach area. If modern art is more pleasing to your eye, Ludwig Forum is a must-see ‐ it's a former umbrella factory with Pop Art by the likes of Roy Lichtenstein.
Dusseldorf
Just a 50-minute drive via the A57, Dusseldorf is always a dynamic day trip destination from Cologne. There are tons of distractions in this attractive city, including wandering along the Rheinuferpromenade past iconic buildings like the Parliament, hitting the hotspots in the Altstadt (grab a designated driver if you're planning to drink), and shopping for designer goodies at Konigsalee. Meanwhile, Medienhafen in the former dock area is also worth a look ‐ reincarnated as a contemporary business district in the 1990s, it also features trendy bars, restaurants and a cinema. If you've still not satisfied your arty yearnings, head for the Kunstammlung Nordrhein-Westfalen, where you can see awesome pieces by Picasso, Pollock, Warhol, and Kandinsky, amongst many more.
Koblenz
One hour and 25 minutes away from Cologne via the A61, Koblenz is a cracking day trip target. Located in the UNESCO-listed Upper Middle Rhine Valley, this 2000 year old city sits on the confluence of the Moselle and Rhine rivers. Surrounded by castles, palaces and vineyards, the city proper boasts attractions like the Koblenz cable car, which takes you across the river to the Ehrenbreitstein Fortress, and Deutsches Eck, the point where the rivers meet and site of an early commandery for the Teutonic Order. Stop at the Stolzenfels castle before you leave ‐ it's sublime!