Scenic drives from Larnaca
The third-largest city in Cyprus, Larnaca sits on the southern coast and its beating heart is its atmospheric promenade, the Finikoudes. Here you can grab an eye-opener coffee first thing in the morning, relax on the beach and take a dip in the ocean, treat yourself to a tasty lunch and party in the bars and restaurants in the evening.
Our 10 best day trips from Larnaca:
Stavrovouni Monastery & Lefkara
Aphrodite's Rock & Tombs of the Kings
Troodos Mountains
Nissi Beach
Cedar Valley
Blue Lagoon
Curium Ancient Amphitheatre
Pomos Coastline
Avakas Gorge
Kato Drys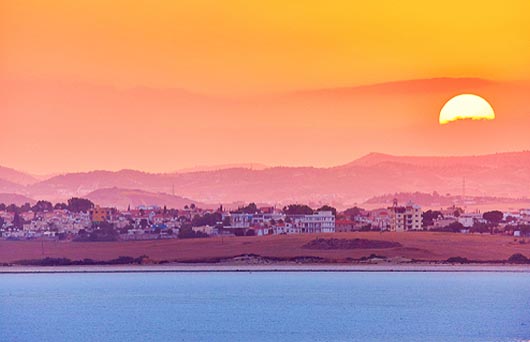 Wander into the downtown district and you'll see modest municipal and business buildings, the old Turkish quarter of Skala has a ramshackle charm with whitewashed houses and pastel shutters, and the little fort and Byzantine Agios Lazaros church are iconic landmarks
Larnaca is also a brilliant base for exploring the rest of Cyprus, with destinations that range from busy tourist towns to secluded coves, and hilltop monasteries to labyrinthine gorges and caves. Hire a car in Larnaca and adventure awaits.
Before you start up your car and try these terrific road trips for yourself, read on for the lowdown on getting to Larnaca from the UK.
Getting to Larnaca from the UK
Larnaca International Airport (LCA) is well connected to the rest of the world and you can hop on a holiday flight here from several UK airports. For instance, you can fly to Larnaca from London Heathrow, London Gatwick, London Luton, Bristol, Liverpool, Birmingham, Edinburgh, Glasgow, Manchester, East Midlands, Leeds/Bradford and Newcastle upon Tyne.
With convenient hire car pickup at Larnaca airport, once you're settled in you can roll out for the following ten scenic road trips:
1. Stavrovouni Monastery & Lefkara
Take the Limassol road southwest out of Larnaca and you'll reach Stavrovouni Monastery after a short drive. Despite being so close, its dramatic location perched on a cliff edge 668m above sea level makes it feel like it's a world away and the views back down to Larnaca are spectacular. From here, wind your way along the road to Lefkara, a pretty village with a lacemaking industry boosted by a very famous patron ̶ Leonardo da Vinci bought lace here in the late 15th Century.
Getting there: take the A5 from Larnaca and you'll reach Stavrovouni in around 40 minutes.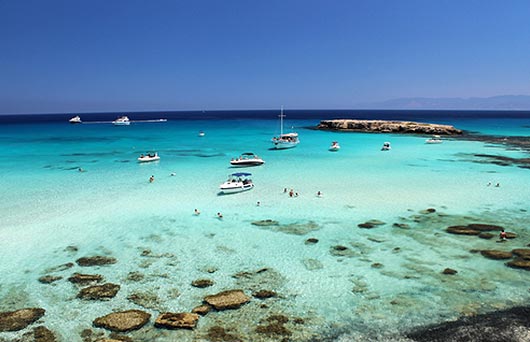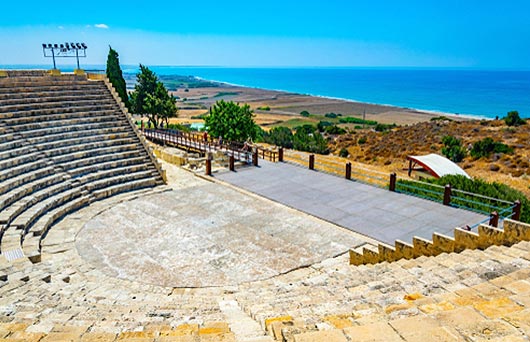 Blue Lagoon (left) and Curium Ancient Amphitheatre (right)
2. Aphrodite's Rock & Tombs of the Kings
In the vicinity of Paphos to the west of Limassol, Aphrodite's Rock is a beautiful rock formation which skirts the shore and it's the mythical birthplace of the eponymous Greek goddess of beauty and love. Roll on a little further and you'll reach the UNESCO World Heritage Site the Tombs of the Kings, a complex of caves and sandstone burial plots where local monarchs were buried from the 4th Century onwards.
Getting there: follow the A1 and A6 roads southwest right along the coast and you'll reach Aphrodite's Rock in around one and a quarter hours.
3. Troodos Mountains
It'll take you a couple of hours to drive from Larnaca to the Troodos Mountains, but you'll be handsomely rewarded for your efforts. The Troodos Massif is located in the middle of Cyprus and it's full of picturesque peaks (including the iconic Mount Olympus) complemented by scented pine forests, well-tended vineyards and blessed by charming rustic villages like Pedoulas and Omodos.
Getting there: drive southwest and then north via the A1 and B8 to reach Troodos in around one and a half hours.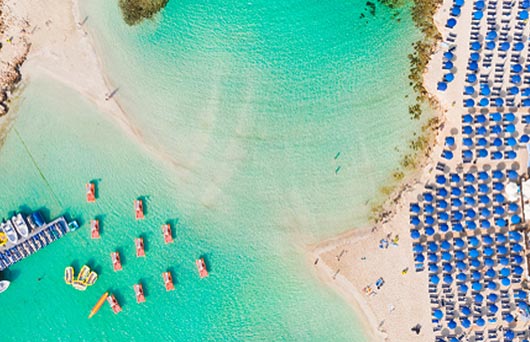 Nissi Beach aerial view (left) and Nissi Beach island (right)
4. Nissi Beach
There are beaches nearer Larnaca, but Nissi Beach at Ayia Napa uniquely combines natural beauty with dynamic distractions like watersports and buzzing bars and restaurants. Apart from splashing around, building sandcastles and sunbathing, you can sample lip-smacking meze in the gorgeous Greek tavernas that line the streets behind the beach, and the wonderful WaterWorld aqua park is close by too.
Getting there: drive northeast along the coast from Larnaca via the A3 and you'll reach Nissi Beach in around 40 minutes.
5. Cedar Valley
Located in the Pafos forest of the nation's interior, Cedar Valley is (naturally) famous for its fine collection of cedar trees, which are closely related to the cedars of Lebanon. Bordering Limassol, Nicosia and Paphos, there are also Calabrian pines here, Venetian mountain bridges and wild mouflon sheep. All in all, it's a sweet spot for tree bathing!
Getting there: take the B9 roughly northwest of Larnaca through the interior and you'll get there in about two hours and 45 minutes.
6. Blue Lagoon
Located near Paphos in the west of Cyprus, the Blue Lagoon is part of the Akamas Peninsula National Park and it's well worth a visit. Catch a boat trip out from Latchi Harbour to reach the crystal-clear waters of the Blue Lagoon and you can snorkel in the most pristine underwater environment. Most boat trips include snacks and drinks, so you can relax in the lap of luxury on the way there and back.
Getting there: follow the A5 clockwise around the coast and you'll get to the Blue Lagoon in around two and a half hours.
7. Curium Ancient Amphitheatre
Situated on the south west coast, Curium was a major city state during Roman and pre-Roman eras. The Curium Ancient Theatre is 4km from the village of Episkopi near Limassol and dates from the 2nd and 3rd Centuries AD. The crescent-shaped seating area has been restored and seats 3500 guests and it's used frequently for live music performances, plays and various cultural events.
Getting there: take the A1 out of Larnaca and you'll be in Curium in around one hour.
8. Pomos
The drive along the coast around the preternaturally pretty village of Pomos is an absolute pleasure. This sweet settlement is around 20 km away from Polis Chrysochous on the road to the Akamas nature reserve and visiting this laid-back and welcoming village is always worth a visit. Drive 2km north of the village to the Akon Pomos (Cape of Pomos) to see some mind-blowing rock formations and sheer mountain faces that slide right into the sea.
Getting there: Pomos is on the north west coast of Cyprus. Take the A6 to get there in about two hours and twenty minutes.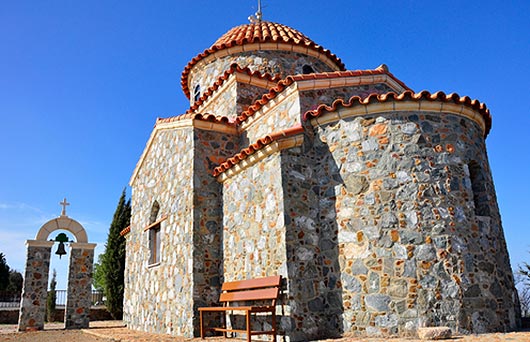 Lefkara (left) and Stavrovouni Monastery (right)
9. Avakas Gorge
If you're a fan of hiking and spectacular nature, you simply can't miss out on a road trip out to Avakas Gorge, which is located 16km west of Paphos and packed with awe-inspiring sights around ever corner. The 3km long gorge has walls which reach 30m high in some areas and you'll find pine trees, cypresses, oaks and wild fig trees as well as animals like foxes, falcons, crows and hares. When you want to experience the wild side of Cyprus, this is it!
Getting there: Avakas Gorge is a two hour drive from Larnaca via the A1 and A6.
10. Kato Drys
A chic and petite village southwest of Larnaca, Kato Drys is a gorgeous village that spills down the hillside in a cascade of whitewashed houses with terracotta rooftops, punctuated here and there by the distinctive silhouettes of cedar trees. If you'd like to spend the night, there are some cosy accommodation options and there's lots to see, including a clutch of churches that span the past five centuries, the kitsch bee and embroidery museum and the popular Jar Preserves breakfast spot, where you'll find some of the tastiest jams on offer anywhere.
Getting there: Kato Drys is around 40 minutes inland from Larnaca, via the A5 road.
So there you have it ̶ a driving decathlon that allows you to sample all of the natural beauty, amazing history and distinctive culture which combine to make Cyprus one of the most enjoyable places to holiday on the planet.
Whether you like lively nightlife with world-class DJs, historical sites where you can step thousands of years back in time, sweeping sandy beaches and secret coves, rugged rock formations dropping into turquoise waters or magnificent sky-scraping mountains, you'll find it all here.
While it's possible to join group tours to experience some of the destinations we're highlighted, noting beats travelling by car if you've got a sense of advanture and an independent outlook. When you're touring Cyprus in your own vehicle, you can spend as long or as little as you like in each destination.
We hope you enjoyed our Larnaca road trip rundown ̶ bon voyage!