Top 10 Road Trips from Berlin
Potsdam
Spreewald
Szczecin, Poland
Dresden
Kulturinsel Einsiedel
Leipzig
Bad Muskau & Kromlau
Spandau
Peacock Island
Lubeck
Berlin is a cultural powerhouse which emerged from a troubled 20th century history to become a symbol of unity and internationalism. It's also the metropolis which inspired John F. Kennedy to declare 'Ich bin ein Berliner' in 1963 and David Hasselhoff to belt out his hit song 'Looking for Freedom' to adoring crowds at a concert amidst the remains of the iconic wall in 1989.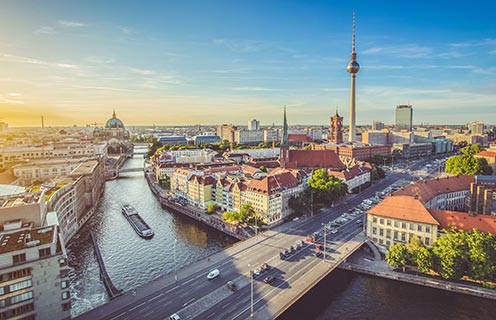 10 of the best scenic drives from Berlin
Few global cities have played as large a role in geopolitical history – you can explore the remaining sections of the Berlin Wall here (with out without 'the Hoff' on your playlist), visit Checkpoint Charlie, marvel at the neoclassical Brandenburg Gate, and wander through Prussian palaces where time seems to stand still.
But Berlin is also an uber-hip contemporary city where you'll experience cutting-edge design and enterprise hubs, collaborative cultural spaces, and local and international stars performing in concert, as well as shooting movies. An accessible, welcoming city which is completely down to earth yet effortlessly unique, the ambience here is awesome and you'll feel at home whether you're gorging on haute cuisine in one of its many magnificent restaurants, dancing in a niche nightclub or simply chilling out in a café with a cold beverage.
Other distractions in this cool capital include visiting the neo-Baroque Bundestag (parliament) building designed by Sir Norman Foster, sunbathing and people watching in the lush Tiergarten (Berlin's main park), enjoying riotous avant-garde theatre at the Schaubuhne, and picking up unusual antiques at the Mauerpark flea market.
But the city is also a fabulous gateway to the rest of Germany, so once you hire a car in Berlin from Enjoy Travel, everything from one of a kind historical sites to serene lakes and legendary forests is close by. With cheap and reliable Berlin car hire at your fingertips, Germany's urban and rural delights are yours to discover at your leisure.
Top tips on driving in Berlin
You'll be cruising through your Berlin road trips any second now – but first let's take a brief roadside break for some useful tips on driving in Berlin and Germany.
Always drive on the right hand side in Germany. You'll probably be used to manual cars from the UK and most have this type of gearbox in here too – if you prefer an automatic, request this from your rental company at the earliest opportunity.
Berlin is full of cyclists (as is Germany in general) so please remember proper road etiquette, give bikes ample space, and beware of cycles whooshing past as you enter and exit your vehicle.
German cities have lots of one-way streets and many intersections don't allow you to turn left. Those that do have a left turn lane placed after the intersection – in this case you would make your manoeuvre only after other cars have proceeded straight ahead. There's also no right turn on red at intersections – you can only turn right on a green light, except in circumstances where there's a separate green filter light pointing right.
There's a recommended speed limit of 130 km/h on the autobahn (motorway) but in the fast lane (furthest left) you'll often encounter cars travelling at up to 200 km/h. The slower lanes are to the right and you should travel in the lane and at the speed you're most comfortable with.
Now that you've refreshed your driving smarts for German roads, let's get rolling with those recommended road trips!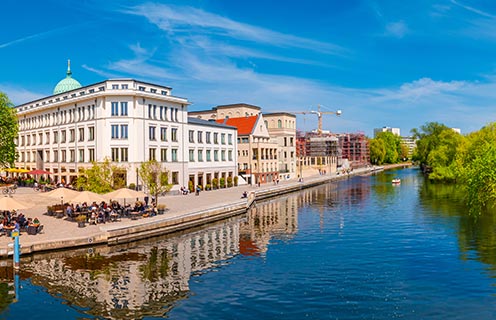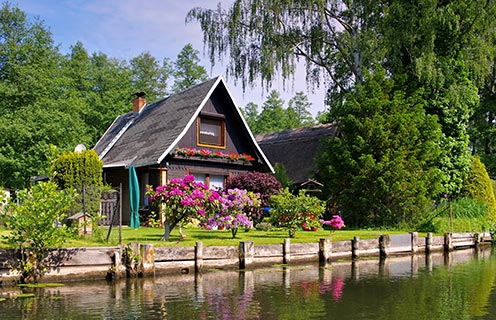 Potsdam
A former royal city which sits just beyond Berlin's borders, Potsdam is the perfect easy road trip destination. The Sanssouci Palace once hosted the king of Prussia during his summer excursions, and complementary historical attractions include Charlottenhof Palace with its well-ordered English gardens, the Roman Baths and the Glienicke Bridge – site of several dramatic Cold War spy exchanges. If you're a history buff, you'll have a brilliant time here.
Getting there: Potsdam is 50 minutes southwest of Berlin via the A115.
Spreewald
Want to get away from the hustle and bustle for a while to enjoy some Zen moments in sublime natural surroundings? Then you'll love Spreewald – a UNESCO-recognised unique biosphere where rivers and canals wind their ways through a lush forest peppered with authentic wooden bridges and houses. Whether you want to ride a traditional Kahn boat or pilot a kayak, you'll feel completely relaxed and spiritually cleansed.
Getting there: Zaanse Schans is just 20 miuntes north of Amsterdam vis the A8.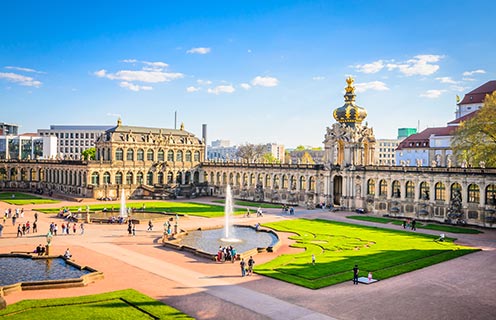 Szczecin, Poland
Fancy a road trip that satisfies your foodie cravings and showcases some superb Polish architecture and natural scenery? Just a couple of hours from Berlin, Poland's Szczecin boasts a captivating jumble of architectural styles spanning centuries, spellbinding cottages and soft sandy shores. But it's also the perfect place to sample mouth-watering pierogis – luscious local dumplings with filling like cheese and pork.
Getting there: Szczecin is two hours 15 minutes northwest of Berlin via the A11.
Dresden
Located in the east of Germany, Dresden is a delightful day trip from Berlin. An absolute joy for architecture fans, classic Baroque buildings include Dresden Cathedral, while there's a massive museum complex in Dresden Castle with treasures including precious jewellery. The Zwinger Palace and gardens are breath-taking, and you can relax after your sensory overload with a stroll along the banks of the Elbe River.
Getting there: Dresden is two hours 30 minutes south of Berlin via the A13.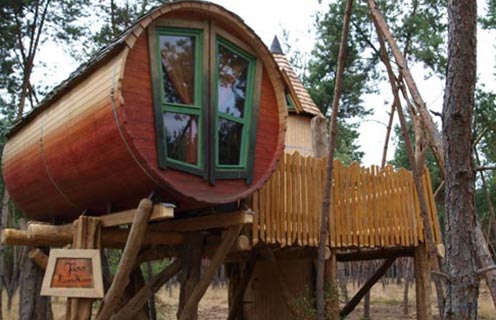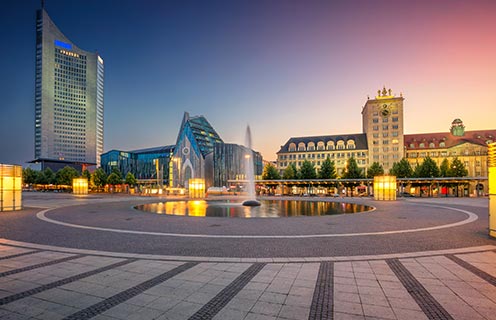 Kulturinsel Einsiedel
A cultural fun park carefully crafted amongst forest trees and glades, Kulturinsel Einsiedel feels like the fairy tale pages of Hansel and Gretel come to life. Here you'll find tunnels, mazes, treehouses, slides and secret chambers – the setup is inspired by folk tales from the Turisede region. The best part? To make the longer journey worthwhile, you can stay overnight in a log cabin and bathe in a witches' caldron spa!
Getting there: Kulturinsel Einsiedel is three hours from Berlin via the A13 and A15.
Leipzig
A bright, elegant city in east Germany, Leipzig makes for a refreshing road trip out of Berlin. The Markt square in the city centre is the best place to get your bearings – from here you can see St Thomas Church where Bach is buried and other attractions include the noble opera house, Gewandhaus Concert Hall and gargantuan monument commemorating the Battle of the Nations in 1813, when combined Prussian, Russian, Austrian and Swedish forces defeated Napoleonic France.
Getting there: Leipzig is two hours 25 minutes away via the A9.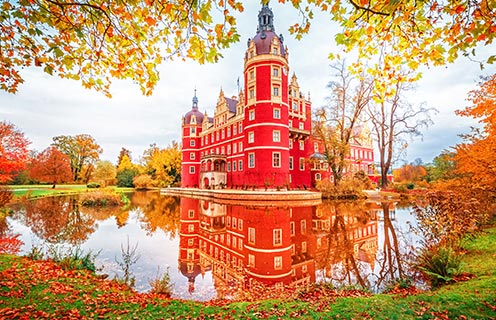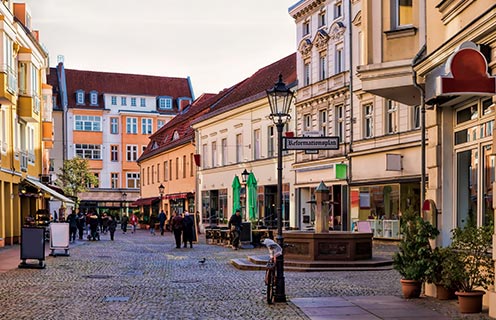 Bad Muskau & Krumlau
It's worth getting an early start for the drive south to Bad Muskau near the Polish border. Here you'll find the UNESCO World Heritage Site Muskauer Park, where there's a beautiful 19th century castle surrounded by formal English gardens. Your next stop is the Devil's Bridge of Kromlau – this most Instagrammable of crossings is located in the calming surroundings of Azalea and Rhododendron Park Kromlau and it really is magical.
Getting there: Bad Muskau is two hours and 20 minutes from Berlin via the A13 and A15.
Spandau
If you fancy a change of atmosphere from Berlin city centre but don't want to venture too far, a drive out to the western suburb of Spandau is ideal. In the ancient neighbourhood of Kolk you'll see charming half-timbred houses, and the giant Spandau Citadel sits imposingly across the River Havel. This 16th century renaissance-style fortress creates a lasting impression, and you can occasionally see jousting exhibitions!
Getting there: Spandau is 45 minutes away from central Berlin via Spandauer Damm.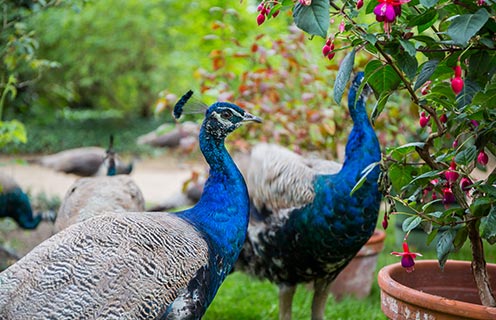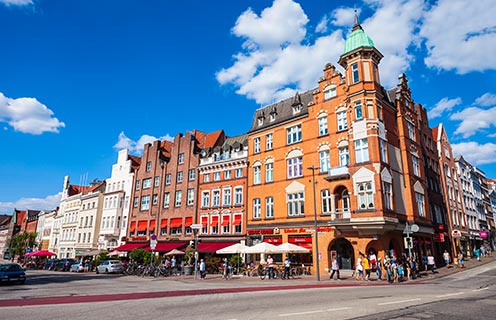 Peacock Island
So you like peacocks? And islands? Then this road trip will truly tickle your fancy. Located close to Berlin, the romantic Peacock Island is accessible via ferry from Wannsee Station. Once a bolthole for Prussian royalty, this unique spot is now a nature reserve and highlights (apart from the colourful birds) include animals like water buffalo and woodpeckers, as well as the fairy tale castle of King Friedrich Wilhelm II.
Getting there: Peacock Island is 50 minutes away via A115.
Lubeck
286km northwest of Berlin, Lubeck is a decent distance away from the city but it's worth starting out early for a quick turnaround daytrip or even to stay overnight. A lovely seaside town, it boasts temperate Baltic waters, a brilliant beach and town centre replete with medieval architecture. If you're feeling peckish, this is the world marzipan capital, so fill your belly with this flavoursome snack!
Getting there: Lubeck is three hours 15 minutes from Berlin via the A24.
These top 10 road trips from Berlin enhance your city break no end – drive safely and have a wonderful time.