10 Best Weekend Breaks from Rome
Santa Marinella
Tivoli
Santa Severa
Sermoneta
Castelli Romani
Anguillara Sabazia
The Park of the Monsters
Lake Martignano
Calcata Vechia
Rocca di Papa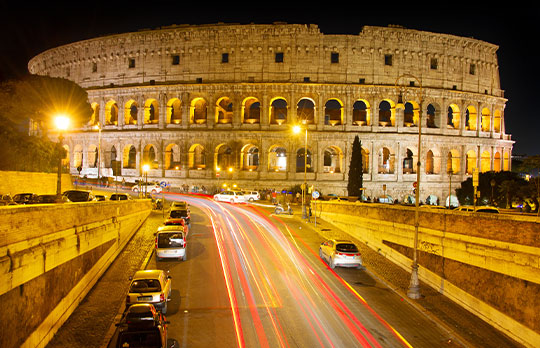 Top weekend breaks from Rome
Rome. Capital of Italy (and Lazio region). The Eternal City. Famous as one of the cradles of western civilisation and revered for its history, architecture, cuisine, couture, romance and locals with a lust for life. With an impressive 2.8 million population, it's not only Italy's biggest commune, but also Europe's third-largest city. With a history that stretches back 28 centuries, Rome either engendered or refined many of the big ideas which have been distilled into what most of us would call civilisation and its global influence spans everything from seminal mythology to modern fashion. Its iconic city centre is listed as a UNESCO World Heritage site and its one of the world's most-visited tourist sites – with millions of visitors each year.
There's so much to do in Rome that it would take several lifetimes to experience it all. But (if you haven't already) there are a few must-dos on your tourist to-do list. For starters, the iconic Colosseum was built way back in 70-80AD, and this 80,000-seat mega-stadium might be crumbling a little, but still looks as imposing as it did in the days it welcomed gladiators, wild animals and other forms of brutal entertainment. Then there's the remarkably well-preserved Pantheon (built as a monument to the gods by Hadrian in 125AD – heard he was handy if you needed a big wall too). And Michelangelo's famous frescoes on the Sistine Chapel ceiling take creativity and artistic genius to a heavenly level. If you're an opera fan meanwhile, you can enjoy powerful performances in the plus surroundings of the Teatro dell'Opera or (if you're here during summer), the beautiful Terme de Caracalla complex – an ancient pool and sauna hub built between 213 and 216AD. Talk about a dramatic backdrop.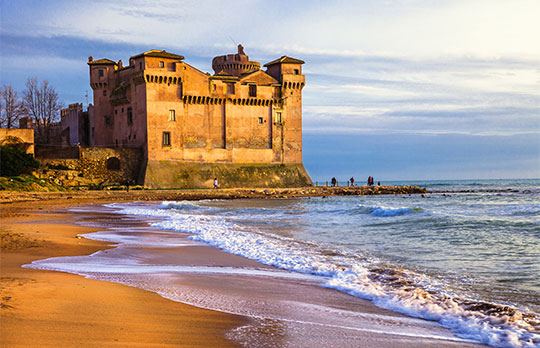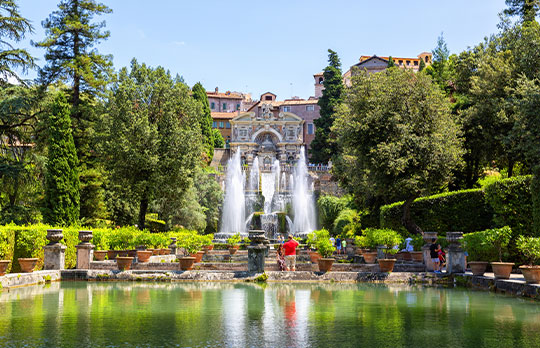 Prepping for your break from Paris
Your weekend breaks will be here in less time than it takes to drain the water from awesome al dente penne. But prepping perfectly for a road trip from Rome is even more important than preparing pasta – so let's look at a few quick tips.
First off – if you don't know already – local Roman drivers can be pretty aggressive, so keep your eyes wide open and always drive defensively. And if you're planning on taking your car to see any of the sights we've mentioned in the middle of Rome, the advice is simple – don't. Leave it parked at your hotel and hop on public transport instead – much less stressful.
Hiring a car in Rome is definitely worthwhile but the convenience of independent travel comes into its own when you venture outside the city limits and cruise through the countryside for a wonderful weekend break – more of which right now!
Santa Marinella
Fancy a weekend break in a delightful destination that's just over an hour's drive up the coast via the A12/E80? Santa Marinella is a beautiful beachside location in Lazio region where you can chill out, dip your toes in the soothing Mediterranean waters and wander along golden sands. You can lay down your spot on the public section of the beach or pay a fee at the Stabilimento in return for your own exclusive chill-out spot with umbrella and showers a stroll way – the choice is yours. If you like seafood, you'll be in your element – try Tavola Azzurra 2 restaurant for exquisite ocean-fresh dishes served with no frills.
Tivoli
Just 45 minutes east of Rome, Tivoli is still within the city's metropolitan limits, but far enough away for a change of pace and scenery. A small town with a big history that's almost as ancient as the capital's, Tivoli blossomed thanks to its strategic trading post position between Rome and Abruzzo. Entertaining things to do here include marvelling at Hadrian's 2nd century villa – which is actually more of a village, complete with temples, gardens and libraries. The highlight might be Villa d'Este though – constructed much later (in the 16th century) for the notorious Borgia family, its opulent grounds, ornate exterior and palatial interior are the stuff of legend.
Santa Severa
Another dreamy Lazio commune, Santa Severa is sits just over one hour from Rome via the A12/A80. And what treats arrive when you get there! Perched on a promontory, the medieval castle looks like it's floating magically on the sea surface, while there are many more historical attractions in the village proper, which is named after a Christian martyr who died here in 298AD – Severa. Highlights include the Church of Santa Severa Assunta, the 9th Century AD Saracen Tower and the interesting Sea Museum. You'll also find the remains of two stunning temples at the Antiquarium – the 6th century BC Uni temple and 5th century Leucothea temple.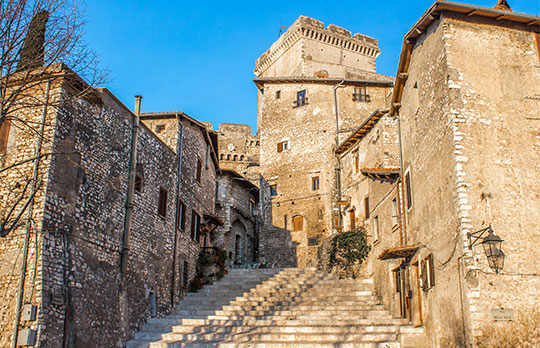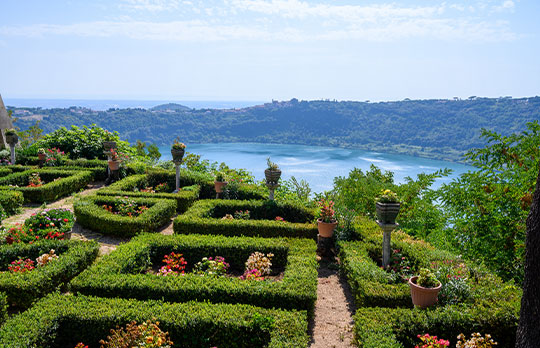 Sermoneta
One hour and 30 minutes from Rome along Via Pontina/SS148, Sermoneta is another weekend break destination with lots to recommend it. The sprawling Castello Caetani has labyrinthine passages and panoramic views, while another awesome attraction is the Abbazia di Valvisciolo church with its cool cloisters. Meanwhile, La Loggia dei Mercanti di Sermoneta is another highly-rated historical building with gorgeous stone galleries, and you can keep kids entertained with the agricultural animals and up-close-and-personal shows at La Piccola Fattoria di Sermoneta farm.
Castelli Romani
A quick hour's drive along the SS7 and SP217, Castelli Romani is a great place to spend a scenic (and historic) weekend. This collection of Roman villas and castles encircles a volcano crater on the Alban hills and a trip along the route takes you through several picturesque villages as well as the Nemi and Albano lakes. Spend a night (or three) in Morino or Ariccia to sample lovely local wine and artisan food.
Anguillara Sabazia
50 minutes northwest of Rome via SS2bis, Anguillara Sabazia is just 30km from the hustle and bustle of Rome, but its relaxed ambience feels otherworldly. Located on the shore of Lake Bracciano, this town got its name thanks to geometry – a Roman villa (named 'Angularia') once sat here at the point where the shore forms an almost perfect right-angle. A favourite weekend getaway for Romans, it's perfect for romantic walks, sumptuous meals and simply treating yourself to a coffee in a chic café and watching the world go by.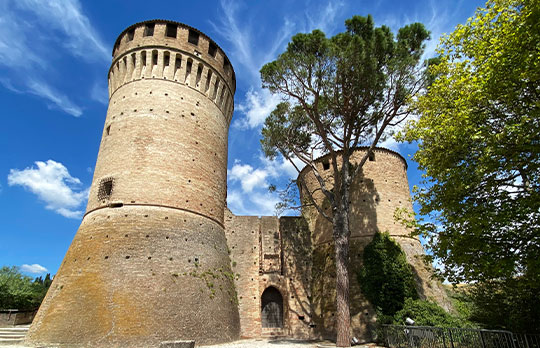 The Park of the Monsters
One hour and 20 minutes from Rome, The Park of the Monsters at Bomardo is a unique place to spend the weekend. Wandering through this fabulous garden full of massive stone sculptures of scary, strange and downright mind-boggling monsters is a truly surreal experience – and not one you'll forget in a hurry. Created by Pirro Ligorio for Prince Pier Francesco Orsini, its heady ambience mixes childhood imagination and ancient mythology.
Lake Martignano
58 minutes north of Rome via the SS2bis, Lake Martignano is a sublime, scenic weekend location where you can unwind all the way. With crystal-clear waters, sandy shores and thick forests, this area hits the bullseye for nature lovers and it's superb for recharging your batteries. Favourite activities around Lake Martignano include cycling, hiking, sailing and horse riding – but you can also just relax and focus on the pure pleasure of doing nothing much at all in sublime surroundings.
Calcata Vechia
Fancy visiting a village that's a magnet for hippies and artists? Course you do. Calcata Vecchia is one hour's drive north via SS2bis and doesn't disappoint. Built on a massive boulder looking over the Treja River valley and surrounded by thick woodlands, this amazing village seems to spring into the air from nowhere and has attracted writers, artists and various other intellectuals since the 1960s, when most of its original inhabitants abandoned it for safety reasons and took up residence in a newly built village nearby.
Rocca di Papa
Around one hour's drive from Rome along Via Appia Nuovo/SS7 and SP217, Rocca di Papa lives up to it's cool sounding name with a host of things to see and do. The second-highest town in the Alban hills, it looks up to Monte Cavo, it was once the ancient Italic town of Cabum. This is an ancient town with its finger firmly on the pulse of modernity – the ancient villas of former Roman nobles sit next to eye-popping contemporary street art.