Cannot decide whether to choose Bodrum Vs Antalya?
Bodrum and Antalya are two of Turkey's most popular sun-soaked city breaks. In an ideal world, you'd visit both but if you're short on time and can only visit one of these destinations, here's our guide to help you decide which city to visit.
Bodrum Vs Antalya: How to Choose Between the Two
Overview – is Bodrum or Antalya better?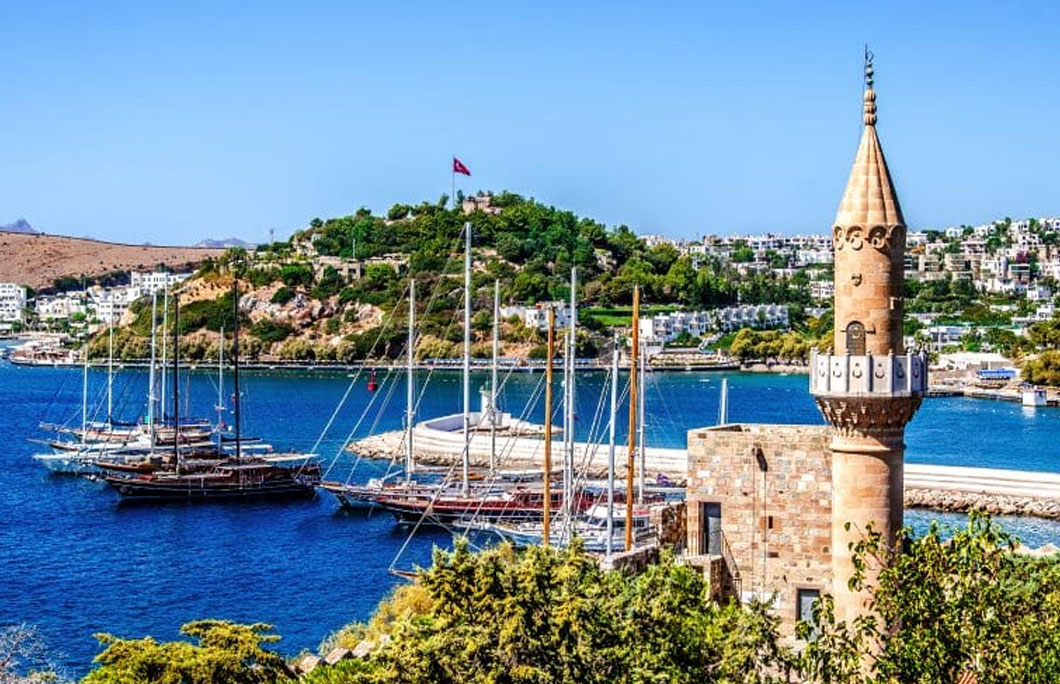 Billed as the 'Land of the Eternal Blue', Bodrum has been a holiday hotspot for thousands of years. Cleopatra and Mark Anthony were famous famously fans of the peninsula, and today it's the most exclusive pocket of the Turkish Riviera. Millions of tourists flock here for its glittering marina, fine dining and vibrant nightlife, though it's still possible to find quieter corners.
Antalya sits on the opposite side of the country, on the Gulf of Antalya. The largest city on Turkey's western Mediterranean coastline, it's been historically overlooked as a gateway city to the region's pretty resort towns. These days, it's a holiday destination in its own right. Combining a beautifully-preserved historic heart, mountain views and brilliant beaches just outside the city walls, it's little wonder why.
---
Bodrum
While Bodrum might be popular with the jet-set, there's still plenty of traditional Turkey to explore here too. Start in Bodrum's historic heart, a cobbled maze of traditional restaurants, shops and stalls. The Dibeklihan Culture Village is one o the best spots to pick up ceramics, rugs and other artisan products. Stay late into the evening and you can catch a concert or open air film here too. For contrast, head to one of the city's glitzy marinas to see some of the world's most expensive super yachts moor up for the supper. When it comes to markets, the Saturday market in Turgutreis is well worth a visit too. Just half an hour from Bodrum, it's riot of colours, cloth and delicious smells.
The Castle of St. Peter is Bodrum's superstar sight. Set high on Bodrum Bay, the 15th century fortress was built by European crusader knights to protect the lands against the Ottomans. They failed, and the Ottomans subsequently turned it into a mosque. Today, it houses a fascinating museum, as well as a museum of underwater archaeology. For even older sights, head east to the fourth-century ruins of Halicarnassus, one of the seven wonders of the ancient world.
There are several good museums worth exploring too. The Zeki Murex Arts Museum offers a fascinating insight into the life and works of legendary Turkish singer, Zeki Muren. For an insight into the port city's naval history, there's the charming Maritime Museum. Or, for something a little more contemporary, there's ARThill, the private collection of internationally renowned artist Ender Guzey.
---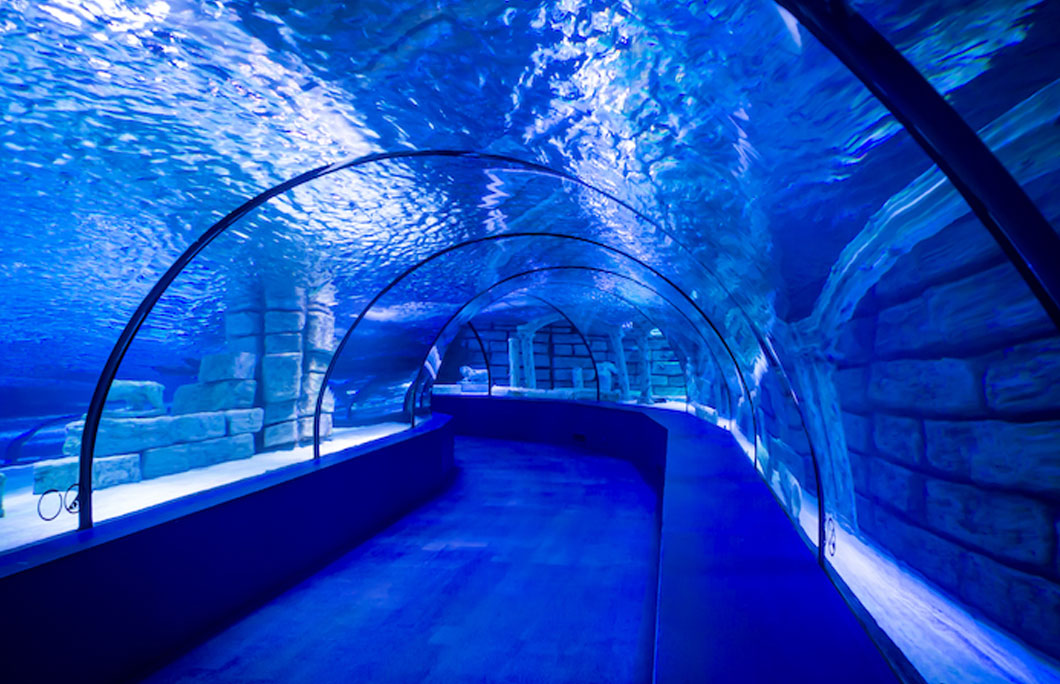 Antalya
Antalya is packed full of historical sights. The city's old town, Kaleiçi, holds Roman, Byzantine, Seljuk and Ottoman ruins. On a short stroll, you can see the sprawling 15th-century bazaar, İki Kapılar Hanı, the 18th-century Tekeli Mehmet Paşa Camii mosque and Hadrian's Gate, built for emperor's visit 130 AD. The Roman Harbour dates all the way back to 2,000 BC too. Just outside the city centre, the Antalya Museum is considered one of the best museums in the region. This comprehensive museum houses a collection spanning everything from the Bronze Ages to Byzantium.
Those looking for some retail therapy can visit Terracity, the largest shopping mall in Antalya or Migros MMM, a sprawling Swiss mall chain. The Main Bazaar is the best spot to find Turkish sweets, silver and leather goods.
Antalya is also home to the world's biggest tunnel aquarium. The Antalya Aquarium tunnel stretches across 131 metre s, holds a staggering 5,000 tons of seawater and is home to 250 different species of marine life.
---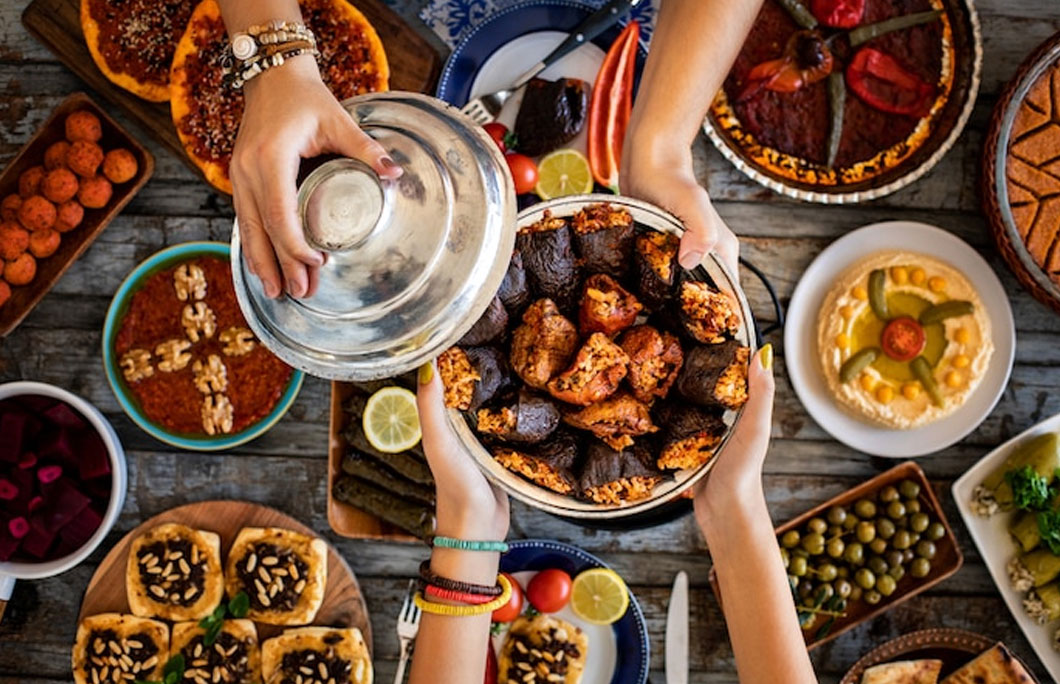 Bodrum
Given its proximity, Bodrum's culinary offering is very similar to Greek cuisine. Popular dishes on the peninsular include stuffed pumpkin flowers, octopus stews, keskek (wheat and meat stews) and radish salads. It's easy to eat well and cheaply here too; you're never more than a few steps from a delicious kebab or mezze.
You'll find a whole variety of restaurants in Bodrum, from no-frills taverns to some of the most finest dining destinations. Seafood aficionados should head to Bodrum Fish Market for their fix. You can choose your seafood and fish from a market stall, then have it cooked and served at the table. Those with deeper pockets will find plenty of ritzy restaurants to cater for their tastes too, like Ent and Maçakızı.
Antalya
Antalyan cuisine is influenced by the nomadic cooking traditions of Turkic, as well as the Mediterranean and Armenian. Popular local dishes include meatball skewers, tahini pumpkin dessert, Kulaklı (soup made with tiny dumplings in tomato sauce) and lentil ice cream. Kaleiçi old town is like one huge outdoor restaurant and you'll find hundreds of eateries serving up local dishes. Can Can Pides serves up cheap, authentic local food at street tables well into the evening. Try the kıymalı pide (Turkish pizza topped with meats).
There are high-end restaurants in Antalya too, mostly concentrated around Konyaalti Beach. For a serious gourmet experience, head to Nar Beach, which offers an eye-popping 200-plate platter.
---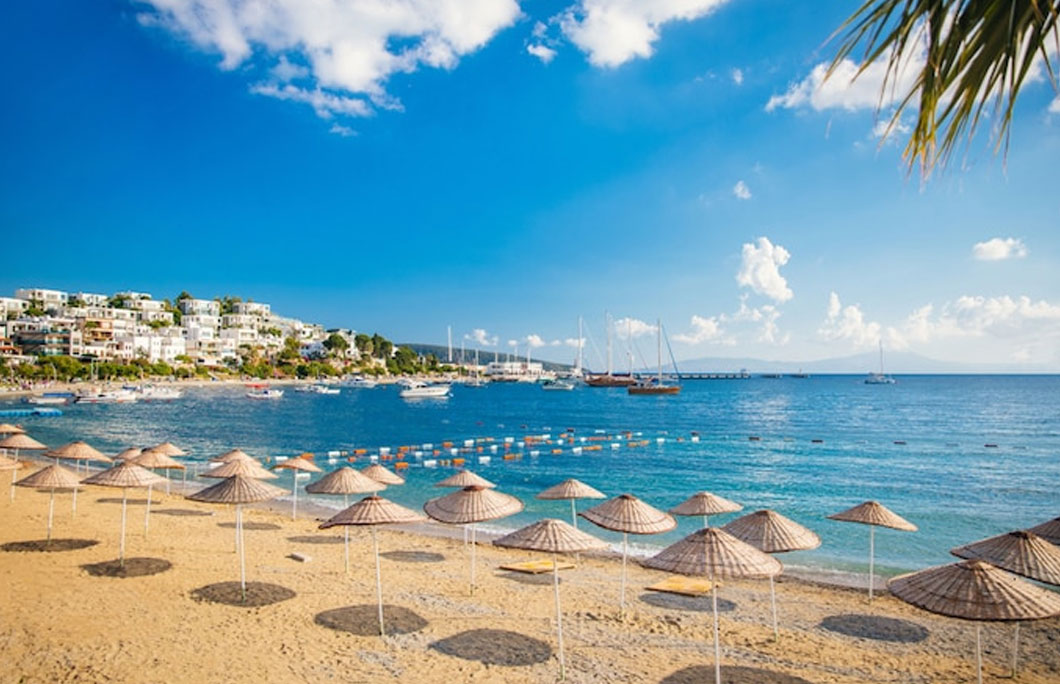 Bodrum
If you're visiting Bodrum without a car and don't want to rely on public transport, there are two beaches located in Bodrum Town. Central Beach, located east of the city, is lined with restaurants and offers a narrow, shingle shoreline. Further east, there's Kumbahçe Beach, which is popular with locals. There's a patrolling lifeguard, free sun shades and sun lounger rental throughout the summer here too.
But for the best beaches, it's worth travelling out of the city and along the peninsula.While most well-heeled tourists head to resorts with private beaches, there are a few good public beaches here. In 2021, Turkey's Ministry of Tourism and Culture built Içmeler, just 2.4 miles (4 km) from the city centre. The beach comprises several platforms overlooking the sea, with an affordable cafe in the central platform. Bitez Beach, a horseshoe-shaped bay, offers calm waters and a shelving shoreline, which makes it popular with holidaying families. It's an easy 15 minute drive to the beach too. Torba boasts a picturesque setting backed by pine forests, while Yahsi is the best beach for swimming.
Antalya
Antalya boasts a whopping 657 km of coastline packed with public and private beaches. Konyaalti Beach is one of the Antalya's best known beaches, located on the west coast of the city. The seven-km stretch is lined with cafes, bars, hotels and nightclubs, but it boasts beautiful views of the mountains too. The buzzing Lara Beach is where you'll find most of the city's themed luxury hotels, like the Titanic Lara Beach, Topkapi Palace and Concorde de Luxe Resort. Its Blue Flag status makes it popular with families too. Mermerli Beach offers a more traditional beach experience, right next to the old port of Antalya.
---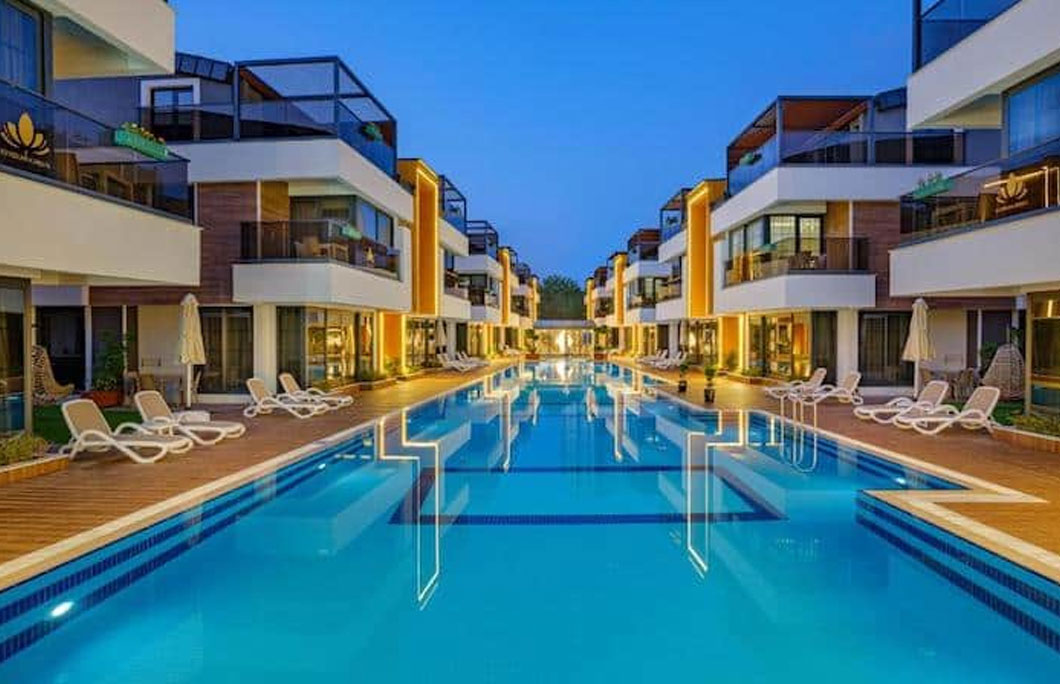 Bodrum
Bodrum is a well-developed tourist town, so finding good accommodation isn't too much of a struggle. Most of the package-tourism resorts are in Gümbet, a little over ten minutes drive from the city centre. If it's your first time in Bodrum and you want to be within spitting distance of the best bars, sights and restaurants, Downtown is your best option. It's small and development is strictly regulated, which means prices escalate in the summer and you'll need to book a room well in advance. For a cheaper alternative, Bitez also has some beautiful hotels and appartments to rent, and it's only 15 minutes away from the city. Those looking for an ultra-cheap break should hotfoot to Akyarlar, which has the cheapest pansiyons on the peninsula.
Antalya
Most people say in one of three districts in Antalya. Kaleici, the city's historic heart, is the best place to stay for authentic restaurants, historical architecture and landmarks. It tends to book up quickly in the summer here, though there is a good range of hostels, affordable appartments and mid-range hotels on offer here. You'll find most of the luxury hotels, often all-inclusive, over in Lara. Belek is another resort town, though targeted towards adult holidaymakers. There are some brilliant golf courses here too, though prices tend to be steeper here.
---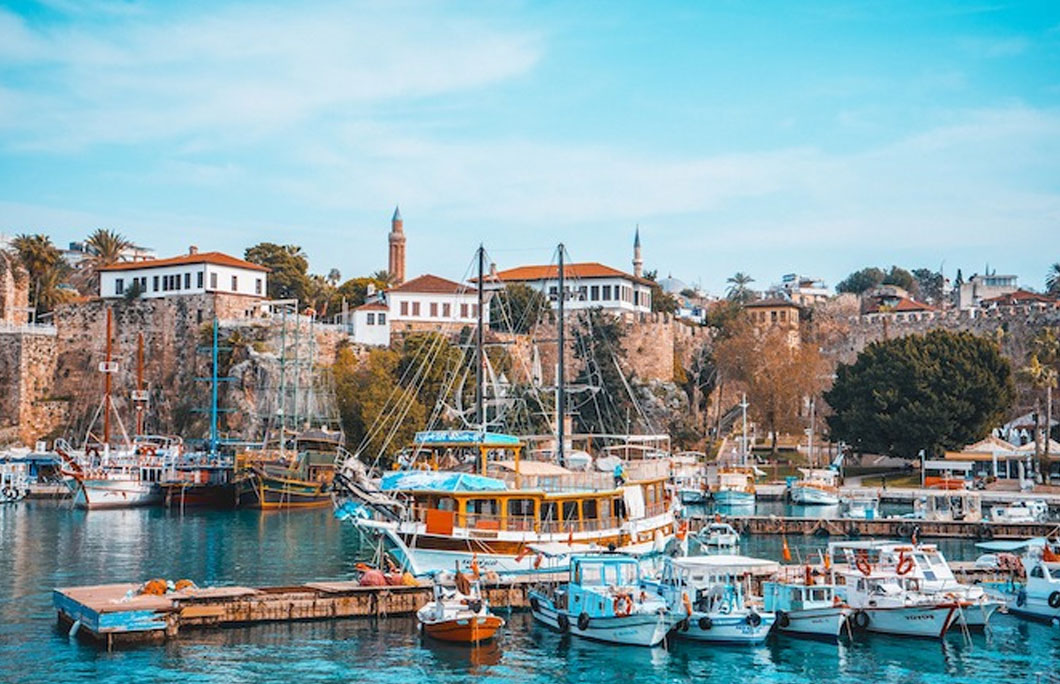 Bodrum has a mediterranean climate, with hot and dry summers. The hottest and driest month of the year is July, with sizzling daily high temperatures of 36 C. January is the coldest and wettest month in Bodrum, with highs of 14 C and an average 57 mm of rain over five days. Sunseekers should head here between June and September for the hottest days and sea temperatures averaging a toasty 23 C.
Antalya is much hotter than Bodrum, with longer summers too. Like Bodrum, sun seekers should head out here between June and September, when the waters are warm and the temperatures are highest. July is the hottest month of the year, with sky-high temperatures of 36 C. January is much coolers, with highs of 14 C and an average 72 mm of rain over four days.