10 of the Theme Parks in the UK
There's something special about a day at a theme park ̶ from the high-tech rollercoasters designed to deliver the maximum number of high-speed thrills per seconds to traditional charming carousels that have been entertaining kids for centuries, there's fun for everyone and luckily the UK has more than it's fair share.
But the Great British theme park is much more than the sum of its parts ̶ it offers the rare chance to escape from everyday concerns and immerse yourself in a different dimension where everything is geared towards pure and simple happiness, joy and laughter.
Spending a day or two at a theme park allows kids to run wild in a safe and controlled environment, while adults enjoy rediscovering pleasures that shouldn't have to be left behind in childhood.
So theme parks are therapy as well as entertainment and the following top 10 are your prescription for pleasure ̶ hit the road in your Enjoy hire car and switch off from the outside world for a few fantastic hours.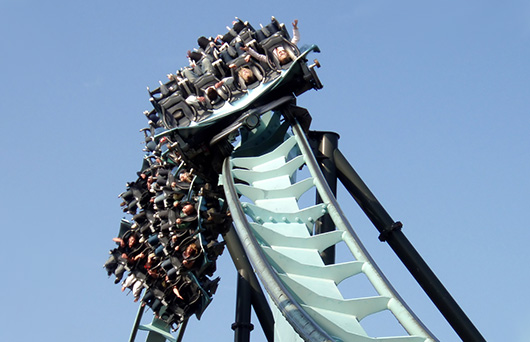 Which are the top 10 theme parks in great Britain?
As you will see, when it comes to theme parks, good old Blighty can definitely give Florida a run for its money, so even if a staycation is the extent of your holiday plans for the foreseeable future, there's plenty on offer in the UK.
Additionally, because Britain is blessed by such beautiful and varied scenery, the road trips to these destinations are an adventure in themselves.
Buy your tickets online, hop in your hire care from Enjoy and set off for the time of your life at one of these top 10 theme parks ̶ you can thank us later!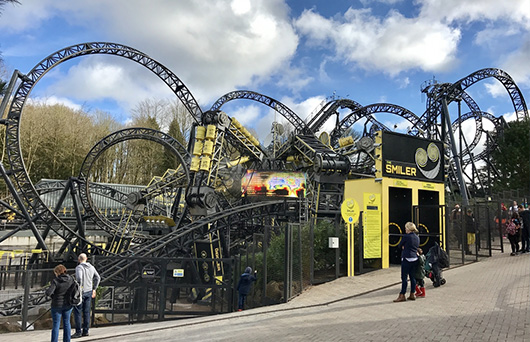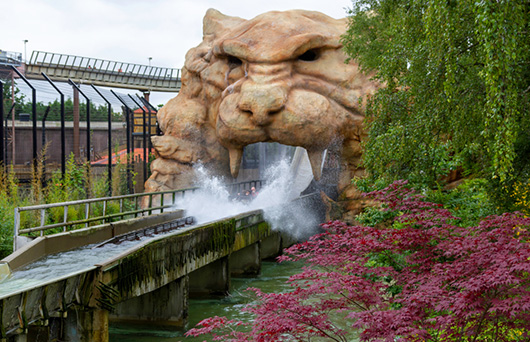 Hit the road, settle into the laid-back rhythm of life and you'll soon fall in love with heavenly Devon.
1. Alton Towers
One of Britain's best-known theme parks, Alton Towers in Staffordshire has become synonymous with fun since it opened back in 1980. Originally inspired by Disneyland, the park was designed to blend various elements of English heritage (the Grade I listed mansion centrepiece dates to 1801) with out-of-this-world attractions and it blazed a trail with Britain's first double loop rollercoaster, the Corkscrew.
An Alton Towers adventure
Today's attractions include Gangsta Granny: The Ride, based on the popular children's book, the frightful Alton Towers Dungeon, the weird Wicker Man ride and the gravity-defying Nemesis rollercoaster. Young kids are well catered for here too ̶ CBeebies Land features live shows from the likes of the Furchester Hotel, Teletubbies, Bing and Hey Duggee. All in all, Alton Towers genuinely is one of Britain's best days out.
2. Lightwater Valley
A North Yorkshire institution, Lightwater Valley has over 30 rides and attractions for kids of all ages, so it's definitely a champion day out you should seriously consider when you're in this lovely part of the world. Opened back in 1969 by entrepreneur Robert Staveley, it now attracts around half a million visitors annually.
North Yorkshire attractions with global appeal
Attractions for younger kids include the Ladybird rollercoaster, the Black Pearl pirate ship (which actually swings through 360 degrees!), the thrilling high-altitude Eagle's Claw, and Jurassic Adventure Golf, where you put your way through the world's weirdest 18-hole golf course surrounded by dinosaurs like the Triceratops, T-Rex and Pterodactyl. Lightwater Valley has been entertaining kids for generations, and it shows no sign of stopping anytime soon.
3. Chessington World of Adventures
Located 12 miles southwest of central London, Chessington World of Adventures resort packs a hotel, zoo and theme park into one impressive complex which opened in its current incarnation in 1987 (although visitors have enjoyed the zoo since back in 1931).
Chessington zoo is an awesome attraction in itself and you'll find over 1000 amazing animals here, including Sumatran tigers, sealions, and even western lowland gorillas. Meanwhile, the Chessington World of Adventures theme park proper is an exciting environment based on eclectic world cultures and popular rides include the chilling Vampire rollercoaster, mine train-themed Scorpion Express, ZUFARI off-road safari jeep ride and Gruffalo River Ride Adventure (the perfect pick for young kids). Combining an educational and entertaining experience, Chessington World of Adventure is in a class of its own in many ways.
4. Legoland Windsor
Officially 'the UK's favourite kid's theme park', Legoland Windsor resort genuinely is rollicking good fun for kids, so you'll earn endless brownie points after taking your youngsters here.
Loving Lego isn't a prerequisite for having a blast here, although it obviously helps because attractions like the DUPLO Dino Coaster, LEGO city driving school, L-Drivers and DUPLO Playtown are all crafted from adapted version of the colourful playtime bricks. Apart from the rides, there's also a cool cinema screening Lego-themed 4D movies and live stage shows featuring all your favourite Lego characters. On your way home, you might as well stop at the majestic Windsor Castle, while Bel & The Dragon is a top spot for traditional English food.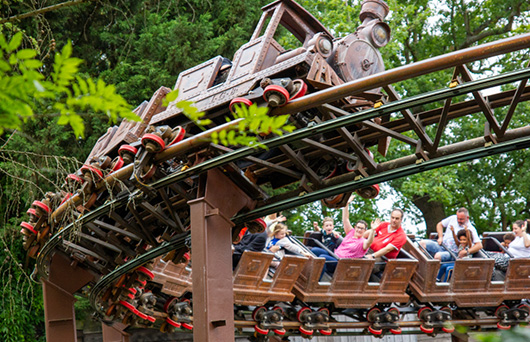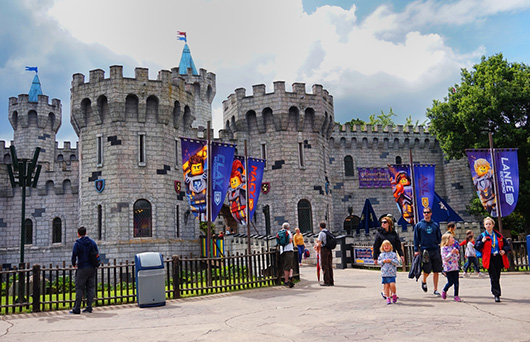 5. M&D's
Located in the vast, verdant Strathclyde Country Park near Motherwell in the west of Scotland, M&Ds delivers a fab family day out with typical Caledonian hospitality.
If you're travelling from afar you can stay onsite at the salubrious four-star Alona Hotel & Restaurant and with a vast range of attractions on offer, you'll need some R&R between rides and attractions! For starters, the Amazonia sector is an indoor rainforest ram-packed with exotic animals like monkeys, parrots, snakes, bats, frogs and fish, while the leaf-cutter ants are amazing to watch. In terms of the rides, the Captain's Curse pirate boat is perpetually popular, the Mad Mouse spinning rollercoaster is marvellous, and kids can try white water rafting, flying jumbos, dodgem cars and more.
6. Oakwood Theme Park
This mega Narberth attraction is the biggest theme park in Wales , boasts exciting activities for all ages and free dog kennels, so you can take your four-legged family members along for the trip!
Thrill rides in this picturesque pleasure dome include Vertigo, the UK's tallest sky swing which catapults you through the air at an alarming speed, Speed, billed as 'the UK's original beyond vertical-drop rollercoaster' and Megafobia, which is one of the best-loved wooden rollercoasters in the whole of Britain.
7. Barry's Amusements
If you're visiting Northern Ireland and yearning for a fun-packed family day out, Barry's Amusements in Portrush is definitely the place to be.
Facilities here include a nursery room with baby changing facilities, café and accessible toilets, so it's well-suited to all types of families, and rides range from traditional attractions like the helter skelter to the kaleidoscopic Monte Carlo kiddie's ride. Furthermore, children always adore the Big Apple caterpillar rollercoaster and older teens and adults can't get enough of the wild and wonderful Big Dipper rollercoaster which will whisk you up, down and all around before depositing you at the finish line with a beaming smile on your face and your pulse racing!
8. Sundown Adventureland
Located in Retford, Nottinghamshire, Sundown Adventureland is specifically designed for under 10s, so if you're looking for delightful distractions for younger kids, you've struck it lucky with this legendary theme park.
Rides and attractions include the Monkey Mayhem Driving School, a safari-themed course where kids drive their own mini 4x4 monster trucks, the massive Angry Birds outdoor soft play area, Robin Hood's Merry Adventure, which immerses kids in the story of the legendary outlaw, and Shotgun City, a Wild West Town complete with an old-style saloon and a shooting gallery where you blast pots, pans, jars and all sorts of unusual (and noisy) targets.
9. Flamingo Land
Another top-class North Yorkshire theme park, Flamingo Land combines traditional rides and attractions with an award-winning zoo and resort village in its wonderfully named Kirby Misperton location.
The zoo has an eclectic mix of domestic and exotic animals, including donkeys, salamanders, alpacas, warthogs, zebras, red pandas, ostriches, porcupines, white rhinos, red kangaroos and more. And the fun continues at the theme park, with heart-thumping rides like the Mumbo Jumbo, with its vertiginous 112-degree vertical drops, the spectacular Kumali suspended looping rollercoaster and Velocity, Britain's only motorbike launch coaster!
10. Landmark Forest Adventure Park
If you're visiting the Scottish Highlands and the preternaturally beautiful scenery doesn't satisfy your kids as much as you and your partner, Aviemore's Landmark Forest Adventure Park has been voted Scotland's best family day out and when you see what's on offer you won't be disappointed.
The Wild Water Coaster takes you on a wet and wild ride over three fabulous waterfalls (the Falcon, Wildcat and Otter), the Runaway Timber Train rollercoaster has plenty of twists, turns and drops above the neighbouring forest canopy, the Skydive is a parachute jump simulation for those with steely nerves and the Lost Labyrinth is a magical maze full of cool caverns, bubbling mud pools, and a mystical waterfall gateway.