Newcastle Car Hire
Find the best deals in Newcastle
With a massive choice from the biggest brands, Enjoy the best way to find the best prices for car hire in Newcastle.
Huge choice of cars to suit every budget
Save up to 70% compared to buying on the day
10 years experience in car hire
Compare car hire in Newcastle
Newcastle upon Tyne, commonly referred to simply as 'Newcastle', is the largest city in North-East England and has a long and compelling history which is reflected in its culture, people, and geography.
A range of car hire operators make it easy for you to cruise around town and there are plenty of terrific things to see and do.
Here are a few mind-blowing facts about Newcastle, or 'The Toon', as locals call it.
Newcastle is the most populous city in the North East of England and the centre of the Tyneside conurbation which includes Gateshead, Tynemouth, Wallsend, South Shields and The Jarrow. The combined population stands at 800,000, while the city population itself is 300,000.
People from Newcastle are known as 'Geordies'.
Founded as Pons Aelius ('Hadrian's Bridge') in the 2nd century CE by the Roman Emperor Hadrian (of Hadrian's Wall fame) the name Newcastle comes from the city's magnificent castle, built by Robert Curthouse, son of William the Conqueror, in 1080 CE. Originally a wooden fort, it was rebuilt in stone in 1087 and the name Newcastle (Novum Castellum) originates in this time.
Conflicts with Danish Vikings in 876 AD left the area in ruins and it was destroyed again in 1088 AD as part of an anti-Norman rebellion.
Newcastle was instrumental in various wars with Scotland (due to its location on the English-Scottish border), and the King of Scotland William the Lion was imprisoned here in 1174 AD.
Coal was central to the economy from as early as 1400, when Newcastle was separated from Northumberland and given its own county status.
Newcastle was also important in the English Civil War (1642-1651). The city declared loyalty to the Crown, but Oliver Cromwell's Roundheads, allied with the Scots, held Newburn and South Shields after months of siege.
In the 18th Century, Newcastle was a major printing centre, behind only London, Cambridge and Oxford.
The city was a powerhouse of the Industrial Revolution thanks to its prominence in shipbuilding and heavy engineering.
Newcastle speed Limits are 48 km/k in built-up areas, 96 km/h in built-up areas, and 112 km/h on both dual carriageways and motorways.
Everyone drives on the left in Newcastle, as they do in every part of the United Kingdom.
Guide to Newcastle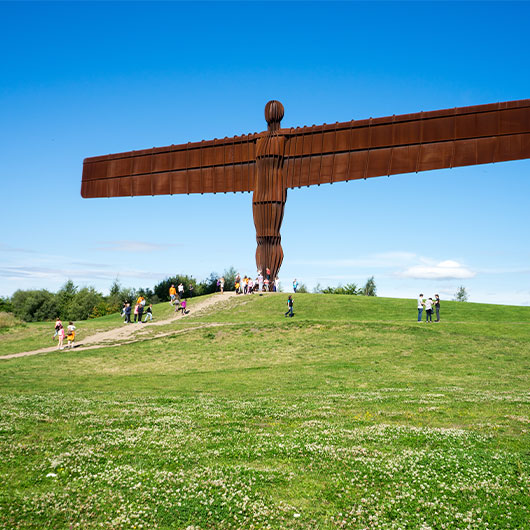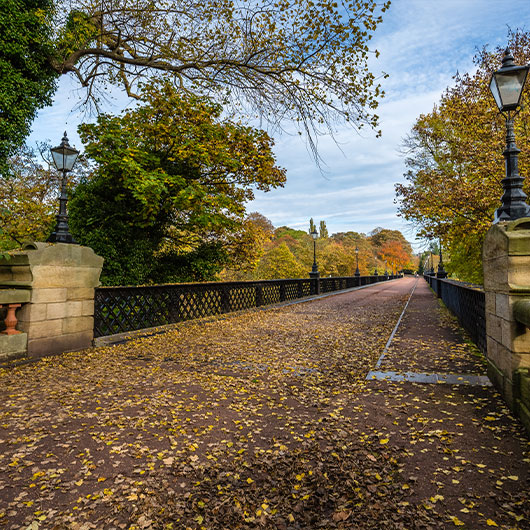 Newcastle is a bustling multi-cultural city with legendary nightlife, award-winning restaurants and intriguing historical attractions.
If you're a foodie, The Toon doesn't disappoint either. The North East is home to artisan bakeries, craft brewers and eclectic culinary sensations which reflect the area's diverse populations, history and culture. From Sunday roasts in a traditional cosy pub, to Chinese, Indian, Italian, Greek, Turkish and Lebanese restaurants, you'll never be stuck for somewhere to tempt your taste buds.
Meanwhile, if you're a drinker you're in for a treat too, because Newcastle is famous for its enthusiastic drinking culture, and there's something to suit all tastes and wallets. You'll find perfect places to pop a cork on a bottle of prosecco, stylish spots to sip an artisan cocktail, and historic pubs serving soothing ales next to roaring fires. And no self-respecting Newcastle beverage guide is complete without a nod to the world-famous Newcastle Brown Ale.
Newcastle's city centre is perhaps best explored on foot. Much of the street layout remains medieval in design, with numerous alleys (known as 'chares' to locals) and old stairwells reaching from the elegant riverside up to the Neoclassical parts of the city known as Tyneside Classical. It's possible to drive in the city centre ‐ but be sure to plan your route beforehand because there are a number of one-way streets which support Newcastle's congestion control measures, providing a less polluted city centre.
The Newcastle Quayside is a stunning mix of regenerated spaces and original buildings, forming a hub of office and retail spaces, shops, bars and restaurants. It's the perfect place to appreciate the cities' (Newcastle and Gateshead, on either side of the Tyne River gorge) bridges. These include Robert Stephenson's High Level Bridge built in 1849, the first road-rail bridge in the world, and the Gateshead Millennium Bridge, which has a cutting-edge design that opens and closes the bridge like an eyelid to let ships pass through. The Tyne Bridge, completed in 1928, bears an uncanny resemblance to the Sydney Harbour Bridge ‐ they were both built by the same company.
Shopping, eating, drinking
The Bigg Market hosts a number of lively bars, as does Collingwood Street, the Jesmond area and Ouseburn area, which also hosts potteries, glass-blowing studios and other art spaces. And The Gate, a large city-centre venue which boasts a 12-screen multiplex cinema, is also filled with bars, restaurants and clubs. Newcastle has its own 'Pink Triangle' (an area amenable to the city's LGBTQ+ population), which is centred around the Times Square area.
If you're yearning for architectural ambience, head to Grainger Town, because the city's finest buildings can be found here, including those in the Grainger Market and the Theatre Royale. The high number of listed buildings here succinctly showcases Newcastle's now world-renowned architectural heritage.
There are several parks in the metropolitan area ‐ to the north-west of the city centre is Leazes Park and directly north from the city centre lies the Town Moor, which is larger than London's Hyde Park and Hampstead Heath combined.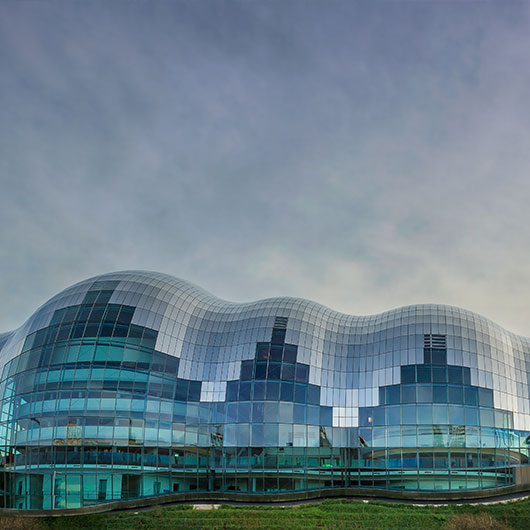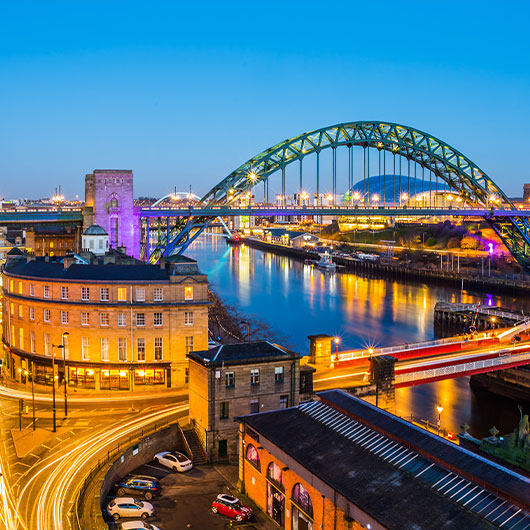 Things to do in Newcastle
There are so many entertaining things to do in Newcastle that you'll have to prioritise what you want to see/do most, particularly if you're only here for a few days. And it goes without saying that a night out in Newcastle is essential for any visitors there, where you can mix with friendly, no-nonsense locals of many ethnicities and nationalities in a truly electric atmosphere.
With that in mind, here are some of the best things to do in Newcastle:
Top of this list is the Victoria Tunnel ‐ previously both an underground route for transporting coal and then an air raid shelter during the Second World War. There are tours most days, and tickets can be booked online. Two to three hours are needed to make the most of this unique visitor attraction.
There are few parts of Newcastle from which St. James' Park, home of Newcastle United F.C, can't be seen, but for a closer look, book a behind-the-scenes tour. The famous football club was formed in 1892 when rival clubs Newcastle West End and Newcastle East End merged and its honours include four league championships and five FA cups.
Newcastle is well situated for easy access to the surrounding countryside ‐ the A1 is the East Coast's main road which connects Edinburgh (77 miles away) to London (280 miles away). But if you don't want to go too far then a trip to Jesmond Dene park is a must. There are lively areas, quiet secluded havens, picnic spots, ice cream vans, and the kids' favourite, Pets Corner.
The Discovery Museum is a vast, family-orientated, three floor space packed with inventions, exhibitions, model ships and interactive science exhibits. It's the ideal place to learn the history of Newcastle from the Roman era to the present day.
The castle in Newcastle dates from 1080 CE, with surviving parts (such as the Black Gate) remaining as they were hundreds of years ago. From Royal fortress and Border stronghold to grungy dungeon and packed slum, the stories of this atmospheric heritage site will resonate long after your visit.
The Biscuit Factory is the UK's largest independent space for arts and crafts, including pottery, glass-blowing, fine art, sculpture and jewellery. It also hosts several exhibitions every year, so you're sure to see new works of art each time you visit.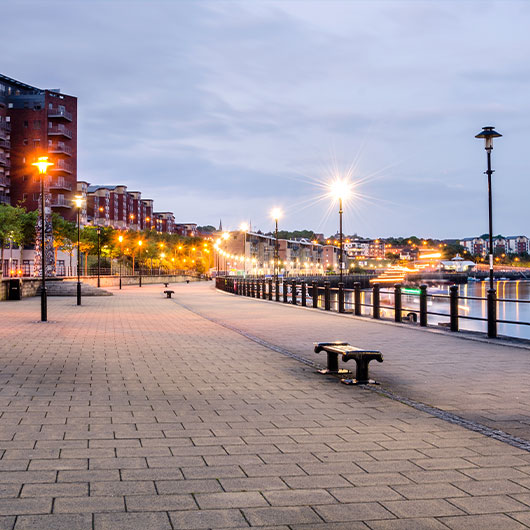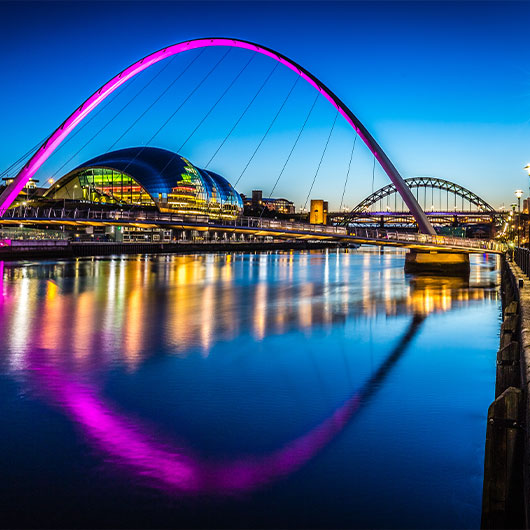 Eating out in Newcastle
Newcastle is one of Britain's hidden foodie hot spots (although it's rapidly gaining recognition). Once you've discovered where to find its most lip-smacking emporiums, you won't be disappointed, and you'll never be stuck for choice.
Here are a few places in Newcastle that your tastebuds will thank you for visiting:
First up is an Asian fusion-type eatery that's a big hit with tourists and locals alike – Soju & Gogi is situated on Dean Street, which is 5 minutes' walk from both the quayside and Central station. It caters for Asian foodies of all genres, but with heavy emphasis on Korean food. Bibinbap, Kimuchi, and Chijimi (savoury pancakes) are all excellent, and go down particularly well when washed down with one of the extensive varieties of rice wine on offer – don't be afraid to try a new tipple while you're there.
To the East, placed between the areas of South Heaton, Byker and Ouseburn, is The Beirut Lounge, at 5 Heaton Street. As the name suggests, it's a Lebanese restaurant which is also both vegetarian and vegan-friendly, but with a particular focus on Lebanese/Mediterranean staples like lamb (try the kebabs!), halloumi, and a huge range of breads and dips, to name a few highlights.
Fancy something a bit more local? Look no further than Aidan's Kitchen in Sandyford (Starbeck Avenue). You can really absorb the wholesomeness of traditional British food here, in a classic café/pub setting. Particularly popular for breakfast, brunch, and lunch, favourites among locals include meatballs, lamb stews, eggs benedict, and of course the full British breakfast ‐ the best hangover cure possible after a night on the Toon! There are also gluten-free options, free Wi-Fi, and high chairs available for younger gourmands.
Car hire at Newcastle International Airport
Newcastle International Airport is 6 miles (9.7 km) to the north of the city centre, in Ponteland. It's connected to the Metro system, and a journey to the city centre takes approximately 20 minutes. With over 90 worldwide destinations, it's the fastest-growing regional airport in the UK and the tenth largest overall, handling more than 5 million passengers a year.
Newcastle Airport (NCL)
Here's a brief overview of the reliable car hire options available Newcastle International Airport:
Car hire at Newcastle International Airport (NCL) is provided by reliable UK-based operators like Easirent and Green Motion, as well as several international companies. Vehicles available include stylish small cars from Fiat and Hyundai among others, sports coupes from Mercedes and Volvo, a huge variety of mid-sized economy cars, compact cars, and standard-sized cars such as the Volkswagen Passat. Whether you're heading to the countryside around Newcastle or navigating the city centre and its environs on a retail therapy spree, there are more than enough vehicles and packages to choose from.
Car hire packages at NCL usually include features like theft protection, 24 hour assistance and free cancellation up to 48 hours prior to the start of the agreed rental. There are also often special offers, giving you options such as a fixed mileage amount, one-way discounts and attractive daily and weekly rates. Check out the discounts available through Easy Car Hire ‐ they're hard to beat.
Car hire at Newcastle International Airport also includes global car rental firms like Enterprise and Alamo. Enterprise is the biggest car hire company in the world, with 100,000 staff in 90 countries and 1.9 million vehicles available, and Alamo is another huge global car rental operator.
Your ideal car hire vehicle will depend on your requirements like cost, the size of your party and the requirements of your itinerary ‐ for instance, a smaller vehicle suits a couple who want to scoot around the city easily, but a larger group with grandparents and small children might be better off in a roomy seven-seater.
Top Tips when hiring a car in Newcastle
● A big number of our users encountered rental cars in Newcastle for less than £29 per day.
● When going for A Newcastle upon Tyne car hire you should keep in mind that among car hire locations, the Airport ones are cheaper compared to the Newcastle city centre.
● When you reach the Newcastle car hire desks make sure to have your international driving permit or driving license with you, your purchase insurance and go over the details of your rental agreement carefully.
● Once you pick up your hire car you should head for the head north, towards the North Sea to explore the coast, see the iconic Tyne bridge and the Lake District.
● Booking your rental car in Newcastle in advance even if it's be at least 1 day before your trip ensures you'll get the best car hire deals.
● Mini hire car models among vehicle categories in Newcastle are cheaper and more popular than other vehicle types.
Got a Question? Chat with our UK support team
Online chat help is open 08:30am to 17:00 weekdays. Email: [email protected]
FAQs about car hire in Newcastle
Most frequently asked questions about hiring a car in Newcastle
Depending on your chosen company and model, car rental costs in Newcastle vary. As a general guide, currently a small car costs from £10 per day at the time of writing, a medium car costs from £11 per day, going up to £200 per day for top-range sports cabriolets from manufacturers like Mercedes.
You can hire a cheap small car in Newcastle for as low as £6.50 per day at present.
Economy car hire in Newcastle costs from around £6-£7 per day at the very lowest to £11-12 per day for compact cars like the Honda Civic and Ford Focus. But if you're splitting the cost of car hire with others in your party, a larger saloon like a Fiat Tipo or Skoda Octavia seats five comfortably and comes in at between £20-£22 per day, which equates to a reasonable price per person if you're splitting car hire costs.
The minimum age for renting a car in Newcastle is usually 21 years old, although this can vary by company so be sure to check first. Furthermore, the age limit can be higher for vans, people carriers and luxury models.
Some car hire firms may apply additional charges for renting a car in Newcastle – this might happen for drivers between the ages of 21 and 25 for example, or for those who require some sort of tailored package due to unusual requirements. Additionally, some car hire providers apply an airport surcharge for vehicles picked up at their air hub outlets. However, all of the aforementioned car hire firms are reputable so should clarify extra charges from the start. If no extra charges are mentioned but you're still unsure and don't want to get caught out by contractual small print, be proactive and ask them to explain clearly before you sign, and take plenty of time to read and fully understand all rental agreements.
Yes – usually it's fine to add extra drivers to the agreement, provided their license is valid and an additional daily fee is paid. Again, this may vary by company so please check to confirm.
Choosing the best car for getting around Newcastle depends on your group size, itinerary, and plans – if you're a solo traveller, a Vauxhall Corsa or Mini Cooper can be ideal for city centre parking and buzzing around town, but if you plan taking a larger group off to explore the beautiful countryside surrounding the Newcastle area, perhaps a seven-seater vehicle like a Vauxhall Zafira Tourer is preferable.
Newcastle upon Tyne is certainly not an inexpensive destination. During your visit to Newcastle upon Tyne you'll spend approximately £104 per day.
You can hire a cheap small car in Newcastle for as low as £6.50 per day at present.
Seeing the coast is one thing, but you should also make time for Newcastle Castle, Tynemouth Aquarium and Sandhaven Beach.
The best time to visit Newcastle upon Tyne for ideal weather is from mid-June to September.
In Newcastle upon Tyne to rent a car for a week you'll spend £152, or £22 per day.
The prices vary between £1.19 and £1.02 for a litre of fuel in Newcastle upon Tyne.
Explore more popular places in the UK