Top 10 Road Trips in Sweden:
The Wilderness Road
Dalsland to Stromstad
Stromstad to Malmo
Arctic Road Trip
Blekinge Coast
Dalarna Circuit
Tjorn to Gothenburg
Humeslingan in Scania
Lake Malaren Circuit
Sodarasens Park to Copenhagen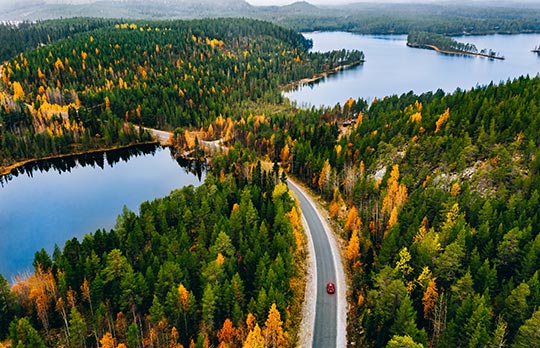 10 best scenic trips in Sweden
Ah, Sweden. Just whispering the name of the largest Scandinavian nation feels like an incantation. If you're picturing snowy peaks, verdant forests, 24/7 summer daylight and IKEA flat-packs, you're not wrong. But there's so much more to explore in this amazing country – including crystalline lakes, pristine, sophisticated cities and beautiful beaches that are so quiet there's no chance of an international incident when you try to put your towel down for the day. If you're planning a Swedish road trip, congrats on your exquisite taste – there's something special around every turn here.
Rest assured that you'll meet some lovely people along the way in Sweden too. A model of social democracy, the country has achieved an enviable balance between individual liberty and civic responsibility – you'll encounter a unique blend of joie de vivre and straight-talking integrity in every interaction.
The lion's share of Swedish terrain is characterised by forests and lakes, while most of the population resides in cities and towns in the south. Capital Stockholm rests elegantly on 14 different islands and there's refined culture as well as lively party and cuisine scenes. Strike out into the 24,000 islands of the Stockholm archipelago and you'll discover charming rustic villages and the laid-back vibes of country life, while Gothenburg in the west offers a legendary warm welcome to match its wide boulevards and charming networks of canals.
The north of Sweden is the traditional territory of the Sami people and here you can experience an ancient way of life in the wilderness, with activities including dogsledding, reindeer sleigh rides and restaurants offering fresh local fare. Sweden is famous for its sharp, modern design sensibilities, but this oft-overlooked facet of its cultural heritage is perhaps even more richly rewarding. You can also trace the nation's history in its rune stones, burial mounts, fortresses, palaces and castellated cities – the story of Sweden is truly captivating.
From camping under the Northern Lights to shopping for designer homeware, Sweden has something to satisfy all tastes – a road trip vacation is the ideal way to find out for yourself.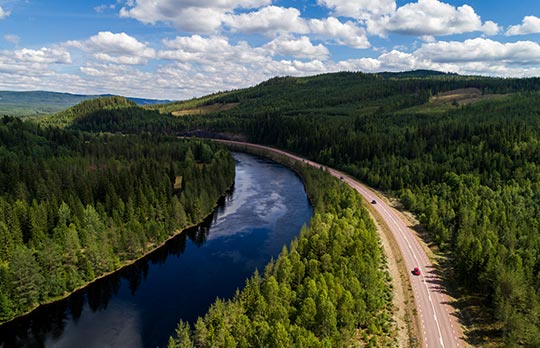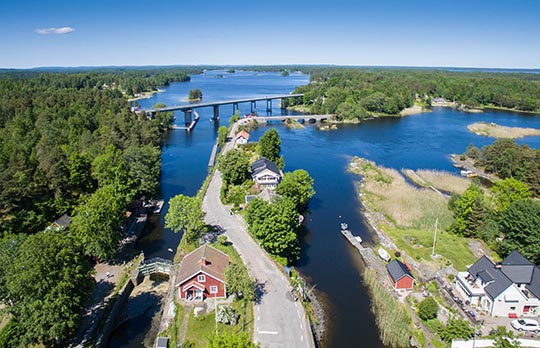 Top tips on driving in Sweden
We'll get started on your top 10 Swedish road trips in two shakes of a reindeer's tail. But let's take in a few driving tips first – you might thank us later!
Firstly, you should keep your headlights on and dipped – all year round and on every road. As you might expect, everyone in the car should wear seatbelts, and if you're driving in the depths of winter, carry a can of anti-freeze and a foldable shovel.
Drive on the right and overtake on the left here (which you'll know if you're a resident!) and only use your horn to provide warning of a possible accident. Drink-driving rules are strict here and the blood-alcohol limit is 0.02%.
Speed limits on the same road can vary in Sweden because they're based on the inherent risks of any [articular sector, rather than the road category. In general, the maximum speed in built-up areas is 60km/h-100km/h and 120km/h on motorways.
Now, without further ado, let's get cracking with your 10 best Swedish road trips!
The Wilderness Road
This 500km circuit which starts and ends in Stromsund really lets you drive on the wild side. Schedule in between 2-7 days to make the most of it. You'll drive past crystal-clear lakes and white water rivers on your way up to the Stekenjokk plateau, which is Sweden's highest road (879m above sea level). You'll also find labyrinthine cave systems, hiking trails and cute church towns – take your time to absorb it all before heading back down.
Dalsland to Stromstad
This one hour 20 minutes road trip is a mini-masterpiece that packs a punch for outdoor adventurers. Delightful Dalsland is your starting point – it's characterised by white beaches and dense forests, as well as attractions like the local moose ranch and Lake Laxsjon. Once you reach Stromstad, park up your car for a while and hop on the passenger ferry to Koster Island, an idyllic spot that's Sweden's first marine national park.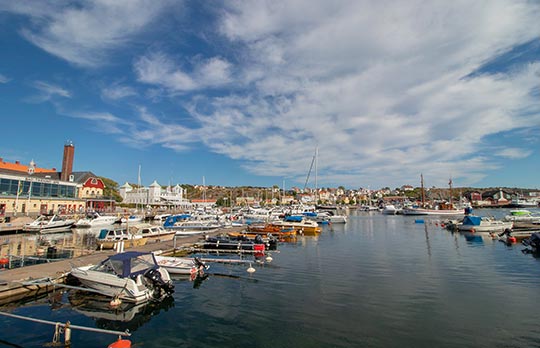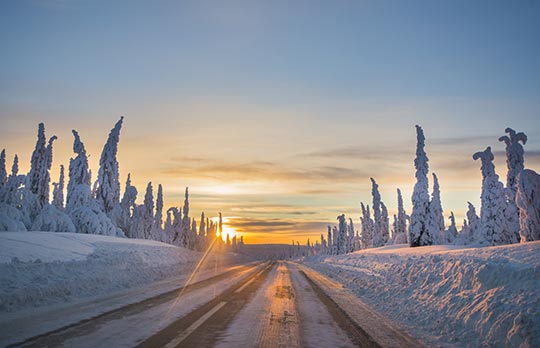 Stromstad to Malmo
Fancy a 450km odyssey that takes you down Sweden's west coast and encompasses castles, swimming hotspots and family attractions aplenty? Course you do! Starting at Stromstad in the north, highlights of this route include Boras Zoo and the Ark of the North, where you'll see many endangered creatures, as well as the impressive Malmö Castle and Varberg Fortress. Along the way, watch out for unique sites like the Bronze Age farm at Vitlycke.
Arctic Road Trip
This rugged trip from Kiruna to the Norwegian border and back again covers 262km – it'll take at least a day or maybe two if you prefer a more leisurely pace. This section of the E10 is one of Sweden's most northerly and panoramic roads, and by turns caresses the shores of the vast Tornetrask lake, veers through Abisko and affords amazing views of the U-shaped Lapporten mountain. Riksgransen is the last stop before Norway, so refuel or recharge here, and grab a bite to eat before your spectacular return journey.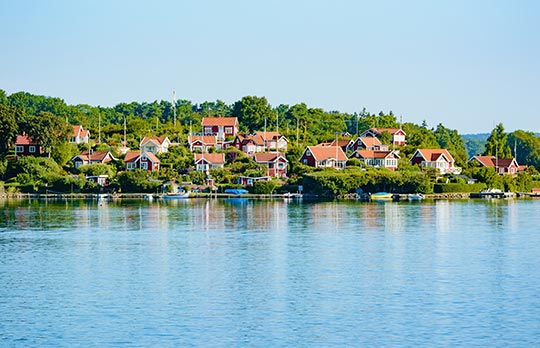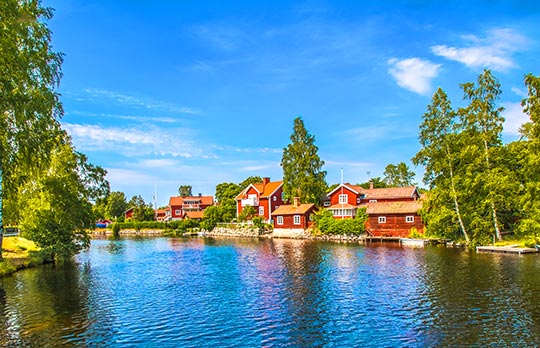 Blekinge Coast
A short but sweet one hour road trip between Hallevik and Karlskrona, the Blekinge Coast route showcases picture postcard villages and historic sites. At Hallevik you can explore the fish museum or try the goods at one of the local fish smokehouses – delicious! Your next stop is Karlshamn, an ancient, chartered city with a lovely neighbouring archipelago, then world heritage site Karlskrona is your final destination – it's blessed by awesome architecture and a laid-back ambience.
Dalarna Circuit
If you're a culture vulture, this 257km road trip offers rich pickings. Highlights include the lovely lakeside towns of Mora and Leksand (hubs of local music and dance), and the village of Nusnas, where artisans make the famous decorated Dala horses. Meanwhile, Solleron island is home to Viking graves and there's a fascinating heritage copper mine at Falun.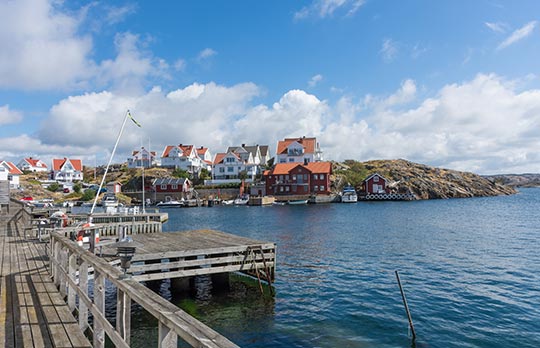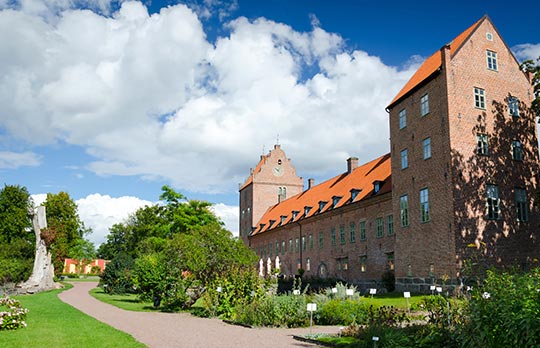 Tjorn to Gothenburg
In less than one hour, this swift road trip takes you from coastal delights to city sights. Kladesholmen Island in Tjorn municipality is an old fishing community where you can sample sumptuous seafood, while nearby Skarhamn village hosts the Nordic Watercolour Museum and works by artists like Dali and Zorn. Drive on to Gothenburg and the wonders of the capital are waiting – there are trendy independent stores, haute cuisine restaurants, leafy parks and noble buildings.
Humeslingan in Scania
A 31-mile trail that loops around the inspirational Ivo Lake, Humeslingan in Scania is always a pleasure for drivers. Start at Vanga or Bromolla and you can pick and choose from premium pitstops like Backaskog Castle (a favourite hangout of King Charles XV), the Gudahagen Iron Age burial site and Humletorkan art gallery in Nasum. A short journey with a long list of attractions, this is a must-drive road trip.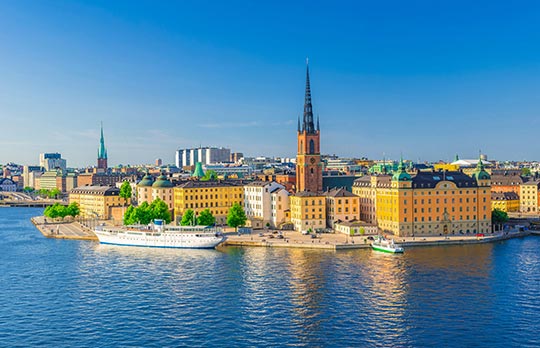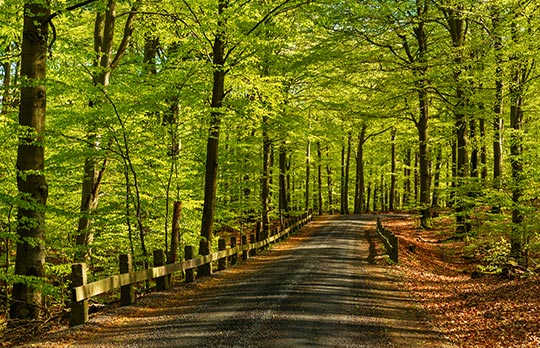 Lake Malaren Circuit
This 400km route starts and ends in Stockholm and unlocks riveting history and ravishing history around romantic Lake Malaren. Highlights include historic castles like Gripsholm and Skokloster, as well as ancient towns like Sigtuna. Meanwhile, Sweden's largest burial mound is at Anundshog and there are Bronze Age rock carvings at Boglosa. If you've got a sweet tooth that needs satisfying, the pastries at Taxinge-Nasby Slott stately home are divine.
Sodarasens Park to Copenhagen
This trip takes you from one of Sweden's most stunning national parks across the border to Danish capital Copenhagen – all in one hour and a half! Sodarasens National Park is situated in Skane, the nation's most southerly region and its ancient terrain features dramatic cliff and precipices as well as enchanted forest dells. Drive on and you'll reach the iconic Oresund Bridge, where cosmopolitan Copenhagen awaits on the other side.
With so many diverse attractions and varied landscape, it's tough to sum up Sweden neatly in one brief soundbite.
Brimming with natural beauty and aeons of history and peppered with cities that are effortlessly cool and superbly stylish, this Scandinavian nation is one of the world's best places to live and visit.
If your interest is sparked, hire a car in Sweden and roll out for an adventure – there's nothing like travelling under your own steam!