25 Of The Best Summer Food Festivals In Europe
Long days, (hopefully) sunny skies, and warm weather – summer is the time to head to a food festival. The great thing about food festivals is not only can you enjoy the food, drink, and live music, but you also have the opportunity to learn about preparation, pairing, improve on skills, and so much more. That's why millions of food lovers flock to festivals all across Europe, a foodie's paradise. Some festivals are niche, and some have something for everyone, but you're bound to be tempted by at least one. Here are 25 of the best summer food festivals in Europe.
The Best Summer Food Festivals in Europe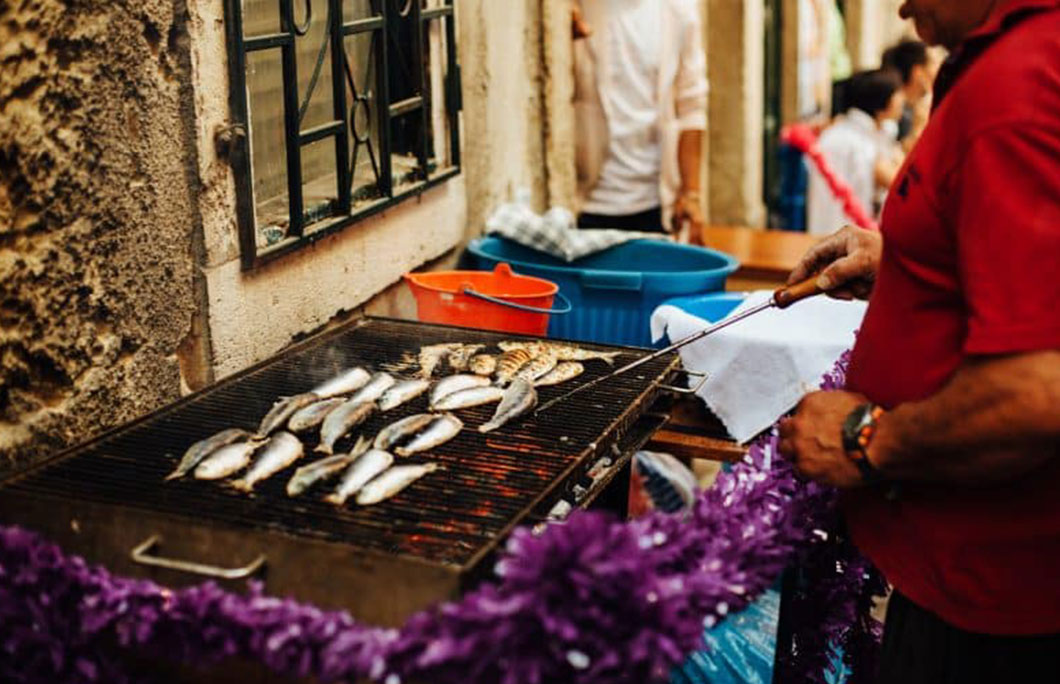 1. Sardine Festival, Portimão (Portugal)
Love them or hate them, there's no denying that sardines are very much loved in the Algarve. The Sardine Festival is held to celebrate the start of the sardine season while celebrating their long and delicious history. The salty fish is cooked to perfection here – the tinned sardines that you might know of are basically sacrilege. Enjoy them the Portuguese way – place each fish on a piece of bread, peel off the skin, eat the meat of the fish, and then enjoy the sardine soaked bread to complete the meal. Washed down with a nice cold Sagres. Of course, the sardines are the main attraction. But there are other food options, stalls selling local handicrafts, street artists, and live music. By night, it's a big party.
Festival dates: 3rd – 7th August 2022
Must-try dish: Erm, sardines!
---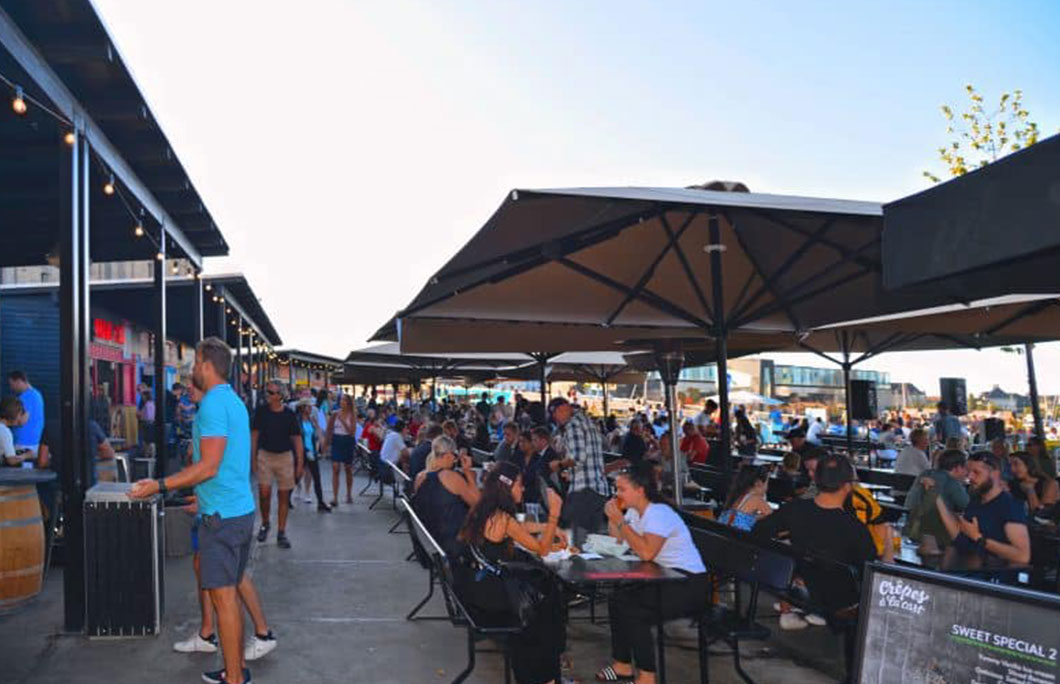 2. Copenhagen Cooking Festival, Copenhagen (Denmark)
Copenhagen is a decidedly foodie city. It's a 10-day celebration where over 80,000 visitors flock to dive headfirst into Nordic culinary delights. This is where you get the very best of Copenhagen gastronomy. The theme this year is 'Breaking with New', which ties in nicely with the city's reputation as pioneers in food and innovative thinking.
Festival dates: 19th – 28th August 2022
Must-try dish: Smørrebrød – a traditional open-faced sandwich
---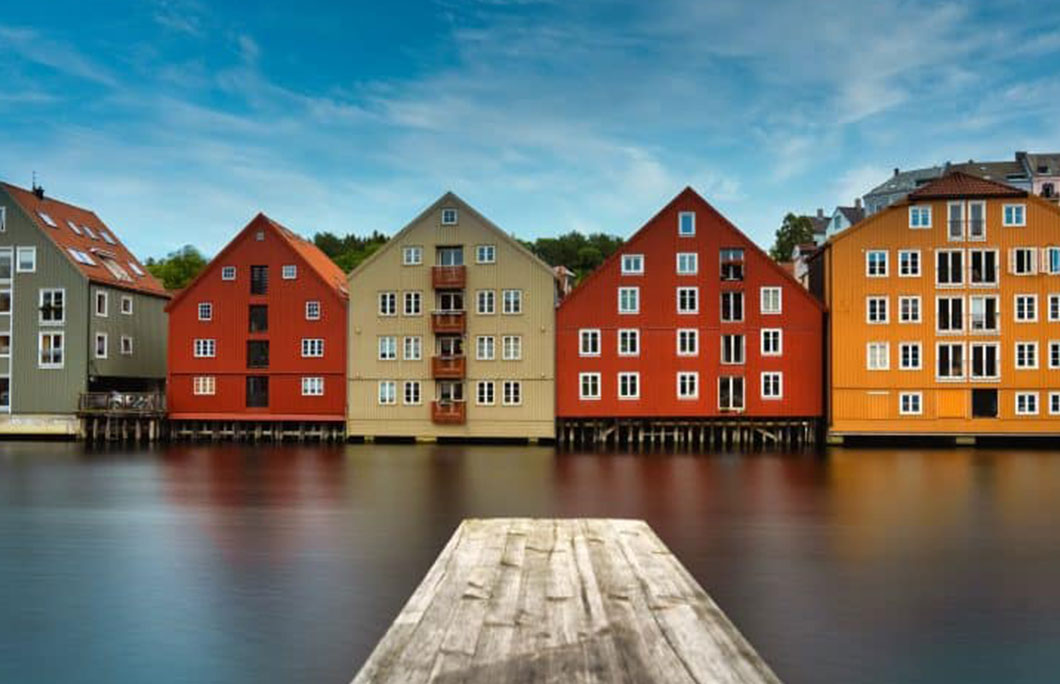 3. Trøndelag Food Festival, Trondheim (Norway)
Trondheim is perched on the mouth of the River Nidelva, and the access to local, high-quality produce has made it the heart of Norway's food scene. It's a huge affair, drawing over 250,000 people! There are over 200 food stalls, made up of local farmers and food producers. The stalls pay homage to their roots, all decorated in the classic Norweigan style. Expect interesting cooking classes, including food preservation, fermentation techniques and shellfish preparations. The Trondheim Brewery Festival takes place at the same time, so you can wash it all down with freshly brewed beer!
Festival dates: 28th – 30th July 2022
Must-try dish: This region has some of the best cheese in the world, try out edel blå and grotteost
---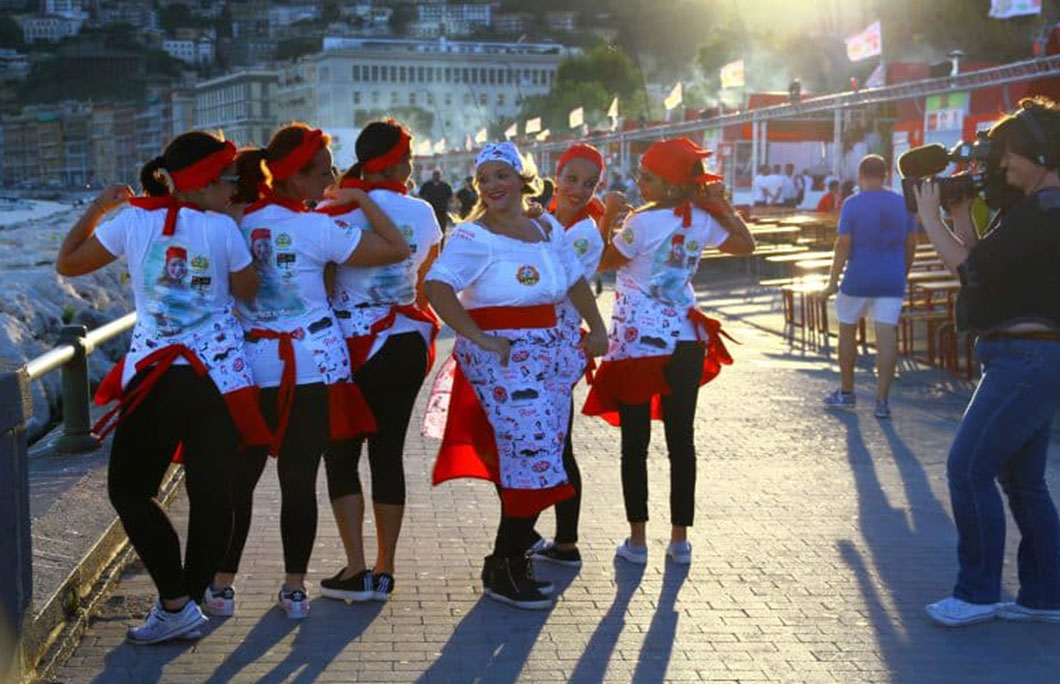 4. Napoli Pizza Village Festival, Naples (Italy)
A pizza festival in the birthplace of the pizza. Need we say more? Over the course of nine days, you can try out pizza from plenty of famous local pizzerias and hundreds of pizzaiolos from all over the world. It's not all just about eating the pizza, though. The festival pays homage to the history of this delectable food with seminars and exhibitions. You can also take on interactive workshops and demonstrations. But the highlight (other than eating the pizza) is the World Pizza Maker Championship! People travel from all over the world to take part, so you don't want to miss out. Plus, it's Italy, so of course, there's live entertainment.
Festival dates: 17th – 26th June 2022
Must-try dish: Margherita pizza
---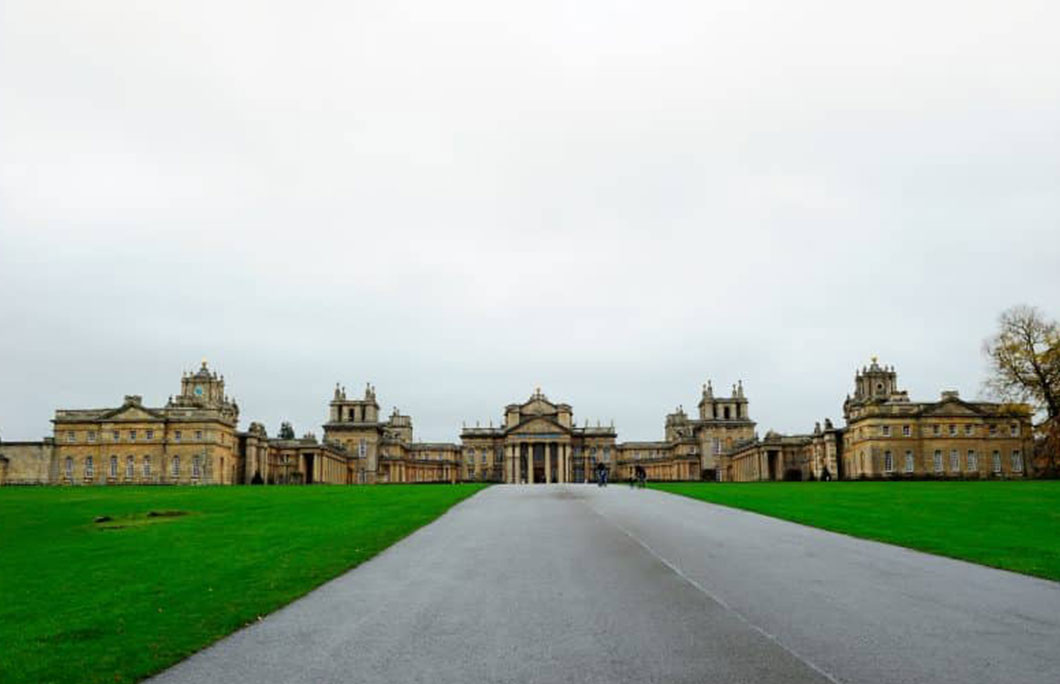 5. Blenheim Palace Food Festival, Woodstock (England)
A food festival held at a palace is pretty special. It's fundamentally a celebration of British produce, but you'll find cuisine from all around the world. With over 130 stalls, you won't be stuck for something to eat, including artisan bakers, gourmet burgers, craft brewers, traditional ice creams, and more. Join in on pasta making sessions with renowned chefs, baking masterclasses, cocktail classes, and a crash course on nutritional yet indulgent treats.
Festival dates: 2nd – 5th June 2022
Must-try dish: Scones
---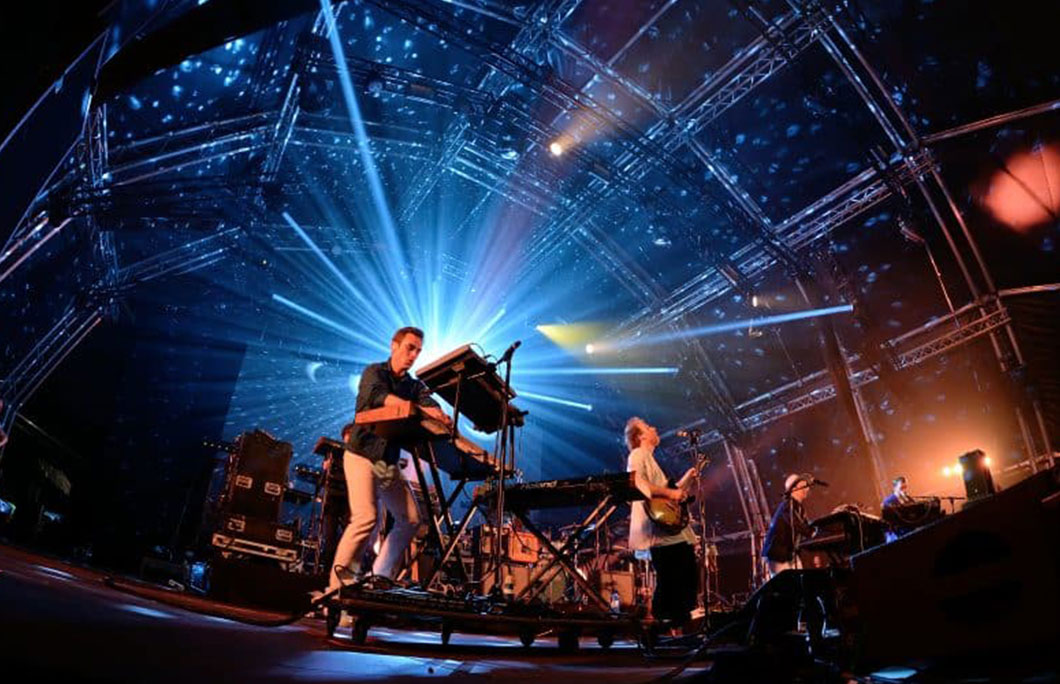 6. Vijazz Festival, Vilafranca del Penedès (Spain)
It's a long-held belief that jazz and wine go effortlessly well together, and this festival does it perfectly. The concept is simple: enjoy wine and cava tastings while listening to the smooth sounds of jazz. So chic and classy! There are over 40 region producers bringing along the very best wine and cava. As well as tasting the vino, festival-goers can learn more about the delicious beverage. Explore wine pairings, go along to films, conferences, exhibitions, and even wine tours.
Festival dates: 1st – 3rd July 2022
Must-try dish: Cava
---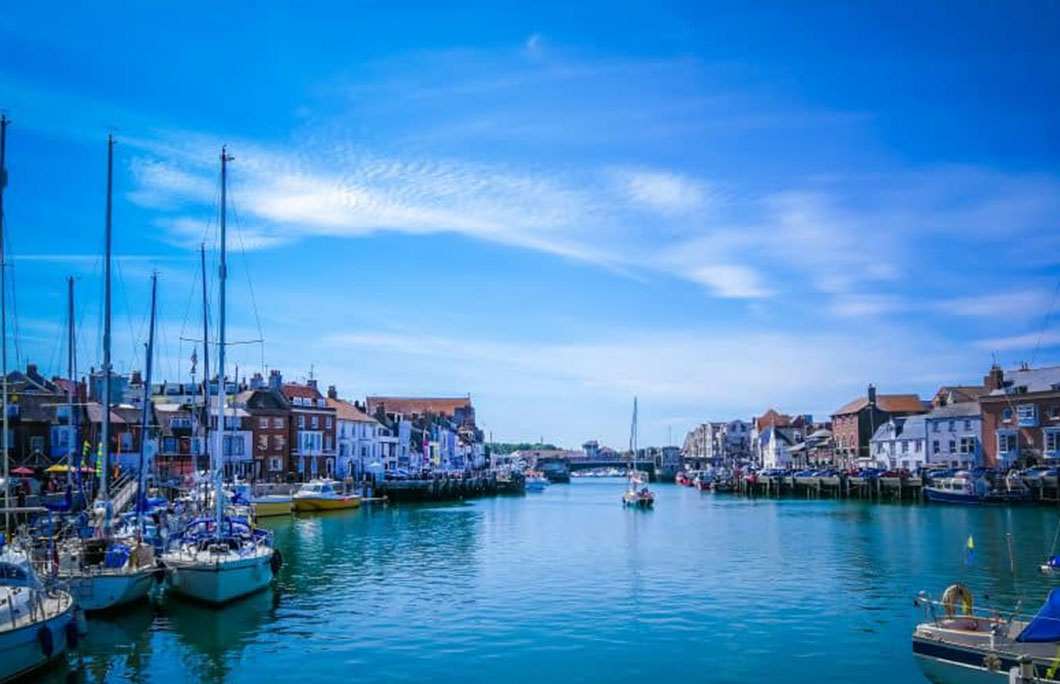 7. Seafest: The Seafood Festival, Weymouth (England)
Seafood lovers, you're going to like this one. Located on the peninsula of Weymouth's lovely sandy beach, this festival offers some of the best seafood in the UK. The waters on the Dorset coast are famous for yielding incredible seafood, and this seafood extravaganza festival is a celebration of that! Enjoy tasting all the seafood you can muster, and in this region, it's typically washed down with champagne. Make sure to stay for the talks, live music, demonstrations, and kid's cookery workshops.
Festival dates: 10th & 11th September 2022
Must-try dish: Oysters
---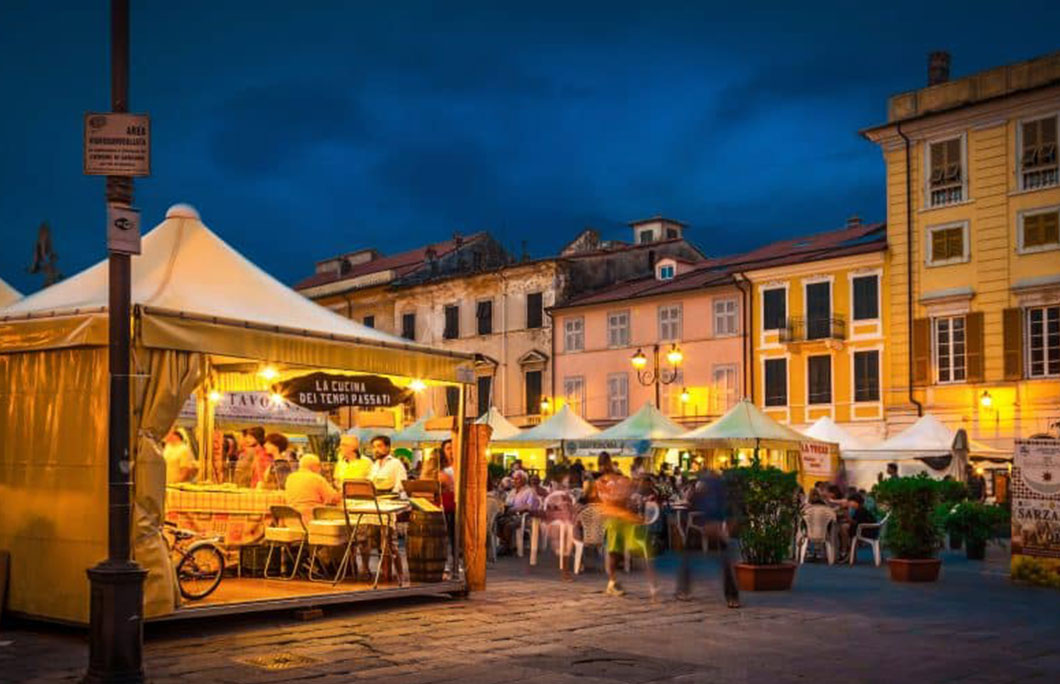 8. Stragusto Food Festival, Trapani (Italy)
If you find yourself in Sicily this summer, stick this food festival on your wishlist. Stragusto Food Festival is a celebration of all things street food and tradition. Everyone loves street food, and Sicily does it exceptionally well. This is really a festival for those who absolutely love food and across five days, visitors have the chance to try out not only the very best of Sicily's street food but also dishes from different regions of Italy and other Mediterranean countries.
Festival dates: 27th – 31st July 2022
Must-try dish: Panelle
---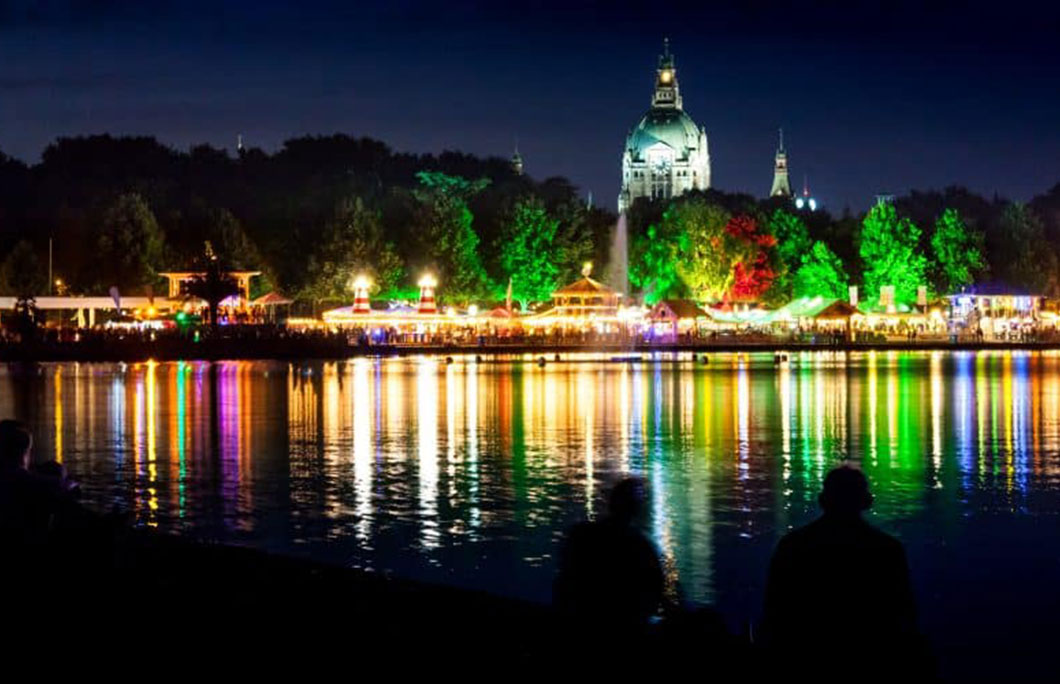 9. Maschsee Lake Festival, Hannover (Germany)
By day, this festival by the lake is foodie heaven. With international cuisine spanning from Asia to Mexico, there. is loads to choose from. And each side of the lake has a different theme. The east bank is where you'll find plenty of fishy foods, including pickled herring, North Sea shrimps, and wild salmon, while the south bank has a more Mediterranean flavour. There's plenty for the kids to do, too – the Children's Meadow is full of games and activities. And by night, it's a huge party! With over two million visitors every year, this festival is considered one of the Germany's biggest open air parties.
Festival dates: 27th July – 14th August 2022
Must-try dish: Lobscouse
---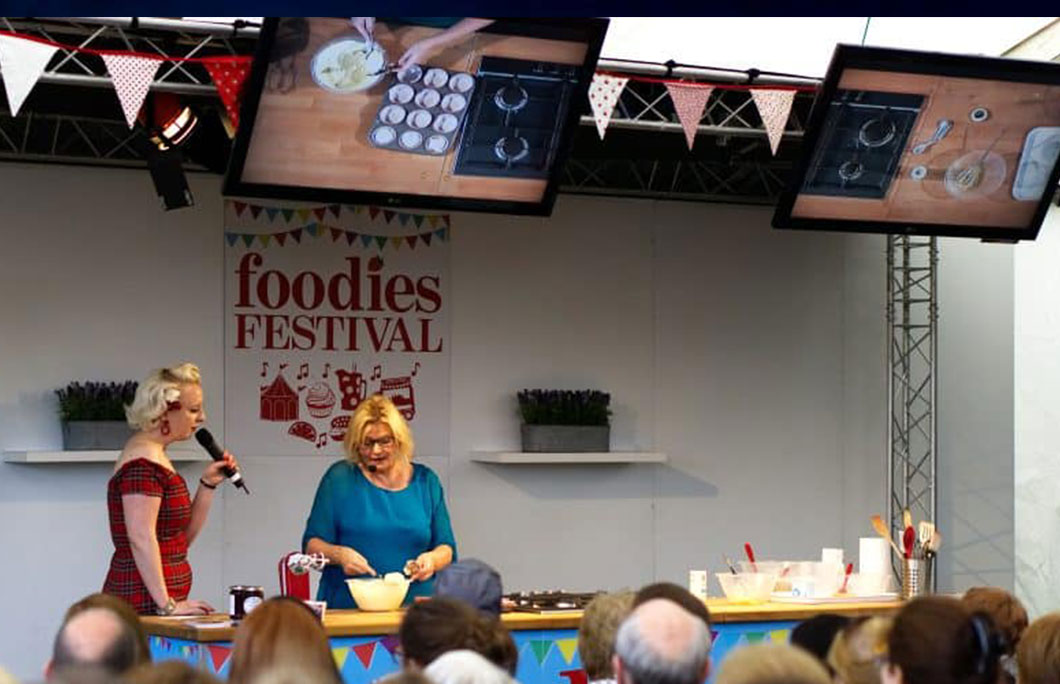 10. Foodies Festival, United Kingdom
This festival is very happy combination of music, food, and drink. It's the UK's biggest food festival and you can find it in Bristol, London, Edinburgh, and more. There's absolutely loads to do with cocktail masterclasses, appearances from TV food stars, chefs, cooking contents, a baking theatre, a street food avenue…the list goes on! Not to mention performances from noughties icons Natalie Imbruglia, Scouting for Girls, and Sophie Ellis-Bexter.
Festival dates: Various weekends between 20th May – 18th September 2022
Must-try dish: Anything (and everything) from the street food avenue
---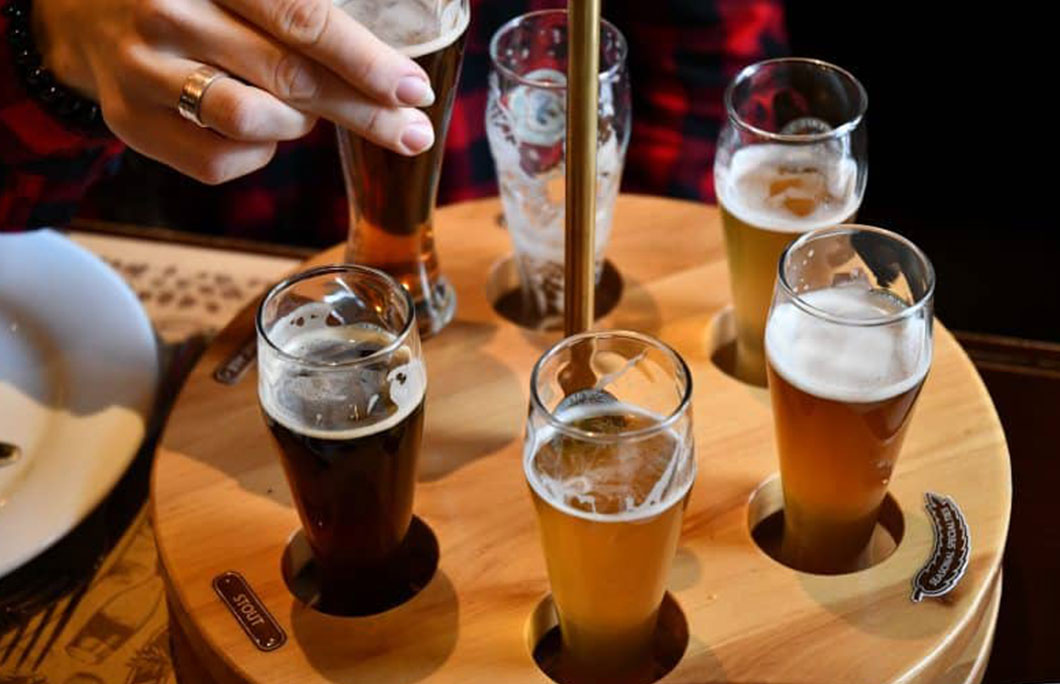 11. Berlin Beer Week, Berlin (Germany)
Move over, Oktoberfest. A new beer festival is in town. You can find spots all over the city to celebrate this momentous week and Berlin Beer Week is actually the largest craft beer festival in Europe! It's a ten-day-long festival, so pace yourselves. Breweries from Berlin and all over the world come to show off their best stuff, and the masses love it. The start of the week is marked by a Berlin Brews Cruise (great name) which takes the lucky festival go-ers down the Spree River with 40 kinds of rare beer on tap. All of that beer can't be consumed on an empty stomach, so expect excellent street food vendors. And of course, there's lots of live music to enjoy too!
Festival dates: 2nd to 11th September 2022
Must-try dish: Craft beer
---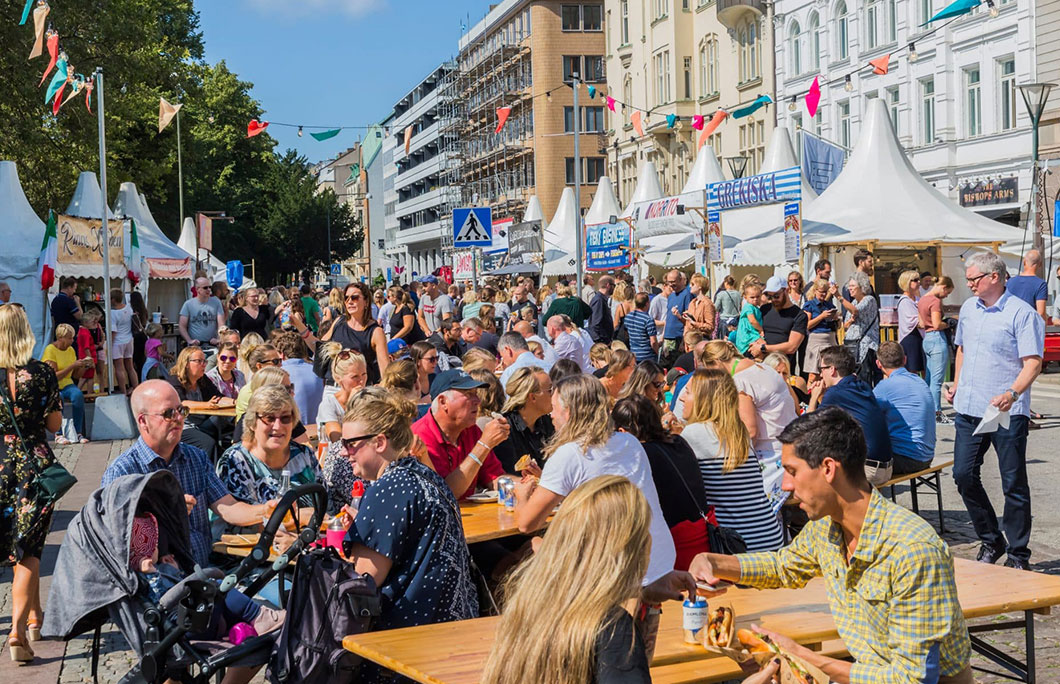 12. Malmö Food Festival, Malmö (Sweden)
Welcome to the largest and oldest city festival in Northern Europe. Every year since 1985, 1.4 million people flock to the historic city of Malmö to get experience the flavour and culture of Scandinavian cuisine. Why not try out moose kebab and wild boar ribs? As well as tucking in to delicious food, this festival is brimming with activities – most of them free! You get to enjoy fabulous art, and music, get in the mix of Persian dancers and Japanese drumming workshops, as well as yoga lessons and acrobats. In recent years, the festival has become known for its emphasis on sustainability. Bottled water isn't sold, but there are taps dotted around the city centre as well as recycling stations.
Festival dates: 12th – 19th August 2022
Must-try dish: Fish tacos
---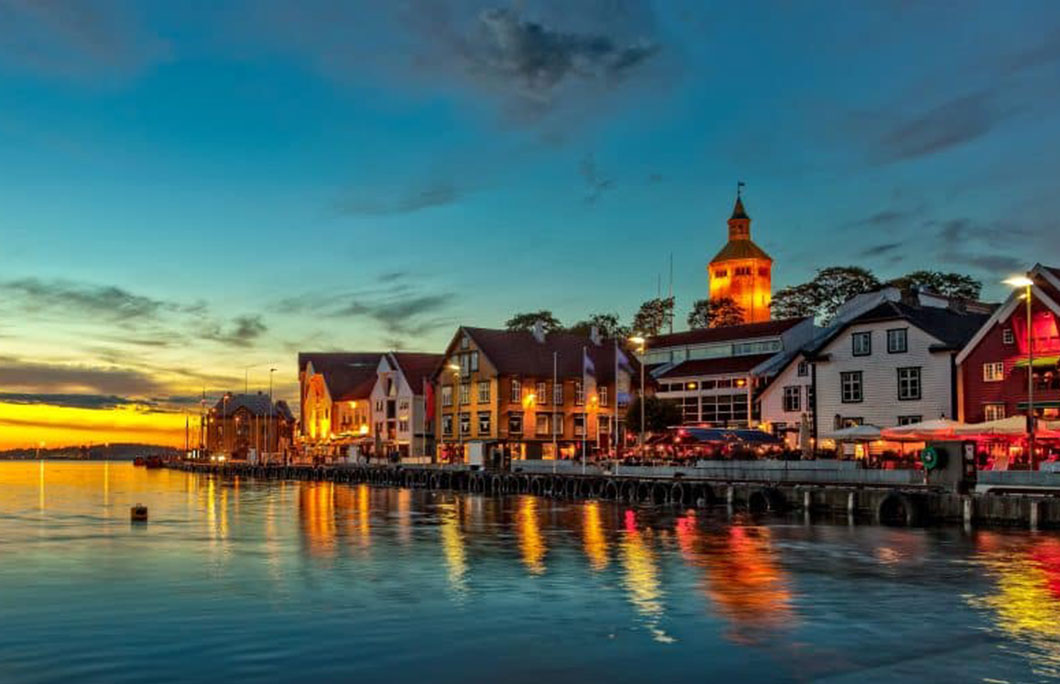 13. Gladmat Food Festival, Stavanger (Norway)
For a celebration of all things food, look no further than Gladmat Food Festival. The name actually means 'happy food' – you can't get more foodie than this! It's hailed as Scandinavia's best food festival, so it's definitely worth the trip. Go along for the chance to taste amazing dishes from professionals and amateurs alike, who showcase niche products, raw materials and the latest food trends. People come for the food, and stay all day for the food courses, art workshops, cooking competitions, awards, and plenty of live music.
Festival dates: June 29th – July 2nd 2022
Must-try dish: Tempura soused herring
---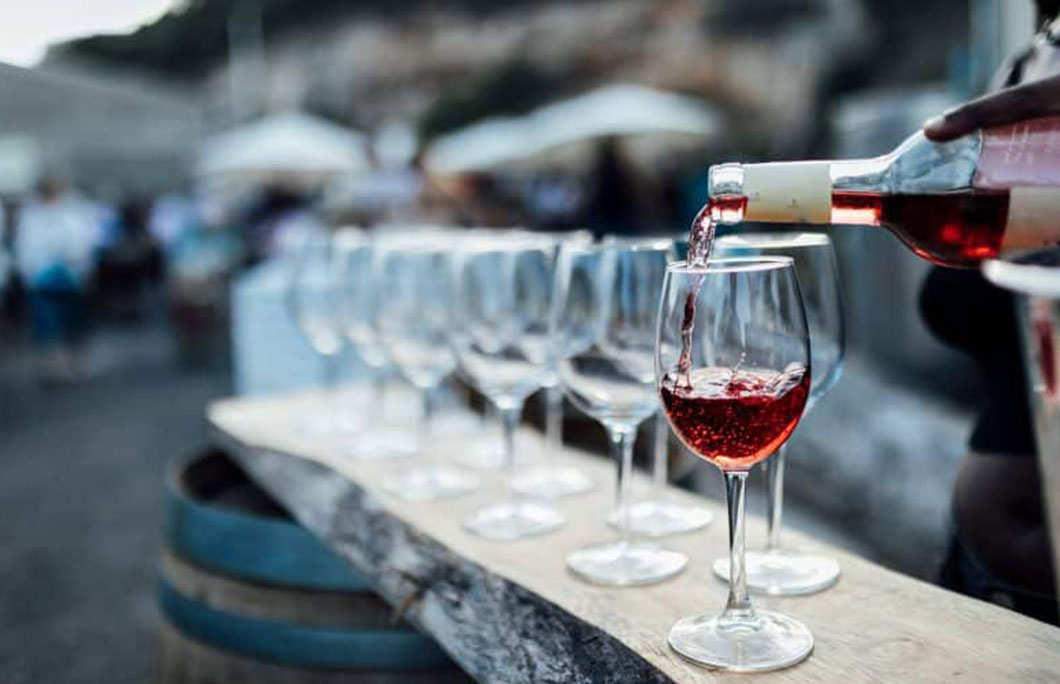 14. Ardesio DiVino Wine Festival, Bergamo (Italy)
Amazing food, delectable wines, and in a picturesque Italian village? Sounds like heaven to us. There is so much to be enjoyed, including salami, cheeses, extra virgin olive oil, traditional balsamic vinegar, and of course, lots of wine. In between bites you can enjoy the events, art shows, exhibitions, and live music.
Festival dates: 6th & 7th August 2022
Must-try dish: Salami
---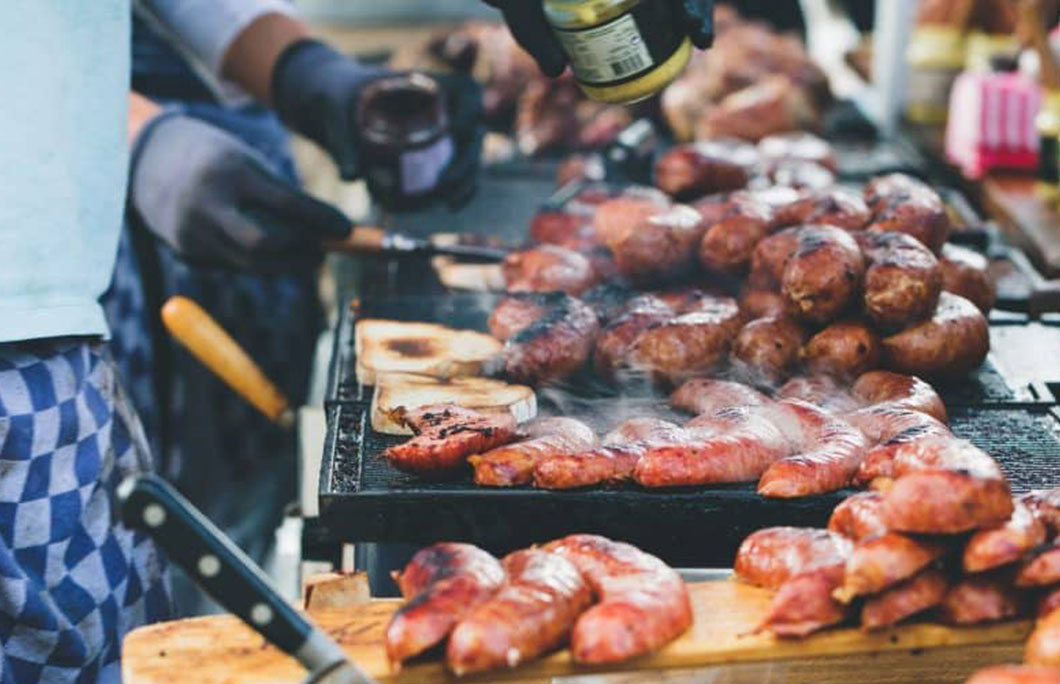 15. Taste of Amsterdam, Amsterdam (Netherlands)
For three days, Amstelpark is transformed into a gastronomic wonderland. The Netherlands' foremost chefs and restauranteurs descend onto the park to show off their best dishes. This festival presents the very tastiest bits that the country has to offer, and there's a lot. It's not just trying out as many delicious dishes as possible, either. Wine lovers can be guided through a wine theatre by a professional sommelier, who will show you how to combine wine with food. And for the young ones, they can decorate cupcakes and chef's hats, followed by a food quiz. Plus, there's plenty of entertainment and live music, particularly jazz.
Festival dates: 2nd – 5th June 2022
Must-try dish: Bitterballen
---
16. Aarhus Food Festival, Aarhus (Denmark)
Set in the beautiful harbour of Denmark's second-largest city, Aarhus, this is considered the largest food festival in Denmark and even the largest in Northern Europe. It's a celebration of all things food – particularly Nordic flavours, innovations, and dishes. This festival wants to introduce visitors to the best ingredients in Denmark and share age-old traditional food practices. Come along to get involved in sausage making, getting creative with cabbage, bread making, and schnapps seasoning!
Festival dates: 2nd – 4th September 2022
Must-dry dish: Build-your-own-hotdog
---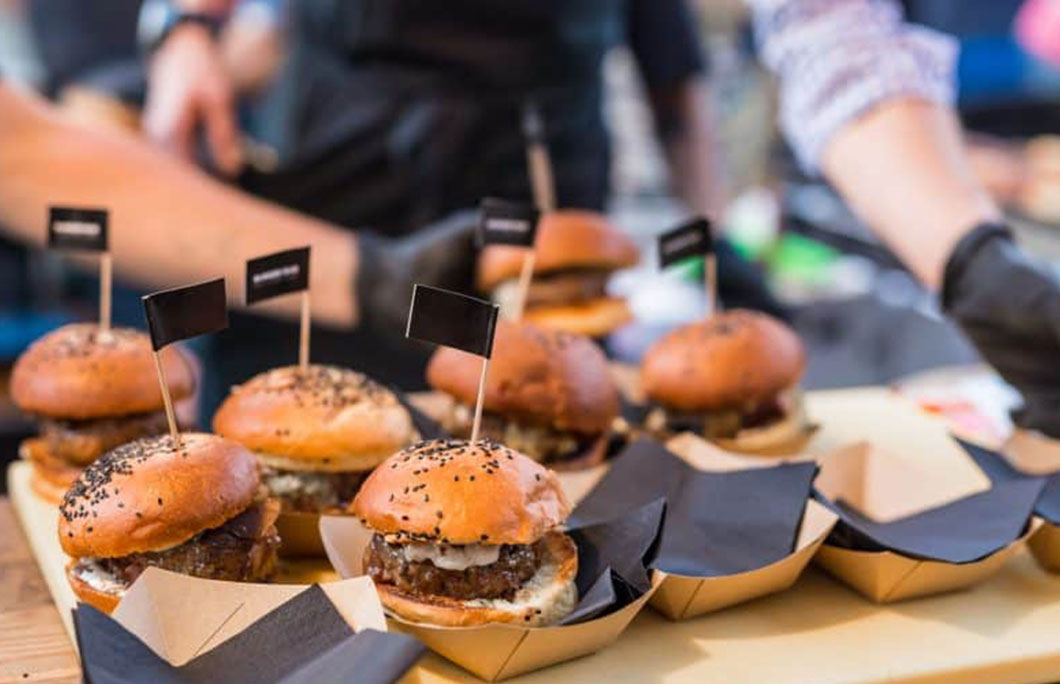 17. Locally Sauced Festival, Sussex (England)
Aside from having a great name, this festival is making waves for its focus on sustainable and local produce. Head to the culinary hub for street food and pop up restaurants, including a local Egyptian spot. If you're not too full, the artisan market has so many samples to get stuck into. Then wash it all do1wn with one of the local beers, wines, ciders, and gins. Or go crazy and try out one of the boozy cocktail sorbets! It isn't just about tasting the food, either. Expect to watch cooking demonstrations and learn from top chefs, plus a lifestyle area with independent clothes shops and homeware.
Festival dates: 23rd & 24th July 2022
Must-try dish: Wagyu burger
---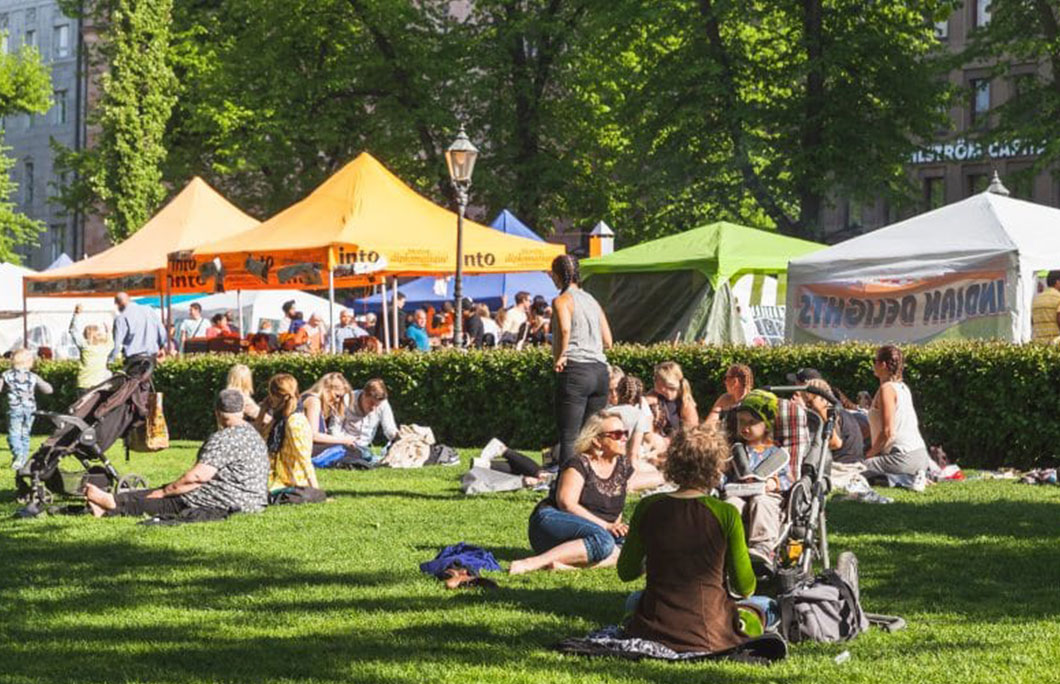 18. Taste of Helsinki, Helsinki (Finland)
There are plenty of reasons to visit the enchanting city of Helsinki, and if you find yourself there this summer, this festival is an absolute must-do. The very best restaurants in Helsinki condense their best dishes into tapas-size meals, so you can try out as many as you want. As well as trying the best food in the city, this four-day festival also features cocktail bars, a draft beer and cider bar, a coffee lab, cooking demonstrations, and a wine exhibition. This is a gourmet street food experience – indulge!
Festival dates: mid-June – exact date TBC
Must-try dish: Beef tartare
---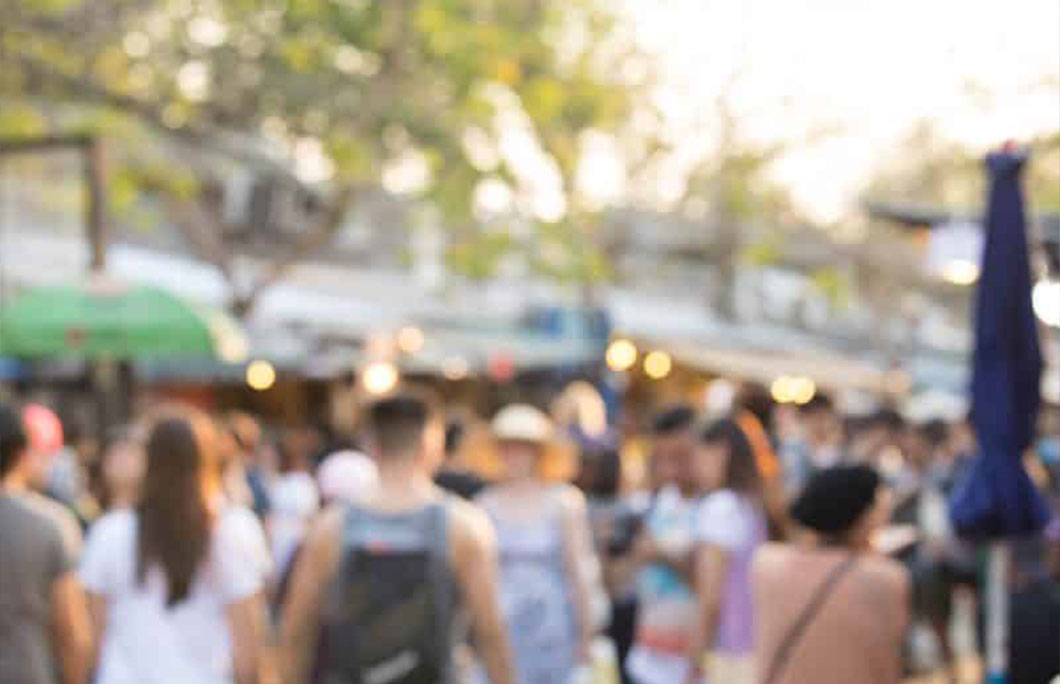 19. Taste Liverpool. Drink Bordeaux, Liverpool (England)
This festival is a unique one. Liverpool is the UK's host city for the Bordeaux Wine Festival 2022, and in true Liverpool style, they've put their spin on it. Located across the city centre, there'll be plenty of street food vendors, stalls, chef demos, a local producers' market, and specially created menus paired with Bordeaux wine at restaurants and bars. Plus, it wouldn't be Liverpool without a disco. For those that can't get to Bordeaux to try out the very best wine of the region, or simply want to coincide it with Liverpool's incredible food and nightlife scene, this will be heaven. And when you're in the ever-buzzing city of Liverpool, you're bound to have a good time.
Festival dates: 2nd – 5th June 2022
Must-try dish: Any of the Bordeaux wines
---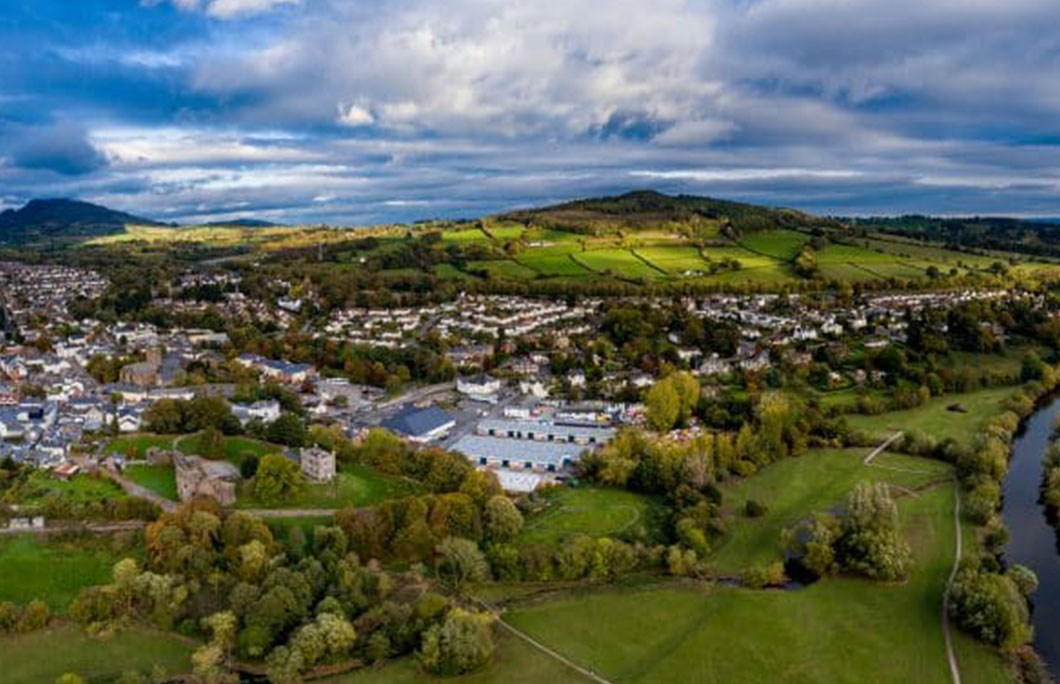 20. Abergavenny Food Festival, Abergavenny (Wales)
Despite Abergavenny being a quaint Welsh market town, it's home to a much-loved food festival! It's Wales' biggest of its kind and it's earnt an exceptional reputation. The festival prides itself on transforming the way people think about food. They want to challenge ideas, push the boundaries of current thinking and encourage people to look differently at where their food comes from. It all started by two local farmers in 1999 whose livelihoods were threatened by the BSE crisis (mad cow disease) and now it's a roaring celebration of the UK farming industry. Join in and be amongst the 200+ food and drink producers, talks with top chefs, cookery demonstrations, and more.
Festival dates: 17th & 18th September 2022
Must-try dish: Welsh smoked meats
---
21. The Festival of Istrian Pasta, Istria (Croatia)
Pasta lovers, unite. Istria has firmly earnt the right to have pasta firmly in its cuisine. It's up there with one of the best places in the world for food lovers to visit, and you'll understand why at this festival. Set in a quaint village behind the old citadel, people gather from all over to try unique and traditional homemade pasta. Tuck in to truffle pasta, fuži with prosciutto and rocket, makaruni with Istrian beef sauce, ravioli with shrimps and zucchini, ravioli with porcini mushrooms and parmesan cream, gnocchi with chocolate, and more. From eating it to making it, festival-goers can learn to make traditional and local pasta shapes, watch food shows, and the little ones can get involved with kid's workshops, too.
Festival dates: 1st & 2nd July 2022
Must-try dish: Makaruni with Istrian beef sauce
---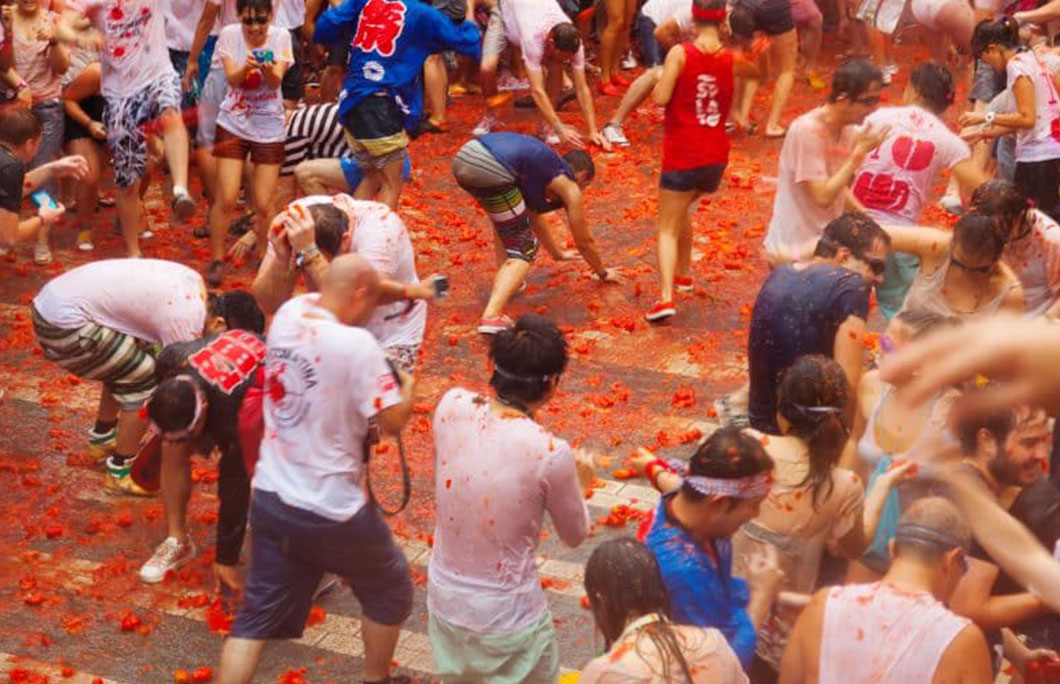 22. La Tomatina, Buñol (Spain)
Okay, you might not want to actually eat anything at this festival, but there's no denying that there's food. La Tomatina is essentially the world's biggest food fight, where festival go-ers only throw tomatoes at each other. 150,000 tomatoes, actually. The tradition began in 1945, when a group of teenagers took to the streets and a food fight, mainly using tomatoes, erupted. Now, it's garnered attention as a Festivity of International Tourist Interest. After the huge food fight, once everyone's attempted to wash all of the tomatoes off, there's a huge party. For an unbelievably fun experience, this is the one.
Festival dates: 31st August 2022
Must-try dish: Definitely not tomatoes! But while you're in Buñol, the must-try dish is Orxata – a refreshing Valencian drink, favoured in the hot summer months
---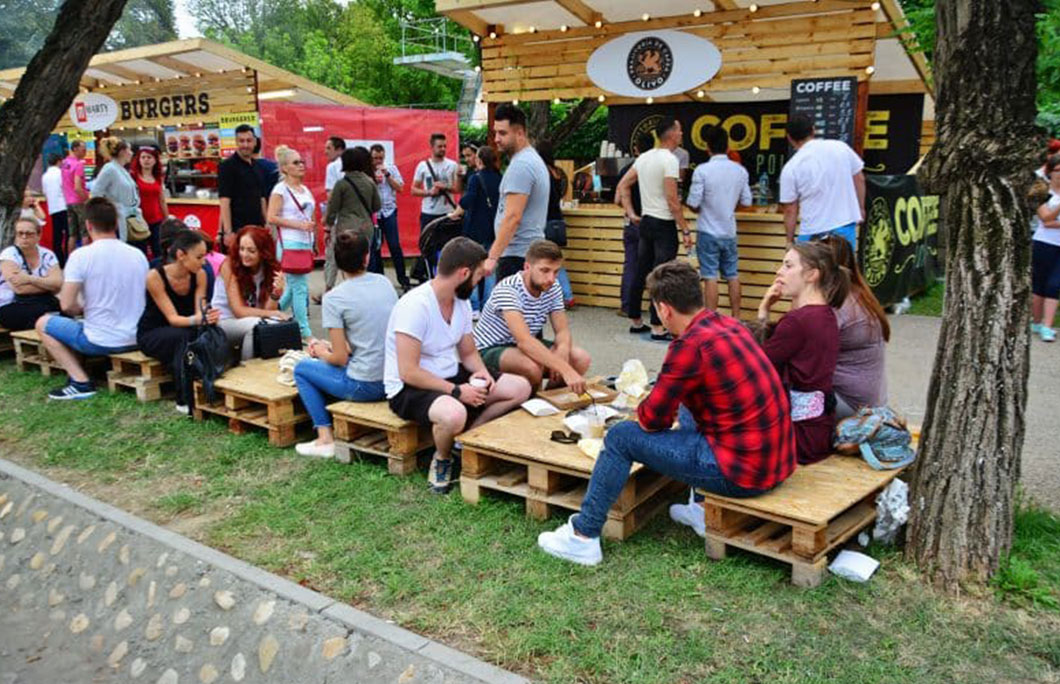 23. Taste of Dublin, Dublin (Ireland)
Each year, Iveagh Gardens transforms into a foodie haven. The very best of Ireland's culinary talent comes together to show off their top dishes in a laid back, street food style environment. You can also source incredible local ingredients from artisan producers, learn from masterclasses with top chefs, and join tastings and panel discussions. Visitors also get a little slice of the Mediterranean with the new Tasting Spain area – sample meats, cheeses, olive oil, and plenty of wine. When you're stuffed, dance it all off at the main stage.
Festival dates: 16th – 19th June 2022
Must-try dish: Pork and chive dumplings
---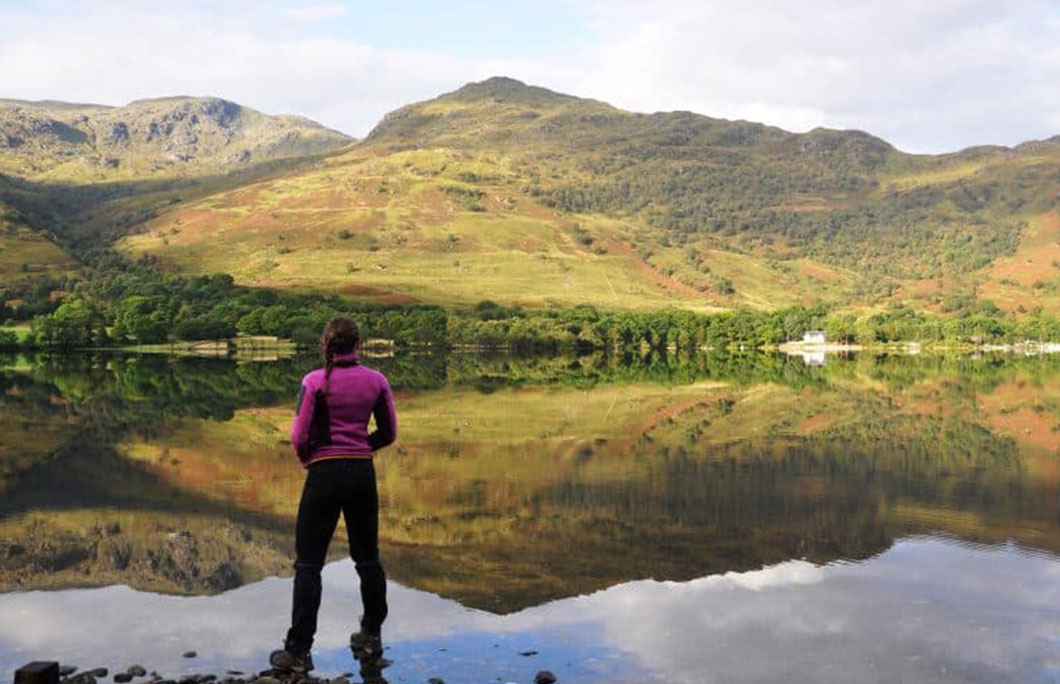 24. Loch Lomond Food and Drink Festival, Loch Lomond (Scotland)
The beautiful Loch Lomond shores are an idyllic setting for this fun food festival. The event showcases the very best of Scottish produce, and no, we don't mean deep-fried Mars bars. Instead, there's plenty of food to be enjoyed from the surrounding national park, including freshly caught wild salmon and venison. Fill up on local and international foods, before washing it down with local beers, whisky, and gins. There's also plenty of kids' entertainment for the little ones, plus cooking demos, talks, and live music. And would it be Scotland without a haggis eating contest?
Festival dates: 3rd & 4th September 2022
Must-try dish: Argyll smoked mussels
---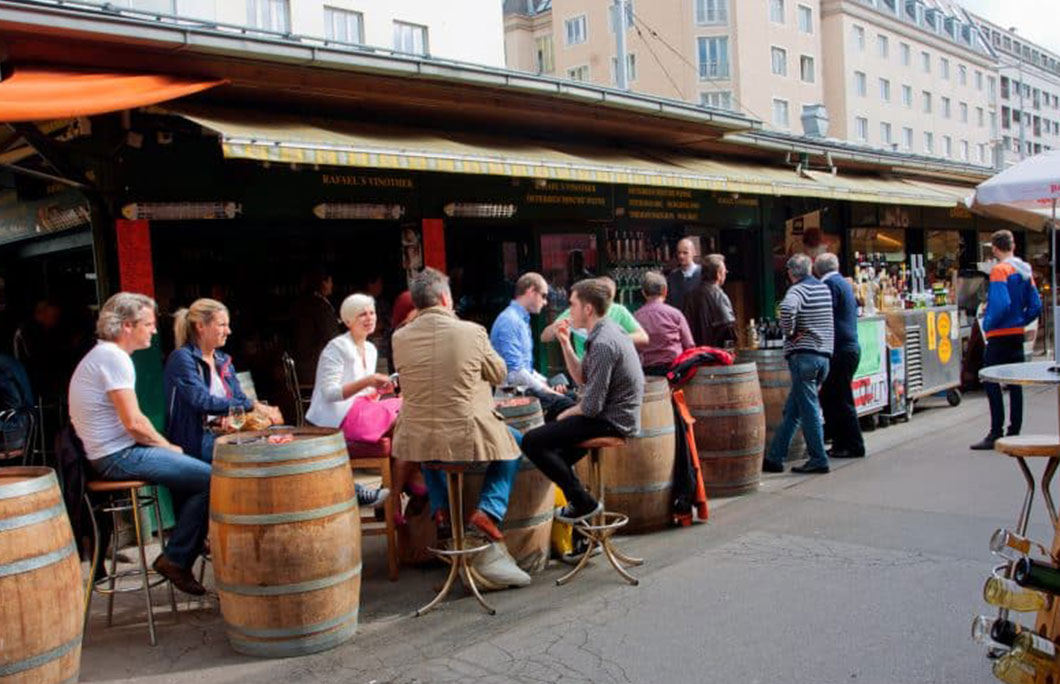 25. European Food Festival, across Austria
Out of all of the food festivals in Europe, this could be the biggest travelling one. From April until October, foodies all around Austria and beyond get to enjoy this food extravaganza. The festival prides itself on its eclectic mix of international street food vendors, from Maori steak from New Zealand to panipuri from India. There's actually so much on offer, you might be stuck on what to eat! This festival values quality over everything so whatever you choose, it's going to be delicious.
Festival dates: 2nd April – 30th October
Must-try dish: Flame-grilled salmo
---