Top 10 Stockholm road trips:
Drottningholm Palace
Broby Bro
Sigtuna
Sormlandsleden
Jarlabanke Runestones
Saltsjobaden
Gavle
Mariefred
Any visit to Stockholm is time well spent and first-time visitors often experience acute pangs of jealousy when they realise how much this cool capital city offers permanent residents. Known as 'beauty on water' to locals, this is a metropolis with an embarrassment of historical, cultural and culinary attractions – as well as a refined style and attitude that's famous the world over.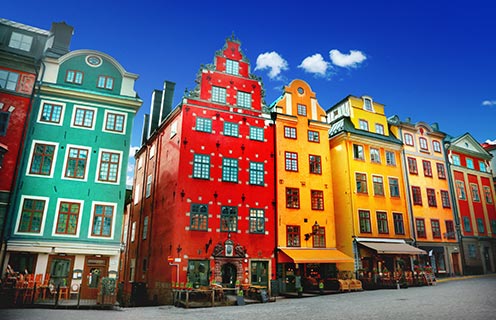 Stroll through the old district of Gamla Stan and it feels like a fairy-tale come to life – an elegant royal palace, charming cobbled streets and ancient gabled buildings infusing the scene with the magic of living history. And this is a city of the mind, where gorgeous galleries and fascinating museums bring the story of Stockholm and Sweden at large to life through priceless Viking relics and cutting-edge contemporary art – tracing its storied history from the mists of time to the modern era.
You'll also absorb Stockholm's signature Scandi style almost by osmosis as you work your way around the city. From simple sidewalk cafes to high-end restaurants, and bookshops to clothing boutiques, Stockholmers' immaculate sense of style is evident in everything from napkins to window displays and textiles to ceramics. The concept of design for life is inextricably interwoven into the social, cultural and commercial milieu and many visitors take a smattering of this stardust away with them to sprinkle over their own abodes in every corner of the Earth.
Another integral part of Stockholm's terrific topographic appeal is that it's actually spread across 14 islands – yet it's easy to traverse by foot thanks to a network of bridges, complemented by swift and secure public transport and regular ferries providing convenient links to outlying areas.
It's also an excellent launchpad for road trips – hire a car in Stockholm from Enjoy Travel and Sweden's serene wilderness, captivating countryside and enchanting towns and cities are within reach. If you want to scale the heights of adventure, this is a brilliant basecamp.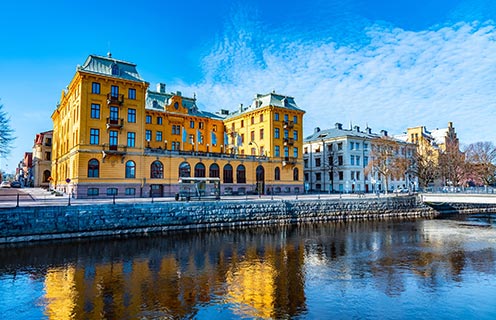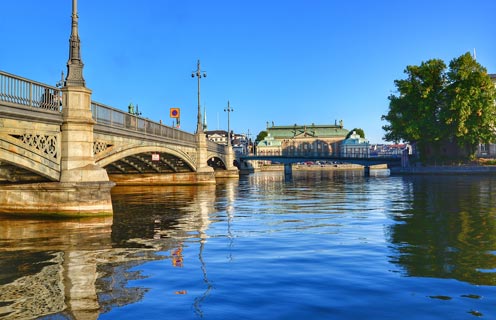 Top tips on driving in Stockholm
You'll be setting off on your top 10 road trips from Stockholm shortly. But first, let's take a quick look at a few driving tips for this city and its surrounds – it's a stitch in time that could avert lots of trouble!
If you're staying just outside Stockholm and would rather avoid city centre driving, there's a great park & ride service available from 30 locations – including the Sickla shopping mall and Enskedhallen. However, if you do want to drive in Stockholm proper, parking isn't problematic as there are plenty of car parks around the Norrmalm district. You should also look out for signage indicating kerbside parking – in these areas you can park for certain durations by paying a fee at street parking meters and card payment is accepted.
There's a congestion charge applied in Stockholm during weekdays between 6:30am – the maximum amount per day is 105 krone but it's much less if you're only taking a trip in or out of the inner city. Please remember that buses always have the right of way on roads with a speed limit of between 30km/h and 50 km/h, drink driving isn't tolerated, and the driver and all passengers must wear seatbelts. If you need to contact emergency services in Sweden, the number is 112.
Now you're ready to rev up and hit the road for those stunning Stockholm road trips – lets roll!
Drottningholm Palace
This beautiful UNESCO World Heritage Site on the island of Lovo is just 11km from Stockholm and was built for Queen Eleonora in the 17th Century. The present official residence of the Swedish Royals, this stately pile is complemented by two striking gardens in English and baroque style, while the ornate Palace Theatre has been entertaining guests since the 18th century.
Getting there: Drottningholm Palace is 25 minutes from Stockholm via Route 275/261.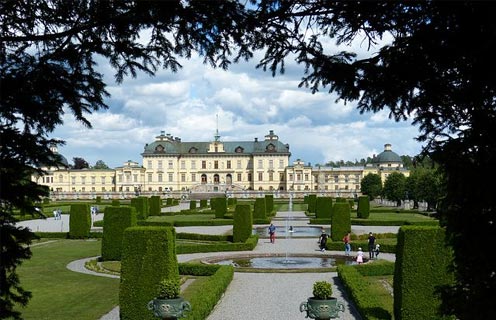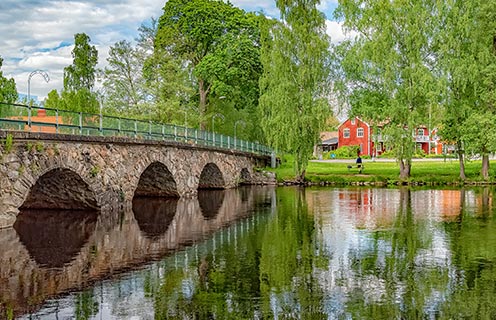 Broby Bro
A trip to Broby Bro takes you back into the mists of time to get up close and personal to Sweden's Viking and Iron Age history. This scared graveyard dates back 1000 years and features several memorial stones decorated with distinctive symbols and patterns. These runes reveal many fascinating histories, including that of Estrid – a powerful 11th century woman who was a matriarch of the Jarlabanke Clan.
Getting there: Broby Bro is 30 minutes from Stockholm via the E4.
Sigtuna
The charming small town of Sigtuna sits to the north of Stockholm and it's blessed by some beautiful pastel-painted townhouses and historical relics like the romantic St Olof Church. Known as Sweden's first town, it was founded in 980AD and offers an authentic cultural experience. Rosberg Palace and Steninge Palace are marvellous, and the town overlooks the stunning Sigtuna Bay – a peaceful haven if you're yearning for cool contemplation. Sigtuna makes for a hassle-free road trip when you want to relax and unwind for a day.
Getting there: Sigtuna is 40 minutes from Stockholm via the E4.
Uppsala
The ancient university city of Uppsala is 70km from Stockholm and its scenery is stunning. Its iconic seat of learning was founded in the 15th century and its 13th century cathedral is the burial ground for many of the nation's former Kings and Queens. This is the 4th-largest city in Sweden and has a lovely laid-back vibe, with brilliant botanical gardens and plenty of relaxed waterside cafes.
Getting there: Uppsala is one hour and 20 minutes from Stockholm via the E18.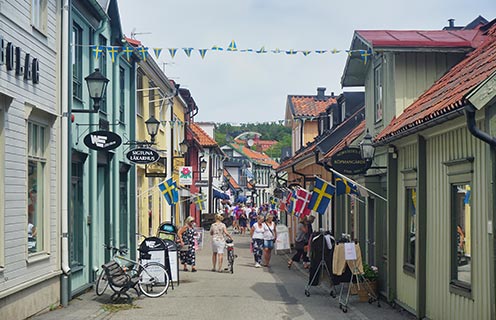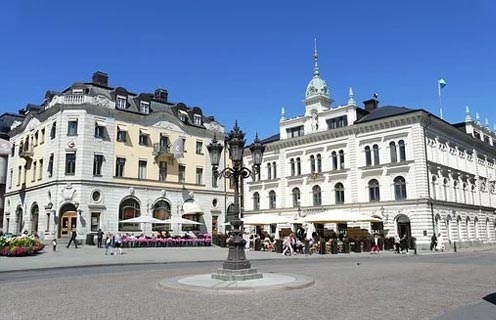 Sormlandsleden
If you love hiking, you simply can't miss Sormandsleden. Perhaps the most beloved hiking trail in all of this picturesque nation, it's within easy reach of Stockholm and runs for 1000km through verdant, scented pine forests, rocky plateaus and includes Sweden's highest peak, Kebnekaise, where you can gaze in wonder at the panoramic views and have a bite to eat before making your way (carefully) back down to Earth!
Getting there: Sormandsleden is just 40 minutes from Stockholm via Nynasvagen/Route 73.
Jarlabanke Runestones
History buffs love a trip along Jarlabanke Causeway to see the iconic Jarlabanke Runestones – it's an unforgettable experience. Best-known outside Sweden for their ferocious warrior spirit, the Vikings were also excellent civil engineers, and the 116 mile causeway was created by the visionary Earl Jarlabanke. The famous runestones are a striking pictorial history of this project and the way it changed society forever.
Getting there: Jarlabanke is35 minutes from Stockholm via the E18 and Route 264.
Saltsjobaden
This pretty seaside resort lies to the south of Stockholm on an inlet of the Baggensfjard. A rather swish spot to spend a weekend, there's a gorgeous golf course and grand hotel. The attractions for many visitors include bracing dips in the outdoor swimming pool, eating fine food by the sea, sunbathing on the beach and messing about in the water with the yacht set.
Getting there: Saltsjobaden is 25 minutes from Stockholm via Route 222 and Saltsjobadsleden.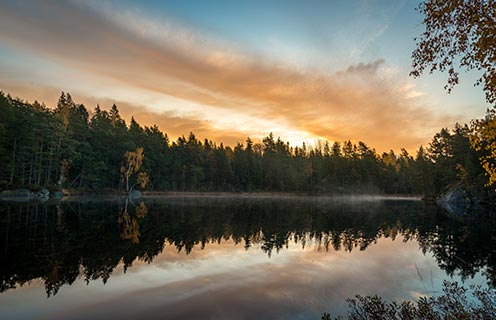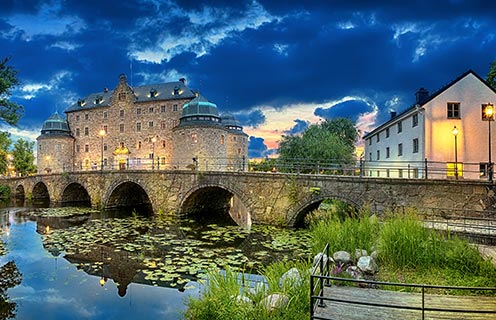 Gavle
Are you a self-confessed chocolate-lover? In that case, you'll be licking your lips all the way for the entire 100km trip to Gavle because it's the chocolate capital of Sweden! There's plenty more to do than stuffing your face with sweet treats though – this is the home of the Swedish Railways Museum, the thrilling Dome Adrenaline Zone and the serene Boulogne Skogen City Park.
Getting there: Gavle is 2 hours 10 minutes from Stockholm via the E18 and E4.
Orebro
Can't get enough of castles? In that case, Orebro is an essential Stockholm road trip. Orebro Castle has an authentic Romanesque design, complete with delightful domed turrets and a distinctive moat – a guided tour reveals its fascinating history. Leafy Stadsparken park is another popular attraction but it's also pleasant to stroll around the cobbled streets and sip coffee in cool cafes while watching the world go by.
Getting there: Orebro is 2 hours 15 minutes from Stockholm via the E20.
Mariefred
This idyllic town on Lake Malaren brings history to life with Gripsholm Castle, an impressive 14th century fortress which houses the Swedish National Portrait Collection and its old world town centre. But its also home to the quirky Grafiken Hus graphic art museum, and its cool, calm lakeside views are simply inspirational.
Getting there: Mariefred is 55 minutes from Stockholm via the E20.
In case you were in any doubt whatsoever, these top 10 road trips from Stockholm showcase just how jaw-droppingly beautiful Sweden in – hire a care from Enjoy Travel and brace yourself for a legendary adventure!