Top 10 Road Trips in Hungary
Gyor & Archabbey Pannonhalma
Budapest to Szentendre
Miskolc to Szeged
Balaton Uplands
The Danube Bend and Vac
Budapest to Godollo
Aggtelek National Park
Heviz to Szekesfehervar
Kali Basin
Felsotarkany to Lillafured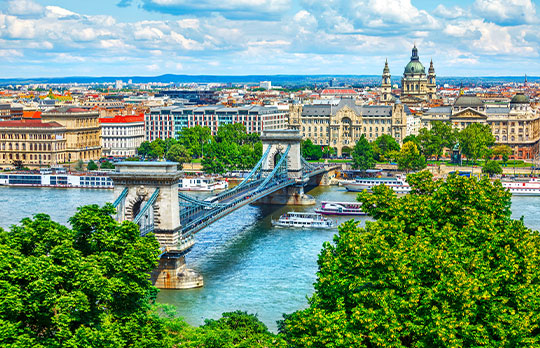 Top 10 scenic drives in Hungary
Whether you're visiting on holiday or for business, Hungary is always a fascinating place to visit. Capital Budapest can lay claim to having Europe's most dynamic night time economy, but you'll find awesome architecture, fabulous traditional art, soothing thermal spas and sumptuous scenery throughout the nation. Bordered by Ukraine, Serbia and Austria, Hungary's central European location means it mixes eclectic neighbouring influences and its own distinctive identity into a heady blend that captivates visitors. Its national identity also bridges warrior Magyar, imperial Hapsburgh, Communist and contemporary eras ‐ an evolution which is reflected in buildings as well as the collective psyche. Combine culture and history with a world-class cuisine and wine scene and you've got a legendary location with magnetic attraction. Hire a car in Hungary with Enjoy Travel and explore this stunning location under your own steam ‐ striking out on exciting and inspirational road trips whenever the mood takes you.
Budapest comprises historic Buda and lively Pest, complemented by the dreamy Danube and gorgeous, grand buildings with outrageously ornate interiors. And delights beyond the capital include the verdant wine-growing region of Badascony and Lake Balaton, cultural hotspots Eger, Pecs and Sopron, and delightful cities like Debrecen and Szeged. With marvellous mirror lakes, densely forested uplands, rushing rivers and enough thermal spas for you to shake your speedos at, the terrain is pleasant without being overpowering. Popular activities include horse riding, cycling and hiking, but if you'd rather spend your time exploring the nation by car, socialising with locals and soaking up the superb cuisine scene, you'll feel just as fulfilled.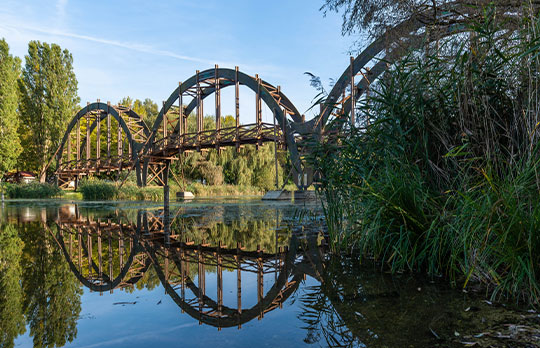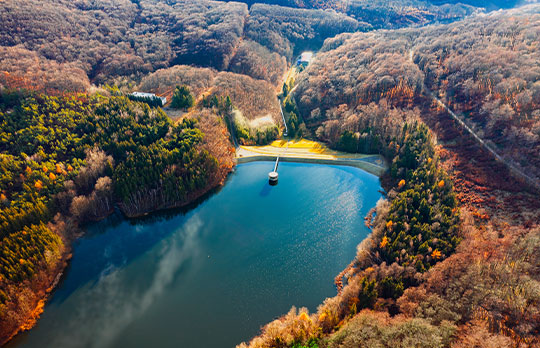 Top tips on driving in Hungary
We'll get cracking with your magical Magyar road trips any minute. But first, let's take a quick look at some handy tips on driving in Hungary.
You always drive on the right-hand side of the road in Hungary and everyone in the car should wear a seatbelt. Kids under 3 years old have to use a child restraint seat and those less than 1.5m tall can't sit in the front passenger seat without one.
The drink driving limit in Hungary is zero ‐ don't even think about touching a drop if you're getting behind the wheel.
Use dipped headlights at all times and don't use full-beam headlights at night in built-up areas. Give ways to cars on the left when you're on a motorway and always give way to buses and trams.
The speed limit in Hungary is 130km/h on motorways, 110km/h on dual carriageways, 90km/h on open roads and 50km/h in built-up areas.
Now we've had a Hungary driving refresher, lets get down to the main course ‐ your 10 scenic road trips!
Gyor & Archabbey Pannonhalma
Located 130km from Budapest, gorgeous Gyor is Hungary's 6th‐largest city. It's beautiful pastel-coloured buildings ooze elegance and are offset by some delightful kitsch touches, like the soda siphon fountain in one of the scenic squares. Archabbey Pannonhalma is 20km south of Gyor and well worth a visit. This UNESCO World Heritage listed site was first settled in 996 by Benedictine monks from Germany, Bohemia and Italy, and showcases several architectural styles across its well-ordered complex. For heritage and beauty, this road trip takes some beating.
Budapest to Szentendre
Located around half an hour north of Budapest, Szentendre is a manageable road trip destination that offers up several distinctive delights. Revered as a top-rated artist's village, it has been a magnet for creative types for generations, and you'll love its laid-back ambience, colourful houses, Baroque architecture and winding, cobbled streets. The 18th century Blagovestenska church with its opulent décor is a highlight, but this vibrant environment is easy on the eye wherever you roam ‐ take time to drink in the inspirational atmosphere.
Miscolc to Szeged
This 324km road trip from Miscolc to Szeged via Debrecen can be completed in a day, but you're best to build in an overnight stay to make the most of it. Scenic Miskolc is complemented by the verdant mountains of the nearby Bukk National Park and historic sites like Diosgyor Castle, while Debrecen is Hungary's second-largest city and boasts attractions like the twin-spired Great Reform Church. Finally, beautiful Szeged is a jewel of the south and features expansive city squares, the noble New Synagogue and a large zoo where you can meet rhinos, giraffes, camels, red pandas and tigers.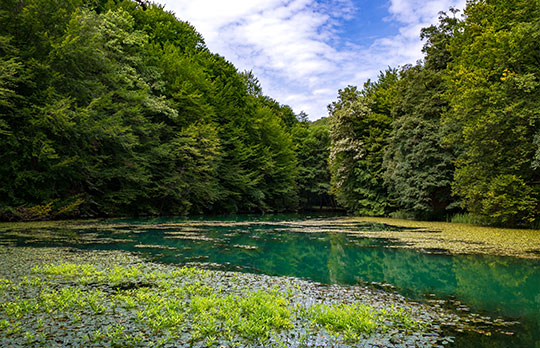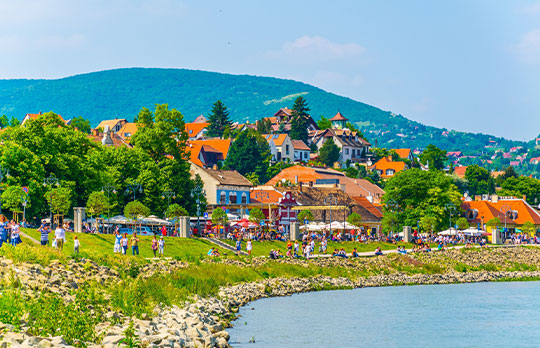 Balaton Uplands
This 20km road skirting the northern end of Lake Balaton is one of Hungary's most sublime landscapes and includes lush meadows and undulating hills as well as cathartic views across the water. Highlights include Tapolca, the Lake Cave and Mill Lake, as well as cuisine hotspot Koveskal and Kaptalanton with its traditional market ‐ pick up some local fare to whip up a storm in the kitchen and some mementos to take home as gifts.
The Danube Bend and Vac
Vac is located just 35km from Budapest and it's here that you'll find the Danube Bend, one of the most majestic stretches of this iconic river. A bijou Baroque town with the massive Assumption Cathedral serving as the jewel in its crown, Vac also boasts the marvellous March 15th Square, 18th century Piarist Church of St Anna and a unique Franciscan church with no less than three knaves. For a road trip that combines scenery and history, this satisfies all requirements.
Budapest to Godollo
The Royal Palace of Godollo is just 30km from Budapest and the former summer retreat of Emperor Franz-Joseph and Queen Elisabeth is one of Europe's largest Baroque buildings. Designed by Antal Mayerhoffer for Count Antal Grassalkovich and completed in the 1760s, it fell into disrepair after being used as a barracks for troops during the Communist era but reopened in the mid-90s after being restored to its former glory. Take time to wander around and step back in time to Hungary's stately, stylish and elegant past.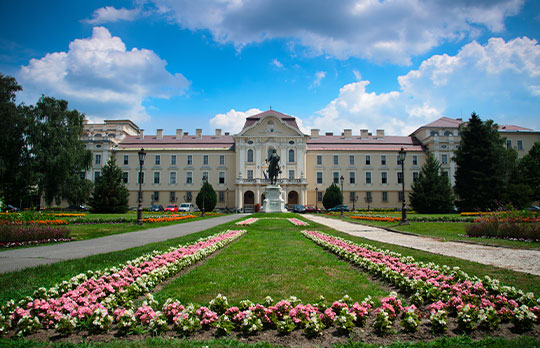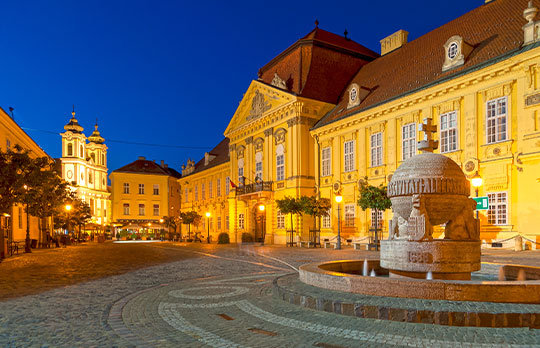 Aggtelek National Park
Located two and a half hours from Budapest, UNESCO World Heritage Site Aggtelek National Park covers a vast two hundred square kilometres at the Slovak-Hungarian border. You'll find unique plants and wildlife, as well as an extensive network of walking trails, but the cathedral-like Barandla Cave is the main attraction and extends 25km, all the way into Slovakia. Water leaking through the chalk over the generations has carved the interior into bizarre stalactites and stalagmites in kaleidoscopic colours ‐ quite a sight! This road trip is a good pick for fans of the great outdoors.
Heviz to Szekesfehervar
This 137km road trip from Heviz to Szekesfehervar via Veszprem can be completed in around three hours but take your time to enjoy the distinctive ambience in each location. Soak up the leafy surrounds and turquoise waters of Heviz before stopping at 'City of Queens' Veszprem to roam its rambling streets and romantic buildings, before finishing your adventure at Szekesfehervar, where you can see the one of a kind castle self-built by architect Jeno Bory between 1923 and 1959 and the luxuriant Black Eagle Pharmacy Museum, where you 'll find 300 years of fascinating pharmaceutical history – quirky but surprisingly interesting!
Kali Basin
Located between Budapest and Zagreb, the Kali Basin is fast becoming one of Hungary's most popular road trips and it's so scenic that it has been nicknamed 'the Hungarian Mediterranean'. Driving between rolling hills and through picture-postcard villages, you'll marvel at the natural beauty of this sublime location to the southwest of the capital. Highlights include Salfold, with its views over the Rock Sea, the refreshing water spring at Kekkut, and the idyllic ruins of Kovagoors. If you want a relaxed road trip that's a real treat, you'll love the Kali Basin.
Felsotarkany to Lillafured
This outstanding 40km road sweeps through the beautiful Bukk National Park between Felsotarkarny and Lillafured, past green forests, undulating hills, steep slopes and hairpin bends. Finishing at the romantic lake town of Lillafured in the north of Hungary, you're rewarded with attractions like a miniature train that winds through the forest, cavernous caves and extensive hiking trails. Developed at a tourist resort by Count Bethlen in the 1890s, it's named after his favourite niece Lilla ‐ after a few hours here, you'll raise a glass to the Count's fantastic foresight.