10 of the best ski resorts near Geneva Airport
Those poles want to dig into the powder as soon as possible, the reflective glasses are yearning to feel the sun on them, new beanie can't wait to sit in front of a fire and get all cosy after a "long days run on the slopes". These are all the hopes and dreams of a skier or boarder, but they need to be lived somewhere. Geneva is the perfect jumping off point for some of the world's finest slopes and greatest lodges that are a short drive away.
You can be in the French Alps in no time but make sure you pick the lodgings that suit your snow dreams and your skiing budget. This is a short guide to 10 of the best ski resorts near Geneva Airport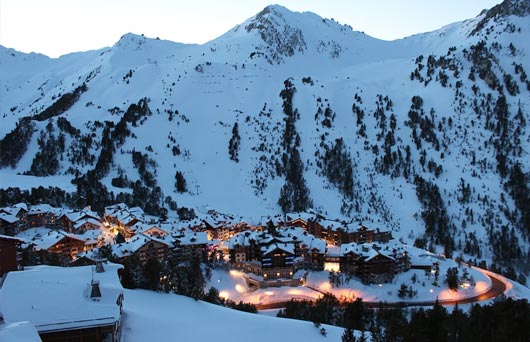 Geneva Airport has many ski resorts all within 45 minutes to 2 hours drive
Chamonix Mont-Blanc, France
This is a well-known Alps destination. With its quaint skiing village that flies across time and it's 5 skiing resorts, Chamonix has something for all levels and budgets. It's just over an hour from the airport by transfer and boasts the legendary La Flegere Ski resort that has the diversity of skill levels only found in buffet restaurants, then as the slopes demand a high quantity of beer post skiing the Beer o'clock will suffice your pizza wants. For accommodation you could up market with Chalet June (If it's available) or the more budget, just here for the slopes, Snowline: Residence Chamois Blanc.
Portes du Soleil, France
This region is about an hour and a half journey from the airport headed west. There are a number of villages here, Les Gets, Morzine and Avoriaz being the top for access to the slopes. The total runs in Morzine is 308 and for beginners 153, it's another slow-paced skiing village with the Hotel Les Champs Fleuris sat at the bottom of the lifts.
Valmorel, France
A little longer for the transfer from Geneva clocking in at around two and a half hours. Perfect for families as the runs total 83 with the majority being either beginner or intermediate. This one is really a place to get it all in, the parking in the village is free and the longest run is 4 kms, there are 52 lifts in the region which is part of the Le Grand Domaine ski area that is connected with St Francois Longchamp all famous for their powdery slopes.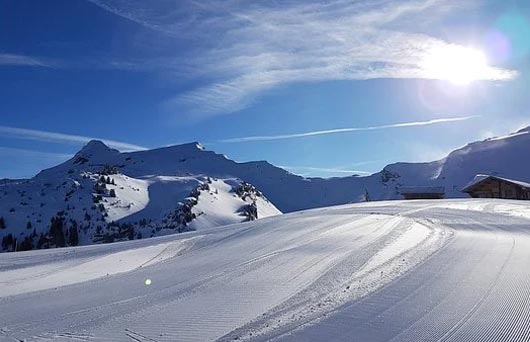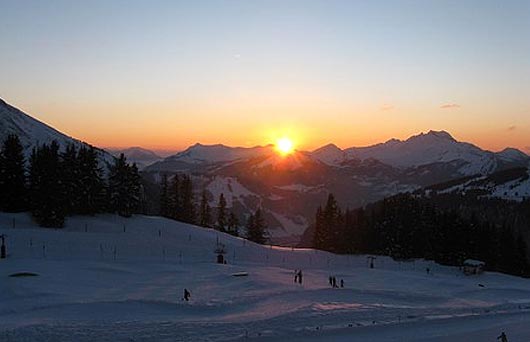 Tignes, France
It's the highest ski resort in the Alps and is around a two and half to three-hour drive, dependent on conditions of course. This resort town is known for its endless slopes that are covered in snow all year round, non-stop skiing action for intermediate and up. The village is not the idyllic quaint space but when its covered in snow, who cares, go there to ski!
Courchevel, France
With up to 120 runs and at an almost three-hour drive away from Geneva you may not choose this one, but if you do you won't be disappointed. It has played host to many of the rich and famous with luxury shopping on offer and even grander slopes, if you wanted to film a Bond chase this is the place.
Courmayer, Italy
Yes, crossing the border into Italy may not seem desirable but with the town at the foothills of the mountains and the Fiume Dora Baltea running through the middle of it you might even want to head here on the off season. The ski area is only 39km, but the food, shopping and wine makes up for the less than ample space.
Champery, Switzerland
Only a little over an hour away from Geneva airport and great for intermediate skiers this quaint village resort holds its own. It's a little pricey but there are good connections to Avoriaz in France in case the snow is a little 'dry'.
Flaine, France
A family friendly series of runs with trees populating the area and traditional villages waiting patiently for your perusal. The ski area is around 265km and there are runs for all abilities, snow reliability is OK to good. The accommodation is mostly the huge concrete blocks that were the trend in the sixties but there are still many a chalet or apartment to suit your cosy needs. Most of the places you'll stay, starting from three stars, are a short walk to the Gondola.
Villars-Gryon-Diablerets, Switzerland
A mostly intermediate series of runs with the longest being around fourteen kms, it's about a one-and-a-half-hour drive from the airport. The fourteen-kilometre run or around nine miles, is best achieved in a day, it has a generally intermediate run with a small patch of black which is less than a football field. It's generally a great resort for a relaxing time, the village doesn't house many bars so it's not a hot spot for stag and hen dos. Loads of great runs for families.
Les Deux Alpes, France
Much further away than the others with a close to three-hour drive for its guaranteed snow cover all season long. There are two villages that make up this space, the upper village that runs along the narrow ledge and the lower village of Venosc, an increasingly popular spot for local artisans who provide anything from home grown honey and cheeses to leather and pottery. The two Alps are linked by cable car so you will never be starved for something to do. Ski during the day and shop a little in the evening. The runs will delight snowboarders and skiers alike with terrain parks that are heralded as some of the best in the Alps.
Most of the runs are sign posted so you can feel comfortable heading down the beaten track. Remember to always let someone know where you are headed in case they want to chase you down the mountain or pick you up via rescue helicopter. Ski, glide, be merry and respectful as you are a tourist and people live here long after the snow melts.
Looking for your own snow adventure? Hire a car in the Geneva today!
Useful links relating to Geneva