10 Best Weekend Breaks from Porto
Amarante
Matosinhos
Aveiro
Fatima
Foz do Douro
Salamanca
Braganca
Mirandela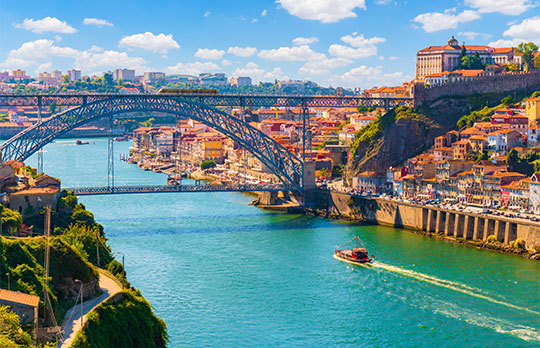 10 best weekend breaks from Porto
Ah, Porto. What a place. Scaling skywards from the banks of the River Douro, this stunning city boasts a beautiful historic centre, sublime cuisine and some of Portugal's friendliest locals. You can step back in time wandering the steep streets of Massarelos and Ribeira, roam over romantic bridges and pretty parks, then cool off in underground wone cellars enjoying a glass of the city's signature tipple.
And several contemporary buildings complement Porto's classic architecture – like the Casa da Musica and Museu de Arte Contemporanea, while blank walls around random corners are reclaimed as canvases by creative street artists.
From Porto's warren of old town alleyways to trendy rooftop bars, it really is something special. And since it's so well connected to the rest of Portugal and beyond, lots of wonderful weekend breaks are just a drive away – simply hire a car here from Enjoy Travel and get rolling.
Prepping for your weekend away from Porto
Brilliant weekend breaks coming right up. But let's take in a few tips on prepping properly first.
First off, always drive on the right side of the road – hopefully you know that if you're based here though!
Then fuel up the night before and plan your route on your SatNav. If it involves toll roads, you can pay by cash, credit card or the automated EasyToll system. Always wear a seatbelt and remember that kids under 12 can't travel in the front passenger seat.
Speed limits in Portugal are 50km/h in built-up urban areas, 90km/h on country roads, 100km/h on expressways and 120km/h on motorways.
Pack plenty of snacks, water, and blankets. And don't forget your road trip playlists.
Now let's get moving.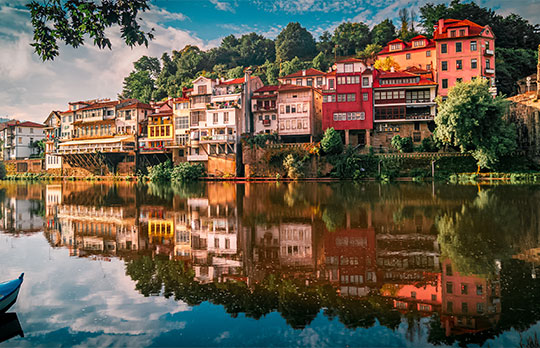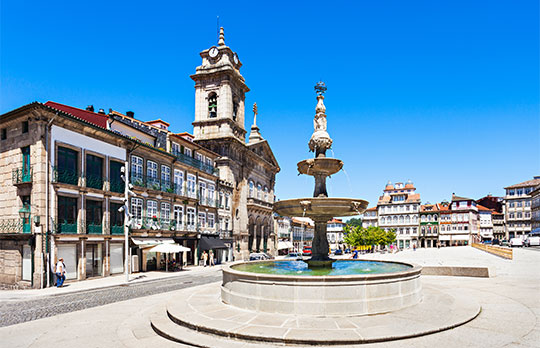 1. Amarante
Fancy a weekend away in a picturesque northern town? Amarante is just under one hour away via A42 and it's an absolute treat. With the striking Serra do Marao and verdant Tamega Valley nearby, as well as icons like the Sao Goncalo bridge, the scenery has inspired many artists and writers over the years. Culture vultures also find rich pickings in Museu Municipal Amadeo de Souza-Cardoso, while Parque Florestal de Amarante is a lush green space to wander around. If you're here the first weekend in June, you'll notice everyone consuming sweet pastry fertility symbols – an ancient tradition. And a drive 20km east of the town takes you into the natural wonderland of Serra do Marao – an awe-inspiring granite range which includes the 6th-highest peak in mainland Portugal.
2. Guimaraes
Just 50 minutes northeast of Porto, Guimares is a historical and cultural gem at the heart of the Portuguese nation. The home (and birthplace) of Portugal's first king (Afonso Henriques), it's packed with World Heritage Site castles and palaces, with lots of ancient streets and elegant squares to wander around. The Gothic courtyards and ornate interiors of the Palace of the Dukes of Braganza are a joy to behold, as are mansions like Mota Prego and Toural in the old town. Meanwhile, ancient Guimares Castle is a must see – in the 12th century it became a powerful symbol of Portugal's nationhood and defiant defence against invaders from all directions. And don't miss the cable car trip up to Monte da Penha if you love scenic views – the city and its surroundings look spectacular from up there.
3. Matosinhos
How does a weekend in a sun-drenched beach town sound? If you're nodding your head, Matosinhos is just 20 minutes from Porto via the A28, so spending the weekend here couldn't be less hassle. An important port and fishing hub, Matosinhos has two expansive swathes of sand – the lovely Praia de Matosinhos and Praia de Leca da Palmeira. As you might imagine, it's one of the best places in Europe to taste ocean-fresh seafood and you can stretch your legs after a grilled fish lunch with a stroll along Avenida da Liberdade coastal path – the views are legendary. Historical attractions include the Bom Jesus de Matosinhos church and Castelo do Queijo, while you can pick up fresh produce at the buzzing local market.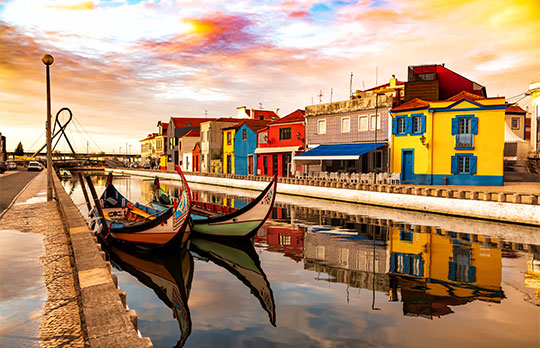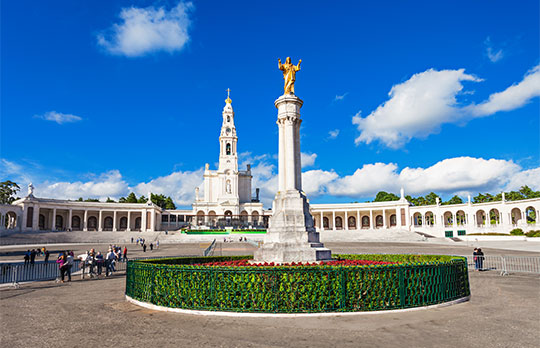 4. Aveiro
Just one hour south of Porto via the A1, Aveiro is a fabulous spot to get away for a weekend. Located on a lagoon shore, this city is Portugal's answer to Venice – with canals serving as roads and moliceiro gondola boats ferrying sightseers around. Colourful Art Nouveau buildings characterise the older sector of the city and the main attraction is Mosteira de Jesus – a monastery ram-packed with impressive religious art. Enjoy some retail therapy in the classy canalside Forum Aveiro shopping mall and don't forget to visit the old train station – complete with traditional blue azuelo tiles, it's beautiful. In terms of accommodation, Montebelo Vista Alegre Ilhavo Hotel offers five-star luxury while Baga de Sal Wine Guesthouse is cosy, clean and comfy.
5. Lisbon
Portugal's capital Lisbon is three hours south of Porto via the A1 – so it's a decent drive away but well worth the effort. A charming city with lush hillsides peppered with pastel and whitewashed buildings, its looks are complemented by a rich culture and friendly citizens. Terrific things to do include enjoying a meal with a difference at the leftfield (and Michelin-starred) Loco restaurant, exploring the amazing MAAT contemporary art museum, and partying with the beautiful people at the Casa Independente venue. The 16th century Torre de Belem tower is another essential Lisbon tourist attraction and if you're a footy fan, a pilgrimage to Estadio Nacional is a must – this is where Celtic became the first British team to win the European Cup, in 1967.
6. Fatima
Around two hours south of Porto via the A1, Fatima is a must-see if you're of the Catholic faith (or just appreciate the power of religious legends and iconography). This town became famous internationally when in 1917 (legend has it) the Virgin Mary appeared to three children looking after sheep in a local field. When word spread, thousands of visitors attended the spot months later and saw further strange goings-on – including the sun seemingly dancing. The site is now marked by the commanding Sanctuary of Fatima complex, which is a magnet for pilgrims from Portugal and beyond. If you prefer natural attractions, the underground chambers are Gruta de Moinhos Velhos are magnificent, and you can also see dinosaur footprints at Serra de Aire.
7. Foz do Douro
Just 10 minutes from the centre of Lisbon via Avenue da Boavista, Foz do Douro is another short hop weekend spot that's definitely worth checking out. Simply 'Foz' to those in the know, this seaside district is blessed by the hypnotic rhythms of the Atlantic and over the years has transformed from sleepy fishing village to trendy resort. Mercado da Foz is a fantastic place to pick up tasty street food, the beefburgers at Peebz are the stuff of legend and Bonaparte is a top-notch old fashioned bar in the middle of town with a beer menu as long as your arm – it would be rude not to sample as many as possible!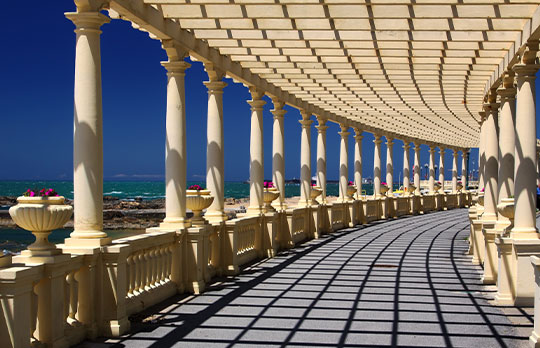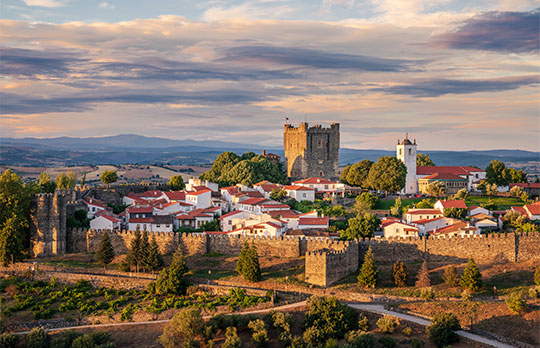 8. Salamanca
How about a weekend over the border in Spain? Salamanca is only three and a half hours from Porto via A25 and A-62 and it's eye-poppingly beautiful. The city's university is situated in the centre of town and its 15th century building is world-renowned because of its intricate façade carvings. Plaza Mayor is another hotspot – this baroque square is one of Spain's biggest and its surrounded by shops, cafes and restaurants. Meanwhile, Museo Art Nouveau y Deco caters for art fans with slightly more modern tastes, with a collection of 19th and 20th century masterpieces.
9. Braganca
Two hours and 15 minutes from Porto via the A4, Braganca is a laid-back place to spend a weekend. This terrific old city comprises two parts – the citadel and castle occupy the high ground, while the new town sits below on the banks of the Fervenca River. The impressive 15th century castle keep dominates the skyline and offers panoramic views of the surrounding countryside, while the fascinating Museu Militar De Braganca fills all four floors inside. If you've got kids in tow, Centro Ciencia Viva de Braganca is an inspirational, interactive science museum that's worth visiting.
10. Mirandela
Just one hour and 40 minutes from Porto via A4, Mirandela is a wonderful north east Portugal weekend destination. The 15th century, 200m long bridge is the architectural jewel of this university town, but it also boats palaces and lush hilly woodlands which are prime spots for gentle hikes on sunny days. The food is fab here too – particularly the locally-grown olives and alheira smoked sausages. For a weekend break with sumptuous snacks and surroundings, Mirandela is first-rate.