The Best Road Trips From Helsinki
Porvoo
Nuuksio National Park
Puumala Ridge via Mikkeli
Hanko
Turku Archipelago trail
Sipoonkorpi National Park
Raseborg
Tampere
Kotka
Hameenlinna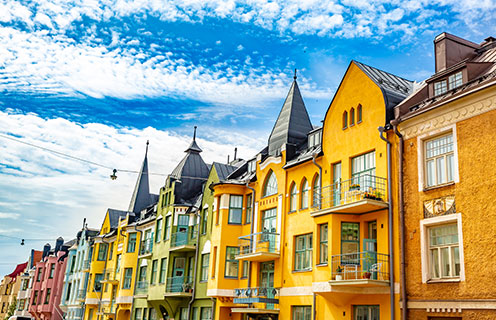 10 best scenic drives near Helsinki
So you're heading to Helsinki? Lucky you – the Finnish capital is one of the world's coolest cities in more ways than one! With a city population of 656,000 and a greater urban population of 1.2 million, it's the world's northernmost metro area and the most northerly capital in the EU. Situated relatively close to Tallinn in Estonia, Stockholm in Sweden and Russia's St Petersburg, it was once part of the Russian Empire and this has left lasting influences on its architecture and culture. Helsinki was World Design Capital in 2012 and it's regarded by many as the beating heart of the globally influential Scandi-cool art and design movement.
The city is located on a series of islands in the far south of Finland, its bays and inlets are complemented by elegant boulevards, noble Neoclassical and seminal contemporary architecture reflecting the rise of the Finnish Republic, and great bars and restaurants where you can while away a few hours in good company. In the Punavuori Design District south of the city centre you'll find unusual galleries, boutiques and craft shops which showcase the distinctive homeware, textiles and glassware that Helsinki is famous for – you might even pick up a few pieces that will add a certain je ne sais quoi to your own home.
Hire a car in Helsinki from Enjoy Travel and its stunning natural surroundings are ready and waiting for you to discover. You can island-hop its archipelago, bask on its beaches and tree bathe in its lush forests, parks and gardens. Snow sports fans are satisfied by the pristine powder in winter and many charming towns and cities worth visiting at any time of year are within easy reach.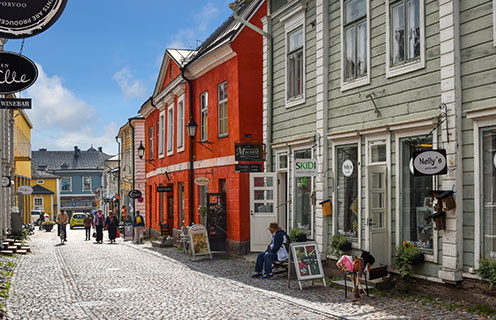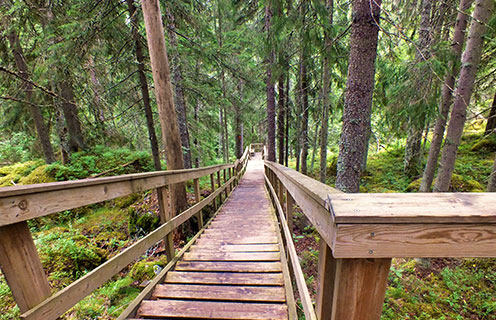 Top tips on driving in Helsinki
Your top 10 road trips from Helsinki are coming up in two shakes of a reindeer's tail, but let's take a quick look at some Finnish driving tips first.
You drive on the right of the road in Finland and overtake on the left – give priority to vehicles from the right, emergency vehicles and trams. Your valid, full UK driving license is acceptable and it's compulsory to carry a warning triangle in case of breakdown. If you're on the road between December 1st and February 28th, winter tyres are also mandatory.
Horns should only be used in a built-up area if there's genuine danger and dipped headlights should be used day and night, all year round. There are no toll roads in Finland and all main roads are kept open in winter, although those in the far north might get blocked in the most extreme conditions. Seatbelts or age/size-appropriate restraints should be used at all times and drink driving isn't tolerated. The speed limit in Helsinki and Finland at large is 50km/h in built-up areas, 20km/h in residential zones, 100km/h on open roads and 120km/h on motorways.
Now we've broken the ice with some essential driving tips, let's get moving with those 10 scenic road trips!
Porvoo
Located a short drive east of Helsinki, Porvoo is a charming settlement characterised by the colourful buildings of its old town, Vanha Porvoo, most of which dates from the 18th and 19th centuries. The most iconic buildings here are Porvoo City Hall, Porvoo Cathedral and the riverside granaries that sit by the Porvoonjoki river. Browse the chic boutiques, chill out in the cafes and refuel in the welcoming restaurants – don't leave without visiting the magical toy and doll museum!
Getting there: you can drive to Porvoo from Helsinki in 50 minutes via the E18.
Nuuksio National Park
Spread over a vast area west of Helsinki, Nuuksio National Park is a very popular getaway location for city-dwellers and visitors alike. The landscapes here are diverse – you'll encounter dense forest, languid lakes, thick swamps, pretty meadows and hills peppered with scented pines. Wildlife here includes Siberian flying squirrels, moose, lynx, fox, eagles, hawks and owls – camping facilities are available to pre-book if you'd like to stay the night under the stars.
Getting there: Nuuksio National Park is 45 minutes away from Helsinki via Route 1.
Puumala Ridge via Mikkeli
Also known as the Lietvesi Scenic Road, this road trip takes you to the preternaturally beautiful Puumala Ridge in the Saimaa Lake District. You'll pass Mikkeli on the way, where you can see the awesome Astunvansalmi rock paintings (7500 years old!) and the Ollinmaki Berry Winery. At Puumala Ridge, the road sweeps through a series of islands fringed with forests – it really is spectacular. If you want a road trip to remember, this fits the bill brilliantly.
Getting there: Mikkeli is 2 hours 30 minutes from Helsinki via E75 and Route 5. Puumala Ridge is 45 minutes from Mikkeli via Kantatie 62/Stamvag 62/Route 62.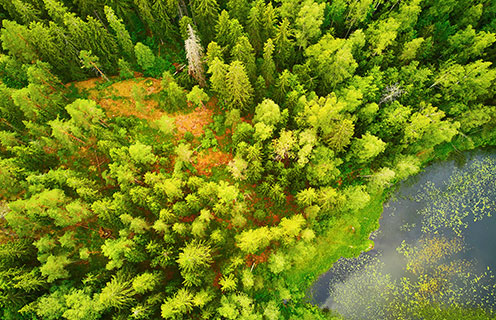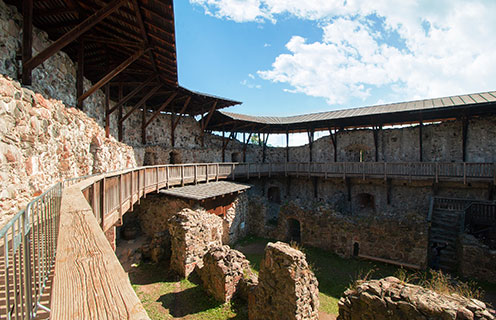 Hanko
If you like to be beside the seaside, Hanko is a classic Finnish coastal town just a couple of hours from Helsinki. Its soft sandy beaches are brilliant for sunbathing (if you've timed your visit to catch the country's very short summer!) and the famous white beach huts make a perfect background for your social media selfies. If you really want to get into the healthy living vibe, you can even book a beach yoga session.
Getting there: Hanko is one hour and 40 minutes from Helsinki via Route 51 and Route 25.
Turku Archipelago trail
Perhaps the most famous route of its kind in Finland, the Turku Archipelago trail starts just a couple of hours from Helsinki, but you should give yourself at least two days to take in its scenic beauty at your leisure. The trail is 200km long and includes bridges and ferries at certain points but it's well worth the effort to unlock the majesty of these sublime archipelago islands. There are plenty of accommodation options and culinary pitstops on the way, so you'll travel in comfort.
Getting there: Turku is two hours from Helsinki via the E18.
Sipoonkorpi National Park
This gorgeous green space is bristling with biodiversity and it's amazingly close to Helsinki city centre – you can drive there in the blink of an eye. Sipoonkorpi National Park features forests, wetlands and tranquil waters, all of which host wildlife like eagle owls, lynx and wood grouse. Three well-tended trails intersect the park, and they enable you to experience its terrific terrain in all its glory. If you want to go wild in Finland, look no further!
Getting there: Sipoonkorpi National Park is just 35 minutes from Helsinki via E75.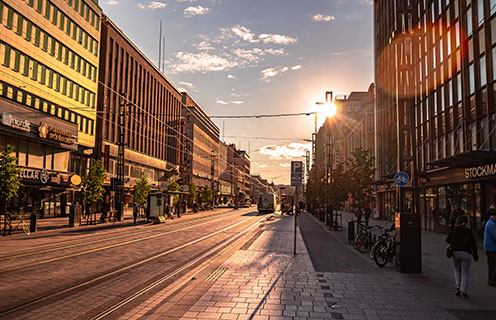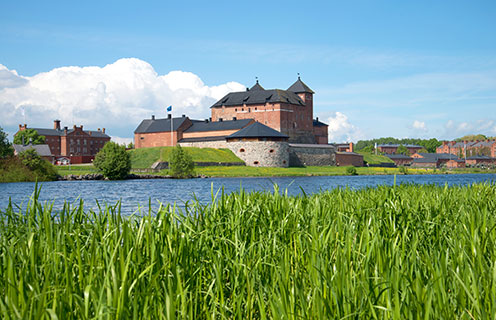 Raseborg
Another historical hotspot located west of Helsinki, Raseborg boasts a formidable, squat castle, there's more unusual architecture to be found when you wander through the Tammisaari area and the former industrial heartland of Billnas lets you step into the past and experience everyday life in an ironworking community. There are some lovely beaches and park areas nearby if you want to relax in natural surroundings before heading home.
Getting there: Raseborg is one hour and 15 minutes from Helsinki via Route 51.
Tampere
Located reasonably close to Helsinki, Tampere is one of the largest cities in the nation and it's a cultural playground with something to satisfy kids of all ages. Families love the Sarkanniemi theme park and Duck Park, and there's even a Moomin Museum – remember those cute characters from your childhood stories? Tampere Cathedral and Markey Hall are other highlights, but don't forget to visit the Spy Museum for some fascinating cloak and dagger activities.
Getting there: Tampere is 2 hours from Helsinki via the E12.
Kotka
Located east of Helsinki on the Kymi river, Kotka is a great place to visit if you'd like to learn more about Finland's maritime history. The Vellamo Centre showcases the area's seafaring past, and the Salpa Line is a bunker complex which was built to defend Finland from any Soviet invasion attempt. For something a little more relaxing, the Sappokka Water Park has scenic waterfalls, bridges and ponds.
Getting there: Kotka is one hour and 30 minutes from Helsinki via the E18.
Hameenlinna
This magnificent medieval town is a manageable day trip from Helsinki and it's famous for the romantic lakeside Tavastia Castle, which you're free to explore. There's an art museum and prison museum here (great for fans of Horrible Histories), while the Evo Hiking Area is packed with woodlands and waterways ripe for exploration on foot or mountain bike.
Getting there: Hameenlinna is one hour and 10 minutes from Helsinki via the E12.
These top 10 road trips from Helsinki deliver action, adventure and entertainment – enjoy!