The 50 Best Rooftop Bars In Europe
There's only one thing to do when the heat and humidity hits – find the nearest rooftop bar and cool down with a cocktail or two. It might not have the same skyscrapers as New York or Tokyo, but there are some jaw-dropping rooftop bars in Europe. From London to Luxembourg and everywhere in between, here's our 2022 roundup of the best rooftop bars in Europe. Our ranking system uses aggregated scores from previous social media results and contributions from the Big 7 Travel editorial team.
Best rooftop bars in Europe,How do these rankings work?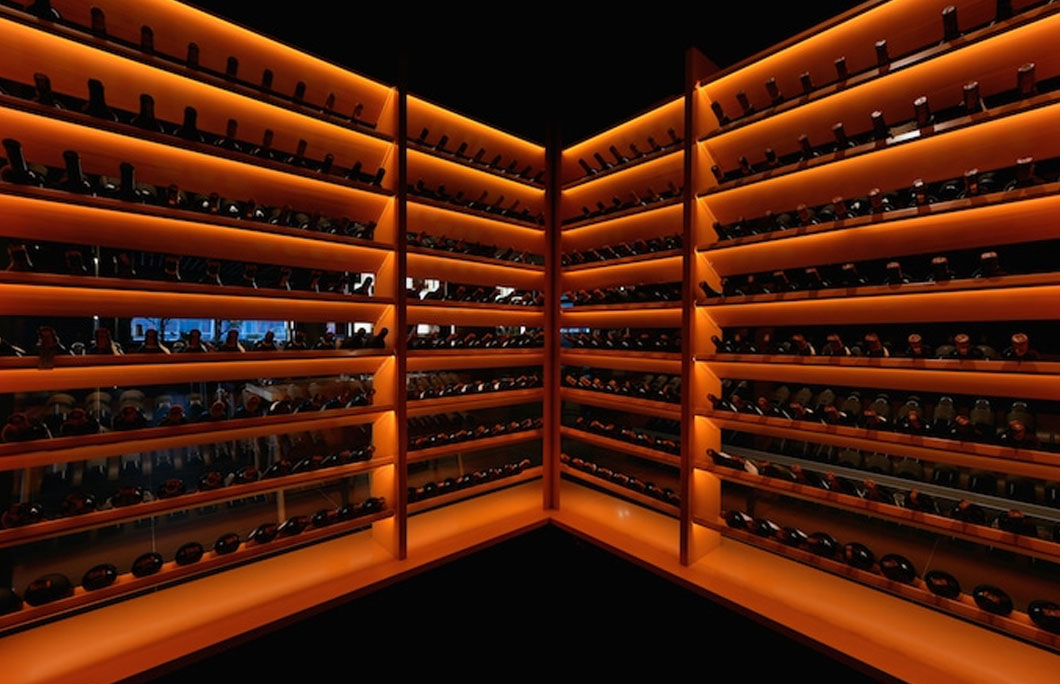 50. Lift Steak and Rooftop Bar – Tirana, Albania
It might have an inspired name, but there's nothing remotely uninspiring about this stylish rooftop bar in the heart of Tirana. Set on top of the most iconic commercial building in Tirana, the terrace offers some of the best views of the city and surrounding mountains, as well as the nearby Air Albania stadium. There's an impressive drinks menu featuring excellent local and international wines, beers, spritzes and cocktails. Dance the night away to a live DJ under the starry sky. 
---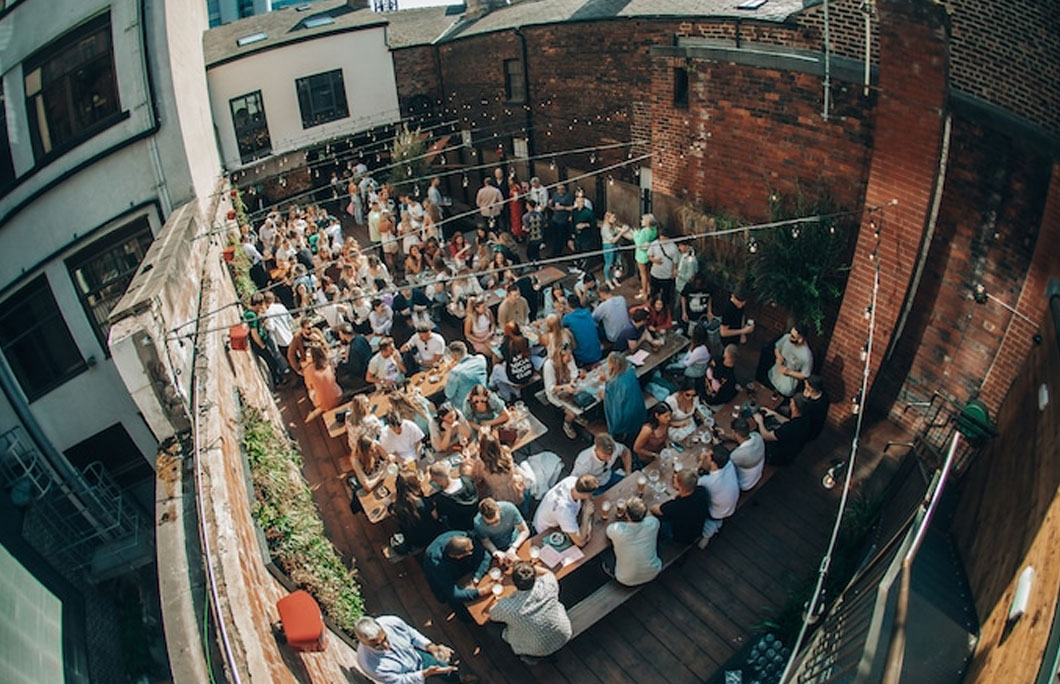 49. The Green Room – Leeds, UK 
Not just one of the best rooftop bars in Europe, The Green Room is also one of the newest rooftop bars on the scene. Billed as the city's largest open-air roof terrace, this £3 million venue is set right next to the new Channel 4 HQ and offers a vegan-friendly restaurant, speciality summer spritz menus, and brilliant brewed craft beers.
---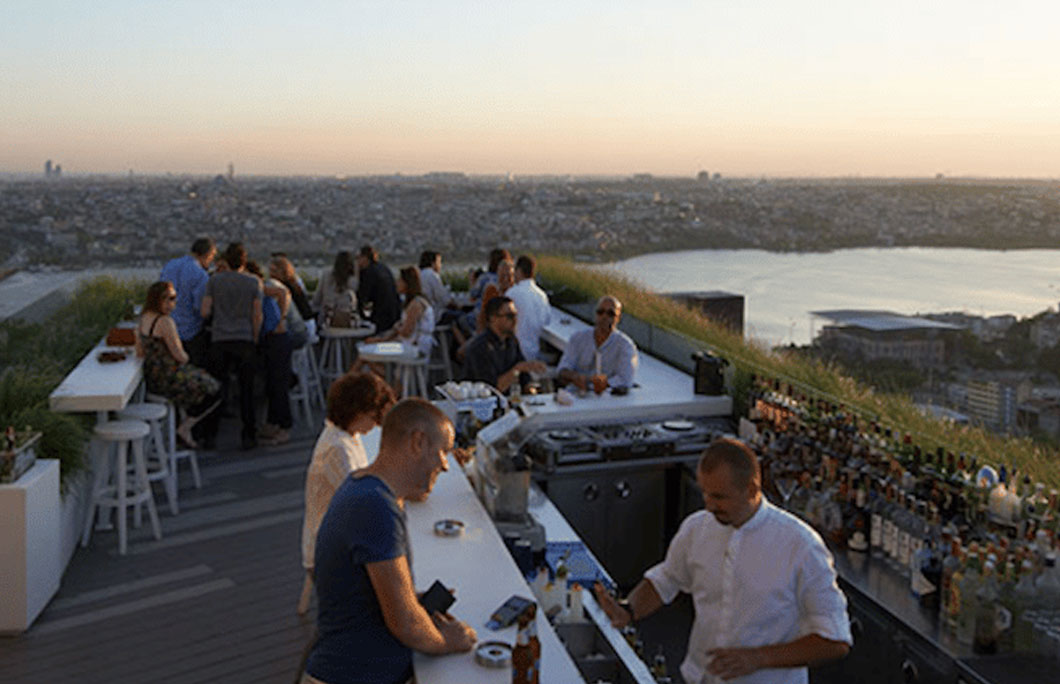 48. Mikla – Istanbul, Turkey 
This sleek and stylish rooftop bar is the ideal spot to cool down, with a spectacular rooftop pool bar and jasmine-scented breeze. Head here for creative cocktails, DJ tunes and sweeping views over the city. If you're hungry, the restaurant regularly ranks as one of the top 50 restaurants in the world too.
---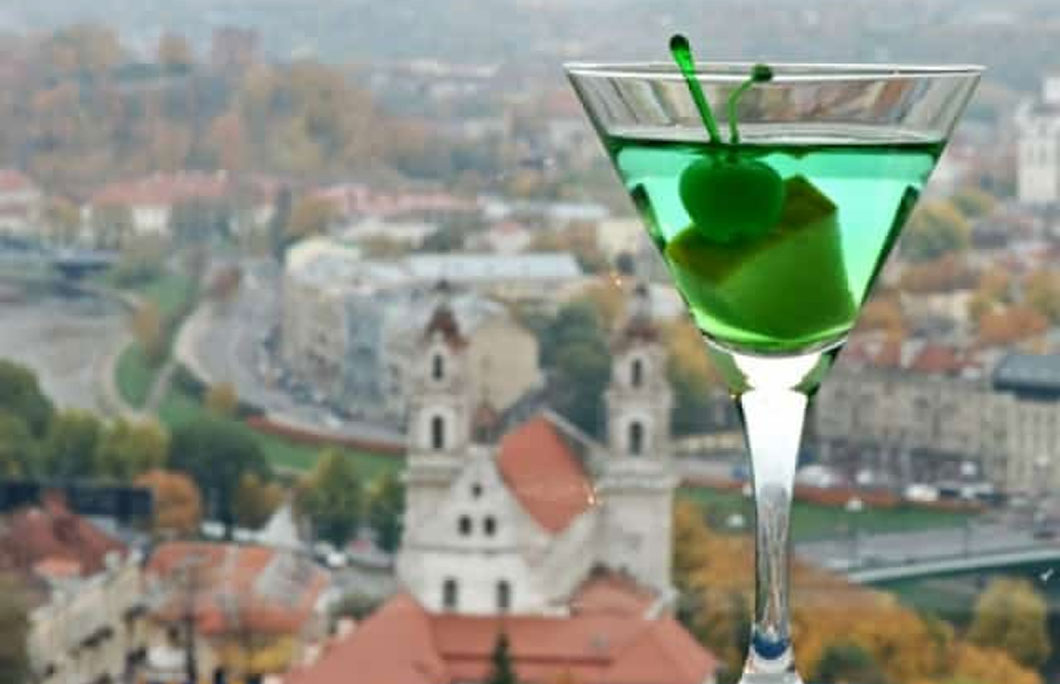 47. Skybar – Vilnius, Lithuania
This classy sky bar on the 22nd floor of the Radisson Blu Hotel Lietuva has unbeatable views of the entire city. There are more than 70 cocktails to choose from, with a few funky twists too.
---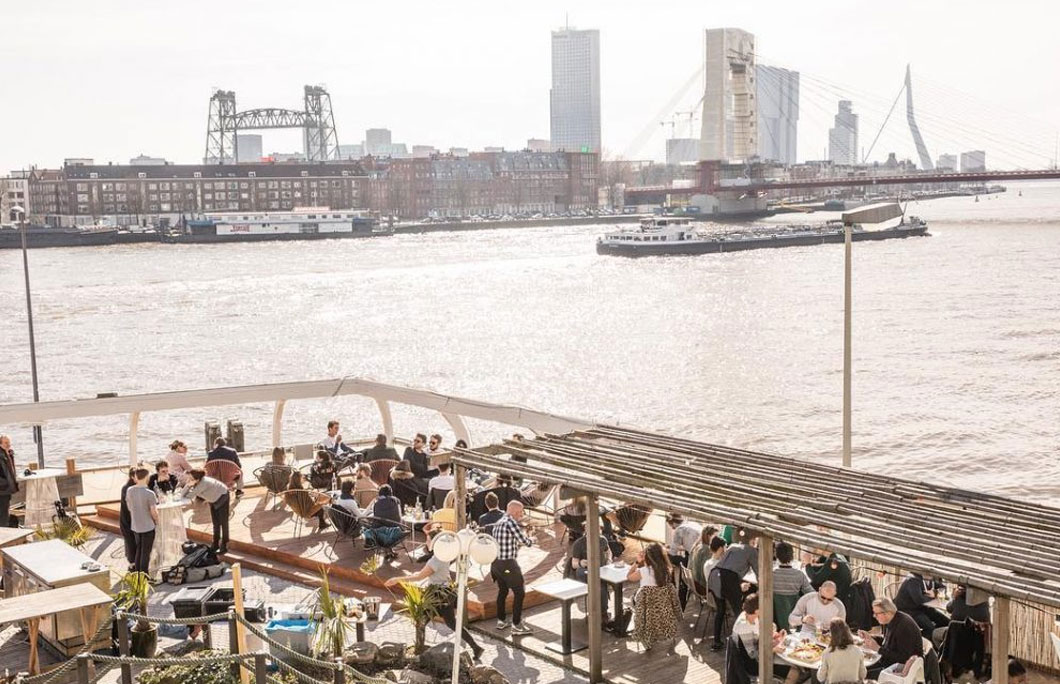 46. Aloha Bar – Rotterdam, Netherlands
Aloha is a bar, restaurant, coffee roaster and a terrace on the Maas River that focuses on sustainability and reducing waste. For example, they use the fruity berry from the coffee bean as the base for their ice tea. There's regular events and an all-round great vibe.
---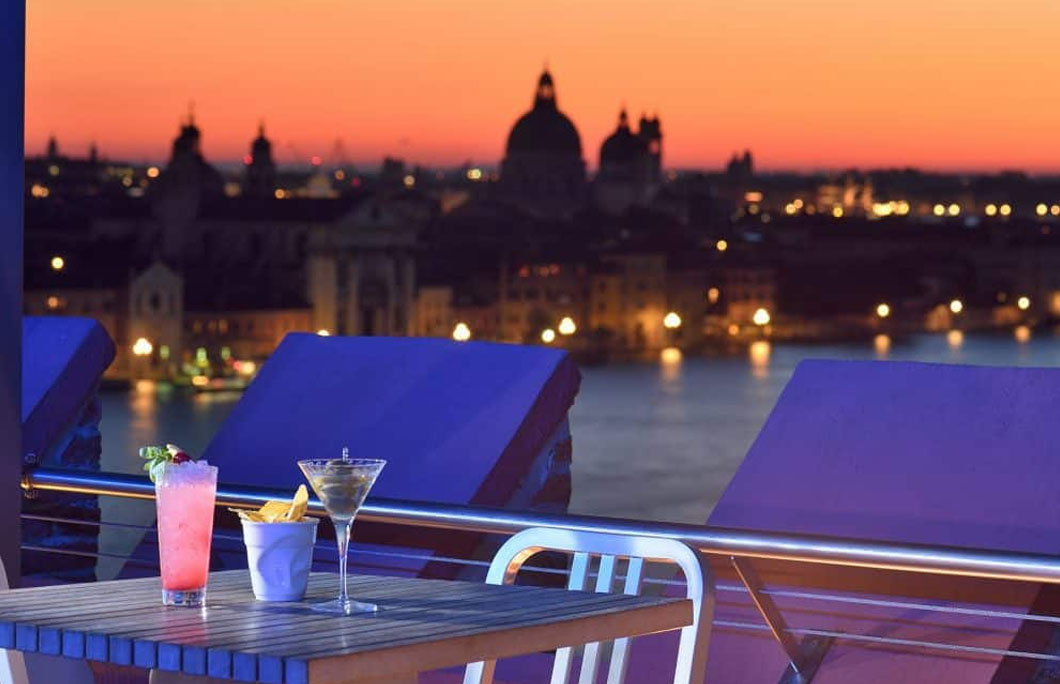 45. The Skyline Rooftop Bar – Venice, Italy
This beautiful 8th-floor bar at the Hilton Molino Stucky Hotel on Giudecca is open to non-hotel guests, so everyone can enjoy the view. Indulge in a glass of Champagne, a pre-dinner aperitif or a delicious cocktail.
---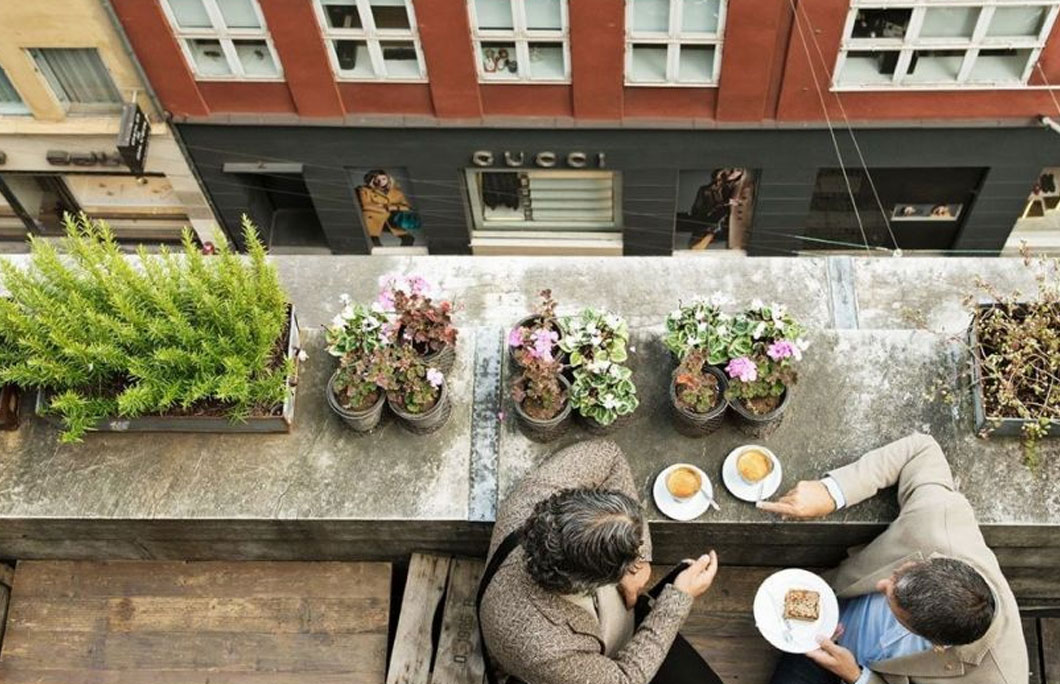 44. Illum Rooftop – Copenhagen, Denmark
At the top of ILLUM centre, you will find Copenhagen's coolest rooftops, with a mix of bars and restaurants and the best views of the city.  The rooftop restaurants serve everything from steaks to lobster, to cocktails and champagne.
---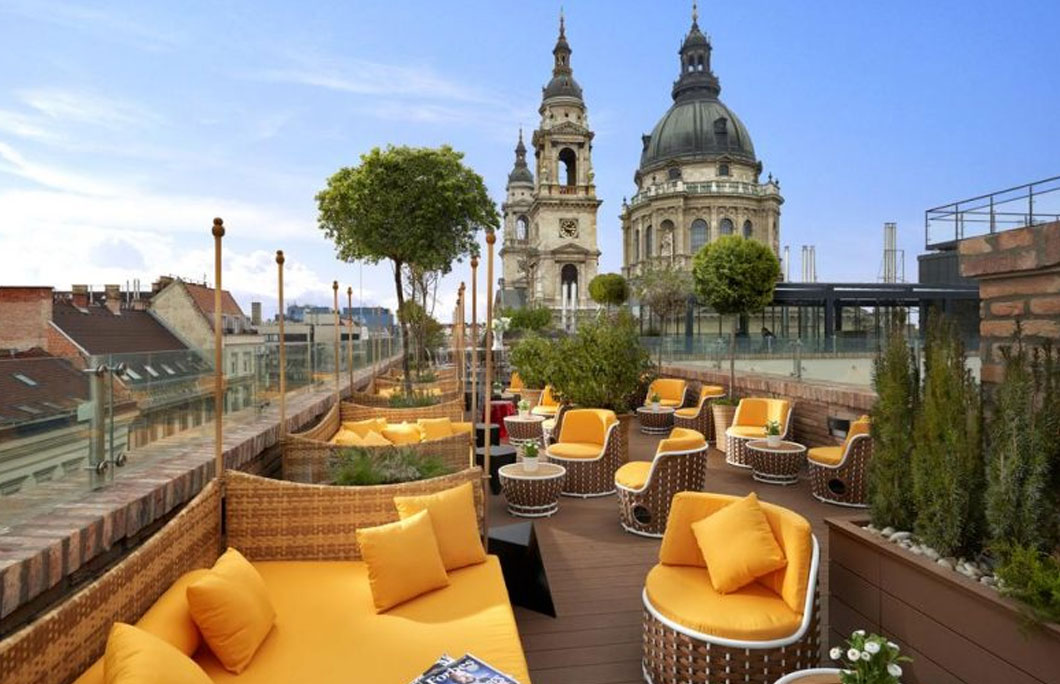 43. Aria Hotel Budapest – Budapest, Hungary
A luxury hotel in the city, head straight to the rooftop bar for panoramic views of the city guaranteed to spice up your Instagram feed. Views of St Stephen's Basilica go perfectly with a glass of vino too.
---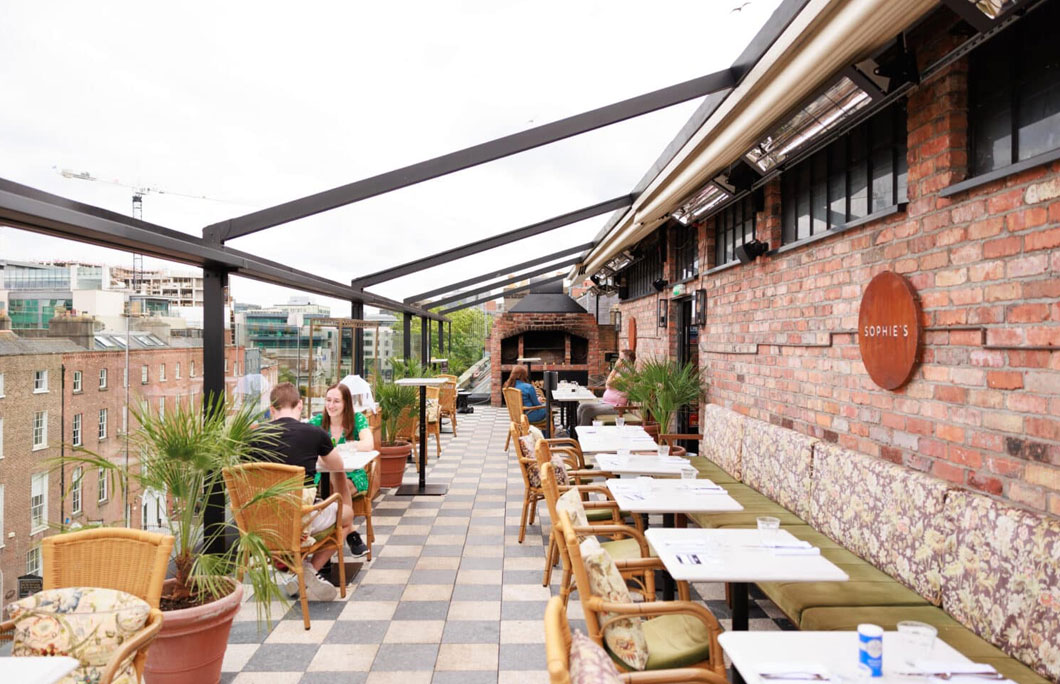 42. Sophie's – Dublin, Ireland
When the sunshine hits in Dublin, this is the place to make a beeline for. Sophie's is a pretty rooftop bar and terrace in the Dean hotel, with zesty cocktails (try the Mad Ting, which is served in a soda can). Once the sun goes down, things get toasty with blankets and heaters.
---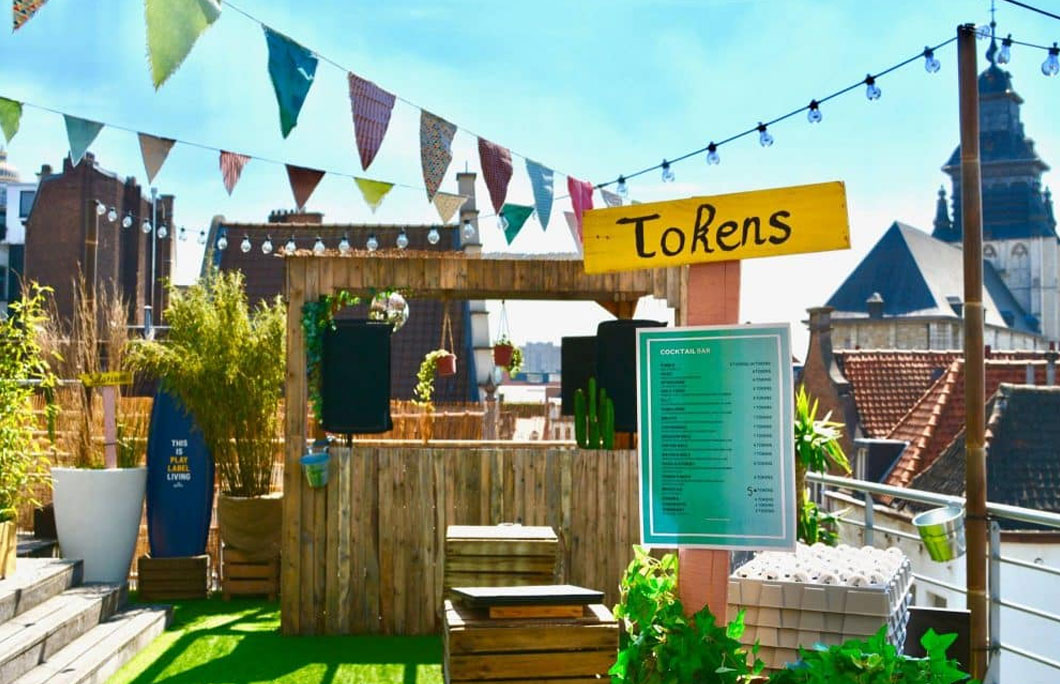 41. Play label rooftop – Brussels, Belgium
This fun rooftop on the top of the Bowling Crosly bowling alley opens every summer for fresh cocktails and cold beers. It's ran by Play Label Records, so expect House Music with bright sunshine, a nice bar, beach chairs, loads of cushions and chilled out vibes.
---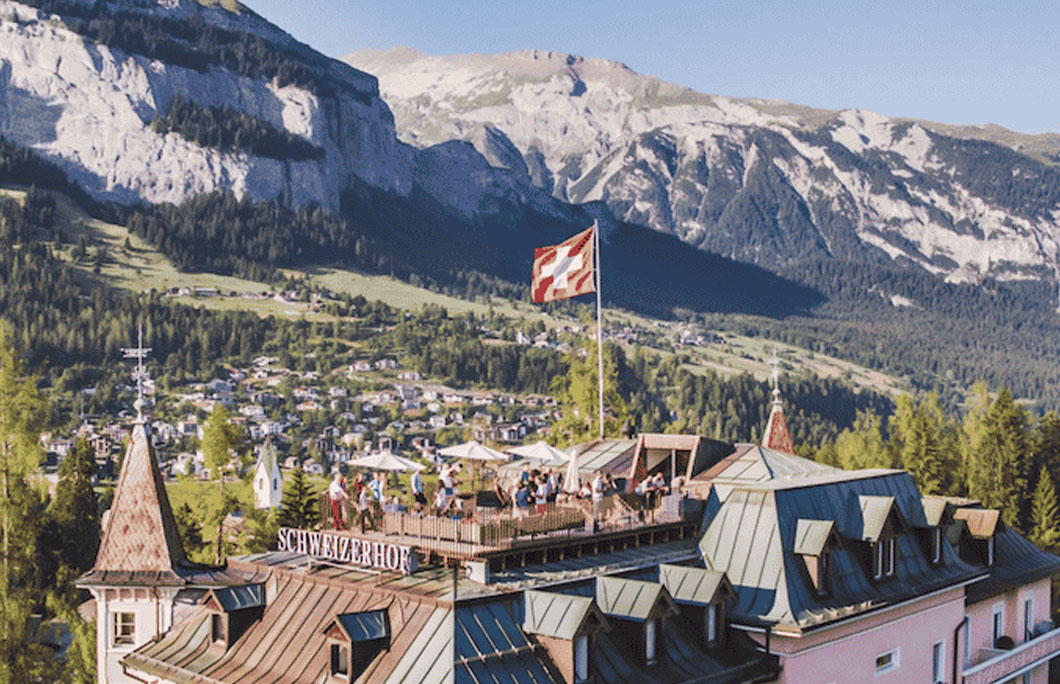 40. Schweizerhof Flims – Flims, Switzerland
For Wes Anderson-style views over the Swiss Mountains, you can't beat Schweizerhof Flims at the Romantik Hotel. Set atop Flim's iconic belle epoch hotel, this tiny terrace offers dazzling views of the mountainscape.
---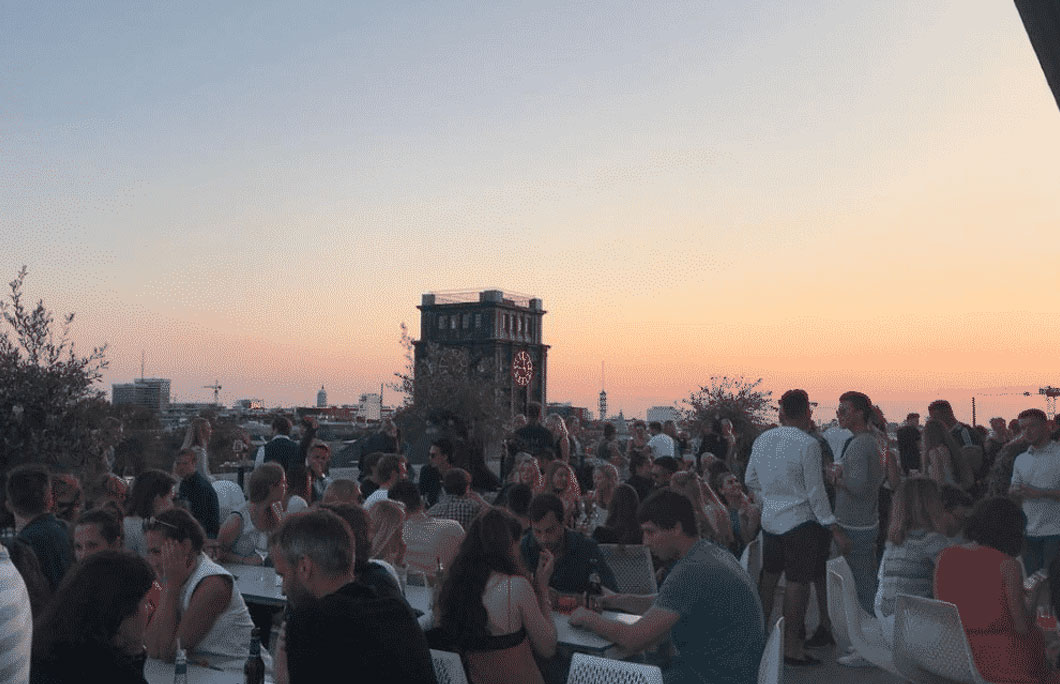 39. Café im Vorhoelzer Forum – Munich, Germany
This laidback café bar on the roof of Munich's architecture faculty is a must-see when in Munich. You'll have views of two domes of the Frauenkirche, a Bavarian landmark and Munich's cathedral. The ideal spot for a coffee or (even better) a glass of vino.
---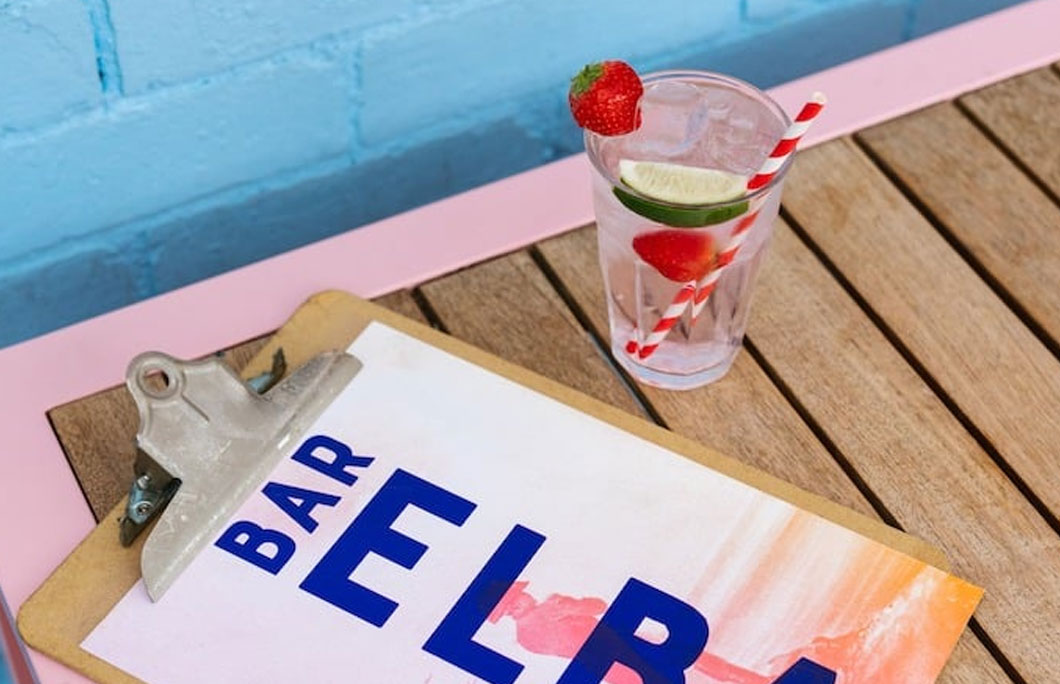 38. Bar Elba – London, UK
Rooftops are hardly in short supply around Waterloo, but Bar Elba is arguably the most fun. It's loosely inspired by the idyllic island of Elba on the Tuscan coast, where Napoleon was forcibly sent. This is more of a party island than political exile though, with a roof festooned with twinkling fairy lights, communal benches and roof-raising live music.
---
37. Sense Rooftop Bar – Sofia, Bulgaria
This unique spacious terrace bar on the 9th floor of Sense Hotel has an endless feeling of sky and stars. There are views of the National Assembly and the Alexander Nevski Cathedral, as well as the mountains. As for drinks? There are delicious Bulgarian wines and plenty of bubbles.
---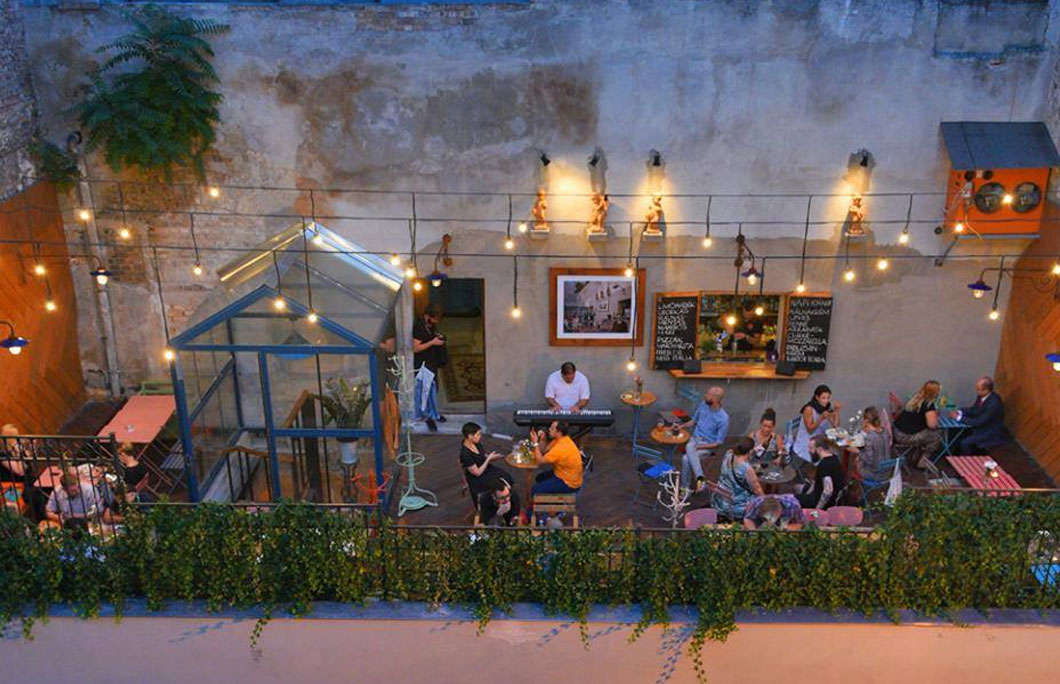 36. Liebling – Hidden Rooftop Bar – Budapest, Hungary
Liebling is known as Budapest's 'hidden' rooftop bar, which might mean there's not much of a view, but the funky courtyard makes up for it.
There's live music every night, a vast selection of quality local wines, classic cocktails, spirits and the best of the Hungarian and Italian cuisine – what more could you want?
---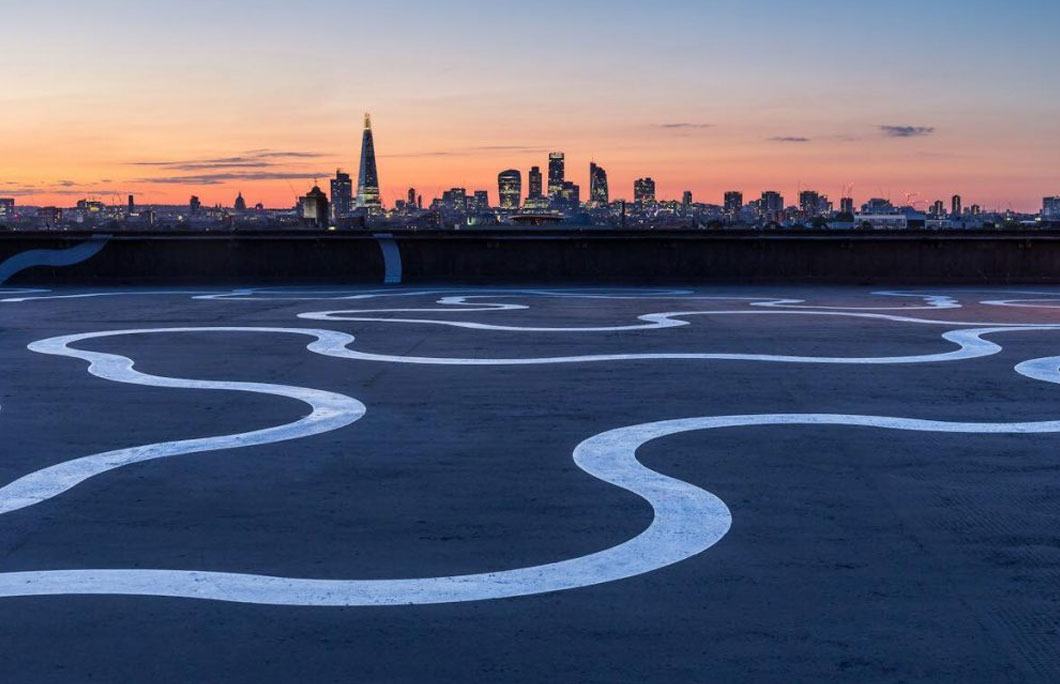 35. Frank's Cafe at Bold Tendencies – London, England
Since 2007 the rooftop spaces at Peckham Multi-Storey Car Park have been home to not-for-profit organisation Bold Tendencies. Every summer they open their doors to thousands of visitors and their first architecture project, Frank's Cafe, serves up a menu of classic drinks and food.
---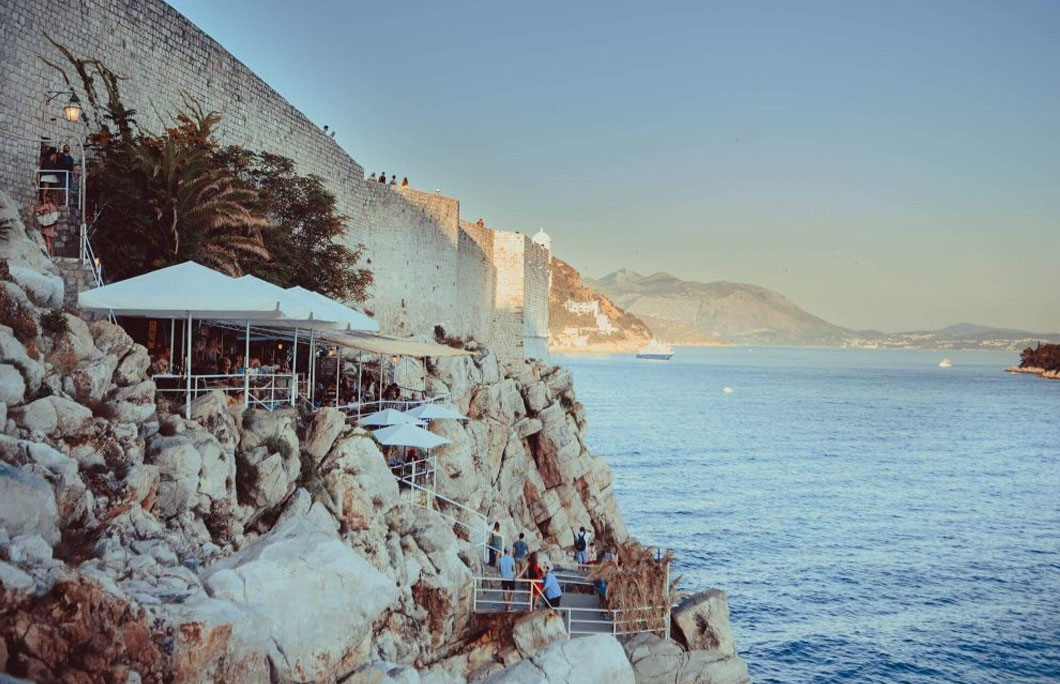 34. Buža Bar – Dubrovnik, Croatia
This is a rooftop bar taken to the next level: a bar on a cliff! Buža Bar lies just outside Dubrovnik's city walls and because of its popularity, you'll often find many tourists here.
The best time to come here is right before sunset. Enjoy a drink of your choice as you watch the beautiful sunset at Buža Bar.
---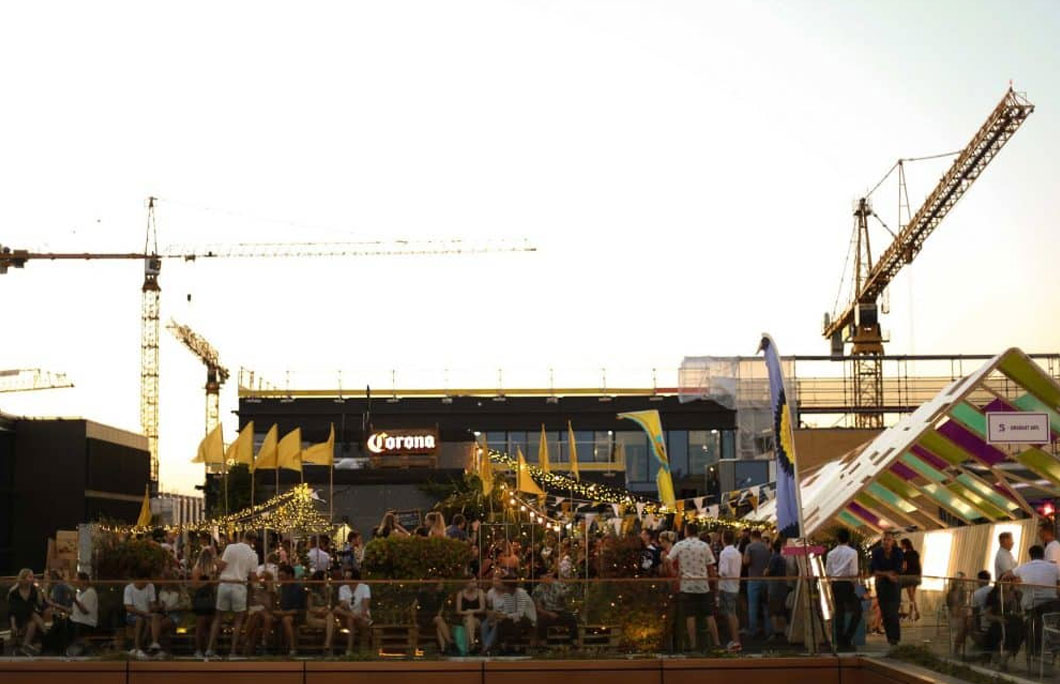 33. Stockholm Under Stjärnorna – Stockholm, Sweden
You'll find one of the coolest yet laid-back rooftop bars in Stockholm. Commonly called SUS, this is a fantastic hang out-spot during warm summer evenings, with a killer view.
Whether it's the DJs that play music, the movies on the screen or the cocktails in your hand, life is just better up here.
---
32. Das Loft Bar & Lounge – Vienna, Austria
Get ready for fine cocktails and jaw-dropping views from this bar on the 18th floor of the Sofitel Vienna Stephansdom.
But just take note: for a guaranteed place at the window, with the best view over the rooftops of Vienna, you need to book the 4-course LOFT menu and pay in advance. Worth it?
---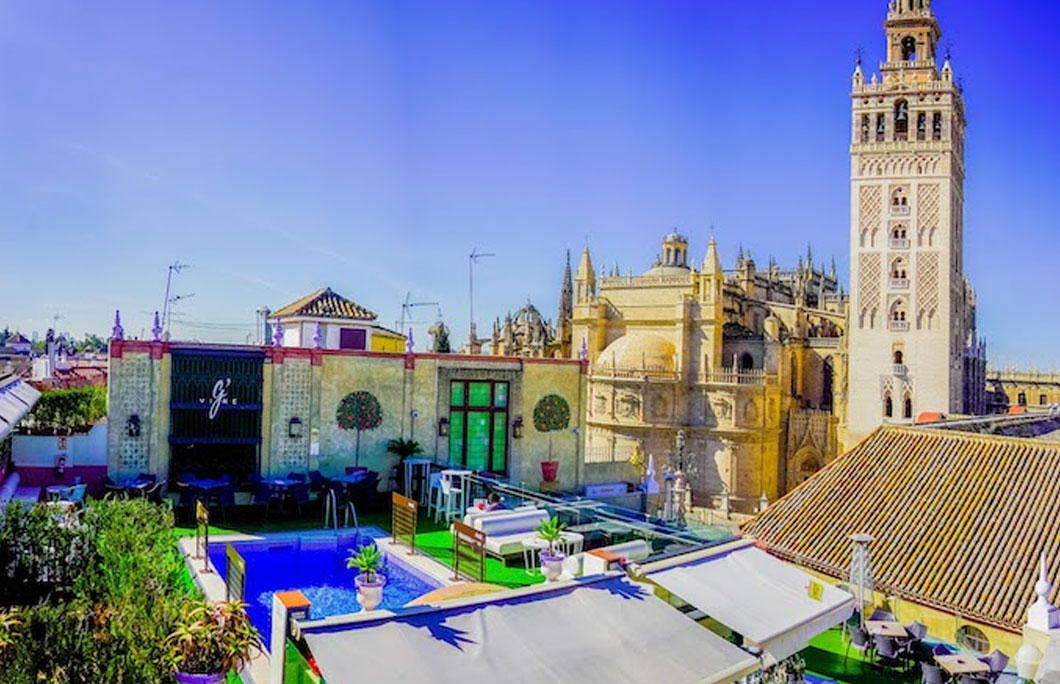 31. Terraza Hotel Doña María – Seville 
Hitting the heights in a city frequently described as "the frying pan of Europe", but we guarantee that the Terraza Hotel Dona Maria is the best way to enjoy La Giralda with a breeze. There's plenty of shade, as well as refreshing water misters, generous cocktails and delicious selection of tapas to district you from the heat too. 
---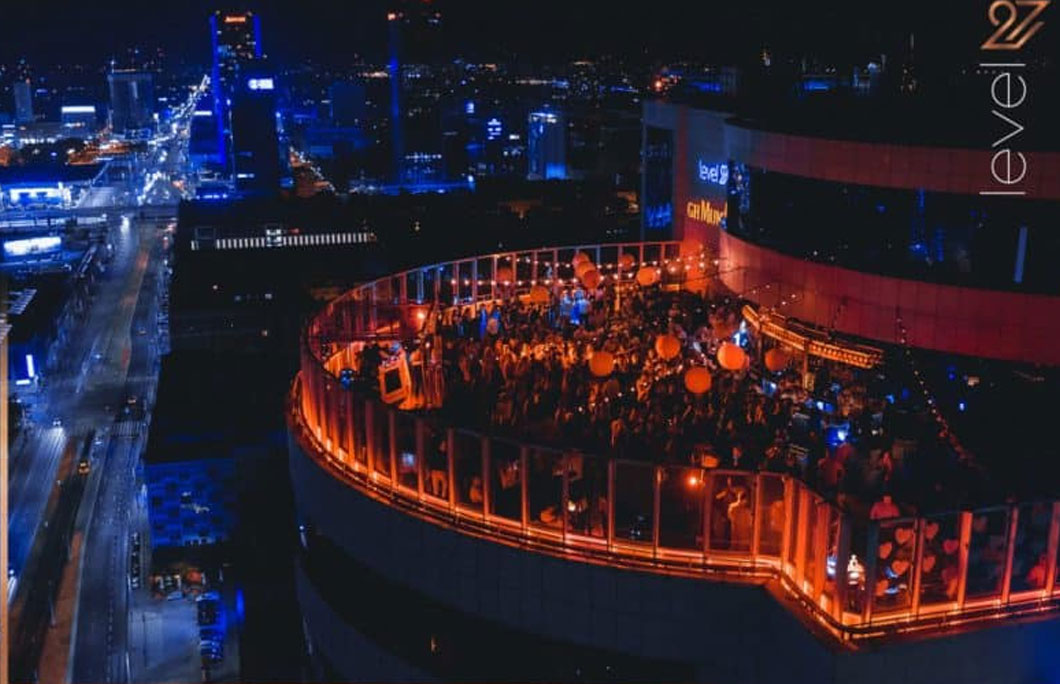 30. Level 27 – Warsaw, Poland
As the name suggests, this popular club is on the 27th floor. The unique view of the city skyline makes the sunrises and sunsets remain in your memory for a long time. Their slogan is "Higher level of clubbing", which guarantees weekly events and DJs for an unforgettable experience.
---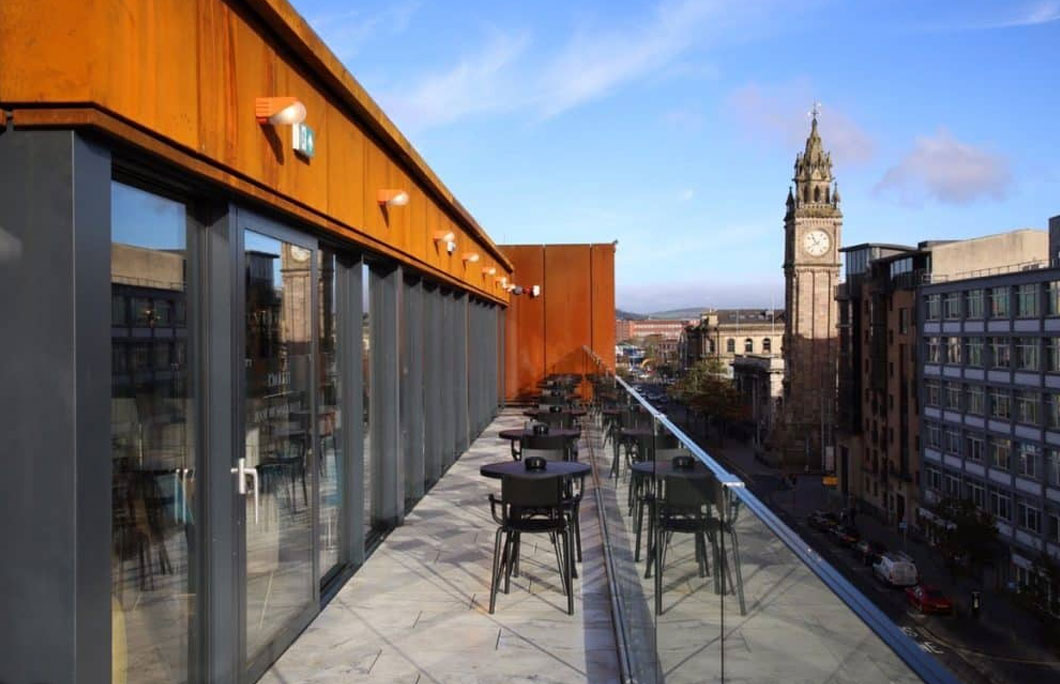 29. Babel – Belfast, Ireland
Babel is a rooftop bar, garden and kitchen on top of the Bullitt Hotel, with panoramic city views across Belfast. Their creative shrub cocktails use ingredients and garnishes inspired by its 'living walls', which are impressively lush and home to over 300 plants. Watch bartenders pick fresh herbs straight from the walls to use in the drinks.
---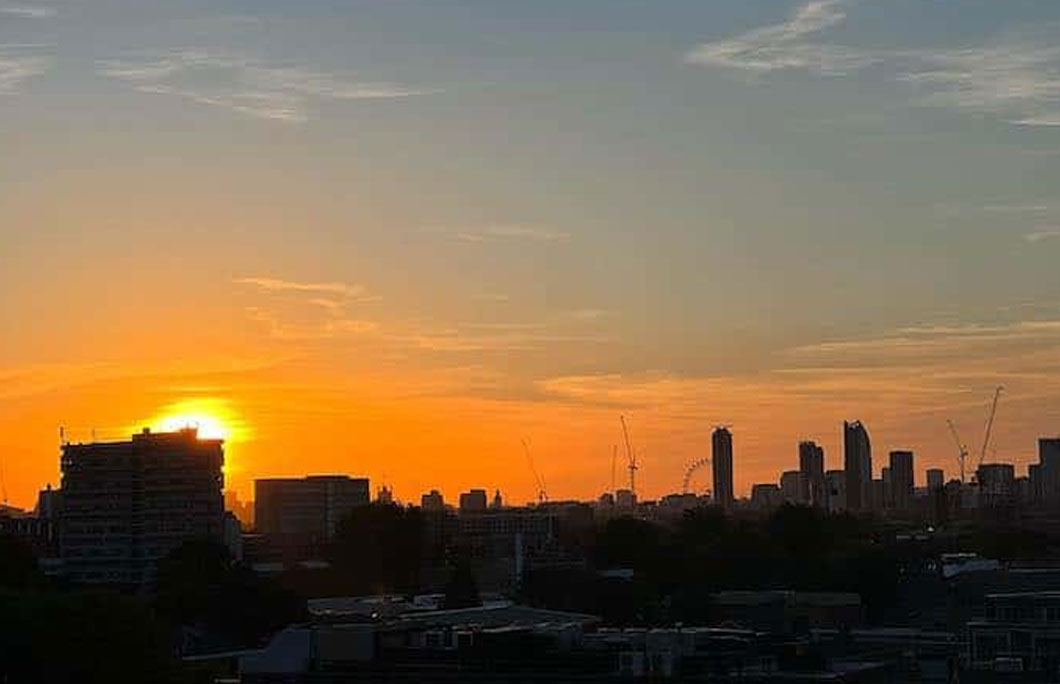 28. Forza Wine – London 
The hugely popular spin-off bar from the team behind Peckham's favourite pizza restaurant is a wine-centric spotting serving up snacks, drinks and atmosphere in spades. The buzzing bench-filled terrace offers views as far as The Shard too. You can still enjoy views in the rain too, thanks to its large glass windows. 
---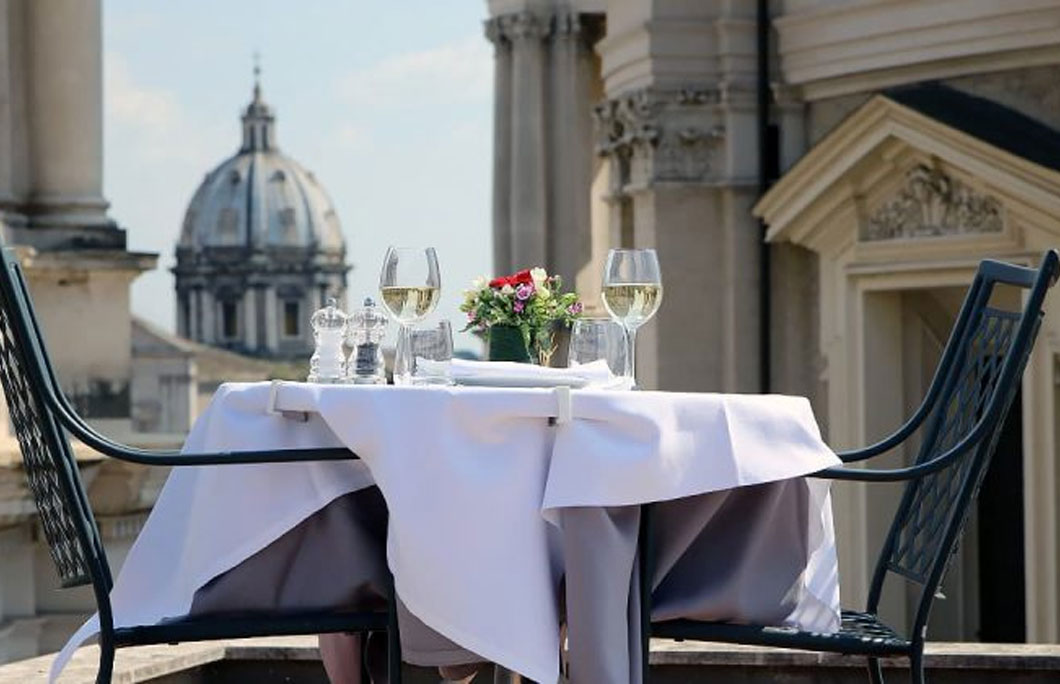 27. Terrazza Borromini – Rome, Italy
This slick hotel bar has a panoramic terrace with views of Piazza Navona, St. Peter's Basilica and the Pantheon that makes it a foolproof place for an Aperitivo for sunset. Reservations are pretty much essential, so plan ahead.
---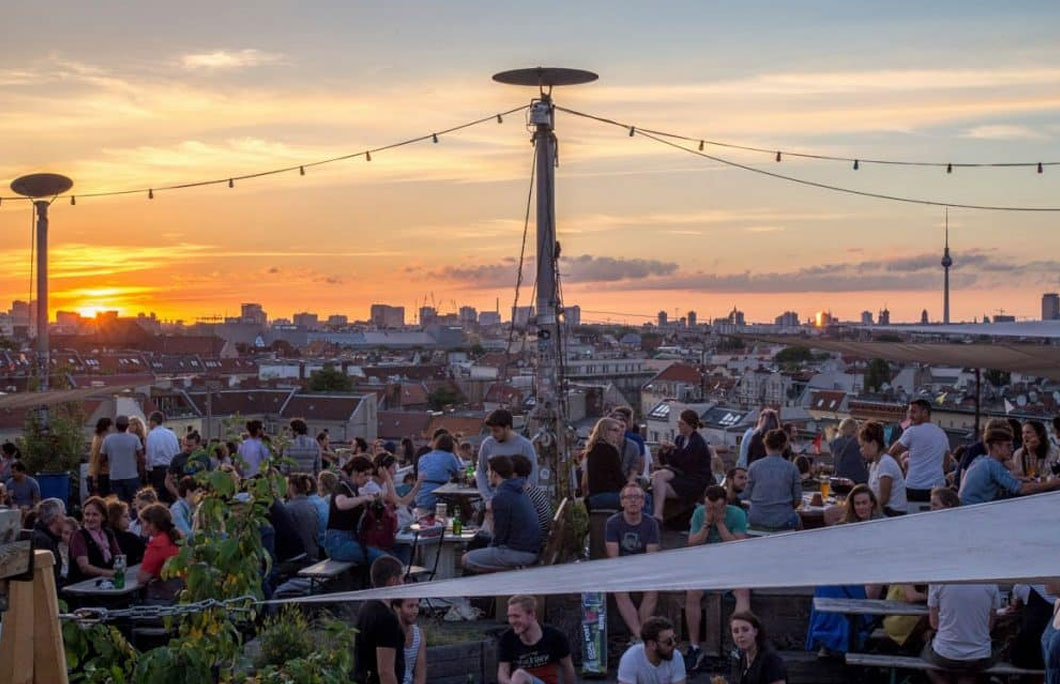 26. Klunkerkranich Rooftop – Berlin, Germany
This quirky rooftop in Neukölln is many things: bar, club and beach. It's also one of the latest hotspots of the Berlin clubbing scene. Head up on top of Neukölln Arcaden shopping centre to listen to the DJ's tunes and watch the sun setting over the rooftops of Berlin.
---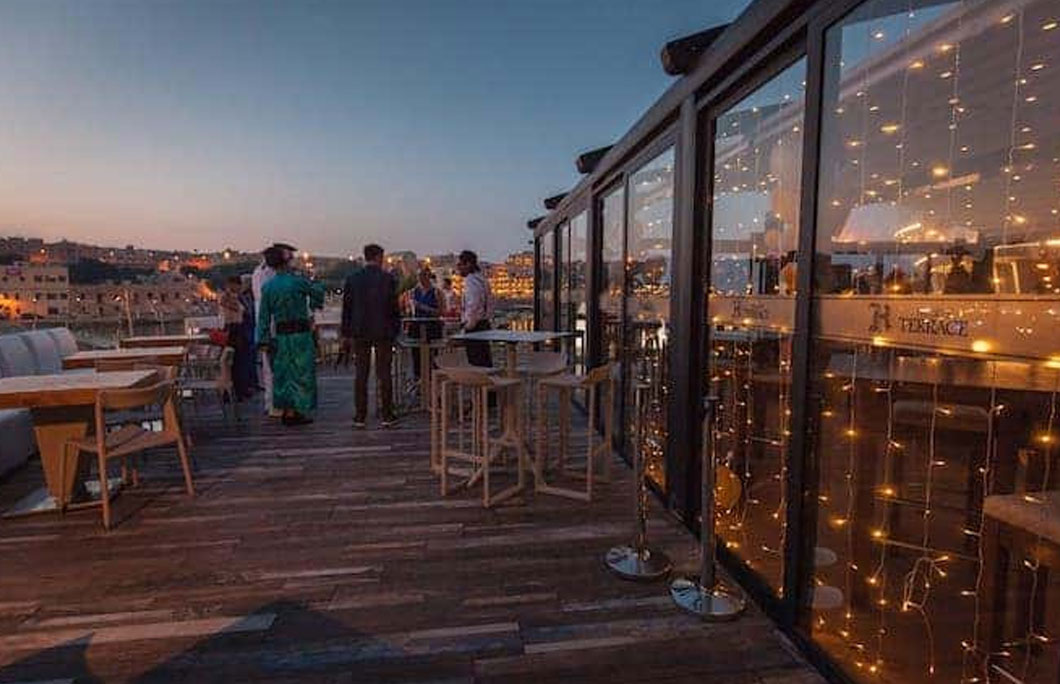 25.  Hugo's Terrace – St. Julian's, Malta
Looking for a swanky bar in Malta? Hugo's Terrace is the classiest spot for a sunset cocktail that will convince you to stay on after dark. With views of the clear blue waters and golden sands of St. Georges Bay, it's clear why it's one of the best rooftop bars in Europe.
---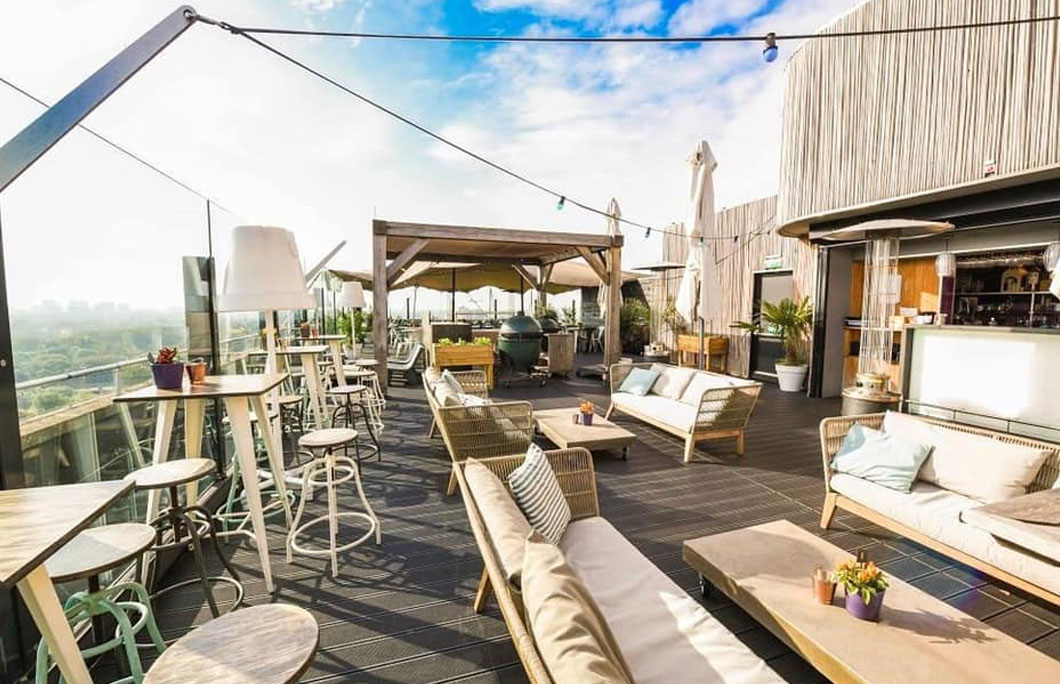 24. Floor17 – Amsterdam, Netherlands
This hotel rooftop bar can boast that it's the highest roof terrace in Amsterdam, with views of the city from 85 metres up high. It becomes a hot spot with locals and visitors alike each evening, with top bartenders slinging cocktails and good tunes. Be sure to keep an eye out for Floor17's Rooftop Movie Nights programme in the summer months.
---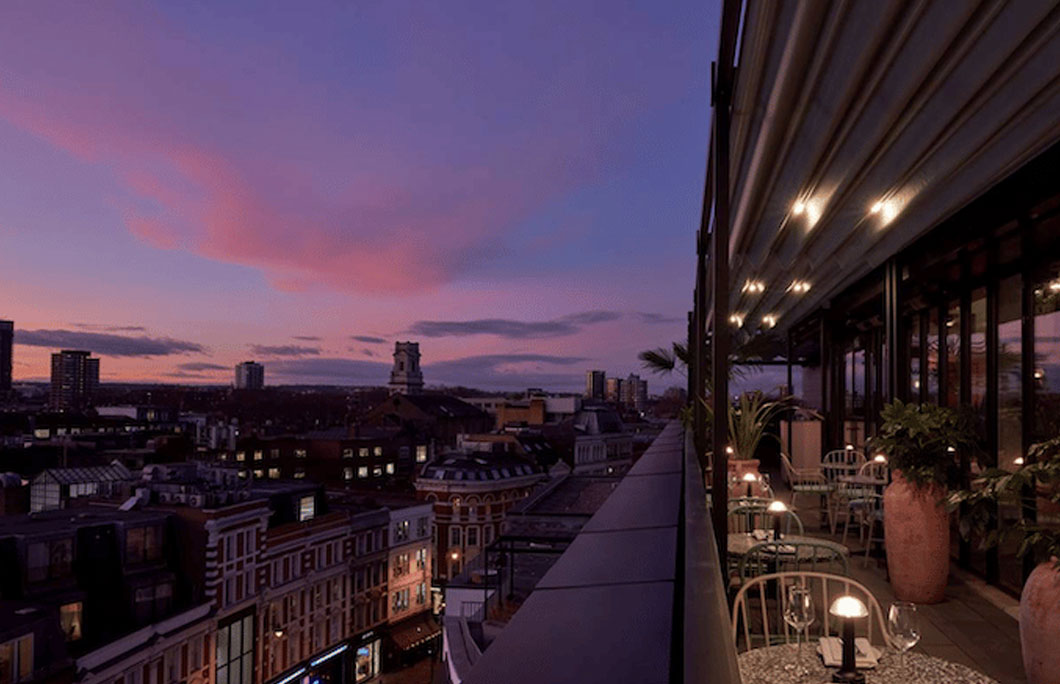 23. The Rooftop at One Hundred Shoreditch – London, United Kingdom 
The newest addition to East London's rooftop scene promises to transport you across the pond to Palm Springs, where the sun is always shining. While the odd downpour might be inevitable, the pink marble and terrazzo, cacti and Latin dance track will inevitably lighten your mood. So will the soft shell crab and swoon-worthy views over the City. 
---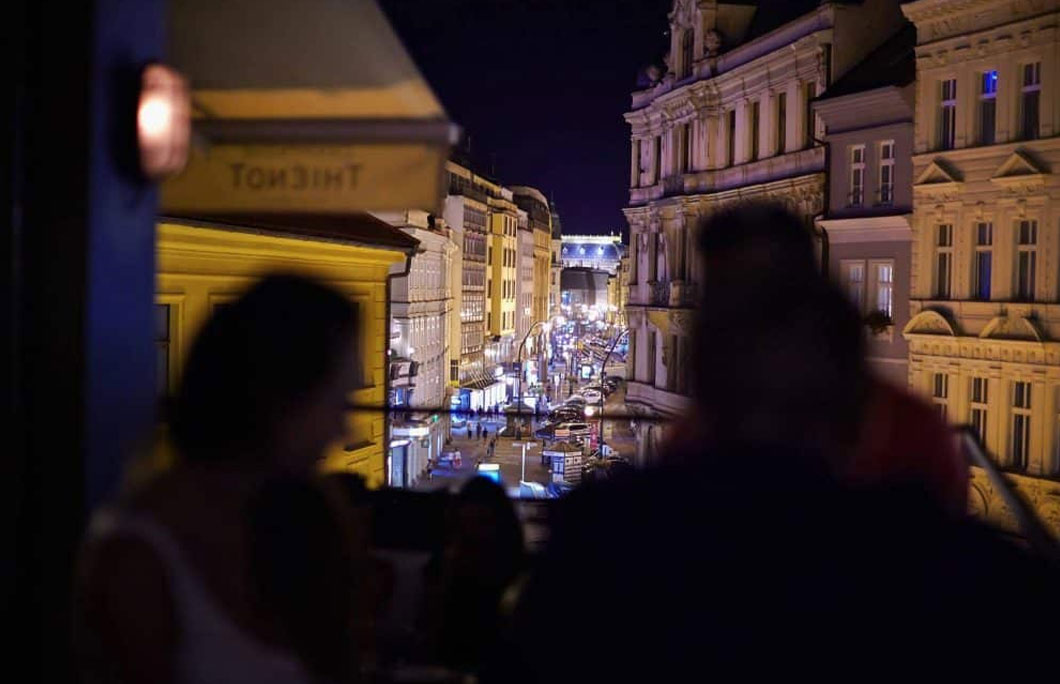 22. Balcony Bar Prague – Prague, Czech Republic
Balcony Bar is a charming rooftop bar in the very centre of Prague, with a view of Národní třída and the National Theatre. It's inspired by hip rooftop bars in cities such as New York or London, but with a historical Czech take on it.
---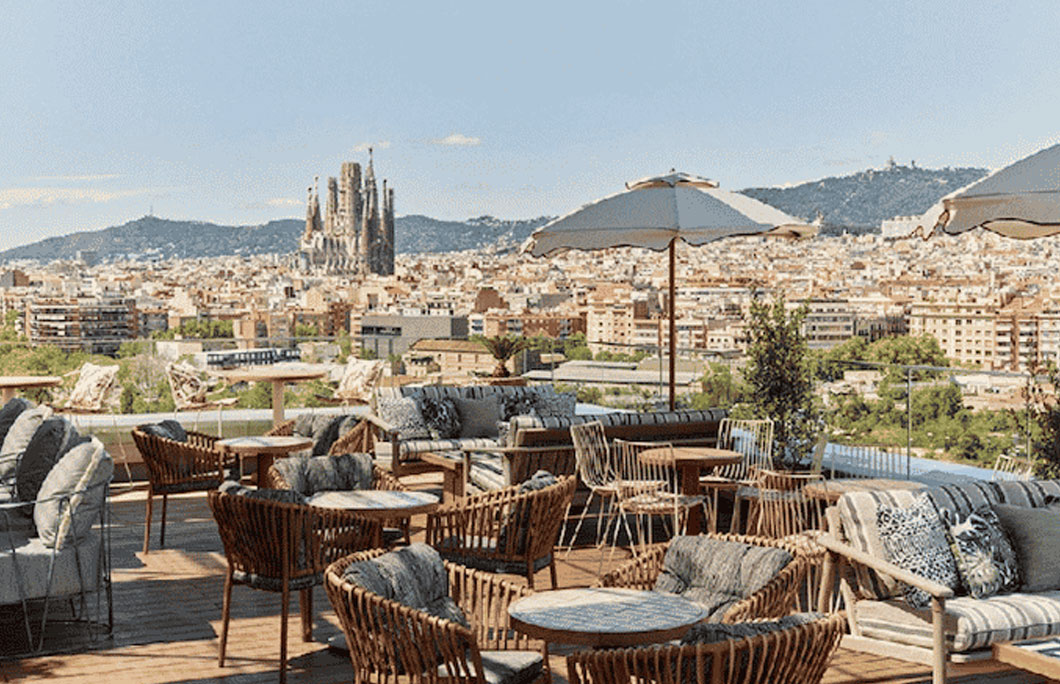 21. Tope – Barcelona, Spain 
Set high above the Hoxton Hotel in El Poblenou, Tope boasts coveted views over Barcelona's iconic Sagrada Familia. But that's not the only reason to visit this hip hangout – all-day tacos, tostadas and frozen Margaritas on the day bed next to the pool anyone? 
---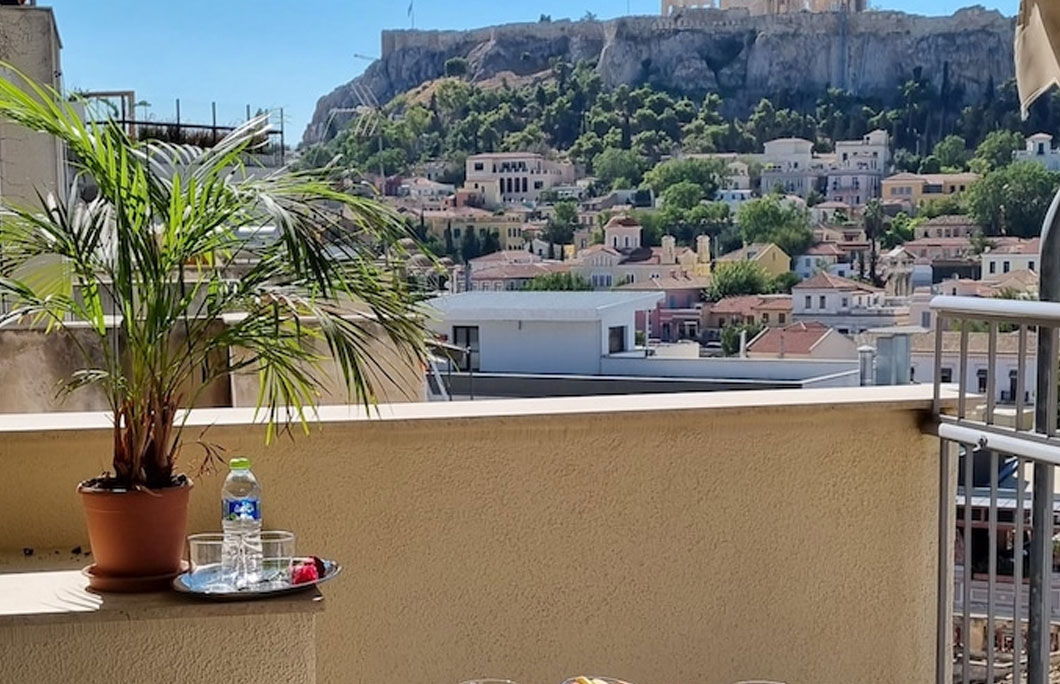 20. Safestay – Athens, Greece
This unsuspecting rooftop bar is perched on top of a popular hostel, right off Monastiraki Square. It serves up some of the best sunsets in the city, though from early in the morning. The bar serves up delicious greek dishes, ice-cold beers and great wine, with happy hour from 6-7pm every day.
---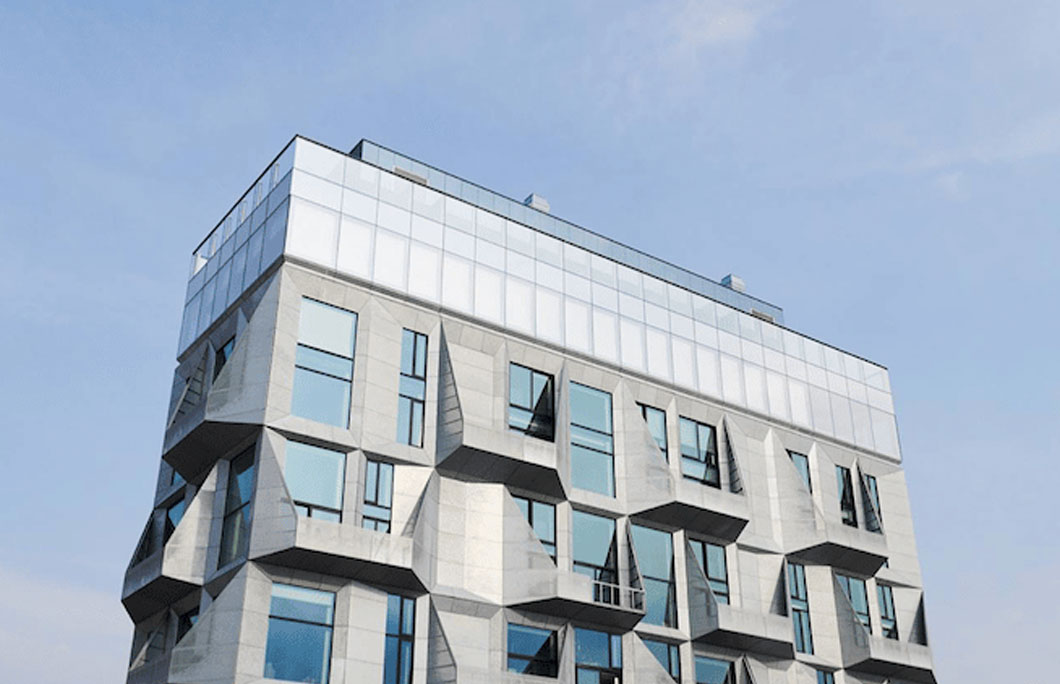 19. Restaurant Silo – Copenhagen, Denmark
Boasting 360-degree views from a futuristic tower block in Nordhavn, Silo is the best place to make the most of the long summer evenings in Copenhagen. The 17th-floor bar serves up a wide selection of cocktails, snacks and spirits, with views as far as the eye can see. 
Head here on Snakt Hans Evening for the best bonfire views of the city. 
---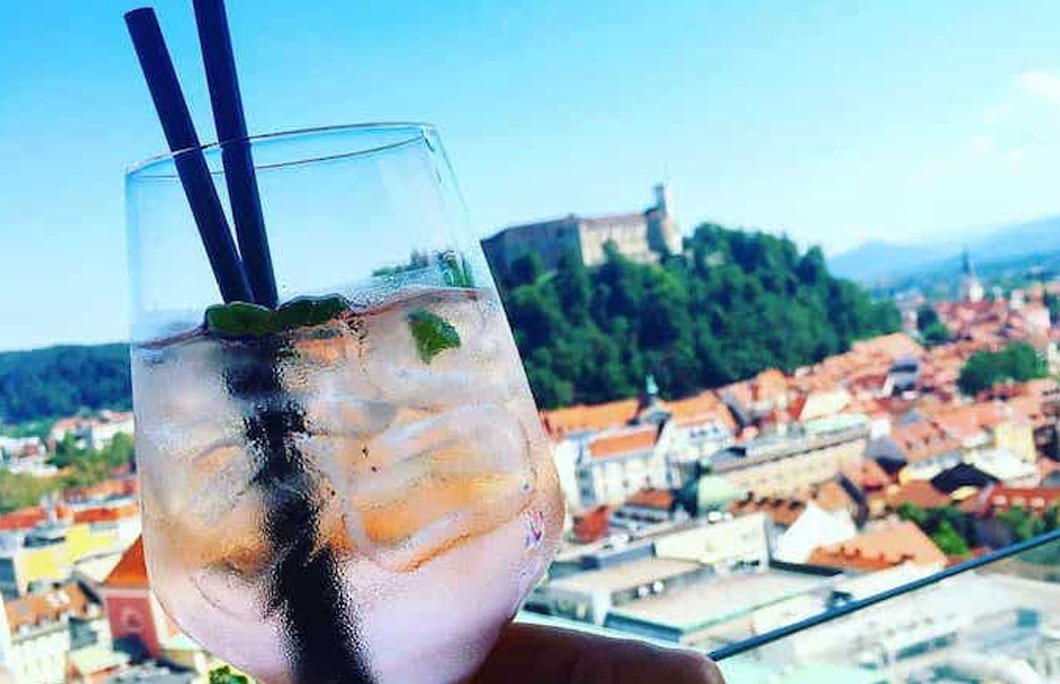 18. Nebotičnik – Ljubljana, Slovenia
'Nebotičnik' is Slovenian for skyscraper, so you can be sure that this is among the best views from rooftop bars in Europe. It's a great example of architecture between the two World Wars, with some of the most beautiful views of Ljubljana. There are residential flats on the lower floors, and the rooftop and club at the top.
---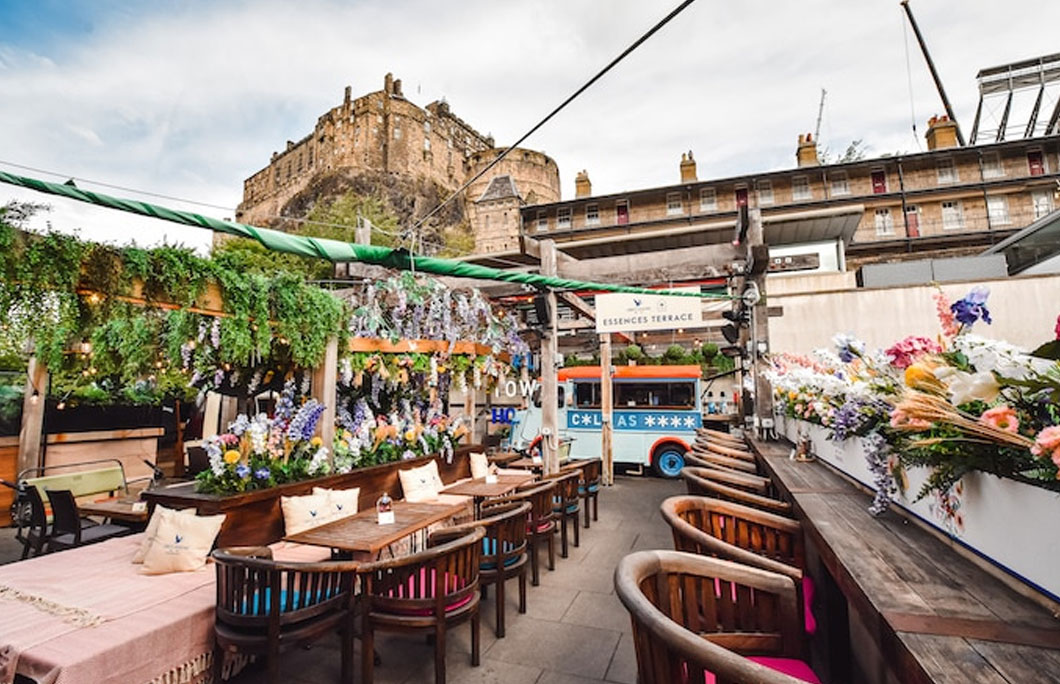 17. Cold Town House – Edinburgh, United Kingdom 
Set in one of the most unusual locations on our list, this three-storey brewery is housed in the former Robertson Memorial Church. The days of serving sermons are long gone though, these days it's all about the craft beer brewed on-site, award-winning pizzas and one of the best views of Edinburgh Castle in the city. 
---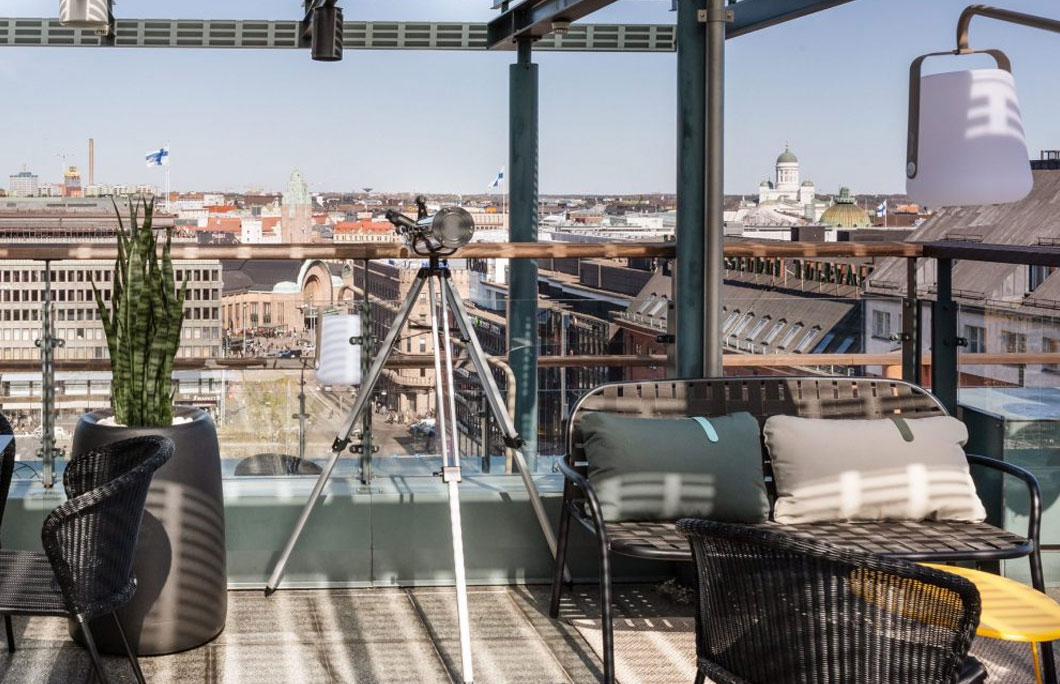 16. Más Rooftop Bar – Helsinki, Finland
Smart, sustainable Helsinki is fast becoming on of 2022's hottest travel destinations and Mas Rooftop Bar is the best way to see all of it in one go. Perched on the eighth floor of the Scandic Simonkenttä hotel, the Spanish-inspired bar offers up sangria, tapas and  excellent cocktails. It even has a telescope and binoculars, so you can take a closer look at the city.
---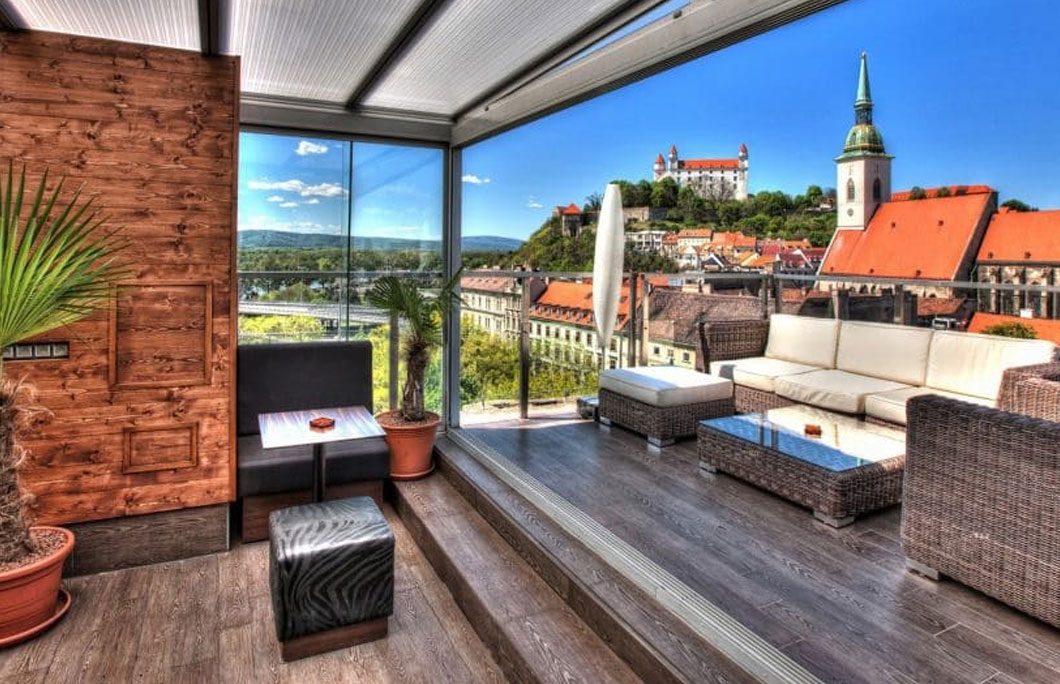 15. Lemon Tree Sky Bar – Bratislava, Slovakia
This seventh-floor dual-level rooftop bar and restaurant offer fantastic views over Bratislava castle and the historic heart of the city. It's sophisticated, but not stuffy, with plenty of places to perch as the sun goes down. If you've got the stomach for it, opt for a vodka-tasting flight, which includes a small selection of the bar's whopping 70 vodkas. 
---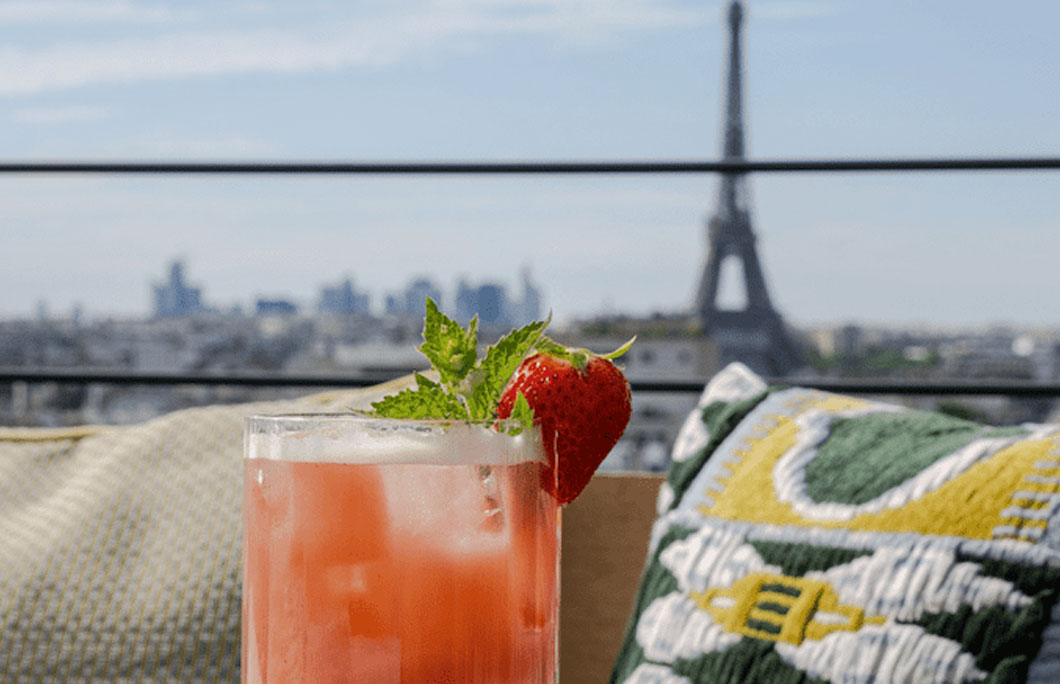 14. Villa M Rooftop – Paris, France
Villa M Rooftop is the latest rooftop to hit the heights of Paris. Opened in May 2022, this Philippe Starck-designed building boasts a leafy green terrace, sweeping views of the lesser-known 15th arrondissement and some of the best cocktails in the capital. 
---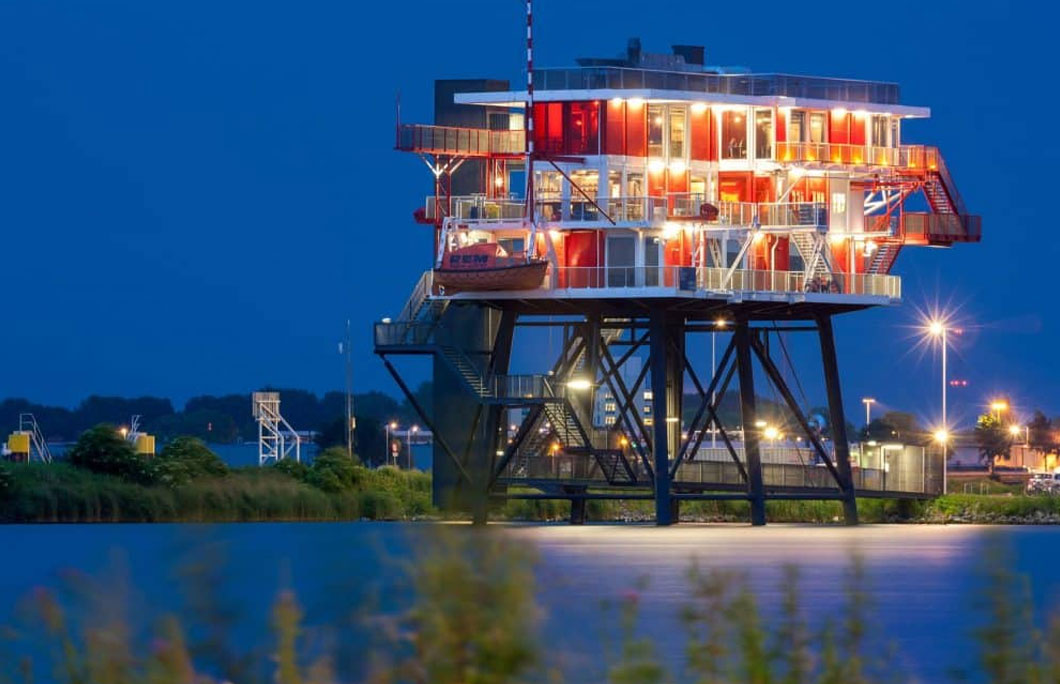 13. REM Eiland – Amsterdam, Netherlands
Enjoy a drink 22 metres above the water in a former pirate radio and TV station. There are several different decks to explore, including a restaurant. The top deck is a spectacular rooftop bar where you'll have great panoramic views over the Amsterdam Houthaven.
---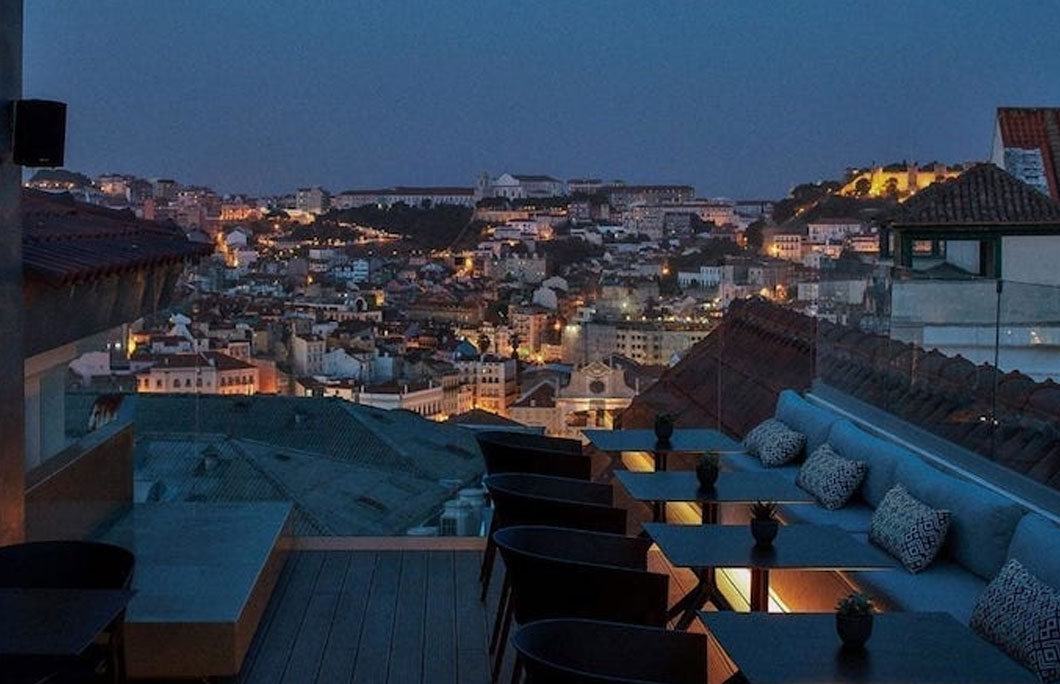 12. Lumi Bar and Restaurant – Lisbon, Portugal
Perfect for a romantic rendezvous, this intimate and surprisingly well-hidden rooftop bar offers sweeping views over the River Tagus. There's a good range of classic cocktails and creative concoctions, like PORT by The Vintage, made with white port, St. Germain, lime and pineapple jice, basil, cumin and rosemary infusion. Come hungry too – Chef Joao Silva serves up sensational, seasonal food with a focus on fresh and locally sourced ingredients. 
---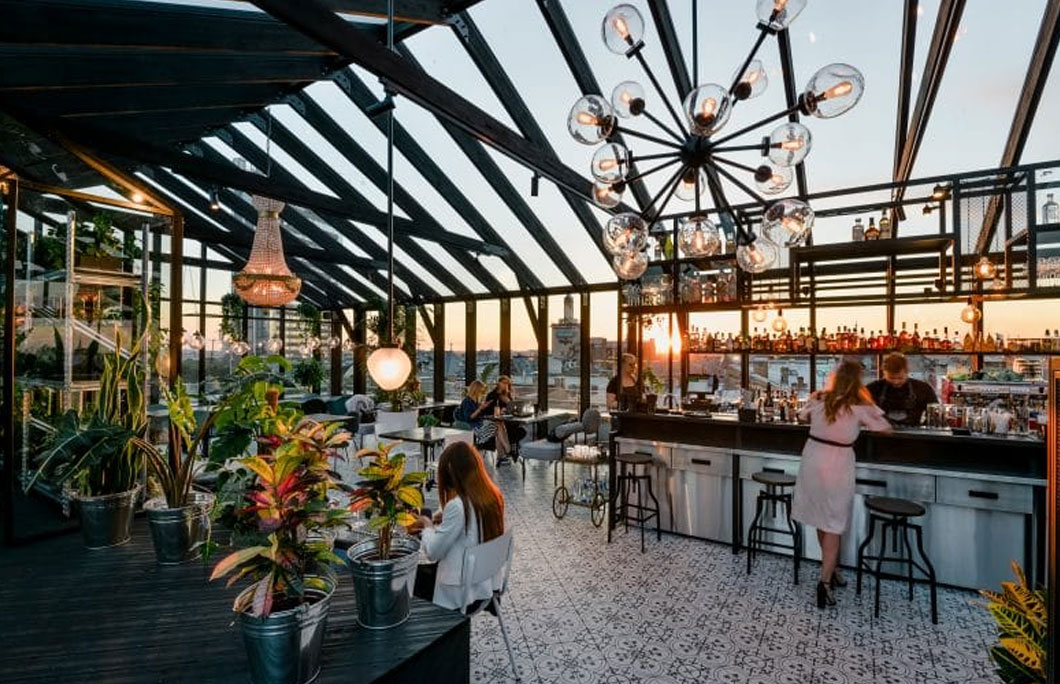 11. Herbārijs – Riga, Latvia
Herbārijs is a concept bar + café on the rooftop terrace of Galleria Riga. The concept? It's all things inspired by the plant kingdom, with the bar itself somewhat of a lush ecosystem. You will find excellent cocktails that are strongly rooted in the world of aromatics and herbs, and great views.
---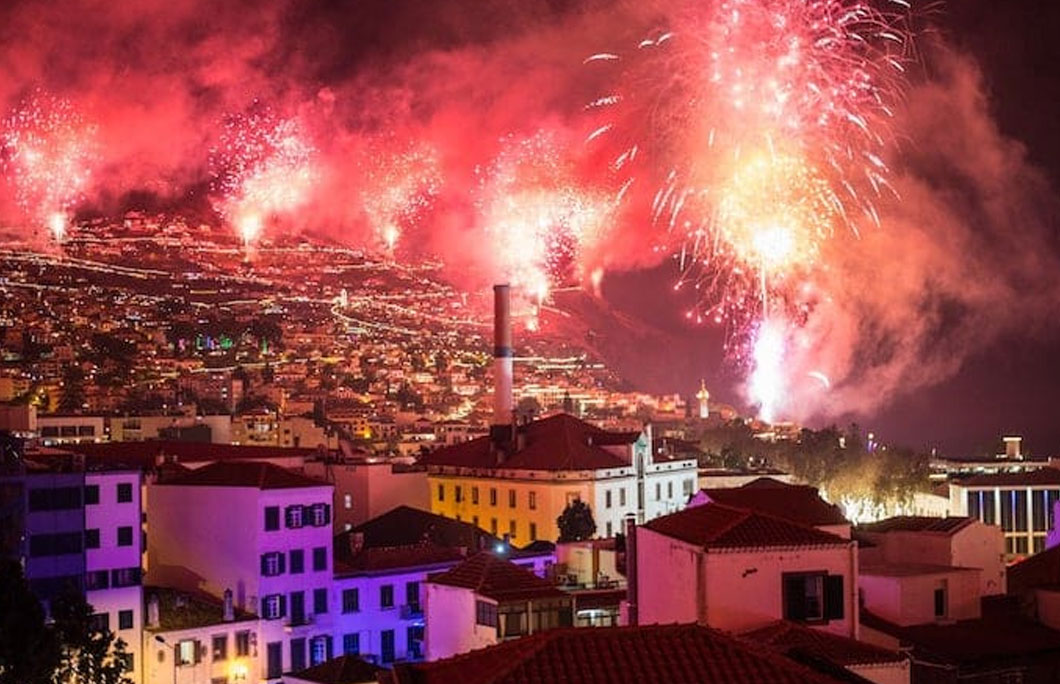 10. Terrace bar – Madeira
This lovely, laid-back rooftop oasis is set atop the Se Boutique Hotel in Funchal. It's the best spot in the city for classy cocktails, often accompanied by live classical and jazz music or a rooftop film. It boasts the best views of the cathedral and the service is sparkling too. 
---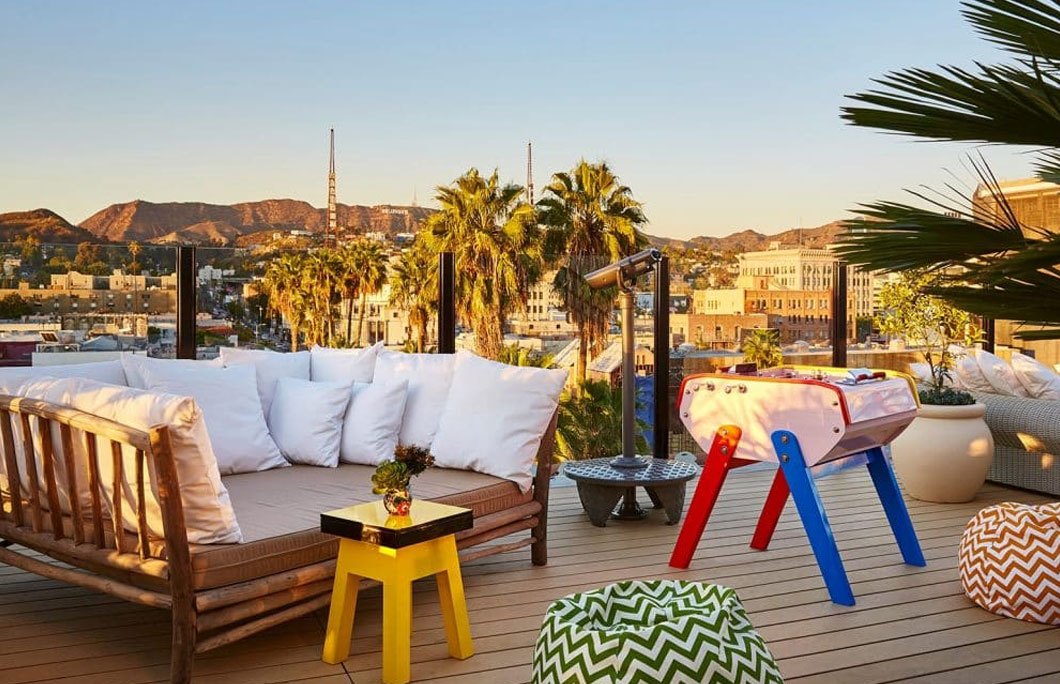 9. Mama Shelter – Bordeaux, France
This blockbuster rooftop bar has made our top 25 for the second year in a row. If you're looking to grab a drink at one of the most beautifully designed rooftop bars in Europe, Mama Shelter is the place to be. There are slouchy bean bags, table football tables and magnificent views of the city below. Stop by on Sundays for their weekly burger parties.
---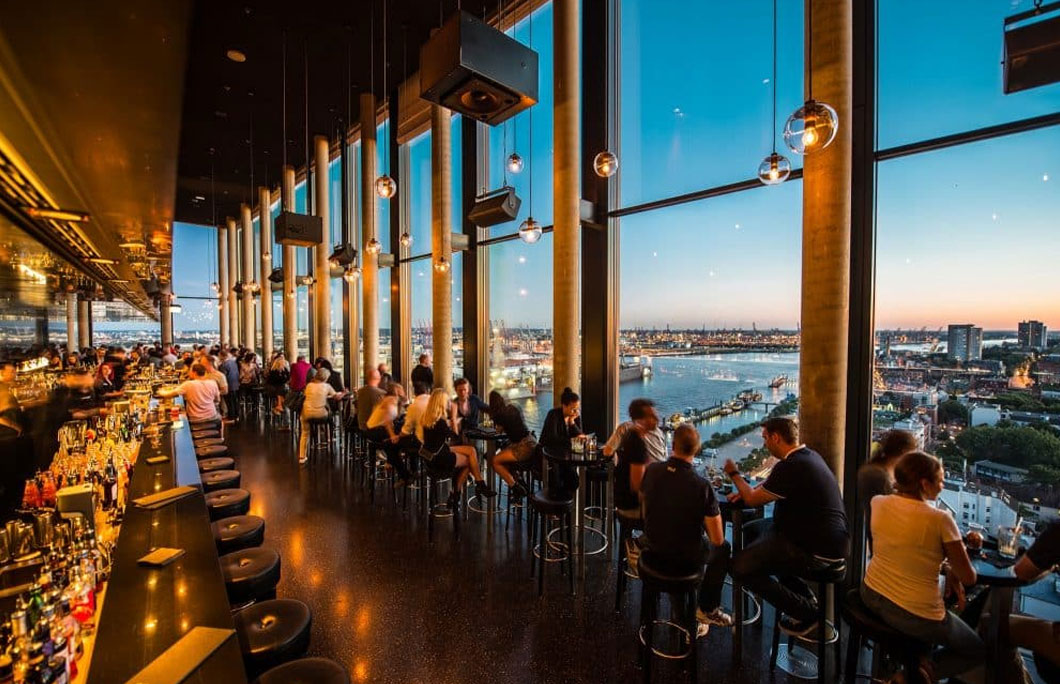 8. Skyline Bar 20up – Hamburg, Germany
This is the place to come at sunset in Hamburg to get a great view of the city and enjoy quality drinks. Come early to ensure you get one of the seats around the window with your friends for the perfect view. One of the essential rooftop bars in Europe.
---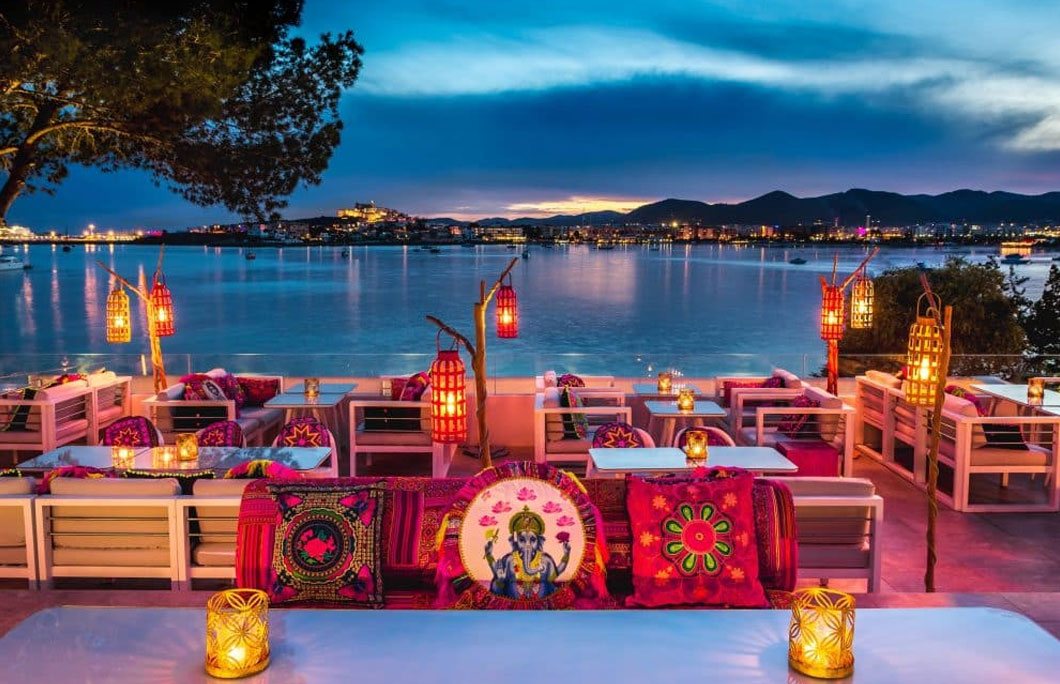 7. Patchwork at Sa Punta – Ibiza, Spain
This super-chic bar proves that you don't always need extreme heights to be considered one of the best rooftop bars in Europe. Patchwork is a Lebanese bar and restaurant in a colourful setting beside the sea. Vibrant handmade decor, sunset views and delicious cocktails add up to make this spot special.
---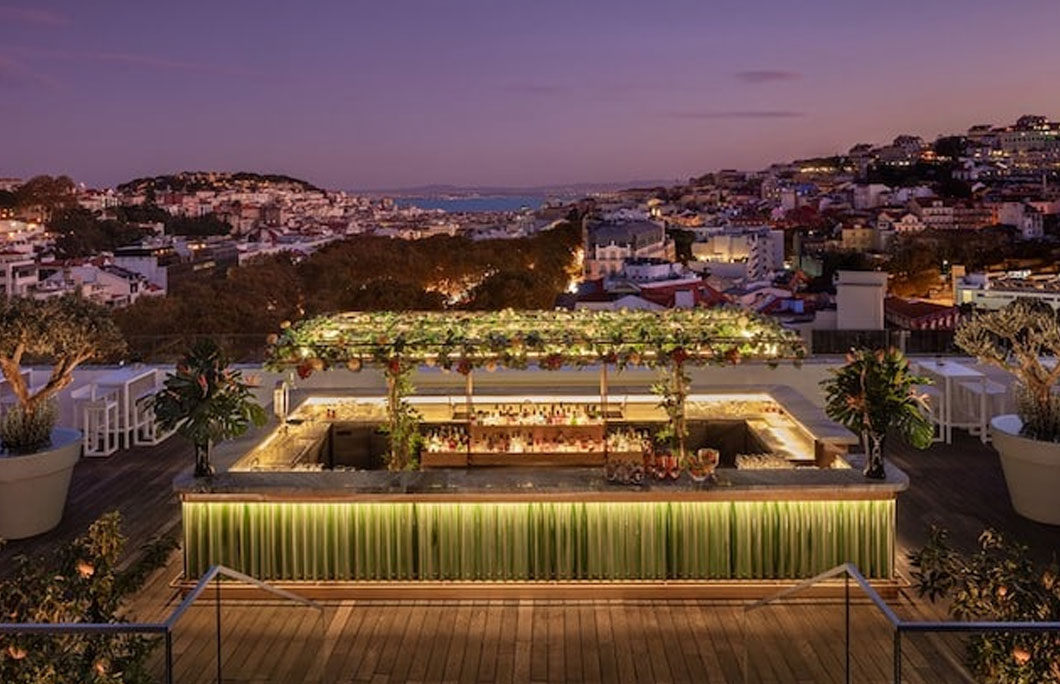 6. Sky Bar by SEEN– Lisbon, Portugal
Perched on the ninth floor of the 1930s Tivoli Hotel, Sky Bar is a stylish and sophisticated spot with showstopping city views. It's set over different levels, with pouffes and floor cushions aplenty. The illuminated bar (yes, it literally glows green) serves up an impressive selection of cocktails, as well as beers on tap, bubbles and posh bar bites. There's usually live music or a DJ set too. 
---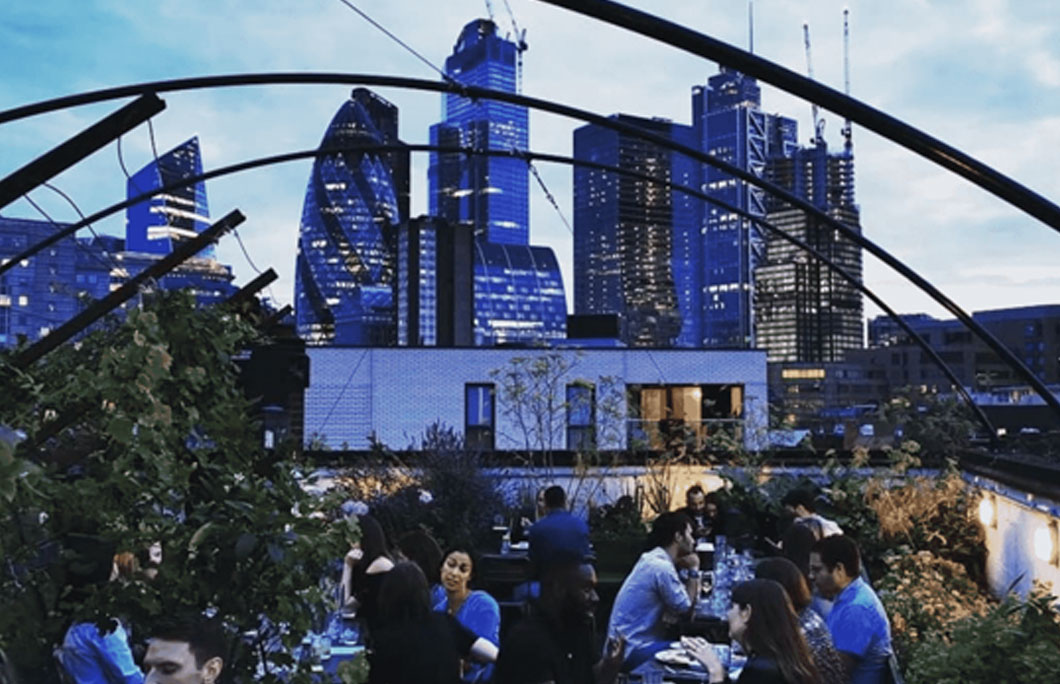 5. The Culpeper – London, England
Still one of Europe's favourite rooftop bars, this perenially popular pub boasts slick views of the city from its greenhouse-esque exterior. Want a bite to eat? Take a look at what's growing next to you, it'll probably end up on your plate. There are two draft beers on tap now, plus a dazzling array of delicious cocktails. They also host events on the rooftop too, such as astronomy on the roof or sunset yoga classes.
---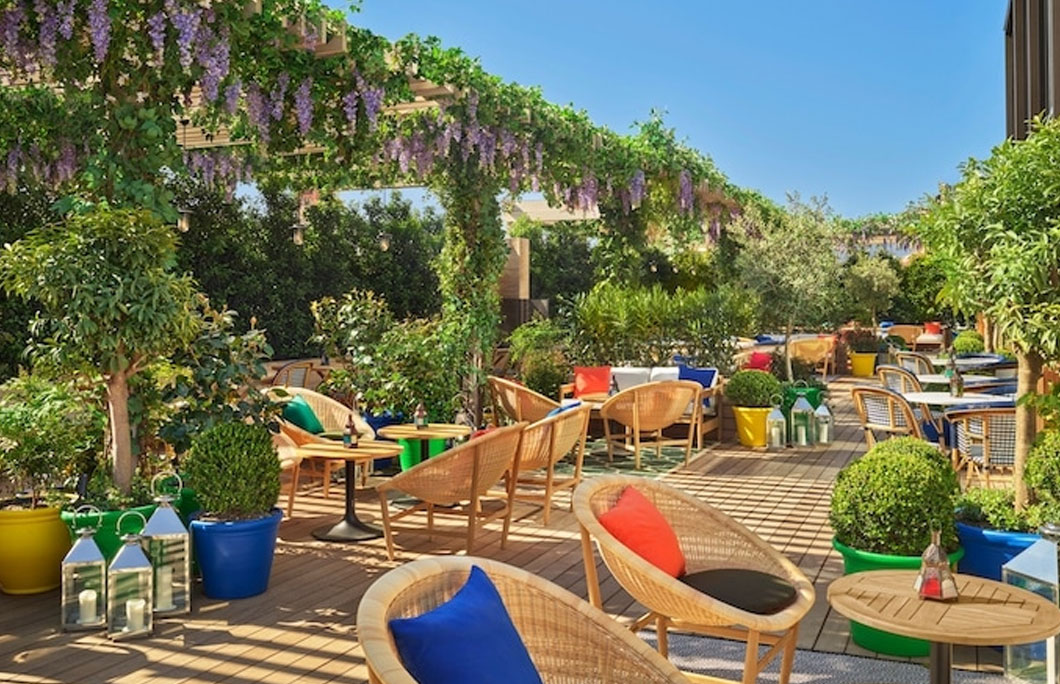 4. Oroya – Madrid, Spain 
Madrid's hottest new hotel boasts both the city's first pisco sour bar and its biggest rooftop pool. The terrace has a cosy fireplace, vine-covered pergola and a sleek teak bar, with sparkling city views. With food from Peruvian chef Diego Munoz, it's the perfect place to sample some Latin American flavours in Spain's colourful capital city. 
---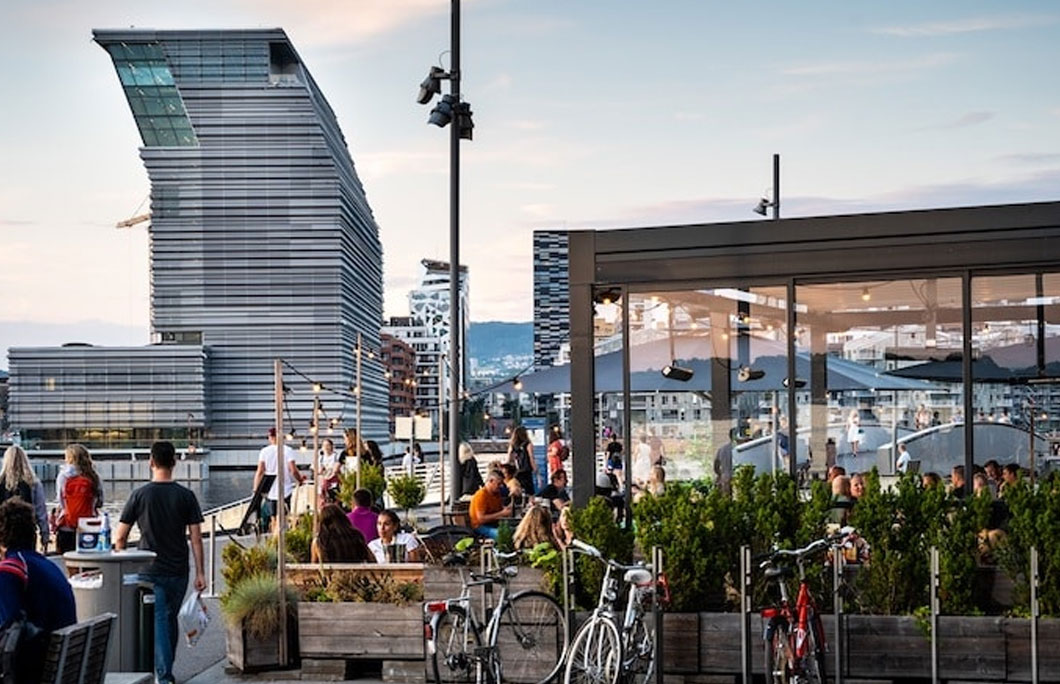 3. Kranen Bar at the Munch Rooftop Bar – Oslo 
The new Munch Museum, which opened in late 2021, is a huge improvement on the original premises for a number of reasons, not least for its swish new rooftop bar. Sitting on the 13th floor, 60 metres above ground level, the bar boasts brilliant views over the city and Oslo fjord. It's the perfect place to enjoy golden hour after an afternoon perusing some of Norway's finest artworks. 
---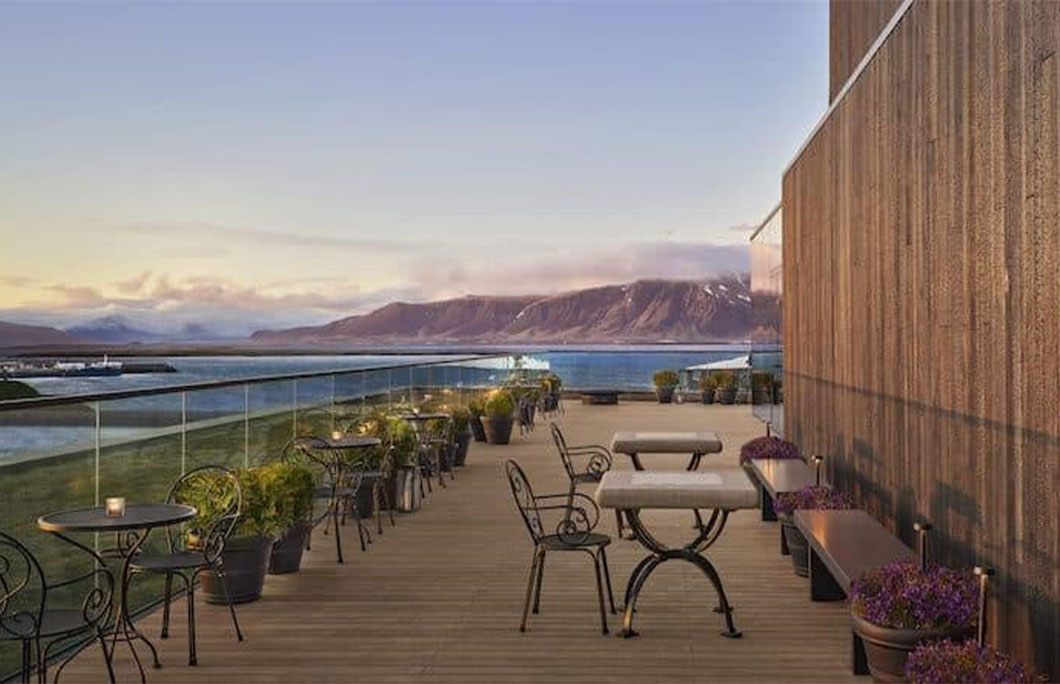 2. The ROOF at the Reykjavik Edition 
Possibly one of the most hotly anticipated hotel rooftop bars in history (or at least Iceland), The ROOF is billed as the best place in the capital to enjoy those long summer nights, as well as the magical northern lights. Offering 360-degree views over mountains and the ocean, floor-to-ceiling glass windows open up to reveal an eye-popping wrap-around terrace with slick decor. The carefully curated menu supports sustainable farming too. 
---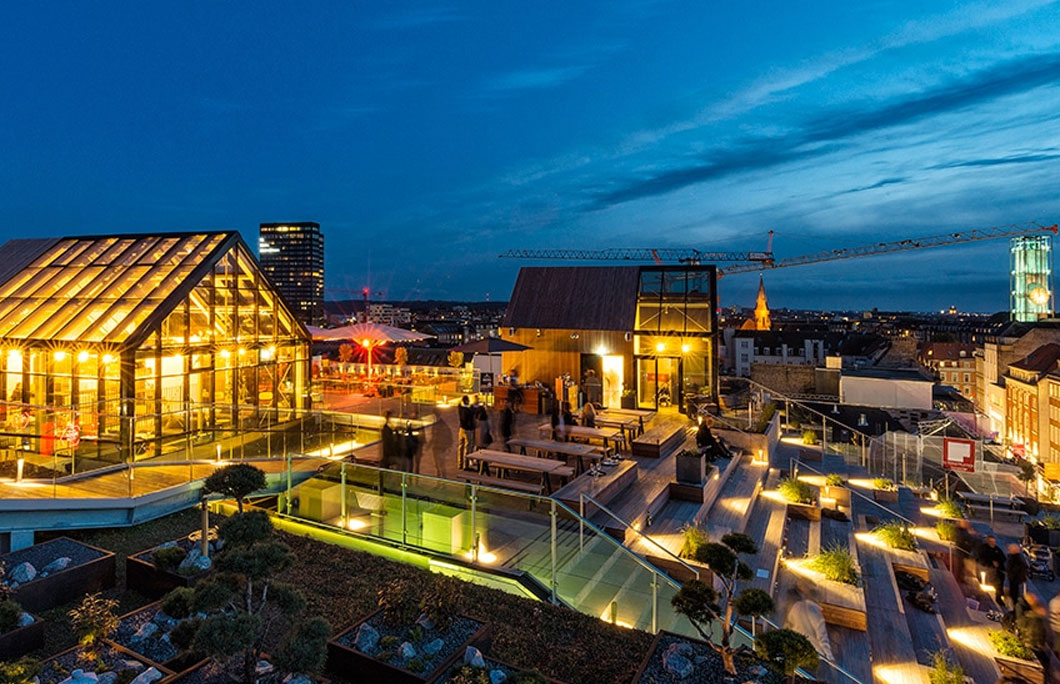 1. Salling ROOFTOP and the Roofgarden – Aarhus, Denmark
Copenhagen gets all the attention when it comes to sparkling city views, but this spectacular rooftop bar in Aarhus is giving it a run for its money. Part rooftop bar, part conservatory, this breathtaking rooftop space is the perfect place to kick back with a cocktail (or a few). Time your visit right and you can enjoy the live DJ set every Friday night too.
There's also a glass sky platform 25 metres above the high street and a network of walkways, platforms, art and installations and the Salling Roofgarden. Plus, all that vegetation is contributing to Aarhus' green transition.
---