Cannot decide whether to choose Sardinia or Corsica
At their closest point, Sardinia and Corsica are just 11 km (6.8-miles) apart. Both offer sparkling Mediterranean waters, colourful histories, outdoor adventures and vibrant towns. But the islands also offer two distinct holiday experiences. For starters, Corsica is French and Sardinia is Italian. While French Corsica is relatively wild, greener and more 'undiscovered', Italian Sardinia offers miles of other-worldly beaches, pristine resorts and chic towns. And that's just the tip of the iceberg. Here's a handy guide to Corsica and Sardinia to help you decide between the two idyllic islands.
---

---
Sardinia or Corsica: How to Choose Between the Two
Is Sardinia or Corsica better suited to you?
Corsica is known as the 'Island of Beauty', and for good reason. It packs an incredible amount of diversity per sq. m, with glittering beaches, wild hinterland, mountains, valleys and lively towns. The fourth-largest island in the Mediterranean Sea, it was sold to France in 1789. French is the island's first language, though Corsu (Corscian) is taught in schools.
Sardinia is the second-largest island in the Meditteranean, almost three times as large as Corsica. The island is best known for its beaches – which it does incredibly well – but it also offers ancient history, eccentric festivals, incredible hikes and ritzy seaside resorts. Italian is the official language here, though you may also hear Sardinian, Catalan Algherese, Ligurian Tabarchino and Sassarese in passing too.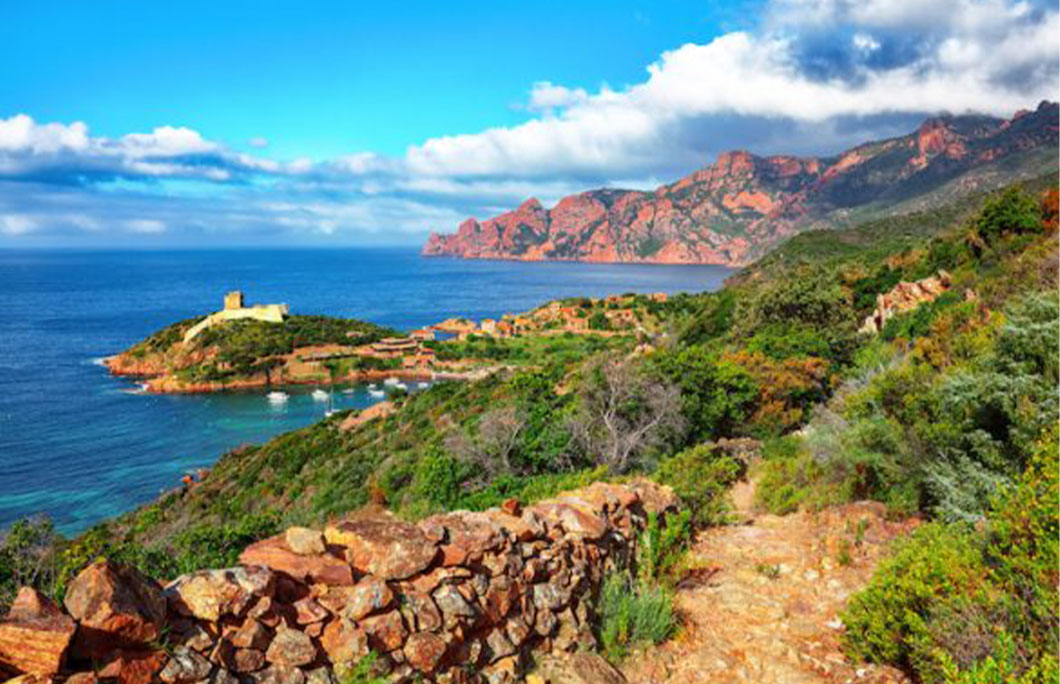 Things to do
---
Corsica
Most people visit Corsica for breathtaking outdoor adventures. There's a handful of out-of-this-world natural parks across the island, but the Scandola Nature Reserve is really its crowning jewel. The UNESCO World Heritage Site comprises beaches, grottos, red cliffs and volcanic headlands set against the backdrop of turquoise waters popular with neighbouring dolphins. The sculpted cliffs of Les Calanques de Piana, explored by foot or boat, are unforgettable too – as is Aiguilles de Bavella for rock climbing enthusiasts.
If it's quintessential hilltop villages you're after, there is plenty to explore in Corsica. Some of the best-known villages are in the La Balagne region. Sant'Antonino is the oldest inhabited village on the island, Pigna is brimming with traditional arts and crafts, Ajaccio is the birthplace of Napolean. Calvi and Bonifacio are two of Corsica's most impressive citadels, overlooking glitzy yacht-filled harbours. For boutiques, bars and yachts, Porto Vecchio is a crowd-pleaser.
---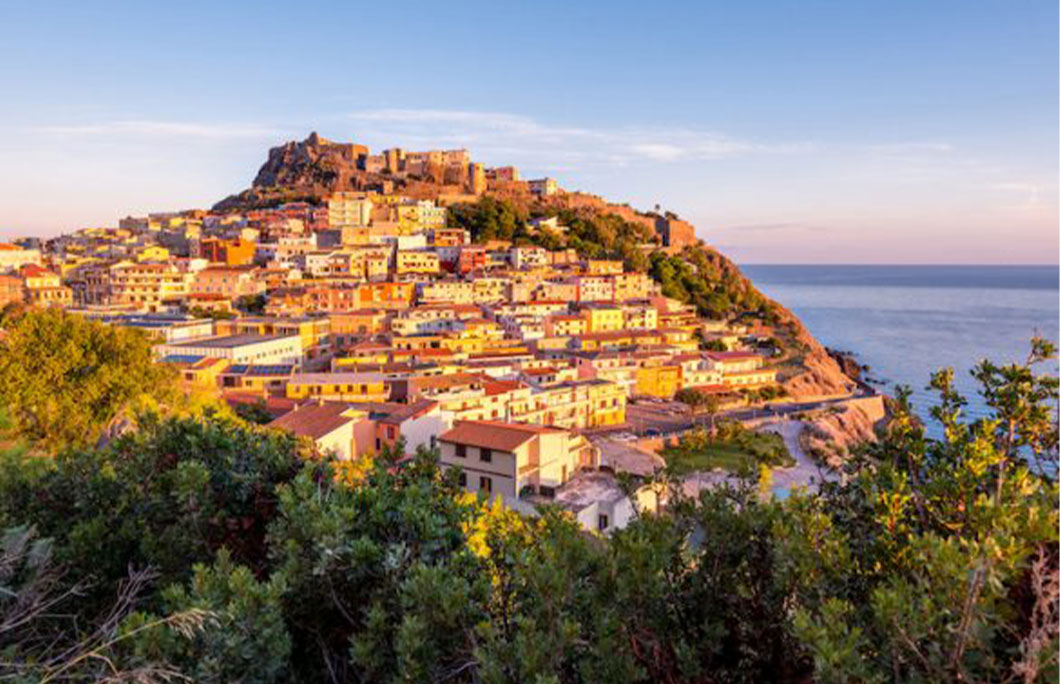 Sardinia
Compared to Corsica, Sardinia is much more developed – though there are quieter, wilder patches to explore for those who are willing to put in a bit more effort. It's also home to several significant archaeological sights, perfect for those interested in archaeology. You can take a two-hour hike through Tiscalli's Nuraghic ruins, ramble through oak forests to Capo d'Orso and dive to Nora's submerged Roman ruins. Neptune's grotto, a picturesque cave named after the Roman god of the sea, is another popular trip by foot or boat.
There are a dozen impressive castles sprinkled across the landscape too, like the Aquafredda in Siliqua and The Castle of Doria in Monteleone Rocca Doria. Sardinian folklore plays a big role in the island's culture too and you'll find colourful carnivals and processions throughout the year, from the Sagra del Redentore in Nuoro in August to the horse parades of Cavalcata Sard in May.
If it's ritzy resorts you're after, Sardinia has them in spades. Back in 1962, millionaire Karim Aga Kahan transformed an unspoiled coastline into 'Costa Smeralda'. Today it's where billionaire jet-setters, celebs and supermodels head in mega yachts.
Sardinia is also home to five of Italy's 'Most Beautiful Villages': Atzara, Bosa, Carloforte, Castelsardo and Posado.
---

---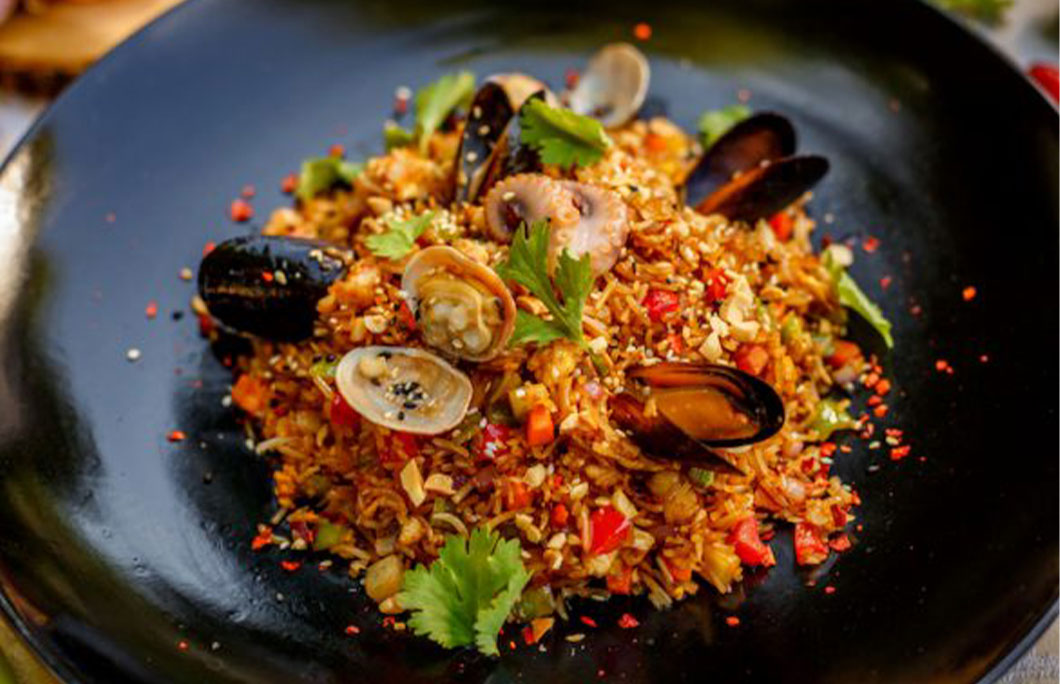 Food and Drink
Sardinia is a real gourmet destination. Rich with fresh fruit, vegetables and legumes, seafood and fish and organic meat, it's a paradise for gastronomes. Unlike mainland Italy, there's less emphasis on the primi piatti, and most will jump from antipasto to fish dishes. That said, there are some pretty famous pasta dishes from the island too, like filindeu or threads of the god. It's one of the rarest and most endangered pasta in the world, and there's only one woman who still makes it. As well as unpretentious beach restaurants, there are plenty of finer dining opportunities, particularly in the Costa Smeralda. There are also dozens of food festivals to get excited about, from 'Mussel Month' in June on the Gallura coast to the annual Tuna Fishing Festival. They're good at wine too, best known for Cannonau, Vermentino and Carignano wines.
Considering Corsica is an island, it's surprising its cuisine doesn't hinge around seafood. It's all about the wild boar or sanglier here, traditionally served with pasta or polenta. Civet de sanglier, Wild boar casserole, is the island's signature dish. Fish tends to be a little more expensive due to reduced fish stocks, but it's still possible to pick up red mullet, sea bream and crayfish for a good price. If you're travelling to the east of the island, don't miss the oysters. Corsica also produces a handful of excellent wines to rave about. White Vermentino, Nielluccio and Patrimonio red are the main blockbuster wines here.
---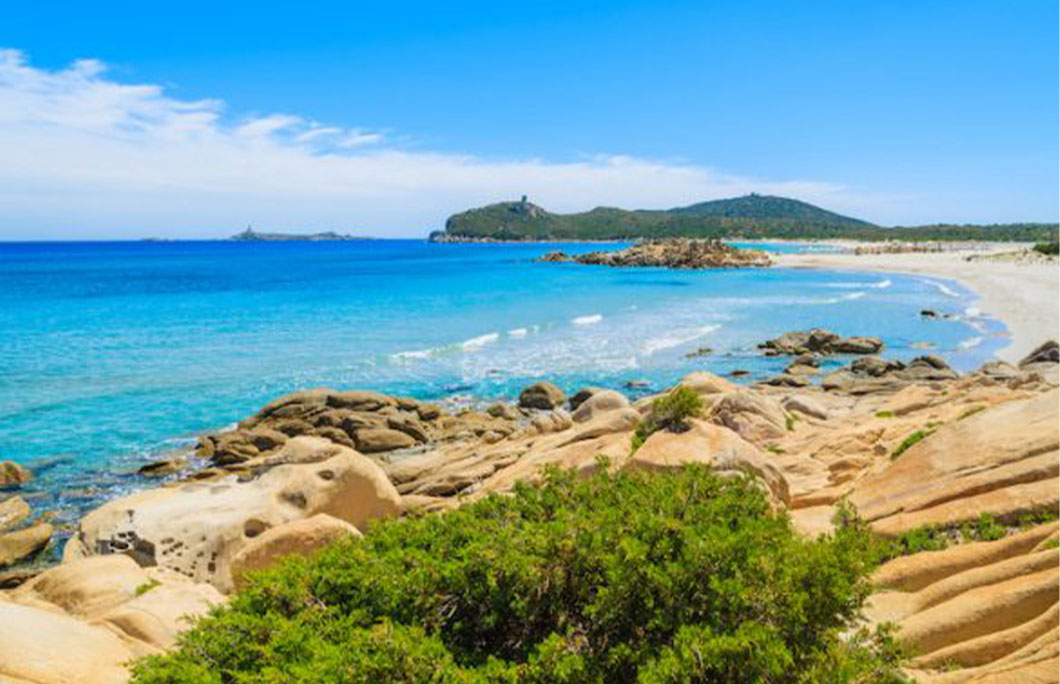 Beaches
Unlike mainland Italy, where beaches are often owned by hotels and bars, Sardinia is brimming with beautiful (and free) beaches. There's over 1,000-km (621-miles) of coastline, boasting snow-white sand and turquoise waters that you'd normally associate with the Caribbean. In the south, you'll find those famous white dunes, while in the east you'll find the best surfing. Costa Smeralda's scalloped bays is popular celebs and supermodels, but there are plenty of secluded beaches surrounding the private lidos too. The Costa Verde and Costa del Sud are two of the island's most popular beaches. Or you can sail to La Maddalena's granite islands for a real castaway experience.
Corsica boasts beautiful beaches too, though fewer than Sardinia. There are around 200 beaches in total, ranging from windswept cliffs plunging into the sea to snow-white stretches of sand. There are fewer lidos and private beaches in Corsica, perfect for those who like secluded, wild spots. Palombaggia Beach is one of the most beautiful sandy stretches on the island, located in the south.
---
Hotels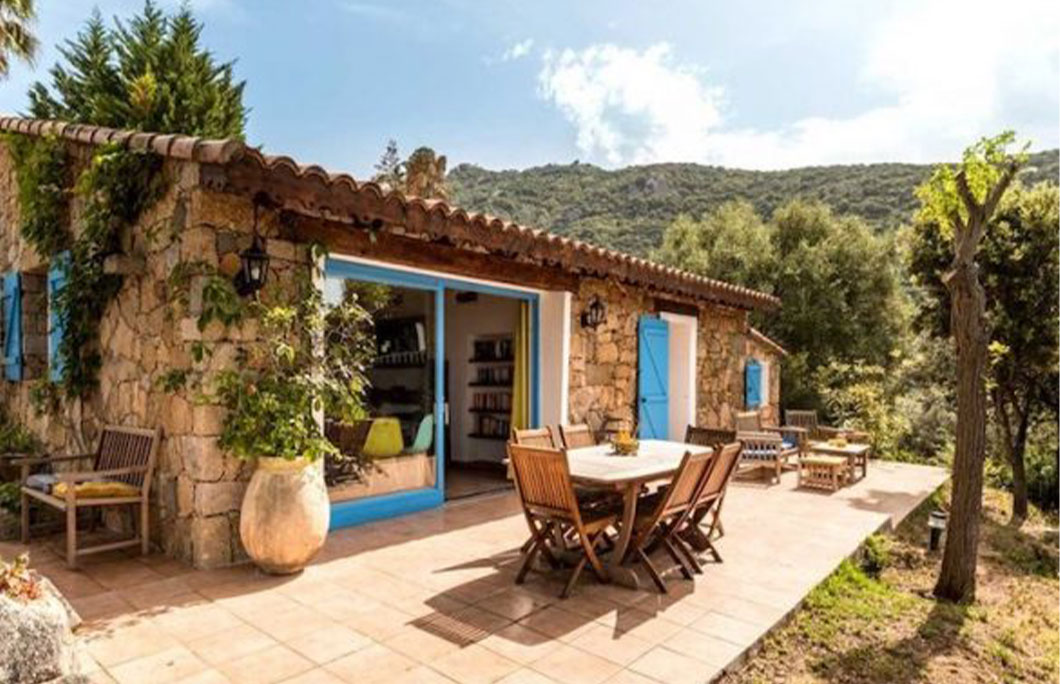 Corsica
With more than 150 campsites and 25,000 pitches, Corsica is a dream for camping enthusiasts. There are resorts and hotels too, though due to strict planning laws they tend to be found in clusters. Those looking for a ritzy hotel tend to look to the south coast, around resorts like the Porto Vecchio, which is lined with glitzy yachts. St Florent is another stylish spot, with sea view apartments and easy access to shops, bars and restaurants.
Those in the know head north, to the less developed national parks and small fishing villages. Further inland, you'll find traditional bergeries, farmhouses or estates – perfect for those looking for a more authentic Corsican escape. Bergerie Olivella is the perfect example – a nineteenth century idyllic stone cottage set amongst the cypress trees. Most hotels and campsites in Corsica are pet-friendly too.
---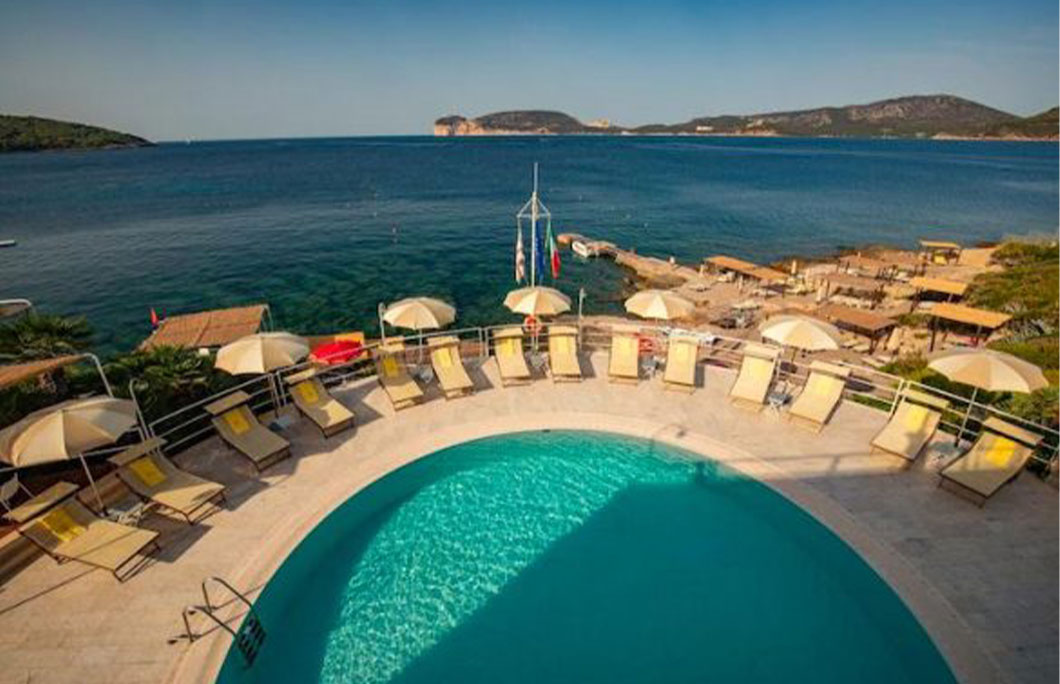 Sardinia
There are hundreds of hotels to choose from in Sardinia, from budget B&Bs to upscale hotels. Those looking for a resort holiday have dozens of options at their fingertips, which makes it a popular destination with families. Luxury resorts are bountiful too. For beach buffs, the Hotel El Faro and Hotel Sporting Porto Rotondo are unbeatable for access to sparkling waters and private beaches. Along the Costa Smeralda, you'll find the most exclusive accommodation. But if you're looking to explore Sardinia's cultural and historic treasures, it's worth doing your research on the town beforehand. While there are some seriously beautiful towns like Caligari, Bosa and Iglesias, it's easy to end up in an overdeveloped town without doing your due diligence.
---
---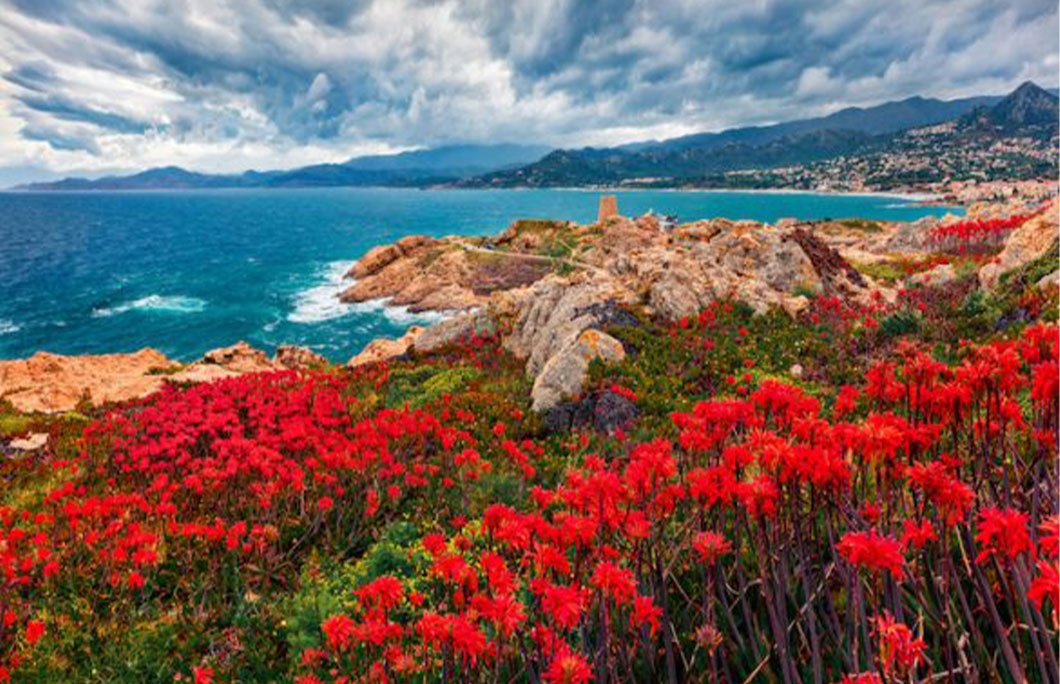 Weather
The climate in Sardinia and Corsica is almost identical. It's warm enough to enjoy the beach from May to October, but in July and August, the temperatures soar. The best time to visit Sardinia is in the shoulder season, either April and May or September to October. It's usually warm enough to swim in the sea, with fewer crowds. It's also full of flowers and local festivals. Corsica, meanwhile, tends to receive fewer visitors in the summer months so if you're after a blisteringly hot beach holiday, July and August can still be pleasant. If you're looking for long hikes, May and September are the best times to travel. As the quieter destination of the two, it's best to avoid Corsica between November and March when there's little going on for holidaymakers on the island.