Greece Car Hire
Find the best deals in Greece
With a massive choice from the biggest brands, Enjoy the best way to find the best prices for car hire in Greece.
Huge choice of cars to suit every budget
Save up to 70% compared to buying on the day
10 years experience in car hire
Compare Car Hire in Greece
The birthplace of western democracy, philosophy and science, Greece is a land of myth and legend. With peaceful islands and historic cities Greece is a wonderful place to explore and hiring a car gives you flexibility, independence and the ability to discover the hidden gems of this magnificent country.
If you make one car journey in mainland Greece, you should follow in the footsteps of historic travellers and take a trip to Delphi. The drive from Athens takes less than three hours. You'll travel through some beautiful countryside on the way to the site of the famous Oracle, where the ancients came to hear prophecies about their future.
The speed limit on Greek motorways is 130km/h. In built up areas this reduces to 50km/h. On other major roads it is 110km/h. There are further variations to these limits so it's important to take notice of local signage.
Carry your driving licence at all times. EU Citizens are able to drive in Greece with their own national licence. Drivers from other countries may need further documentation so it's important to check this before driving. UK citizens should be aware that requirements may change after Brexit.
Greece has a number of Toll roads and the system is more complicated than in most other European countries. Different companies maintain and manage different roads including toll fees and rules. It's a good idea to think about where you want to drive in Greece and research tolls thoroughly beforehand.
Guide to Greece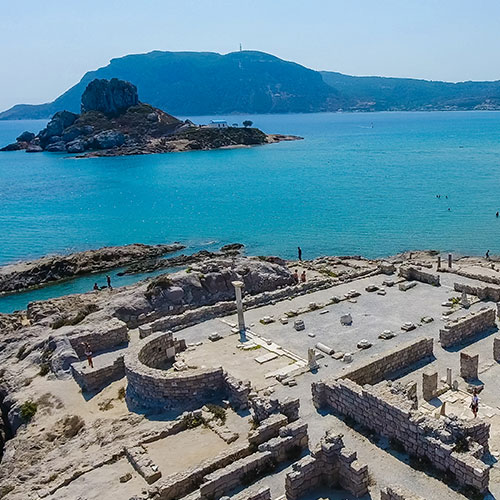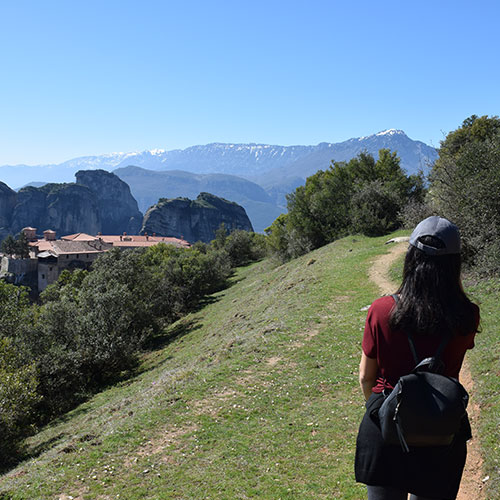 Aside from its borders with Albania, Bulgaria, Turkey and North Macedonia, Greece is almost completely surrounded by the sea. It is a beautiful country with mild winters and hot summers. Made up of a mix of island territories and a magnificently varied mainland. Greece is one of the most significant regions of world history but don't be fooled into thinking this is just a country of history, with a population of over 10 million Greece is a great place to enjoy the modern world. Food, bars, clubs and live music are just some of the highlights of 21st Century Greece.
Ancient Civilization
The birth of what is usually regarded as Ancient Greece began around the 8th Century BC, though the region was inhabited long before this. This is where we start to see the development of the Greek alphabet. It's important to know there was not, at this point, a nation called Greece. Instead it was a geographic region, consisting of a number of city-states, such as Athens and Sparta. Each of these states was self-governing, had their own leaders and military. Most city-states were separated either by the sea or other geographical features, such as mountains.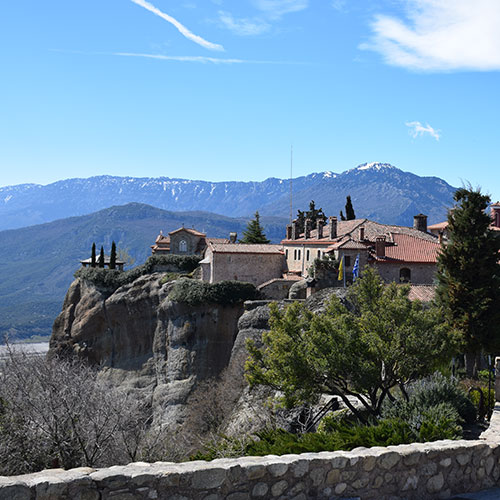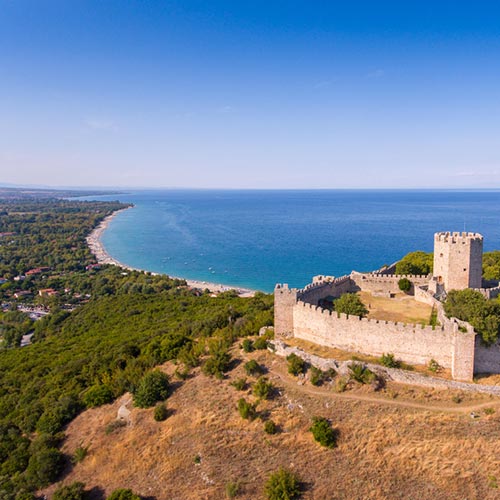 A Land of Myth
The myths which the ancient Greeks used to explain the origins of the world, have fascinated people for centuries. Many Greek myths found their way around the world by entering and merging with later Roman mythology. They tell of the major gods and heroes of the ancient Greeks including Zeus, Athena, Heracles and Theseus.
Many figures from the Greek myths have become culturally iconic and still feature in fiction and film today, including the snake-haired-gorgon Medusa. Writers and readers today are still fascinated by the myths, which can be argued form the basis for most stories western society has created since. Franchises as wide ranging as Wonder Woman and Percy Jackson have the roots firmly planted in Greek mythology.
A Land of Diversity
Thanks to the long history of city-states, the various Greek regions have their own histories and identities. This means there are a wide range of unique natural, cultural and gastronomical experiences in every part of the country. From exploring the ancient remains of the Parthenon in Athens to unwinding on one of the beautiful beaches of Crete, there are things here for every kind of traveller. Do not miss out on Greek street-food, it's affordable and delicious with options for meat-eaters and vegetarians alike.
Places to visit in Greece
The Acropolis of Athens
The Greek word Acropolis translates as 'highest point.' The Athens Acropolis is located above the city. The Parthenon, an ancient temple dedicated to the goddess Athena, and one of the most famous buildings in the world, is located here. However, it is not alone. A number of stunning and significant architectural wonders can be found here. A visit to Athens would be incomplete without walking through the historical acropolis.
Mylopotamos Beach
Greece has hundreds of beautiful beaches, especially on the islands. This particular beach is on the mainland. Located in the Pelion region on the east coast this beach is a natural beauty spot and a relaxation paradise. The crystal-clear waters of the Aegean will call you down through the pine-covered-walkway to the white-pebbled beach, where you can relax, swim and find yourself at one with nature. At roughly a half-day drive from Athens or Thessaloniki this is a great place to stop for a night or two on a journey between these cities.
The Thessaloniki Archaeology Museum – An ancient civilization deserves an excellent museum and the collection of displays here should not disappoint. Highlights include The Petralona Hoard, a collection of Early Bronze Age tools and a statue of the first Roman Emperor, Augustus. Tickets to the museum are only €4.00
Waterparks of Greece
All of the major tourist areas of Greece have waterparks offering fun in the sun for all the family. If you're on the mainland take a drive to Splash Water Park, close to Corinth for great value thrills and spills from €16 adults and €12 children. Visit our specific islands page for information on more waterparks and more.
Getting to and from Greece
As one of Europe's most popular tourist destinations, Greece is well served by national and international airlines. The largest Greek airline is Aegean which is part of the Star Alliance group and flies to and from 153 destinations worldwide. Large international carriers such as British Airways and KLM fly into many areas of the country as well as a number of budget airlines. Flights are available to Greek cities and islands from most of Europe's major airports. Once in Greece it is possible to fly between the regions and islands, with car hire available in most destinations.
Getting to and from Greece
As one of Europe's most popular tourist destinations, Greece is well served by national and international airlines. The largest Greek airline is Aegean which is part of the Star Alliance group and flies to and from 153 destinations worldwide. Large international carriers such as British Airways and KLM fly into many areas of the country as well as a number of budget airlines. Flights are available to Greek cities and islands from most of Europe's major airports.
Once in Greece it is possible to fly between the regions and islands, with car hire available in most destinations.
Things to do in Greece
There are so many things to see and do in this land of myths and legends that it's often tough for even experienced travellers to decide which activities and excursions to fit in their itinerary. From touring amazing ancient sites to traversing challenging terrain and simply sitting back and soaking up spectacular scenery, you're spoiled for choice. To help narrow down your options a little, let's delve into a few Greek travel recommendations.
Conquer Mount Olympus
If you're interested in Greek mythology, you've probably been reading about Mount Olympus since your school days. Famous as the spot where Zeus had his throne, it's still famous worldwide and hiking up to the summit from Litochoro is a popular activity if you're fit. At 2917m high, this is one of the highest peaks in Europe, so if you're not from the area, it's advisable to take part in a supervised hike with experienced local guides. A World Biosphere Reserve located in the north of the nation around 6 hours' drive from Athens, it has been a National Park since 1938.
Visit Epidaurus
A UNESCO World Heritage Site in the Peloponnese and Argolid region, Epidaurus is famous for its 4th century AD theatre, which sat 14,000 patrons in its heyday and is still used to host plays during the summer season. There's also a stadium, the distinctive circular Tholos building, and a temple to Asclepios, the god of medicine. Once you've had your fill of ancient history, there are some excellent eateries for sampling local fare – like the To Perivoli tis Gogos tavern, set amidst the orange trees, and Mouria, down by the beach.
Watch a Santorini sunset
There are lots of places in the world to watch wonderful sunsets, but the volcanic island of Santorini, where whitewashed houses cascade down to the shore, might just be the best. There are a few select spots where the chameleonic light show is at its most spectacular. Try Ammoudi Bay with its crimson cliffs, the village of Imerovigli on the caldera, and Santo Winery where (if you have a designated driver) you can watch the blazing orb melt into the horizon while sipping some delectable local wine.
Visit the Meteora Monasteries
Religious sites don't get much more miraculous than the Meteora monasteries. Located just north of the town of Kalabaka in the centre of Greece, these amazing Byzantine complexes are constructed on huge rock stacks some 600m high. There are several monasteries to visit, and each is a little different. For example, the 14th century male-only Holy Monastery of Great Meteoron is the largest and features a pretty courtyard and beautiful frescoes, while the Holy Monastery of Rousanou dates from the 16th century, is run by nuns and you reach it by a bridge with sheer drops on both sides. Provided you've got a head for heights, Meteora is simply magical.
Explore Rhodes
The former location of the ancient colossus, the island of Rhodes is a favourite holiday location for Greek locals and visitors from all over the world. Its heady blend of ancient history, beautiful scenery and pleasant weather endow it with magnetic appeal. The medieval city of Rhodes is a UNESCO World Heritage Site founded by the powerful knights of St John in the 14th century, the pretty village of Lindos has its own Acropolis, perched on a rock 116m above sea level, and there are several world-class beaches at Faliraki, Tsambika, St Paul's Bay and Gennadi. But one of the best excursions is a boat trip to the sublime Symi island – take plenty of water and sunblock during summer as it's sizzling!
As you can see, there's so much to do in Greece – and these excursions are merely the tip of the travel iceberg in this legendary land!
Transport in Greece
Whether you prefer planes, trains, automobiles, buses or ferries, there and plenty of ways to get around the Greek mainland and islands. Let's take a look at the transport provision in this part of the world.
Airports
As one of Europe's most popular holiday destinations Greece is served by a number of airports on both its mainland and island regions. The busiest airport in Greece is Athens, which serves the capital city and surrounding areas. In 2018 over 24 million passengers travelled through Athens airport. Heraklion, Thessaloniki and Rhodes all served more than 5 million passengers each.
Although it is possible to book car hire on arrival at many Greek airports, booking in advance will save you time and money. Booking in advance also gives you the added security of knowing you'll get the size and standard of vehicle you really need. Car hire costs vary according to location, vehicle type and time of year. For example, you can hire a small car such as a Fiat 500 from £65 per week in late spring, this would increase by around £100 at the height of summer. Use our search tool to find the best deal for your dates.
There are several airports in Greece serving international, regional and domestic destinations. The busiest is Athens (ATH), which connects the capital and the Attica region to many international destinations. It's a hub for Aegean Airlines and is one of Europe's 30-busiest. Next up is Heraklion Airport (HER), located on the island of Crete and the nation's second-busiest centre for passenger aviation. Thessaloniki Airport (SKG) is located 7km from Thessaloniki in Thermi and is northern Greece's main airport. Other main airports are Rhodes and Chania – the latter is also located on Crete. If you're flying into Greece, booking a hire car for airport pickup is no problem with Enjoy Travel!
Public Transport
There are lots of options in the Greek public transport system – KTEL buses, the railway service, ferries and the metro system in Athens, but (apart from cars) buses are probably the easiest way to traverse the mainland. Ferries connect all the main islands but there aren't connecting services between every island – do some thorough research before heading off island hopping. Meanwhile, KTEL is the intercity bus service, and the network covers the entire mainland. You can buy your tickets at the bus station or online, but book ahead of time if you're bussing it to a busy tourist resort in the height of summer season. When it comes to trains, the service is most reliable for travelling between Athens and Thessaloniki, but the rail system doesn't connect to several other large cities, so your car, a KTEL bus or internal flight are the only options.
Driving in Greece
If you prefer independent travel, hiring a car in Greece is definitely the best way to get around and it's by far the most convenient way to reach some of the most remote areas. Dipped headlights should be used when there's low daytime visibility, you're not permitted to overtake on bends or at junctions, and you can be fined for improper use of your horn. Speed limits are 50km/h in built-up areas, 110 km/h on open roads and 120km/h on motorways.
Some rules of the Greek road
The driver and all passengers must wear a seatbelt.
Children under the age of 10 must travel in the backseat.
Children under the age of 4 must be seated in a suitable child seat.
Handheld devices, such as mobile phones must not be used when driving in Greece.
The blood alcohol limit in Greece is 0.05%
Top Tips when hiring a car in Greece
● If you go for a Greece car hire you'll need to familiarise yourself with driving in Greece. For example you need to know give way to traffic when entering a roundabout. This is especially different in Greece compared to other countries. Additionally it's not allowed to change lanes in at a junction. You should also learn well what the maximum speed limit is in different roads.
● As far as parking goes, there are only specific designated spots you can park at. If you have a car hire then you should get to know in advance where you can park. You should also inform yourself on the general locations of petrol stations as part of your preparation.
● Child car seats are obligatory for children below 4 years old so if you're traveling with family and small kids you should keep that in mind regarding your car rental, especially when visiting the car hire companies.
● If part of your itinerary includes visiting the capital, Athens and traveling between it and the other most popular cities such as Piraeus and Thessaloniki, you should travel via the A1 highway. If you wish to explore Greece extensively it it recommended to go for a car rental. When it comes to renting a car, Greece is a very a place where it's very efficient to travel this way.
● If you would like to go on a road trip around Athens, then Chalcis is a marvelous destination. If you'd like to see northern Greece, you should drive via the A2 road. A car rental would make the trip much more comfortable.
● Greece car hire options in the Airports are cheaper and generally known as the best car hire deals. Car hire companies at the Airports are easy to find and easily accessible which make them ideal pick up location and with a more lenient pick up date.
● The cheap car hire company desks found in the Airports of the capital and the Greek Islands, besides offering cheap car hire deals, also offer a wider variety in car rental models. Additionally if you book your hire car in advance you're guaranteed a better price and more options. This is especially the case in the Athens International Airport where car rentals are very popular.
● Make sure to bring with you your international driving permit if you're planning to get a car rental at the car hire company desks.
● The Greek islands make for great road trips around their coastal roads and are more easily explored by car hire. So a hired car would bring more value to your experience.
● A big number of users encountered offers for rental cars in Greece for less than £20 per day.
● Booking your Greece car hire in advance, even if it's by 1 day before you set out for your trip, you are guaranteed to get a below average price and a wider variety of car categories.
● The most popular and cheap rental car type to rent in Greece are compact hire cars.
Got a Question? Chat with our UK support team
Online chat help is open 08:30am to 17:00 weekdays. Email: [email protected]
FAQs about car hire in Greece
Most frequently asked questions about hiring a car in Greece
Like most European countries you should drive on the right-hand-side in Greece.
The motorway speed limit for cars is 130km/h. On other main roads the limit for cars is 110km/h and in built up areas 50km/h. Remember though, there are further restrictions and speed limits in operation on individual roads, it's essential to obey local signage.
The journey between Athens and Thessaloniki is around 5 hours. If you have time you can split this by taking in a visit to the beautiful Mylopotamos Beach in the Pelion region.
Summer in Greece, June – August, is usually hot and dry, a temperature of 40°C. is common. If heat isn't your thing, a visit in Spring or Autumn is a great idea, you'll also probably save a little money.
The currency in Greece is the Euro.
Yes. Greece has been a member of the EU since 1981.
EU Citizens can drive in Greece using their own national driving license. Visitors from elsewhere may need further documentation. British drivers should keep up to date with any changes which occur as a result of Brexit.
Greece is not very expensive for middle-European standards. On average you'll spend €60 per day.
You'll want a car if you want to do road trips around the country.
You should see the most important parts of the country such as Monastiraki in Athens, Santorini, Acropolis in Athens, Epidaurus and Meteora.
From April to June and from September to October, best time to travel to Greece.
For small cars it's €20 for a week, which is €3 a day.
It's €297 for a month, or €10 per day for the smaller cars.
The average price of a litre of fuel in Greece can vary between EUR 1.44 and EUR 1.18.
Explore popular places in Greece