10 Epic Road Trips from Copenhagen
Kronborg Castle
Frederiksborg Castle
Malmo (Sweden)
Danish Riviera
Korsor
Cliffs of Mon
Klampenborg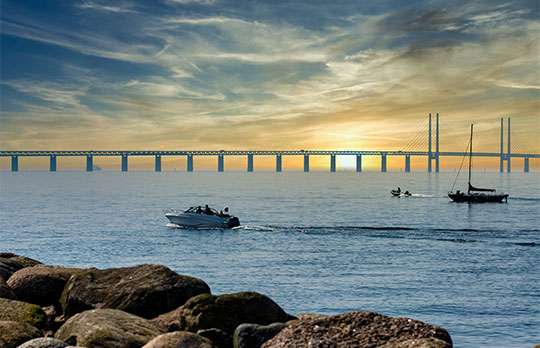 Top 10 scenic road trips from Copenhagen
Ah, lovely Copenhagen. With its cool culture, excellent quality of life and superb scenery, it's definitely one of the world's best places to live, visit and generally hang out for a while. From the Danish royal family's Amalienborg Castle in the city's unique 18th century Rococo Frederiksstaden district to the Renaissance-style Rosenborg castle with its lush gardens and crown jewels, this is a European capital which definitely knows a thing or two about the finer things in life.
But what else is there to see and do in this clean and serene city? Christianborg Palace houses Denmark's parliament, the ministry of state and supreme court, but also boasts a lofty tower you can climb up to get a bird's eye view across the city. Then there's the Royal Danish Library's contemporary Black Diamond extension, which sits on the waterfront like an anthracite spaceship, the iconic Tivoli Gardens amusement park, and the famous Little Mermaid statue (selfies ahoy). You can also chill out with the hippies in Freetown Christiana, with its hip restaurants, trendy bars and skate parks, and pick up all kinds of unusual bargains in the independent shops and market stalls in Norrebro. Copenhagen's great geographical position also makes it the perfect road trip launchpad for taking off to see the rest of Denmark and beyond in your car.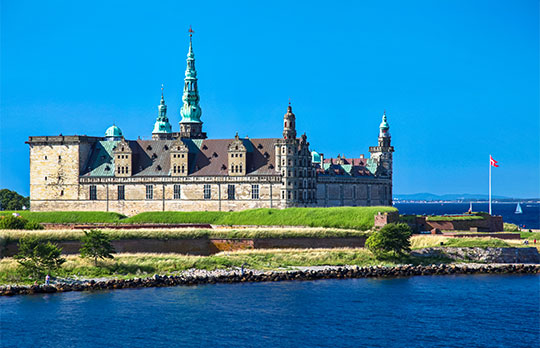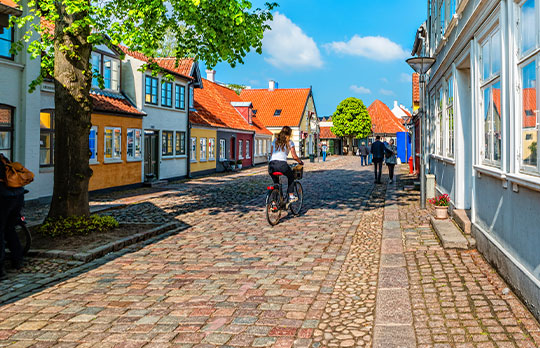 Top tips on driving in Copenhagen
Epic road trips from Copenhagen coming right up. But let's take a quick pitstop to take in some driving tips for Copenhagen and Denmark in general.
Basics first – you drive on the right in Denmark and overtake on the left – and only use your horn if you need to honk to avoid an accident. Use dipped headlights all day, every day, all year round. And remember that the drink driving limit is 0.05% for all drivers and Danish police regularly carry out random breath tests – best avoid even taking a drop of alcohol if you plan on driving, even the next morning.
Speed limits are 50km/h in most built-up areas and 110km/h to 130km/h on motorways – check signage to confirm.
Now let's get cracking with your jaw-dropping road trips!
Kronborg Castle
45 minutes' drive north of Copenhagen via the E47, Kronborg Castle is an absolute must-visit for anyone who loves Shakespeare. Colloquially known as 'Hamlet's Castle', this is the inspiration for Elsinore, the melancholy Dane's stronghold in the world-famous play. Built in 1420 (and razed to the ground and rebuilt in the centuries since), this UNESCO World Heritage Site is perched in a prominent position on the Oresund Sound and in days of yore, trade ships paid tolls here to enter the Baltic Sea. A guided tour is fascinating and fun, and if you visit in summer you might catch live performances of Hamlet and other plays by the Bard from companies from all around the world who gather annually for the Shakespeare Festival.
Odense
Your road trip to Odense takes around 2 hours via the E20 and across the eye-popping Great Belt Bridge, which has the sixth-longest main span in the world (1.6km) and cost a staggering 2.8 billion Euros to build back in 1998. And Odense really is a fairy tale destination because this is where famous children's author Hans Christian Andersen was born in the 19th century. Highlights include the beautiful Egeskov Castle which seemingly floats in the middle of a lake, Hans Christian Andersen's childhood home and the buzzing Brandts Klaedefabrik retail and cultural centre. For impressive bridges, lashings of culture and a bit of shopping thrown in too, this is a top road trip.
Frederiksborg Castle
A snappy 35 minutes' drive northwest of Copenhagen via Route 16, Frederiksborg Castle is a doable day trip you won't forget in a hurry. An opulent complex in Hillerod, this lavish residence built for King Christian IV in the 17th century makes Buckingham Palace look like a bedsit and its as astounding inside as out. Take a guided tour and you'll walk in the footsteps of the great and good through expansive halls, plush rooms and lofty towers, past rare works of art and priceless artefacts. If you're visiting with kids, there's a Picture Trail for 6-12 year olds which is fun and educational, while the formal gardens are the perfect place for a romantic stroll or some solo contemplation.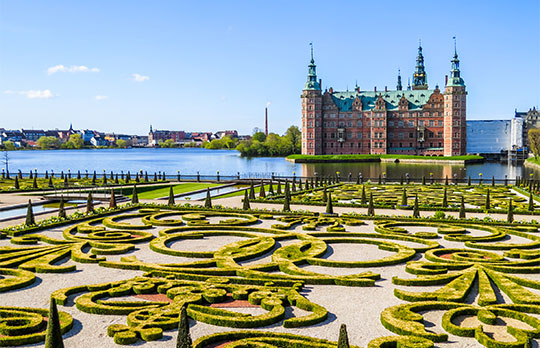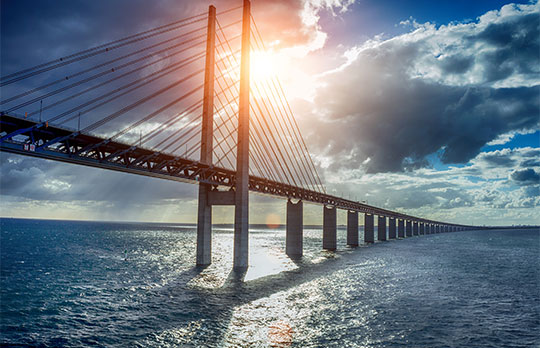 Malmo (Sweden)
Fancy a Scandinavian cross-border road trip? Course you do! Just 50 minutes from Copenhagen via E20, Malmo is a Swedish delight and you roll over the motorway on the scenic Oresund Bridge to get there. There's tons to see and do when you arrive, including Malmo Castle with its zoo/aquarium and museums for art, natural history and the city itself, and Lilla Torg, a lovely cobbled square bang in the centre where there are lots of welcoming cafes and excellent restaurants. Meanwhile, Malmo's oldest park, Kungsparken, is a cathartic place to spend an afternoon, with its calm canalside paths, fab fountain and Norse mythology-themed grotto. Head to Sodergatan for some retail therapy – lots of swish Swedish and international brands.
Roskilde
Just 40 minutes west of Copenhagen via Route 21, Roskilde is an ideal road trip destination if you love exquisite natural surroundings and dramatic history. For starters, the imposing Roskilde Cathedral has been the burial site of Danish kings and queens for one thousand years, then channel your inner warrior at the Viking Ship Museum, enjoy dinner on the high seas abord the restaurant ship M/S Sagafjord. And if you're here in late June or early July, why not throw some shapes at the Roskilde music festival? It's the biggest gathering of movers and shakers in Northern Europe!
Danish Riviera
Take a 50 minute drive up the E47/Route 235 from Copenhagen and you'll reach the blissful Danish Riviera – a sweet spot to hang around for a weekend. Quaint fishing villages like Hornbaek, Tisvilde and Gilleleje have transformed into top-flight holiday destinations over the years, with chic, cosy accommodation and beaches peppered with pretty pastel coloured bathing huts. If you want to get away from it all for a few days – and perhaps even spot a few Euro celebs – this is the place to be.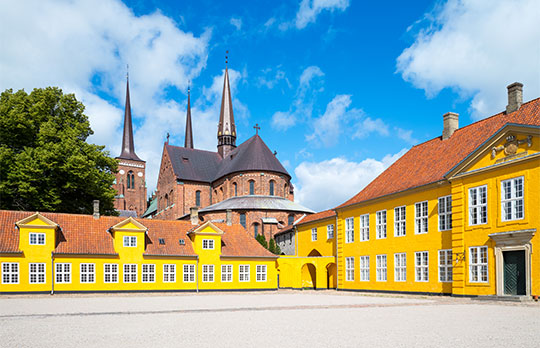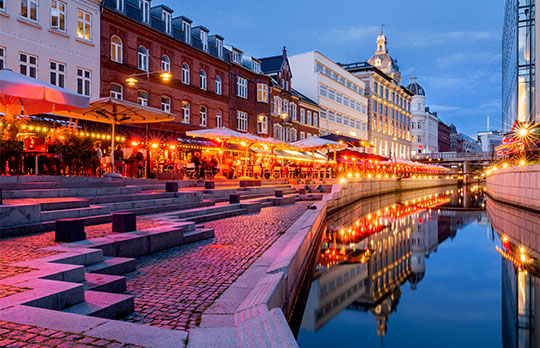 Aarhus
A 3 hours and 20 minutes' drive away from Copenhagen via Route 21 and Aarhus Sjaellands Odde, Aarhus is a little further than some road trip destinations, but the journey takes you over land and bridges to Denmark's second city. And what to do when you get there? Den Gamble By is a fascinating open-air museum that provides rich insights to everyday life in Denmark since the 18th century, and the sleek, contemporary Moesgaard Museum hosts everything from Iron Age weapons to the 3rd century AD peat-preserved body of the famous Grauballe Man. Meanwhile, if you're a little bit arty, don't miss the ARoS museum, which has works from the early 19th century to the present.
Korsor
One hour and 20 minutes away from Copenhagen via the E 20, Korsor Is a brilliant road trip destination if you like rugged scenery rustic buildings and lots of fresh air. Highlights here include the Taarnborg Kirke, Korsor Lystskov nature and wildlife area, Korsor Biograf Theatre and St Povls Church. And if you've brought your clubs with you, a round at the Korsor Golf Club is a great way to stretch your legs and take in some gorgeous green scenery.
Cliffs of Mon
Two hours south of Copenhagen via E47, the Cliffs of Mon (Mons Klint) are one of the nation's foremost tourist attractions. An iconic 6km stretch of chalk and limestone cliffs along the east side of the island of Mon, some of these vertiginous cliffs freefall over 120m into the Baltic Sea and as they've crumbled away over the years, they've revealed fossils from 70 million years ago. Looking up at them from the ancient beach below is an astounding experience and they're topped by the verdant Klinteskoven forest, which hosts rare plants and animals.
Klampenborg
30 minutes north via Route 142, Klampenborg is a swift road trip with an epic destination. Main attractions here include Bellevue Beach, the Bakken Amusement Park (which, amazingly, first opened in 1583), flat horse racing track (maybe you can win your dinner money?) and Hvidore Castle, a former country house famous as the home of the exiled Dowager Empress Maria Feodorovna of Russia, whose son Nicholas 11 was the last Russian Emperor.