Top 10 UK secret beaches
Whiterocks Beach - Co Antrim
Pedn Vounder Beach - Cornwall
Brown's Bay - County Antrim
Happisburgh - Norfolk
Gara Rock - Devon
Sandwood Bay - Kinlochberbvie, Highland
Swanlake Bay - Pembrokeshire, Wales
Watcombe Bay, Freshwater - Isle of Wight
Lulworth Cove - Dorset
Kingsgate Bay – Kent
From the north east coast of Scotland to Yorkshire, Norfolk, Northern Ireland, Wales, the south coast and Devon there are hundreds of sandy beaches, of which many are well-known, well-visited and popular, but amongst them lie certain lesser known hidden and unspoiled gems, more remote from the main cities and only accessible by car, or in some cases by foot!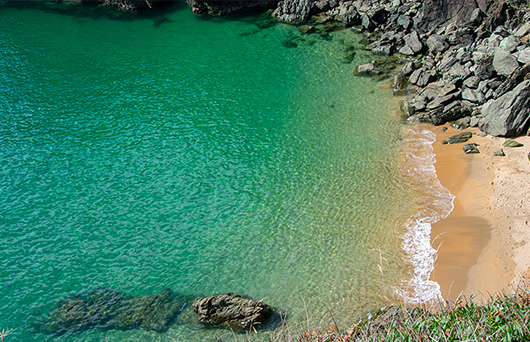 20 of the Best Hidden Beaches in the United Kingdom
With 7,723 miles of coastline from Cornwall to John o' Groats, this vast and diverse coastline is cluttered with stunning wild-life, marine life and nature and amongst this extensive shoreline lie many concealed and secluded hidden beaches.
2021 the year of the staycation
2021 has been an odd year for travel, work, going out, meeting friends and family, and the 2021 summer has so far continued the trend. With constantly changing travel restrictions, an confusing traffic light system determining the different rules for where you can go and with what penalties on return, chaotic airports with hours of queuing, many travellers and families are understandably anxious about leaving the UK.
Many beaches in the country and well-known and continue to be popular and packed during the 2021 Covid-summer so far. But for some, the main-stream mass-populated areas aren't so appealing which is why we have pulled together a list of some of the most beautiful secret and hidden beaches across all 4 nations of the United Kingdom for you to enjoy reading about.
Pack the car, set the satnav, stick the beer cooler in the boot and let the good times roll!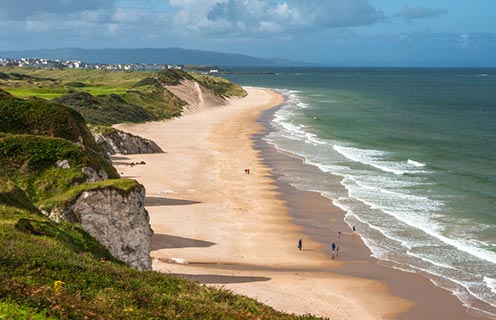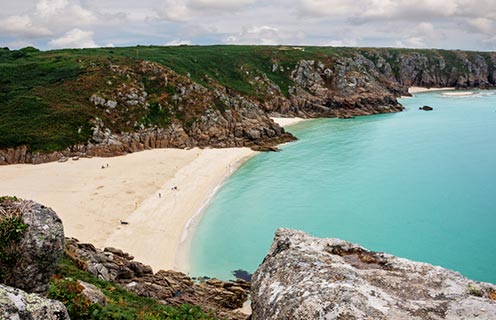 Left: Whiterocks Beach - Co Antrim, Northern Ireland, right: Cornwall - Pedn Vounder Beach
1. Whiterocks Beach - Co Antrim, Northern Ireland
Even though it is located just off the very popular Causeway Coastal Route, you won't find many tourists on this stunning beach. As you walk through the grassy hills you'll see a stretch of sandy beach backed by breathtaking limestone cliffs that stretch from Curran Strand to Dunluce Castle. During low tide, you can explore the many caves and arches that have been carved into the sedimentary rocks of Whiterocks over the centuries.
This beach is also great for bird lovers as it is teeming with seabirds and is a hunting ground for hawks. If you time it right, you'll also see trainers exercising their horses here too. Watersports enthusiasts can try surfing, body-bordering and sea kayaking and if you want to go for a swim, lifeguards are on duty throughout July and August.
Getting there: Whiterocks Beach - Close to Portrush, the best way to get to this beach is to follow the Dunluce Road / A2 and when you see the information sign for Whiterocks, you just turn down that little road and it will bring you right to the car park by the sand.
2. Cornwall - Pedn Vounder Beach
For our number 1 favourite secret beach, it's Pedn Vounder. So secret that at certain times its hidden beneath the shallow and clear azure waters.
Beyond Penzance and only 4 miles from Landsend, Cornwall's secret beach is the found in almost the most south westerly point of England. Pedn Vounder Beach is set among the breathtaking cliffs of Treryn Dinas with crystal clear water. On a beautiful warm day in summer you could be fooled into thinking you were in the Mediterranean with the sun, clean blue waters and white thin sand. For those wanting a relaxing break in the UK without the need to leave the country, this is your utopia.
To access it, you will need to tackle the long steep walk-way from the cliff top down to the ground.
You truly need a car to access this beautiful, secluded beach tucked away in deepest Cornwall. There are numerous campsites nearby, and the nearest town Penzance is 8.5 miles away where there are plenty of guesthouses, pubs and shops.
Getting there: Pedn Vounder - Pedn Vounder Beach is in the extreme south west of Cornwall and the nearest town is Penzance. You can take a train into Penzance and easily rent a car from there to get around. If driving, head for the South West (Devon / Cornwall). At Exeter pick up the A30, which by-passes Penzance and finally pick up the B3283 to Treen.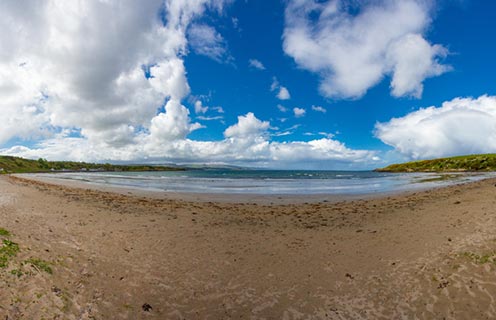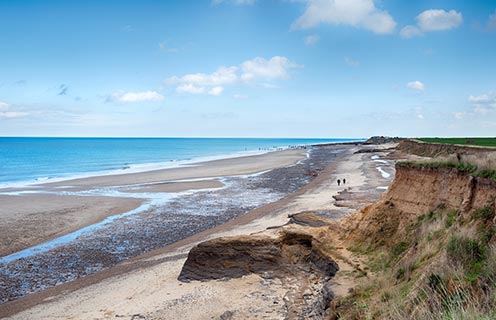 Left: Brown's Bay - County Antrim, Northern Ireland, right: Norfolk – Happisburgh
3. Brown's Bay - County Antrim, Northern Ireland
There's more than 3700 miles of coastline on offer in Northern Ireland with no shortages of brilliant beaches. Not only that but 70% of the coastline is designated as Areas of Outstanding Natural Beauty.
Brown's Bay is a protected horseshoe-shaped bay in the north of the Islandmagee peninsula, nestled between Skenaghan Point and Barrs Point. The 660-metre soft sand beach is accessed by either a set of steps or a gentle ramp. One of the best things about Brown's Beach is the cleanliness of the water, for which it has been awarded a Seaside Award. It's a safe spot for swimming, especially because the waves don't get very high.
Due to its rural setting and relative remoteness, there's a lovely feeling of getting away from it all when you are here. The views are sweeping too! You can see the five headlands all the way up along the Antrim coast and on a clear day, you can sometimes see as far as Scotland.
Getting there: Brown's Bay - Located 6 miles from Carrickfergus, follow the Larne Road/A2 and then turn onto Island Road Lower/B90. From here, you turn left onto Low Road/B150. This road then becomes Brown's Bay Road and you just stay on this road until you reach the beach. There is a large car park right opposite the beach.
4. Norfolk – Happisburgh
For a beautiful beach with lots of amazing history Happisburgh is ideal, firstly its name is different to first thought and the locals love hearing visitors phonetically pronouncing it while asking for directions. The secret to blend in with the locals is it pronounce it "Hayz-Bruh" which is much easier with strong Norfolk accent. Tucked away between Sea-Palling and Walcott the beach at Happisburgh is just shy of 20 miles from Norwich and takes you through popular towns famous for their boat hire for holiday makers exploring the beautiful Norfolk Broads.
The impressive beach itself stretches for miles and has a stunning backdrop of cliffs which are reported to be eroding at a rate of 50 metres per decade. Hidden walks take you can to St Mary's church but also the delightful and picturesque lighthouse which is currently the oldest working lighthouse in Britain. Archaeological digs have shown that Happisburgh beach was inhabited by humans an astonishing 800,000 years ago and was the home to many different animals where now their fossils are often found.
The sandy beach is easy accessed and due to its proximity to the more popular holiday destinations along the coast is usually very quiet and peaceful compared to the others allowing more space and relaxation listening to the sea with little disruption. A perfect location for travellers who want to explore like one of the locals and find the beauty and secrets in the Norfolk coastline.
Getting there: Happisburgh – From Norwich take the shortest route on the A1151 through Wroxham and Stalham taking in the scenery on the country roads towards the coast will take 35 minutes. If coming into the UK by plane, Norwich has its own airport where you can easily pick up a rental car from.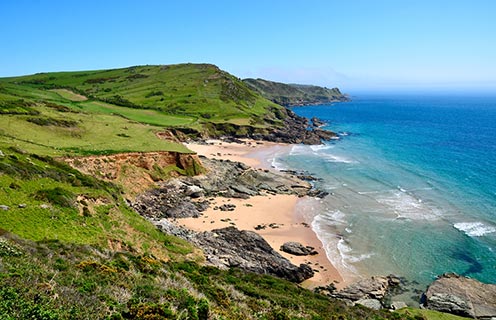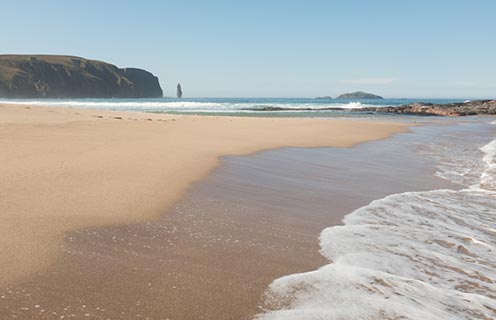 Left: Gara Rock – Devon, right: Sandwood Bay - Kinlochberbvie, Highland, Scotland
5. Gara Rock – Devon
For hidden beaches in Devon, Gara Rock is located in South Devon half way between Paignton and Plymouth beneath the South Devon Area Of Outstanding Natural Beauty (AONB). The picturesque small town of Salcombe is 2.8 miles away on foot, but to get there by road is a 15 mile, 40 minute drive since it is connected by foot bridge not accessible to cars.
Surrounded by coves, rugged cliffs, clear turquoise sea water and frothy waves, this hidden gem is kept secret by the locals, hidden away in true south Devon where the people pride themselves as friendly and easy-going. The Gara Rock hotel sits at the cliff top overlooking the bay and provides limited car parking. There are plenty of places to stay, eat and drink in Salcombe as well as numerous local pubs and shops. Tucked away nearby are other delightful spots too such as Sunny Cove Beach, Mill bay, and East Portland Beach.
The luscious clear water and white sands make it popular for scuba diving, sandcastle building, beach games and sunbathing whilst appealing to families and providing a romantic get-away for couples too.
Gara Rock Beach also goes by the name Seacombe Sands, nestled between Prawle Point and the mouth of the Salcombe-Kingsbridge Estuary, this unspoilt sandy cove is secluded and sheltered, and a best-kept secret of the locals.
The beach is accessed by following a trail, which takes about ten minutes to walk. It can be steep in places, so do be careful. At the end of the trail is a picturesque beach with golden sand and uninterrupted views out to sea.
Relax on the soft sand and recover after your walk and then, when you've recouped your energy, explore the rockpools, tunnels and miniature caves or go for a paddle or swim. You sometimes see experienced surfers here too.
There are lots of scattered rocks that make for cosy nooks along the beach which are perfect picnic spots. You can also bring your furry family members, as the beach is dog-friendly year-round.
Getting there by car: Gara Rock – depending on where you are coming from, by car you will enter Devon via the M5 motorway, by-pass Exeter and pick up the A38 towards Plymouth. Come off the A38 for the B3196 at and follow the twisty country lanes all the way in. If coming into the UK by plane, Exeter has its own airport where you can easily pick up a rental car from within the airport where you can choose from Avis, Europcar, Enterprise, Alamo and Firefly to get the best bargain. Prices starting at around £10 a day and if coming by train, head for Exeter St Davids where you can also easily find a rental car in the city.
Gara Rock via the South West Coast Path - You can access this beach via the South West Coast Path. The best way to do this is to park the car at the Mill Bay National Trust car park and join the Path from there. The walk is just shy of two miles until you reach Gara Rock Beach. You can also drive to Gara Rock and park there and walk down the steep trail.
6. Sandwood Bay - Kinlochberbvie, Highland, Scotland
If you are searching for a wild and remote beach, Sandwood Bay ticks all the right boxes. In fact, it is even a bit of an adventure to reach. Located in the extreme northwest of the Scottish mainland, the public road stops some four miles from the sand. So, you can only reach this beach by walking a footpath that leads to the bay. But the walk is worth it! Wait till you see the mile-long stretch of fine pink sand flanked by high dunes and a loch and guarded by a commanding sea-stack called Am Buachaille (the Shephard). It is a breathtaking scene. The sense of seclusion and solitude you feel surrounded by all this unspoilt wildness is incredibly powerful.
With its pink-hued sand, this beach is absolutely spectacular at sunset when everything is a riot of colour.
Getting there: Sandwood Bay - This bay is part of the Sandwood Estate in Sutherland, on the far north-west coast of mainland Scotland. Make your way to the harbour village of Kinlochbervie and then onto the hamlet of Blairmore via Oldshoremore Road. Here you'll find a small car park where you can leave your car and start the four-mile walk towards the remote bay. The path is well-trodden and fairly flat and offers beautiful views.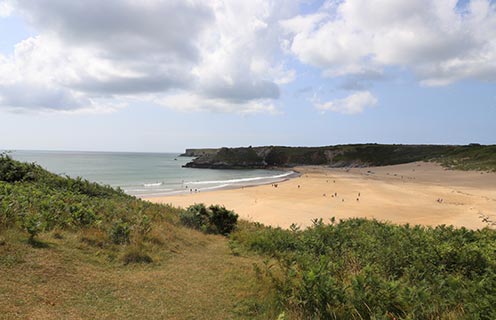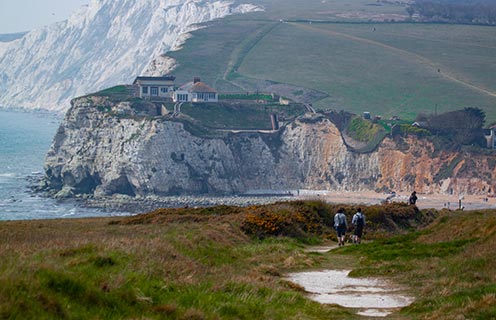 Left: Swanlake Bay - Pembrokeshire, right: Watcombe Bay, near Freshwater - Isle of Wight
7. Swanlake Bay - Pembrokeshire, Wales
Swanlake Bay beach is located on the south coast of Pembrokeshire, hidden between Freshwater East and Manorbier. This isolated cove is quite remote, so chances are you'll be one of just a few here. Swanlake Bay is accessible only from the Pembrokeshire Coastal Path, but the walk is worth it!
With lush surroundings, the bay is protected by grassy cliffs on both sides. West Moor Cliff to the left and East Moor Cliff to the right. At high tide, Swanlake Bay is a shingle beach. But wait for low tide which reveals a soft golden beach and plenty of rock pools to be investigated. Look out for limpets, anemones, small starfish and tiny crabs.
With all the wildlife around, and its excellent water quality, it is no wonder that Swanlake Bay is a recommended beach by the Marine Conservation Society. As a result, it is a great spot for a dip. This truly is an idyllic beach if you are searching for some solitude and safe swimming.
Getting there: Swanlake Bay - Access is via the Pembrokeshire National Park Coastal Footpath. The best place to start the path for the beach is from either Manorbier Beach or Freshwater East. Leave your car at the car park and just hit the trail and keep going until you come to a set of steps towards the centre of the beach. These take you right down onto the sand.
8. Watcombe Bay, near Freshwater - Isle of Wight
Located to the south west coast of the Isle of Wight at the base of a white chalk cliff face, the beach is somewhat secluded with the only access by foot (only when the tide is out), swimming or kayak. Unless you are planning on accessing the hidden beach by swimming or by kayak, pay attention that when the tide comes it you could get cut off and there is no lifeguard, and because it is so well hidden and tricky to access, it is often deserted.
Located less than 500 metres to the west of Freshwater Cove, one of the smallest bays of the Isle of Wight, the beach is a mix of sand and pebble, running along the base of the cliff face and facing south west into the English channel. This hidden gem is a true beauty spot with scenic views and stunning sunsets. It is also surrounded by enchating coves, tunnels and caves providing exploration opportunities.
The beach provides unique opportunities for adventure, exploring the many caves, fossil hunting and rock pooling.
The nearby Freshwater Bay equally provides one of the most charming beaches on the island, with a car park, 3 star Albion Hotel, Pen-Y-Bryn Bed & Breakfast Guest House, St Martins - Luxury Self Catering Accommodation and Freshwater Bay Tea Rooms.
Getting there: Watcombe Bay - Freshwater Bay is 3.4 miles from Yarmouth, and 11.5 miles from Newport the island's capital and 16.5 miles from Cowes. If coming from England, the shortest journey is between Lymington and Yarmouth. Once at Freshwater Bay, Watcombe Bay is less than a 500 metre walk, but only when the tide is down. It is popular with strong swimmers and kayakers too.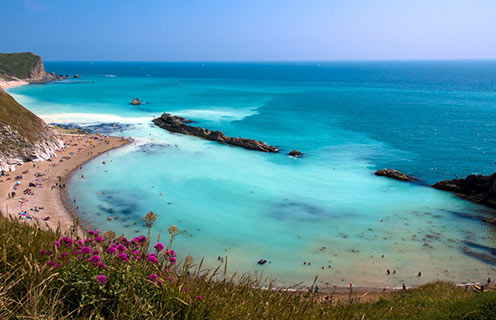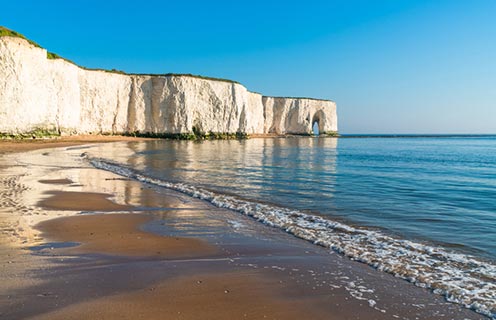 Left: Dorset – Lulworth Cove, right: Kingsgate Bay - Kent
9. Dorset – Lulworth Cove
With its extraordinary geology and spectacular scenery, this is a truly unique and well-hidden beauty spot. The beach and aquamarine coloured sea are almost entirely encapsulated by the surrounding cliffs, with only a small entry point out to the sea. A short walk to the east is Fossil Forest, a natural ancient and submerged Jurassic forest with fantastic views and captivating fossils.
The UNESCO World Heritage Site of the Jurassic Coast stretches from East Devon, 96 miles to Dorset and provides glorious views along its magnificent coastal walk-ways.
West Lulworth village is just a mile away, and an easy and pleasant walk with a handful of guesthouses, B&Bs and pubs. The cove and surroundings are facilitators of plenty of outdoor activities with the Visitors Centre in Lulworth itself, coasteering, mountain biking and other outdoor pursuits. Water-sports are a given with scuba, swimming, sailing and canoeing amongst some of the most popular.
Getting there: Lulworth Cove – Weymouth is the nearest major town, if coming by train you can connect directly from London Waterloo. From Weymouth, hiring a car is easy and a great way to get around the area, with Enterprise offering a mini/economy type car from around £25 a day. Driving to Lulworth Cove; the A31 takes you almost all the way in from the M3/M27 London/Southampton direction, and the A35 from Devon direction.
10. Kingsgate Bay - Kent
Kingsgate Bay is located in the Isle of Thanet in Kent, a place that has plenty of sandy beaches. Most people head to the popular town of Broadstairs and the beaches of Joss Bay and Botany Bay. However, nested between these two bays is Kingsgate Bay. This beach is a little harder to get to and there is no car park and no toilets either. Therefore, it is a little more secluded and quieter.
High chalk cliffs flank the beach which is famous for its sea caves. These are some of the best examples of sea caves in the UK. At the southern end of the beach is Kingsgate Castle which adds another element of drama to the landscape.
There's not much to do at the beach except relax and enjoy the beautiful surroundings. The cliffs shelter the white sand cove so the water is calm and great for paddling and swimming. There are plenty of rock pools too which you can peer into and admire the sea life.
Getting there: Kingsgate Bay - At low tide, you can walk from Botany Bay through a chalk seacliff arch to reach Kingsgate Bay. Otherwise, access is only available via a set of steep steps. You can park at the Captain Digby pub and walk from there.
Left: Marloes Sands - Wales, right: Newburgh Seal Beach, Scotland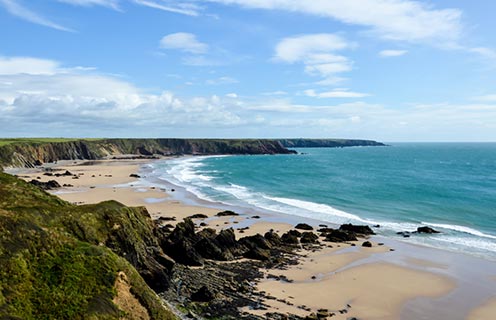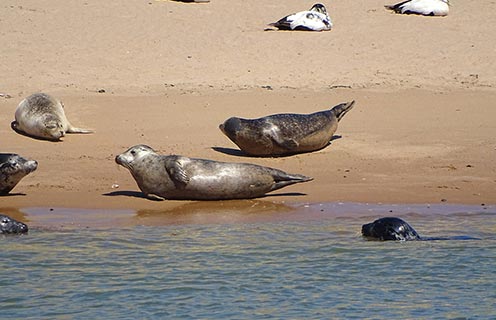 11. Marloes Sands - Wales
Marloes Sands is a 1 mile long remote and sandy beach near the village of Marloes in Pembrokeshire, Wales. From the beach you can enjoy breath-taking views of Skokholm Island and Gateholm Island. This beach is a truly kept secret of Wales, and a long drive from the main cities of Wales and England, however well worth it for an honest, relaxing and peaceful break with your partner and/or family with plenty of outdoor activities and water-sports, surfing is particularly popular.
Miles of wondrous redish coloured cliffs, golden sands, and rockpools chaperone a wealth of sealife and wildlife. Seals are regular visitors, and the nearby islands are favoured by colonies of puffins and other sea birds.
The nearest town of Milford Haven is 10 miles away and has all the amenities you need including B&Bs, guesthouses, shops, pubs and places to eat out, though if you like to stay away from the masses, the nearby village of Marloes is just 1.5 miles away and might be more up your street with a small handful of guesthouses and restaurants.
The only way to get to this secluded beach really is by car, and there is a National Trust car park just 10 minutes walk from the beach.
Getting there: Marloes Sands – This is a particularly remote location and a 5 hour drive from central London via the M4, bypassing Bristol and Cardiff, then pick up the A40. Cardiff is about 2 and a half hours drive.
12. Newburgh Seal Beach, Scotland
This Scottish secret beach is 13 miles north of Aberdeen on the east coast of Scotland, and famous locally for its seal population who inhabit the beach in their hundreds. Tucked behind Foveran Nature Reserve, at the mouth of the Ythan River, the wide and sandy stretch of beach is a must for nature lovers, and sea-life enthusiasts. The beach has been described as one of the best places in the United Kingdom for marine wildlife with a 400-strong seal colony.
From the beach there are miles of coastal walk-ways. The city of Aberdeen is a 20 minute drive, the nearby village of Newburgh has the basic amenities from shops to local pubs.
Getting there: Newburgh Beach – Travelling from Edinburgh direction, take the A90 following signs to Aberdeen then continue passed Aberdeen eventually reaching Newburgh. Coming by train, Aberdeen is directly connected to Edinburgh and there are numerous rental car options in Aberdeen city centre.
Left: Norfolk - Scratby sands, right: Whitby Sandsend, North Yorkshire
13. Norfolk - Scratby sands
For a peaceful beach which is not too far away from traditional seaside fairgrounds you can visit Scratby Sands. It is the quiet neighbour of Great Yarmouth where the tourists have been going for years and with this comes the perception that you have found a hidden gem. Low sandy cliffs surround the sand and shingle, and the sea is ideal for swimming and fishing and is often used in the winter for surfing where there can be some impressive waves.
The beautiful beach which is dog friendly stretches from Caister-on-Sea to the south all the way to Winterton Dunes national nature reserve where you can find grey and common seals lazing on the sands or swimming up and down the coastline. Next door is California which was named because during the gold rush in America a haul of 16th century coins were found on the beach, so it maybe an idea to take a metal detector and dig for some hidden treasures.
Getting there: Scratby Sands – From Norwich take the A47 and turning off at Acle instead of continuing to Great Yarmouth taking roughly 35 minutes. If you want to travel the coastal more scenic road travel to Winterton and work back down towards Caister-on-Sea. If coming into the UK by plane, Norwich has its own airport where you can easily pick up a rental car from.
14. Whitby Sandsend, North Yorkshire
Whilst Sandsend at Whitby may not be the most secret of North Yorkshire's beaches, it is away from the crowds of Whitby whilst being close enough to good amenities. Surrounded by rugged hillside, coastal walkways, and quaint seaside cottages, Whitby is a charming fishing town, famous for Dracula's cliff top castle overlooking the North Sea and estuary.
Head 3 miles north along the coast, and you come to Whitby Sandsend. The 3 mile long beach runs all the way from the town centre to the far end of Sandsend, ending up at a small estuary popular for paddling, building sand castles and searching for crabs. The Sandsend café is right on the edge of the beach and serves fresh food and fresh coffee, particularly well-known locally for its fresh crab sandwiches. There is a small but quality selection of accommodation within walking distance or a very short drive such as Sandsend Bay Cottages, the luxurious Raithwaite Estate, Dunsley Hall Country House Hotel and a small selection of independent cottages.
Getting there: Whitby Sandsend – there is a train station in Whitby town centre, which connect to York. From Whitby you can take the 3 mile walk, take a bus. If you want to rent a car, you're better off taking the train into the larger nearby town of Scarborough where you can find Enterprise just outside the town centre. If driving, coming from York direction, take the A64 and turn off for Pickering on the A170. Once through Pickering, enjoy the breath-taking scenery of the North Yorkshire Moors all the way into Whitby.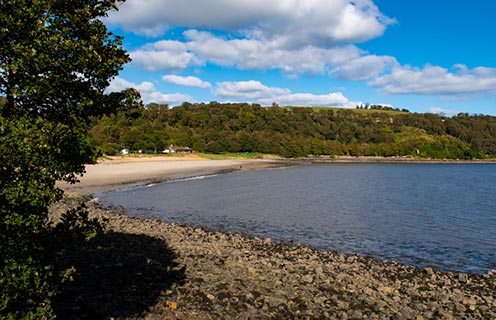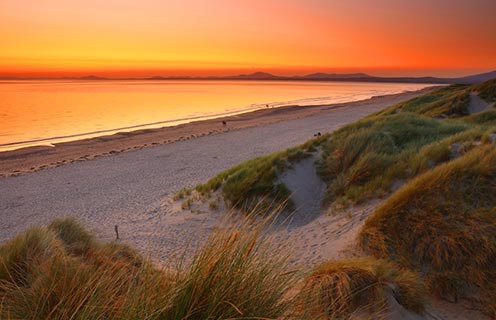 Left: Scotland - Silver Sands Beach, Aberdour, right: Harlech Beach - Wales
15. Scotland - Silver Sands Beach, Aberdour
As the name would suggest "silversands" beach is exactly that but that is far from the full story as it is backed by beautiful woodland and boasts views of the Islands of Inchmickery and Inchcolm. A beach that is straight out of the storybooks which invokes the feelings of peacefulness and tranquillity. Situated on the Fife coast and with wonderous walks to view the local Abbey it is well worth the visit to enjoy a relaxing paddle or walk.
A mixture of beach and countryside makes "silversands" unique and with parts of Abadour village looking like a throwback in time. Abadour is on the north shore of the Firth of Forth and is 18 miles from Edinburgh and close to other adventure such as Hawkscraig where rock climbing is popular.
There is many things to do at this amazing beach from walks, swimming, fishing, windsurfing and canoeing with designated zones for water sports. If you are lucky you may also see jellyfish which have been reportedly seen in the clear water.
Getting there: Siver Sands Beach - Abadour – The beach is just off the A921 road from Inverkeithing to Burntisland. Arriving in Edinburgh Airport you can rent a car and drive across the historic Forth bridge taking you along the coastal road, arriving in half an hour.
16. Harlech Beach - Wales
Located on the north Wales coast, this 4 mile long stretch of golden sandy beach is one of Wales' best hidden secret beaches due to its remote location and lack of nearby population. Over-looked by the Snowdonia National Park, the beach provides charming views of Snowdonia, its mountains and wondrous topography.
Spectacular wildlife, sea life, and water sports characterise the areas popularity with the locals, and the enchanting 13th century Harlech Castle is just 1 KM from the beach.
Towards the south end of the beach is the small town of Harlech, and 10 miles to the north, across the other side of the harbour is the larger town of Portmadog with a train station which connects with Birmingham New Street in 4.5 hours.
Getting to Harlech Beach: Realistically you need to travel by car to get to Harlech Beach. Coming from the north of England, you will probably pass through Chester and Wrexham then follow signs for Portmadog before finally picking up the A496 into Harlech. There is a small train station in Harlech, but from all major cities in England and Wales there are a number of changes needed and likely a lot of waiting around in between stops.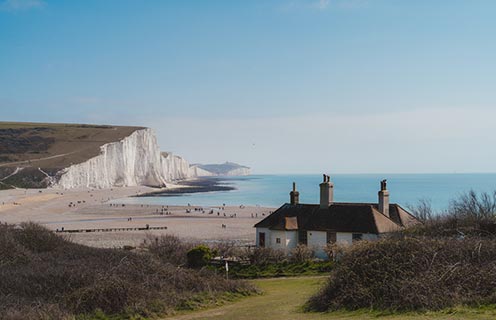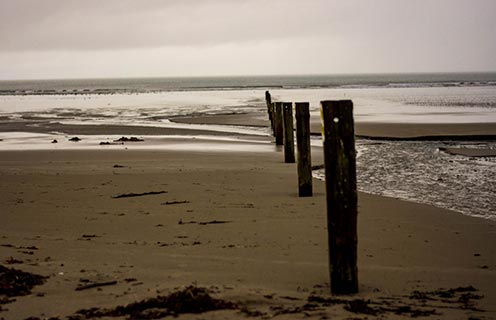 Left: Cuckmere Haven Beach - East Sussex, right: Tyrella Beach - Co Down, Nothern Irelands
17. Cuckmere Haven Beach - East Sussex
With its cinematic setting, it's no wonder that Cuckmere Haven Beach has been the backdrop for Hollywood movies. You'll see this beach in Harry Potter and the Goblet of Fire and the opening scene in Robin Hood: Prince of Thieves (the one with Kevin Costner). Despite its big-screen fame, Cuckmere Haven is quiet and secluded.
The Seven Sisters tower over the rough shingle and sand beach that sits at the mouth of the Cuckmere River. The Seven Sisters are a range of chalk cliffs rising out of the English Channel. They form part of the South Downs in East Sussex and are between 65 to 100 million years old.
Cuckmere Haven Beach is a lovely place for a walk and you can follow in the footsteps of smugglers who frequented these shores in the 16th, 17th, and 18th-century. The beach is also good for watersports and fishing. Of course, you can always just come here to relax and sunbathe.
Getting there: Cuckmere Haven Beach - Nestled between Eastbourne and Seaford, you can access Cuckmere Haven Beach by heading to South Hill Barn in Seaford. Here you can park your car and walk down Seaford Head to Cuckmere Haven Beach. The walk has some stunning views.
18. Tyrella Beach - Co Down, Nothern Ireland
Tyrella Beach has won nearly all the awards going - Seaside Award, Blue Flag and Green Coast Award. So, as you can imagine this beach is really clean and safe. As a result, it is a haven for water sport enthusiasts and families, especially during the summer months and holidays when it is patrolled by lifeguards.
This 2km stretch of wide, flat, sandy beach is backed by mature dunes in a conservation area. This means, after soaking up some rays on the soft sand, you can get more active with a scenic walk and learn all about the unique local flora and fauna. This beach, with its stunning natural setting at the foot of the magnificent Mountains of Mourne, has to be one of the most scenic in Northern Ireland.
Getting there: Tyrella Beach - Follow the signs for Newcastle A24 until you reach the village of Clough. At the end of the village, turn left onto Blackstaff Road / A2, signposted for Tyrella beach, and follow this road for about 8km.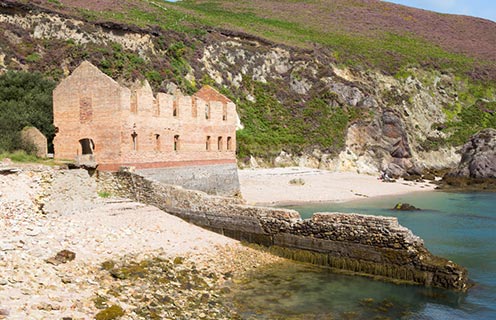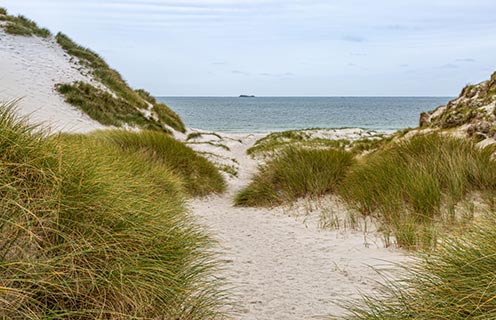 Left: Porth Wen - Anglesey, Wales, right: West Beach - Isle of Berneray, Scotland
19. Porth Wen - Anglesey, Wales
Porth Wen on the north coast of Ynys Môn (Anglesey) is a beach for history lovers. This super secluded shingle beach is off the beaten track and takes a bit of effort to reach. But that effort is rewarded with an isolated iridescent white-quartz beach with sweeping views across the Irish Sea towards the North Atlantic. The beach is sheltered and is a sun trap too! Perfect for you sun worshippers.
But what makes this beach really special are the characterful ruins of the old brickworks which overlook this pretty bay. The Victorian brickworks produced refractory bricks for use in the steel industry. It closed at the outbreak of World War I and has been left to ruin. The crumbling old buildings, chimneys and kilns add a sense of drama to the already theatrical setting. The shoreline here is rocky and at low tide, there is a host of rockpools to explore.
Getting there: Porth Wen - Access to Porth Wen involves following a steep path. Make your way to Amlwch, which is the nearest town. From there, follow the A5025 road to Torllwyn. After about 850 yards, on your right-hand side, you'll see two footpath signs. Follow the second track, which will lead you to the bay.
20. West Beach - Isle of Berneray, Scotland
Although this beach looks like one you'd find in Thailand, it is actually located in Berneray in the Sound of Harris in the Outer Hebrides. Fun fact, the Thai Tourist Board mistakenly used a photo of this beach to promote its own Kai Bae Beach! Looking at the glistening turquoise sea and its three-mile stretch of blinding white sand, you can see how the mistake was made! This beach has proper tropical vibes.
West Beach also has incredible views across Harris (another island of the Outer Hebrides) and is a haven for wildlife. Listen out for the elusive corncrake! Come here in during the summer and the grassy area that runs alongside the sand is full of colourful wildflowers, including rare orchids.
This beach won't remain a secret long, as in 2021 Lonely Planted ranked it number 3 in the Top 20 Best Beaches in Europe. So you best hurry up and visit.
Getting there: West Beach - Make your way to the Bernerary Village Hall. From here, head west and follow the single lane road and the signs to reach the beach.