Driving in Denmark – 15 Things You Need to Know
Documents & age restrictions
Which side?
Seatbelts & kids car seats
Speed limits
Mandatory items
Rental pickup options
Respect other road users
Parking
Tread depths & winter tyres
Toll bridges
Give way to buses
Scenic hotspots
Crossing borders
Don't drink and drive
Emergency numbers
Denmark – a gorgeous place to hit the road
Denmark. It's one of those places that just seems to have a lot of things sorted out, isn't it? International surveys usually rank this country as one of the world's happiest and there are lots of contributing factors to this satisfaction with life. Free public healthcare is always the foundation of a caring society, and Denmark also has tuition-free education of a high standard and low corruption and crime rates. There's an impressive level of equality and a steadfast dedication to social welfare. There's also a strong sense of trust, safety and the concept of hygge – which roughly translates to taking time away from the daily grind, slowing down, and spending time by yourself and with others doing more things that nourish your soul.
And there's even more to this unique nation on the Jutland peninsula. High-end dining. Fairy tale castles. Viking heritage. And an enviable eye for design which is evident in everything from fashion to furniture and art. Then consider cosmopolitan Copenhagen and Odense with its Hans Christian Anderson heritage, as well as scenic beauty spots like Thy National Park, the white cliffs of Mons Klint, Rajberg Mile (one of Europe's largest migrating sand dunes), and the wonderful Jaegersborg Deer Park. Between its culture, urban attractions and natural delights, Denmark is a joy to drive around. Hire a car in Denmark right here at Enjoy Travel and get ready to explore!
Now for those 15 terrific Danish driving tips: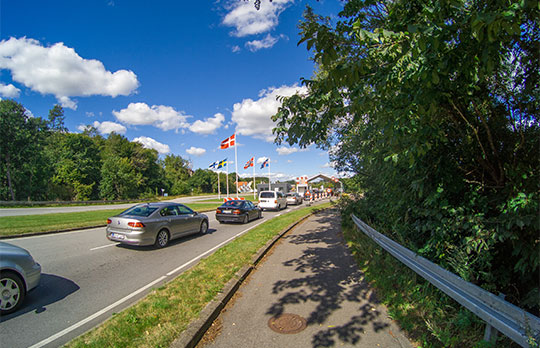 15 things you need to know about driving in Denmark
Documents & age restrictions
You need to be 18 to drive in Denmark and 21 to hire a car. Please be aware that some car hire partners apply a surcharge to younger or newer drivers – you can confirm this before you book to make sure everything's clear. You should carry your valid, full UK driving license, insurance certificate and the paperwork for your rental. If you're driving your own car, please note that the signifier sticker should read 'UK' instead of 'GB' (this rule has been effective since 28th September 2021).
Which side?
Always drive on the right-hand side of the road and overtake on the left in Denmark. Interesting pub quiz fact – driving on the right has been compulsory in Denmark since 1793.
Seatbelts & kids car seats
Seatbelts are mandatory for all front and backseat passengers (if fitted) and there are strict rules about the appropriate restraints for children of various ages. Kids under 3 and less than 135cm tall have to use approved safety seating devices (belt cushion or seat) that are effective for their height and weight.
Speed limits
Always observe the speed limit in Denmark. It's vital for safety and if you're caught exceeding it, you'll be fined. The limit in built-up areas is 50km/h, it's 80km/h outside built-up areas on main roads, and on motorways, it's between 110km/h and 130km/h.
Mandatory items
There are several items you should always carry with you whilst driving in Denmark. These are: a reflective jacket, first-aid kit, fire extinguisher and spare bulbs for outside lights. It's not mandatory to carry drinking water, snacks and cosy clothing, but it makes sense to do so. That way, in the unlikely event you break down, you'll be able to take care of basic needs til you get help.
Rental pickup options
Hiring a car online and picking it up at a Danish airport is easy and convenient. For example, if Legoland is on your itinerary, you might fly into Billund and tour around the Jutland countryside and cities like Vejle and Aalborg.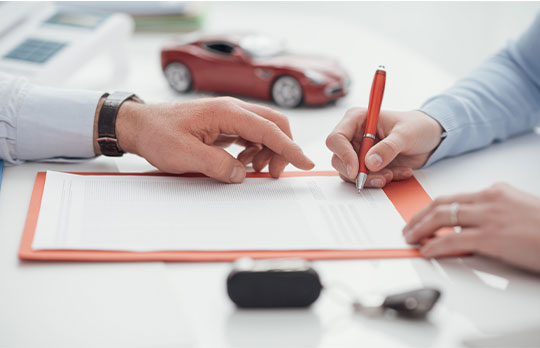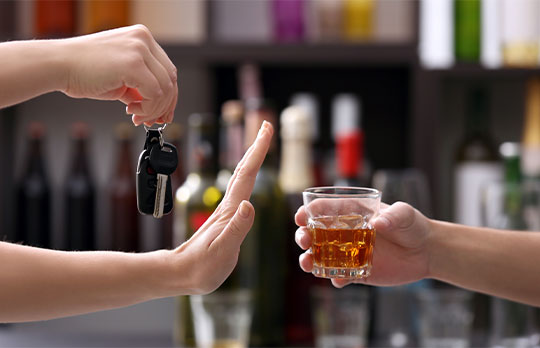 Respect other road users
Please always be considerate of mopeds, bikes and pedestrians when you're driving in Denmark. Lots of major roads have bike paths lying immediately to the right, so please be very careful turning to the right. You should always give way to pedestrians, bikes and mopeds, affording them the respect they deserve.
Parking
As you'd expect, there are parking restrictions in most Danish towns and cities – although in places like Copenhagen there's free parking on certain days and times. The signage will indicate the restrictions, with waiting times for Monday-Friday written in black or white, Saturday hours written in brackets and red text referring to Sundays and holidays. You'll need a parking disc that shows your time of arrival in free parking areas – grab one at a petrol station or tourist office. Paid parking is via kerbside meter – pay and display as you would in the UK. You'll also find parking garages where you pay a time-based fee and prices vary but they can be expensive. As far as stopping is concerned, you're only permitted to do this on the right-hand side of the road, and it's not allowed on motorways and main roads. You also shouldn't park less than 5m from a pedestrian crossing or 10m from an intersection. And you can't park on cycle paths or at bus stops with yellow kerbs. The Danes take their parking regulations very seriously, so if you don't comply, be prepared to have a hefty fine levied or even to have your vehicle towed away.
Tread depths & winter tyres
Winter tires aren't mandatory in Denmark, but most drivers still change to them at some point in October (when temperatures dip) and switch back to summer tires in April. The legal minimum requirement for tread depth in summer and winter in Denmark is 1.6mm.
Toll bridges
The motorway system overall in Denmark isn't operated on a toll basis but there are two major toll roads you should be aware of. These are the Oresund Bridge between Denmark and Sweden and the Storebaelt Bridge connecting east and west Belgium. You can pay by debit/credit card or cash at the toll stations.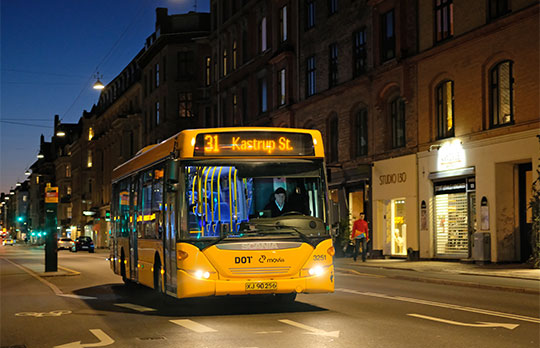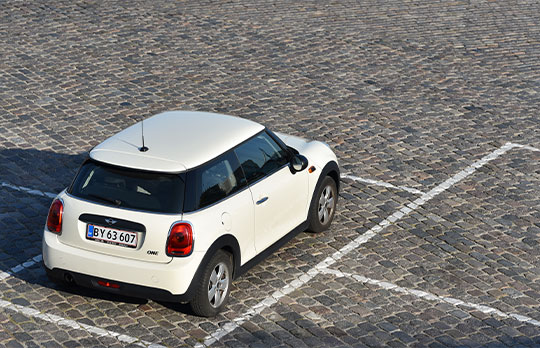 Give way to buses
Denmark has a decent public transport system and buses are a big part of it, so you'll see plenty of them on the road. Drive with caution and always give way to buses and the passengers getting on and off them.
Scenic hotspots
There's lots of lovely scenery in Denmark but a few areas are particularly perfect for road trips. For instance, Funen was the home of legendary fairy tale author Hans Christian Andersen and this third-largest island in Denmark is packed to the brim with 100 castles. A trip right around the island would cover 150 miles but there's so much to see and do that you'll want to spread it over a few days. Meanwhile, East Zealand boasts Dragor, with its pretty harbour and seaside town vibes, and Roskilde, where the cathedral holds the remains of 40 Danish kings and queens. The sublime Stevns Klint and Moens Klint are also nearby if you fancy a bracing, scenic walk.
Crossing borders
It's possible to drive from Denmark to several other European countries, but please check with your car rental company beforehand that this is fine, forbidden or perhaps allowed with a different type of rental package. The south of Sweden is particularly close, as is Germany, and Austria, France and even Italy are within reach if you plan carefully. As usual these days, please check your government website for official guidance on travel restrictions before leaving.
Don't drink and drive
The rules for drink driving in Denmark are strict and penalties can be severe – rightly so. If you're tested and found to have a blood/alcohol level of or in excess of 0.5g per thousand, you're driving under the influence here, with the punishment consisting of a large fine or even a jail sentence (this is the normal outcome if you cause an accident). Like other countries, Denmark has a penalty point system, and you can be hit with a point for offences like breaking the speed limit by over 30%, dangerous driving, tailgating another vehicle, not making sure any children under 15 are wearing a seatbelt, not yielding to oncoming traffic or speeding up when you're being overtaken.
Emergency numbers
Enter these emergency numbers in your phone for your upcoming trip to Denmark – they'll come in handy in the unlikely event you experience trouble. You should call 112 in the case of any life-threatening emergency and request an ambulance, the police or the fire department. 1813 is the number to call if you're suddenly taken ill and need to talk to a doctor, nurse or hospital emergency department. 114 is the number for the police – when the matter isn't an emergency.