The 15 Best Cities in the US to Celebrate St. Patrick's Day
St. Patrick's Day, which commemorates the Irish saint's death in the 5th century, is observed on March 17th every year. Over the last 1,000 years, the Irish have commemorated this day as a religious festival, which now has global fame as a celebration of all things Ireland. Because St. Patrick's Day occurs in the middle of Lent, many Irish people traditionally chose to spend the morning at church and the afternoon at a St. Patrick's Day celebration. But today, in celebration of Ireland's patron saint, national monuments such as fountains and even rivers (we're looking at you, Chicago!) are painted green, and streets are filled with extravagant parades that will have you dancing along in beer-soaked glee!
Every city has its own distinct flair for celebrating St. Paddy's Day. Read on to discover the 15 best cities in the U.S. to celebrate St. Patrick's Day!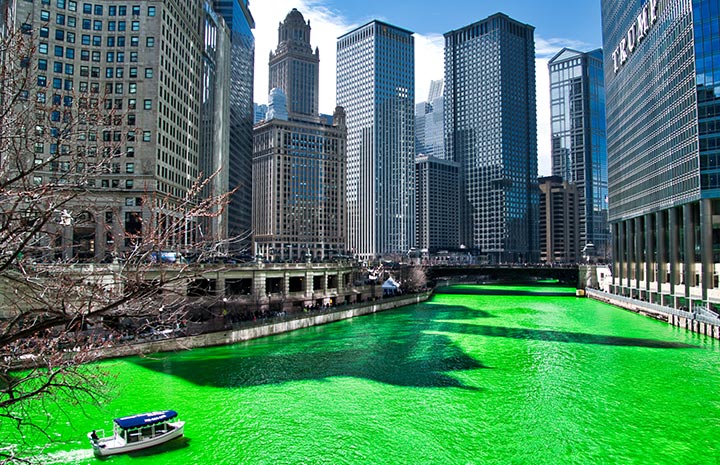 1. Chicago, Illinois
The Windy City is home to one of the most spectacular St. Patrick's Day celebrations in the nation. The Chicago River was dyed an emerald green color on March 12th in honor of the celebration. In the parade that travels from Balbo to Monroe, there are several gorgeous floats, as well as bagpipers, bands, Irish step dancing, and flags of the Emerald Isle. The town will be painted green everywhere you turn, so participate in the festivities by channeling some leprechaun magic of your own! One of the best Irish pubs to visit is Galway Arms, which offers traditional Irish cuisine and beverages and has live Irish music performances.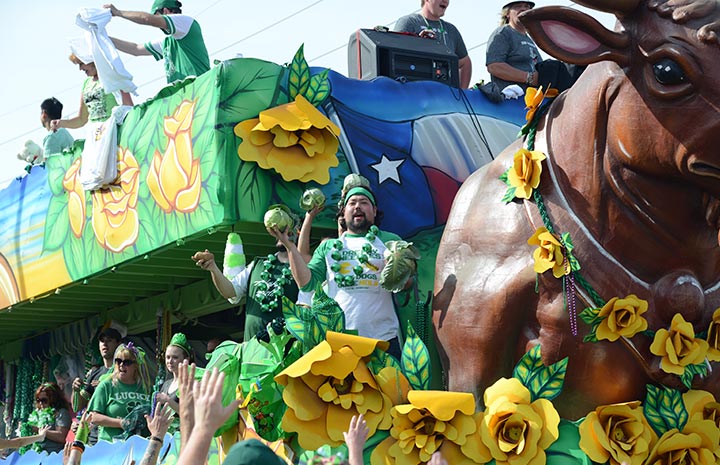 2. New Orleans, Louisiana
A weeklong St. Patrick's Day celebration follows directly on the heels of Mardi Gras in the Big Easy. Since the 1700s, when Irish Catholics fled religious persecution, the Big Easy has been home to a large number of Irish people. Rather than a single parade, the New Orleans St. Patrick's Day Parade takes place over a three-week period. In the Irish Channel, a historic area founded by Irish immigrants in the early 1800s, you'll find parades and block parties that you won't want to miss. The Metairie Parade is another centerpiece done in classic New Orleans style. The French Quarter also has a massive block party on March 17th, attracting people from all around the city.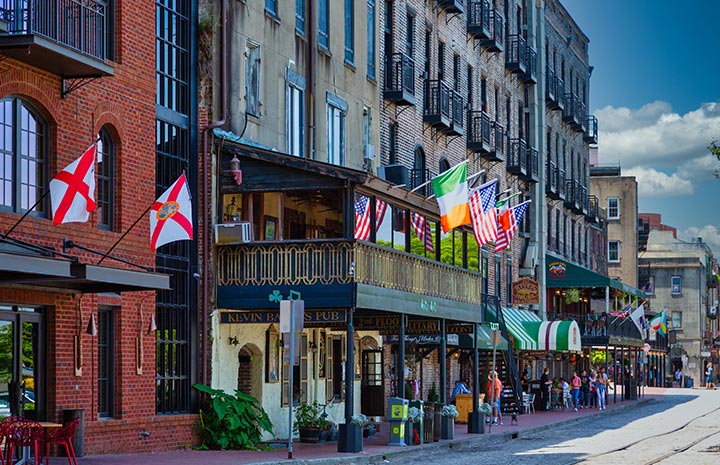 3. Savannah, Georgia
Savannah boasts several days of St. Paddy's festivities culminating on March 17th in the St. Patrick's Day Parade. Expected to bring over half a million visitors this year, the path of the parade takes in the whole city's historic center, and everyone is welcome to join in the fun, as long as they're dressed to the nines in green. Much like Chicago, an annual tradition at Forsyth Park is the ceremonial "Greening of the Fountain" on the Friday before St. Patrick's Day (March 11th this year). As the fountain glistens green, crowds congregate on the town's grassy squares.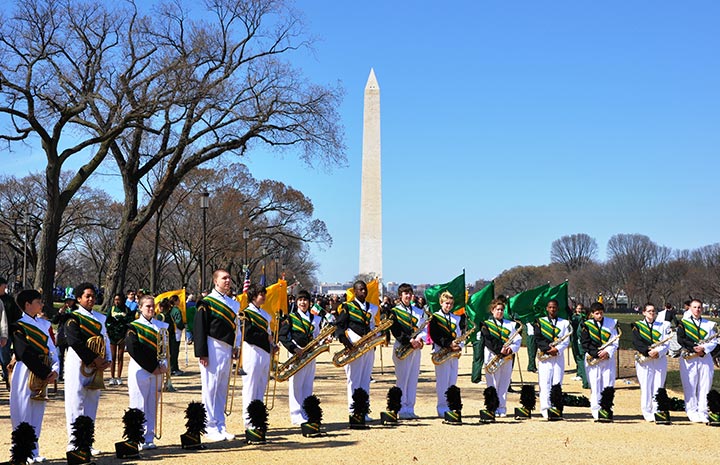 4. Washington D.C.
In Washington, D.C., St. Patrick's Day is a huge celebration. Every year, more than 50 Irish bands, dancers, games, and a variety of other activities are included during the Shamrock Festival in New York City. Among the various attractions are carnival rides and an Irish town, to name a few. Constitution Avenue comes to life during a 2.5-hour themed parade, which includes military, police, and fire departments, marching bands, dancers, and floats. After the parade, several Irish pubs will be open, where you may drink Guinness and enjoy shepherd's pie, complemented by a pint of the stout beer.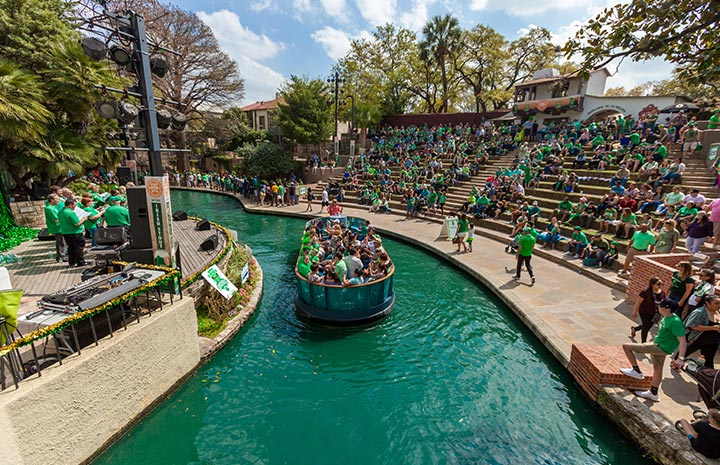 5. San Antonio, Texas
The San Antonio River Walk, a 2.5-mile boardwalk dotted with restaurants and bars, is the place to be to see the St. Patrick's Day River Parade. They, too, color their river green! But unlike Chicago, where the dye only lasts a few hours, the slow-moving waters of the meandering San Antonio River mean that in San Antonio, the dye normally lasts 2-3 days during St. Patrick's Day celebrations. Saturday, March 19 at 4 p.m. is the date for this year's River Parade. So gather your pals and get ready to paint the town green!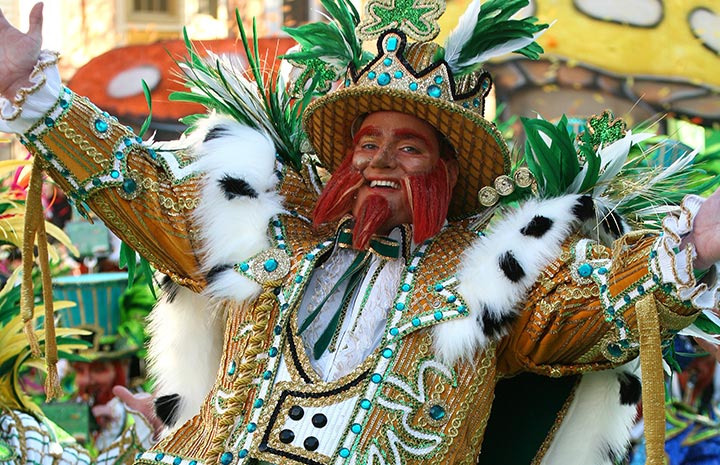 6. Philadelphia, Pennsylvania
In Philadelphia, the St. Patrick's Day Parade dates back to 1771, making this year's festivities the 250th anniversary! Pub crawls in Philadelphia are a must if you're looking for a night of boozing and chugging beer till you see leprechauns. Only one bar crawl is bigger than all the rest: Urban Craft & Crawl's official St. Patrick's Day bar crawl begins at noon on Saturday, March 12th, and involves a dozen establishments and an estimated 10,000 attendees. Yowzers. The parade will begin at 11 a.m. on Sunday, March 13. On Saturday, March 12th, and Thursday, March 17th, there's the Shamrock Crawl, a two-day festival that includes activities at more than 50 pubs and eateries.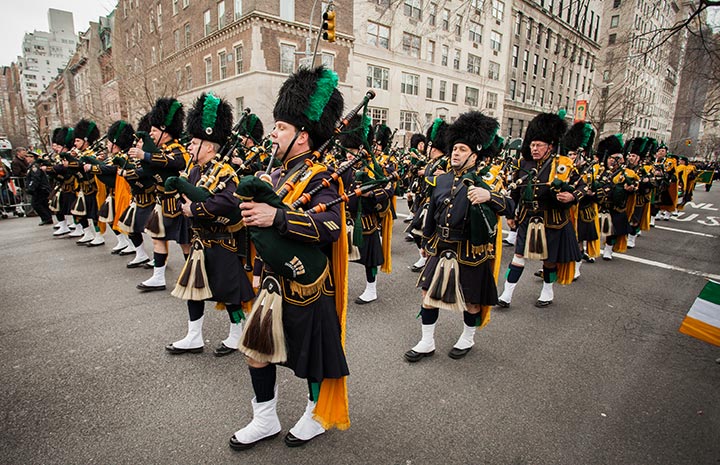 7. New York City, New York
The annual New York City St. Patrick's Day Parade, which dates back to 1762, is the country's oldest and biggest St. Patrick's Day parade, with more than 300,000 participants parading in front of approximately two million spectators. The procession starts at 44th Street and travels up Fifth Avenue, walking past the historic St. Patrick's Cathedral, a Neo-Gothic masterpiece built as a tribute to its namesake Dublin cathedral. While the parade is the primary event, there are plenty of bars and clubs in New York City to keep the celebration going. You'll see people wearing green and drinking Guinness all around the city—usually in an Irish bar.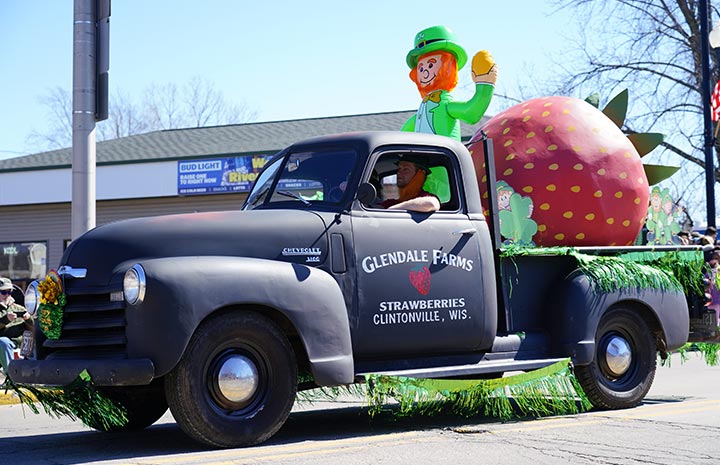 8. New London, Wisconsin
We bet you didn't expect to see Wisconsin on this list but you might be surprised to learn that New London is the place to go for a truly unforgettable and unique St. Patrick's Day celebration, unlike any other. Locals put on an Irish funeral parody complete with a mock funeral procession, an antique hearse, and coffin theatrics in this quaint city, which is located about 40 miles west of Green Bay, Wisconsin. The quirky St. Paddy's Day festivities also include leprechauns changing the city signs to read "New Dublin" and locals changing the city signs to read "New Dublin." If that isn't isn't a classic example of Irish humor, we don't know what is.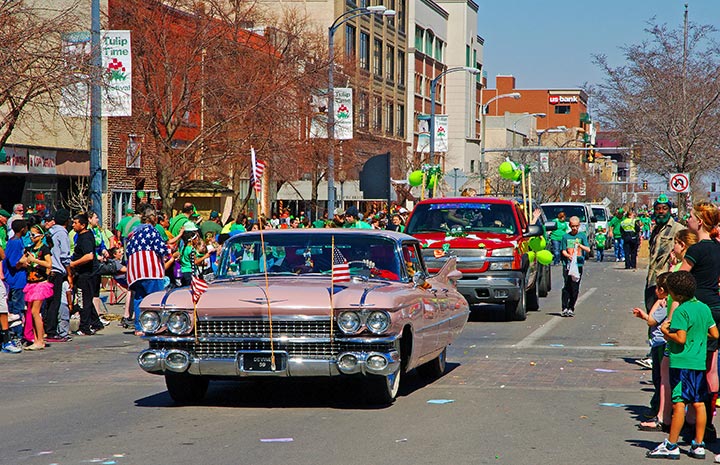 9. Kansas City, Missouri
On St. Patrick's Day, Kansas City hosts one of the biggest parades in the country, honoring everything Irish. A single bagpiper leads the procession after a special Gaelic Mass. Hundreds of floats, dance groups, and other entertainers flood the streets, bringing joy and laughter to those who see it. While that sounds kosher and all, did you know that a few miles north, North Kansas City is celebrating St. Patrick's Day in a completely different way? Dubbed 'Snake Saturday', the event involves no snakes but honors an Irish tale about St. Patrick driving pagans, or snakes, from Ireland. There is a two-day carnival, a charity barbecue cook-off, and a lads and lasses tournament for children to keep the party going all weekend long. Today, the Snake Saturday Parade & Festival has grown into the area's biggest family-friendly Irish event.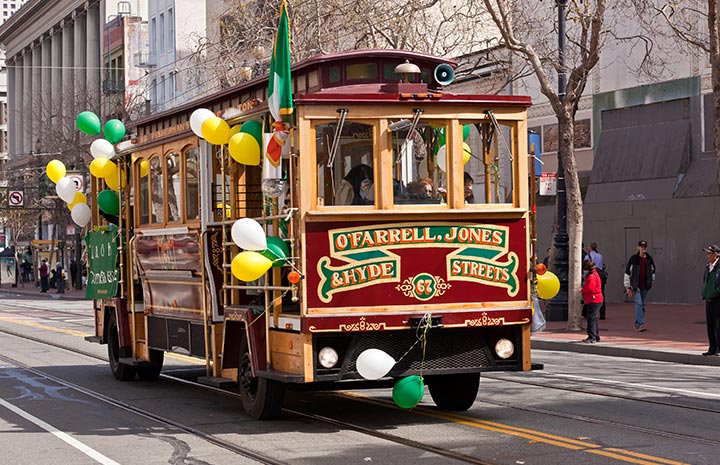 10. San Francisco, California
The Golden Gate Bridge and cable cars of San Francisco are well-known, but the city was also home to a large number of Irish immigrants during the heyday of the "49ers," who came to the city in search of gold. Over a hundred floats, Irish dancing troupes, and marching bands will make their way through San Francisco for the annual St. Patrick's Day Parade. The procession begins at the intersection of Second and Market and proceeds toward City Hall. There will also be pub crawls, Irish dinners, scavenger hunts, as well as an abundance of beer. Although there are over 15 Irish pubs that pepper San Fran. This year, the San Francisco St. Patrick's Day Festival and Parade is expected to attract well over 100,000 visitors!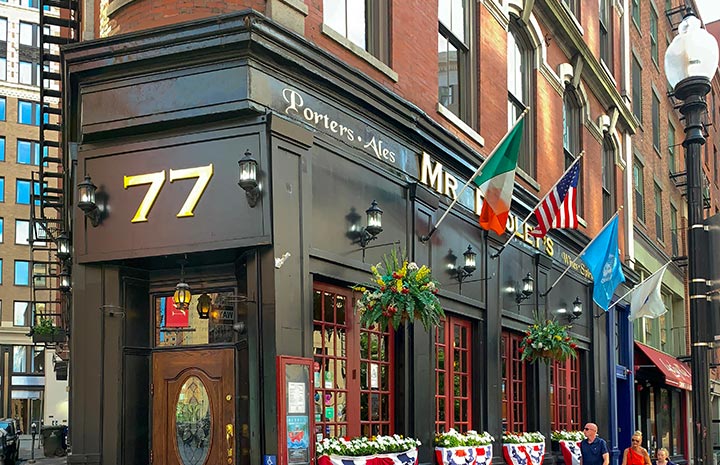 11. Boston, Massachusetts
St. Patrick's Day festivities in Boston are legendary. It's estimated that about a quarter of all Boston inhabitants are descended from Irish immigrants. Boston's St. Patrick's Day parade, one of the world's largest, started in 1901. Festivities begin weeks in advance of the actual occasion and include Irish band performances, an Irish film festival, and festivities at Irish pubs and local brewers. The three-mile parade through South Boston is the event's high point, including a slew of colorful characters, Irish bands, dancers, bagpipers, floats, and plenty of Irish joy. While in town, the Black Rose is a must-visit Irish bar. For those who want to learn more about Boston's three centuries of Irish culture and history, the 3-mile self-guided Irish Heritage Trail is an excellent idea.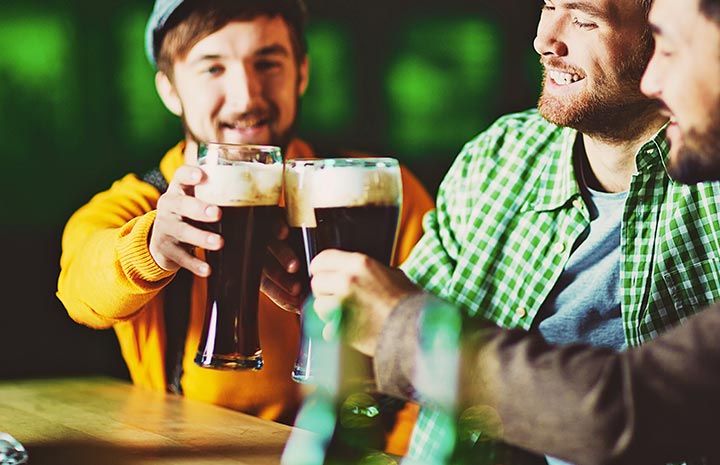 12. Hot Springs, Arkansas
Inside the Great Smoky Mountains National Park, the world's smallest St. Patrick's Day parade takes place. This is because it is held on Bridge Street, which is only 98 feet in length. Nevertheless, this doesn't put a damper on the excitement at all. The procession is fittingly odd, thanks to the inclusion of a few world-record-breakers: the World's Largest Inflatable Irish Pub, for example, makes up for being the shortest in history by being the largest in the world. There will also be Irish Elvis impersonators and a marching band of kazoos in the parade, among other things. The festivities will formally begin at 3 p.m. on Thursday, March 17th.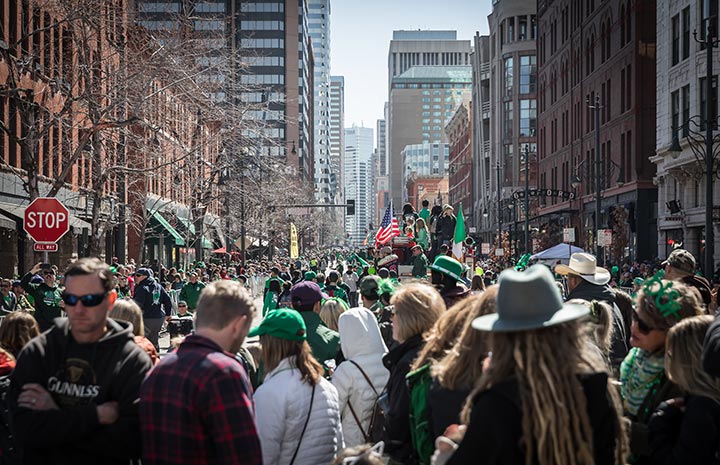 13. Denver, Colorado
Denver has the largest parade west of the Mississippi, which is the largest in the country. The St. Patrick's Day Parade, which is the city's most popular yearly event, is expected to draw about a quarter of a million spectators this year. This year's Mile High City St Patrick's Day Parade will include ten thousand participants, floats, marching bands, dancers, Irish-themed entertainment with a Western twist, horses and stagecoaches, and other attractions, among other things. Apart from that, there are several Irish pubs in the neighborhood.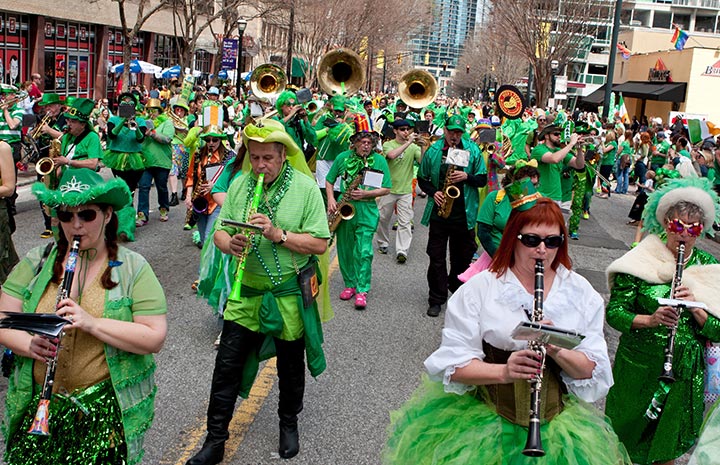 14. Atlanta, Georgia
When it comes to St. Patrick's Day celebrations, Atlanta is the wildcard entry that takes people by surprise when they learn how massive it is! One of the country's oldest St. Patrick's Day parades is the Big St. Patrick's Day Parade in Midtown Atlanta. This year's parade will include more than 2,000 people—including dancers, drill teams and piper and drum corps as well as bands, local and Irish officials, and even clowns (!). The world's biggest walking Irish flag and a five-story St. Patrick's Day balloon are two of the parade's most notable features. There should also be enough beer to get a leprechaun drunk (although that…doesn't seem like it would be too difficult?).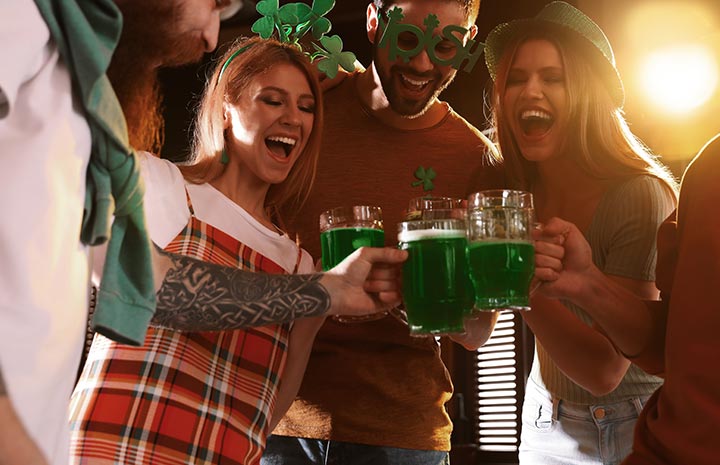 15. Phoenix, Arizona
The annual St. Patrick's Day parade and the Irish Family Faire in Phoenix are great ways to celebrate the holiday. Marching bands, bagpipers, Irish step dancers, floats, government officials, police cars, and fire trucks all take part in the procession, which also features the Arizona Irish Colleen and her Court. There will be Irish dancers and Celtic rock bands performing on various stages, craftsmen, pony rides, a petting zoo, and face painters during the fair that will follow. Corned beef and cabbage, as well as mugs of green beer and other drinks, may be found everywhere.