25 Best Places to Spend NYE in Europe 2022
It's taken a long time to shake off social distancing, but this year – finally – the world's biggest fireworks displays, street parties and festivals have been given the green light. But while it might be easier than ever to find a good party anywhere, some places just do it better.
So kiss goodbye to 2023 and ring in the new year at one of Europe's best places to celebrate New Year's Eve.
25. Budva, Montenegro
Montenegrins LOVE a party. New Year's Eve is often referred to as najluđa noć – the craziest night. Budva is the ultimate party town, holding the country's biggest New Year's Eve celebration. Local stars take the stage in the main square, where the atmosphere is vibrant and good-spirited. When the clock strikes midnight, fireworks take over the night sky, cueing oohs and ahhs from the crowd below. For the best vantage point, head to Crkva Santa Maria and prepare to be wowed.
Ideal for: Friends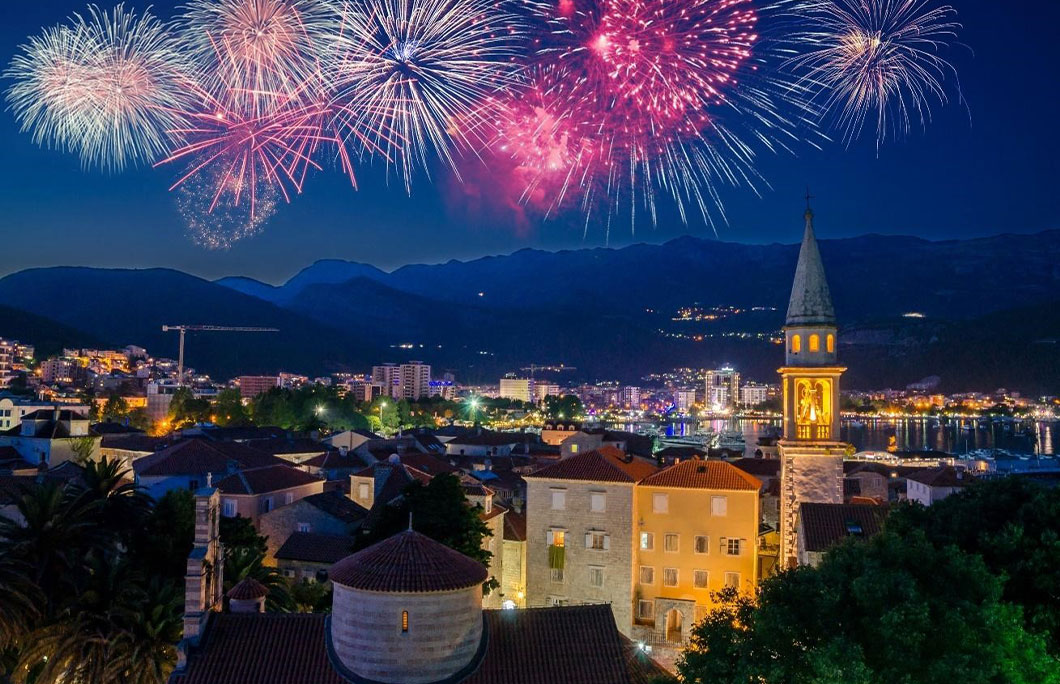 ---
24. Göhren, Germany
If you'd rather ring in New Year far from thumping parties and city crowds, Göhren could be just the ticket. Every year this sleepy seaside town, located on a small island in the Baltic Sea, hosts the "Beach Chair New Year's Eve". Everyone grabs a wicker chair for a front-row beach seat to the stunning fireworks over the water. There's usually a Medieval-inspired market, live music and fire dancers too.
Ideal for: Couples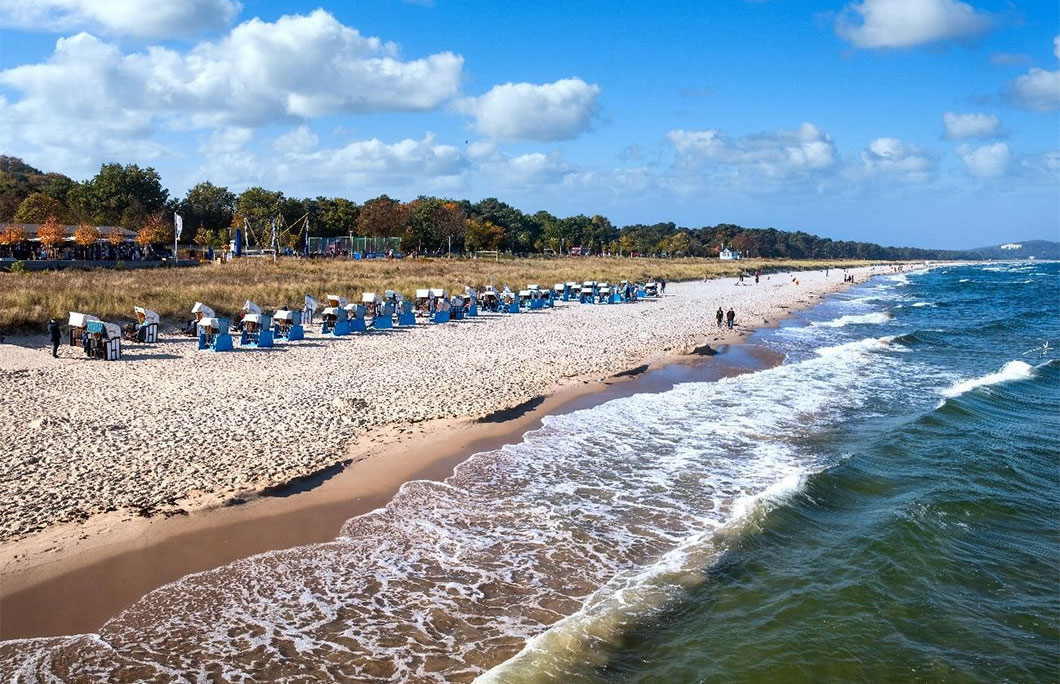 ---
23. Bratislava, Slovakia
Slovakia's enchanting capital is a beautiful place to spend New Year's Eve. Full of old-world romance and medieval charm, the city embraces the festive spirit like no other. Hlavne Namestie, the main square, is a bustling hub of traditional markets, but you'll find most stalls in Hveizdoslav's Square. After exploring the cobblestone streets and sipping a few mulled wines, visitors and locals gather to watch the magical firework display over the Bratislava Castle. There are a few excellent vantage points here, including Starý Most (Old Bridge), the UFO Bridge, and various points along the Danube River.
Ideal for: Families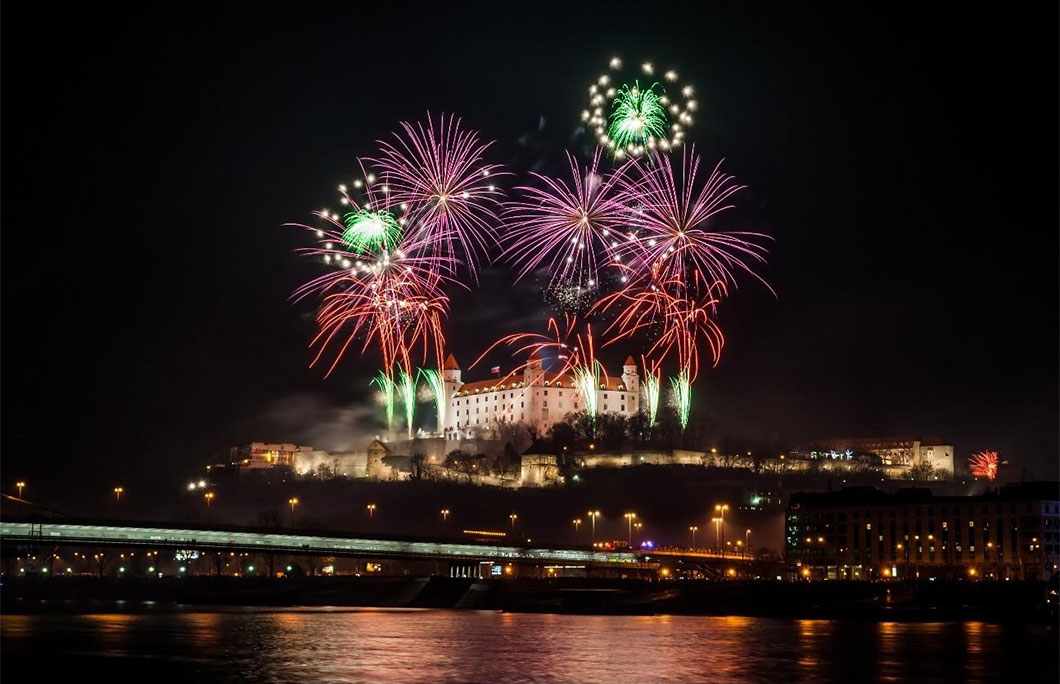 ---
22. Sarajevo, Bosnia
Sarajevo is the epicentre of New Year's Eve celebrations in the Balkans, with a huge annual concert taking place. Thousands flood into the city centre for the show, with the city, puts on for several days before the sky comes alive with fireworks at midnight. If you don't fancy waiting out in the cold, the Sarajevo National Theatre puts on a beautiful orchestra, or you can spend the evening at a luxurious gala dinner.
Ideal for: Friends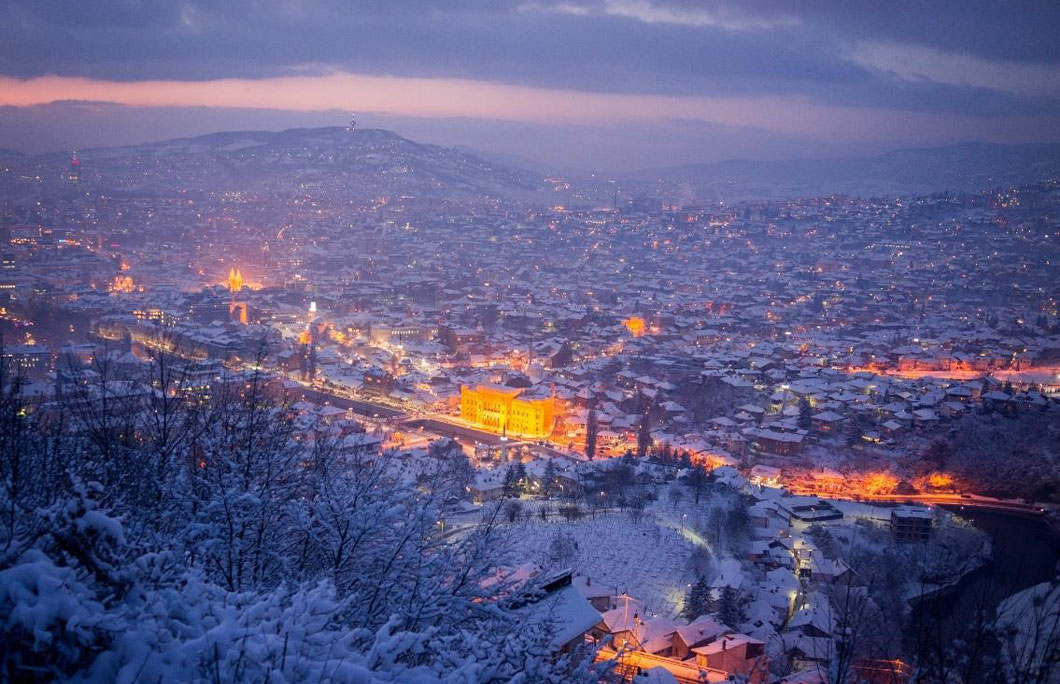 ---
21. Tenerife, Canary Islands
Swap snow for sand and treat yourself to winter heat in sunny Tenerife. It might be a slightly different start to the year than you're used to, but a healthy tan could be just the way to kick off your 2023. Restaurants and hotels put on special banquets for guests, with plenty of entertainment throughout the night. If you're feeling fancy, why not join a yacht party and watch the colourful firework displays in style?
Click here to compare car hire in Tenerife
Ideal for: Couples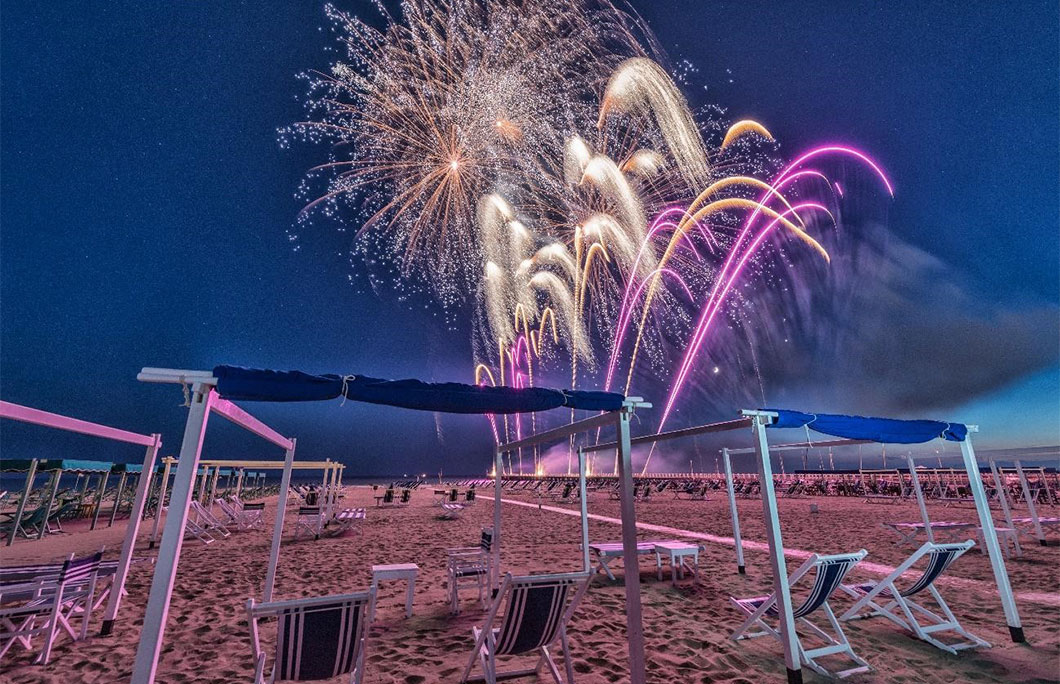 ---
20. Budapest, Hungary
The bustling Hungarian capital is bursting with old-world charm, making for a lovely setting for a memorable New Year's Eve. Cruises along the Danube River are a popular choice, whether that's an elegant affair or a classic booze cruise. Even if you're not on the river, you'll undoubtedly want to be beside it when the clock strikes twelve – the fireworks over the water are stunning. Or, head to Vorosmarty Square.
Ideal for: Couples, friends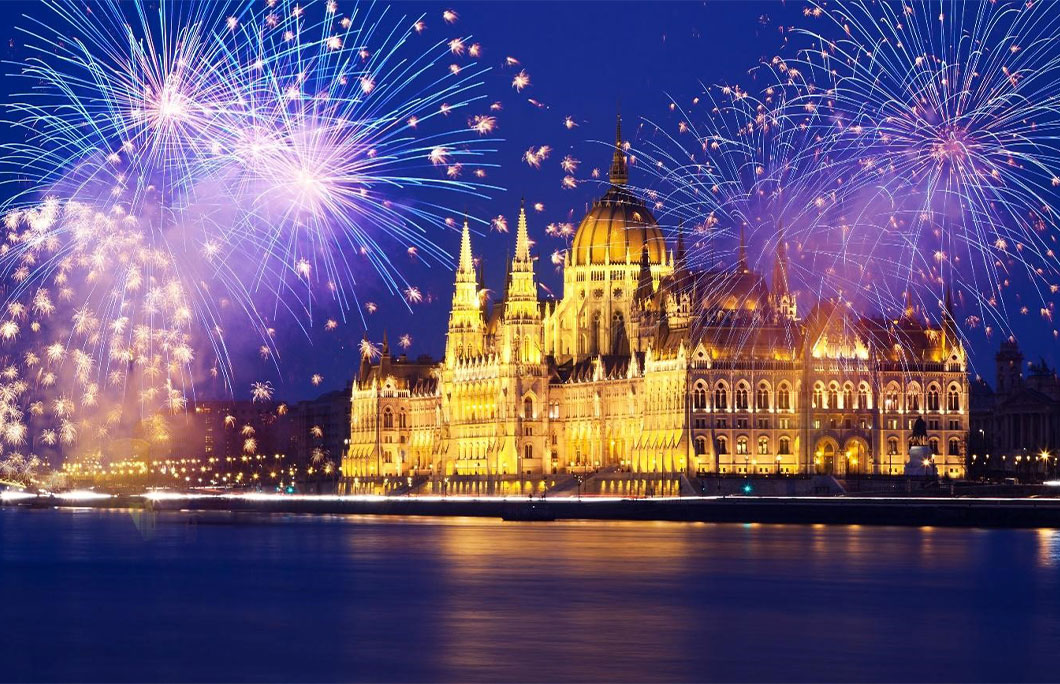 ---
19. Munich, Germany
For a taste of Bavaria, head to Munich for a memorable start to the new year. From good-spirited parties in Bavarian beer halls to opulent gala dinners, Munich is positively buzzing at this time of year. One of the biggest parties in the city is the Tollwood Winter Festival, where live bands and DJs play to a thumping crowd. There aren't any fireworks at the Tollwood Festival, though, so if that's what you want when it comes to the big countdown, the Old Town is where you'll want to be. And there are some gorgeous vantage points for catching the firework display – Olympic Hill, Marienplatz, and the Hofgarten are just a few.
Ideal for: Couples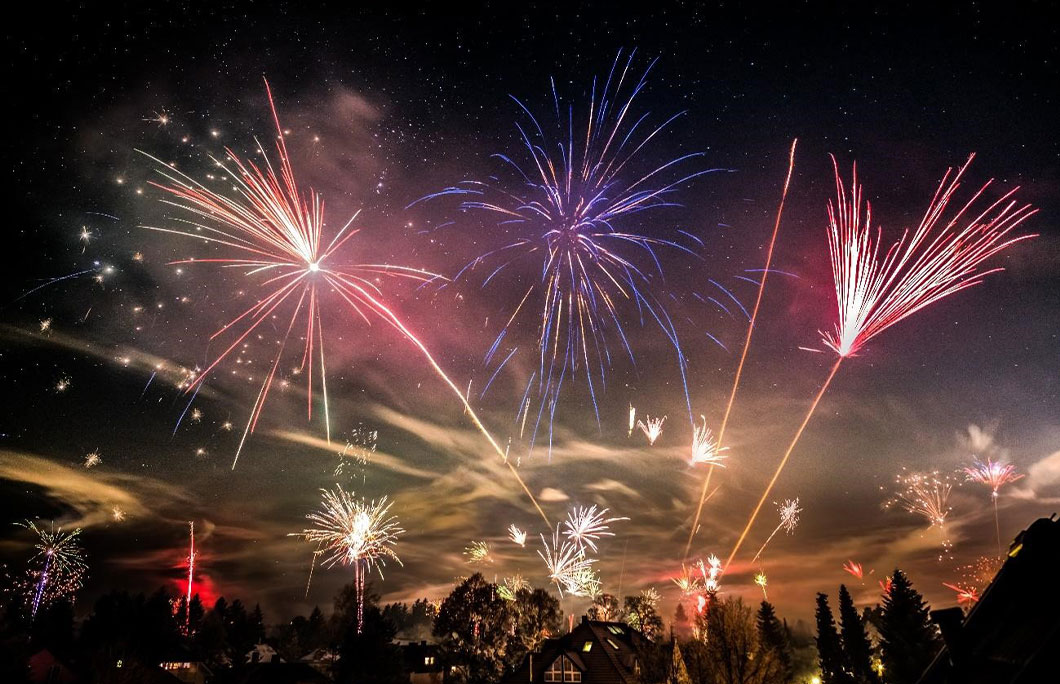 ---
18. Madeira, Portugal
New Year's Eve in Madeira is a special affair. The archipelago is known for its eternal Spring climate, but it also holds another impressive accolade having been recognised by the Guinness Book of Records as the world's largest firework display. Funchal is especially magical, with over 1 million colourful lamps setting the city alight. You can see all of the lamps and the fireworks from one of the many viewpoints (miradouros) – the Fort of São Tiago gets a particularly great view.
Ideal for: Families, couples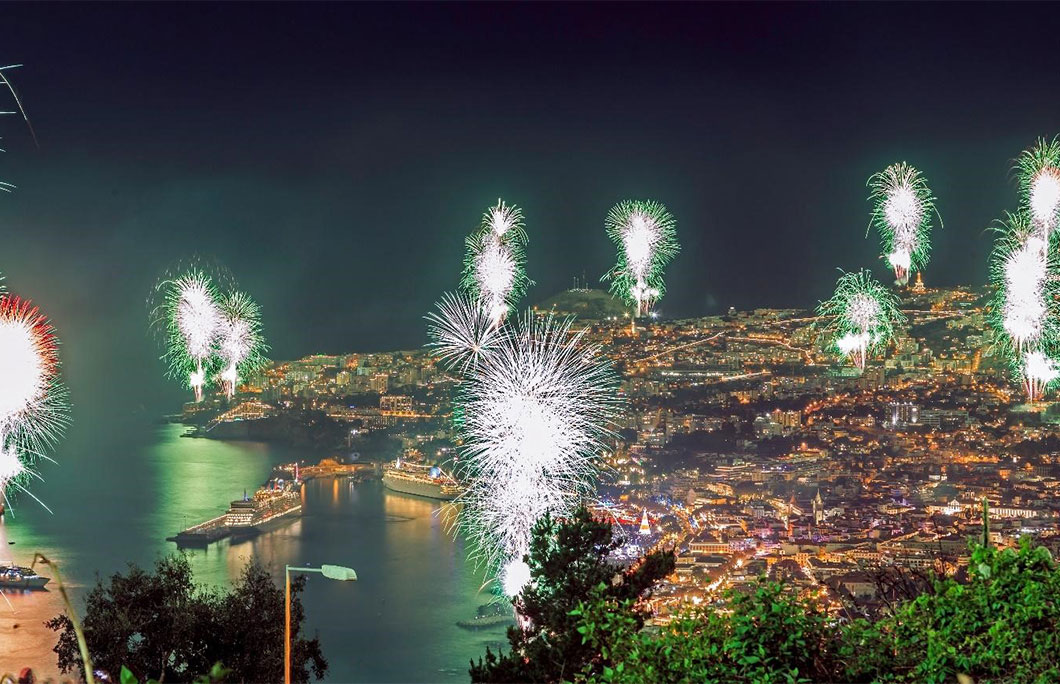 ---
17. Berlin, Germany
Berlin is a mecca of parties all year round, so it's no surprise that it's one of the best places to spend New Year's Eve in Europe. There are endless clubs, rooftop bars, and parties across the city, the biggest party of all is at Brandenburg Gate. The huge open-air event is electric, extending over 2 kilometres, with live performances, DJs, and plenty to eat and drink. It's considered to be the biggest open-air party in Europe. When the clock strikes midnight, stunning light shows will take the place of fireworks, although thousands of locals will set off their own fireworks creating a beautifully colourful sky.
Ideal for: Friends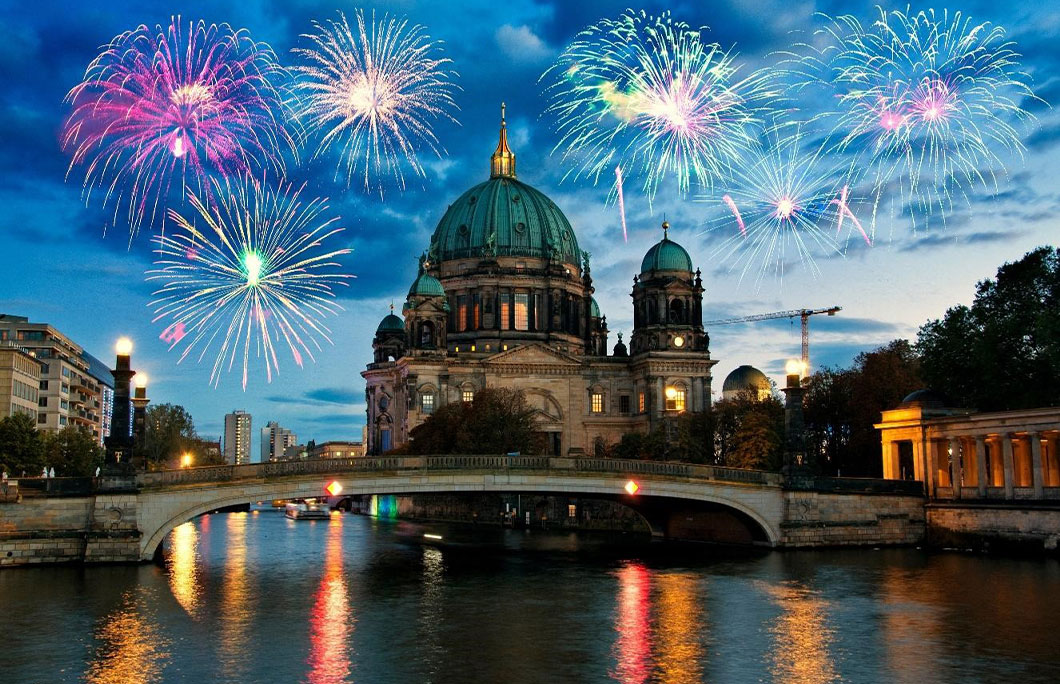 ---
16. Brussels, Belgium
Brussels knows how to do the festive season right, with a Winter Wonders event, a famous Christmas market, and an explosive New Year's Eve. The city is a happy mix of nightclubs, fancy gala dinners, festivals, river cruises, and parties to celebrate the night in question. Catch the legendary firework display light up the city's historic buildings at the Atomium, followed by a scintillating light show, unique entertainment acts, and a DJ set.
Ideal for: Families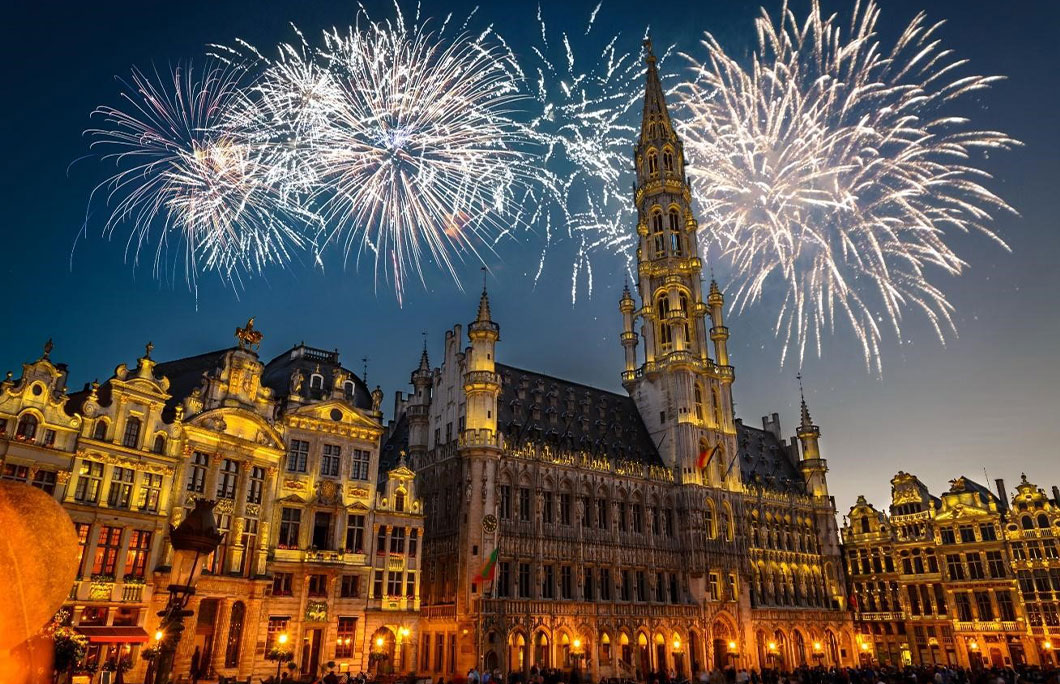 ---
15. Amsterdam, Netherlands
Is there anything Amsterdam can't do? Europe's capital of cool is a wonderful place to ring in the new year, with street parties galore. Dam Square is pumping with beer tents, live shows, and plenty of dancing. For the official city celebration, head to the Oosterdok and watch the sky come alive with fireworks and light displays when the clock strikes twelve, cheering warming mulled wines to a new beginning.
Ideal for: Friends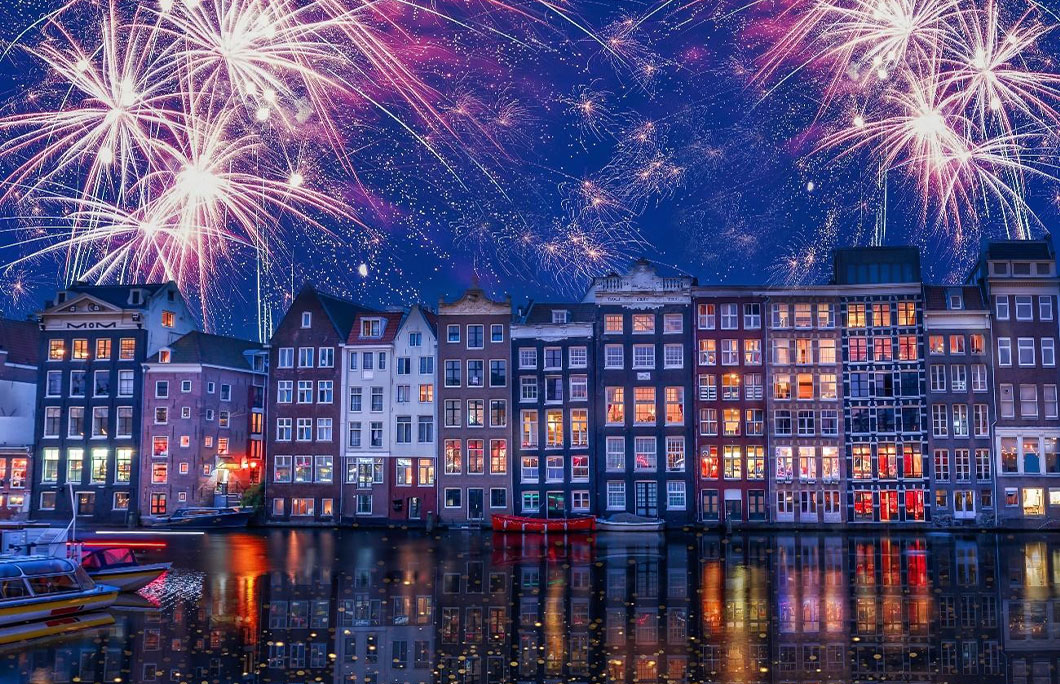 ---
14. Madrid, Spain
The party never stops in Madrid. It's one of the best places to spend New Year's Eve in Europe if you're looking for a big night out, with countless parties and club nights going on across the city. For the big countdown, tens of thousands of people gather in Puerta del Sol to catch the firework display. Spaniards also have a few New Year's Eve traditions up their sleeve. One of them is to eat a grape every time the clock bell strikes after midnight – so, twelve grapes which symbolise twelve lucky months ahead. The goal is to get the twelve grapes down before the bell stops ringing. You'll see lots of vendors selling grapes, and it could be the quietest you'll ever hear in Madrid with thousands of people trying to eat twelve grapes!
Ideal for: Families, friends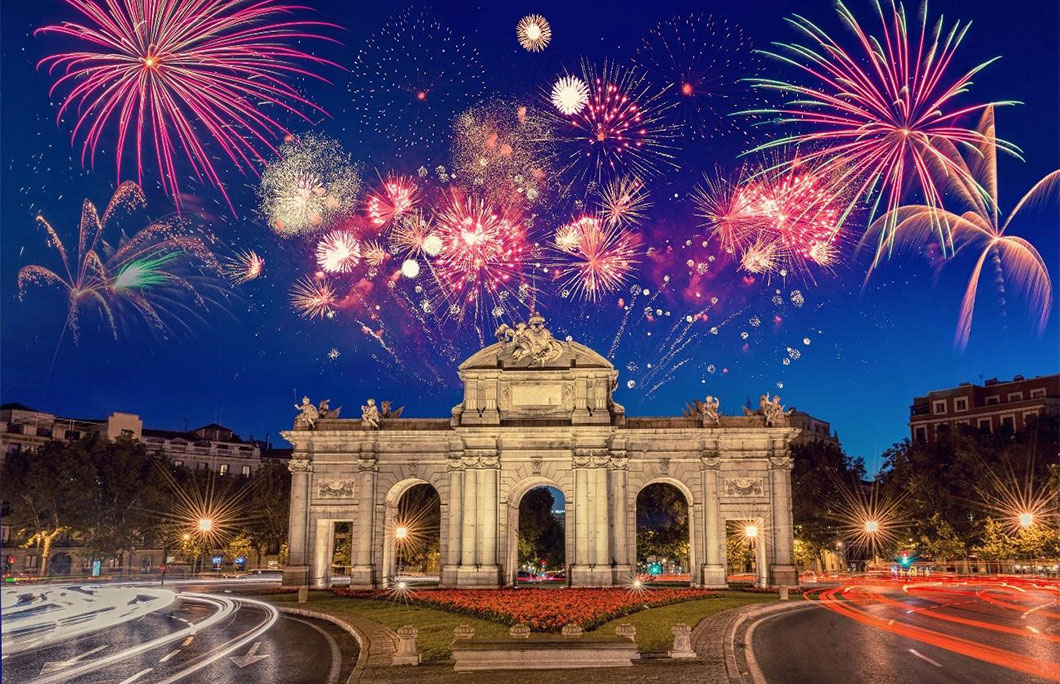 ---
13. Zurich, Switzerland
Zurich is a true winter wonderland – it's certainly one of the best places to spend New Year's Eve in Europe. Thousands flock to the cobblestone streets of the Old Town to hear the iconic dongs of the Grossmünster bells at midnight, before heading to Lake Zurich to catch the fireworks. Many (around 100,000 people) spend the whole evening at the lake, embracing the cold of this open-air party while watching live performers and warming themselves up with plenty of food and drink. Fireworks are launched from three ships on the lake, so you'll get an incredible view no matter what, but high-rise restaurants and rooftop bars are particularly popular to catch the gorgeous vista of the city.
Ideal for: Couples, families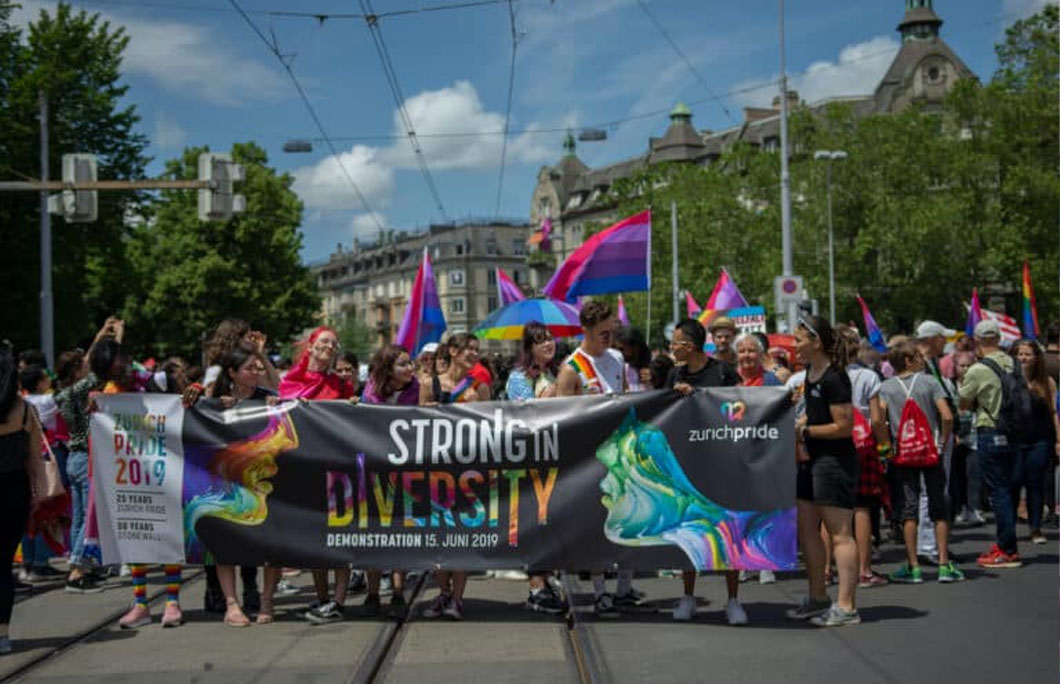 ---
12. Athens, Greece
When it comes to New Year's Eve, Athens is bursting with celebrations. As well as tucking into delicious Greek food and partying on the pedestrianised streets of Thissio, enjoying the live music and performers, visitors get to see something truly special. A firework display lights up the ancient Acropolis, visible from across in Athens, creating a memorable moment. Syntagma Square is another popular NYE spot, turning into an open-air party of street performers, food, ice skating, and plenty of drinks.
Ideal for: Families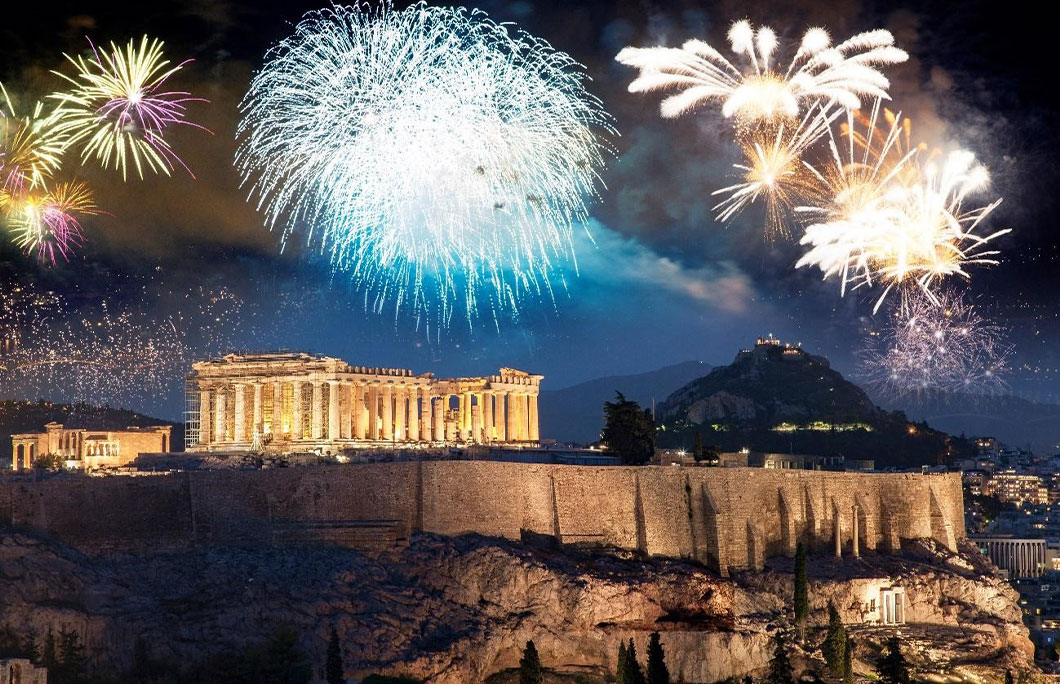 ---
11. Venice, Italy
Venice offers something unique for New Year's Eve. Locals have a few traditions for the big night, one being a chilly morning dip in the Lido. The canal city is at its busiest during this time, with thousands of tourists flocking here to experience the legendary fireworks. Most people gather in St. Mark's Square, taking in the colourful views across iconic, historic buildings. If you want to escape the crowds, head to Giudecca, where you'll get wondrous views over the lagoon.
Ideal for: Couples, families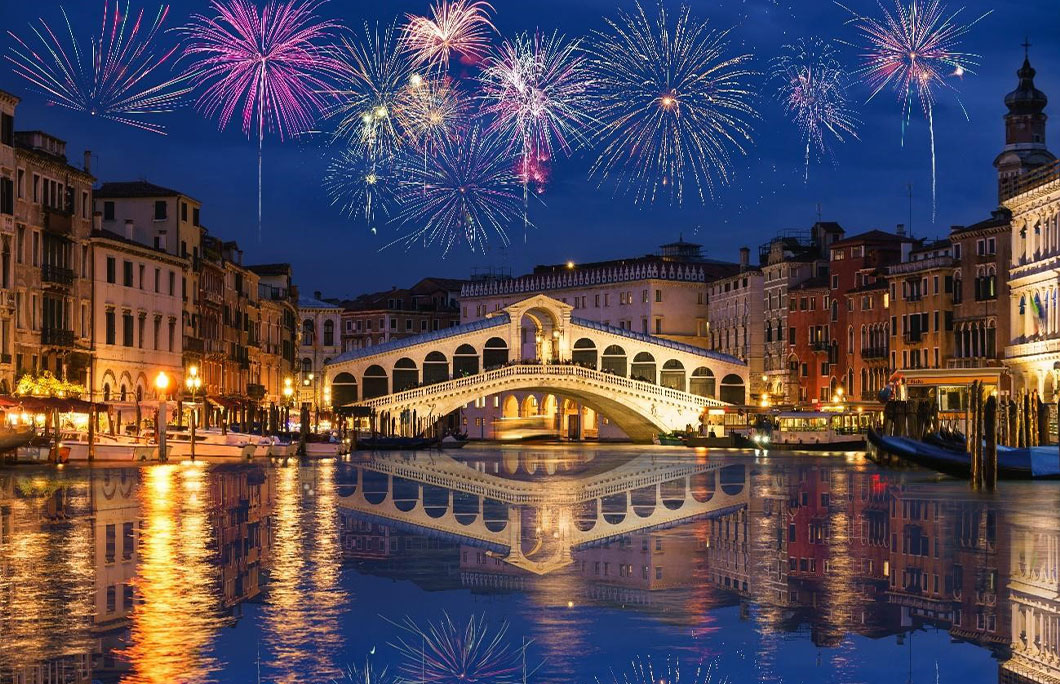 10. Lisbon, Portugal
The possibilities of spending New Year's Eve in Lisbon are endless. The main party is a blowout in Praça do Comércio, Lisbon's main square, with plenty of live performances keeping you entertained before the main event – the firework display. Remember to bring bottles of fizz and plastic cups with you. Lisbon is known for its viewpoints (miradouros), particularly in Almada – any one of these will have incredible views across the Tagus River set alight by vibrant fireworks. Afterwards, bar hopping in Bairro Alto is a must, before ending the night in one of Lisbon's clubs.
Ideal for: Friends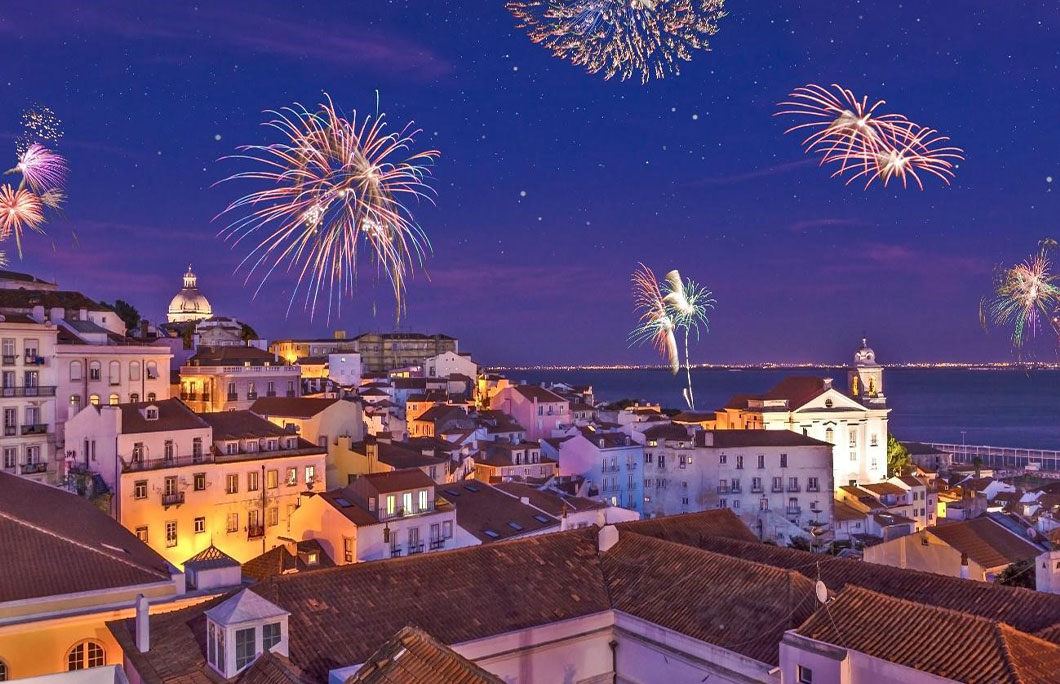 ---
9. Prague, Czech Republic
Prague is a party goer's paradise when it comes to New Year's Eve. The Prague Pub Crawl is a legendary tradition, with hundreds of patrons joining in on the fun. And it's not just the crawls that reign supreme here, the city comes alive with parties, boat cruises, and of course, firework displays. Locals put on their own displays across the city, but predominantly in Old Town Square and Wenceslas Square. And the fun doesn't stop there – the city puts on an official firework display on New Year's Day.
Ideal for: Friends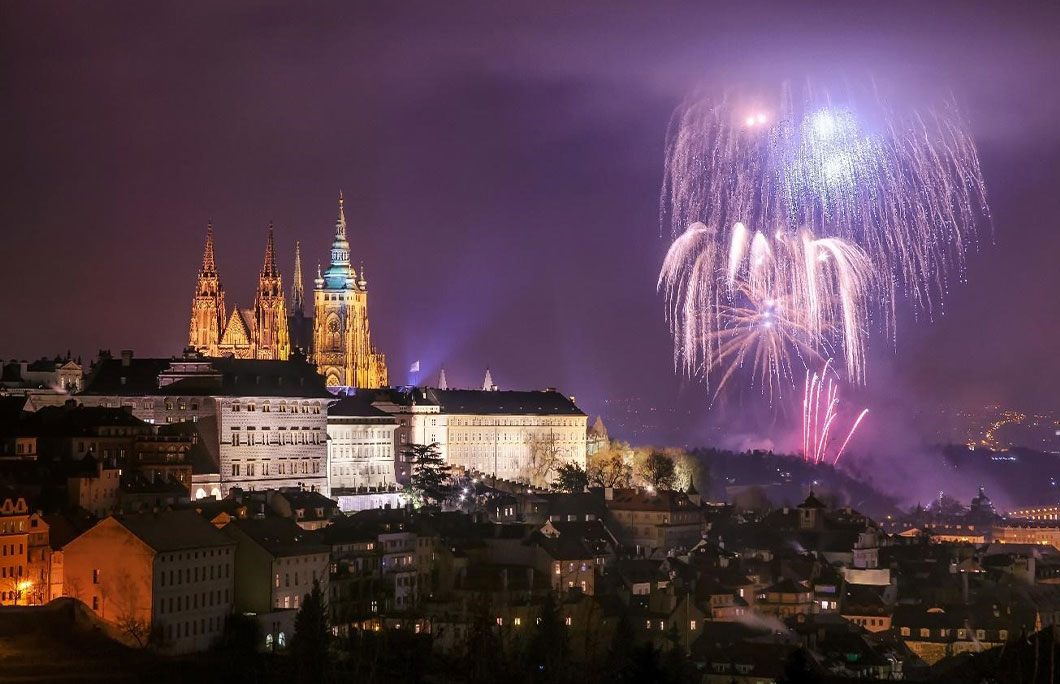 ---
8. Paris, France
The City of Love is certainly one of the more romantic places to ring in the new year. As expected from impossibly chic Paris, the city knows how to put on a good New Year's Eve party – watch fireworks burst over the Eiffel Tower, Arc de Triomphe, and Champs Elysee to kick off your year in style. Over 300,000 people join in on the celebrations, starting from around 9 pm with live DJ sets and video projections. If you want to escape the crowds, why not treat yourself and your beau to an elegant river cruise?
Ideal for: Couples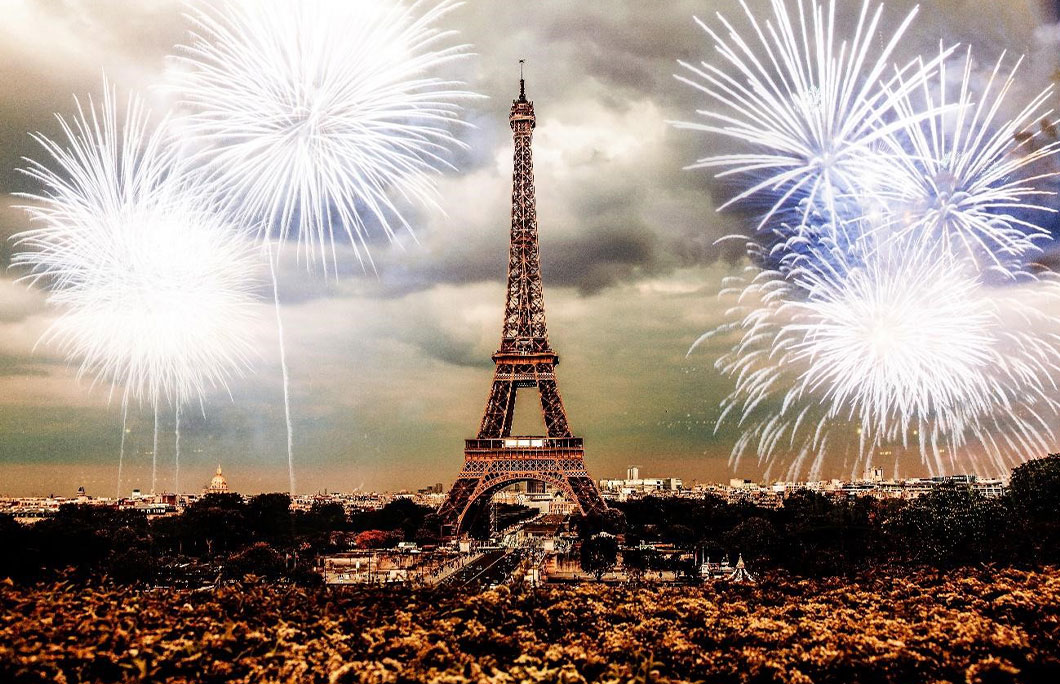 ---
7. Val Gardena, Italy
Fancy ringing in the new year in the Dolomites? Alpine villages tucked between mountains are enchanting at the best of times, but during the festive season, the twinkling lights add another sprinkle of magic. This resort takes New Year's Eve to another level, with three days of celebrations. Spend your days on the slopes, taking in the mountain landscape, and spend evening bar hopping, attending parties, catching live DJ set6s, and even taking a torchlit descent on your skis. For the big countdown, the evocative panorama of the Dolomites comes alive with a gorgeous firework display.
Ideal for: Friends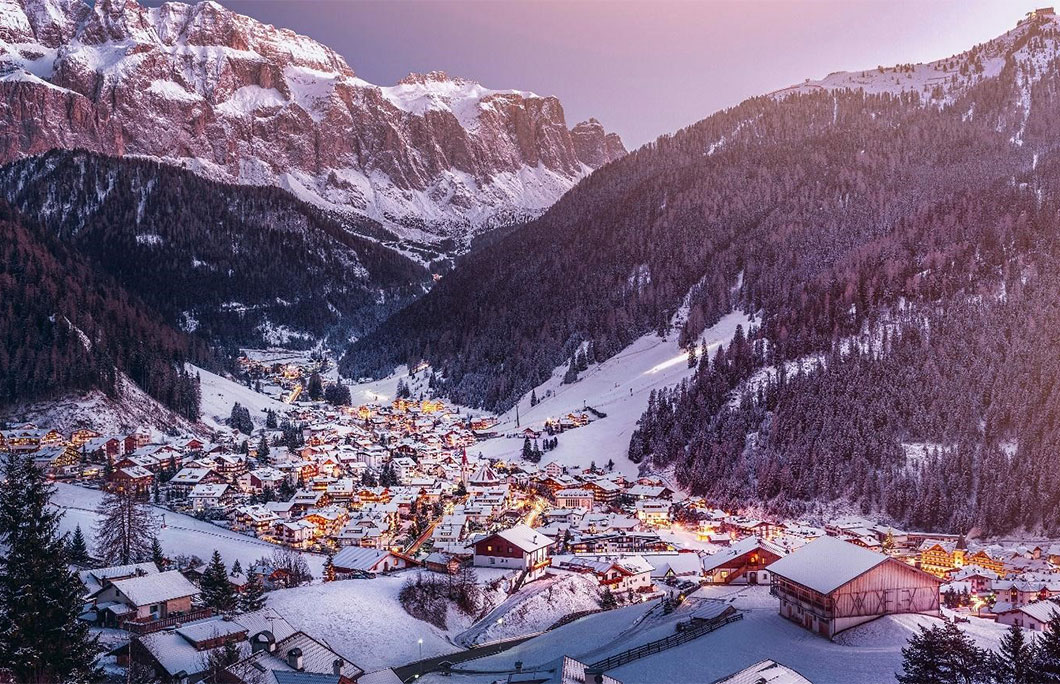 ---
6. Reykjavik, Iceland
You'll want to wrap up warm but ringing in the New Year in beautiful Reyjavik is worth the cold. Despite not having an official firework display, the fireworks here are some of the most impressive in Europe as put on by the people of Reyjavik themselves. They also go big on the bonfires (brenna) here, then around 200,000 people start setting off 500 tonnes of fireworks from 11.30 pm. Like all good celebrations, the fireworks are preceded by hours of dancing and singing.
Ideal for: Solo travellers, families, young people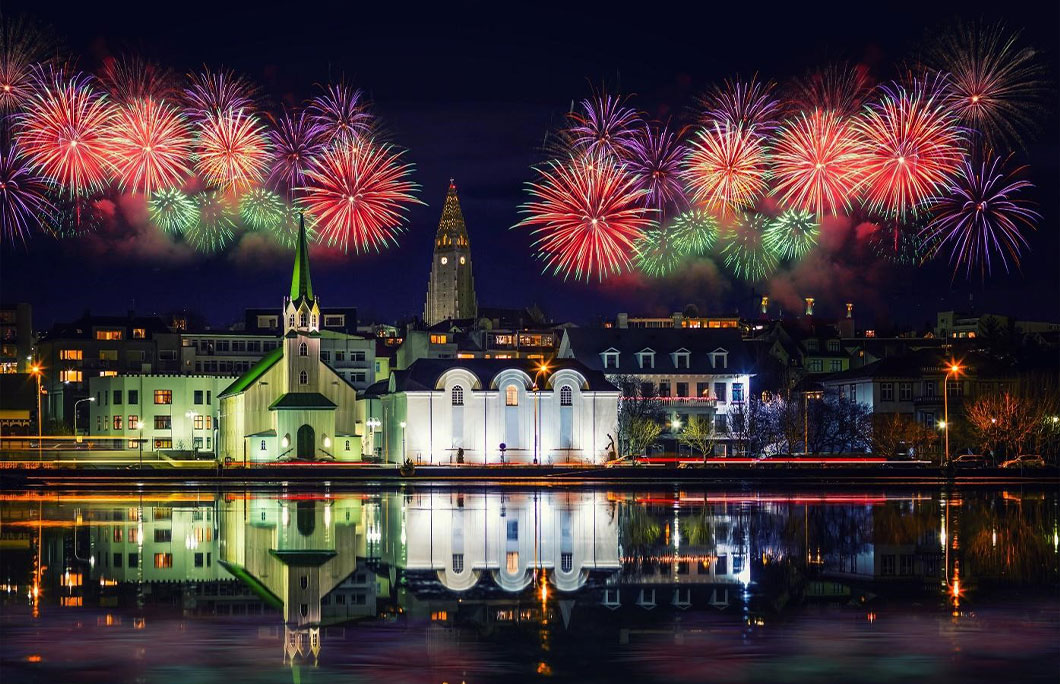 ---
5. Bled, Slovenia
Bled is one of the most magical places in all of Europe. It's a fairy tale town with castles, cobblestone streets, and of course, a famously gorgeous lake. Spending New Year's Eve here is a wonderful choice for those looking for a change from the thumping crowds of cities. Spend a wholesome evening ice skating, walking around the Winter Fairytale, tucking into a gala dinner, and enjoying a drink with a view of the lake, before the fireworks light up the sky and castle at midnight. Bled also hosts the country's biggest New Year's Eve party for the little ones.
Ideal for: Mature couples and families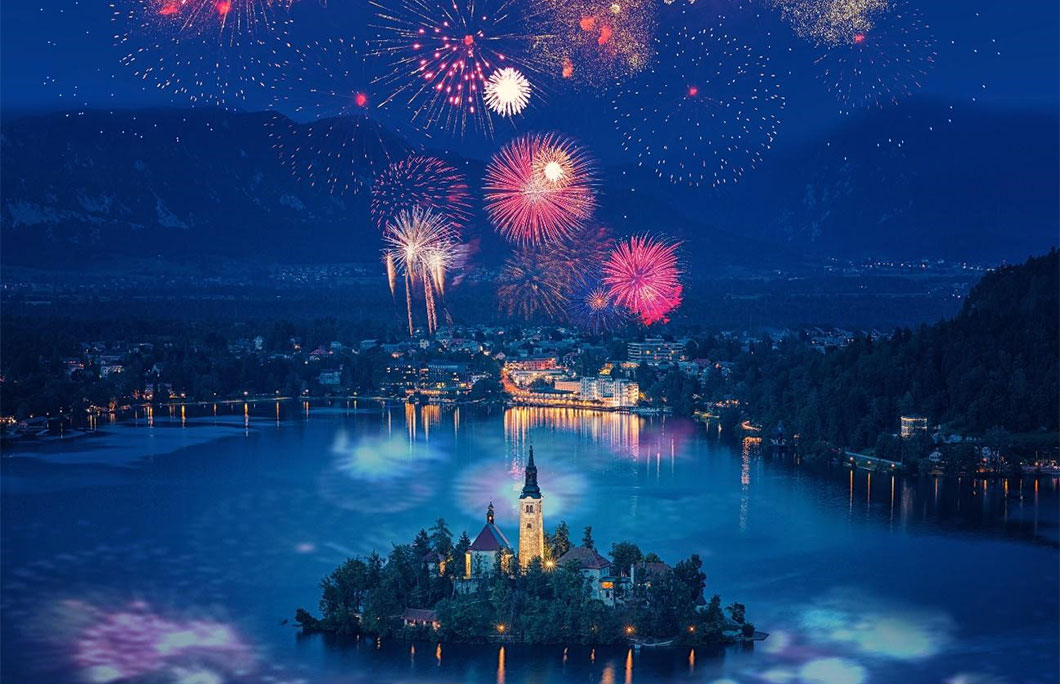 ---
4. Tromsø, Norway
Swap fireworks for the Northern Lights and head to Tromsø for a New Year's Eve to remember. Ring in the new year in the Arctic Circle by doing as the locals do and hiking up to a high spot before midnight. Mount Storsteinen is a particularly popular spot – you can get a cable car up there if a hike is a bit too much. Just remember to pack your warming mulled wine and you're good to go. The view of the glittering town below is incredible, and the fireworks make it even better. But once the firework display comes to end, they'll be quick to humble when the enchanting Northern Lights come out to play. There are plenty of bars open to continue the celebrations or wangle yourself an invite to a local's house party.
Ideal for: Activity lovers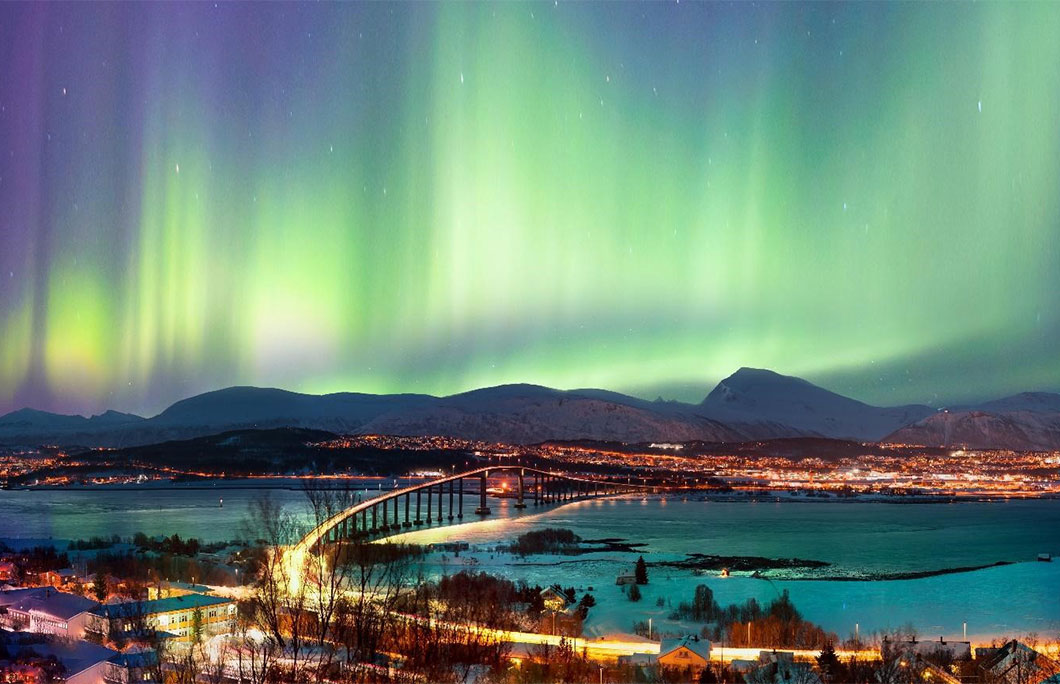 ---
3. London, England
London is one of the most famously exciting places to spend New Year's Eve in Europe. After being put on hold for the past two years, the city's legendary firework display is back with a (literal) bang to ring in 2023. Crowds gather along the Thames to catch the special moment – when the bongs of Big Ben ring out and over 12,000 fireworks shoot into the sky, lighting up some of London's most iconic buildings. There are countless parties going on around the city after the big moment, or you can catch it all from a glitzy river cruise. The fun doesn't stop there – watching the New Year's Day Parade is a wonderful way to spend your first day of 2023.
Ideal for: Families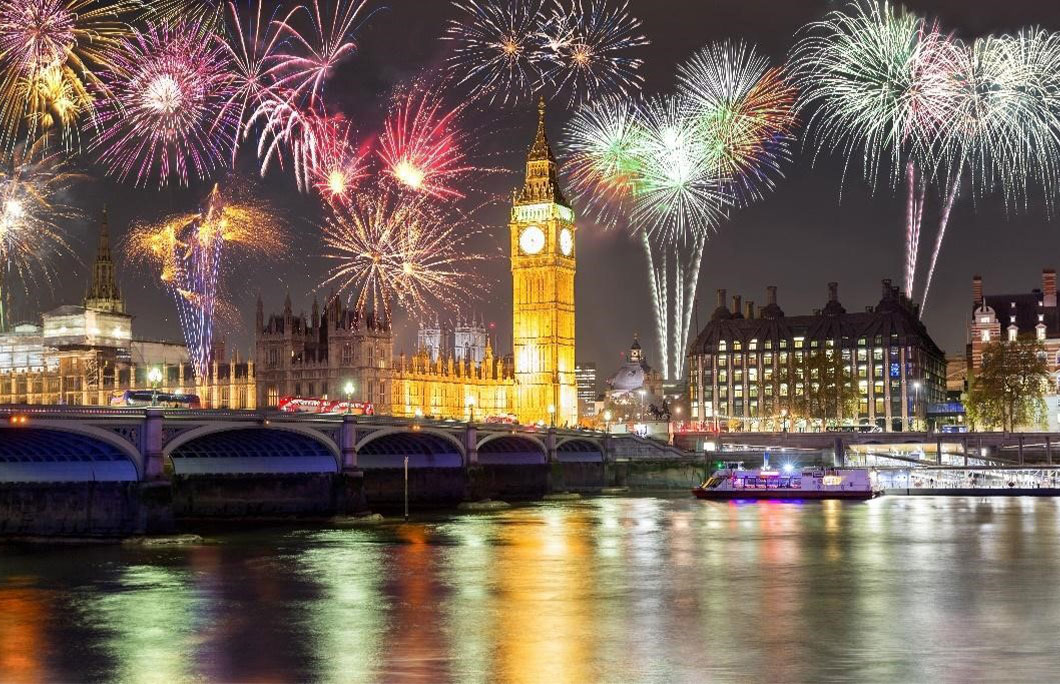 ---
2. Vienna, Austria
For a night to remember, head to Vienna. With tonnes of sophisticated galas and parties to ring in the new year, the city offers a splash of culture to the celebrations. But if a gala and banquet dinner in a palace, luxurious hall or even an old train isn't up your street, gather along the New Year's Eve Trail (Silvesterpfad) for a huge open-air party. Stages are set up with live performers, bands, orchestras, and DJs. Join in on the Waltz dances and line your stomach with Würstel from street vendors. When the big moment nears, most people head to Stephansplatz Square to hear the iconic Pummerin chimes, followed by a firework display for the ages.
Ideal for: Families, friends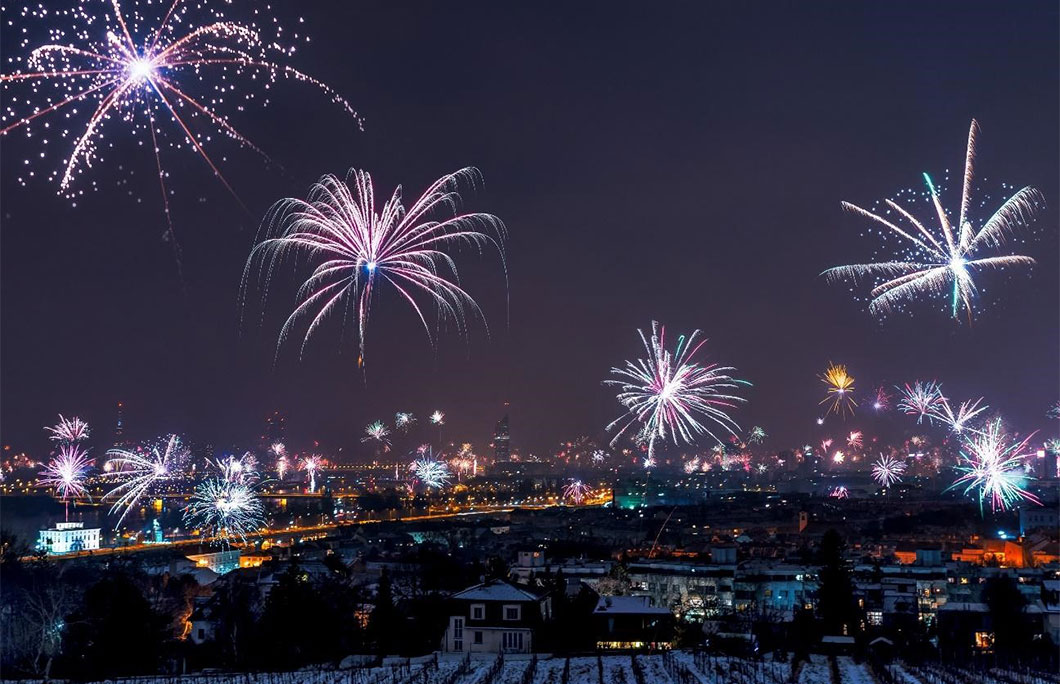 ---
1. Edinburgh, Scotland
For a traditional knee up, hotfoot to Edinburgh for an unforgettable experience. New Year's Eve, or Hogmanay, is a three-day festival entailing a Viking-style torchlight parade, street parties, live performances, and fireworks. This is one of the world's biggest outdoor parties – you can even catch the Pet Shop Boys this year! At midnight, local legend Tam the Gun fires Edinburgh Castle's cannon and the fireworks over the castle burst into vibrant displays for an explosive start to your 2023.
Ideal for: Families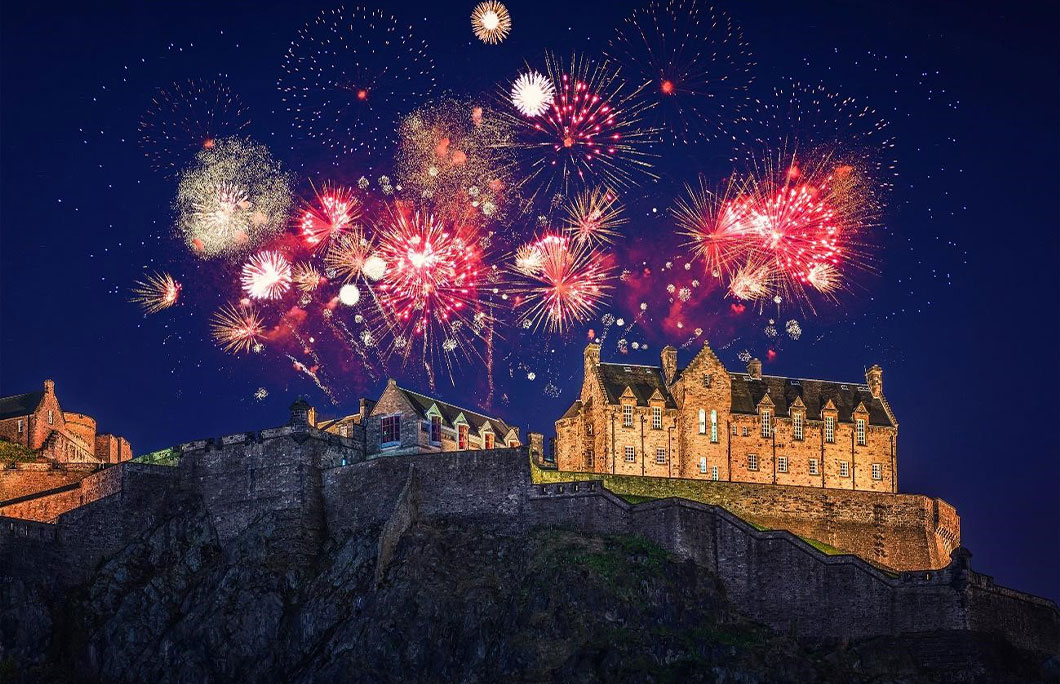 Get the latest travel news and offers