Top 10 Road Trips from Naples
Pompeii
Capri
Amalfi Coast
Sorrento
Ischia
Campi Flegrei
Herculaneum
Procida
Paestum
Royal Palace of Caserta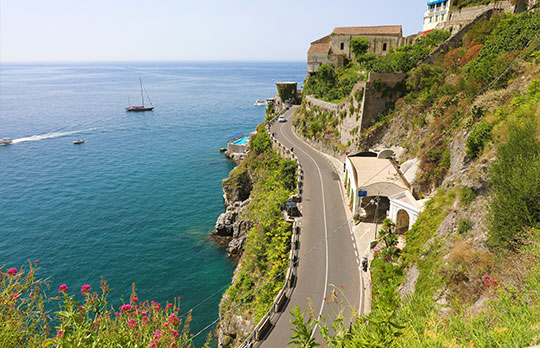 Top 10 scenic trips from Naples
Naples (or Napoli as locals call it) is Italy's third most-populous city and the capital of Campania region. With an urban sprawl scattered beyond the city walls for many miles, it's an exciting city that blends hard-knock sensibility with classical elegance, amazing art and a stirring shot of romance. Founded in the first millennium BC by the Greeks, Naples is amongst the world's oldest continuously inhabited urban areas and became a major hub in Magna Graecia in Roman times. Before its modern incarnation as part of Italy, it was capital of the Two Sicilies, the Kingdom of Naples and the Duchy of Naples. The third-biggest economy in Italy after Rome and Milan, it has one of Europe's most important ports and its UNESCO-listed city centre is brimming with historically-significant architecture.
Top attractions here include the National Archaeological Museum (packed with fascinating Graeco-Roman artefacts), the palatial Museo di Capodimonte (with works by Titian and Warhol), and Capella Sansevero chapel (its striking interior boasts ultra-realistic, Masonic-influenced frescos). With all this outstanding art and culture, you might suffer sensory overload. In which case, hire a car in Naples and strike out into the surrounding Campania countryside for some fresh air and cathartic scenery.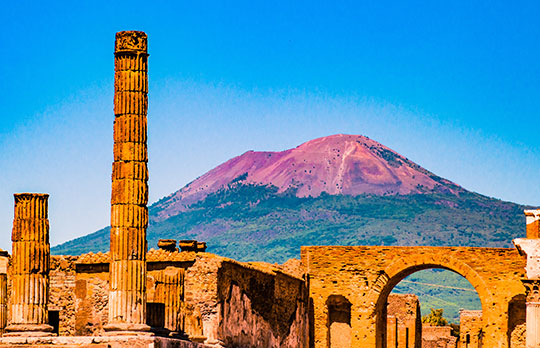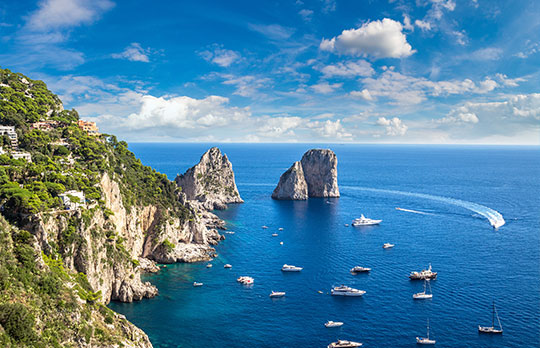 Top tips on driving in Naples
We'll get started with your Naples road trips next, but it's worth taking a brief detour for some useful driving tips first.
Always drive on the right in Naples and if possible, avoid tackling the city centre ‐ the drivers here are feisty and it can veer on the stressful side. Important roads in and around the city include the A1 (north-south road to Rome, Umbria, Tuscany and Milan), the A16 (connects the A1 with eastern Campania), and the A3 (takes you south past Vesuvius, Amalfi Coast, Southern Campania and on to Calabria).
If possible, it's always easier to use a SatNav in Naples ‐ it's your best chance of avoiding traffic jams and navigating one-way zones when you can't avoid the Downtown area.
Once you're out of the city and on the open road, the going get much easier ‐ which brings us back to our scenic road trips!
Pompeii
Just 23 minutes along the coast from Naples via the A3, Pompeii is one of the world's most haunting historical sites. Once a sophisticated Roman city, it was overwhelmed by ash and pumice after a huge eruption of mount Vesuvius in 79AD and in its perfectly laid-out streets, plush villas and shops, time has stood still ever since. Highlights here include the amphitheatre dating from 70BC (site of gladiatorial contests), the Forum (with temples of Apollo, Venus and Jupiter) and the Villa of the Mysteries, which has remarkably well-preserved interior artwork. Several of the sites have casts of victims bodies who perished at the scene ‐ the entire experience is eerie yet electrifying.
Capri
If you're in Naples during the winter season (roughly from November through March) you can catch the ferry to the island of Capri and the trip takes around two hours each way. Private vehicles aren't permitted during summer season, but it can be less hectic exploring off-season in any event. A stunning island with sea cliffs that jut out from the azure Tyrrhenian Sea, it's only 6km long and 2km wide, but packs a scenic punch nonetheless. Stroll around the lush surroundings, stop for a delicious lunch, watch the world go by ‐ wonderful.
Amalfi Coast
Just one hour and 12 minutes from Naples via the A3, the Amalfi Coast is a stunning spot to explore. This captivating 30 mile stretch of coast includes awesome Amalfi Town, with its pretty promenade and colourful marina, laid-back Minori (famous for pasta and pastry ‐ yum), and vibesy fishing village Vietri sul Mare (think mountaintop views and lovely pottery). Another place you should definitely stop here is Maoiri ‐ with the largest beach on the Amalfi Coast, a chilled-out daytime ambience and buzzing nightlife, you might even want to stay over and let your hair down.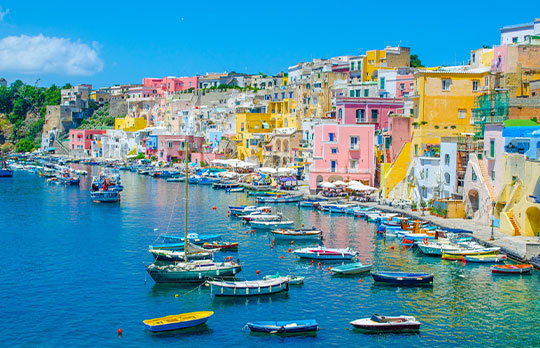 Sorrento
Fancy a one hour 10 minute drive along the A3 and SS145 to a truly stunning town? Course you do! Sorrento is also in the Amalfi area but merits a day trip (or longer) all of its own. The pastel houses and labyrinthine lanes of the Old Town are abuzz with energy and it's a great place to mingle with tourists and visitors alike ‐ grab a cappuccino at Piazza Tasso and soak it all in. If you want to cool off, take the road from here down to the harbour to one of the piers, where you can hire a sun-lounger and sunbathe or splash around. Don't forget to pick up a bottle of tasty (and strong) Limoncello liqueur before you leave.
Ischia
Another idyllic island near Naples, Ischia is around two hours' drive (via ferry crossing) along A56 and Pozzuoli-Ischia. Once of the most beautiful sights here is the vista from the Castello Aragonese ramparts ‐ gazing over the town from this fairy-tale location is one of life's magic moments. If you want to unwind all the way, Ischia also has a plethora of hot springs where you can bathe and enjoy therapeutic spa treatments, while watching the sunset at Chiesa del Soccorso on the west coast is very cathartic too. Throw in shopping in the main town Ischia Porto and hiking Mount Epomeo to top off your trip in terrific fashion.
Campi Flegrei
Only a 30-minute drive from Naples via the A56, Campi Flegrei (Phlegraean Fields) is the place to be if you want to heat things up a bit. A national park comprising active volcanoes, hissing caldera, verdant vineyards and Roman ruins, chances are it's like nothing you've seen before. From the volcanic crater at Solfatara to the rambling ruins of Cuna (one of the most ancient Magna Graecia sites), this is a destination where you'll experience the echoes of empires and the fearsome force of nature in the same day!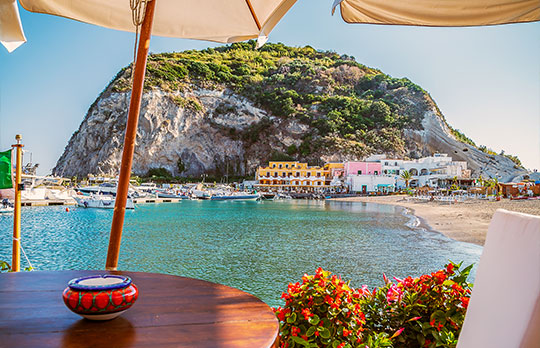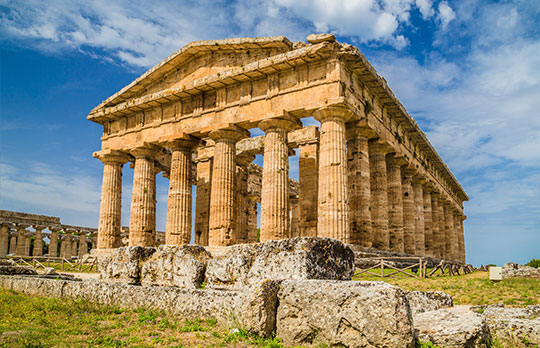 Herculaneum
Another awesome archaeological excursion that's a stone's throw from Naples, Herculaneum is only 25 minutes away via the A3. As if Vesuvius burying Pompeii in the 79AD eruption wasn't enough, it also submerged Herculaneum in crushed pumice, molten rock and red-hot ash. But the difference with this site is that the pyroclastic detritus carbonized, preserving organic materials like food and the wood in doors, beds and roofs. You can see exceptionally well preserved spas, the Skeleton House with its ornate mosaics, and the plush House of Neptune and Amphitrite – it really is fascinating.
Procida
Ready for another winter island trip from Naples? Procida is one hour and 30 minutes away via the A56 and Pozzuoli-Procida ferry ‐ non-residents are only permitted to take vehicles there off-season (November to March), but it's worth seeing any time of year. Just 1.5 square miles, it's a miniature gem complete with charming colourful houses at Marina Grande, the lovely yellow Church of Santa Maria della Pieta, and Chiaiolella beach with its soft sands and striking rock stacks. Terra Murata is terrific too ‐ it's an ancient castellated village that offers beautiful views right across the bay.
Paestum
A slightly longer road trip, Paestum is around one hour and 30 minutes from Naples via the A3. Located on a plain near the Gulf of Salerno, Paestum was founded by the Greeks in 600BC, and lasted for another 1000 years under Roman rule. It was abandoned in the 9th century after a catastrophic attack by the Saracens and today you can stroll around what remains. A UNESCO-listed site, this ancient area contains temples, a section of the Via Sacra which ran from north to south, and much more. The National Archaeological Museum of Paestum is the perfect place to visit to help you prioritise attractions and there's plenty to keep you occupied for a day.
Royal Palace of Caserta
40 minutes north of Naples via A1/E45, the Royal Palace of Caserta provides a pleasant alternative to ancient architecture ‐ this posh pad was built relatively recently (in the 18th century). Another UNESCO World Heritage Site, it's a Baroque masterpiece which was a seat of power for Bourbon kings. The scale and style of this building is breath-taking, and it's complemented by lush formal gardens, manicured lawns and fabulous water features ‐ Versailles eat your heart out!