Top 10 Road Trips in Slovenia:
Ljubljana to Kamnik
Soca Valley
Lake Bohinj and Savica Waterfall
Solcavska Panoramic Road
Vrsic Road
Mangart Road
Ljubljana to Predjama Castle and Postojna Cave
Road to Predmeja
Preddvor to Jezersko
Ljubljana to Kranj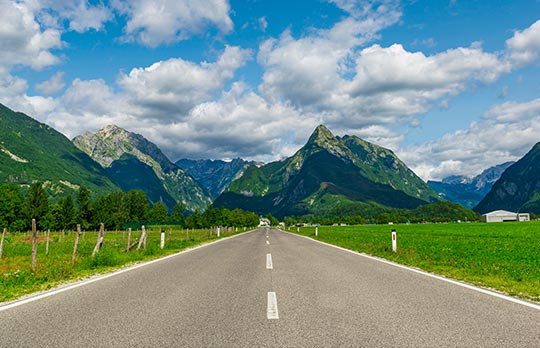 10 best scenic trips in Slovenia
With its mountains, forests, curvaceous coastline and cool cities, Slovenia is one of the best places in the world to explore by car. This stunning and safe central European nation punches way above its weight by packing in more culture, cuisine and natural beauty than some rivals ten times its size. Whether you want to disappear into gorgeous sylvan glades or shop 'til you drop in designer boutiques, there's something to suit all tastes.
The sheer, snow-capped peaks of the Julian Alps are simply awe-inspiring, you'll find a constellation of crystalline lakes and rivers, a whole world to discover underground at Postojna and Skojcan caves and seaside delights at its bijou but beautiful Adriatic coastline. With more than half of its terrain carpeted in forest, this is one of the most verdant countries on Earth and it's a meteorological enclave blessed by a pleasant blend of climates throughout the year.
Fans of the great outdoors can embrace awesome activities like hiking , skiing, mountain biking, horse riding, hot air ballooning and even canyoning - ideal if you're all about that adrenaline rush! And these natural attractions are complemented by some sublime architecture, such as Lake Bled's quaint chapel and imposing castle, the Gothic churches that pepper the Julian Alps and the sophisticated art nouveau stylings of capital Ljubljana.
But don't forget the food. Your taste buds will fall in love with dishes that fuse fresh, locally sourced ingredients with culinary influences from the Balkans, Hungary, Austria and Italy - think hearty, herb-infused potato dumplings and rich gibanica desserts washed down with full-bodied Slovenian wine (if you've got a designated driver).
All of these sensory delights and more await as you strike out on spectacular Slovenian road trips.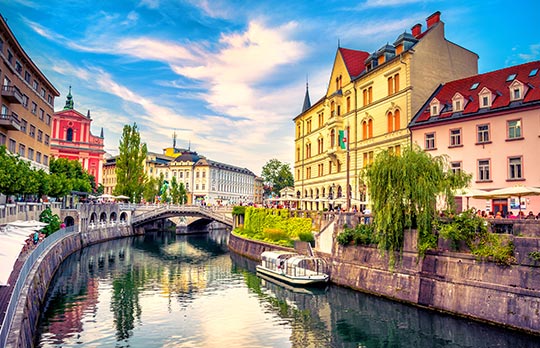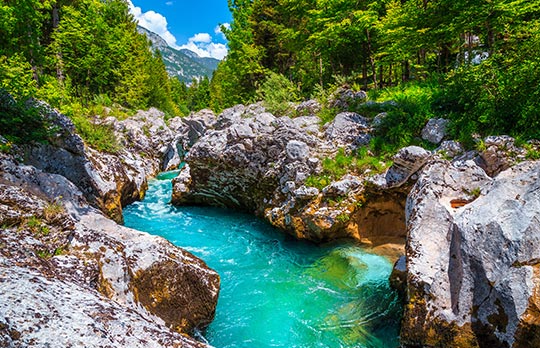 Top tips for driving in Slovenia
Before we get rolling with your top 10 road trips in Slovenia, let's take a very brief pause for some driving tips.
Roads here are generally well-maintained, signage is clear and there's little congestion outwith cities. However, remember to buy a 'vignette' toll sticker if you'll be driving on Slovenian motorways - they're available in every gas station.
Use your headlights at all times, all year round and if you're driving in the winter (between November 15th and March 15th) either use winter tyres or radial tyres with a tread depth of at least 4mm.
Don't indicate when entering Slovenian roundabouts but do so when you're exiting them, don't use your horn in built-up areas unless it's as a warning for danger, and wear your seatbelts at all times.
It should go without saying, but never drink drive here - the legal limit is 0.05% and there's a zero tolerance policy for drivers under 21 or novices.
Revved up for those scenic road trips? Let's go!
Ljubljana to Kamnik
Just 25 minutes' drive from capital Ljubljana, spellbinding historical town Kamnik is a hidden gem that makes for a marvellous road trip destination. Sample some of Europe's best tree bathing at Arboretum Volcji Potok, there's a monastery and clutch of castles to explore, and you can unwind all the way at Terme Snovik spa and health resort. Bring your bathing suit as well as your hiking boots for a road trip that includes exertion and premium pampering!
Soca Valley
Starting in the charming town of Kanal lob Soci in the traditional Slovene Littoral region, this road trip through the scenic Soca Valley can be extended over a couple of days to make the most of it. Dramatic Tolmin Gorge at the southern reaches of the Triglav National Park is your first pitstop, then stay the night at Kobarid, where you can take in the historical trail, hike in the Julian Alps (tackle magical Mount Krn) and visit the evocatively-named Slap Kozjak waterfall with its emerald green waters.
Lake Bohinj & Savica Waterfall
Another awesome Julian Alps attraction, Lake Bohinj is so sublime that it deserves its own road trip. Less popular than iconic Lake Bled (but more beautiful to many), you'll enjoy a spot of splendid isolation here passing by rustic churches and stopping for picnics by the shore. The pounding Savica Waterfall is the lake's source and if you're feeling energetic, take a 25 minute hike to see it for yourself. Bring your skis if you're visiting in winter - there's fab fresh pow to be found on the slopes of nearby Vogel ski resort.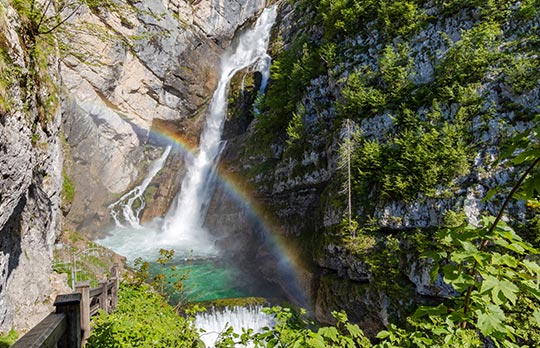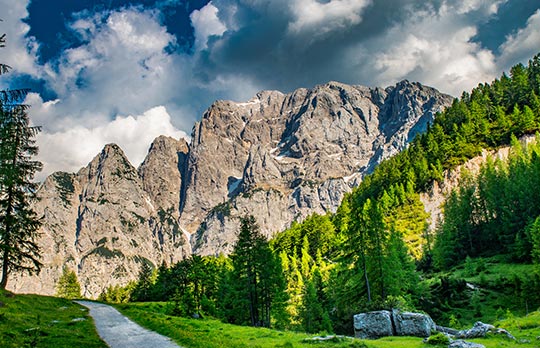 Solcavska Panoramic Road
This 37km ride through the Kamnisko-Savinjske Alps lives up to its name and then some - if Alpine scenery and bracing mountain air set your heart racing, prepare to fall in love. You can start this route from Solcava, Logarska Valley, Pavlicevo sedlo or Zgornje Sleme, but all roads lead to outstanding beauty. With skyscraping peaks, verdant valleys and rustic chalet-style buildings, every pitstop on this winding road is an eye-popping photo opportunity.
Vrsic Pass
The most famous mountain pass in Slovenia, Vrsic connects Gorenjska and Primorska via no less than 50 hairpin bends zig-zagging through the Julian Alps - not for the faint hearted (or novice drivers). Popular with motorcyclists and cyclists (it has a starring role in the annual road race), it's just as lovely seeing the scenery by car, but please take your time and cruise along safely rather than throwing caution to the wind.
Mangart Pass
If high-altitude drives float your boat, they don't get much better than the Mangart Pass, which is the highest in Slovenia and reaches 2055 metres above sea level. It's only 50km long but packed with tunnels, tight bends and a loop that acts as a final flourish. Located in the nation's northwest, this road should only be driven by experienced and capable motorists - it starts in Bovec and finishes at the peak of the Mangartsko Sedlo, site of the iconic one-way loop that affords sweeping views across Slovenia's Log Koritnico Valley and Italy's Lakes of Fusine.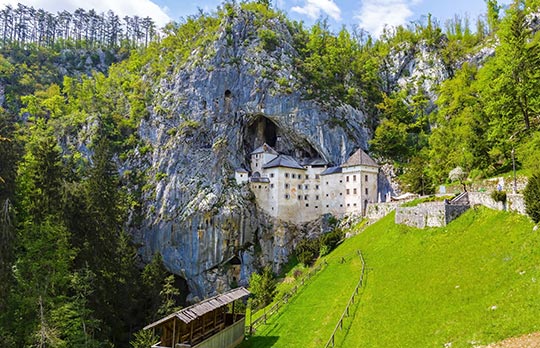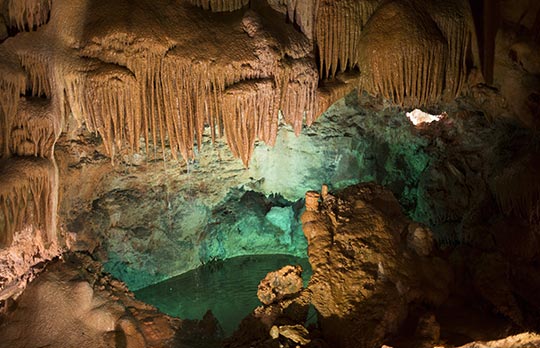 Ljubljana to Predjama Castle & Postojna Cave
Fancy a one hour and 15 minute road trip that takes you to the world's largest cave castle and immerses you in local folklore? This quick trip from the capital showcases Predjama castle - it sits perched on a cliffside and built by the maverick knight Erazem of Predjama over 800 years ago. Postojna Cave is also nearby and the entire area looks like Game of Thrones brought to life!
Road to Predmeja
Chances are you'll already be familiar with this 14km road between Adjovscina and Predmeja if you love rally driving - the iconic Saturnus Rally has been held here since 1989. A narrow road sliced through rock tunnel and carved into cliffsides, it's nothing if not thrilling. That said, please drive safely and leave the daredevil driving to the pros!
Preddvor to Jezersko
This 20km scenic route skirts the Kokra river and runs through picture-postcard villages in the Kamnik-Savinja Alps. A legendary route that connects Carniola and Carintha, this is Alpine scenery at its best - think lush green pastures, hills bristling with pines, stark snow-capped mountains and big blue skies. If you want a short drive that packs a panoramic punch, this is it.
Ljubljana to Kranj
Another first-class road trip from the capital, Kranj is just a 30 minute drive from Ljubljana but it's Slovenia's fourth-largest city and has much to recommend it. The labyrinthine network of WWII tunnels is always worth a visit, but this cultural hotspot also hosts plays and historical re-enactments at Khislstein Castle and there's some great hiking available around the gorge in the town centre created by the river Kokra.
So there you have it - a decathlon of dynamic road trips that illustrate Slovenia's beauty in no uncertain terms. Whether you're based in Ljubljana or elsewhere, there are always spectacular rural and urban attractions within easy reach by car.
So hire a car in Slovenia with Enjoy Travel and all of these delights and more are on your doorstep - your only problem might be choosing which amazing road trip to take! With a vast choice of vehicles from top-rated local and international car rental partners, plus simple online booking, it's easy to find the car and price that suits you best.