Edinburgh Car Hire
Find the best deals in Edinburgh
With a massive choice from the biggest brands, Enjoy the best way to find the best prices for car hire in Edinburgh.
Huge choice of cars to suit every budget
Save up to 70% compared to buying on the day
10 years experience in car hire
Compare car hire in Edinburgh
Edinburgh is the capital city of Scotland, as well as being the location of the Scottish Parliament, Government, and supreme courts. It has a population of about 530,000, making it the second most densely populated in Scotland, and the seventh most populous city in the UK.
When driving in the city of Edinburgh, many streets have a speed limit of 30 miles per hour (48 km per hour), with some streets having an increased limit of 40 miles per hour. Changes to the speed limits around the city are indicated by round road signs with a red border. The rural parts of Edinburgh generally have a speed limit of 60 miles per hour (96 km per hour), and any differences will also be marked with a red bordered road sign.
If you're travelling in the winter months, make sure you drive with extra caution. When the weather gets cold enough for snow and ice the majority of roads are cleared frequently, but there is still a danger of black ice, a dangerous and barely visible layer of ice that makes the roads more slippery.
Edinburgh is home to the famous Edinburgh Fringe Festival, held once a year in August. It is the world's largest arts festival, bringing thousands of performers of all kinds to hundreds of stages that are scattered across the city. Offering both recognised names and up-and-comers, the Fringe Festival sees a wide variety of performances, from theatre, comedy and dance to physical theatre, cabaret and circus.
Edinburgh is served by Edinburgh Airport, which can be found under ten miles west of the city centre; within half an hour, your Enjoy Travel rental can take you right to the centre of all the excitement.
Guide to Edinburgh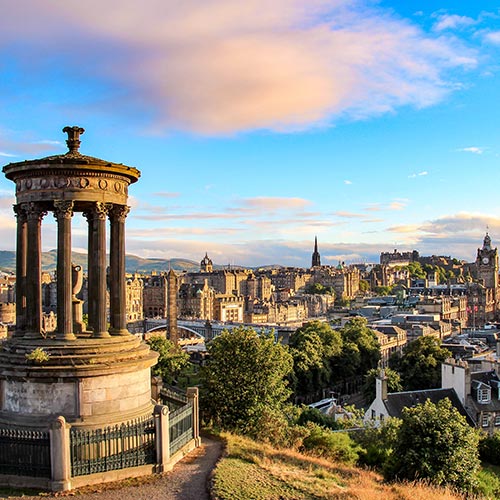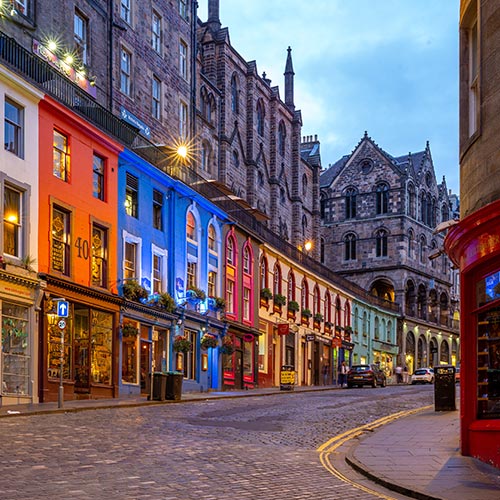 If you're not visiting Edinburgh in time for Fringe in August, you can still get a brilliant dose of the finest of entertainment by visiting the Summerhall art centre. From traditional Scottish music and dance every week from the best ceilidh bands in the city, to theatrical performances and screenings of independent and popular films in their gorgeous multi-purpose hall.
Edinburgh offers a wide variety of free museums and art galleries, allowing you to get your fill of their cultural capital without spending a penny – many even offer guided tours for no charge. St Giles' Cathedral is one of the most popular historical sites in Edinburgh, open to visitors looking to experience the music and architecture. If art is more to your taste, head to the Scottish National Portrait Gallery, housed in an iconic building of the city and offering a visual journey through Scotland's history to the current moment. Although charges may apply to special exhibitions, you can visit the portraits of Mary, Queen of Scots right up until actress Karen Gillan, free of charge.
The Stand is home to a brilliantly entertaining comedy scene in Edinburgh, and every Monday night offers a Red Raw session for a cheap but invigorating evening of watching comics making their way in the industry. If you're lucky, popular names in the stand-up scene tend to return to this club, with comics such as Dylan Moran and Daniel Kitson frequenting this venue. Featuring both shows for kids and those aimed at adults, the Stand is sure to offer something to tickle everyone's funny bone.
For a gorgeous driving experience, drive along the impressive Queensferry Crossing, which will take you along from Edinburgh to Fife where you can enjoy the refreshing scenes of the Fife Coastal Route. Alternatively, take the 45 minute drive from the city to North Berwick, a coastal town home to the breathtaking Tantallon Castle. Travelling with your Enjoy Travel rental car is the best way to see the variety and beauty a trip to Edinburgh has to offer both inside and outside of the city centre.
Edinburgh's Bramble cocktail bar is a sure fire winner if you fancy an evening of drinks in one of the coolest places in the city. Although it doesn't have the biggest capacity – only fitting less than 100 people – Bramble frequents lists of the best bars to visit often enough that you're guaranteed a great evening with some delicious drinks. Featuring original concoctions and brilliant flavours, ask the knowledgeable bar staff for recommendations if you just can't decide on one.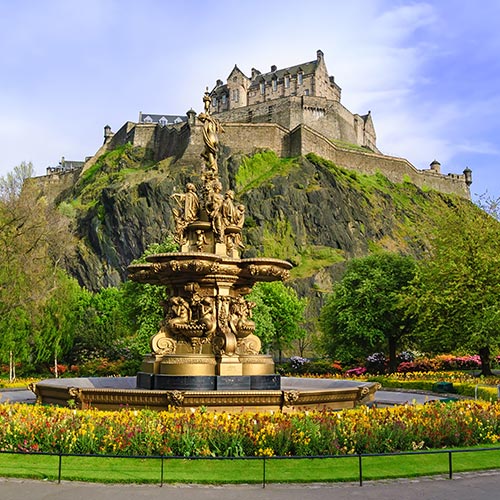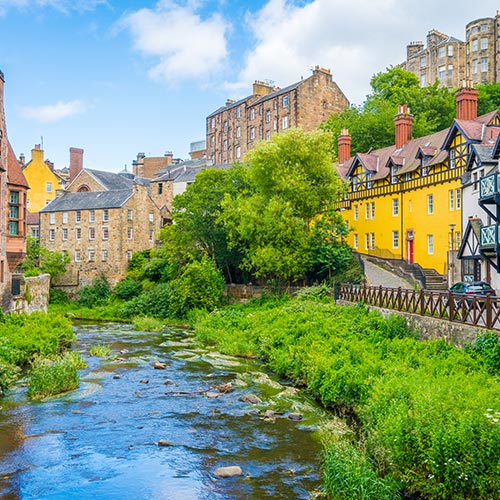 Accommodation
If you're looking for somewhere to stay, Edinburgh has got something for everyone and every budget. With well-known names sitting alongside independent hotels, hostels and bed and breakfasts, you can choose to stay in the heart of the city or on the outskirts and still have plenty to choose from.
Edinburgh Old Town
The Edinburgh Old Town runs along the south of the city and has a very historic and gothic look and feel to it. It's quite unique in the UK and world in the way it has been preserved as a natural historic section of a city. There are a range of medieval tours taking you into the unseen old parts of the city and underground where some of the original underground streets, caverns and dens still exist intact.
Some of the hotels remain in the old gothic buildings, though thorough modernised and reonvated inside.
The Radisson Blu, Edinburgh Old Town, is a superb 4 star hotel in the heart of the old town and a 5 to 10 minute walk from Waverly Station. It is 5 minutes from the castle and surrounded by history, pubs, restaurants and guided tours. It has an indoor swimming pool, parking available, Spa and gym. Whilst on the outside it has the appearance of a majestic Scottish castle, the interior is totally modern with all of the luxury you'd expect from a Radisson Blu.
Address: 80 High Street The Royal Mile, Edinburgh, Scotland, EH1 1TH
If its 5 star that you want, the Sheraton Grand Hotel & Spa, Edinburgh may appeal to you. This is tucked away at the far end of the old town, and behind Edinburgh Castle. It has an indoor pool, 269 rooms, a fully services spa, health club, a car park, 24 hour business centre, restaurant, bar and terrace. There is free Wi-fi throughout.
Address: 1 Festival Square, Edinburgh, Scotland, EH4 9SR
If you're on a bit of a budget, but still want something nice, you might like the Aparthotel Adagio Edinburgh Royal Mile. This is a 3-star and offers a comfortable, nice quality apartment with kitchenette, near the Royal Mile. Facilities include a 24 hour fitness centre, 24 hour front desk, Playground, Free WiFi and in the rooms you can expect all of the things you would need such as Cookware, dishware and utensils and microwave.
Address: 231 Canongate, Edinburgh, Scotland, EH8 8BJ
Edinburgh New Town
The Edinburgh New Town runs in parallel with the Old Town, to the north of the city. In the medieval times as Edinburgh was developing, the main town (now the Old Town) became more and more over-populated and crowded. A valley ran to the north of the city centre and the New Town was created and built for the rich people to escape the Old Town, hence the name Edinburgh New Town. To this day, this section of the city still has many old and gothic buildings, but is where you will find all of the modern shops and major retailers.
Malmaison Edinburgh City, is located 0.3 miles from Edinburgh Waverly station in the heart of the shopping district. A 4-star hotel, near Princes Street with 72 smoke-free guestrooms, Restaurant and bar/lounge, 24-hour front desk, and Free wifi.
Address: Buchan House, 21-22 St Andrew Square, Edinburgh, Scotland, EH2 1AY, United Kingdom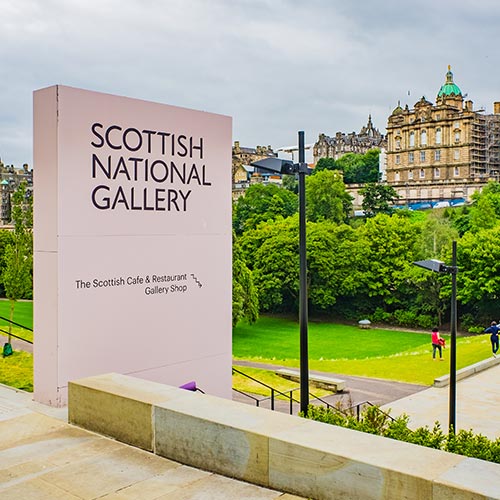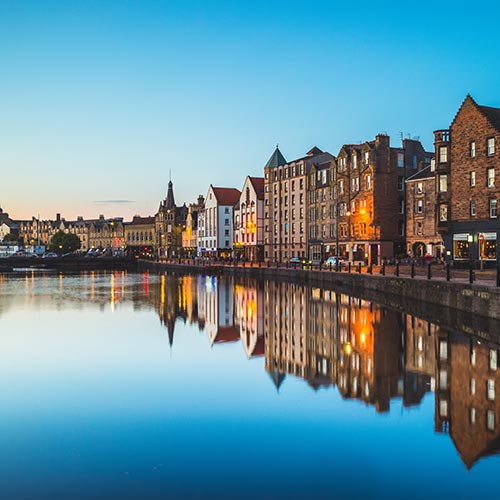 Eating out in Edinburgh
If you are looking for the best steak in town, Steak are waiting for you by Picardy Place roundabout. Ready with a selection of cuts their expert chefs are prepared to cook just to your liking, friendly staff are also on hand to make recommendations if you're unsure. While you're there, why not indulge and get the delectable king prawns on the side, just to treat yourself.
To get your day off to the best start, head to Roseleaf bar and café for a delicious and affordable brunch. Situated in the historic Port of Leith, this cosy café serves their brunch menu from 10am until 5pm, giving you all the time you need to enjoy their food before setting off for your next adventure.
Aizle is a popular spot for fine dining, located on St. Leonard's Street and considered one of the best restaurants in Edinburgh. Their food is locally sourced and cooked to perfection, with their menu regularly adapting to what is available, ensuring you get the best of the best when you go.
For a great quality and family friendly restaurant, La Favorita is said to have the best pizza in the city – and some say in all of Scotland! With plenty of offers and all the classics to please even the fussiest of the family, enjoy the award-winning log fired pizza with all of your loved ones.
Getting to and from Edinburgh
Edinburgh Airport (EDI)
Edinburgh Airport is Scotland's busiest airport, and many of the most popular airlines operate there. It is accessible by car, bus, and train.
Car Hire in Edinburgh Airport (EDI)
There are a number of car hire companies available at
Edinburgh Airport
. These include Europcar, Alamo, Sixt and Thrifty. You can find the car rental centre in its newly combined location, directly accessible from the terminal and outside to the left. Car hire prices can start from as little as £4 a day depending on your requirements and the time of year of booking.
Edinburgh Airport Parking
Edinburgh offers a wide choice of car parks to park your car in, depending on your budget and preference you can park onsite at the airport, or off-airport a short distance away. You may be fooled into thinking naturally that the off-airport car parks will be cheaper, but the airport tends to offer very competitive deals on it's onsite car parks, generally in walking distance and with top security.
You can compare airport parking with Enjoy Travel - Airport Parking, as well as search for cheap Edinburgh Airport Parking with FHR - one of our reputable partner brands. With both options you will find the biggest choice of car parks, and prices that cannot be beaten on other comparison websites.
Edinburgh by train
The main train station in Edinburgh is Waverley Station, located to the East of the city centre and bring access to the rest of the UK, England and Scotland.
The bus stop is immediately outside the station, and there is also a tram system running from the city through the western suburbs to the airport.
Top Tips when hiring a car in Edinburgh
Edinburgh is as old as one can get, as far as Scottish cities go, even compared to most cities in the United Kingdom. This results in abundance of castles and medieval villages, giving the city a very royal feel.
Offering cheap Edinburgh car hire is a great destination for Scottish day trips.
While visiting the Scottish capital you must pay a visit to the Medieval Kingdom of Northumbria and see the magnificent castle in Alnwick. They are very iconic parts of medieval art and make for great road trips.
Additionally if you'd rather visit attractions closer to the city proper, you can instead visit the Edinburgh Royal Mile and the underground vaults of Auld Reekie. Just make sure you don't get too spooked with the haunted stories about it.
In fact there are interesting places to explore in every part of the city and the best way to do so efficiently is via car hire.
Once you land in Edinburgh Airport it's advisable to try going to the nearest established car hire company. They can be easily accessed through the covered walkway at the airport. They're just a short walk away.
Edinburgh car hire companies are very close to the domestic and international terminals.
You will encounter several big car hire companies such as SIXT, Hertz, Alamo, Dollar, Avis and other cheap car hire agencies. You can pick up your hire car right there and then.
The city of Edinburgh is 30 minute drive away from Edinburgh Airport and can easily be reached via car hire. This will add convenience and comfort to your arrival in this beautiful city.
Anyone planning their itinerary to Edinburgh are advised to pay extra attention to the traffic rules, be aware of its map and navigate carefully.
If you're having trouble navigating through the town and you have a companion it's advisable to let them give you directions, so you are not distracted by the GPS devise. This is especially important if it's your first time in Edinburgh.
Streets in Edinburgh commonly single and double carriageways. The main roads are called A, and the minor ones B.
It is true that you can encounter many cheap car hire agencies in Edinburgh spread out across the city. However, if you are older than 70, you will be required to obtain a Special British driving license if you wish to drive anywhere throughout the UK.
Luckily for those travelers who would like to get their hire car as soon as they land at the airport, the Edinburgh Airport actually has a consolidated car hire area where all the car hire companies are, making it very easy to pick up your hire car.
Scottish traffic laws are very strict when it comes to using a cell phone while driving, so if you're using a hire car and are new to the city, it's recommended to either look up the way in advance or have a friend guide you, to avoid trouble.
After picking up your Edinburgh car hire, you should familiarise yourself with the rush hours of the city. For example the morning rush hour starts from 7:30 a.m. to 9:30 a.m. Then there is the evening rush hour, when people are done with work and returning home, from 4:00 p.m. to 6:00 p.m. During those hours you'll find the main roads full of cars but residential areas remain calm.
Additionally if you'd like to know the parts of the city to avoid when trying to evade traffic, steer clear from major avenues and intersections such as Sheriffhall Roundabout and the Hermiston Junction.
If you are doubting whether to go for an Edinburgh car hire or not, then here's another thing to consider. If you don't have your own rental car to move around in, exploring the city and even the surrounding countryside will be a challenge.
You can't say you've had a complete Scotland trip if you didn't experience the incredible lochs and mountains and the nearby Scottish Highlands. These are not as easily reachable without a rental car.
Some of the most breathtaking parts of the Scottish countryside and surrounding area include but as not limited to Loch Ness, Stirling Castle, and the Lammermuirs.
You can find car hire deals in Edinburgh for less than £35 a day.
The best car hire deals begin at £29 per day.
When you book your car hire you can pick any car model between many options. These include luxury car but also more common models.
If you book your Edinburgh car rental in advance by even one day before your trip, you are guaranteed to get a below-average price plus a variety of car choices to pick from.
Hiring a car in Edinburgh Airport and general airport locations is in most cases cheaper than car rentals in the city or other locations in Edinburgh. This applies even if they are a one way car hire.
Economy car hires in Edinburgh are way cheaper than other car types on average.
Got a Question? Chat with our UK support team
Online chat help is open 08:30am to 17:00 weekdays. Email: [email protected]
FAQs about car hire in Edinburgh
Most frequently asked questions about hiring a car in Edinburgh
Depending on your selected company and model, car rental costs in Edinburgh vary as they do everywhere. As a general guide, a small to medium car can typically be rented for £10-16 per day at the time of writing, going all the way to £100 per day for a large nine-seater Mercedes Vito minivan.
You can currently hire a small car like a Peugeot 108 in Edinburgh for as little as £11.65 per day.
Economy car hire in Edinburgh usually costs from around £11-12 per day for compact cars. Price might change from summer to winter, depending on the season.
In Edinburgh like in the rest of the United Kingdom you have to be at least 21 years old in order to be able to hire a car.
There is a wide variety of car hiring firms that may apply additional charges for renting a car in Edinburgh.
Yes – usually for a daily fee you can get an extra driver - most of the companies allow it but again there are companies that do not allow additional drivers.
Safety comes first, do call 999 immediately for emergency services and get in touch with the car hiring company for insurance issues.
Explore popular places in Scotland